College Basketball Nation:

Brockeith Pane
December, 2, 2011
12/02/11
1:55
PM ET
By
Diamond Leung
| ESPN.com
Utah State saw its 33-game home winning streak snapped on Wednesday in a loss to Denver. But perhaps more stunningly, for a few minutes during the game, the Aggies lost the outspoken support of their rambunctious student section.
According to
The Herald Journal
, Utah State students remained silent during the first three minutes of the game in protest of an usher had told them before the game that cursing and pointing at opposing players was not allowed.
Originally, the students thought of the three minutes of silence as a running joke, but after at least one member of the event staff reportedly threatened to kick them out of the Spectrum and take away student IDs for cursing or pointing, they decided to do it.

"It wasn't really a protest. It wasn't us being crybabies or pouting; it was us getting the message across that you are censoring the craziest student section in the nation, and this is what will happen if you keep censoring us -- just silence," said USU student Charley Riddle, who wrote on a whiteboard at the start of Wednesday's game "No cheering for first 3 mins" and held it up for the thousands of students to read.

USU basketball players felt the fans actions on Wednesday.

"Not having our fans here kind of hurt us," said USU guard Brockeith Pane, who finished with 12 points in the 67-54 loss. "I know it hurt me."
Utah State students were already on edge after university president Stan Albrecht and athletic director Scott Barnes
wrote a letter
expressing their disappointment after "crude language, outright vulgarity and deeply personal insults were hurled at BYU forward Brandon Davies in the Aggies' season-opening win.
But now it's the administration that is calling the usher's warnings a miscommunication, according to the
Salt Lake Tribune
.
Barnes emphasized that the administration did not intentionally place any of the restrictions on the student body that sparked the brief protest.

"We have not changed any policies," Barnes said. "Unfortunately, one of the ushers went to the students and created standards we had no idea about. We didn't ask that individual to tell them that."

"We feel like we have the best student fan base in America," Barnes said. "We wanted to make sure that a few individuals that have crossed the line stayed in bounds. We want to take care of the bad actors. But that doesn't mean making wholesale changes."
September, 22, 2011
9/22/11
8:25
PM ET
By
Diamond Leung
| ESPN.com
Utah State forward
Brady Jardine
earned his way onto SportsCenter last season with a ferocious dunk that helped the Aggies beat Saint Mary's on national television and provided a signature moment for their NCAA tournament team. The Aggies have dominated the WAC by winning four straight conference championships.
And if anyone thinks Utah State is in rebuilding mode this season after losing four starters including WAC player of the year
Tai Wesley
, Jardine is providing a reminder that the Aggies aren't going anywhere by
blogging about it
.
It's been kind of funny to talk to people over the summer about the team because many act as if the Utah State Basketball program ended with last year's seniors -- like there isn't even going to be a game played in the Spectrum this year. Well ladies and gentleman, there will be a team this year, and to be honest, I think we will surprise some people.

The coaching staff has done an awesome job over the summer in bringing in some great recruits. I dare say that I believe we will be one of the most athletic teams in Utah State's recent past. We are taller, quicker and more explosive than we've been since I've been an Aggie. The question still to be answered is will we have as much mental toughness and heart as the past years team.
Jardine, a senior who averaged 7.5 points and 7 rebounds last season, is only one of four returning players. The Aggies have eight new scholarship players who are eligible for action, including junior college transfer forwards Mitch Bruneel and Kyisean Reed. Bruneel was formerly Idaho's state player of the year coming out of high school.
Despite only having started seven games in three seasons, Jardine is expected to see his role expand with he and point guard
Brockeith Pane
being the top returning players. In Utah State's summer prospectus, Morrill said it's Jardine who has to be the team's go-to guy and that "his senior season should be really special."
While the preseason favorite might be Nevada or New Mexico State, those teams will still have to go through Jardine and a Utah State team that is unaccustomed to finishing anything but first place in the WAC.
"I want this group to believe they can be successful, I just want them to go about it the right way which is day-by-day," Morrill said in a statement. "You can't win a WAC championship by talking about it, you've got to go to work. We won't be favored to win the WAC and that will be the first time in a while. I don't know if I would call us an underdog, but you have a chance to prove that maybe you're better than where you're picked. I suspect we'll be picked somewhere in the middle of the pack. Whatever motivates you to go to work and do what it takes day-by-day to get better, I'm
OK with that."
July, 13, 2011
7/13/11
1:42
PM ET
By
Diamond Leung
| ESPN.com
Utah State, which has won four straight conference titles in the WAC, will not be favored to continue its domination of the league if coach Stew Morrill is correct about what he sees as an Aggies team filled with question marks.
"For the first time in several years, we will not be the favorite in the WAC," Morrill said in a statement. "We hope the challenges of the preseason will help us improve enough to be a competitive WAC team. Nevada, New Mexico State and Hawaii appear to be very strong and we look forward to seeing how it all shakes out."
Perhaps that's an overstatement, and don't mistake Morrill's preseason prediction for a prediction on where Utah State will finish in the standings. The Aggies might be losing six seniors off their NCAA tournament team, including WAC player of the year
Tai Wesley
, but Morrill has managed to plug holes before after the departures of top players like Jaycee Carroll and Gary Wilkinson. Point guard
Brockeith Pane
is the only member of the all-conference first team to return.
Morrill is correct in noting that the rest of the league appears to be improving. Nevada had the league's freshman of the year in
Deonte Burton
. New Mexico State saw
Troy Gillenwater
turn pro, but will get top rebounder
Wendell McKines
back from surgery. Hawaii continues to recruit well under coach Gib Arnold, though two of his signees won't be joining the program
due to academics
.
Utah State still should be very much in the conversation to repeat as champion, and if it does get to the NCAA tournament again, Morrill has put together a schedule that might get the Aggies a better seed than the No. 12 seed they were assigned after a 30-win season. They host BYU in the season opener, play at Wichita State and play in the World Vision Challenge against Kent State before an important
road game against Mississippi State
on New Year's eve.
Then comes the WAC schedule, which Utah State can only hope won't be the RPI killer it was a year ago. A better conference would help the Aggies achieve their goal of a higher seed in the NCAA tournament, even if they think it makes it more difficult to get the nod as the favorite in the preseason.
March, 18, 2011
3/18/11
1:56
AM ET
TUCSON, Ariz. -- Kansas State wouldn't have made the NCAA tournament without point guard
Jacob Pullen
elevating his game late in the season. So you can understand that an ill Pullen was not a good thing heading into a showdown with Utah State, a nationally ranked, veteran team with 30 wins that was curiously seeded at No. 12.
But Pullen, the Wildcats first two-time All-Big 12 first-team selection, wasn't going to let a little fever end the Wildcats' season. He sat out Wednesday's shoot-around, and then he ended up making the Aggies sick with a game-high 22 points and five assists in a
73-68 victory
.
[+] Enlarge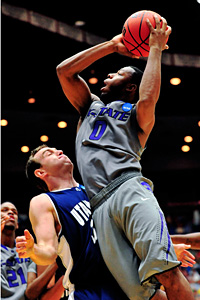 Chris Morrison/US PRESSWIREKansas State's Jacob Pullen scored 22 points against Utah State.
"When it comes to basketball, you know, I put the way I feel aside." he said.
And so the Wildcats, counted out as one of the nation's biggest busts just a few weeks ago, survived and will play Wisconsin on Saturday for a chance to advance to the Sweet 16.
Scary thing is, Pullen, who averaged 27 points per game over the final six regular-season games, wasn't at his best, particularly on defense.
"He just didn't have that gear today," coach Frank Martin said. "[Utah State point guard]
Brockeith Pane
is fast and strong. [Pullen] just didn't have that gear to keep up with him and our guys didn't do a good job helping him. You can't have that."
Martin was unhappy with the Wildcats in the second half, when they repeatedly allowed the Aggies to make threatening runs at their double-digit leads.
"After our season, and all our growth and all that, it was little disappointing that we reverted in the second half to mistakes that we made early in the year," Martin said. "But this time of year you win, you get a chance to play again. "
Pullen led a Wildcats resurgence at the free throw line. A team that hit just over 64 percent from the stripe this season, connected on 24-of-28 (85.7 percent) and Pullen was 9-of-12. They made eight more free throws than the Aggies, and that played a major role in a game in which the overall numbers were fairly even.
Utah State coach Stew Morrill wasn't buying that Pullen wasn't at his best.
"I didn't think he was affected," Morrill said. "He is a really special guard. Holy smokes. I mean, when you do things that you often do to a good player -- when you double him, when you are helping -- he is coming off screens, he immediately senses that. He's got a great feel for the game, makes plays for his teammates. He's just special."
Pullen's matchup with Wisconsin's
Jordan Taylor
will be a highlight of Saturday's game. "[He's] one of the best guards in the country, I think," Pullen said.
One on a list that includes Pullen.
March, 18, 2011
3/18/11
12:31
AM ET
TUCSON, Ariz. -- Just like Wisconsin, Kansas State looked to some like a team ripe for the picking by a confident "mid-major" that arrived at the Southwest Regional with 30 wins. And just like Wisconsin answered the call against Belmont, so did the Wildcats against Utah State.


Fifth-seeded Kansas State dispatched Utah State
73-68
behind balanced scoring and really, really good free-throw shooting, which is a surprise because the Wildcats are a lousy free-throw shooting team.
Turning point
: Kansas State led 56-43 with five minutes left, but Utah State went on a 7-0 run, which was punctuated by a driving slam dunk by
Pooh Williams
. Utah State then forced a K-State turnover. The Aggies fans were energized. But the Wildcats sprung a trap on point guard
Brockeith Pane
, who travelled on the ensuing possession.
Jamar Samuels
made a layup and the lead was eight again. And that, really, was the pattern of the game. Utah State makes a challenge; Kansas State answers.
Key player
: Kansas State point guard
Jacob Pullen
was ill yesterday, but he was just
sick
against Utah State. The Wildcats leader scored 22 points and dished six assists.
Key stat
: The Wildcats hit just 64.4 percent of their free throws this year. Yet they connected on 24-of-28 -- 85 percent -- against the Aggies.
Miscellaneous
: Kansas State averages 15 turnovers a game but they had just nine against the Aggies... WAC player of the year
Tai Wesley
led Utah State with 18 points and six rebounds... Kansas State is now 11-4 in first-round games.
What's next
: Kansas State will play fourth-seeded Wisconsin on Saturday.
January, 28, 2011
1/28/11
1:47
AM ET
By
Diamond Leung
| ESPN.com
SAN JOSE, Calif. -- BYU is the talk of the nation, but have you heard? There's another team in the state that's making some noise.
It's Utah State that has the nation's third-longest active winning streak, and the Aggies stretched that to 14 games after handling their business in an
84-65 win
at San Jose State on Thursday.
Peaking once again during WAC play, the 19-2 Aggies are ranked No. 25 and don't really mind that BYU is the team leading the local newscasts and overshadowing some of their success.
"I feel like it has, but that's fine," said Utah State forward
Tai Wesley
, who has been following what he calls the Jimmer Show. "We don't care about attention. We care about wins."
[+] Enlarge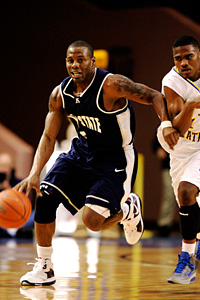 Phil Carter/US PRESSWIREBrockeith Pane and Utah State improved to a perfect 8-0 in the WAC with a win over San Jose State.
The only two teams Utah State has lost to this season? BYU and Georgetown, both ranked teams that got to play the Aggies at home. They haven't lost since the Hoyas blew them out on Dec. 4, but have improved during the latest streak.
The last time the defending regular-season WAC champs played San Jose State -- and won by nine on New Years' Eve -- coach Stew Morrill blew his top in the halftime locker room speech.
"He went nuts," Wesley said. "He was kicking over stools, spitting and yelling. I don't know how many episodes like that he has left."
Said Morrill: "We're really a team that has to defend and play hard. I didn't think our energy level was up. I have a hard time when my teams don't play hard."
The Aggies have won all but one of their games since then by double digits, and by beating San Jose State, which was without injured point guard
Justin Graham
, they've now won 22 straight WAC games and 34 of their past 36 regular-season games.
Wesley, the WAC's preseason player of the year as voted on by the league's coaches, has been dominant down low with his .608 field-goal percentage.
Nate Bendall
has played through foot pain to bolster the frontcourt along with
Brady Jardine
, who is tied as the team leader in rebounds with Wesley.
The player that gives Utah State an extra boost in athleticism is point guard
Brockeith Pane
, a junior college transfer who played his freshman season at Houston.
"We got to earn people's respect," said Pane, who scored 13 points against San Jose State. "If we continue to bring it, the sky's the limit."
Brian Green
came off the bench to score a career-high 25 points, hitting all five of his 3-point attempts, but don't expect many Jimmer-like single-game numbers for a program known for its methodical play.
The Aggies do have experience with winning and are showing it right now.
"We got a lot of seniors and leadership," Wesley said. "Each game we're getting better."
January, 4, 2011
1/04/11
9:21
PM ET
By
Diamond Leung
| ESPN.com
Utah State is 13-2 and undefeated in the WAC, but coach Stew Morrill is not a happy camper right now. During Friday's 80-71 win at home against San Jose State, Morrill ripped into his team at halftime and then again to reporters after the game.
The halftime session that involved a lot of yelling and kicking things, according to forward
Tai Wesley
, was necessary in Morrill's mind.
From the
Deseret News
:
"It would be a crying shame if I acted like a complete idiot in here and they didn't respond," Morrill said. "I shouldn't have to do that."

The ugly performance by the Aggies reaffirms what Morrill has been trying to say all season, that the Aggies are not yet the dominant team that fans want them to be.

"Someone is going to believe me when I say we are not a good team," Morrill said. "We are a very average WAC team right now. We better get better or else we will finish in the middle of the WAC or lower."
The thing is, even if Utah State is average this season, the Aggies are likely still the best of the average teams in the conference.
Injury-plagued New Mexico State, last year's conference tournament champ, announced Tuesday that top rebounder and consistent double-double threat
Wendell McKines
would redshirt the season following preseason surgery on a broken foot.
Boise State has already beaten New Mexico State, and Fresno State is 2-0 as well. But with Hawaii and Nevada inexperience and San Jose State finding out that it will take more than
Adrian Oliver
's scoring to get them wins in the WAC, the path to another regular-season title appears to be clear for Utah State.
Wesley shoots 65.5 percent from the field,
Brian Green
shoots it well from beyond the arc,
Brockeith Pane
brings athleticism and
Pooh Williams
is a top on-ball defender.
Nate Bendall
is playing through chronic foot injuries.
Somehow, it seems Utah State will be a dangerous team like it usually is no matter how much the Aggies are currently struggling and drawing Morrill's ire.