College Basketball Nation:

Brown Bears
April, 23, 2014
Apr 23
9:54
AM ET
Harvard is no longer a one-year wonder, a trendy upset pick or a unique story in college basketball.
The Crimson have arrived as a regular.
[+] Enlarge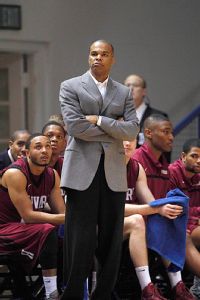 Andrew Richardson/USA TODAY SportsTommy Amaker turned down jobs from power conferences to stay at Harvard.
Nothing can be taken for granted in the sport, but the Crimson are suddenly expected to produce winning teams that compete for the Ivy League title, get to the NCAA tournament and, yes, actually win a game once they get there.
The Crimson have won the automatic berth three years in a row, winning a tournament game the past two seasons as a 14-seed and a 12-seed, beating New Mexico and Cincinnati, respectively.
Harvard coach Tommy Amaker is in the renaissance of his career. He has transformed the sport on campus. He has made it cool to come to the games, to follow the team and alumni are relishing being able to travel to NCAA tournament games.
Amaker could have left for Boston College. Cal too, if he wanted the job. But the Crimson are working on a new contract and trying to take care of him. Harvard works at a glacial pace at this sort of thing, because it's not used to competing for coaches the way in which it does for faculty. The commitment, however, is there. There are even plans to upgrade facilities.
And being the coach who put Harvard into the NCAA tournament for the first time since 1946 and kept it there has enchanted Amaker enough to stay in Cambridge for the foreseeable future.
The normalcy of being a double-digit seed that wins has even been overshadowed.
"People forget we were a 14- and a 12-seed," Amaker said. "And it was the first time in 30 years that a team had won games in the NCAA tournament from the Ivy in back-to-back years. I was stunned when I saw that."
But breaking down barriers for Harvard is nothing new on campus and now in the Ivy.
This is the new normal. And Harvard will be the favorite again.
What we saw this season:
The Ivy League had its best postseason run in its 58-year history. Five teams went to the postseason with Harvard (NCAA), Princeton (CBI) and Brown, Columbia and Yale (CIT), and the league had eight postseason wins.
Putting multiple teams in the postseason occurred for the fourth time in five years.
The last team to win consecutive NCAA tournament games was Princeton in 1983 and '84.
Harvard won a school-record 27 games and a school-high 13 games in the Ivy League as well as the first undefeated road record in the Ivy in the school's history.
Yale made it to the CIT title game before losing to Murray State. It was the first time an Ivy League team played for a postseason title since 1975, when Princeton played for the NIT title.
These tournaments might not resonate nationally, especially the CIT, but the results matter. The Ivy League is showing dramatic improvement, and the stronger it gets, the more its champ gets challenged, giving it a legitimate shot to advance in the NCAAs.
"We're trying to be a top-10 league next year," Columbia coach Kyle Smith said. "Watch out WCC, Missouri Valley and Horizon.
"We had five postseason teams, an 8-5 postseason record, Kenpom had us as the 13th-best league, Columbia had a buzzer-beater at Valpo, Harvard and Columbia played a double-overtime game at Columbia which was the best game in 2014 and only 3,200 people witnessed."
[+] Enlarge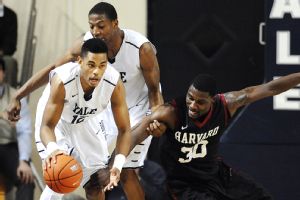 AP Photo/Jessica HillWith Armani Cotton, left, returning, Yale could challenge Harvard for the Ivy League crown.
What to expect next season:
Yale coach James Jones said next season could be the best the entire league has ever been. He said five teams could reach 20 wins.
Harvard will be picked as the favorite, even with the departure of
Brandyn Curry
,
Kyle Casey
and
Laurent Rivard
.
The Crimson return a strong core of
Wesley Saunders
,
Siyani Chambers
and
Steve Moundou-Missi
, with the likely emergence of
Zena Edosomwan
, Corbin Miller,
Agunwa Okolie
,
Jonah Travis
and a healthy
Kenyatta Smith
.
"Their inside game will be very formidable," Smith said of the Crimson. Chambers should be the top guard in the league, too.
Yale will likely be the No. 2 pick behind Harvard with the return of
Justin Sears
,
Javier Duren
,
Armani Cotton
,
Brandon Sherrod
,
Nick Victor
,
Matt Townsend
and
Jack Montague
.
Dismissing Princeton would be a mistake. Tigers coach Mitch Henderson said this team has something to prove, and seven returners, a strong finish to the season and a commitment to defense mean this team has a real shot to be a contender.
Smith said he envisions a bunched-up group in the middle of the pack with any number of teams emerging. Columbia and Brown are the most likely teams to pop out of this group with
Alex Rosenberg
,
Maodo Lo
, Cory Osetkowski, Steve Frankoski and
Grant Mullins
leading the Lions, while
Cedric Kuakumensah
and
Rafael Maia
should be the focus for Brown.
Dartmouth, Penn and Cornell are unknowns at this point, but the Quakers rarely stay down for long. The Ivy doesn't have a postseason tournament, but Amaker has said it's a 14-game tournament with every game counting as much as the next. The chances of getting multiple bids in the NCAA tournament -- which has never happened -- rests solely on whether a second team can win quality nonconference games and push the Crimson to a playoff. It's not crazy to consider.
"Our league will be incredibly balanced and strong next year," Amaker said. "Our league will be very underrated."
November, 2, 2012
11/02/12
8:30
AM ET
By
ESPN.com staff
| ESPN.com
April, 20, 2012
4/20/12
5:00
AM ET
1. One of the top agenda items for new NCAA vice president Mark Lewis is the site of the 2013 NCAA tournament East Regional. The original plan was to hold the 75th anniversary of the event at Madison Square Garden in New York. But according to multiple sources, the NCAA found out Wednesday that it isn't going to be possible due to the late request and the dates already being sent in to the NBA and NHL for the primary tenants. That means Lewis and the NCAA staff will now decide between Syracuse and the new Barclays Arena in Brooklyn for the site. The regionals are usually already known two years in advance but the NCAA held out hope for a historic setting for the East Regional. The other three regionals are set for Los Angeles (Staples Arena), Indianapolis (Lucas Oil Stadium) and Arlington-Dallas (Cowboy Stadium). The Final Four is in Atlanta.

2. Al Skinner has emerged as a candidate for the vacant opening at Brown. This would be a home run hire for the Ivy League school that fired Jesse Agel. Skinner is Boston College's all-time winningest coach. Brown wouldn't find a better tactical coach than Skinner. Skinner would keep Brown assistant T.J. Sorrentine, the former Vermont guard who is popular with the current players. If Brown were Ivy League smart the coaching search wouldn't last any longer since Agel was fired March 5.

3. No one should be surprised by the potential failure of a proposed merger of the MWC and C-USA. A merger would mean one automatic NCAA tournament bid instead of two. The most likely scenario, according to league sources, is for a scheduling/television agreement. Expansion is likely with C-USA looking at North Texas, FIU, Louisiana Tech, Charlotte, UTSA and Middle Tennessee. The MWC would naturally look at Utah State and San Jose State and could possibly grab UTEP in a shift from C-USA to the more natural MWC.
February, 18, 2012
2/18/12
9:52
AM ET
By
ESPN Stats & Info
| ESPN.com
A scan of the college basketball box scores each night guarantees all kinds of statistical oddities and standout performances. Here are some we found from Friday:

Harvard 69, Brown 42
Brown attempted just two free throws the entire game. Seventeen teams have attempted two or fewer free throws, but Brown is the only team to do so this season while also attempting less than double-digit three pointers. Every other team to do so attempted at least 14 threes.
In addition, Brown became the first team this season to attempt nine or fewer threes and two or fewer free throws. Every other team that attempted nine or fewer threes took at least five free throws.
Yale 70, Dartmouth 61
Yale (30-33 from the foul line) became the first Ivy League team this season and eighth team overall to make 30 or more free throws while shooting at least 90 percent from the line. Of those eight teams, the Bulldogs' 70 points are the fewest scored.
Stetson 86, Florida Gulf Coast 80
Florida Gulf Coast attempted 40 three pointers, the ninth team to attempt 40 or more threes this season.
October, 18, 2011
10/18/11
10:45
AM ET
By
ESPN.com staff
| ESPN.com
Before we get to the Blue Ribbon team-by-team previews for the Ivy League, here is Diamond Leung's one-minute wind sprint through the league:
Blue Ribbon breakdowns of all eight teams in the Ivy:
Brown
Columbia
Cornell
Dartmouth
Harvard
Pennsylvania

Princeton
Yale
More Ivy League content
: