College Basketball Nation:

Bruiser Flint
November, 21, 2012
11/21/12
11:00
AM ET
Don't be fooled by the name; this is not a new tournament. It is merely a repackaged Anaheim Classic that is no longer leaving naming-rights sponsorship money on the table. This would normally be the part where we criticize soulless corporate sports sponsorship ... but, I mean, it's the Anaheim Classic. Surely we can find a better target for our outrage.
Anyway, let's talk about this basketball tournament, huh?
The basics:
Nov. 22-25, Anaheim Convention Center, Anaheim, Calif.
The set matchups (Nov. 22):
Pacific vs. Xavier, 2 p.m. ET; Drexel vs. Saint Mary's, 4:30 ET; Rice vs. Georgia Tech, 9 ET; Drake vs. Cal, 11:30 ET.
THE FAVORITE
Xavier:
Major caveat alert: I could make a reasonable argument for Saint Mary's, Cal or even a banged-up Drexel, because I'm not really sure there is one clear favorite in this group of teams. But if I have to pick, I suppose I'll take the squad that shut down Butler just one week before Butler beat Marquette and drilled North Carolina in Maui. The transitive property is a fickle siren, but this early in the season it has to mean something.
FIVE PLAYERS TO WATCH
Matthew Dellavedova, Saint Mary's:
The Australian Olympian and four-year senior is the undispusted leader of this Gaels team in ways both measurable and otherwise, and his offensive output will be (as ever) a huge key to his team's chances of getting out of Anaheim with three consecutive wins.
[+] Enlarge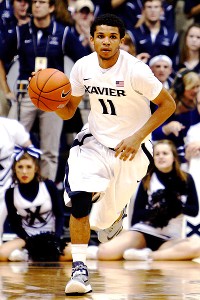 Frank Victores/US PresswireSophomore guard Dee Davis has thus far ably filled holes left by departures at Xavier.
Allen Crabbe, California:
One half of Cal's two-headed returning scoring tandem (the other being fellow guard
Justin Cobbs
), Crabbe is essential to California's hopes of replacing Jorge Guiterrez and Harper Kamp and still making a run at the top of the revamped Pac-12.
Dee Davis, Xavier:
It's early yet, but sophomore guard Davis appears to be just the latest in the Musketeers' long line of starter-minutes-ready young players to emerge after former stars depart. Through three games (including the aforementioned Butler romp) Davis is averaging 15.3 points and 6.7 assists, with a 132.2 offensive rating.
Frantz Massenat, Drexel:
The Dragons suffered a big-time loss this week when guard
Chris Fouch
lost the rest of his season to ankle surgery, but the good news is that Massenat -- a versatile point guard who drives, dishes and shoots with near-equal skill -- remains.
Kammeon Holsey, Georgia Tech:
When Georgia Tech coach Brian Gregory dismissed Glen Rice Jr. in mid-March, he not only made a statement about the importance of attitude and chemistry in his program. He also left Holsey as his only notable returning scorer. Thus far, Holsey has delivered, though this tournament will be the Yellow Jackets' first real test, and we'll see if they'll be more than an ACC punching bag this season.
FIVE BIG QUESTIONS
Is Xavier for real?
The Musketeers were written off at the start of this season, and understandably so -- Tu Holloway and Kenny Frease graduated,
Dez Wells
was (possibly wrongly) kicked out of school,
Mark Lyons
transferred to Arizona, and what remained were guys most hoops fans had never heard of. So the Musketeers were picked to finish ninth -- ninth! -- despite the fact that this program has missed exactly one Sweet 16 (2011) since 2008. When Xavier tossed Butler around in the Musketeers' home opener, the write-offs looked premature. But now, outside of their own building, the young Musketeers have a real chance to prove they're not going anywhere.
Is Cal a Pac-12 contender?
The Pac-12 was bad last season. We've established this ad nauseam (especially for Pac-12 fans, I'm sure) throughout the past 12 months. But for as bad as the league was, on a per-posssesion basis Cal was perfectly respectable (and pretty clearly the best team in its league), even if that respectability didn't always translate into wins. Despite the turnover, would you bet against Mike Montgomery making a run at the top of a still-volatile league this season? I wouldn't.
Does Saint Mary's miss Rob Jones?
Jones was a drastically underrated player last season. Not only was he a versatile scorer, but his rebounding anchored the Gaels on both ends of the floor, particularly on defense, where he posted the nation's 16th-best defensive rebounding rate. Forward
Brad Waldow
is the chief successor to Jones, and will have to have a nice season for Saint Mary's to wrest another West Coast Conference title away from a very good Gonzaga team.
Is Drexel still Drexel?
Bruiser Flint's team was brutally close to an NCAA tournament appearance last season, and had a fair quarrel when all was said and done. With all but one starter returning, and a Virginia Commonwealth-less Colonial Athletic Association, this season was set up as a redemption campaign. It has not gone as planned. The Dragons lost their first two games (to Kent State, which is a bad loss, and Illinois State, which is a good one) and then lost Fouch to a season-ending injury soon thereafter. A title run in Anaheim -- or at least a couple of resume wins, beginning with Saint Mary's -- would be a nice way to get this season back on track.
Who's the upset candidate?
There are some solid teams in this field, but no truly great ones. Which means we could see a few wacky results. That Rice-Georgia Tech game is anyone's guess, and who knows what happens if either of those teams get hot? What if Drake springs an upset on Cal? In a week in which Texas lost to a Division II team and another dude scored 138 points, I'm not discounting any possibilities.
THE PICKS
First round:
Xavier over Pacific; Saint Mary's over Drexel, Georgia Tech over Rice; Cal over Drake.
Semifinals:
Saint Mary's over Xavier; Cal over Georgia Tech.
Championship:
Saint Mary's over Cal.
May, 16, 2012
5/16/12
5:00
AM ET
1. The Colonial Athletic Association will meet June 1-2 in Hilton Head, S.C., and the site of the 2013 tournament is expected to be a hot topic. Drexel coach Bruiser Flint said he could see the tournament moving to Baltimore, out of Virginia Commonwealth's home base in Richmond. The problem is that a school like Towson would have to support the event. The CAA is going to have an odd year in 2013 now that VCU is gone to the Atlantic 10, Georgia State is ineligible to play in the tourney since it's leaving for the Sun Belt and Towson and UNC-Wilmington aren't eligible due to poor APR scores. That leaves eight schools available for the tourney. The elite of Drexel, Old Dominion and George Mason (as well as possibly Northeastern) should all be near the top of the league.

2. The A-10 will find out that a school like VCU has the size and strength to bump the league up a perceived level immediately. The Rams will be an instant competitor for the A-10 title in year one. Don't be surprised to see VCU and Butler in the thick of the race for the championship in 2014, too. One of the big winners is the Barclays Center in Brooklyn. The A-10 made the prudent move to Brooklyn instead of Atlantic City. Having a tournament with Xavier, VCU and Butler as the headline teams will be a draw. If Saint Joseph's, UMass, Dayton and others in the area can be factors, the buzz for the event will only increase.

3. Murray State coach Steve Prohm is deciding about which tournament the coveted Racers will play in next season. He's going back and forth on whether to be in the NIT Season Tip-Off pod at Kansas State (the other three hosts are Virginia, Pitt and Michigan) or become the eighth team at the Charleston (S.C.) Classic. The seven teams signed up for the Nov. 15-18 event are: Baylor, Boston College, Charleston, Colorado, Dayton, St. John's and Southern Illinois. It's a tough call for Prohm. He could gamble and go to Manhattan, Kan., to try to get to New York or go to Charleston, where he's likely to get at least two games against possible NCAA teams.
March, 11, 2012
3/11/12
8:44
PM ET
Bracket first impressions:
Someone on the Selection Committee must be a frustrated screenplay writer.
How else to explain the endless plots coursing through some of these regions?
In the South, Kentucky will debut as the No. 1 overall seed against either its in-state neighbor, Western Kentucky, or former Wildcat Sean Woods, the man who would have sent the Unforgettables to the Final Four were it not for a guy named Laettner.
Should the Cats get through that game, next up is defending national champion Connecticut, the team that knocked them out of the Final Four a year ago. Last we took the pulse, former New England rivals Jim Calhoun and John Calipari weren't double-dating with milkshakes, either.
After that how about a possible Sweet 16 date with
Christian Watford
, er, Indiana? The Hoosiers, thanks to Watford's shot that restored a program, are the only team to beat Kentucky in the regular season.
And then to complete the fun down South, there is perhaps an Elite Eight game against Duke (which might have to get UNLV, its program-establishing Final Four foe, first). Twenty years ago this season, the two met in in a sort-of kind-of memorable regional final.
That guy named Laettner again.
Across the way in the Midwest there are some decent storylines, too.
Harrison Barnes
and
Doug McDermott
could square off in an 1-8 game. The two once, believe it or not, were on the same team. As you might expect, Ames (Iowa) High was pretty good – 53-0 with two state titles in their tenure.
In the Sweet 16, Barnes' Tar Heels could tango with Michigan. If you don't recall, the two met in the 1993 title game. Chris Webber remembers. He called timeout.
Being a No. 1 seed ain't what it used to be.
Back when, like last year, you could write the nation's best through to the Sweet 16 in ink. Maybe you wouldn't press too hard, but ink was fine.
[+] Enlarge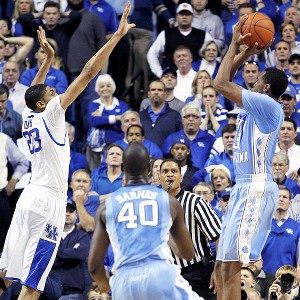 AP Photo/James CrispAnthony Davis blocked John Henson's would-be winner when Kentucky and North Carolina met in December; will he get another shot in New Orleans?
Now grab a pencil.
The No. 1s were not exactly rewarded with cakewalk 8-9 opponents.
Potentially lining up across from Kentucky: defending national champion Connecticut, a team that started the season ranked No. 4 in the country and sports two NBA first-rounders on its roster.
In line for North Carolina: How about a possible date with Creighton, one of the few teams in the country that can score with the Tar Heels and boasts an All-America candidate in McDermott to boot?
Michigan State could get a matchup with Memphis, a wildly talented No. 8 seed that has won 11 of its past 12 games.
Syracuse might say hello to Kansas State, two-time winners over Missouri.
Some other random observations:
Is it the nickname? If he went by something less intimidating — like his given name, James — would Bruiser Flint be welcomed to the party? His Drexel team did win 27 games after all, and that used to be the goal of the sport — winning games.

As usual, the 5-12 game is where the action is. Wichita State and VCU, mid-major darlings both, meet in the South; New Mexico-Long Beach State in the West and Vanderbilt-Harvard in the East. Tiebreaker in that one is a spelling bee.
Seeded too high:
Colorado, Southern Miss.
Seeded too low:
Memphis, Murray State, Detroit.
VCU 2012:
That would be Iona. Most everyone is screaming about the Gaels being in. Understandable. But the Gaels are talented enough to make everyone eat their words just like the Rams did last year.
First team to 300 wins:
That could be Creighton and North Carolina. The Tar Heels average 80 points; the Bluejays 83. Bring your oxygen tank.
Win or you're out:
That goes to all the folks who argued their merit despite failing to finish above .500 in their respective leagues. It's not an official selection committee rule but de facto works fine by us.
And finally the potential:
In October, they were tabbed the two best teams, loaded with the most talent. In December, they played an epic game in Lexington, Ky., decided only by
Anthony Davis
' incredible reach topping
John Henson
's equally impossible wingspan. And on April 2, Kentucky and North Carolina could meet again for the national title.
March, 9, 2012
3/09/12
1:15
AM ET
NEW YORK – Somewhere in Philadelphia, Bruiser Flint should be crafting his argument:
"The Top 100 Reasons Why My Team Deserves To Be in the NCAA Tournament."
South Florida provided 99 for the Drexel coach.
The Bulls, fighting to prove why they belonged in the bracket, instead gave the selection committee a litany of reasons for why they didn't.
Forget the RPI and the 1-9 record against RPI top-50 teams. Forget the unbalanced schedule that worked against the Bulls in terms of SOS.
Just go to the eye test and watch the final few minutes of regulation and the extra period in their
57-53 overtime loss
to Notre Dame. The federal government could put it on a loop to force bad guys to confess.
It was equal parts painful and foolish, a one-two self-inflicted punch that could prove to be a knockout.
Missed layups, missed front ends of one-and-ones, turnovers, dribbling aimlessly for 23 of the final 25 seconds with a four-point deficit and throwing the ball out of bounds on a last-ditch attempt to win it.
How did USF blow it? Let us count the ways.
And the Bulls blew it on a bubblicious night when Texas and Cal likely played their way in with wins and North Carolina State and Colorado State at least played their way into the discussion.
Instead, USF joined Washington, Northwestern and Mississippi State in the losers' bracket of teams that will spend an uncomfortable Sunday evening.
[+] Enlarge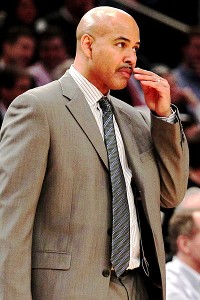 Anthony Gruppuso/US PresswireStan Heath's USF squad will be biting its nails ahead of Selection Sunday after an ugly loss.
Of course, beauty or ugliness, as Stan Heath said, is in the eye of the beholder -- and when the USF coach gazed upon the mess, he saw a masterpiece.
"Hopefully we erased any doubt of what kind of basketball team we are,'' he said. "We belong. We definitely belong. Giving that kind of effort on the defensive end, you have to really appreciate when you have teams that sacrifice themselves on the defensive end. People on the outside, the casual observer, don't know how difficult that is, don't understand that. Teams like us not only get in, they win and advance.''
Heath's assessment of his defense is fair. The Bulls do play hard and they challenge shots, using their size inside to make everything difficult. In one ridiculous effort,
Gus Gilchrist
managed to block
Jerian Grant
despite falling backward and out of bounds.
But this wasn't about the defense making things ugly. Good defense should be lauded.
This is about the offense making things uglier.
As active and disruptive as the Bulls' defense is, their offense is that lackluster. It is like watching chess, with players just standing around like statues.
South Florida led by three with 2:45 to play in a game when three points might as well have been 300, and lost. Frankly, it lost multiple times.
First, when with 33 seconds to play and USF up 45-44,
Jawanza Poland
got out on the break with absolutely no one but a row of cheerleaders near him and the basket ... and missed a layup.
"He should have finished that layup,'' Heath said. "He's point-blank, all by himself. He makes it and the game is over. It's done.''
Second, when Poland, strangely fouled by
Scott Martin
after that miss, clanked the front end of a one-and-one.
Third, when Poland made the worst 33 seconds of his life even worse, fouled
Pat Connaughton
.
Because the Irish were every bit as culpable in this disaster, Connaughton naturally missed one of two free throws to tie it with 26 seconds left.
"That was unusual,'' Notre Dame coach Mike Brey said with a chuckle. "We threw a bomb to Pat and he got fouled. I thought, this is getting wild.''
Ah, but there were five more minutes of wild to come. Notre Dame edged out to a four-point lead when
Eric Atkins
, without a field goal in the entire game, drained a 3-pointer with 30 seconds to play.
USF got the ball back and point guard
Anthony Collins
showed all the urgency of a senior citizen on a freeway.
It would have been a comedy of errors if weren't so hard to understand and if the potential ramifications weren't so bad.
"I'll be honest, I won't sleep,'' Heath said. "You want to hear your name called on Sunday at 6 o'clock. I think we've done a great job by putting ourselves in a great position. I think our team is worthy. But there's some people that have a lot of information that make wise decisions and we'll let our case rest with them.''
There is no shame in losing to Notre Dame. The Irish are a very good team, owners of a 22-10 record now and a legit top Big East squad.
And Heath should be commended for what he's done. He has retooled a team that won 10 games all of last season into one that won 12 in the Big East alone this season.
But at this time of year it is not enough to talk about what you've done. You have to compare your results and your game to others.
You have to look like an NCAA tournament team -- and in its last game before Selection Sunday, USF didn't.
November, 21, 2011
11/21/11
5:00
AM ET
1. The decision by freshman guard
Jabari Brown
to transfer from Oregon stunned the Ducks coaching staff. Head coach Dana Altman said after Sunday's game that he tried to talk Brown out of the decision and he wasn't closing the door. Altman said Brown was frustrated. Another member of the staff said Brown didn't give a reason for his departure. He was playing significant minutes and it was only after two games. Brown was a leader for the Ducks during the trip to Italy in the preseason. The Ducks are flustered, wondering what else they could have done to prevent this departure. If Brown follows through and doesn't come back, this will be a season-changing decision for the Ducks.
2. Drexel looked like the Colonial Athletic Association favorite in a short-handed victory at Rider last Tuesday. But then the Dragons went to the Virgin Islands and collapsed, losing to Norfolk State and Virginia in the first two games, shooting a combined 6-of-34 from 3-point rane. The Dragons were still without two of their three best guards in
Chris Fouch
and
Tavon Allen
, both injured. "We can't make shots and we're having to play guys in spots they're not comfortable in,'' Drexel coach Bruiser Flint said. The Dragons pulled a no-show against Norfolk and couldn't make a bucket against UVa. But Flint isn't worried. The core of the team is still talented enough – especially with
Samme Givens
and
Frantz Massenat
healthy inside and out – to compete for the CAA title. But an at-large berth is taking a serious hit.
3. NC State coach Mark Gottfried has the Wolfpack playing at a high level here early in the season. The Wolfpack are an entertaining team to watch and can score with
C.J. Leslie
,
DeShawn Painter
,
Richard Howell
,
Lorenzo Brown
and, once he's back from an ankle injury,
Scott Wood
. But Gottfried is selling that Belgian big man
Thomas de Thaey
will be the surprise if he can get cleared by the NCAA. The Wolfpack are still awaiting a ruling on the 6-foot-8 forward.
November, 15, 2011
11/15/11
10:23
AM ET
LAWRENCEVILLE, N.J. -- Bruiser Flint wanted to go to sleep, but he got sucked into the midnight tip between Gonzaga and Washington State and before he knew it the clock read 2 a.m.

His wakeup call, all of a sudden, was a mere 90 minutes away.

"That's OK, I'll get a lot of sleep today,'' the Drexel coach said.

And it will be a good rest.

His Dragons, the surprise pick to win the tough Colonial Athletic Association conference, won their opener against Rider 80-62, getting 21 points from big man Samme Givens and Frantz Massenat, who grew up down the street from the Rider campus.

The game tipped off at 6 a.m., as part of ESPN's College Hoops Tip-Off Marathon, requiring players to arrive to Alumni Gym (or better known as the Broncs Zoo) at 4:45 in the morning and bag a typical pre-game breakfast. The Dragons subsisted on oranges, fruit and breakfast bars.

"Yeah, we're pretty hungry,'' Givens said.

Flint prepared his team by hosting 5 a.m. practices on Saturday and Sunday, a luxury Rider coach Tommy Dempsey didn't have. The Broncs opened their season on Friday night at Robert Morris and then faced Pittsburgh on Sunday before flying home for the early-morning home debut.

"If I were asked to do this again, I don't think I'd play three games in four nights, with the last one at 6 a.m.,'' Dempsey said.

This game wasn't a thing of beauty, but to blame the wee hours would be unfair to the clock. Drexel believes ugly is beautiful and so the final stat line -- a combined 28 missed 3-pointers, 44 personal fouls and 31 turnovers -- was exactly the way the Dragons like to play.

"We want to wear you down,'' Flint said. "We want to punch you in the face and you say, 'Ok' and take a knee.''

Which is exactly what happened to the Broncs. Drexel beat them down, outscoring Rider 52-34 in the final 20 minutes before the buzzer sounded and the fans headed out to work, class or a large cup of coffee.

The players?

They're headed to class.

"We actually go to class at Drexel,'' Flint joked. "We've got a good APR, so these guys are going to class. Me? I'm going to sleep.''
October, 14, 2011
10/14/11
4:47
PM ET
From the only-in-Philadelphia file ...

On Friday night at the Kimmel Center, The Mighty Macs, a movie about the famed Immaculata women's basketball team and their legendary coach Cathy Rush, premieres. Along with it being about a Philly team, it's produced and directed by a Philly guy -- Tim Chambers, brother of Penn State basketball coach, Pat.

It's a tricky night for a basketball movie premiere, what with this being the first night of college basketball season and all.

Yet when the lights dim, Drexel's Bruiser Flint, Saint Joseph's Phil Martelli, Temple's Fran Dunphy and Villanova's Jay Wright will be in the audience. The four coaches all reconfigured and finagled their first practices so they could make the 8:30 p.m. opening.

And anyone who knows a thing or two about the hyper-competitive, overanxious gene pool that makes up college coaches knows just how big of a gesture that is.

"That says all you need to know about the coaches in this town,'' said Martelli, whose wife, Judy, played at Immaculata. "I was going to be there regardless because of my wife, but for these guys to do that, that's special.''
May, 27, 2011
5/27/11
1:45
PM ET
It's a tough time to be a Penn State fan. Talor Battle, the best player in program history, has graduated. Ed DeChellis, the so-so coach who couldn't get a contract guarantee from the school, bolted for Navy. Juwan Staten, the best hope of some talent landing on the Happy Valley shores in coming seasons, will
now take his talents elsewhere
.
Of course, all this could be a chance for rebirth. With the right hire, Penn State has the chance to revitalize its program from scratch and in doing so send a message to the rest of the hoops world:
Basketball is no longer a second-class sport here. We want to win.
Alas, as the coaching search stretches on into the weekend, it's looking more and more like this chance is going to pass by the Nittany Lions. Maybe I'm still reeling from last night's Bulls-Heat finish (OK, I admit it, I'm a mess), but this is borderline depressing.
Instead of splashy, exciting candidates,
Penn State reportedly set its sights on the likes of ... East Carolina's Jeff Lebo
. Lebo is a decent coach and by all accounts a nice guy, but his record -- 96-93 (with a 36-61 record in the SEC) at Auburn from 2004-2010, a combined 36 wins in two seasons at ECU -- doesn't exactly scream "rebirth." Even worse? Lebo is uninterested in the job. On Thursday, he issued a statement reaffirming his commitment to the Pirates and said he had not been contacted by any institutions about any coaching vacancies.
So, who's next? On Thursday,
FightOnState.com reported that former Utah coach Jim Boylen
is "in the mix." Boylen is no more inspirational a candidate than Lebo, and that's probably putting it politely. Boylen finished his four years at Utah with a 69-60 overall record and a 32-32 tally in the Mountain West. As proud Utah fans watched in-state rival BYU and national player of the year Jimmer Fredette soar to unprecedented heights, the Utes made one NCAA tournament appearance and didn't go to even the NIT in the past two seasons.
What about other candidates? Drexel's Bruiser Flint and Duquesne's Ron Everhart have both been mentioned by various media outlets (including this one) as possible replacements, and both would be better hires than Lebo or Boylen. But the tenor of this coaching search has been set. No one seems all that interested in the Penn State job; no rising mid-major coaches are scrambling to text their agents to get them an interview immediately. There are few exciting options, but --
as CBS' Gary Parrish wrote yesterday
-- maybe it's time for Penn State to start thinking outside the box:
[...] Penn State is a job for a salesman. Which is why athletic director Tim Curley -- and former South Carolina coach Eddie Fogler, who is assisting in the search -- would be wise to try to hire somebody with a recruiting background and/or unusual connections that might prove helpful. Perhaps that's Drexel's Bruiser Flint and his strong ties in the Philadelphia area. Or maybe it's an assistant with a reputation as a grinder. Honestly, I don't know the right answer for Penn State because my guess is that the next coach will likely lose more than he wins just like DeChellis lost more than he won. All I know is the wrong answer for Penn State and the wrong answer is anybody lacking a larger-than-life personality and/or track record of recruiting above his head.
Yes, you want a proven guy, and yes, Penn State should focus on hiring someone who will keep the program above board with the NCAA at all times. (Most programs should do this. Only some actually make it a priority.)
But it's a big coaching world out there. There are hundreds of hungry up-and-coming assistants who might see the Penn State job less as a career-staller and more of a thrilling opportunity to recruit and coach in one of the most lucrative, prestigious and successful hoops conferences in the country. Unless Penn State can nab Flint (or maybe even Everhart), it might consider diving deep into the ranks of obscure up-and-comers who'll jump into the job with enthusiasm and charisma.
Of course,
it's important to make sure this guy can actually coach
, too. But if you're Penn State and you're staring down the likes of Jeff Lebo and Jim Boylen and your team is bereft of talent and most fans don't seem to care ... well, isn't it time to shake things up?
January, 13, 2011
1/13/11
10:53
PM ET
PHILADELPHIA -- Perhaps Old Dominion ought to petition for membership in the Atlantic 10.
There, at least, the Monarchs are 3-0 this season, with wins against Richmond, Xavier and Dayton.
In their real home, the congested clog that is the Colonial Athletic Association, league favorite ODU is 3-2, two games behind a Hofstra team that had three coaches in six weeks this spring, and tied with UNC-Wilmington and Georgia State, the teams picked to finish last and second-to-last in the preseason poll.
Which about makes sense in a conference that is tough in both the literal and figurative sense of the word. Toss out the winless trio of Northeastern, William & Mary and Towson and anyone can win this thing.
On Thursday night, the Monarchs and Drexel played a game that DU head coach and fight fan Bruiser Flint likened to the Thrilla In Manila, a take-a-punch, give-a-punch battle that ended with the Dragons giving more than they took in a
62-57 win
. Drexel was down 12 at one point, but began the second half on a 16-2 run and put the Monarchs away with ease.
The upshot of that game (one that will be wrongly billed as an upset in some corners) and all of the in-house parity, is that the league will not look as pretty on the outside as it actually is on the inside.
And in basketball, beauty is not in the eye of the beholder.
It's in the hands of the selection committee.
Will members value the brutal nature of the conference or dismiss someone's quality nonconference record because of its pedestrian league finish?
Those who have been through this before in the CAA are already worried it'll be the latter.
"No, no we don't get the respect we deserve at all,'' said Drexel's
Daryl McCoy
, whose 16 boards propped the Dragons' 47-37 rebounding edge against an ODU team that hadn't been outrebounded all season. "People say things like, 'Oh the CAA. Who's in that?' I don't know what it's about. We win games. What else do they want us to do?''
It's a legitimate question.
The CAA has six teams in the top 100 of the RPI, five in the top 75.
Out of conference, the league is 77-53, including Drexel's win at Louisville, VCU's win against UCLA and the Monarchs' 3-0 run through the Atlantic 10 plus a win against Clemson and a close loss to Georgetown.
"How is this league different than the Atlantic 10, the Missouri Valley, the WAC, the Mountain West?" said Flint, a shameless and frequent drum-beater on the behalf of his conference.
Flint frequently likens his team to squads in the A-10, a conference with similar schools in comparable locations and one he believes the CAA ought to be compared with on the basketball court.
Yet the A-10 has been able to position itself right outside of the power six and has earned the respect that comes with it.
In each of the past three seasons, the Atlantic 10 has earned three NCAA spots.
Since 2000, the CAA has earned multiple bids (and by multiple we mean two) just twice -- in 2006 and 2007.
And in '06, that at-large team was George Mason.
For those who have short memories, the Patriots went to the Final Four.
This year, by the way, the CAA is 9-7 against the Atlantic 10.
"We've had a team in the Final Four in the last decade,'' Flint said. "The Atlantic 10 can't say that. The WAC can't say that.''
Flint hopes this is the year the Colonial earns its stripes, that the out-of-conference wins merit more notice than some competitive in-league losses.
Blaine Taylor isn't so sure.
The Old Dominion coach's team will likely be one of the committee's biggest case studies should it fail to win the CAA tournament. The Monarchs currently own an RPI of 28 and a loss to Delaware, two polar opposites that somehow will have to be reconciled.
"A team finishes 16-2 in the league, people tend to say, 'Oh wow, look at them, they must be really good,'' Taylor said. "But when we all beat each other up they think it looks like nobody can separate from one another. With the depth in our conference this season, it might be careful what you wish for. Some really good teams are probably going to have a few losses this year and that may actually hurt us.''
Welcome to life in the Colonial Athletic Association.
July, 27, 2010
7/27/10
10:58
AM ET
The
Philadelphia Daily News on Monday detailed
the
botched alleged robbery of a female Drexel University student by two Drexel men's basketball players
. According to police,
Jamie Harris
and
Kevin Phillip
broke into a student's home waving guns and demanding money; when she said she had none, the two stole her iPhone and attempted to make their getaway. The incident was caught on tape, and the two players were fugitives as of Monday morning.
No more: Monday evening, the
two players surrendered separately to police to face robbery, theft and conspiracy charges
.
The basketball careers of the two players in question seem like vastly minor concerns. After all, Harris and Phillip will be focusing on avoiding extensive jail time, never mind getting back on the court in time for the 2010-11 season. Still, it's worth noting that
Drexel has placed the students on interim suspension "pending the outcome of the investigation."
Even if that suspension was lifted during the next few weeks, it's hard to see Drexel coach Bruiser Flint justifying Harris' and Phillip's return. Which means beyond facing a minor criminal crisis, Drexel is likely to enter -- and perhaps even finish -- the 2010-11 season without Harris, its returning team leader in points and assists.
Anyway, this is much bigger than hoops, which is
why CAA Hoops' take on the matter is worth a read
. If the charges are true, Harris and Phillips sacrificed much more than a basketball career.
In the meantime, Harris' attorney, Robert Lynch, told the Philadelphia Daily News that the "sources" of the investigation related to his client were "corrupt," though he declined to delineate specifics. Lynch said he looked forward to proving Harris' innocence in court.
July, 26, 2010
7/26/10
10:38
AM ET
Usually, offseason behavior problems in college hoops trend more toward the Notre Dame-
Tim Abromaitis
-minor-underage-drinking variety. Rarely do we get something as serious as armed robbery. But that's exactly what two Drexel players face today. Not good.
The players in question are
Jamie Harris
and
Kevin Phillip
.
According to the Philadelphia Daily News
, the two "stormed into a female Drexel student's apartment Wednesday night brandishing guns, expecting to score a big stash of cash, police said." After failing to find said cash, the two stole the woman's iPhone and made their getaway, which was caught on tape. The two are now fugitives -- yes, fugitives -- wanted for robbery, theft and conspiracy charges. Whoops.
Drexel coach Bruiser Flint was blindsided by the news:
Bruiser Flint, the head coach of Drexel's basketball team, said last night that he was unaware that two of his players were wanted by police. "I'm trying to figure this thing out," he said.
Basketball is very much a secondary concern here -- we're talking about two players still apparently on the run from police -- but the immediate implication isn't good. Phillip, a forward, was merely a role player for Drexel last season, but
Harris was the team's best player
, leading the Dragons in scoring and assists as a junior. Depending on how the case plays out, it's entirely possible Flint & Co. will be without both players for the upcoming season.
For now, though, basketball will come later, as the duo remains at large. Wild stuff.
April, 28, 2010
4/28/10
4:33
PM ET
Do you learn new things every day? I try, but I can't always claim success. Sometimes entire 24-hour periods go by where I learn very little lasting knowledge, where the most important thing that rattles through my brain is the fact that, believe it or not, there is a flash game on the Internet that
lets you play Super Mario Brothers with any of the classic Nintendo characters
and their powers. Don't get me wrong -- this is important. It's also awesome. But it hardly qualifies as "learning."
Today was different, folks. Today was a knowledge day. Today I learned that not only is there a contest for the best-dressed coach in college basketball, but that
Drexel coach Bruiser Flint was given this meritorious honor
. Wild, right?
It's true, though, and it comes
via Jeff Eisenberg at the Dagger.
CollegeInsider.com set up the contest, which, I have to say, dug pretty deep into the coaching ranks to develop the seeds. The four No. 1 seeds were Rick Pitino, Jay Wright, Frank Martin and Cleveland State's Gary Waters,
seen here in an understated black suit-green tie combination
. Fabulous! Surprisingly enough, none of the top four seeds made it to the Final Four, where Campell's Robbie Lang, UNC Wilmington's Buzz Peterson, Pepperdine's Tom Asbury, and Flint did battle for the crown. In the end, Flint won, and I have to say,
it is hard to find an image of Flint wearing a bad suit, tie or shirt
. From the looks of things, Flint is always immaculately tailored. The award is well-deserved.
There is also an assistant coaches' bracket
, if that's what you're into. Me, I'd be more interested in a "best name" contest between college basketball coaches. Because I'm pretty sure Bruiser Flint would win that one, too.