College Basketball Nation:

Bryce Alford
July, 7, 2014
Jul 7
10:32
AM ET
By
ESPN.com staff
| ESPN.com

Andy Katz discusses College of Charleston coach Doug Wojcik's status in recruiting, what UCLA coach Steve Alford needs from son Bryce, and Illinois' offseason training.
January, 10, 2014
Jan 10
2:17
AM ET
LOS ANGELES -- When you're putting together a puzzle, it's hard to remove one piece, hold it up on its own, and claim that it's the most valuable piece.
After all, what is that piece really worth without the surrounding pieces attached to it to make it whole?
Most coaches dream of having a team that plays as one -- connected like the pieces of a puzzle -- with each piece as valuable as the next. But that's not the way it usually works in basketball where there's often a star system and a hierarchy in place.
No one knows that balancing act better than Phil Jackson, who won 11 NBA titles with Michael Jordan and Kobe Bryant during his coaching career. Jackson was one of the many celebrities and athletes on hand to watch No. 1 Arizona beat UCLA, 79-75, Thursday night at Pauley Pavilion, and he smiled as he watched the action on the court.
Arizona's unselfish style would have made Jackson's mentor, Tex Winter, smile as well.
Winter was credited as the innovator of the Triangle offense and believed that every pass and cut has a purpose and everything is dictated by the defense. He also believed that egos needed to be checked at the door and was instrumental in getting Jordan and Bryant to understand the importance of trusting their teammates.
There are players talented enough to be stars on Arizona but there are no defined stars. They are a collection of players who have sacrificed individual numbers for a 16-0 record and a No. 1 ranking in the nation.
[+] Enlarge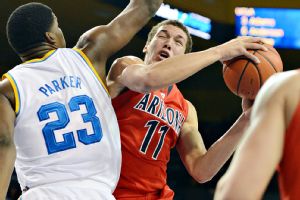 Jayne Kamin-Oncea/USA TODAY SportsAaron Gordon works to get off a shot against UCLA.
A big reason for this unselfish style comes from a couple of Pittsburgh-bred point guards who learned early from their coaching fathers the importance of spreading the ball around to your teammates.
Arizona coach Sean Miller, who played point guard at Pittsburgh from 1988 to '92, and Arizona point guard
T.J. McConnell
, who grew up in Pittsburgh and was the Pittsburgh Post-Gazette's Athlete of the Year in 2010, are mirrors of each other on the court. It's always about making the extra pass to find the open player and making sure everyone on the court is involved.
"Our point guard is unselfish and when you have an unselfish point guard it sometimes can become contagious," Miller said. "The other thing is our newcomers that are young and talented are great people. Great teammates are about winning. We don't deal with the egos or sometimes the selfishness that teams or great individual players can bring to the table."
McConnell, who had eight points and seven assists against UCLA, is a perfect tournament point guard. The 6-foot-1, 195-pound junior never gets rattled, always makes the right pass and is an extension of the coaching staff on the court.
"People don't care how much they score," McConnell said. "They get the satisfaction of getting the assist and that's rare in college basketball today. I think we all do a great job of finding open players and playing together as a team. I just set up the offense and find open players and they hit the open shots."
McConnell has embraced his leadership role on the team along with
Nick Johnson
, who had a game-high 22 points on Thursday. Both players gathered their teammates late in the second half after they blew a 13-point lead and were forced to come back to win the game.
"It was big for our team to keep our composure," McConnell said. "Nick's a great leader and we just gathered each other and said we're going to win this game, we just have to execute down the stretch."
Miller has several players on his roster who can play and guard multiple positions but none is as effective and able to adapt as quickly as Johnson. It's hard to make a push for being the best player in the country when you're playing on an unselfish team that spreads the ball around, but Miller wasn't shy about making a strong push for Johnson to be considered for player of the year honors.
"Yes, he should," Miller said when asked if Johnson should be in the conversation. "If you just look at statistics and how he defends and keep in mind he plays three positions. He plays the backup 1, starts at the 2 and many times when Gabe [York] and T.J. are in there with him he plays at the 3. The value that he brings to our team is really amazing."
His value was once again on display Thursday as he hit the go-ahead jumper over
Bryce Alford
to give Arizona the lead for good and added another free throw down the stretch. Afterward he was greeted by former Wildcats Gilbert Arenas, Luke Walton, Chris Mills and Miles Simon in the locker room. Even off the court, Johnson was unselfish when it came to crediting his performance.
"It starts with our point guard, that's very clear," Johnson said. "He had seven assists tonight. It starts with him and that's contagious. When we have an open man we try to hit him or get one more for our shooter. We're also forcing the ball down low and using our size, but it definitely starts with our point guard."
The Wildcats might be taking some by surprise this season, but the seeds for their unselfishness on the court were planted during offseason workouts and spearheaded by Johnson and McConnell, who knew how close they were to being the team they are now.
"I knew coming into this year we had a great team," Johnson said. "I really used our teams last year and the year before to see what to do and what not to do. We eliminated the stuff that we did bad last year and that's one of the reasons we are where we are right now."
They were reminded of another reason driving them this season as they looked up at the rafters of Pauley Pavilion before the game and then shook the hands of former Wildcats wearing championship rings after the game.
"The way our team is and how close we are off the court, it shows on the court," York said. "We're unselfish and we like to get things done. We all have a common goal and our common goal is to win the national championship. We all know what our goal is."
August, 2, 2012
8/02/12
3:28
PM ET
LAS VEGAS -- He doesn't have a lofty recruiting rating next to his name, and no one has tagged him as an NBA prospect. At least not yet.
Still, when
Bryce Alford
took the court for the Danny Granger D-I Ambassadors in Las Vegas last week, a high-profile coach was watching from the stands.
His father.
New Mexico's Steve Alford, the former Indiana star, tries to attend each of his son's AAU games when they're both at the same recruiting event -- even if it means missing a chance to see another prospect play in an opposing gym.
"My staff just knows that there are certain games I've got to get to," Alford said. "I'm a dad long before I'm a coach."
[+] Enlarge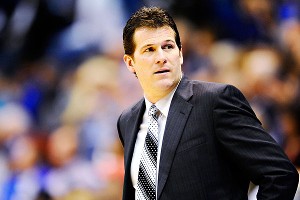 Ron Chenoy/US PresswireSteve Alford said he never pressured his sons to play basketball -- but both Kory and Bryce will be playing for him at New Mexico come 2013.
It won't be long before Alford fills both roles for each of his sons.
Kory Alford
is a New Mexico walk-on who redshirted last season. Bryce, meanwhile, is slated to join his father's squad in the fall of 2013. He committed to the Lobos in March and still has one year remaining at Albuquerque's La Cueva High School.
A 6-foot-3, 170-pound shooting guard, Bryce is regarded as one of the top players in the state.
"Bryce is athletic," Steve Alford said. "He's got very good feet and outstanding court awareness. He has that knack of making people around him better, which means he's a good teammate.
"That's something that has always been preached in our home and they've heard it in the locker room. If you're going to play this game, you're going to play it as hard as you possibly can and you're going to play it as unselfishly as you possibly can."
That's something Steve Alford always did at Indiana, where he led the Hoosiers to the 1987 NCAA title by scoring 23 points in the championship game against Syracuse.
After a four-year career in the NBA, Alford joined the coaching ranks and made stops at Missouri State (then Southwest Missouri State) and Iowa before landing at New Mexico in 2007.
Despite all of his success as a player and coach, Alford said he never pushed his sons toward playing basketball.
"I didn't want to put any more pressure on them," Alford said. "I just wanted them to play and enjoy the college experience. It's a good, happy balance, where they understand what I'm telling them is to help them and not to be overly critical.
"I played for my dad, so that helped a lot. It prepared me for this."
Even though he guesses his sons faced a little "internal pressure" to attend New Mexico, Alford said he left the decision-making process up to each of them. Kory hopes to get into coaching someday. He couldn't pick anyone better to learn from than his own father.
Bryce, who has shown more potential with his on-court play, hasn't looked that far down the road. He's just excited about becoming a Lobo.
"Ever since I was little, I pretty much wanted to play for my dad," Bryce told reporters after announcing his commitment in March. "As I got better and better, he started showing more interest and helping me out to get to the level where I could play for him eventually.
"I knew all along I wanted to go to (New Mexico). There's so much here, I didn't need anything else."
Alford isn't the only New Mexico coach with a son headed for the Division I ranks.
Cullen Neal
, the son of Lobos assistant Craig Neal, has committed to play for Saint Mary's. Cullen Neal and Bryce Alford are AAU teammates.
Their fathers spent plenty of time in Las Vegas last week watching them compete in their final summer of AAU basketball.
"Obviously, I've followed my sons very closely," Alford said. "If I'm on the road, I'm watching them on the internet. I'm just blessed that they've enjoyed playing the game. Hopefully they'll have the same experience in college."
November, 23, 2011
11/23/11
5:00
AM ET
1. Steve Lavin sat out Tuesday night's St. John's win over St. Francis (N.Y.) as he continues his ongoing recovery from serious, seven-hour prostate surgery. Lavin did coach last week in New York for two games. Lavin said late Tuesday night part of the recovery is to manage his energy and to pick his spots. Lavin recruited Saturday and Sunday and went to practice Monday to continue to build his stamina level. But with such a trusted top assistant in Mike Dunlap, Lavin can be like a general manager at times during his recovery and entrust Dunlap to run some of the day-to-day operation like a game as he recovers.

2. Missouri coach Frank Haith said he was going to play much more up tempo and would look to push the basketball. He certainly has the Tigers on the right track here early. The Tigers crushed Cal in the CBE Classic final Tuesday night by playing quickly. The Tigers are one of the positive early-season surprises. UCLA and Detroit are on the opposite end as major disappointments. The Titans were expected to be the preseason Horizon League favorite, but lost again Tuesday night at Bowling Green. The Titans are off to a 2-3 start with no Division I wins yet, losing at Notre Dame and to George Washington, as well.

3. Nothing like a proud father. New Mexico's Steve Alford reported Tuesday night that his son, junior Bryce Alford scored 44 points in a win for Albuquerque's La Cueva High, breaking former La Cueva forward and Arizona forward A.J. Bramlet's record. Alford won't have to go far for this recruitment. There are plenty of involved fathers out there, including Vanderbilt's Kevin Stallings, whose son Jacob is a catcher for the North Carolina baseball team. Stallings loves talking about helping coach and just be around his children.