College Basketball Nation:

Bubble Watch
March, 10, 2013
3/10/13
12:30
AM ET
Well, well, well. Apparently, a few teams want to go to the tournament after all.
OK, so
of course
everyone wants to play in the NCAA tournament. But watching the past week or so of college hoops, you could have been convinced otherwise. Why, it was
just last Saturday
that basically every SEC bubble team lost a bad game, while Arizona State, St. John's, Iowa State, Indiana State and Akron, just to name a few, suffered the kind of losses that can cost you a bid in the tournament.
The weekdays since haven't been much better. Virginia spent all week undoing the résumé boost earned with its victory over Duke. Kentucky lost at Georgia. Baylor flopped against Texas. It got so bad we had to begin considering the fringiest of the fringe -- Southern Miss, Iowa, Providence, Maryland -- even though it was almost physically painful to imagine most of those teams in the tournament.
And then, finally, mercifully, some of these teams started acting like they wanted to play meaningful basketball in March. Kentucky, Tennessee, Boise State and Baylor all got huge wins at home. Iowa State held on at West Virginia. Even Cincinnati, which had been quietly slipping toward the bubble in recent weeks, avoided a brutal loss to South Florida.
It wasn't all good news. Oklahoma lost at TCU. Arizona State fell flat at Arizona. Xavier, Providence and St. John's all missed chances to get somewhere near reality in this thing. There were, as there always are, a handful of head-scratchers -- how Louisiana Tech goes three months without losing once and then drops back-to-back games in the matter of two days is beyond this humble bubbleologist.
But the end effect is clear: The bubble is just a little more firm than it was at the start of the day, a little tougher to crack. Good things happen when players play like they actually care about making the tournament. Who knew?
WINNERS

Kentucky
: The biggest bubble story of the day, and almost certainly the most impactful, Kentucky's win over Florida put the Wildcats back on the right side of the bubble in their final regular-season opportunity. Considering where Kentucky was after its loss at Georgia this week -- all self-recrimination and disbelief -- it was a bit remarkable to stand up at the last possible moment, once and for all.
I won't spend a whole lot of time here, because you can
read my reaction from this afternoon
here. Long story short: UK is no lock to make the tournament, and it still has to navigate a tangle of prospective bad losses in the SEC tournament, but right now, compared to much of the rest of the bubble, the Wildcats are closer to being in than not.

Baylor
: I am not above making a tired and dumb bodysnatchers joke -- see pretty much anything I've tweeted about
Keith Appling
for the past three weeks -- but rare is the opportunity to do so in regards to a team that plays inexplicably well. Today, Baylor is that team.
I mean, how else do you explain the Bears not just beating Kansas in Waco, Texas, but
blowing Kansas out
? When in the past seven days we've seen a) Baylor lose at home to K-State on one of the most heartbreaking (and poorly executed) final seconds of the season and b) lose 79-70 at Texas? That team -- a team that was admittedly still playing hard but looking utterly lost in doing so -- turned around and beat the Jayhawks by 23 points in the penultimate game of the regular season. How does that happen?
Complete shock aside, the bad news for the Bears (sorry) is that they're just 2-10 against the RPI top 50, 5-10 against the top 100, and still have a prohibitively high RPI (No. 73 entering Saturday). As nice as Saturday's win was, and for as much as it helped the Bears, the damage they did in recent weeks isn't so easy to overcome in one fell swoop. They still need more -- and a first-round Big 12 tourney shot against Oklahoma State is an awfully good place to start.

Boise State
: In case you're not up to speed on the Broncos -- and no, they don't play their home games on blue hardwood -- they established their potential tournament case all the way back on Nov. 28, when they shocked Creighton (then the No. 11 team in the country) on its home floor. (Eight days earlier, they had pushed Michigan State 74-70, and we all wondered what was wrong with the Spartans. Go figure.) Since then, they've trucked along in the Mountain West in almost exactly the fashion you'd expect: They've beaten some of the league's toughest teams (UNLV, Colorado State) at home and fallen to some of the league's lesser squads (Air Force isn't a bad loss; Nevada is) on the road. In other words, today's win over San Diego State wasn't exactly revolutionary; it was a realistic get, and the Broncos got it. The one thing really setting
Jeff Elorriaga
& Co. apart from the rest of the bubble dregs is their quality wins. Add one more.

Tennessee
: What is it with Tennessee and late-season boosts? The Volunteers did this last season, too, when they turned a brutal first two months into a 10-6 SEC performance and a late desperate push to get into the NCAA tournament. It didn't happen then, but after Saturday's home win over Missouri -- a thank-you card addressed to
Phil Pressey
is currently in the mail - it looks very much like it's happening now.
I'm not saying that a home win over Missouri is this huge bubble landmark. It's at least a degree or four below a win over Florida. Missouri's only true road wins all season came at Mississippi State and South Carolina. Road warriors these Tigers are not, but combined with UT's other work -- eight wins in its past nine games, including a 30-point demolition of Kentucky and its own victory over Florida -- the résumé is now right in the middle of the bubble picture. Like Kentucky, or really any of these SEC teams, anything can happen going away. But for now, the news is good.

Iowa State
: Of any of these bubble winners, Iowa State should be in the best shape. For one, the Cyclones are easily the best team in this group; even a cursory glance at their efficiency numbers (especially when contrasted with the rest of these teams) reveals one of the best offenses in the country and a top-35-ish team overall. I also happen to think the committee will go outside its nitty-gritty sheets and delve into Iowa State's two losses to Kansas, both of which came in overtime, the latter of which was ripped from them thanks to some truly diabolical officiating. Anyway, I wouldn't be able to say any of this had Iowa State lost at West Virginia on Saturday. It didn't, and so I can.

Ole Miss
: The Rebels won by 14 at LSU. Were they in better position to start the day -- had they not lost to Mississippi State last week, perhaps -- I might have stuck them down in the "Survivors" category. As it is, they remain in the picture, but have a ton of work to do in the SEC tournament. One win won't get it done.
LOSERS

Arizona State
: The Sun Devils are basically done. It's not just a loss at Arizona -- that is obviously forgivable, even if the Wildcats aren't nearly as good as we thought they'd be this season -- it's the four losses in a row (to Washington, UCLA and USC, the latter two of which were on the road, before today's loss at Arizona) as well as an RPI in the 90s, the 283rd-hardest schedule, and so on. Credit Herb Sendek and
Jahii Carson
for getting this program back in the mix in short order, but it's hard to see an at-large here.

La Salle
: The Explorers aren't in bad shape, relatively speaking, and you can hardly fault any team for taking one on the chin at Saint Louis, which they did today. But La Salle has been sort of quietly sliding toward the bubble in the past couple of weeks, and losing 78-54 at this point in the season is hardly the best way to impress the committee. Definitely worth keeping an eye on right now.

Oklahoma
: Oklahoma has been in great tournament shape for the majority of the past month -- the Sooners have been playing solid hoops, and their RPI and SOS figures are great -- but it nonetheless entered Saturday outside the comfort of lockdom. And then the Sooners lost to TCU. That probably isn't enough to put Oklahoma below a score of the teams you see here, but when you really dig in to its résumé, there's not much about it that screams "lock." A first-round loss to Iowa State next week could have the Sooners wavering by Selection Sunday.

Colorado
: This week's Bubble Watch included a little homily on how the Buffaloes' résumé wasn't all that much different from UCLA's, but Colorado was frequently a No. 10 seed while the Bruins were most often placed on the No. 6 line. That was wrong, I wrote. Naturally, Colorado proceeded to lose at home to Oregon State. Like Oklahoma, the Buffaloes are still in better shape than, say, Baylor, but their regular-season finale was enough to introduce some serious questions going forward.
[+] Enlarge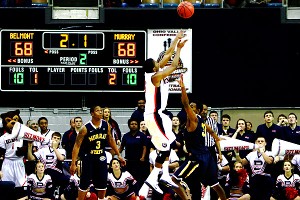 AP Photo/Wade PayneAfter forcing OT, Kerron Johnson won the OVC title and an NCAA bid for Belmont by hitting this shot.
Louisiana Tech
: Before this week, La. Tech's last loss was at McNeese State all the way back on Dec. 12. This week, the Bulldogs lost two in a row, and whatever slim chance they had of getting an at-large look is now officially gone.
Minnesota
: How do you follow up a win against Indiana? If you're Minnesota, you lose at Nebraska and Purdue. I don't really understand how that works, but I don't understand anything about this Gophers team. I don't think Tubby Smith does, either. The good news is Minnesota is still in much better shape than almost anyone on this list, thanks to its batch of top-50 wins and some pretty peerless computer numbers (RPI: 20; SOS: 2). But the Gophers did just finish the Big Ten season at 8-10, and what if they fall in the first round of the Big Ten tournament? You have to at least consider them to be on the bubble right now, right?
SURVIVORS

Alabama
: The Crimson Tide scraped out a three-point home win over Georgia on Saturday. That is the definition of bubble survival: A loss probably would have knocked Anthony Grant's team totally out of the conversation. As it is, it's still a bit of a long shot -- the Tide were Joe Lunardi's last team among the first four out Saturday evening -- with absolutely zero good wins on its docket. Just a totally uninspiring résumé.

Southern Miss
: Speaking of totally uninspiring résumés: the Golden Eagles, everyone! To be honest, it sort of baffles me that Southern Miss is even in the conversation; its best wins are at Denver and a sweep of East Carolina. But the Golden Eagles are hanging around the very fringes of the bubble, and Saturday's home victory over UCF preserved that ungainly status.

Iowa
: If Iowa doesn't make the tournament -- and right now it looks very much like Iowa is not going to make the tournament -- Fran McCaffery will really only have himself to blame. The Hawkeyes' nonconference schedule was that of a team still in rebuilding mode, looking for some forgiving opponents and early-season wins. It didn't help that Northern Iowa wasn't as good as advertised, but still, the overall nonconference schedule rank of 308 looks like it is going to keep this .500 Big Ten team -- which would normally be a worthy distinction -- from serious bubble consideration, barring a big push in Chicago next week.

Cincinnati
: What if Cincinnati had lost to South Florida on Saturday? That would have been the Bearcats' seventh loss in their past nine games, would have put them at 8-10 in Big East play and, worst of all, would have been a loss to South Florida, which has been just flat-out bad all season long. Fortunately, Cincinnati didn't lose to South Florida. Mick Cronin's team held on 61-53 and should be in solid shape moving forward.

Belmont
: This sort-of-kind-of doesn't count, because Belmont won the Ohio Valley Conference tournament in thrilling fashion Saturday, and its Dance status is now of the automatic variety. But had they lost, it's entirely possible the Bruins would have missed the tournament altogether.
MISSED OPPORTUNITIES

Xavier
: Two weeks ago, despite the young Musketeers' growing pains, it was impossible to look at Xavier's schedule and not have your saliva glands start working a little overdrive. Chris Mack's kids would get VCU, Memphis, UMass and Saint Louis all at home, and then they'd finish the season with a trip to Butler. The Cintas Center is a difficult place to play; a 4-1 record was entirely believable, and could have been a season-changing stretch. Instead, Xavier went 2-3 -- it lost at Butler on Saturday 67-62 -- and its tournament credentials look about as so-so as they did back in mid-February. Alas.

Providence
: An even bigger long shot than better-than-you-think brothers-in-arms Iowa at this point, at least Providence, which would close the season at Connecticut, had the best chance of notching an impressive road victory on the final weekend of the season. Instead, UConn held on 63-59. Keep an eye on the Friars going forward; like McCaffery at Iowa, Ed Cooley has them playing better basketball than anyone expected this early in his tenure. But a tournament bid will have to wait.

St. John's
: After suspending
D'Angelo Harrison
, sitting
Sir'Dominic Pointer
for a one-game fighting suspension and losing three in a row, St. John's looked totally cooked coming in to the weekend, both on the bubble and on the court. But the Red Storm didn't roll over. Instead, they gave Marquette a genuine test, forcing guard
Vander Blue
to make a last-second running layup to win and secure Buzz Williams a share of the Big East title. It was an impressive showing by the Red Storm, albeit one that came up just short. No chance this team gets in the tournament now.
March, 3, 2013
3/03/13
1:00
AM ET
In addition to plenty of just-plain-great games -- Louisville's win at Syracuse, Marquette's big home win over Notre Dame, that amazing Duke-Miami thriller at Cameron Indoor Stadium -- Saturday was also filled with bubble action, from the start of the day to its finish.
That's typical, of course; this is the time of year when NCAA tournament at-large selection very rapidly shifts from the theoretical to the concrete. What isn't so typical is the level of carnage wrought on this Saturday, the sheer number of teams with bubble hopes that suffered losses -- some of them devastating.
How do I know Saturday was a bubble massacre? Your
Tennessee Volunteers
-- a new bubble entity this week after their victory over Florida -- managed to lose at Georgia (RPI: 142), 78-68, and, according to our own Joe Lunardi,
moved into the bracket
. Yeah. That happened.
That is one of the things worth remembering about the bubble, of course: It's all relative. We need to get to 68 teams somehow. And if everyone falls apart, maybe, in the end, no one does.
Here is your Saturday Bubble Watch update:
WINNERS

Creighton
: For months, Creighton had no place in the bubble conversation. It was assumed, and not unfairly so, that the Bluejays and star forward
Doug McDermott
would rather effortlessly coast through Missouri Valley Conference play, maybe suffer an upset or two, and not have to worry much or at all about locking up an at-large bid in case Arch Madness proves to be exactly that.
And then things came apart. Creighton dropped a game at Drake. McDermott's scoring dried up in a hard fall at Indiana State, which was followed by a close home loss to Illinois State and a 61-54 upset at Northern Iowa. The Bluejays barely got past Evansville -- a fourth straight loss would have started a major panic -- and last Saturday's trip to Moraga, Calif., for a BracketBusters matchup with Saint Mary's didn't go so well, either. All of a sudden, Creighton, a lock in our Bubble Watch since the month-old first edition, was at semi-serious risk of missing the NCAA tournament.
Its fans can breathe easier now. McDermott's 15-of-18 shooting, 41-point masterpiece led the Bluejays to a 91-79 win over Wichita State -- another surefire tournament team in its own right -- Saturday afternoon. If there was any doubt in the selection committee's mind, having your All-American reclaim his status with a Bill Walton-esque shooting performance over the best competition your league has to offer should just about shore everything up. Finally.

Boise State
: Boise State will be just as thrilled about the aforementioned Bluejays' big win -- all season, Boise State's best bubble credential has been its surprising late-November win at Creighton. That win looks much better now.
But Boise State should mostly thank itself, and by "itself," I mean
Derrick Marks
. Marks had a McDermott-like day: 38 points on 13 of 18 from the field with 5 rebounds, 3 assists and 2 steals. Most important is he did it in a 78-65 win over Colorado State, a top-20 RPI team and a very good one to boot. (It's worth making a distinction, as teams ranked in the top 20 in the RPI aren't always actually good, but CSU definitely is.) Marks put his team on his back, to steal a phrase from that awesome Marshawn Lynch YouTube video, and the combination of a win over Colorado State and Creighton's big win will put Boise back into the serious at-large conversation -- the fifth team from the nine-team Mountain West to deserve such talk.

Oklahoma
: The Sooners snuck up on us this season. It's OK to admit it: No one really expected much in Lon Kruger's second year in Norman, and if there was any expectation at all, it was to keep getting better and maybe surprise a few people in an otherwise-down Big 12. But Kruger's group of unheralded, workmanlike guys has done much more than that. By now, the Sooners have all but locked up an NCAA tournament bid. Sure, sure: There was that loss at Texas earlier in the week, but Oklahoma's convincing win over bubble-stuck Iowa State on Saturday was huge, and the Sooners' computer numbers -- a No. 29 RPI, a No. 9-ranked SOS, a No. 28 nonconference schedule figure -- and big wins over Kansas and Oklahoma State make them impossible to ignore. They have West Virginia and TCU left. If they handle business, they're in.

Massachusetts
: It is worth noting, of course, that even after beating Memphis at home this week, Xavier's RPI is still just No. 87. It is also worth noting that the Minutemen's only top-50 win came at La Salle, which, while a decent team, is nobody's idea of a season-defining power. But even after noting all that, we should also note that UMass won at Xavier on Saturday, something the touted
Memphis Tigers
were unable to do just a few days prior. That definitely counts for something. With a home game against Butler next on the docket, Derek Kellogg's team still has time to make some noise — or at least reverse the damage of last week's loss at St. Bonaventure.

Arkansas
: So, what's a home win over Kentucky worth these days, anyway? It's a good question: The Wildcats beat Missouri in their own building just seven days ago, but that's their only top-50 win of the season, and it's safe to say the selection committee won't hold John Calipari's team in vaunted regard with injured forward
Nerlens Noel
out. So it's hard to know how much this victory can aid Arkansas' late push toward the bubble finish line. But I do know this: It can't hurt. On a day when so much of the rest of the bubble, particularly the SEC versions, seemed intent on imploding, a win over a fellow bubble team counts as a totally positive development. (A win at Missouri on Tuesday would be even better.)

California
: Hey, remember when Cal was kind of bad? It happened this season, I swear it did -- it was just Dec. 29 when a depleted Harvard toppled the Bears in Berkeley, after all. You can be forgiven if you don't quite remember, because it hasn't been the case for weeks. On Saturday, Cal rattled off its seventh consecutive win, a 62-46 destruction of visiting Colorado. This stretch began with a win at Arizona and included a home victory over UCLA and a win at Oregon. With no bad losses weighing them down, I'm not sure how the Bears could miss out on the tournament now.

UCLA
: The Bruins completed their season sweep of Arizona Saturday night at Pauley Pavilion. UCLA wasn't really on the bubble -- not like some of these other poor, desperate souls -- but even so, it's safe to say sweeping the Wildcats makes you a lock. This file is officially closed.
LOSERS
Kentucky, Tennessee, and — gulp — Ole Miss
: Does anyone from the SEC actually
want
to go to the NCAA tournament? Is everybody already thinking about spring football? What on Earth is going on?
We talked about Kentucky in the Arkansas blurb; the Wildcats remain one of the more intriguing at-large cases for the committee to handle, but I'm not sure their status as a just-above-the-bubble squad was totally damaged by a loss at Arkansas. And Tennessee, as we mentioned in the intro, managed to lose at Georgia and still move into the bracket. Wait, what? Huh? How does that happen?
[+] Enlarge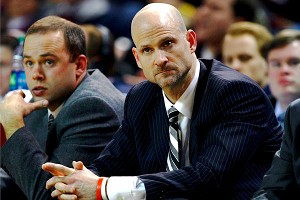 Spruce Derden/USA TODAY SportsAndy Kennedy has seen Ole Miss turn a 17-2 start into a 21-8 mark after Saturday's ugly loss.
The answer brings us to Ole Miss.
On Saturday, Ole Miss lost to Mississippi State. It's a little bit difficult to explain how bad this loss is without sounding a little bit mean to the Bulldogs, but I don't live in the South, so I don't have to couch my insults with the written equivalent of "Bless your heart": Mississippi State is horrible. Awful. The Bulldogs were riding a 13-game losing streak, to no real fault of theirs or their coach's, as -- thanks to injuries and being at the start of a rebuilding process -- Rick Ray has just seven scholarship players at his command this season. Mississippi State's RPI is No. 236. It began Saturday ranked No. 277 in the KenPom.com efficiency rankings, just one spot below mighty Samford. Many fans believe this to be not only the worst Mississippi State team, but the worst Southeastern Conference team
of all time
.
That team beat Ole Miss on March 2.
Not only is it a disaster for the Rebels, who have lost in recent weeks at Texas A&M and South Carolina and have turned a 17-2 start into a 21-8 mess, it's also a disaster for coach Andy Kennedy, who began the season on the proverbial hot seat and needed this Ole Miss team to be the redeemed group that got back to the NCAA tournament. It looks less likely than ever that is going to happen. And why? Mississippi State. It doesn't get much worse than that.

Arizona State
: Speaking of stalled redemption songs, it's been hard to not root this season for the Sun Devils, who soaked up freshman point guard
Jahii Carson
's dynamic skill like a sponge en route to a very legitimate spot in the at-large conversation, a far cry from the depths of the let's-just-pretend-it-never-happened 2012 campaign. But Herb Sendek's team appears to be fading a bit late: It fell at home to Washington last Saturday, missed a close one at UCLA on Thursday, and suffered an absolutely brutal 57-56 loss at USC on Saturday. The Washington loss was easily the worst, but because USC began the season so poorly (before it fired coach Kevin O'Neill), a one-point loss looks worse for bubble purposes than it actually is (as USC has been playing really good basketball for about a month). Just tough breaks here.

St. John's
: This week, the Red Storm suspended
D'Angelo Harrison
, one of its most gifted and frustrating players. Whether that departure can be blamed for Saturday's loss is questionable; what I do know is a loss at Providence for a team with an already very shaky bubble case is not a good thing. You probably know that, too. Failing two wins in its final two regular-season games -- at Notre Dame, versus Marquette, good luck -- Steve Lavin's team may well miss the tournament.

Iowa State
: Poor Cyclones. Really. Sure, Saturday's 86-69 loss at Oklahoma was ugly on the score line, but a) Oklahoma's good, and b) can you really blame Iowa State? After what happened in Hilton Coliseum this week? Being on the receiving end of one of the worst calls of the season -- in a sport that feels ever more infected by awful officiating -- hurts. Not beating Kansas when you should following an emotionally intense performance. Seeing Fred Hoiberg's young child crying on the sideline hurts. Of course, no one in that locker room will be throwing a pity party, nor should they: Iowa State still has a very good chance of getting into the Dance. But the Wednesday home game against Oklahoma State looms large.

Indiana State
: Ah, Sycamores. You thrilled us with your win over Miami at the Diamond Head Classic; you dazzled us with victories at Wichita State and against Creighton. Unfortunately, you've now lost five of your past six, including Saturday's loss at Evansville (RPI: 100) and defeats to Missouri State (RPI: 212), Bradley (RPI: 171) and Drake (RPI: 131). Failing a deep run in Arch Madness, the dream appears to be over.

Akron
: Before Saturday's shocking loss at Buffalo, a 12-17 team with an RPI of 241, Akron's last loss came on Dec. 15. Hopefully the committee takes that into account, because this really is a good team. But the margin for error for mid-majors like Akron is always razor-thin. You can't lose random league games to bad opponents, and when you do, you should probably pick a team that isn't Buffalo. It'll be really interesting to see how this résumé will be viewed going forward.
SURVIVORS

Temple
: Temple had just regained its footing. The Owls had a rough, wild February, wherein they played five consecutive one-point games in conference play, a stretch that included a home loss to Duquesne. But things were looking up: A win at UMass, a home non-one-point-win over La Salle, a double-digit win at Charlotte, and Thursday's solid home victory over Detroit all injected a little life into an at-large profile that included a big win over Syracuse, a nice win over Saint Louis, and not much else. And surely the Owls would take care of things at home against Rhode Island on Saturday, right? Wait … right?
Right. Phew. Temple held on for a 76-70 victory over a Rhode Island team that has played a lot of its Atlantic 10 foes really tight in the past two months; shaking the Rams off is no easy feat. (Just ask Saint Louis, which last lost when Rhody upset the Billikens in Saint Louis. True story.) That Temple was able to do so must have elicited a major sigh of relief from fans, and coach Fran Dunphy, and not necessarily in that order.

Cincinnati
: It's hard to say Cincinnati would have been in bubble trouble with a home loss to Connecticut on Saturday, but our eyebrows would have been ever so slightly raised. It would have been Cincinnati's fourth straight loss, after all, albeit to three solid-to-great (UConn, Notre Dame, Georgetown) Big East teams. The Bearcats held on for a five-point win over Kevin Ollie's scrappy guys, and there's little reason to raise eyebrows now.
MISSED OPPORTUNITIES

Alabama
: When you're a bubble team in the SEC --
oh god, here we go again
-- you don't get many opportunities for marquee wins. Missouri is decent but not great, whether in the RPI or otherwise. Kentucky, Tennessee, Arkansas and Ole Miss don't come anywhere close. (Obviously.) Really, your only opportunity to drastically change the perception of your team or the trajectory of your season -- or both -- is to beat Florida. Florida's really good. If you can knock the Gators off, you deserve to be viewed differently. If you can do it at Florida? You should probably get into the NCAA tournament on sheer principle, which is why Alabama's 12-point loss in Gainesville on Saturday, while expected, is still a missed opportunity: Shockingly enough, the Crimson Tide had Florida well within striking distance as late as the final two minutes of regulation. That final score is a mirage; this game was close, and Alabama just couldn't quite get there when it counted.

Baylor
: It's been easy to poke fun at Baylor this season. The Bears play a wacky zone defense. They've probably underachieved. Those uniforms. Etc. But I refuse to make fun of Baylor after Saturday's absolutely brutal last-second loss. It would be easier than ever. The Bears did inbound the ball out of bounds over the the full length of the court without touching it with one second left, and then allowed
Rodney McGruder
to get free and fire a game-winning 3-pointer within that one second on the ensuing baseline out-of-bounds play. That's a borderline-comical way to lose. But it's also incredibly brutal.
That is, of course, in part because Baylor desperately needed a big win to buttress its bubble case; the Bears are directly atop the bubble right now, and the biggest flaw in their résumé is their lack of marquee wins. The visit from Kansas State was a plum opportunity to knock off a really good team with a really good résumé, and Baylor was just that close.
"Ouch" doesn't even begin to describe it.
February, 17, 2013
2/17/13
1:45
AM ET
Saturday wasn't packed with as many high-quality, top-10 games as we've become used to -- we're spoiled, us hoops fans -- but it did feature a plethora of variously shaky NCAA tournament hopefuls looking to add further credentials to their respective résumés. Here's a look at who won and lost, and who survived and missed out, in a jam-packed day of bubble action.
WINNERS
[+] Enlarge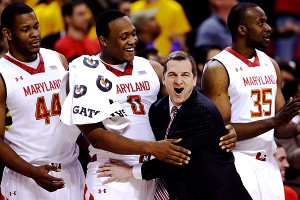 AP Photo/Patrick SemanskyMark Turgeon had plenty to celebrate after he scored his first victory over Duke as Maryland coach.
Maryland
: For Maryland fans, there's nothing in the world better than beating Duke, particularly after a three-year drought against their hated rivals. The same can be said for Maryland's place on the bubble. The Blue Devils are hardly the best team in the country (even if this week's coaches poll inexplicably disagreed) but they
did
enter Saturday with the No. 1 RPI in the country, the product of victories over Minnesota, VCU and Louisville in the November Battle 4 Atlantis (as well as a home win over Ohio State). Maryland entered Saturday planted about as firmly as possible on the tournament bubble, with prohibitive RPI (70) and SOS numbers (SOS: 119; nonconference SOS: 301), and with just one top-50 win, a 51-50 home defeat of NC State, to its name. Duke presented the right combination of a beatable team with a hugely flattering NCAA tournament profile, and the Terps took advantage.
Does that mean they're a lock? Hardly. The Terps would do well to avoid some potential scares on the road (at Boston College, at Georgia Tech, at Wake Forest) and take down North Carolina at home March 6, which is probably their last chance to beat a fellow potential tournament team. And they're still just outside the bracket in Joe Lunardi's latest configuration. But Saturday's win was a huge step forward, no doubt about it.

North Carolina
: Speaking of North Carolina, the Tar Heels still have plenty of work to do themselves before they can feel safe about their spot in the NCAA tournament. But this was a good week. Not only did Roy Williams' team get a promising 93-81 win over Virginia on Saturday -- if you can stretch Virginia to that many possessions, let alone 93 points, you are officially in control of the ballgame -- but it played probably its best game of the season in Wednesday night's close loss to Duke. For strict RPI purposes, that Duke loss will go down as nothing more than that -- a loss to a good team on the road. But the committee was surely watching (it happened to be gathered in Indianapolis for meetings and mock selection), and for a committee never shy about applying the "eye test," UNC's week was a winner.



Philly trio
: Philadelphia hoops might not be at its vintage best these days, but things are trending upward. Villanova backed up its back-to-back wins over Syracuse and Louisville -- the wins that made it a bubble entity in the first place -- with a solid road victory at Connecticut. Temple, which lost to Duquesne 84-83 this week, saw karma return the favor in an 83-82 win at fellow bubbler Massachusetts. And sneaky-good La Salle just keeps winning, this time in a Big 5 matchup victory over St. Joe's.

Arkansas
: For the first two months of the season, the Razorbacks were among the most disappointing teams in the country. After all, why shouldn't this team be good? At the very least, why can't Arkansas play in the tournament? The Razorbacks have an NBA guard in
BJ Young
and some nice pieces around him, and Mike Anderson's Nolan Richardson-inspired up-tempo system isn't just perfect for Arkansas' basketball climate, it's also effective. But soft defense plagued this group throughout November and December as it embarked on what appeared to be yet another mediocre campaign.
That might still be true -- Arkansas did lose at Vanderbilt 67-49 just seven days ago, somehow -- but it's at least worth noticing the Hogs' big wins. On Feb. 5, they handed Florida its first SEC loss of the season, and Saturday afternoon, Young's two late and-1 plays helped Arkansas notch a win over Anderson's former school, Missouri. There is a long way to go before the Razorbacks will start getting serious tournament looks, but at least they seem interested in the postseason.

UCLA
: The Bruins aren't in dire bubble shape but they don't have a ton of room for error, and they had a tough assignment Saturday, playing a surging Stanford team on the road. They got out of Palo Alto with an 88-80 win -- say this much for Ben Howland's team: It can really score -- to remain on the right side of the bubble conversation.

Arizona State
: What a wacky week for the Sun Devils. After last week's three-point home loss to Stanford, ASU fell at Utah, which is better than it was last season (by a lot) but still not one of the 100 or even 150 best teams in college basketball. The only way Arizona State could erase the damage of that defeat was with a big, unlikely win at Colorado -- itself coming off a 13-point win over Arizona -- which, of course, is exactly what happened. Given Colorado's top-20 RPI, ASU's victory in Boulder puts a check in all the boxes the committee holds dear and should help the Sun Devils' own No. 76 RPI to boot.
LOSERS

Kentucky
: There were plenty of questions to ask in the wake of
Nerlens Noel
's season-ending ACL injury at Florida, among them what it meant for Noel's professional career, what (if anything) it said about the one-and-done rule in the NCAA and so on. But chief among them was what the injury would mean for Kentucky's season, and how the Wildcats -- already a somewhat shaky bubble proposition -- would respond. The answer, received Saturday, was "not well." In its first post-Noel game, Kentucky was blown out at Tennessee, 88-58. It was a fair bet to assume the loss of Noel would hurt UK's defense; he is, after all, one of the nation's best shot-blockers-slash-turnover-creators. But no one could have assumed Kentucky would suddenly become the type of defense that allows 88 points to the Volunteers, themselves an often-brutal offensive outfit.
This is all bad news. Because the NCAA tournament selection committee appraises teams based on what they'll be when the tournament begins, it doesn't pay much attention to what happens before a key player gets hurt. The first three months of the season are essentially moot; the committee will evaluate Kentucky on what it does from now until Selection Sunday, and if Saturday was any indication, that appraisal will not be favorable.

Indiana State
: The Sycamores were one of the feel-good stories of the season, an unheralded bunch that emerged from the tough Missouri Valley in lieu of popular preseason tourney picks such as Northern Iowa and Illinois State. Unfortunately, after Saturday's loss at Bradley (RPI: 175) -- which followed a loss earlier this week at Missouri State (RPI: 207) -- much of the bloom has come off this rose. To wit, Lunardi moved Indiana State out of the field in his late bracket update Saturday. Indiana State has four games left in the regular season and one major bubble opportunity: Tuesday night's home date against Wichita State. If ISU can't manage to take down the Shockers in Terre Haute, its final three games (Iona, Drake, at Evansville) won't do much to help.

Air Force
: Between Jan. 19 and Feb. 2, Air Force rattled off five consecutive Mountain West Conference wins, beginning with Boise State and ending with a home victory over San Diego State. The Falcons lost a pair of road games in early February, at New Mexico and Nevada, but came back with another huge home win over UNLV on Feb. 13. All of which made Saturday's home game against Colorado State and its top-15 RPI something like a must-win. Instead, the Falcons fell short, 89-86. I wouldn't count this team out just yet -- it has proved it can play with pretty much anyone in the MWC -- but with its current computer numbers (including an RPI in the 60s and a noncon SOS ranked outside the top 250), Air Force's at-large margin for error is now drastically slim.
The middle portions of the Atlantic 10
: Those of you waiting for the Atlantic 10 to start making some sort of sense can keep waiting, but I'm done. It simply isn't going to happen. But with all that chaos governing the league, it seemed possible some of the more middling teams -- Xavier, Charlotte, UMass -- could extend this one-year-only 16-team's NCAA tournament contenders deeper than anyone previously assumed. But all three of those teams lost Saturday: Xavier lost at Dayton, Charlotte was handled at Saint Louis and UMass missed a big opportunity in a one-point loss to Temple. Much like the A-10 in general, there are varying degrees of résumé in that group. But the overwhelming impression of that trio is mediocrity.
SURVIVORS

NC State
: The Wolfpack are in much better bubble shape than most of the teams above, but the fact remains that a home loss to Virginia Tech on Saturday would have called into question just how tourney-built the Wolfpack really are. Since its Jan. 12 home win over Duke, NC State has lost at Maryland, at Wake Forest, at Virginia and in Durham (as well as a one-point home loss to Miami), and last Sunday only barely got by at Clemson (final score: 58-57) in one of its ugliest offensive outings of the season. NC State entered Saturday's game with a 6-5 record in ACC play and a 2-5 record on the road. And things were dicey in Raleigh. NC State needed a five-minute second-half Hokies drought and a 14-point run, plus overtime, to get past
Erick Green
(who notched 29 points and eight assists) and company. We might not remember it in March, but that might end up being the best -- or at least the most important -- win of NC State's up-and-down season.

Creighton
: Two weeks ago, in my first edition of Bubble Watch, I put the Bluejays on the lock line because ... well, because, why not?
Of course
they were going to make the tournament. Two weeks later, after Creighton lost consecutive games at Indiana State, at home against Illinois State and at Northern Iowa, the Bluejays' profile -- two top-50 wins (over Wisconsin and Akron), an RPI of 50, a SOS of 114 -- suddenly looked like anything
but
a lock. That made Saturday's trip to Evansville fraught with intrigue, and the Purple Aces were more than happy to play the spoiling role. But thanks to
Doug McDermott
's 21 points and 10 rebounds and a 9-for-18 night from 3, Creighton held on 71-68, avoiding its fourth loss in a row and -- much more importantly -- avoiding making me break my "I don't unlock locks; that's why they're locks" Bubble Watch rule. At least for now.

Ole Miss
: For all the hype Ole Miss guard
Marshall Henderson
has received at various times this season, Ole Miss is not a guaranteed tournament team. The Rebels' only marquee win came at home against Missouri, which hasn't played like a marquee-win type of team in months, and besides, Missouri blitzed Ole Miss in Columbia one month later. The Rebels' is the type of profile that is safe only in so far as it's not as shaky as the Villanovas of the world, but it is just as vulnerable to bad losses in an SEC full of them. In other words, Saturday's rally and eventual 84-74 OT victory over Georgia was crucial, if expected.
MISSED OUT

Virginia
: The Cavaliers were hardly the favorite in Chapel Hill on Saturday, but they could have very much used a road win over an ostensible ACC team, and they bossed the game so handily when UNC visited Charlottesville that it seemed entirely plausible the same could happen in a different venue. It didn't -- UNC hung 93 -- and so the Cavs and their truly bizarre at-large profile remain in precarious position.

Oklahoma
: Advanced stats tell us Oklahoma has been playing some very good basketball for the past couple of months, even as the Sooners failed to clinch big results in close games against Kansas State (twice) and at Kansas. When they toppled the reeling Jayhawks in Norman last week, they proved they could break through against a top team, and we shouldn't have been surprised when the Sooners pushed Oklahoma State to the brink in Stillwater on Saturday afternoon. Nor, perhaps, should we have been surprised when Oklahoma State sealed a tight five-point win. But man, would that one have been huge for OU.

Boise State
: Unlike fellow MWC bubble-crasher Air Force, we've seen the Broncos coming since Nov. 28, when they upset Creighton in Omaha. Unfortunately, Boise hasn't gained Air Force-esque steam as the season has progressed, its only notable victory a home win over UNLV. On Saturday, the Broncos played New Mexico tight for 37 minutes and trailed by just two points with three minutes left to play. Then the Broncos faded. There's no shame in losing at New Mexico, but when you have the nation's third-ranked RPI squad on the ropes in its own building, it has to hurt when you can't come through.
February, 6, 2013
2/06/13
3:23
PM ET
The theme to
Wednesday morning's introductory edition of the 2013 Bubble Watch
was confusion -- how the evaluative gap between the RPI and tempo-free metrics (not to mention the thousands of hours of games we've already watched this season) tends to create a divide between what people know about their team's
ability
and what they think they know about their team's résumé, and vice versa.

There is also the issue of knowing what the NCAA selection committee is actually looking for.
For example: Earlier this afternoon my buddy Tom, a die-hard Iowa fan, sent me a message on GChat that said simply, "Iowa's remaining schedule is favorable." He followed up with a reference to my appearance on ESPNU, which he occasionally likes to give me a hard time about: "So as an 'expert' … if they get to 20 wins are they in?"
Tom is a really knowledgeable basketball fan, but even he wasn't quite sure what exactly constitutes a good at-large NCAA tournament résumé. And his point illustrates why Iowa has an uphill battle to be the Big Ten's putative seventh NCAA tournament team this season.
Getting into the tournament isn't about any specific threshold of wins; the 20-win season marker is long since outdated. It's about a confluence of other criteria, including not only a team's RPI or strength of schedule, but its record against teams ranked in the RPI top 50, as well as nonconference strength of schedule, frequency of bad losses, "eye test," and so on. There is no guarantee Iowa could merely finish with a "good" record in the Big Ten -- let's say 9-9, which seems fair enough -- if their résumé was lacking in other ways.
Right now, it is . The computer numbers are rough: RPI of 84, SOS of 107, noncon SOS of 322. Iowa's best wins both came at home over Wisconsin and Iowa State, and because so many of their wins came below the RPI top 150 threshold, they're just 4-8 against teams ranked above it.
This is all very detective, of course. Iowa is ranked No. 37 in the country in KenPom's adjusted efficiency rankings, and No. 51 in BPI; they're not anywhere close to the 84th-best team in the country. But because they let close games against Indiana, Michigan State and (most recently) at Minnesota slip through their grasp,
and
lost at Purdue in overtime, their sheer wins and losses don't reflect the overall quality of the team. It's a classic case of that aforementioned evaluative gap. Iowa really isn't that bad.
That's why tonight's game against Wisconsin is so massive. Look: Beating Wisconsin at Wisconsin is really hard. But it's not impossible, and other than a home date against Minnesota on Feb. 17, it's the best chance Iowa has of scoring an impressive top-50 win. The remaining schedule looks like this:
Feb. 9 vs. Northwestern
Feb. 14 at Penn State
Feb. 17 vs. Minnesota
Feb. 21 at Nebraska
Feb. 27 vs. Purdue
Mar. 2 at Indiana
Mar. 5 vs. Illinois
Mar. 9 vs. Nebraska
If all you're interested in is compiling wins, then Tommy's right: The schedule
is
favorable. But if you dig into the nitty gritty of what those games mean for Iowa's NCAA tournament chances, what you instead get are a lot of RPI-killing land mines, and few real marquee opportunities.
Unless Iowa wants to put its NCAA tournament hopes on the line at Indiana in early March, or wait for that loaded Big Ten tournament to make a run, toppling the Badgers in Madison tonight would be an awfully good place to start.