College Basketball Nation:

Butler Blue II
September, 3, 2013
Sep 3
9:40
PM ET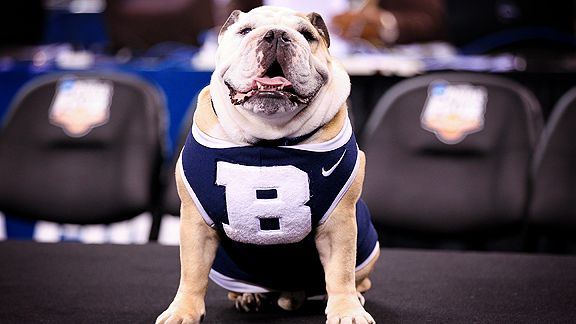 Andy Lyons/Getty ImagesButler Blue II passed away after battling dilated cardiomyopathy (DCM).
Dogs go away. There is no changing this fact. It is always there, and every pet owner must eventually come to terms with it. Long before you pass, your once-tireless puppy will slow down. It happens slowly, like a montage from a bad movie, and then all at once. The old girl won't run up the stairs quite as fast as she used to. Once-routine games of fetch become teary tribute shows.
A decade's got behind you, as the old song goes, and the eventuality that lived in the back of your head from the first moment you brought your buddy home and got her to sleep on that first sleepless, yelping night -- the thing you never really wanted to admit to yourself, even though you always knew -- has arrived. Your friend will go away soon. Plans must be made.
Pet owners of all stripes think about this a lot -- so much so, I'd wager, that we actively avoid it when the pet is anyone else's. The same holds true for mascots. To fans, mascots aren't pets; they're eternal symbols of school pride. Symbols don't have to go away. Symbols are distant, immortal. Symbols don't say goodbye.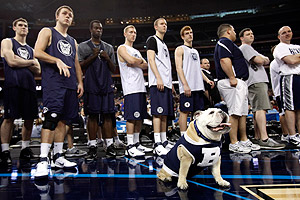 AP Photo/Mark HumphreyBlue II was there every step of the way when Butler made the national title game two years in a row.
In the past few years, thanks to Butler's back-to-back Final Four appearances and some savvy social media presence, Butler Blue II became the most prominent mascot in college basketball -- the most recognizable symbol, save its head coach, of a small Indianapolis school's storybook rise to fame.
But Blue II went away too, Butler announced Tuesday, the result of congestive heart failure weeks in the making. Even at the end,
he and Michael Kaltenmark were friendly and endearing and fun
, and that might be the best testament to Butler Blue II that I can think of -- the reason why news of the little guy's passing hit the Internet (and yours truly) as hard as it did this afternoon.
Blue II never felt like a mascot. He felt like a pet, like Butler's pet, like
college basketball's
pet, only with a tiny Nike sweater and a courtside seat. He wasn't a symbol. He was a real dog.
It only feels fitting, then, to offer a real goodbye. So, goodbye, Blue II. Rest in peace, little buddy. You were a really awesome dog, and you'll be missed. And if you'll excuse me, it seems my house in in need of a thorough dusting.
August, 2, 2013
Aug 2
2:45
PM ET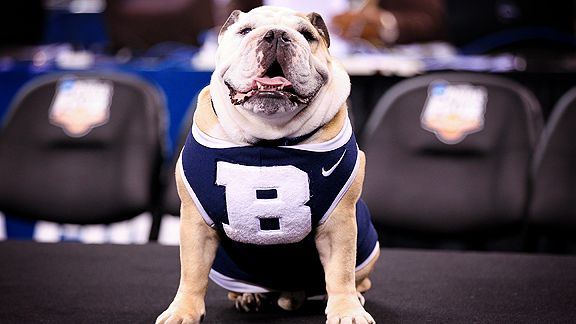 Andy Lyons/Getty ImagesButler Blue II has been diagnosed with dilated cardiomyopathy (DCM).
Butler's run to the Final Four in 2010 changed lives. It made the NBA take notice of Gordon Hayward, now a promising young player for the Utah Jazz. It cemented Brad Stevens' status as one of the best coaches in basketball, and later propelled him to one of
the most storied jobs in the history of the sport
.
Butler's enrollment spiked
. And a furry, relatively unknown mascot named Butler Blue II became, after Stevens, the undisputed star of the program.
The 2011 Final Four sealed the deal: Pregame media days, shootarounds, practices -- there was always a swarm of fans and media members crowding around Blue II, taking cell phone photos and posing with him in the frame. Needless to say, he took it all in in high style:
Since then, "Blue II" -- which is to say, his caretakers -- have fostered an online persona second to none in college sports. Forget mascots: Most
coaches
don't get Twitter like Blue II gets Twitter. You almost feel like you know the little guy.
Which is why it's so sad to hear that Blue II --
as "he" wrote in his blog Thursday
-- is seriously ill. The first issue was Cushing's Disease, which causes a tumor on the pituitary gland to send misplaced signals to the body, causing skin lesions. After receiving treatment, doctors discovered an unreleated and even more serious illness: heart failure.
I've lived a transparent life, both on social media and out and about in the public eye for nine years. I figure there's no reason to stop that now. So it's with a heavy, slightly compromised, but still ticking heart that I tell you that I've been diagnosed with dilated cardiomyopathy (DCM), affecting both the left and right side of my heart.

To put it bluntly, I have heart failure (no connection to the Cushing's Disease). It's maybe a bit ironic for a dog that's been all-heart over the last nine years to develop heart disease, but then again, it's probably no coincidence that my heart has been maxed out.

As our coaches often say to the Butler student-athletes, "Leave it all on the field!" I certainly left it all on the field and frankly, I wouldn't change a thing. In fact, I'm not certain there's ever been a dog to live a life as charmed as mine.
Sad stuff. Fortunately, despite a "grim" prognosis, Blue II still has some time left to "be on Twitter/social media, around to give my kid brother, Trip, a hard time, eating all of the ice cream that is allowed, and of course, going for rides in my most prized possession, that Burley Trailers Tail Wagon." Oh, and this:
Relaxing Friday at home w/ Mom & Master Everett. Thx to all for your kind words. Feeling loved. http://t.co/wzeLP8ylob

— Butler Blue II (@ButlerBlue2) August 2, 2013
Enjoy it, Blue II. Good dog.
June, 6, 2012
6/06/12
9:30
AM ET
So I get home from Tuesday night's pickup basketball just in time to see the final few possessions of a thoroughly satisfying Boston Celtics win -- I'm a Bulls fan, but I can't help but root for this team (and it doesn't hurt that they're playing Miami) -- which included not only a cold-blooded Paul Pierce dagger but also the now-infamous
"Good Job, Good Effort"
kid, which is either one of the funniest or saddest things I've seen all year.
Next up, I successfully dodged political news. Good mood status: intact. So I went to catch up on the late-night college hoops stuff, and lo and behold, but what to my wondering eyes should appear,
comes the news that Butler Blue II is suffering from ... pneumonia
?
Pneumonia?
Pneumonia! And so my good mood was officially ruined. I'm not even the one with pneumonia!
Anyway, there is good news:
According to his Twitter feed
-- where Blue II announced his diagnosis early Tuesday afternoon, followed by a stream of well-wishes and friendly comments -- Blue II is in line for some antibiotics and an IV and "should be back on the mend soon." As a dog owner, any semi-serious dog illness is scary, but it looks like the bacteria will blow over soon.
In the meantime, that means more run for -- you guessed it -- Butler Blue III! Blue III is Blue II's next-in-line, and
he is almost mind-bendingly adorable
. Blue III already subbed in at the last second for a scheduled appearance at the
Mooresville, Ind., Kiwanis luncheon Tuesday
. Such are the joys of having an understudy.
Anyway, point is ... get well soon, Blue II. You've got
important business to attend to
.
March, 14, 2011
3/14/11
2:52
PM ET
One of the biggest hits of the Final Four last year -- at least among those in the media workroom at Lucas Oil Stadium -- was Butler mascot Butler Blue II. When he wasn't courtside for Butler's magical tourney journey, Blue II was the center of attention in the media room. Being a dog person, I can't walk past a dog without at least saying hi, and Blue II was no different. Plus, he was wearing his own jersey sweater.
Dogs in sweaters
are hilarious.
The main key to Blue II's popularity, though, was Twitter,
where his "account"
-- run by Butler social media staffers from the school's athletics communications office -- amassed a large following in just a few short days. In a college hoops landscape littered with teams constantly vying for attention, Butler's communications department nailed it.
It's tourney time again, and Butler is back in the field; the No. 8-seeded Bulldogs will play Old Dominion in the first round in Washington, D.C. Friday. How is Blue II preparing? By training with fellow mascots "Hink" and Robot Ronald Nored in a viral video, of course (hat tip:
Kyle Whelliston
):
In case you're confused, Robot Ronald Nored -- his
friends call him Ron5Robot
-- is the homemade creation of Butler fans. Per
the Indy Star's David Woods
, Ron5Robot was created after Butler guard Ronald Nored, one of the stars of last year's tournament run, had metal rods surgically implanted in his legs. Since then, Ron5 has his own Twitter account, and he gets to rub elbows with the likes of Hink and Blue II.
Unfortunately, Blue II will not be making an appearance in D.C. this weekend.
According to the canine himself
, the NCAA told Blue II -- not directly, I assume -- that he wasn't allowed to attend the festivities this weekend. Early reports indicate that Blue II was momentarily bummed out, but his spirits soon recovered after someone scratched behind his ears. More on this breaking story as it develops.