College Basketball Nation:

BYU
March, 12, 2010
3/12/10
11:36
AM ET
Saddle Up is our daily preview of the day's best basketball action. We're officially into that oh-so-awesome part of the season when a healthy portion of your daily hoops regimen will be happening, you know, during the day, necessitating Saddle Up's move to the morning. So let's do this.
Just like
Wednesday
and
Thursday
, let's open Friday with five themes to watch for as the conference tournaments heat up.
1. The Patriot League -- the L-ingest league in the world.
Apparently, a precursor for success in the 2009-2010 Patriot League conference tournament involves a name that starts with the letter "L." Hey, I don't make the rules. I merely report them. But is there any other conclusion to draw from the Patriot League final, a matchup of No. 3 seed Lafayette and No. 1 seed Lehigh? With the exception of the various at-large bids being traded back and forth by sundry bubble teams, the Patriot League final is today's only surefire tournament bid producer, the lone automatic qualifier decided Friday. Thus far, this week's automatic qualifiers have almost uniformly survived down-to-the-wire games to get to the tournament. Let's hope the Patriot League finale is no different.
2. Don't know what I want, but I know how to get it.
Anarchy in the Big East! Every top seed in the Big East tournament but West Virginia lost Thursday, which leaves us with the rather random pairings of Marquette-Georgetown and Notre Dame-West Virginia, and it's officially anyone's tournament. It's hard not to like West Virginia, which stumbled late against Cincinnati but hit a last-second
Da'Sean Butler
three to get past a suddenly pesky Cincinnati team. West Virginia is the most athletic team left in the bracket, and now has a clear opportunity to do what Butler said they were planning on doing when the Mountaineers finished their season-closing win at Villanova last Saturday -- win the Big East tournament and get a No. 1 seed in the NCAAs. Notre Dame is no simple matchup though; it will be interesting to see if West Virginia's length can disrupt a suddenly potent Irish offense.
3. Quick: Give me two words you hate to hear if you're either Ole Miss or a Wall Street banker.
SEC and bubble. See what I did there? Really, though, the Ole Miss Fighting Admiral Ackbars had the best day of their season in a while yesterday. While other SEC teams (better ones, like Tennessee) duked it out in the first round of the tournament, geographically fortuitous Ole Miss sat back and watched the action unfold. By the end of the day, thanks to teams like Memphis and UAB helpfully losing, Mississippi was promoted into the NCAA tournament by one Mr. Joe Lunardi. Now comes the real work: Actually winning a game in the SEC tournament and holding on to that spot. The Rebels will face Tennessee today, and a win would bolster what to me looks like a pretty shaky tournament case. A loss? Say bye-bye.
4. Three cheers for chalk!
Don't get me wrong -- I enjoy a good conference tournament upset as much as the next person who loves college basketball with a deep, burning, passionate, unquenchable love. But it's also nice to see the de facto best teams in a conference duke it out in that conference tournament's semifinals. That's what we've got in the Big 12 today, where No. 1 seed Kansas will take on No. 4 seed Texas A&M and No. 2 seed Kansas State gets No. 3 seed Baylor. Look out for the Bears here -- no team has inspired quite so many "I think this team is dangerous!" comments in our last two days of live-chatting, and the Bears' late-night win over Texas proved why. Baylor is deep, athletic, balanced and smart. They
score
. This tournament is still Kansas' to win, and unlike its Big East counterpart, there is no parity to discuss here. Just dominance at the top. Refreshing, huh?
5. You're watching the Mountain West tournament, right? Because you should be watching the Mountain West tournament.
Unfortunately for those of us who don't live in America's most beautiful 1,000 square miles or so and thus don't get The Mtn., the Mountain West's take on the Big Ten Network, watching the early rounds of the Mountain West tournament has been a challenge. HOWEVA, if you have CBS College Sports -- which comes on a sports tier package with cable providers and DirecTV -- you can watch the rest of the tournament, as Mountain West games have switched over to the more available network. This is a good thing. Why? Because
Jimmer Fredette
is doing ridiculous things with the ball in his hand, for one. He scored 45 points in Thursday night's win over TCU. (That's almost half of his team's 95, by the way.) On the other side of the bracket, New Mexico and San Diego State will duke it out, the Aztecs with an NCAA tournament bid on the line. So, yeah, find a TV, and make sure that TV has plenty of channels.
Bonus thing, per the usual
: In just a few minutes,
I'll be chatting from 12 p.m. ET to 6 p.m., right here
, same as Wednesday and Thursday. These chats are a great time. Be there.
March, 8, 2010
3/08/10
12:12
PM ET
In many ways, today is the real start of March Madness, though you could just as easily say that about last week, when the conference tournaments really began. But since we have, count 'em,
eight conference championships on the line tonight
, and since this week marks the beginning of all the power conference tournaments, today rather feels like the start of what will be four consecutive awesome weeks of win-or-go-home hoops. Let's go to the tape:
As always,
follow me on Twitter
to send me links and tips.
February, 24, 2010
2/24/10
3:40
PM ET
Saddle Up is our daily preview of the hoops your TV wants you to watch. Here's Wednesday night's rundown.
Don't let anyone tell you the college basketball regular season doesn't matter. It does. Wednesday night doesn't boast a single match up between top 25 teams, but it does have at least four games featuring bubble (or barely bubble) teams with a chance to immediately boost their at-large chances. A quick gander:
No. 3 Purdue at Minnesota, 7:30 p.m. ET, Big Ten Network
: Don't look now, but Minnesota has a chance to make the NCAA tournament. I know, I know -- it's a distant chance. But it's a chance. After
a 16-point win over Wisconsin on Feb. 18
and a subsequent blowout at Indiana, Tubby Smith's team is at 16-10 and 7-7 in the Big Ten with four games to play. A win tonight would be the Gophers' third in a row, and would give them a much-needed quality win for the résumé. Then, with a win over the No. 3 team in the country in their pocket, the Gophers would have three winnable games -- at Illinois, at Michigan, and at Iowa -- to play. Win out, and that gets Minnesota to 20 wins, an 11-7 conference mark, and serious at-large consideration. Easy, right?
OK, not so much: Purdue is playing its best basketball of the season right now, and the Boilermakers are in the thick of a Big Ten title race with Ohio State and Michigan State. There will be no letdowns. If Minnesota wants to sneak into the tournament, it will be earned.
South Florida at Villanova, 9 p.m. ET, ESPN360
: South Florida, much like Minnesota,
is nowhere to be found in Joe Lunardi's latest bracket
. At 16-10, the Bulls share much the same burden as the Gophers, which is not how the animal kingdom works at all, but that's OK, because we're actually talking about college basketball. Anyway, stay focused: South Florida very much needs a win at Villanova -- not an impossible feat, given Nova's prodigious fouling habit and overall defensive vulnerability -- to stay in the bubble picture. At the very least, fire up your laptop to watch Dominique Jones take on the porous Wildcats. Bubble talk or no, that ought to be a treat.
San Diego State at BYU, 9 p.m. ET, CBS College Sports
: San Diego State has had two prior chances to prove itself worthy of an at-large bid. The first was Jan. 23's 71-69 loss to BYU at home. The second was an 88-86 loss at New Mexico. Swap either one of those incredibly close and no doubt disappointing results, and
SDSU isn't sitting there wallowing among the first four out
. So here you go, Aztecs. Last chance. You get BYU and Jimmer Fredette in Provo with a tournament at-large on the line. You've proven you can play with the best teams in your league. Now you must, thanks to the selection committee's totally unfair and not cool at all focus on "wins," win.
No. 21 Pittsburgh at Notre Dame, 7 p.m. ET, ESPN2
: You already know the story here: Right now, Notre Dame shares two things with the aforementioned South Florida Bulls: a 6-8 Big East record and a fringe chance of making the NCAA tournament. How to remedy that? The Bulls have the better of the opportunities tonight, but Notre Dame has the more winnable. The only problem? Luke Harangody is expected to sit out again for the Irish, a knee injury that's come at the worst possible time for the perennially bubble-bound team.
Everywhere else
: Both of these teams are already in the tournament, so they get shoved all the way down here to the flotsam, but
tonight's best game is no doubt Oklahoma State at Texas
, where Texas will experience life without Dogus Balbay for the first time ... There's
also Texas A&M at Baylor
, a match up of two very capable and tourney-ready Big 12 teams ... Dayton didn't fit up top, but it too needs
a bubble win over Temple
to make a late case for tournament inclusion ...
UTEP will try to continue its conference dominance at Southern Miss
...
Virginia Tech can't afford to lose to Boston College
...
Florida State at North Carolina
will be on your television whether you like it or not ...
Xavier will go to St. Louis in tonight's other big A-10 match up
... And
Clemson will play at Maryland
as the Terps try to keep edging toward that elusive bracketology respect.
February, 20, 2010
2/20/10
2:59
PM ET
The player of the year voting is going to come down to two players: Ohio State's
Evan Turner
or Kentucky's
John Wall
. This is the common consensus. Common consensus determines player of the year voting. This is perfectly fine, too, because more than anyone else, Evan Turner and John Wall -- with the possible exception of
DeMarcus Cousins
and maybe
Sherron Collins
-- deserve to win the award. One of them will. This is the way the system is supposed to work.
[+] Enlarge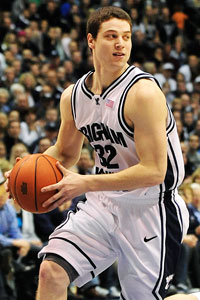 Boyd Ivey/Icon SMIJimmer Fredette is averaging 21.5 points and five assists per game as 24-3 BYU enters tonight's game against Wyoming.
Still, though, it's always fun to throw a random name or two into the mix,
and that's exactly what John Perrotto did yesterday
, saying he would be giving his Oscar Robertson award vote to none other than BYU's star guard
Jimmer Fredette
. Perrotto's reasoning is not unsound:
My Robertson ballot has yet to arrive. However, if I had in my hand today and was forced to send it in, my choice would not be Turner, Cousins or Reynolds.

My pick would come from a mid-major, a player who is having an incredible season for a team that is talented enough to crash the Final Four party in Indianapolis. That would be Fredette, the best player nobody ever sees play because the Mountain West Conference has its national television package with CBS College Sports.

Fredette's line is 21.5/3.2/5.0/31.0 for a Brigham Young team that is 22-3. However, Fredette's true worth can be found in Pomeroy's tempo-free stats as the junior guard ranks in the nation's top 100 in seven categories: 1.4 fouls called per 40 minutes (18th), 31.0 percentage of possessions (27th), 122.1 offensive rating (59th), 31.5 assist rate (67.5), 30.6 percentage of shots (82nd), 1.4 fouls called per 40 minutes (85th) and 61.9 true shooting percentage (61.9).
Those are impressive tempo-free numbers for any player, but especially for one leading a Cougars team to its best season in years. So, Fredette's candidacy begins. Can he actually win the award?
Ha, just kidding. No.
Of course
Fredette isn't going to win any player of the year awards, because he's playing on a team that doesn't get much national attention, that doesn't compete in primetime, and that doesn't rank as a traditional basketball power. That's part of the reason. The other part, is that it's very hard to argue by any realistic standard that Fredette actually deserves the award more than Evan Turner or John Wall. He doesn't.
But hey, if tossing the occasional vote Fredette's way helps him get the national love his play deserves, there's nothing wrong with that, right?
February, 16, 2010
2/16/10
12:41
PM ET
February, 2, 2010
2/02/10
3:40
PM ET
Saddle Up is our nightly look at the hoops your TV wants you to watch. Here's Tuesday night's rundown:


No. 5 Michigan State at No. 16 Wisconsin, 9 p.m. ET, ESPN
: Michigan State is good on the road. Wisconsin is good at home. Immovable object, unstoppable force, you get the idea: Something's got to give in Madison tonight, and I have no idea what it will be.
Someone has to win, though, and
if the tempo-free numbers have anything to say about it
, that someone should be Wisconsin. The Badgers are No. 5 in the country in adjusted efficiency while the Spartans are No. 18, a difference that largely comes down to the Badgers' defense. Wisconsin doesn't force many turnovers, but they prevent teams from hot shooting nights and they rebound on the defensive end better than any team in the country. Michigan State has been getting better and better lately, so their numbers might not be a true reflection of their current state, but it's hard to look at Michigan State's strength -- offensive rebounding -- and think the Badgers don't have a serious advantage when it comes to the boards.
Of course, the numbers aren't the end-all. Still, this is Michigan State's biggest conference test of the season, and it comes as the Spartans just so happen to be playing their best basketball -- both at home and on the road -- of the year. This game is going to be slow, methodical, physical, defensive and awesome. Who else is excited?


Mississippi at No. 3 Kentucky, 7 p.m. ET, ESPN
: OK class, quiz time. Who knows what everyone is going to be talking about before, during, and after Kentucky's home matchup with Ole Miss tonight? Yes, that's right: CalWallGate 2010. (I just made up that name. Pretty terrible, right?)
Is
John Wall
still mad at John Calipari? Have the two reconciled their differences? Is this really a "teaching moment?" Expect this to be a topic of conversation, to say the least.
The more pertinent question is whether Wall can rebound from his string of merely human performances -- or whether he needs to. Kentucky is so talented, and so many of its possessions end up in
DeMarcus Cousins
' hands, that Wall doesn't have to take games over on the offensive end to get the Wildcats a win. He merely needs to control the game, keep his turnovers in check, find
Eric Bledsoe
for open looks on the perimeter, and get the ball inside to Cousins, and somewhat-overlooked forward
Patrick Patterson
, and the Cats should handle fringe top 25 opponents like Ole Miss with relative ease.
John Wall doesn't have do it all. He just has to do some of everything, and efficiently so. If he does, UK will be just fine.
Everywhere else
:
Villanova is on fire these days
.
Seton Hall will
try to do what so few Nova opponents have been able to -- put out the flames. (Or at least toss a little water on them. Anything to quell the burning. OK, I'll stop now.) ... Meanwhile, the second of two Big East games featuring marginal road teams at vicious home foes -- this one would be
Providence at Syracuse
-- will be tipping off. ...
Kansas State goes to Nebraska
, which got its first Big 12 win of the year
in Saturday's 17-point win over Oklahoma
. ... BYU will continue its roll through the Mountain West
when TCU comes to Provo
. ... Northwestern is still a potential tourney team! Repeat: Northwestern is still a potential tourney team. Games like tonight's -- a
possible home victory over Michigan
; nothing flashy, but necessary for the committee's ease of mind -- are key to that cause. At 3-6 in the Big Ten, the Wildcats can't afford another bad one.
January, 28, 2010
1/28/10
12:45
AM ET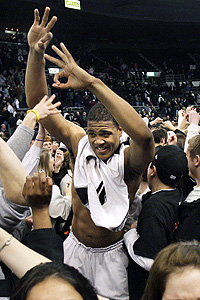 AP Photo/Elise AmendolaBilal Dixon and Providence had reason to celebrate after an 81-66 win against UConn.
Something I didn't think I would see:
Providence ahead of Connecticut
in the Big East standings. PC is 4-4, UConn is 3-4.
How about this quote from PC coach Keno Davis: "We can beat anybody in the country. We have enough talent, but we have to play extremely hard.'' I'm not sure I'm buying that proclamation, but it's good to know Davis has that much confidence in his crew.
UConn's win over Texas was as impressive a W as we've seen this season. But I knew if Connecticut was an elite team the Huskies had to win a game on the road that they're supposed to -- and they didn't. It's odd looking at the Big East standings and seeing UConn ranked No. 19 yet in 11th place in the league.
Not sure there was as impressive a road performance in the SEC (save Kentucky winning at Florida) as Vanderbilt's win at Tennessee. The Commodores got spirited production out of Jermaine Beal (25 points) and held the Vols to 6-of-20 on 3s. Vandy goes into Kentucky on Saturday with a chance to actually build a two-game lead on the Cats. Huh?
No one should fault BYU for losing at New Mexico, 76-72. The Pit is and will be one of the toughest places in the country to play, and I can tell you from years covering the Lobos that there is no opponent that gets the place as amped as the Cougars. BYU remains the MWC favorite even with the loss to the Lobos. But UNM desperately needed the win to stay in the race.
Memphis coach Josh Pastner picked up a quality road W by winning at Marshall to keep the Tigers in the C-USA league race.
Villanova's 18-1 record and 8-0 mark in the Big East after beating Notre Dame is as impressive as any in the country. But the Wildcats' schedule is back-loaded with road games at Syracuse, Georgetown and West Virginia that will be tough to tackle.
Duke won again at Cameron. I just don't see the Blue Devils losing at home. So that's eight ACC wins right there. The Devils have already won at Clemson. So that's nine. Pick up at least two road wins out of BC, Miami or Virginia (don't see UNC or Maryland) and the Blue Devils will likely win the league with 11 wins. That's unless Maryland decides to string together a bunch of road wins.
Florida is winning the games it should at home now with a 79-63 win over Georgia to move to 4-2 and move closer to an NCAA berth after two NIT years.
Drexel snuffed out Northeastern's win streak at 11 (which was the third-longest in the country) with an impressive 61-48 win on the road.
Hard to generate buzz for William & Mary now after the Tribe lost to James Madison by a deuce to fall to 6-4 in the CAA.
Hard not to cheer for Oklahoma State to beat Texas A&M on Wednesday, the ninth anniversary of the tragic plane crash that killed 10 people associated with the program. OSU beat the Aggies to move ahead of them in the standings at 4-2 (A&M is 3-3).
What has happened to LSU's offense? The Tigers led Alabama at the break, but scored just 13 points in the second half. Tasmin Mitchell and Bo Spencer were a combined 4-of-18 in the 57-38 loss at Alabama. The defending SEC champs are now 0-6 in league play.
Believe it or not, Hofstra's Charles Jenkins had an eight-point play in the Pride's 93-54 win over UNC Wilmington. He scored on a layup and was fouled. But it was ruled an intentional foul and then Wilmington's Benny Moss got a technical for arguing. Jenkins hit all four free throws (two for the intentional and two for the technical) and then Hofstra got the ball because of the intentional foul and Jenkins scored off the inbound pass with a floater. In five seconds, the score went from 26-9 to 34-9. Wow.
January, 27, 2010
1/27/10
4:31
PM ET
Saddle Up is our preview of the hoops your TV wants you to watch tonight. Yes, your inanimate TV has totally real, humanoid feelings about your viewing habits. Here's Wednesday night's rundown:
No. 10 BYU at New Mexico, 10 p.m. ET
: BYU has had a hard time earning respect. This is probably fair. Last year's Cougars put together an impressive resumé and had the tempo-free chops to go along with it, and as soon as they got to the tournament (and as soon as yours truly picked them to finish in the Sweet 16), the Cougars lost by 13 to a so-so Texas A&M team, bowing out of the NCAAs after 40 minutes. So it's probably fair if this year's BYU Cougars -- a 20-1 team
currently ranked fourth in Pomeroy's adjusted efficiency ratings
-- are met with a degree of skepticism from the national media. For example, Monday Digger Phelps told his ESPN studio mates that BYU was too high in the polls at No. 10, which was met with understandable agreement. BYU
hasn't
played anybody. But in regards to their poll placement, the numbers seem to disagree; BYU might actually deserve to be higher.
The lesson here? They have to prove it. Tonight -- an away game versus a New Mexico team that launched itself into the top 25 early in the season, beating Texas Tech and Cal on the way there -- is a chance to do just that. It's also a chance to see
Jimmer Fredette
, BYU's point guard and leading scorer, match up with New Mexico guard
Dairese Gary
. It's as good a look as the Cougars going to get for a while. They ought to make the most of it.
Notre Dame at No. 3 Villanova, 7 p.m. ET, ESPN
: Does Villanova want a No. 1 ranking? If so, it'll have to handle its business tonight against a pesky but not-quite-there Notre Dame team. The Irish gave Syracuse a few fits with its zone last week, but ultimately fell short because their own defense was so bad. This is a trend under Mike Brey, and it's just the way things will go for this ND team. They might win a few games, but they'll need a surge if they want to make
Luke Harangody
's final year anything but another stopover to the next level, wherever Harangody might end up. (Maybe the NBA, maybe not.) A quick aside here: That's sort of sad. Watching Luke Harangody is a joy. He's one of the weirdest, most effective players we've seen in decades, and he's arguably best Notre Dame player of all-time. That he has toiled away his last two years of eligibility on decidedly mediocre teams feels like a waste.
Florida State at No. 7 Duke
: Duke has had its occasional issues this season, but from a tempo-free standpoint,
they still look awfully good
. That's good news, because Florida State doesn't fear Cameron Indoor Stadium; the Seminoles are one of only four visiting teams to have won at Cameron in the past four years. Florida State won seven in a row before back-to-back losses at Maryland and against N.C. State at home, and that last loss is not the stuff quality NCAA tournament teams are made of, even if N.C. State has been a slight surprise this season. But maybe, just maybe, if Florida state can manage to somehow keep its turnover bug at bay, its defense will be stingy enough to keep things close in Cameron. The court may look flat, but an uphill battle awaits.
Everywhere else
: It's not on the main network, but if you have ESPNU you can watch the newly minted top 25
Vanderbilt Commodores
go to Knoxville to take on in-state rivals Tennessee
... Temple faces another roadblock in its path to a potential A-10 title
in 14-5 Charlotte
...
Ohio State goes to Iowa
to see what happens when
Evan Turner
looks around, sees lots of 5-foot-8 guys guarding him, stops being polite, and starts getting real ...
Iowa State will visit Oklahoma
in a match up of two Big 12 teams with singular talents who have managed to completely disappoint their fans ...
Illinois State goes to Wichita State
... Georgia will see if it can keep its reputation for playing ostensibly superior teams tough on the road as
it heads south to Gainsville
...
Connecticut goes to Providence
; the Huskies are still without Jim Calhoun.
January, 14, 2010
1/14/10
9:30
AM ET
The Morning After is our semi-daily recap post. Try not to make it awkward.
Clemson 83, North Carolina 64
: Two conclusions. 1). North Carolina is, as of Jan. 14, not very good. 2). Clemson's basketball fan support is at an all-time high, and the Tigers are better for it.
On the first: This isn't exactly a shocker. After all, North Carolina came into Thursday night's game
ranked No. 41 in Ken Pomeroy's adjusted efficiency ratings
. They're merely OK defensively, and in past years this was fine, because the offense was otherworldy. That's not the case this year; UNC is 40th in points per possession, scoring about 1.1 points per trip. That's just ... meh. (And it doesn't help when you
turn the ball over
on 30 percent of your possessions, either.) It's certainly not what we've come to expect from Roy Williams' North Carolina teams, who have overwhelmed their opponents on the offensive end since the day Roy found a house in Chapel Hill. This team is young and new and not vintage UNC, and it shows. On nights like Wednesday, it shows badly.
Make no mistake, though, North Carolina wasn't merely bad on Wednesday. Saying so would be a disservice to Clemson and its fans. This is the second conclusion: Don't look now, but Clemson is starting to look like a pretty darn good ACC program. They've got the ability, sure. That's not entirely new; Oliver Purnell's teams have been playing at about this level for a few years now. But more than anything, Wednesday night showed just how far Clemson's fan base has come. It was this time last year that
Clemson writers were aghast
wondering why so many people were showing up to noon tip-offs at Littlejohn Coliseum. That was unlike Clemson fans, who typically prefer their football. (They're in South Carolina, after all. Don't fish prefer the water?) Newsflash: Clemson basketball has plenty of fans, too, and those fans are relishing the Tigers' stellar on-court product.* Chicken, meet egg.
*Speaking of on-court relish, this of course doesn't excuse the court-storming that went down on Wednesday night, which I'll get to in a later post. Here's a preview: Tsk-tsk, Clemson students. Tsk. Tsk.
Texas 90, Iowa State 83
;
Kansas 84, Nebraska 72
;
Missouri 94, Texas Tech 89
: Well, it was fun while it lasted. Most of Wednesday's talk revolved around how well Big 12 teams had done at home in 2009-10;
the conference was 112-1
going into Wednesday night's games. I said yesterday that that stat would be tested, and if it held up after Wednesday night's games, something seriously freaky was going on. Never mind. All three Big 12 road teams won on Wednesday night, even Missouri -- ostensibly rebuilding after an Elite Eight last year, but quietly 14-3 and 3-0 in conference -- at Texas Tech. I think we can rule out the supernatural.
Michigan State 60, Minnesota 53
: Minnesota is almost good enough to be ranked. Almost. The Gophers have lost five of their last six games to ranked teams (that stat courtesy of the wonderful folks in the ESPN research department), including on Wednesday night, when they played Michigan State almost even for 40 minutes in East Lansing and only barely came up short. The Spartans, meanwhile, are starting to find their groove after some struggles in the early nonconference season. Sound familiar? (I meant that rhetorically. Of course it sounds familiar. The Spartans do this every year.)
Pittsburgh 67, Connecticut 57
: Dana said it best last night:
Pitt is legit
. Simple, syntactically rhythmic and also, you know,
true
. Pittsburgh was supposed to rebuild in 2009-10. They were supposed to feel every pound of DEJuan Blair's body mass lifted from underneath the opponent's basket. (Which, by the way, note to every NBA GM that didn't take Blair in the late first or early second round:
You are idiots
. I'm not the first to tell you, but I'll gladly join the chorus. Letting Blair go to the Spurs in the late second round.
Unbelievable.
) Anyway, the point is, Pittsburgh isn't missing its big three nearly as much as we all thought. They're doing just fine, actually, perched quite neatly atop the Big East with wins at Syracuse , at Cincy and now at UConn. Jamie Dixon:
coach of the year
?
Everywhere else
:
Duke destroyed Boston College
at Cameron, which: duh ...
Syracuse dismantled Rutgers in New Jersey
, which again: duh ...
BYU had no problems with Air Force
on its way to a 12th win in a row, and speaking of coach of the year candidates, Dave Rose, come on down ... Northwestern had a chance to notch a huge Big Ten win over Wisconsin but lost hold of the game in the closing minutes,
losing 60-50
and taking another step toward a perpetual NCAA tourney-less existence ... Georgia plays hard, that's for sure; unfortunately the Bulldogs' best effort is often not quite good enough, and such was the case in
yet another close loss to a ranked team
Wednesday night ... Hey, wait a second. Is that Virginia? Beating Georgia Tech?
Why yes, yes it is
! More on this later in the day ...
Utah State outlasted Nevada
in a close overtime WAC win ...
Vanderbilt barely escaped Alabama
in Tuscaloosa ... and Xavier battled toward the top of the A-10 with
a win over Charlotte
.
January, 7, 2010
1/07/10
11:00
AM ET
The Morning After is our semi-daily morning recap post. Try not to make it awkward.
[+] Enlarge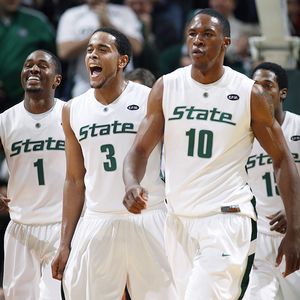 AP Photo/Al GoldisMichigan State outlasted Wisconsin in a "defensive struggle."
Michigan State 54, Wisconsin 47
: Now
this
is a Big Ten basketball game. After their uptempo, runaway win over Northwestern Saturday, it was reasonable to assume the Spartans would want to push the pace against the slow, plodding, methodically effective
Wisconsin Badgers
. That did not happen: These teams shared 59 possessions (the national average is about 70), and they weren't particularly effective with even those limited opportunities. The AP report is characterizing this game as a "defensive struggle" -- Bo Ryan said much the same -- and that's partially true. Each team prevented the other from getting anywhere near their current averages for points or efficiency. But neither team shot well, and that has plenty to do with it, too.
The good news for the Spartans is that they took care of business at home against what appears to be the second most likely challenger for their Big Ten throne. Everywhere else (with the possible exception of an
Evan Turner
-fielding Ohio State team) looks a little bit worse than expected; Purdue, Michigan State, and Wisconsin are your three Big Ten teams worth their national salt.
Kansas 71, Cornell 66
: Three cheers for Cornell, huh? This is a team that went into Allen Fieldhouse, one of the most historic and intimidating basketball arenas in the world, and not only hung with Kansas but very nearly beat them. Cornell took a one-point lead into the final minute, and you know the rest:
Sherron Collins
took over the game, scoring nine straight points at the end and singlehandedly refusing to cede the lead back to Big Red. What does the win mean? Well,
Kansas got its first legitimate test
. It had a poor shooting night and still survived. Bill Self will be pleased. But more than anything it means that Sherron Collins is still the de facto leader and go-to guy of the
Kansas Jayhawks
, no matter how good
Xavier Henry
has been. Henry might be the more talented scorer, but when the game and season are on the line, Collins will have the ball in his hands. As it should be, eh?
Connecticut 71, Seton Hall 63
: Seton Hall could have used this one, but what should you expect? Connecticut isn't vintage Connecticut, but they're still a good, athletic team, and they're still going to win the games they should win at home. So maybe hoping for a Hall win would have been too optimistic. The point is that Bobby Gonzalez's team, after starting 9-1, has now lost four straight. Granted, three of those losses were understandable (to West Virginia in OT, to Syracuse, and to UConn) but one was an indictment of the Pirates altogether (the 102-94 OT loss to Virginia Tech without
Malcolm Delaney
on Saturday). Seton Hall entered Big East play with a legitimate shot at reaching the NCAA tournament. Those hopes are fading fast.
Tennessee 88, Charlotte 71
: On Dec. 5,
Charlotte played an injury-bit Louisville team and beat them by 22 points
. Last night's game had the potential for similarity: Tennessee is reeling after the suspension of four players, one of whom was star forward
Tyler Smith
, for gun-related arrests. If any team looks ready to fold in the season, it's Tennessee. But that didn't happen. Rather, the exact opposite did: Tennessee put a whoopin' (as they say in Tennessee) on Charlotte from the opening tip.
Wayne Chism
led the way with 18 points as all five Tennessee starters scored in double digits. Hey, maybe Bruce Pearl was right.
The Vols do still have weapons
.
Everywhere else
: Syracuse got a minor challenge from Memphis
before pulling away late
... One of two things is happening here: Either Marquette is surprisingly good again, or Georgetown has another disappointing team. Or maybe both. Either way,
the Golden Eagles upset the No. 12 Hoyas in Milwaukee last night
...
No. 23 BYU survived its first conference test of the season
, winning by four over UNLV ...
Indiana received the blunt end of an Evan Turner welcoming party at Value City Arena
... Craig Robinson's Oregon State rebuilding project suffered its worst loss to date,
dropping a lifeless 99-48 game to, get this, Seattle
... and the Pac-10 suffered yet another indictment, this one directed at the team most people still have national hopes for, Cal;
a bad UCLA team beat the Golden Bears 76-75 in Berkeley Wednesday night
, and I think it's official: The Pac-10 is beyond redemption. Let's just ignore it from now on, OK? (I'm kidding! I love all conferences equally, even when they're really bad.)
December, 29, 2009
12/29/09
12:29
PM ET
I have but one complaint about the highlight below: It's not longer. Still, though, it's pretty obvious
Jimmer Fredette
's 49 points
was every bit as entertaining as it sounds
; Fredette went 9-of-13 from three, and the accompanying video, in case you haven't seen it, reveals a player so completely out of his mind on fire he's willing to shoot from pretty much anywhere. Sometimes Fredette is off-balance. Sometimes it looks like he's lunging. Doesn't matter. The result is always the same.