College Basketball Nation:

C.J. Aiken
July, 16, 2013
7/16/13
10:40
AM ET
Editor's Note: Over two days, we're releasing the brackets/matchups for 11 of the top early-season events. Starting Wednesday at 10 a.m. ET, we'll unveil the final six: Charleston, 2K Sports, Diamond Head, CBE, Wooden and Maui. A thread of previews and info for all 11 tourneys can be found here.
Tournament bracket
for the Old Spice Classic
When and where:
Nov. 28-Dec. 1 at the HP Field House at ESPN Wide World of Sports Complex, Orlando, Fla.
Initial thoughts:
The Old Spice Classic field has rarely, if ever, approached the density or strength of the Maui Invitational (historically) or the Battle 4 Atlantis (more recently). It typically, though, has plenty by which to recommend it, and in 2013 more than most. Oklahoma State star
Marcus Smart
will lead a Cowboys team determined to unseat Kansas at the top of the Big 12 into the Wide World of Sports Complex as the undeniable favorite, but Memphis won't be that far away.
Meanwhile, we'll get a very early look at whether new Butler coach Brandon Miller will be able to field a tournament-ready team just a few months after Brad Stevens' departure to the NBA's
Boston Celtics
. We'll see if Purdue can bounce back from an ugly (but in many ways promising) 2012-13 season. Will Saint Joseph's' band of returning seniors be ready to make the leap everyone anticipated and gave up on a season ago? LSU has an intriguing rebuilding group that might push the top half of the SEC. We'll also see if Washington State, after losing seniors
Brock Motum
and
Mike Ladd
, is going to be so bad as to put coach Ken Bone on the proverbial hot seat. There are a variety of things worth watching in this bracket, and that includes the hoop.
[+] Enlarge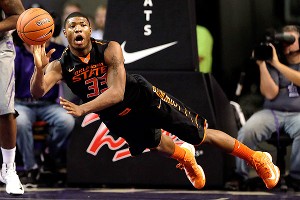 AP Photo/Charlie RiedelMarcus Smart returns for his sophomore season after Oklahoma State made an early exit from the NCAA tournament last season.
Matchup I can't wait to see:
St. Joe's versus LSU.
This isn't the best game of the first round. That honor goes to Oklahoma State-Purdue, and, really, it isn't close. But St. Joe's and LSU are intriguing for slightly similar reasons.
The Hawks were everyone's vogue pick to win the Atlantic 10 last season, based primarily on the assumption that 2011-12's cadre of sophomores -- the Hawks returned all five starters -- would improve and coalesce as juniors. Instead, the Hawks became merely the latest example of why the muddy mix of "returning players" and "experience" and "chemistry" doesn't always translate into improvement. But Phil Martelli still has a good chunk of those players back for another go at this, and if he can coax better defense from everyone, then Saint Joseph's might transform its narrative yet again.
Meanwhile, LSU probably wasn't as bad as you think in 2012-13. The Tigers weren't great, of course, but they finished in the top 100, and they bring in a surprisingly talented recruiting class. Johnny Jones got "yes" answers from three ESPN 100 players, including No. 3-ranked power forward
Jarrell Martin
-- the program's best recruit since
Glen Davis
.
Potential matchup I'd like to see:
Oklahoma State versus Memphis
. When it comes to early-season tournaments, there is very little reason to root for anything but the best basketball. Every now and then there's a backstory baked into the proceedings, like an old rivalry given a random renewal in November. But, for the most part, our desires can be expressed in the simplest of terms: good basketball. That's the case here. This early before the start of the season, Memphis appears to be the second-best team in this bracket, and its backcourt (
Joe Jackson
and
Chris Crawford
, both excellent offensive players) should be a fascinating matchup for Smart and running mate
Markel Brown
. Recently, Memphis has often stumbled out of the gate before otherwise-solid seasons, which has cost the Tigers valuable lines on their NCAA tournament seed in March. Reversing that trend isn't as important in their first season in the American Athletic Conference, but quality nonconference wins are still utterly crucial, and it's going to be hard to find better chances than this.
Five players to watch:
Marcus Smart, Oklahoma State:
NBA scouts really like Smart's game, but they're in love with the intangibles -- his work ethic, his drive and his desire to succeed. Those qualities have earned raves from coaches as long as Smart has played basketball, and they helped transformed Oklahoma State from the defensively soft 2011-12 group into one of the nation's best defenses last season. Smart turned down a shot at being a top-five pick to return to Stillwater. If he has developed the skills to go from "really good" to "frighteningly dominant" -- slightly better ballhandling and much better shooting -- they'll be on display at the Old Spice Classic.
Shaq Goodwin, Memphis:
Goodwin's freshman season wasn't quite as good as his recruiting hype foretold, but there were tantalizing bits littered throughout. Now with Memorial Never-Got-There Club member
Tarik Black
having transferred and
Adonis Thomas
having left for the NBA draft, the keys to the Memphis frontcourt are decidedly in Goodwin's hands.
A.J. Hammons, Purdue:
The Boilermakers weren't the easiest team in the country to watch last season. When they were good, it was usually because they were guarding, not because they were setting the scoreboard alight. But Matt Painter has one thing most coaches don't: a legitimate 7-foot NBA prospect. Hammons is that guy, and it's not just because he's big. He's also athletic for his size, with good ball skills and footwork. If he returns from the summer with a bit less big-man baby fat and a bit more low-post polish, well, look out.
Jarrell Martin, LSU:
As mentioned above, Martin is the No. 3-ranked power forward prospect in the class of 2013. What wasn't mentioned is he is also the No. 11 overall talent. In many incoming classes, this would be worth noting, but little more. With the 2013 class regarded as the deepest and most talented in a decade, if not longer, it is something more. In fact, Martin is the highest-ranked 2013 prospect to
not
choose Kentucky, Duke, Arizona or Kansas. His situation at LSU will be different and arguably more interesting for it. Can the long-dormant Tigers rise again?
Kellen Dunham, Butler:
Former coach Brad Stevens earned the reputation for not needing talent -- that he almost
had
to find unsung players and mold them for his system to work. That's probably true in general, but there were already signs before his departure to the Celtics that Butler's recruiting had gone up a notch or two since the back-to-back title-game runs in 2010 and 2011. For one, Indiana forward
Cody Zeller
listed the Bulldogs as among his final three recruiting options (North Carolina being the third). For another, he landed Dunham. Sure, Dunham wasn't Zeller, but he was an ESPN Top 100 player, and he was solid and efficient in big minutes as a freshman. Dunham will have to be even more efficient in even bigger minutes as a sophomore, particularly from 3-point range from which he ended up shooting just 34.5 percent, but he's capable.
Title-game prediction
: Oklahoma State over Memphis.
As I wrote above, you just root for good basketball in these things, and Memphis' backcourt (especially if Michael Dixon is able to play) by far looks like the most interesting challenge to Smart and Co. in the Old Spice. But I don't think it would be much of a challenge. Jackson can really put the ball on the floor, and Crawford is a lights-out shooter (even off the dribble), but Smart and Brown look like they're going to lock down pretty much everyone in the sport this season. The Tigers included. Cowboys win.
Who others are picking:
Andy Katz:
Oklahoma State over Memphis
Jeff Goodman:
Memphis over Purdue
Seth Greenberg:
Oklahoma State over LSU
Jason King:
Oklahoma State over Memphis
Myron Medcalf:
Oklahoma State over Memphis
Dana O'Neil:
Oklahoma State over Memphis
June, 28, 2013
6/28/13
11:35
AM ET
It's not my job to second-guess the decisions the following players made when they entered the NBA draft without exhausting their collective collegiate eligibility. There are often personal situations tied to these calls.
But the reality is that these athletes were not selected during Thursday night's draft. So perhaps another year in school would have been beneficial. It's also important to note that many undrafted players will earn a slot on an NBA summer league squad or sign a free-agent contract soon, so this doesn't mean that their NBA dreams are finished.
[+] Enlarge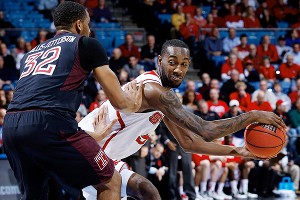 Joe Robbins/Getty ImagesDespite having another stellar season at NC State, C.J. Leslie got passed over in Thursday's draft.
C.J. Leslie (NC State)
-- After leading his team to the Sweet 16 in 2012, Leslie appeared to be a lock for the first round of that summer's NBA draft. He decided to return for his junior season, and his numbers were similar to his stats from 2011-12 (15.1 PPG, 7.4 RPG, 1.2 BPG, 1.0 SPG). He scored 20 points (8-for-12) in NC State's round-of-64 loss to Temple in the NCAA tournament in March. Maybe another year would have allowed Leslie to add some muscle to his 6-foot-9, 200-pound frame, squash concerns about his leadership ability and prove that he can be a high-energy guy every night. Still, many players who were drafted lack his upside. This is stunning.
Phil Pressey (Missouri)
-- Pressey was both brilliant and frustrating in three years at Missouri. On his best days, he was a 6-foot dynamic playmaker who could get to the rim and create offense for the Tigers. On his worst days, he was a turnover machine who made poor choices. His decision to turn pro was certainly surprising. He averaged 3.5 turnovers per game and only made 32 percent of his 3-pointers last season. Both were declines from the season prior. For an undersized point guard with turnover issues and limited shooting ability, one more year in Columbia could have enhanced his pro future.
Adonis Thomas (Memphis)
-- Everyone wants a LeBron James clone. In recent years, the value of the 6-7 wing has skyrocketed. If you're big and you can play on the perimeter a little bit, then the general assumption now is that you have "pro potential." Thomas has pro potential, but his sophomore season was not an affirmation of that. He shot just 40.5 percent from the field and made 29.2 percent of his 3-pointers. It was his first full season after an ankle injury interrupted his freshman campaign, and even though he has all of the physical tools to compete in the NBA, he apparently didn't wow execs in Year 2.
Vander Blue (Marquette)
-- This was a classic case of "instant draft buzz," I think. Blue had a stellar postseason and led Marquette to the Elite Eight. That effort included a 29-point barrage against Butler in the round of 32, but also included a 3-for-15 performance in a 55-39 loss to Syracuse in the regional final. But the perception about his NBA future had shifted dramatically during Marquette's run in the Big Dance. Blue could have entered 2013-14 as a preseason All-American. I wasn't surprised when he entered the draft. I was surprised when he
stayed
in the draft. The 6-4 wing will have to find another way into the league.
Myck Kabongo (Texas)
-- Well, this wasn't the plan. Kabongo, a former McDonald's All American, turned pro following a tumultuous season with the Longhorns. He was suspended for 23 games as a result of an NCAA investigation, but was a standout in the limited time he was available. He averaged 14.6 PPG, 5.0 RPG, 5.5 APG and 2.0 SPG in 2012-13. Pro execs, however, might have had concerns about his character; Kabongo was suspended after he lied to investigators about receiving impermissible benefits. His brief appearances last season did not help his cause. Looking at the current mess in Texas, however, returning might not have been the best move, either.
Dewayne Dedmon (USC)
-- Dedmon had an unconventional journey to Division I basketball. He was a gray shirt and redshirt at Antelope Valley College before joining USC's program. And he redshirted in 2010-11 with the Trojans. The 7-footer is a project. And that's probably why he went undrafted. He hasn't played a lot of organized basketball, so he's still raw. He averaged 6.7 PPG, 7.0 RPG, 2.1 BPG and 1.1 SPG in 2012-13. Solid numbers, but not enough to convince NBA teams to draft him. His size and upside, however, suggest that he'll get a shot somewhere.
B.J. Young (Arkansas)
-- During the 2012-13 season, Young scored 29 points against Arizona State, 25 against Syracuse, 25 against Tennessee and 27 against Missouri. The 6-3 combo guard was an offensive catalyst for the Razorbacks. But shooting concerns only magnified questions about the position he'd play at the next level. He was a 23 percent shooter from beyond the arc last season, and he made just 67 percent of his free throws. Those numbers were probably more significant for NBA execs than his 15.2 PPG average and offensive explosions.
C.J. Aiken (Saint Joseph's)
-- Aiken is an explosive athlete who tortured Atlantic 10 squads with his ability to alter and block shots. But can a 6-9, 201-pound post presence duplicate that in the NBA? And if he can't, can he defend NBA wings? Those were the immediate questions after he decided to enter the draft. Plus, his offense is raw and limited; he shot 25.3 percent from the 3-point line last season, but also averaged 10.4 PPG, 5.6 RPG and 2.6 BPG. He's the kind of young man some NBA team will sign this offseason. He'll get a chance to prove that he's equipped to be an effective defender and offensive contributor at the next level.
Tahj Tate (Delaware State)
-- This might be a case of a player who went undrafted because of the competition he faced and where he played. Or maybe it's a talent thing. Tate earned second-team All-MEAC honors in 2012-13 after averaging 12.8 points a game. Now, the YouTube clips suggest that the 6-4 guard is a great athlete. But he wasn't a great shooter (29 percent from 3-point range), and he actually was a better scorer in 2011-12. Still a head-scratcher on the surface. Again, we don't know his thought process prior to this decision. But he seems like a long shot to crack a pro roster in the near future.
John Taylor (Fresno Pacific)
-- Taylor would not have been the first player drafted from the Division II ranks. But it certainly would have been a surprise, even though Taylor had a phenomenal junior season at Fresno Pacific. The guard led Division II with an average of 27.5 points a game and his team to a 21-9 record. He also earned a national title in junior college. This would not be a shock if Taylor had put up similar numbers at a Division I school, but it's difficult to project a player's ability when he hasn't faced the top competition at the collegiate level. Still, he probably did as much as he could within Division II basketball.
Editor's Note: For Dana O'Neil's piece on the search for Renardo Sidney and the perils of basketball talent gone awry, click here.
January, 18, 2013
1/18/13
8:00
AM ET
The Atlantic 10 is deep. We've known this would be the case since the summer, when VCU and Butler joined a year early (a year before Temple was set to leave for the Big East), and we're seeing it play out on a nightly basis now that conference play is in full swing. Let's get to the rankings:

1. Virginia Commonwealth
. The Rams got all they could handle and more at home against Saint Joseph's on Thursday night. Frankly, down four with 14 seconds left, they probably
should
have lost the game in regulation. But
Troy Daniels
made a huge 3,
Ronald Roberts
missed the front end of a double bonus, and
Darius Theus
scrambled past a standstill Hawks defense to tie the score at 80 with just 6 seconds remaining. The Hawks, totally gassed, had no chance in overtime, and VCU handled business and came away with the win -- its 12th in a row. And man, are VCU wins -- or, for that matter, losses -- fun to watch.
2. Butler
. Despite the loss of
Rotnei Clarke
to a scary neck injury -- which required a stretcher and a trip to the hospital, but which thankfully turned out to be a neck sprain -- the Bulldogs held on to win at Dayton on Saturday. They followed that up with an easy home victory over Richmond. Now comes the fun part. On Saturday, Brad Stevens and company will host Gonzaga in Hinkle Fieldhouse as the first "College GameDay" location of the season, and the first in Hinkle's 85-year history. Clarke will still be missing, and Butler will have to guard Gonzaga's efficient offense better than it has guarded anyone all season. Thus far, Butler ranks eighth in the conference in points allowed per possession, and first in per-possession scoring. The Bulldogs can really light it up, but they're still getting there on the defensive end.
3. Saint Louis
3a. Temple.
At this point, I'm willing to consider Saint Louis and Temple as essentially equals, power-rankings-wise. The Billikens lost in Philly last Saturday 64-54, but if we're not willing to forgive road losses in the A-10 then I'm going to have to overreact and downvote everybody at least once a week. After all, Temple scored only 52 points in 63 possessions at Xavier just a few days after pushing Kansas to the limit in Allen Fieldhouse. Point is, these two teams appear to be the third- and fourth-best in the league. Or fourth- and third-best, depending on your perspective and/or allegiances. But they're clearly a notch above the rest.
5. Massachusetts.
Last week, I moved up UMass despite my season-long doubts because I watched all 40 minutes of its effort at Saint Louis, and it impressed me. But for a few mistakes down the stretch, and a few heady plays by the Billikens' veterans, Derek Kellogg's team might well have won that game. I see no reason to move UMass down this week. Sure, its 77-73 win at Fordham wasn't pretty, but it was a win, and UMass moved to 2-1 in A-10 play with a home win over Duquesne on Thursday night. I said this last week, and it bears repeating: On a per-possession basis, the Minutemen aren't much to look at. Per KenPom.com, their offense ranks outside the top 130, as does their defense. They don't have one particular statistical trait -- other than pace, where they average 73 possessions a game -- that will impress you. But as much as I lean on tempo-free stats, the Minutemen
are
12-4 without a bad loss to their name. I'm willing to keep them here until those forgettable efficiency stats start to turn into Ls.
6. Saint Joseph's
. At the end of Thursday night's loss at VCU, you could just see it: shoulders sagging, chests heaving, legs cramping -- the Hawks were done. Even the tirelessly wing-flapping Hawk mascot looked to be losing steam. It was that kind of a night, particularly when VCU forced overtime, but win or lose, the first 40 minutes were a valiant effort, and a really positive sign for a team that to date (as we discussed last week) hasn't looked much different from last season's 20-14 group. Perhaps the biggest difference Thursday was the return of
Langston Galloway
's shooting stroke. Last season, Galloway led the A-10 in 3-point field goal percentage at 46.6 percent; this season, he's shooting just 35.6. But he was 5-for-9 Thursday night, a figure that included a number of key buckets. If he can split the difference and just make around 40 percent, and if
Carl Jones
and
C.J. Aiken
can pressure opposing defenses as they pressured the league's best, this team might yet be going places.
7. Charlotte
. The 49ers have begun the A-10 season 3-0, but that was to be expected: Their first three opponents were La Salle (home), Rhode Island (away) and Fordham (home). Indeed, at 15-2, Charlotte's only win over an opponent ranked in the KenPom top 100 is La Salle; no one else is ranked higher than 110. I don't say that as a method of detraction, though; there are real things to like about this team. Through three A-10 games, the 49ers have been the conference's best per-possession defense (allowing just 0.86 points per trip), they've rebounded about 35 percent of their misses this season, and they get to the line frequently on the offensive end. They just turn the ball over too often, and when they don't, don't shoot it particularly well, either. Needless to say, it'll be interesting to see what happens when the 49ers go on the road, beginning Saturday at Richmond.
8. La Salle
. The Explorers toughed out a 72-70 home win over Dayton Wednesday, a game in which neither team carved more than a two-possession margin and which could have gone either way through the final minute. La Salle scored 1.01 points per possession; Dayton scored 0.99. It was that tight. It's the kind of win we might not remember in detail in March, when all of the results are in and we're comparing 30 at-large tournament resumes at a time. But it was a really great home-court stand, especially with a trip to Xavier up next.
9. Xavier
. Should we be giving Xavier credit for its 3-0 league start? Absolutely. The Musketeers did, after all, hold Temple to 52 points on Jan. 10. And, for that matter, they did manage to get out of St. Bonaventure's gym with a 66-64 victory Wednesday. Next up is La Salle on Saturday, and if Xavier scores as it has in its first three games -- at 1.11 points per trip, it currently wields the league's second-most-efficient offense -- the Musketeers could very easily go to 4-0.
10. Dayton
. When Archie Miller first looked at his team's Atlantic 10 schedule, he must have been at least a little exasperated. If he wasn't then, he is now. The Flyers kicked off conference play with a game at VCU, a home loss to Butler, and a trip to LaSalle, where the Explorers held the aforementioned line. Fortunately, it gets easier: Dayton is off until next Wednesday, when it gets Fordham at home, followed by Duquesne.
11. Richmond
. Perhaps the three-point home win over Rhode Island on Jan. 9 wasn't a fluky off night but in fact a sign that this Richmond team just isn't very good after all. At that point, despite their defensive struggles, the Spiders were still playing efficient offense. And sure, they've had to deal with trips to La Salle and Butler. But still, they've scored just 0.91 PPP, and allowed 1.05, in those three games. If Richmond is putting points on the board it at least has a shot, but if it doesn't, the defense isn't nearly good enough to keep the Spiders out of the cellar.
12. George Washington
. The Colonials nearly nipped Temple on Wednesday night, but instead suffered a 55-53 home loss. Simply put, this offense is
bad
: GW has exactly one player (reserve
Dwayne Smith
) whose offensive rating is above 102 (100 is about average). The Colonials rank No. 250 in the country in KenPom's adjusted offensive efficiency ranking. They can guard people, but man do they struggle to score.
13. St. Bonaventure
. The Bonnies are sort of the polar opposite of George Washington: They score pretty well, and get good, efficient scoring from
Demitrius Conger
and
Chris Johnson
, but they've allowed 1.05 points per trip to opposing offenses this season, and that's simply not going to get the job done -- especially considering their early A-10 schedule. After dropping home games to VCU and Xavier, St. Bonaventure now has to tangle with Temple (Saturday) and Saint Joe's (Wednesday) on the road. Ouch.
14. Rhode Island
. The theme of the Rams' season has been their effort. They might not be ready to compete yet, but they are making opponents earn their victories: They nearly got Richmond on the road Jan. 9, and they played Charlotte tight at home Saturday. One guesses their trip to Saint Louis this weekend won't go quite as well.
15. Fordham.
16. Duquesne.
Maybe it's a sign of how tight this league is, or maybe the middle of the league just isn't ruthless at putting bad teams away, but neither of these teams is getting blown out. Fordham tested both UMass and Charlotte (and lost by a combined 10 points); Duquesne lost by eight to Saint Joe's. So, you know, there's that.
January, 9, 2013
1/09/13
10:50
PM ET
PHILADELPHIA -- You could almost see the old-time members puffing out their collective chests back in October.
You want a piece of this, kid? Think your pretty Final Four rings have any sway here? This ain't no Horizon League, buddy.
And so when the preseason Atlantic 10 polls came out, there was Butler, slated sixth -- behind Saint Joseph's, Saint Louis, Temple, VCU and UMass.
Feel free to chuckle at that stroke of genius now.
Yes, the Bulldogs made the jump from the Horizon League to the more challenging A-10. Yes, Butler played in the CBI a season ago while the Hawks were in the NIT.
Except this is Butler. Anyone been paying attention the past few seasons?
This league may not run through Indianapolis with the same annual detour as the Horizon, but it will certainly make it least a regular pit stop.
Butler made sure everyone knew that on Wednesday night when the would-be sixth-place finishers disposed of the favorites,
72-66
for its first A-10 victory.
It was gritty and feisty, hard-fought and, at times, nasty.
Butler's way, if not The Butler Way.
"I'm really proud of how we stayed the course," coach Brad Stevens said. "They executed their plan to about a T, but we stayed the course. Nobody panicked."
You could say it is because Butler has been in big games, little games, big arenas, small gyms, hostile places, hallowed Hinkle and just about every other environment college basketball can create.
[+] Enlarge
Howard Smith/USA TODAY SportsAndrew Smith, left, and Rotnei Clarke combined to score 52 of Butler's 72 points against Saint Joseph's.
You could say it's because
Andrew Smith
reigns as the only player in the country with two Final Four appearances on his résumé. You could say its because
Rotnei Clarke
cut his teeth in the SEC.
Or you could just offer the simplest and cleanest explanation: Butler is good. And always will be so long as Stevens is at the helm.
Count against them with the same confidence you'd use betting against Duke, Kentucky, Syracuse, Michigan State or any other perennially solid programs.
New league, unfamiliar opponents, new scouting reports and yet the Bulldogs are the lone ranked team in the Atlantic 10 right now.
Opposing schools already hate them for it, too.
St. Joe's students welcomed Butler to the A-10 with a chorus of boos. In plenty of the nation's households the Bulldogs may be America's sweethearts, but in opposing gyms they are the rich new kids on the block -- instantaneously despicable.
"I didn't really hear them booing me until I was down on the baseline by them," Clarke said. "But I think that's what you work for. That's why you put in all the extra hours in the gym, so you can go on the road to tough venues, make big shots and quiet the crowd."
In the end this particular game didn't come down to The Butler Way or anything so cerebral.
The Bulldogs had better players, two of them to be exact.
It's not often -- or maybe ever -- that Stevens finds himself caught off guard. He has built a career and a reputation on a combination of lethal analytics and preparedness that a Boy Scout would envy.
Yet there was St. Joseph's
Chris Wilson
draining four 3-pointers in the first five minutes and
C.J. Aiken
knocking down three more in the second.
That wasn't in the script. The two combined were 10-of-66 from the arc coming into the game, so applying good logic, Stevens elected to sag off of them defensively and concentrate more on
Carl Jones
and
Langston Galloway
, St. Joe's two leading scorers.
"You pick and choose your spots, and for about 30 minutes I chose wrong," he said.
The bailout came in the form of Clarke & Smith, a company slightly more reliable than AIG.
Clarke, whose range is from the opposite basket in, has provided the offensive spark last season's Bulldog team sorely missed. He spent his evening ducking, dodging, running around, through and over every sort of roadblock St. Joe's set for him. When the game ended, you half-wished he had worn a pedometer.
It all added up to 28 points, including six from behind the 3-point arc.
With Clarke stretching the floor, his partner found open space under the rim. Smith knew he couldn't jump with
Ronald Roberts
or C.J. Aiken so he didn't even try. He made sure he kept his position and created space to get off his favorite hook shot.
He did it to the tune of 24 points.
For those keeping score, that's 52 of the Bulldogs' 72 points for Clarke & Smith.
"C.J. Aiken was the defensive player of the year in our league, and there was nothing he could do," St. Joseph's coach Phil Martelli said. "They're wonderful players."
And really that's the essence of what makes Butler special.
Basketball isn't rocket science, really. Good players win, and Stevens has a knack for finding them. Gordon Hayward, Matt Howard, Shelvin Mack, Ronald Nored and now Smith & Clarke.
How'd you like a piece of that?
December, 7, 2012
12/07/12
8:00
AM ET
1. Virginia Commonwealth
. It's another edition of the much-requested Atlantic 10 conference power rankings, and we already have a new rightful heir to the throne. The margin between VCU and St. Joe's is slim, in my opinion, and it feels tough to drop the Hawks based off a loss at Creighton … but all of VCU's losses were close, tight games against good teams. More than anything, though? With that top-15 ranking efficiency defense and the brutal-as-ever HAVOC system wreaking, well, you know, on opposing guards, I just think VCU's better.

2. Saint Joseph's
. Which is not to say St. Joe's isn't good. If you're ranked this high in this year's A-10, you're pretty good. But all of a sudden that neutral-court loss to Florida State isn't looking so flattering, and neither was Saturday's 80-51 blowout at Creighton. Tuesday brings a game at Villanova, which will be pretty fascinating, but more important than anything is that
C.J. Aiken
breaks out of this 4-for-24 long-range slump he's on to start the season.
3. Temple
. Despite my eyeballs' love of this Temple team -- I was hooked from the first moments of the Tip-Off Marathon game, bleary though I was -- I was hesitant to place the Owls above Butler last week simply because they hadn't really beaten anyone good. This week, Temple won by 15 at Villanova, and while Jay Wright's team isn't what I'd classify as "good," a 15-point win is a kind of statement. On Saturday, Temple gets Duke in East Rutherford, N.J., where the crowd will be largely Duke partisans. That, my friends, is going to be interesting.
4. Butler
. Nothing new on the Bulldogs, really. Since they got back from Maui, they've been teeing off on guarantee wins (IUPUI was the latest victim Wednesday night), but Saturday -- when Butler travels to Evanston, Ill., to face Northwestern -- is a decidedly trickier challenge. It's hard to know what to make of the feast-or-famine Wildcats, so this game might not give us a reliable impression. But it will be interesting to see how
Rotnei Clarke
and Co. handle a true road test and some solid size on the interior.
5. Charlotte
. OK, Charlotte fans. Here you go. After seven season-opening wins, it was easy to dismiss the 49ers as a mere product of their totally awful schedule. But the wins were getting better -- Oral Roberts, Northeastern and East Carolina are various shades of not-horrible -- even before Charlotte won at Davidson, 73-69, Wednesday night. That is an indisputably quality win, and, as such, I am giving the 49ers the "love" their fans seem to so desperately crave. And understandably so. It has been a long road back to relevance, and there is much more basketball to play -- and I tend to doubt Alan Major's bunch will be ranked this high more often than not -- but Charlotte appears to be a top-half A-10 team and a potential tournament squad. Who knew?
6. Saint Louis
. The Billikens have not had the most emotionally easy week -- the death of former coach Rick Majerus hit hard -- but a day after they found out Majerus had passed, they got a 13-point home win over Valpo, a defensive win Majerus himself would have loved. Wednesday's victory over North Texas was nice, too, even if the
Tony Mitchell
-led Mean Green have underperformed expectations thus far this season. As long as the Billikens tread water until the return of
Kwamain Mitchell
, you have to like their prospectus.
7. Xavier.
The Musketeeers had a mixed bag of a week, the kind of week you expect to see from a team this young. To wit: Last Saturday, Xavier went to Purdue (another young, inconsistent, promising team) and came away with a win, no small feat in front of that crazy Mackey Arena crowd. Then, Thursday night, Xavier lost at home to Vanderbilt. Last year, that would have been a totally acceptable loss. This year, Vandy's looking pretty rough. I still the Musketeers are to be reckoned with in the A-10 race, but it might take a little time to work out all the youthful kinks.
8. Dayton
. Ahhh, Dayton. Never change. Last week, I said Dayton appeared set for another baffling and frustrating season; one commenter, "whitegrb," described it as "Get some big wins against BCS conference opponents, lose some bad games against 1-bid-mid-major conference teams." You know what's funny? That was
before
Dayton won at Alabama on Wednesday! That is the same good Alabama team, by the way, that nearly took down an even better Cincinnati team on its home floor Saturday. On Nov. 28, Dayton lost at home to Weber State. I'm not sure how to square any of this analytically, and I'm not sure it's possible. (Matchups? Inconsistency? Dayton fans, please help?) But I do know this: If you win at Alabama, you move up in the power rankings. That part's easy.
9. La Salle
. La Salle feels destined to stay under the radar in the A-10 this season, but it remains a real sleeper, and fortunately it has made a decent impression thus far. The latest came Wednesday night, when
Ramon Galloway
and the Explorers absolutely blitzed an overwhelmed Penn State group 81-57 at the Palestra. An away game at (a very good) Bucknell on Dec. 15 will be this team's next best chance at a marquee nonconference win.
10. Richmond
. Like La Salle, it feels a little like Chris Mooney's team is being slept on, because from an efficiency standpoint their offense is pretty great. In fact, it is the 37th-most efficient offense in the country through nine games, per KenPom.com. The Spiders have more issues on defense, and it's hard to go head over heels for a team that has beaten a lot of ugly opponents and lost to Minnesota and Ohio by a combined score of 40 points.
11. Massachusetts
. Last Saturday, the Minutemen had a tailor-made opportunity to impress, when Miami -- fresh off a home upset of Michigan State -- came to Amherst for a true road game. UMass lost by 13. The wins over Harvard and Providence were nice season-openers, but since then UMass has been soundly beaten by the only teams anyone would be impressed if UMass beat. I'm torn, but let's give them time.
12. St. Bonaventure
. It's a little bit crazy that we can go this deep in the Atlantic 10 and still not be willing to write off the team you're discussing from eventual NCAA tournament competition. Which is not to say the Bonnies are good; they've played a horrific schedule thus far. But their only losses (Canisius, Ohio) came on the road, and they really haven't been that bad, considering the loss of Andrew Nicholson this offseason.
13. Duquesne
. Say this much for Duquesne: It is adept at preventing opponents from going to the free throw line. And three of the Dukes' four losses (Georgetown, Pittsburgh, and North Dakota State, which is better than you think) are nothing to scoff at. But this team is pretty miserable at the offensive end, and the defense hasn't been much better, either.
14. George Washington
. The Colonials gave Bradley a real run on the road Tuesday, and it's always nice to see a team really contend on the road, even if Bradley isn't likely to be a Missouri Valley Conference power. Thus far, George Washington has defended relatively well. But the Colonials have been really bad on the offensive end, because they give up the third-highest rate of steals in the country and, as such, are constantly turning it over.
15. Rhode Island
. For as bad as Rhode Island is supposed to -- OK, is
going to
-- be, you have to tip your cap for its work in the three games before Thursday's 72-57 loss at Providence. The Rams beat Auburn in double overtime on Nov. 25, lost at home to a just-OK George Mason team by three, and then beat Vermont by 10 Saturday. Before that stretch, they played Ohio State to within 11, Seton Hall to within five, and Loyola-Maryland to a four-point overtime loss. Let's be clear: Rhode Island is not good. But first-year coach Dan Hurley has the Rams playing hard, and they could spring a few upsets as they rebuild.
16. Fordham
. It's going to be a rough season at Fordham. Tom Pecora's team has played a brutal schedule so far -- the Rams have had exactly one true home game in eight games to date -- and it doesn't get any easier with trips to St. John's, Princeton (in Brooklyn) and Connecticut on the immediate horizon.
November, 16, 2012
11/16/12
8:30
AM ET
An interesting doubleheader combo of four teams you wouldn't normally put together but also four teams that are sort of on the game's fringe right now. Notre Dame is ranked, Saint Joseph's was picked to win the Atlantic 10. Still none of these teams are especially known commodities or even March locks. For all, it's a good chance to get some big market love and perhaps more important, big nonconference win.
The basics:
Nov. 16-17, Barclays Center in Brooklyn, NY
The set matchups:
BYU vs. Florida State, 7 p.m. ET: Notre Dame vs. Saint Joseph's, 9:30 p.m.
FIVE PLAYERS TO WATCH
[+] Enlarge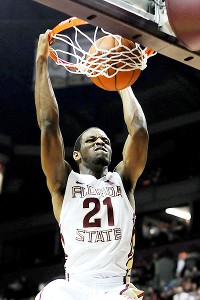 Melina Vastola/US PresswireFlorida State's Michael Snaer needs to provide senior leadership for the Seminoles.
Michael Snaer, Florida State:
The senior called himself the nation's best shooting guard this summer. He needs to play like it if the Seminoles are going to win this thing. Arguably the best player in the field, Snaer has worked on establishing his leadership skills along with his scoring for a young FSU team.
Langston Galloway, Saint Joseph's:
The guard was terrific on both ends of the floor for the Hawks in the season-opening walkover against Yale. He is the team's cog, both the leader and their most potent scorer.
Jack Cooley, Notre Dame:
The Notre Dame big man will have his hands full with St. Joe's
C.J. Aiken
but then again, Cooley has had his hands full plenty in his career and never wavered. Cooley is as tough as he is efficient.
Brandon Davies, BYU:
Davies got off to a rather nice start for BYU, scoring 28 in the team's opener against Georgia State. But things came easy in that game -- at one point the Cougars led 31-2 -- and that won't be the case here. BYU will need Davies to score but be disciplined against Florida State.
Matt Carlino, BYU:
The Cougars, thanks to Davies, have the inside part of the game locked up. To be successful, they need to get the outside in order. That's where Carlino, tabbed with the next Jimmer albatross as a freshman, comes in. He's got the scoring and shooting ability to spread the offense and make BYU a legit threat.
FIVE BIG QUESTIONS
Was Florida State's loss to South Alabama an aberration or a sign of trouble?
The defending ACC champions played a sloppy game offensively, committing 17 turnovers, and a lousy game defensively, allowing South Alabama to connect on 9 of 15 3-pointers. The Seminoles bounced back to beat Buffalo but still allowed the Bulls to hit 50 percent from the floor.
Can BYU's high-octane offense score against Florida State? That's the simple key.
This FSU defense doesn't look like last year's, what with the better shooting percentage that two lower-level opponents have put up. So what can the Cougars, averaging 80 points per game, do?
Will St. Joe's be able to keep the Irish away from the arc?
The Hawks are big; they block shots and they have a good collection of scorers, but their perimeter defense has been an Achilles heel and against Notre Dame, that's a real problem. They were pretty dominant against Yale, holding the Bulldogs to just 35 points. But Yale doesn't exactly shoot or score like the Irish.
Can Notre Dame use its depth as an advantage?
It should be able to. The Hawks are without
Carl Jones
, suspended by the university for three games, while Mike Brey has one of his deepest, more athletic teams in years. The numbers game could be huge for the Irish in this one.
Who emerges as the best big man in this one?
There are some good candidates with Cooley, Davies and Aiken. All three are different but effective at what they do and all three are hugely critical to their team. Foul trouble for any will be a big issue.
THE PICKS
Semifinals: BYU over Florida State; Notre Dame over St. Joe's
Championship game: Notre Dame over BYU
May, 23, 2012
5/23/12
12:50
PM ET
To go along with
today's feature story
on the return of the dominant shot-blockers, here's my list of the nation's best. If your favorite guy is missing from the list, let me know (@
MedcalfByESPN
or
mmedcalf3030@gmail.com
). But this is not just based on raw numbers. Efficiency is certainly a factor.
Could Nerlens Noel end up being the best swatter in college next season? Yes. In fact, probably. But it's hard to put him No. 1 five months before Midnight Madness.
[+] Enlarge

John Sleezer/Kansas City Star/MCT/Getty ImagesKansas' Jeff Withey had 31 blocks in last season's NCAA tournament, a new record.

Jeff Withey (Kansas): He finished the year No. 1 on Ken Pomeroy's block-percentage chart (a rate determined by an opponent's two-point attempts) and is the top returning shot-blocker entering the 2012-13 season, after a phenomenal Final Four that concluded with a record for blocks in a single NCAA tournament (31). With Withey inside, Kansas should remain on its Big 12 perch next season.

Gorgui Dieng (Louisville): Withey and Anthony Davis dominated the headlines in March. But Dieng (3.2 blocks per game), a 6-foot-11 sophomore from Senegal, was a very talented shot-blocker, too. He offered a sneak preview in New Orleans by blocking four shots in the national semifinals against Kentucky. Next season, however, he'll be a star for a top-5 program.

Nerlens Noel (Kentucky): I've never seen a high school player dominate his peers the way Noel did during the Peach Jam AAU tournament last year. He's a special talent. Anthony Davis claims Noel is the better shot-blocker between the two of them, and that's not a crazy concept. It's just scary for every team that's scheduled to face Kentucky next season.

C.J. Aiken (St. Joseph's): In a 10-point victory over No. 22 Temple in February, Aiken scored five points. But his five blocks were vital in that upset. You have to appreciate the fact that Aiken is still raw in many ways. I saw him live in Philly a few years ago and watched a bunch of St. Joe's games this season. And I think he's on the cusp of emerging on the national radar with his high-octane defense (3.5 blocks per game). Growing every year.

Isaiah Austin (Baylor): Another special talent. He's so athletic and versatile that he played some point guard on the AAU circuit. Austin, a McDonald's All-America center, averaged 5.0 blocks per game as a senior in high school. He'll have a similar impact in the Big 12 next season, probably his only year as a collegiate player. His 7-foot-1 frame hasn't filled out yet but his length and shot-blocking will be a problem for the rest of the conference.

Zeke Marshall (Akron): He's an under-the-radar defensive force. But the MAC knows all about his shot-blocking skills. Mississippi State's Arnett Moultrie had one of his worst games of the season against the Zips due to Marshall's defense. The 7-footer blocked 2.9 shots per game. And he altered even more.

Rhamel Brown (Manhattan): Here's why you have to love advanced statistics: Brown, a sophomore at Manhattan last season, averaged 2.4 blocks per game for the Jaspers. But he finished second behind Withey on Pomeroy's block percentage rankings. He's only 6-foot-6, but Brown disrupts offenses at a high level.

Steven Adams (Pittsburgh): Yes, another freshman on the list. Another guy who hasn't competed in a collegiate game yet. But I think Davis' success last season means these youngsters earn early credit on potential alone. This 7-footer has been a beast on the AAU and prep circuits. The standout from New Zealand also has international experience. So he'll be a young veteran for a Pitt team that needs his physical presence inside. Adams has the athleticism to be a great shot-blocker at this level.

Hunter Mickelson (Arkansas): As a 6-foot-10 freshman on a lackluster Razorbacks squad, Mickelson averaged 2.3 blocks in 17.1 minutes per game. He's an efficient defender who was fourth in the SEC in blocks per contest. And he finished fifth on Pomeroy's block percentage chart. He's still raw but the future seems bright for Mickelson.

Damian Eargle (Youngstown State): First, he has the best name on this board. But he's an equally talented defender who squeezed 3.7 blocks out of his 6-foot-7 frame. Youngstown State struggled in most Horizon League stat categories but the squad led the conference in blocked shots thanks to Eargle, who was a junior last season.
January, 26, 2012
1/26/12
11:15
AM ET
Let's just call this the Mike Scott list. Scott's supporters are quick to say that he's the most underrated player in America. But he's not alone.
Multiple players aren't getting enough national love, either.
[+] Enlarge

Jim Z Rider/US PresswireIt's been no surprise this season that Mike Scott gets the ball when Virginia needs a bucket.
January, 5, 2012
1/05/12
4:00
PM ET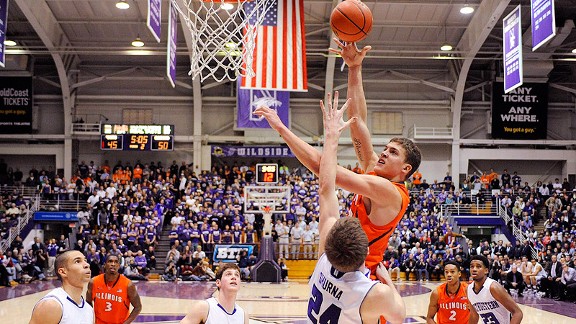 David Banks/Getty ImagesIllinois nipped Northwestern on Wednesday despite big man Meyers Leonard getting limited looks.
It's an epidemic that's plagued the national college basketball scene for far too long. Too often, this issue is overlooked or dismissed.
But it's time to address the madness that's rocking programs throughout the country. I'm referring to Starving Big Man Syndrome.
Perhaps your favorite team suffers from this silent season-killer. Well, it's time to identify the victims in hopes of rectifying this growing challenge.
Meyers Leonard -- Why won't the Illini feed the big man? He took four shots in Saturday's loss to Purdue. Just eight in a Dec. 17 loss to UNLV. He's capable of duplicating his 20-point effort against Minnesota last week and his 21-point performance in the Illini's Dec. 3 win over Gonzaga. He should get the ball more often. He was 4-for-9 in a one-point win over Northwestern Wednesday, but his teammates failed to find him multiple times when the Wildcats weren't doubling.

Patric Young -- Florida's big man has a 63 effective field-goal percentage, according to Ken Pomeroy's ratings. He took 20 shots combined in Florida's past two games. But he's only cracked double digits in field-goal attempts four times this year. And he's only responsible for 12.7 percent of his squad's shots this season. Sure Florida is stocked with perimeter talent. But the SEC is a hotbed for talented bigs. Anthony Davis, Arnett Moultrie, Festus Ezeli and JaMychal Green anchor the league in the post. So the Gators will need Young even more in league play. It's time to toss the ball inside.

C.J. Aiken -- The 6-9 forward is ranked sixth in the Atlantic 10 in John Hollinger's NCAA player efficiency ratings (23.59 PER). But prior to Wednesday's 84-82 win over Duquesne (he was 5-for-10), Aiken had taken 11 shots combined in two previous games. The Hawks -- like Temple and St. Louis -- are going to make the Atlantic 10 race interesting, especially with Xavier's recent struggles. Aiken is a key part of St. Joseph's NCAA tourney hopes due to his defensive prowess (his 4.5 blocks per game lead the nation). But he's more than a shot-blocker as his performance in the Duquesne victory proved.

Anthony Davis -- Finding the best use for Davis' expansive skill set isn't simple. He's 6-10 but he's certainly not a traditional big man. And Kentucky is stocked at every position. But it never hurts to have an additional offensive weapon, especially one who's shooting 65 percent from the field. But Davis' offensive game might become a significant factor in March and April, despite the talent around him. Prior to his 22-point performance (9-for-11) against Arkansas Little-Rock Tuesday, Davis had taken seven shots or less in seven games.

[+] Enlarge

David Butler II/US PRESSWIREPerhaps a loss to Seton Hall on Wednesday might have UConn emphasizing getting the ball to center Andre Drummond much more often.

Andre Drummond -- Every legit mock draft board I've read places the UConn forward in the top five of this summer's draft. Why would a lottery pick take five shots and score four points … EVER? That was Drummond's stat line in Wednesday's upset loss to Seton Hall. It just doesn't make any sense. It was his second five-shot outing in three games. He shot two free throws combined in those matchups.

Arsalan Kazemi -- He leads the nation in rebounding. And he's on top of Conference USA in steals and field-goal percentage. But he's averaging 7.7 field-goal attempts per game for Rice, despite boasting a 61.2 effective field-goal percentage, per Ken Pomeroy. But he's been responsible for just 13 percent of Rice's field-goal attempts so far this season.

Eli Holman -- Detroit has lost three of its past five games with Holman in the lineup. The 6-10 presence missed multiple games due to an indefinite leave at the start of the season. He's shooting 62 percent from the floor and averaging 12 ppg. Ray McCallum Jr. and Chase Simon handle the scoring load for the Titans. But Holman can be an offensive difference-maker in conference play. Detroit nearly knocked off nationally ranked Mississippi State when Holman went 6-for-8 from the field.

Alex Len -- He's only played three games after missing time because of an eligibility issue (he'd previously signed with a pro team overseas). But Len is living up to the hype for ACC sleeper Maryland. I know Terrell Stoglin (21.2 ppg, sixth in the nation) likes to eat. But Len is hungry, too. He's taken 10 shots in his team's past two games (he was 10-for-14 from the charity stripe in those contests). He'll probably become a more viable part of Maryland's offense in the ACC, where John Henson, Mike Scott and the Plumlee Clan lurk. He's a dangerous addition for the rest of the league.

James Haarsma -- UW-Milwaukee's 6-7 forward has hurt himself with foul trouble in multiple games. But the Panthers could use an offensive boost that Haarsma should be able to provide. He had three points in a Tuesday loss to Western Michigan. According to Hollinger's ratings, he's No. 22 in the Horizon League in player efficiency with a 15.76 PER. Milwaukee won a slice of the Horizon last year, but the Panthers have lost three of their past four games. In two of those matchups, Haarsma only took four shots, even though his team shot under 30 percent from beyond the arc in those games. Might be time for UWM to look inside.

Royce White -- He's surrounded by shooters at Iowa State. And right now, there's really nothing to complain about regarding his role because the Cyclones have won six in a row, including a solid victory over Texas Wednesday night. But the Big 12 is a big league. And White is capable of offensive fury. The league's eighth-ranked player in Pomeroy's offensive ratings has taken 16 shots in his team's past four games. He still leads the team in scoring, rebounding and assists. So it's not like Fred Hoiberg's offense has ignored him. But White's 22 points and 13 rebounds in a Dec. 3 loss to Michigan weren't flukes. He's that good. And he'll get better with more scoring opportunities inside.
If your favorite team suffers from Starving Big Man Syndrome, please call 1-800-FEED-HIM. That's 1-800-FEED-HIM.
Or just call Bill Walton
.