College Basketball Nation:

C.J. Williams
March, 15, 2012
3/15/12
11:45
PM ET
COLUMBUS, Ohio -- The afternoon slate of NCAA tournament games at Nationwide Arena on Friday will feature a pair of intriguing matchups. San Diego State will try to stop NC State from running away with the upset -- literally. And Belmont versus Georgetown pits one of the nation's top 3-point shooting teams against the squad that's most equipped to defend it.
No. 11 NC State (22-12) vs. No. 6 San Diego State (26-7), 12:40 p.m. ET
Last year, San Diego State charmed the country with its surge to the Sweet 16 as former Aztecs star Kawhi Leonard led the way. But Steve Fisher lost four starters from that team. Preseason projections suggested that the Aztecs would not come close to duplicating last season's achievements.


But this program has proved its doubters wrong this year.
The Aztecs shared the Mountain West crown with New Mexico during the regular season. They're undersized and they're not very deep, but they've held their opponents to a 40 percent shooting clip, second in the conference.
Jamaal Franklin
(17.2 points per game) and
Chase Tapley
(15.7 ppg) are a potent duo for a program that's overcome adversity in close games. They're 4-0 in overtime this season.
"It helped a lot. The NCAA tournament, you get those kind of games like every night, close barn-burning games, and those games at the beginning of the year, early in the year, like UC Santa Barbara, the Creighton game, games like that really prepared us for this moment we have right now," Tapley said.
The Aztecs have been here before. The bright lights of March are not new for the program.
When Mark Gottfried took the Wolfpack job last summer, however, he understood that he'd have to rebuild a winning tradition at NC State.
Leading the Wolfpack to its first NCAA tournament bid since 2006 is a start.
"Our banners, national championship banners are hanging in our gym," he said. "Our guys see them every day. And they understand the tradition and the history of NC State. Been in three Final Fours, won two national championships. So our players are very well aware of that."
There were a multitude of reasons to doubt both teams' chances of reaching March Madness.
To stay here, however, San Diego State will have to overcome its size disadvantage and try to control the tempo against a NC State team that likes to run. The Wolfpack will have to take advantage of their athleticism and transition offense to beat the Aztecs.
NC State's scoring offense (73.6 ppg and 81
st
in Ken Pomeroy's tempo ratings) was third behind North Carolina's and Duke's in the ACC.
C.J. Leslie
(14.6 ppg) leads five Wolfpack players in double figures.
San Diego State hopes to limit NC State's ability to fully utilize its talent by slowing the game down in a matchup against a squad that's shooting 46.3 percent from the field.
But the Aztecs said they feel comfortable picking up the pace, too.
"[We're] not going to get in a transition game, really pick our spots here and there and run," SDSU's
Xavier Thames
said. "And whatever they want to play, we can play. We could play a slow-down game, we could play a transition game."
NC State has to worry about matching up with an Aztecs team that employs a four-guard set.
"I feel that we have four guys on the perimeter, including C.J. Leslie, that can guard any position, 1 through 4,"
C.J. Williams
said.


No. 14 Belmont (27-7) vs. No. 3 Georgetown (23-8), 3:10 p.m. ET
It seems simple.
Belmont loves the 3-ball (8.8 per game, 10
th
in the nation). Georgetown plays the best perimeter defense in America (27 percent 3-point field goal percentage allowed).
Something has to give when the Bruins face the Hoyas in this second-round matchup in the NCAA tournament, right?
"We gotta penetrate when we can and be strong when we penetrate and find shooters on the perimeter and hopefully get inside the defense," Belmont's
Kerron Johnson
said.
Jason Clark
said Georgetown's preparations have focused on neutralizing Belmont's 3-point barrages.
"That's one thing Coach [John Thompson III] has been stressing all this week at practice is defending the 3-point line, not letting them get 3-point shots," he said.
Thompson, however, says it's not that simple.
The Bruins like to run (13
th
in Ken Pomeroy's adjusted offensive efficiency ratings) and they're a great passing team (17.4 assists per game, fifth in the nation). Belmont's 81.5 ppg makes the Bruins the fourth best scoring offense in America.
All-Atlantic Sun guards
Ian Clark
, the conference's defensive player of the year,
Drew Hanlen
and Johnson anchor Belmont. But
Mick Hedgepeth
(double-double in conference tourney title game) and
Scott Saunders
(10.2 ppg, 5.0 rebounds per game) can hurt opponents inside.
"Obviously, they have a terrific shooting team, but at the same time, if you get spaced out, if you start just chasing those shooters, their post players are very good and they're … a very good passing team," Thompson said. "… Protecting the 3-point line and stopping shooters is important, but they're much more complex than that."
But Belmont will need one of its best efforts of the year to upset the Hoyas. The Bruins lost to Duke by a point in their season opener. So they won't be intimidated.
The Hoyas have shot 46.3 percent from the field, the No. 2 mark in the Big East.
Otto Porter
and
Henry Sims
could bully the Bruins inside.
Hollis Thompson
is dangerous from outside (44.4 percent from beyond the arc) and Jason Clark (13.9 ppg) is a gamer.
This has been a trendy upset pick since the matchup was announced on Selection Sunday. But Georgetown is a team that's built to control the Bruins.
But the two teams expect a battle.
Both know March Madness heartbreak.
Wisconsin sent Belmont -- a team looking for its first NCAA tournament victory in its fifth appearance -- home early last year.
Georgetown has lost back-to-back opening-round games to lower seeds. The early losses damaged the Hoyas' postseason reputation and fueled some of this season's upset predictions.
Sims, however, said the only way to change that is to advance.
"It's hard for people to forget what happened until you make something different happen," he said.
March, 10, 2012
3/10/12
10:30
AM ET
ATLANTA -- North Carolina and Duke are still vying for a top seed in the NCAA tournament.
NC State is trying to solidify a spot in the field of 68.
And Florida State – which has already secured a spot in the NCAAs – would like to become only the second team not named UNC or Duke to win the ACC tournament in 16 years.
A quick preview of today's NCAA semifinals at Philips Arena:


No. 1 seed North Carolina vs. No. 5 seed N.C. State, 1 p.m. EST
Will he play or won't he play? The status of UNC forward
John Henson
's left wrist -- which he sprained in the first half of his team's quarterfinal win over Maryland on Friday -- hasn't reached the scrutiny level of "Ty Lawson Toe-Gate," circa 2009 (when the starting point guard sat out the entire ACC tournament, and part of the NCAAs, en route to a national title).
But give it time.
Official word Friday was that the 6-foot-11 junior would test his pain threshold Saturday morning to see if he would be able to play against the Wolfpack. But frankly, it would make sense to be cautious with the ACC's leading rebounder, blocker and defender. UNC, after all, has wrapped up an NCAA tournament berth, and it's just a matter of whether it ends up with a No. 1 or No. 2 seed.
If Henson doesn't play, it opens up more room in the lane for NC State forward
C.J. Leslie
, who has come on particularly strong of late. He's averaging 18.9 points and 11 rebounds over his past seven games -- including 19 points and 14 rebounds in Friday's quarterfinal victory over Virginia.
"He [Henson] is a great player -- first-team All-ACC, defensive player of the year; we want him to play,'' Wolfpack guard
C.J. Williams
said. "We don't want to give a team an excuse, 'Oh, we didn't have one of our best players.' He's definitely a matchup problem for us, with his length and his size … but we want him to play."
The Tar Heels beat their in-state rivals in both matchups this season.


No. 2 seed Duke vs. No. 3 seed Florida State, approximately 3:30 p.m. EST
Duke, which lost to Florida State on its home court in January, offered up a little bit of payback last month, when it beat the Seminoles in Tallahassee, Fla.
Guard
Andre Dawkins
was 6-for-12 for 22 points that game, with all six of those made shots being 3-pointers.
Since then, however, he's made only 1 of his 12 shot attempts over his past four games. Not a good stat for the Blue Devils, especially since they are also missing forward
Ryan Kelly
for the ACC tournament because of a foot injury.
The key for FSU will be to limit Duke's outside scoring while taking advantage of the Devils' thin depth inside.
And if it's close at the end, they have a couple of clutch options in
Michael Snaer
and
Ian Miller
, who have both buried game winners this season.
"We know we have a tremendous opportunity to do something great,'' Snaer said. "My team is really confident in our abilities, and we're playing like it. We're playing together. … We know how important this game is to us, and to our program and to the history of our program. And I can't wait for it to get started."
January, 26, 2012
1/26/12
11:54
PM ET
CHAPEL HILL, N.C. -- It looks like
Dexter Strickland
isn't the only Tar Heel who can play defense.
With questions about North Carolina's fortitude still lingering after a 33-point loss at Florida State earlier this month, and new concerns emerging after it lost its starting shooting guard/backup point guard to a torn ACL last week, No. 8 UNC showed it should be just fine --
thank you very much
-- by
blowing out NC State 74-55 on Thursday night
.
And the Tar Heels did it in a way that paid homage to Strickland, widely considered their best shut-down defender.
They blocked eight shots. They held NC State to a season lows in points and shooting (36.8 percent).
They outrebounded the Wolfpack by 22, and sophomore
Reggie Bullock
-- making his first career start, in place of Strickland -- held State sharpshooter
Scott Wood
to a forgettable 4-for-12 outing.
[+] Enlarge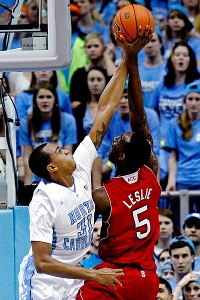 AP Photo/Gerry BroomeJohn Henson, who finished with five blocks, and UNC stepped up on defense against NC State.
"Up until this point, we weren't really known as a defensive team,'' said sophomore forward
Harrison Barnes
(15 points). "But I think that's what we need to make our staple, now, going into the back end of ACC play."
All year long, UNC coach Roy Williams has insisted this team had the ability to be "very good" defensively. But it wasn't until the absence of Strickland in drills this week, his teammates said, that they really realized how much he did -- and how much more they could do.
"As a team, we knew we needed to step up collectively on defense,'' point guard
Kendall Marshall
said.
With Strickland watching from the bench in a natty striped sweater, they did.
The Tar Heels led 17-14 about midway though the first half, but then they outscored the Wolfpack 20-9 to take a 37-23 lead into halftime. They flooded passing lanes; they swatted shots from the lane.
The Wolfpack seemed confounded by the overwhelming size of 6-foot-11
John Henson
(nine points, 10 rebounds, five blocks) and 7-0
Tyler Zeller
(21 points, career-high 17 rebounds) -- especially when State starting forward
Richard Howell
picked up three quick fouls early.
And the only reason they didn't trail by more at the break was point guard
Lorenzo Brown
's 80-foot buzzer beater.
"They got after it defensively, we got a little flustered, we didn't play with poise like we had been the first 20 games of the season and they took us out of what we wanted to do,'' Wolfpack forward
C.J. Williams
said.
New coach Mark Gottfried said that for the first time in his 21 games at NC State, a foe's defensive pressure affected his team's offensive composure.
"They took away one option and we didn't have the wherewithal to stay with our offense and really grind out good shots,'' he said.
Granted, the in-state rivalry had to add something to UNC's intensity. State, under Gottfried, was off to its best start in six years. Tied for the ACC lead at the beginning of the week, the Wolfpack -- a balanced team featuring five starters that averaged double figures -- finally looked ready to make a run at their down-the-road foes.
Instead, the game marked UNC's 11
th
straight win in the series, tying its longest streak of dominance over the Wolfpack (the Tar Heels also won 11 in a row from 1934 to '38).
"We definitely wanted to go out and show them that this was our home court, and that's what we did,'' Barnes said.
The Tar Heels shot 48.4 percent for the game; Bullock recorded 11 points, five rebounds and three assists as a starter; and freshman
Stilman White
, the new backup ballhandler now that Strickland is sidelined, had a 3-pointer, an assist and a foul in five minutes.
Coach Roy Williams wasn't thrilled when UNC's defensive intensity let up a bit in the second half, after the Tar Heels led by as many as 31 points. State shot 52 percent after halftime, when Wood also scored all of his team-high 11 points.
Marshall said the Tar Heels need to keep their defensive focus for 40 minutes, "but we're getting there."
He added: "I think we could have been a better team while he [Dexter] was here. We just didn't take advantage of that opportunity. Moving forward now, I think we're 4-1 [in the ACC], so we've got 11 more games where we can better ourselves."
Follow Robbi Pickeral on Twitter at @bylinerp.
January, 23, 2012
1/23/12
8:00
AM ET
Four teams now top the ACC standings with one league loss; thank Florida State's resurgence for making this conference race so all-of-a-sudden competitive. My attempt at this week's power rankings (up for debate, as always):
1. Duke:
After coming off the bench to score 20 points in a win over Wake Forest, freshman
Austin Rivers
was back in the starting lineup against FSU -- only to have his would-be overtime-inducing shot upstaged by
Michael Snaer
's game winner. The Devils allowed the Seminoles to make two-thirds of their shots in the second half; Duke's defense has got to continue to improve.

2. Florida State:
Is this really the same team that lost to two Ivys, and at Clemson by 20? The Seminoles said at the beginning of the season that the goal was to push their way into the top two of the ACC. By blowing out North Carolina, beating Maryland, then ending Duke's 45-game home winning streak (all in a matter of eight days), they've done just that. FSU is the hottest team in the league right now.
3. North Carolina:
The Tar Heels bounced back from the worst loss of the Roy Williams era, at FSU, by getting an intense win at Virginia Tech, fueled by 27 points from
Harrison Barnes
. But it still suffered another huge loss in that game, in the form of
Dexter Strickland
. The team's best perimeter defender/starting shooting guard/fastest player/backup point guard is out for the season with a torn ACL. How will the Tar Heels rally?
4. NC State:
After Sunday's win over Miami, the Wolfpack is 4-1 in the ACC. One of the positives of the game: Guard
C.J. Williams
, who injured his shoulder against Boston College last week, started and played 31 minutes. The Wolfpack aren't very deep, and the loss of any key player would be devastating.
5. Virginia:
First,
Assane Sene
suffered an ankle injury last week that will keep him out for about six weeks. Then, the Cavs lost to Virginia Tech on Sunday for their second league defeat. Virginia will need to adjust without its center, and one thing that would help: more production from guard
Sammy Zeglinski
, who has made only 4 of his 23 shots over his past three games.
6. Maryland:
After averaging 14 points and eight rebounds in his first three games, freshman center
Alex Len
has struggled -- averaging only 2.6 points and 4.3 rebounds in his next three, then exiting the Terps' loss at Temple early because of a twisted ankle. Maryland lost both of its games last week, and a healthy, rejuvenated Len would be key to getting back on track.
7. Miami:
The Hurricanes' latest loss, to NC State on Sunday, means they have dropped three of their past four. This isn't exactly what first-year coach Jim Larranaga was expecting out of this team, especially with its returning talent. "I was anticipating what our squad would be like before my staff and I arrived and I've found that we have a lot more work to do than we originally thought," he said Sunday, according to the Fort Lauderdale Sun-Sentinel.
8. Virginia Tech:
Dorenzo Hudson
's 3-pointer from the corner with 16.5 seconds left secured the Hokies' rivalry win over Virginia -- and their first ACC victory of the season. But after a slow conference start, they have a lot of work (and winning) to do in order to catch up to the top of the pack.
9. Clemson:
Andre Young
crushed his shooting slump by scoring a career-high 29 points (including seven 3-pointers) to hold off Georgia Tech and break a three-game losing streak. The Tigers need him to continue scoring.
10. Georgia Tech:
The Jackets managed only 38 points in their loss to Virginia, their worst output since 1982. Then they fell short in their rally at Clemson, losing by two. They've now dropped three straight, and seven of their past eight.
11. Wake Forest:
After losing three straight, coach Jeff Bzdelik called Saturday's game at Boston College a must-win. After beating freshman-laden BC by 15, he told the Winston-Salem Journal: "This game was our Super Bowl. Every win is huge, and they are hard to come by. This is another big step for us in our journey to be the type of team we want to be."
12. Boston College:
After winning two ACC games, the young Eagles have now lost two in a row. "Right now, we have a snowball effect -- in both directions,'' coach Steve Donahue told The Boston Globe. "When things go bad, we have a tendency to let them get to us and compound it on both sides of the ball. When we do positive things, it ends up snowballing in that direction." Not a great sign, with a trip to Virginia next up.
Robbi Pickeral can be reached at bylinerp@gmail.com. Twitter: bylinerp.
December, 4, 2011
12/04/11
8:40
PM ET
By
Diamond Leung
| ESPN.com
STANFORD, Calif. -- Stanford coach Johnny Dawkins hasn't thought much about the Cardinal sitting atop the Pac-12 standings, but even in December, the view from above has to look awfully nice.
Preseason favorite UCLA is reeling, while conference title contenders Arizona, Cal, Oregon and Washington have all taken their lumps.


For 8-1 Stanford, things are falling into place. That much was made clear after the Cardinal erased a 12-point second-half deficit to pull off a
76-72 win
against NC State at Maples Pavilion on Sunday.
One fan raised a large cutout of former football coach Jim Harbaugh's face as the Cardinal completed their comeback, and now it is Dawkins who is showing signs of turning around a program that has struggled to make an impact on the conference race since his arrival in 2008.
"Looking at long-term goals, this is one of those games that you need to punch your ticket," said Stanford forward
Josh Owens
, who had 19 points and 7 rebounds. "That's how Coach puts it."
Yes, Stanford is thinking about its postseason résumé. That counts as progress, as does a win in which the Cardinal defeated an ACC team when it didn't take its first lead until 3:06 remained in the game. Owens was dominant during a late 16-1 run while freshman
Chasson Randle
(16 points) and sophomore
Aaron Bright
(15 points) also came through with big moments. Other young players such as
Anthony Brown
(12 points) and
Josh Huestis
(6 points, 9 rebounds) made significant contributions off the bench.
The Cardinal beat Oklahoma State convincingly in New York, but couldn't finish off an upset bid against Syracuse in the championship game of the NIT Season Tip-Off. Beating an improved NC State team was an important result.
"It says a lot about this group," Dawkins said. "You never know how guys respond. The kids responded. It makes you feel proud.
"For us, it's a terrific win. We executed down the stretch."
But could Stanford compete for a Pac-12 title in a league that hasn't had any other teams distinguish themselves? Cal could fall out of the rankings after losing to San Diego State, leaving the Pac-12 without a Top 25 team. Before Sunday, the Cardinal had won each of its games by double-digits and had been receiving votes in the polls. Stanford could very well go into the conference season with one loss if it can beat Butler at home later this month.
Meanwhile, the Wolfpack under first-year coach Mark Gottfried was left bemoaning a second straight loss after leading late against Indiana last week as well. NC State was missing top scorer
C.J. Leslie
for much of the second half while he battled cramps and dehydration. Leslie had scored 14 points before halftime.
"We have to be able to play 40 minutes," said guard
C.J. Williams
, who scored 18 points. "Right now, we're playing 35 minutes. We're going to get that right."
Said Leslie: "We have to learn how to finish."
Stanford apparently has learned that lesson and is now showing it should be taken seriously despite being picked by the media to finish sixth.
"We don't necessarily pay attention to preseason rankings," Owens said. "We've been building since the end of the last season and the summer."
Does he consider the Cardinal a Pac-12 title contender?
"Of course. Always."