College Basketball Nation:

Cal Poly Mustangs
November, 26, 2012
11/26/12
2:14
AM ET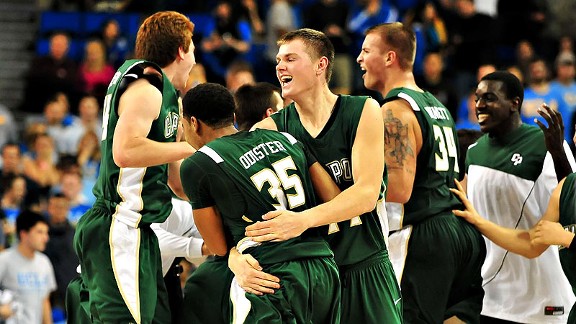 Louis Lopez/Cal Sport Media/AP ImagesCal Poly capitalized on a porous defense and recovered from an 18-point deficit to upset No. 11 UCLA
Even after UCLA signed the nation's No. 1 recruiting class, I had doubts that were masked by the program's potential.
The additions of
Shabazz Muhammad
,
Kyle Anderson
,
Tony Parker
and
Jordan Adams
suppressed my concerns. So I bought stock in UCLA and I slotted the Bruins as a top-10 team in ESPN.com's initial preseason poll. They had to get better, I figured. Too much talent to repeat the woes of 2011-12.
And then, UC-Irvine nearly upset the former powerhouse in overtime.
Young players need time to click with veterans, right?
And then, the Bruins lost to Georgetown.
C'mon, man. It was Muhammad's first game.
And then, they fell to Cal Poly
70-68
after leading by 18 points with 11:53 to play on Sunday night. The game ended when the Bruins put the Mustangs on the free throw line in the closing seconds of a tie game.
Well, even the best teams lose and … wait a minute. Huh?
It was an indefensible collapse against a program that's lost to both Fresno State and TCU this season. Yet, it's reminiscent of the Bruins teams that have all fallen short of expectations since the Final Four trifecta from 2006-08.
The latter teams all finished in the top five of defensive efficiency. Ben Howland hasn't had a squad that's even cracked the top-30 since that run.
The Bruins' defensive lapses helped Cal Poly recover from a 51-33 hole midway through the second half on Sunday. Those mishaps extended UCLA's streak of mental fragility. The Bruins fell apart. Again. It's becoming a familiar theme for the storied program that missed the NCAA tournament for the second time in three years last season.
On Sunday, the Bruins allowed 37 points in the final 12 minutes -- after giving up just 33 in the first 28. In that stretch, Cal Poly made 13 of 19 shots while UCLA missed 14 of 19.
And it all ended in confusion. Sophomore
Norman Powell
lunged at Kyle Odister with 14 seconds to play in a tied game. Powell apparently believed that his team was still trailing.
That was certainly the most critical gaffe of the evening but not the only one. The Bruins did what the Bruins have done too often in recent seasons. They showcased the execution that's seemingly elevated their ceiling just before the roof caved into those uncertain expectations.
They have pieces. Muhammad has played well for a guy who missed most of the preseason and the early portion of the regular season due to injury and an NCAA inquiry. But the addition hasn't changed the culture of a team that's failed to get stops when it's needed them and fizzled under pressure.
While Howland has new faces, he's still counting on the same veterans who couldn't stop last season's downward spiral. And he also has to rely on freshmen who love to score but haven't attained the defensive discipline they'll need to make a dent in a competitive Pac-12.
There's too much talent on the roster to assume that UCLA won't figure it out in the coming months. But the Bruins are a mess right now.
The "Kyle Anderson is a point guard" experiment has stalled.
Joshua Smith
's weight still limits his impact. The Bruins' shot selection is poor and disorganized. And despite the infusion of future NBA draft picks, they're not edgy enough to beat elite teams.
Or mid-level Big West teams.
February, 8, 2012
2/08/12
6:54
AM ET
By
ESPN Stats & Information
| ESPN.com
A scan of the college basketball box scores each night guarantees all kinds of statistical oddities and standout performances. Here are some we found from Tuesday:


Kansas State 65, Texas Tech 46
The two teams combined for 26 made field goals, matching the fewest in a Division I game this season (Cal Poly and USC combined for 26 in a 42-36 Cal Poly win Nov. 19). Texas Tech and Kansas State also combined for 53 fouls Tuesday. It's the first time this year two teams combined for at least twice as many fouls as field goals. The differential of 27 more fouls than field goals is three more than in any other game this season.
Ohio State 87, Purdue 84
Purdue committed only four turnovers, none of which led to an Ohio State steal, but still lost Tuesday night in Columbus. Ohio State became the sixth team overall to win a game this season without recording a steal, and Purdue became the first Big 6 team to lose when not having the ball stolen. It's the third time this season (and second in a row) that Purdue has lost a game in which it turned the ball over four times or fewer. No other team has lost more than one such game this year.
Kentucky 78, Florida 58
Florida's
Erving Walker
was held without a point in the loss, his first scoreless game since Dec. 30, 2008. He had scored at least one point in each of his prior 118 games.
December, 14, 2010
12/14/10
10:08
AM ET
If you skipped out on college hoops last night, you deserve forgiveness. It wasn't exactly the most appetizing slate of games, was it? There weren't any quality matchups on the board, and the only Top-25 team playing was San Diego State, who would surely roll over Cal Poly, and good for Happy Gilmo-OH MY GOD.
Get a load of
this
halftime score:
16-15 Aztecs
. Either the scoreboard was only giving half credit, or something went seriously wrong with San Diego State's offense Monday night.
Yes, it was the latter. Kawhi Leonard and Chase Tapley were both too ill to play Monday; they were given IVs before the game but couldn't get on the court. Tapley was in such bad shape he was sent home. Leonard remained on the bench and told coach Steve Fisher he could play, but -- despite temptation late in the hard-fought game -- Fisher held off.
There was also the matter of shooting. Or, you know, lack thereof. The Aztecs shot 18 3-pointers Monday night.
They made zero
. No, not one. Not two. Zero. Their 3-point field goal percentage, if my math is correct, was -- yep -- 0.0. The Aztecs went 16-of-46 from the field in the game, but if you throw out those 18 missed 3s, that's actually not so bad.
Anyway, San Diego State would eventually, ahem, "pull away,"
winning 51-45 on the strength of Malcolm Thomas' 18-point, 15-rebound effort
. It's hard to imagine a worse way to lose your undefeated record than a 0-for-18 shooting night when two of your players are missing due to illness. Luckily for SDSU, the streak lives on. Barely.