College Basketball Nation:

Cam Long
March, 20, 2011
3/20/11
8:43
PM ET
CLEVELAND -- On Saturday night, Ohio State senior and Cleveland native
David Lighty
took all his teammates to his family's church. The parishioners treated the Buckeyes to a feast of soul food.
Then at Sunday morning's shootaround, four Ohio State players were presented their diplomas. They couldn't walk in the school's winter graduation ceremony held at the same time a few hours south in Columbus, so they put on some mortarboards at half court of Quicken Loans Arena and spelled out O-H-I-O.
The Buckeyes might have been on the road this weekend, but they made Cleveland feel like home. And boy did they ever look comfortable here.
In an NCAA tournament that has already seen one No. 1 seed (Pittsburgh) lose and another (Duke) barely hang on, Ohio State emphatically showed why it deserved to be the top overall seed. Sunday's 98-66 destruction of No. 8 seed George Mason said it all.
"We're trying to make a statement," guard
William Buford
said. "We want to let everybody know we mean business."
Message transmitted. The Buckeyes won their two games here by a total of 62 points. They shot 58.6 percent from the field in the two games and 56 percent on 3-pointers.
There were no squeaky parts on this machine. Ask George Mason. Patriots coach Jim Larranaga's strategy was to try and slow down center
Jared Sullinger
and sharpshooter
Jon Diebler
, hoping Buford wouldn't go off like he did against Texas San-Antonio. Buford didn't, but Lighty -- normally the team's defensive stopper and glue guy -- erupted for 25 points on 7-of-7 3-point shooting.
George Mason couldn't concentrate on the perimeter because of the presence of Sullinger, who had 18 points and eight rebounds in just 22 minutes. Point guard
Aaron Craft
came off the bench to dish out 15 assists, including a 40-foot wraparound dart out of a trap to Sullinger for a dunk in the first half. Diebler and Buford still got their points, and Ohio State hit 16 of its first 23 3-point attempts.
How can you stop all of that?
"You've got great shooters outside and you've also got power post men sitting in the block," George Mason guard
Cam Long
said. "So when you're trying to shut down one thing, they've got other things that open up. And if you try to shut down the block, they've got the 3s that open up. So it's definitely a hard thing to guard."
"Just so many weapons on our team," Lighty said. "And everyone was clicking on high cylinders tonight. When that's happening, it's pretty hard to beat us."
Championship teams also catch some breaks along the way, and the Buckeyes got one when George Mason starter
Luke Hancock
-- who had 18 points and the winning 3-pointer against Villanova on Friday -- fell ill. Hancock apparently picked up a stomach bug that had him vomiting in the team hotel all Saturday night, and when he tried to go to the arena on Sunday, he got dizzy and had to stay back.
Even without Hancock, George Mason jumped out to an 11-2 lead. The Patriots were fired up -- a little too much so for the Buckeyes' tastes.
"They were talking a little bit of junk, and that ticked us off," Buford said.
A bear when poked roars back. Ohio State outscored George Mason 50-15 the rest of the first half, allowing only one field goal the final 10 minutes in a devastating 26-4 run before intermission.
"We finished the game pretty well," Ohio State forward
Dallas Lauderdale
said in an understatement. "It was a wake-up call seeing Butler knocking off Pitt. We're on a mission."
In order to derail that mission, somebody is going to have to make the Buckeyes feel a lot less comfortable than they were in Cleveland.
March, 18, 2011
3/18/11
6:34
PM ET
CLEVELAND -- The current George Mason players have nothing but respect for the 2005-06 Patriots team that made it to the Final Four. Many of them are at the school now at least partly because that team raised the profile of the program.
But, honestly, talking about the past gets a little tiring sometimes.
"Every interview you do, every person you talk to wants to talk about the '06 team," sophomore guard
Luke Hancock
said. "We're definitely trying to make our own name."
While these current Patriots have a long way to go to match the 2006 legacy, they've finally made a new March memory.
Friday's
61-57 win
over Villanova wasn't an upset, since George Mason was the No. 8 seed to Villanova's No. 9. But it was the school's first NCAA tournament win since that 2006 run, and it came in pretty dramatic fashion.
[+] Enlarge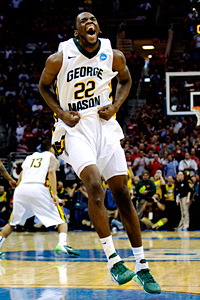 Rick Osentoski/US PRESSWIREAfter celebrating a victory over Villanova, Mike Morrison wore a shirt that read "We are this year's George Mason."
Down 10 late in the first half, the Patriots kept hanging around until
Mike Morrison
's rebound dunk with 55 seconds left gave them their first lead of the second half. After Villanova's
Corey Fisher
was fouled on a 3-pointer and made all three free throws, Hancock provided the play that can be added to the George Mason highlight library.
The play was designed as a double high ball screen. Hancock, though, refused the screen and jabbed to his right, intending to cut back left and then either look for teammate
Cam Long
in the corner or shoot. Villanova's
Corey Stokes
was determined not to let Hancock go right, however, and he overplayed that side. As Stokes went flying by toward the lane, Hancock calmly stepped back, paused and then drained the clinching 3 with 20 seconds to go.
"I wasn't the first option coming off the screens," he said. "I was definitely looking to penetrate and pitch, because we've got such good shooters on this team."
Neither team shot all that well or even took good shots most of the game. For a while, it looked like George Mason's season would get canceled by an episode of The Two Coreys. Villanova's Stokes and Fisher dominated the first half, combining for 22 of their team's first 23 points and 24 overall by halftime. Fisher was getting into the lane easily, opening up 3-point shots for Stokes, who made three in a row at one point.
The Patriots then concentrated on picking up the two guards closer to half court, giving into their chests defensively and fighting through ball screens more ferociously.
"When we got down early, we wanted to try and speed them up a little bit," forward
Ryan Pearson
said. "Their guys were taking their time, and we were letting them run their offense. We had to keep Fisher out of the lane and not give up second shots."
Stokes and Fisher went 0-for-8 combined to start the second half and would finish 11-of-32 from the floor. The ending had to seem like a recurring nightmare for the Wildcats, who closed their season with six straight losses and a 5-11 mark from Jan. 17 on. They blew leads and were unable to close out games in many of those defeats.
"In our program, we talk about each class's legacy, and this class has been to the Sweet 16, final eight, Final Four," Villanova coach Jay Wright said. "But they've endured a really tough season that would have crumbled a lot of guys personally."
The 2006 legacy has hung over every George Mason team since. Morrison wore a T-shirt that read, "We are this year's George Mason," to the postgame news conference, anticipating the inevitable questions about the school's most famous team.
"We've been forced into a lot of comparisons," he said. "And this is why it's my favorite shirt. I just like to ignore what everybody says and just worry about my own team."
It's not 2006 anymore. But 2011 is worth talking about.
March, 18, 2011
3/18/11
7:00
AM ET
CLEVELAND -- This city has known more than its share of sports disappointments, from The Drive to The Decision, from Jordan over Ehlo to Modell's moving vans. Maybe this weekend can provide a little brightness.
Two Ohio schools are here for the East Regional second and third rounds of the NCAA tournament, including the bracket's No. 1 overall seed. Xavier coach Chris Mack, who was born in Cleveland, wasn't above a little pandering for support.
"If it helps sway the Clevelanders to come to the game ... Drew Carey, forever; Art Modell, never," he said.
Ticket sales shouldn't be a problem for the afternoon slate of events, as No. 1 Ohio State takes the floor in its home state. Starter
David Lighty
is from Cleveland, while big man
Dallas Lauderdale
and reserve
Eddie Days
hail from just outside the city limits. They spent the past several days scrambling for extra tickets.
"I got a couple extra tickets, but I know 80 million people here," Lighty said.
The Buckeyes would love nothing more than to begin a championship run in their home away from home. But first things first. Let's take a look at the Friday afternoon session:
No. 8 George Mason (26-6) vs. No. 9 Villanova (21-11), 2:10 p.m. ET (TBS)


What to watch:
Which Villanova team shows up -- the one that began the season 16-1 or the one that wheezed to a 5-10 finish, including a first-round upset in the Big East tournament to South Florida? George Mason knows something about streakiness, too, having won a school-record 16 straight games before bowing out of the Colonial Athletic tournament against VCU. This shapes up as a good matchup of athletic, guard-oriented teams that like to get up and down the floor.
Who to watch:
Like with 1980s teen movies, you have to watch the two Coreys when it comes to Villanova. Senior guards
Corey Stokes
and
Corey Fisher
make the Wildcats go, but both battled injuries during the team's slide -- Stokes had turf toe and hamstring problems, while Fisher dealt with knee tendinitis. They will have had nine days off before this game to get well, and both they say they are healthy now.
Cam Long
is George Mason's top scorer and a guy who can stroke it from long range.
Why to watch:
Villanova looked like it was heading for a No. 1 or No. 2 seed before its late-season malaise. George Mason probably would have been seeded higher than No. 8 if it had won its conference tournament. So both these teams are talented and could get on a roll if everything comes together. It should be an entertaining game to watch. And the last time George Mason earned an at-large bid was 2006, when the Patriots advanced all the way to the Final Four.
What they're saying:
"I never get tired of talking about '06. Who would get tired of people talking about a great time in your life? It just brings back great memories every time it's mentioned. And whether I'm at the barber shop getting a haircut or in the airport or restaurant, someone always comes up to me or even the guys on my staff or the players on the team, and they talk about, 'Hey, I was at the game,' or 'I met my wife at a bar the night you guys beat Connecticut.' And our president, Dr. Alan Merten, uses the quote that it's the gift that keeps on giving." -- George Mason coach Jim Larranaga on remembering the magical 2006 run.
"Being the underdog is good, but we don't consider ourselves being the underdog. We know how good we are." -- Villanova guard Corey Fisher.
Of note:
Larranaga said he wasn't concerned about the ankle injuries that starters
Andre Cornelius
and
Luke Hancock
suffered during Tuesday's practice before the team left for Cleveland. Both practiced during the public workout Thursday at Quicken Loans Arena. ... The two teams played last season in Puerto Rico, with Villanova winning by one point.
No. 1 Ohio State (32-2) vs. No. 16 UT San Antonio (20-13), Approx 4:30 p.m. ET (TNT)


What to watch:
The top overall seed in the tournament begins what it hopes is a six-game run. Texas-San Antonio won its first-ever NCAA tournament game on Wednesday in Dayton but will need a miracle to upset the Buckeyes in a virtual road game.
Who to watch:
Take your pick among the star-studded Buckeyes starting lineup, but the guy to keep an eye on is freshman
Jared Sullinger
. On an otherwise veteran team, he's the newbie, and he said he feels like a high school freshman all over again this week. Still, UTSA doesn't have the size inside to handle him. For the Roadrunners, guard
Melvin Johnson III
scored 29 points in the First Four win over Alabama State. If he gets hot again, he could shoot his team into the game.
Why to watch:
Because you want to see how Ohio State comes out in its first game, since many of you picked the Buckeyes to at least make the Final Four in your bracket. Realistically, this should be little more than a warmup game for nation's top-ranked team.
What they're saying:
"Anything is possible in the tournament. If you're not ready to play, you'll end up getting beat. Every team is in the tournament for a reason. They wouldn't be here if they weren't great." -- Ohio State guard David Lighty.
Of note:
A No. 16 seed has never beaten a No. 1 of course, but Ohio State coach Thad Matta was an assistant on the Western Carolina team that nearly shocked top-seeded Purdue in the 1996 first round. "I definitely know what those guys are thinking over there," he said of UTSA. ... Wednesday's win by the Roadrunners was the first NCAA tournament victory in any sport in the 30-year history of the school.