College Basketball Nation:

Cam Newton
December, 6, 2010
12/06/10
1:17
PM ET
Late Friday, as most Kentucky fans were bracing for the NCAA to rule on Turkish forward Enes Kanter's eligibility appeal, Kentucky released a rather intriguing statement. Kanter's appeal hadn't been decided either way. Instead,
the school had "new information" it planned to present to the NCAA
in the hopes of getting Kanter eligible after all.
Seeing as both sides have agreed to the major facts of the case -- that Kanter received around $33,000 during his developmental time in the Turkish club Fenerbahce -- what could this new information be? Here's a hint. The new information starts with a "C", and ends with "am Newton."
How do we know this? Given the similarity between the two situations, and
the NCAA's loophole-y decision to reinstate Newton
despite the apparent recruiting abuses by his father, Cecil, it's not exactly a difficult guess. But we don't have to guess,
because someone told ESPN.com's Andy Katz as much Friday
:
A source with knowledge of Kentucky's plan told ESPN.com the NCAA's decision on Auburn quarterback Cam Newton prompted the new approach. [...] Kentucky then requested an appeal in front of the reinstatement committee that was scheduled for this week. But the Newton decision forced the school to alter its approach. [...]

Kentucky is hopeful that the same committee will now look differently at the case after the Newton decision. Kentucky has maintained that Kanter intended to be an amateur by pursuing an education in the United States as a senior in high school and then as a freshman in college instead of going directly to a professional team in Europe, considering he was a rare foreign player who was a lottery lock but wanted to be a college player.
As I wrote Friday
, this is Kentucky's last and best chance at getting Kanter on the floor this season. Why? Because the NCAA seems to have ruled one way on Newton and the other on Kanter. How else can you explain the two decisions?
The Committee on Student-Athlete Reinstatement could have decided -- and this is just a guess -- that Kanter knew about the professional-level benefits he received as an ostensible amateur in Turkey, that his family wasn't the only entity pulling the purse strings. If that's not the case, if Kanter didn't know how much money his family was receiving from Fenerbahce, then the NCAA appears to have backed itself into an intractable corner. That's the distinction the NCAA has created, and that's the one it will need to solve almost immediately.
How the Newton decision will affect recruiting and punishment over the long term remains a mystery. It's not hard to see it as a major slippery-slope; if the ruling becomes codified precedent, family members, AAU runners and the like would seem to have free reign to pursue cash in exchange for their players' services, so long as the player can plausibly deny any such arrangement. The Kanter case isn't directly analogous, but it is the first time a school will attempt to test this brand new Newtonian loophole. How UK's new hearing (and, if necessary, subsequent appeal) proceed will give us a first glimpse at what might just be a new NCAA era.
Theoretical noodling aside, though, the bottom line is this: Thanks to Cam Newton, Kentucky now has as good a chance at getting Enes Kanter eligible as ever. Probably better. A conference rival in a separate sport has never been quite so kind.
December, 3, 2010
12/03/10
11:38
AM ET
Did you think the
Enes Kanter
saga was over? It is decidedly not. That's because Kanter, after having been declared "permanently ineligible" by the NCAA Nov. 12, still has a chance to play college basketball if UK can convince the NCAA that the benefits Kanter received as a semi-pro for Fenerbahce Ulker -- $33,033, to be exact -- can be repaid in order to preserve his eligibility. It seems like a long shot, but Kentucky presented that appeal this week, and the NCAA is expected to rule ... well, anytime now, actually.
In the meantime, the Wildcats are good and anxious about the fate of their game-changing big man. From
the Lexington Herald-Leader
:
"I think we're all getting pretty anxious," wing Darius Miller said Thursday. "He's a great player and he'd be a huge help and asset to the team. We're all waiting like everybody else. Really, I don't have a clue when we'll find out," Miller said Thursday. "Hopefully, we do find out today."

"If he plays Saturday (at North Carolina), I don't know, that'd be crazy," freshman guard Doron Lamb said. "I know Kentucky would be happy."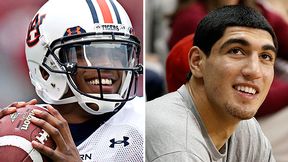 US Presswire, AP PhotoSince the NCAA reconsidered it's decision on Cam Newton's eligibility, it could conceivably do the same with Enes Kanter's.
And if he's ineligible? Kentucky fans will be rather less happy, that's for sure. They'll also start spending a lot of time mentioning the name Cam Newton, and not without reason. After all, this week the NCAA ruled that the star Auburn quarterback should not be ineligible for the pay-for-play scheme cooked up by his father, Cecil Newton, during Cam's recruitment by Mississippi State that was in obvious violation of NCAA rules. This is a bit baffling, given what we know about Newton's recruitment; the NCAA usually does not operate from a "scold the father, spoil the son" punitive baseline. Usually, if the family screws up in recruitment, the player is punished.
Sporting News' Mike DeCourcy, one of the leading "Free Enes" voices in college hoops,
outlines what he sees as the hypocritical distinctions between the two situations as such
:
One family purposefully does wrong, shredding the NCAA's most obvious rule, and the son prospers and excels.

One family mistakenly stumbles outside the more ambiguous pages of the NCAA's rulebook, and the son sits with the weight of permanent ineligibility draped across his shoulders.

If the NCAA wants its operation to be perceived as serious, and certainly it does given the billions at stake, there can be no option other than to order Kanter's family to repay the amount in question and restoring his eligibility immediately, counting the six games missed as time served.

The Kanters would gladly write that check. Unlike some, they are not looking to be enriched by their son's time as an NCAA athlete.
In fact, if Kentucky has any hope of getting Kanter eligible through the appeals process -- "permanently ineligible" didn't exactly seem promising -- it resides in the NCAA's decision to reinstate Newton. Kentucky's appeal should have used the words "Auburn" and "Cam" almost as frequently as "Kentucky" and "Kanter"; after all, it's incredibly difficult for any logical person to agree with the reasoning behind both decisions. The situations aren't directly analogous thanks to the professional implications of Kanter's time in Turkey. But at their most simple levels -- unless the NCAA believes Kanter knew about and chose to accept professional salary alongside his family -- the two decisions inherently contradict.
The NCAA might not see it that way, and Kentucky's appeal was always going to be a fingers-crossed sort of affair. But you can forgive Wildcats fans for continuing to play the "Free Enes" card, and for continuing to keep hope alive. They have the NCAA's stance on Cam Newton to thank for that.