College Basketball Nation:

Cameron Dollar
June, 22, 2011
6/22/11
12:58
PM ET
By
Diamond Leung
| ESPN.com
Ed O'Bannon, who led UCLA to the 1995 national championship and has regained notoriety for his significant
lawsuit against the NCAA
, wants to become a college coach and is returning to school to get his degree.
O'Bannon, after 16 years out of school, on Tuesday began going to two classes at UCLA, where he'll be attending summer sessions and fall quarter in order to complete his degree.
Why would O'Bannon, a Henderson, Nev. resident, come back to campus after all this time?
"There are several reasons," he said in a statement. "I want to coach basketball at the Division I level so it's important to have a degree. Also, my children are old enough that they don't need me around all the time. The fact that I can go home each weekend and spend time with them is a plus."
O'Bannon, 38, after a brief NBA career has been a coach before at the
high school level
, but now becomes the latest Bruin off the 1995 team to take an interest in college coaching. Cameron Dollar is the head coach at Seattle and Tyus Edney is working his way up as the director of basketball operations at UCLA.
In fact, Dollar said O'Bannon's younger brother, Charles O'Bannon, wants to coach as well.
"I know for Charles for sure is going to do it eventually," Dollar said. "Ed had been mentioning it, too. It's natural to me because both of them love people, help people and have knowledge of the game."
Ed O'Bannon's aspirations have led him back to Westwood this week.
"This is a long time coming," O'Bannon said in a statement. "My wife and mother really never gave it [coming back to school] a rest and I really wanted to finish. There are a lot of people involved in this decision, like Coach [Jim] Harrick. I felt I owed it to myself and a lot of people to come back and get my degree."
June, 14, 2011
6/14/11
6:20
PM ET
By
Diamond Leung
| ESPN.com
Those road trips to Logan to play Utah State are never easy, but Seattle coach Cameron Dollar can't wait. When his team joins the Western Athletic Conference for the 2012-13 season, he wants the challenge of going up against the best and shooting for the NCAA tournament.

"If you want to climb to the top, you gotta play the big dogs," he said Tuesday after WAC commissioner Karl Benson announced Seattle had accepted the league's invitation.

"Where we want to go, we need to be competing on par, competing with teams of the caliber of the WAC. The WAC is a nationally known entity. To be connected with that does nothing but great things for us. They've proven they can provide a platform for us to take our program nationally."

While currently an independent, Seattle has enough resources that Benson even hinted that the program could be a Gonzaga in the future. The Redhawks play in a former NBA facility at KeyArena. They have a name coach in Dollar, the former UCLA Bruin. Seattle is also a destination city.

"At this time, the WAC believes Seattle U has the academic characteristics, the athletic characteristics and the media market," said Benson, adding that KeyArena would be considered as a site for the WAC tournament in the future.

Seattle's program has had success in the present and the past (does the name Elgin Baylor ring a bell?). In the past two years, they've played a Division I schedule and have been bothersome for many teams. They have picked up wins against Oregon State (twice), Utah, Virginia, and also current WAC teams Fresno State and Idaho.

The WAC will change dramatically by the time Seattle joins in 2012 along with Denver, Texas State and UT-San Antonio. The conference is losing Boise State, Fresno State, Hawaii and Nevada.

The league declined to extend an invitation to Utah Valley, but Benson did say the addition of Seattle certainly did not preclude the league from considering non-football-playing members for future membership. Benson also prefers to add one or two more football-playing schools.

For now, the WAC stretches from Seattle to Louisiana Tech. All that means a lot of traveling for the Redhawks, who have done their share of it during a successful stint as an independent.

"Travel for us, we've experienced all the travel you need," Dollar said. "It'll be fun to have a conference schedule, to have more of an opportunity to be on TV. I have great respect for the teams in the league."
November, 22, 2010
11/22/10
7:29
PM ET
By
Diamond Leung
| ESPN.com
Seattle isn't eligible for the NCAA tournament until 2013, but the currently independent program remains very much in the mix to gain inclusion in the WAC.
The WAC is scheduled to visit the campus in the near future, and commissioner Karl Benson reiterated his interest level Monday in extending an invitation to Seattle to join.
"Seattle U was on our list and is still on our list," said Benson, whose league is in flux and could lose another team
if Hawaii basketball heads to the Big West
.
That's all good news for Seattle coach Cameron Dollar, who lost Charles Garcia when he declared early for the NBA draft and went undrafted, but is building for the future after receiving a long-term contract in the offseason.
Freshman guard
Sterling Carter
leads the Redhawks averaging 16.6 points per game after transferring from Pacific, where he redshirted last season and then gained immediate eligibility upon receiving a hardship waiver.
Carter went to Franklin High in Seattle, and Dollar also expects to get three years of 6-foot-5 forward
Clarence Trent
, a Tacoma native who is sitting out the season after transferring from Washington.
The Seattle area is a plentiful recruiting base for Dollar, with the team also playing its games in KeyArena.
There will be days where the Redhawks (2-5) lose badly, but they won 17 games last season playing Division I teams and last week beat Oregon State for a second straight year.
"The plan is to make ourselves as attractive as we can be," Dollar said. "My deal is to keep building it."
September, 29, 2010
9/29/10
4:20
PM ET
By
Diamond Leung
| ESPN.com
Seattle, the feisty independent transitioning to Division I that won 17 games under coach Cameron Dollar last year, made some noise on Tuesday.
While the school made a presentation to WAC officials in Dallas while bidding for future membership in the conference,
Dollar got an in-home recruiting visit
with guard Tony Wroten Jr., ESPNU's No. 31-ranked player in the 2011 class.
Neither courtship means a match will be made, but that Seattle has gotten itself into the conversation means a seat at the table with the big boys might not be far away.
Already it's a coup that Dollar managed to make Seattle a finalist in the mind of Wroten, who attends high school in the city and is also considering Washington, Louisville, Connecticut and Villanova.
Seattle might be an underdog in this race, but it's clear that Dollar's development of Charles Garcia as a pro prospect has introduced the program to recruits who might not have otherwise given the Redhawks a second thought.
Meanwhile, WAC conference commissioner Karl Benson has made clear his interest in having non-football playing schools Seattle and Denver potentially join the league.
If invited, Seattle would be in line for WAC membership beginning in the 2012-13 season when the program becomes eligible for the NCAA tournament.
Benson said this morning that in the next 30 to 60 days, the WAC would make campus visits to Seattle, Denver, Montana, Texas-San Antonio and Texas State. The conference could extend invitations during that period, with the domino effect of expansion especially benefiting Seattle.
All the while, for a coach who recently received a contract extension, Dollar has to be sitting in a Starbucks somewhere smiling.
September, 7, 2010
9/07/10
7:02
PM ET
By
Diamond Leung
| ESPN.com
Seattle University has rewarded Cameron Dollar with a long-term contract after the first-year Division I coach led the Redhawks to a 17-14 record.

Dollar, 34, developed a star player in Charles Garcia and, despite not being selected for a postseason tournament, managed to finish with a winning record.

"This contract speaks to Cameron's commitment to building a successful Division I program at Seattle University," athletic director Bill Hogan said in a statement. "As one of the top young coaches in the country, he has the skills and experience to grow and strengthen the program in the coming years."

Dollar, the former UCLA player and Washington assistant, will face challenges in trying to complete the transition to Division I for a program without a conference. Garcia left school early and declared for the NBA draft. Washington transfer Clarence Trent will not be eligible to play until the 2011-2012 season.

The last time Seattle made a Division I postseason appearance was in the 1969 NCAA tournament. But Dollar already has the program thinking about playing after the regular season. He submitted bids to the NIT, CBI and CIT after last season.

"My wife and I came here with the idea of entering a long-term partnership with the university," Dollar said in a statement. "We are excited and blessed with the university's commitment to the program and I look forward to competing for postseason play every year."
June, 16, 2010
6/16/10
7:34
PM ET
By
Diamond Leung
| ESPN.com
HALF MOON BAY, Calif. -- With expansion fever in the air, the West Coast Conference has largely stayed out the conversation. After all, only one of its eight schools fields a football team, with San Diego playing in the non-scholarship Pioneer Football League.

But the basketball-driven WCC did discuss the expansion issue, and a task force involving university presidents decided in March not to pursue another member at this time, according to commissioner Jamie Zaninovich.

That means Seattle, which currently competes as a Division I independent in basketball, will have to wait. The school was a member of the WCC from 1971-80 and is currently completing the transition phase back into Division I.

"We went through an expansion process and decided not to expand right now short of something game-changing in the environment, which hasn't happened," Zaninovich said after Wednesday's Collegiate Commissioners Association meetings.

"Seattle, we play them in a lot of sports, and they're a school that I think if they grow competitively, then they will be viable in terms of the conversation for our conference. I don't think they're there yet. We've had conversations with them directly about that."

Seattle's basketball team behind coach Cameron Dollar and possible NBA draft pick Charles Garcia went 17-14 this season.

One question mark regarding adding the Redhawks to the conference might be how playing them twice per season could hurt the RPI for Gonzaga and other teams looking to make the NCAA tournament.

Seattle certainly showed signs of transitioning well this season with wins against such teams as Oregon State from the Pac-10 and Utah, which is expected to be the latest school to catch the fever.
April, 21, 2010
4/21/10
6:42
PM ET
By
Diamond Leung
| ESPN.com
The Pac-10 used to lose players to the NBA, but this offseason, they're simply leaving for other schools.
Freshman forward
Clarence Trent
Wednesday became the latest player to bolt and find a new home elsewhere, transferring from Washington across town to play for former Huskies assistant Cameron Dollar, now the head coach at Seattle.
Freshman guard
Demetrius Walker
verbally committed Tuesday to transfer to New Mexico after cutting his stay at Arizona State short and
visiting Albuquerque over the weekend
.
The 6-foot-5 Trent, who earlier this month also
left the football team
, and sophomore guard
Elston Turner
are leaving a Sweet 16 team. Walker nearly got to the NCAA tournament with the Sun Devils, who finished second in the conference's regular season standings.
But they didn't receive as much playing time as they wanted.
"The reality is you have schools that play eight or nine guys," Dollar explained. "Something has to give."
On with the ever-expanding West Coast transfers list:
Arizona:
D.J. Shumpert
Arizona State: Demetrius Walker, Taylor Rohde, Brandon Thompson
Cal:
D.J. Seeley
Fresno State: Brandon Sperling, Taylor Kelly
Hawaii: Jeremy Lay
Loyola Marymount: Kevin Young
Montana State:
Austin Brown
Oregon: Drew Wiley, Matt Humphrey
San Francisco:
Kwame Vaughn
Santa Clara:
Troy Alexander
UCLA:
J'mison Morgan
(dismissed), Mike Moser
UC Riverside: Lateef McMullan, Konner Veteto
USC:
Leonard Washington
(
reportedly dismissed
)
Utah:
Carlon Brown
, Marshall Henderson,
Jordan Cyphers
,
Matt Read
Washington: Elston Turner, Clarence Trent
Washington State:
Xavier Thames
,
Michael Harthun
,
Anthony Brown
,
John Allen
Weber State: Franklin Session
April, 14, 2010
4/14/10
11:52
PM ET
By
Diamond Leung
| ESPN.com
Seattle head coach Cameron Dollar is famous for filling in for an injured Tyus Edney to help UCLA win the 1995 national championship game, but he laughed as he told me tonight that it's safe to say at age 34, he's a shell of his former self on the court.
Let's go to the
video from Tuesday that proves it
, shall we?
That's Dollar wearing his old No. 5 during Seattle's charity game that pitted staff members against the students. With time winding down and the staff leading by two, Dollar tries to get out on the 3-point shooting student.
Swish -- at the buzzer.
And to make things worse, as Dollar walks off the court and congratulates the kids, the public address announcer channels his inner Gus Johnson, exclaiming "Heartbreak City!"
"Fatigue will make you do nothing on defense," Dollar lamented.
The game raised money for the Make-A-Wish Foundation, and donors were allowed to "buy" points throughout the evening. That meant even though the staff was up big at times during the game, all the money pouring in for a good cause was used to set up the game-ending scenario.
"You don't have to see the video to know I'm washed up," Dollar joked. "I've
been
washed up."
Of course, Dollar's promising coaching career is just getting started. In his first year at Seattle, he sent
Charles Garcia
to the NBA draft, and the Redhawks notched a 17-14 record playing a complete Division I schedule during the program's transition period.
The team was ineligible for the NCAA tournament this year and couldn't get a bid to any of the other postseason tournaments, but the future appears bright. Today, Dollar signed a six-player recruiting class.
Just to clarify, it didn't include the kid who hit the buzzer-beater over him the previous night.
February, 23, 2010
2/23/10
2:45
AM ET
By
Diamond Leung
| ESPN.com
SAN JOSE, Calif. -- Is
Charles Garcia
ready for the NBA?
Seattle's star junior gives away his answer by revealing a gap-toothed grin before saying, "I think I'm ready."
That emphatic statement, he said, should provide a bit of a hint as to his mindset heading into an offseason that could see the 6-foot-10, 230-pound forward go from community college to declaring for the NBA draft in only two seasons.
[+] Enlarge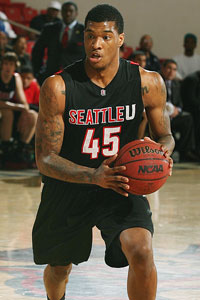 Jeff Golden/Getty ImagesSeattle's Charles Garcia is averaging 19.4 points per game.
Twenty-two NBA scouts were credentialed to attend Seattle's 90-88 win against San Jose State on Monday, with the talent evaluators filling up press row while empty seats dotted the front row at The Event Center. The 14-14 Redhawks, currently making the transition to Division I, have become a somewhat of a traveling circus.
"I like to say rock band," coach Cameron Dollar said. "They've followed us all year long."
And for a fourth straight game, the scouts needed to wait to see the main attraction. Garcia, who leads the team with 19.4 points and 8.3 rebounds per game, has been coming off the bench.
Dollar said Garcia's absence from the starting lineup had more to do with teammates who were showing the most effort in practice getting rewarded. Dollar also noted scouts might also be getting a preview of how the project that is Garcia might respond to sitting during his developmental years in the NBA.
Maturity has admittedly been a question mark for Garcia, who is attending his fifth school (Sacramento State, Diablo Valley College, Riverside Community College and Yuba College came before Seattle).
A 4-inch growth spurt after high school and impressive performances in Riverside led to Garcia signing a national letter of intent to play at Washington, but the school did not admit him due to academics.
Garcia also had prematurely left the RCC program, with coach John Smith struggling to get him to buy into playing defense and Garcia frustrated with playing predominantly the low block.
Smith said Garcia was a big teddy bear at heart.
"He's so easily influenced that anybody can say, 'Hey, you ain't got to worry about [defense]. You have the NBA,'" Smith said. "He may listen and shut it down."
Garcia said he's done a lot of growing up and changed his ways under the former Washington assistant Dollar, who sent a message with the recent benching, but also has allowed the raw talent to handle the ball and shoot it where he feels comfortable doing it.
Garcia entered the game leading the nation in scoring per 40 minutes averaging 29.3 points, and looks the part with his quickness, wingspan and ability to handle the ball at his size.
He also shoots .267 from three-point range and .617 from the free throw line despite leading the nation in attempts at the charity stripe.
Still, the ability was always off the charts. Long before the scouts started showing up to Seattle games in droves, Smith was so certain Garcia was NBA material that he brought Nuggets assistant Tim Grgurich, Smith's former coach at UNLV, to Riverside just to get a sneak peak at the kid.
After scoring 17 of his 20 points in the second half, Garcia said it's still nerve-wracking to have scouts eyeballing him, but that he hasn't made his NBA aspirations a distraction.
His current goal is to get to New York, and by that, he doesn't mean the Knicks. Seattle isn't eligible to play in the NCAA tournament, and the next best thing would be reaching the NIT championship game at Madison Square Garden.
Also staged at MSG? The NBA draft, coming in June.
January, 27, 2010
1/27/10
3:30
PM ET
You may or may not have noticed last night's Washington-Seattle score. (When a No. 1 goes down in its first game, neglect is an understandable side effect.) That score?
123-76.
This is weird for a variety of reasons -- one of which is that
Seattle beat Oregon State by 50 earlier this season
-- but the weirdest bit didn't happen in the scoreline. It happened at the foul line.
After his team fell way behind in the first half, trailing 61-20 at the midway point,
Seattle coach Cameron Dollar decided to get creative
. In so many words, he told his players to foul. The Redhawks went for steals but played for contact when possible. The payoff of this strategy, which Dollar said was designed to "get them in the bonus quick and slow the game down," was Seattle fouling 29 times in 20 minutes of basketball, fouling out six players, and leaving the Redhawks with four guys on the floor for the final 1:27.
This is certifiably insane. Dollar could have finished with five, but it would have meant throwing away redshirt freshman
Adam Eakles
' eligibility on 90 seconds of basketball, which, duh. Of course not. So the Redhawks did the same thing you do when your intramural team's fifth player is still nursing his hangover in his dorm room: they played four guys.
All things considered, though, I suppose the strategy is understandable. It's even sort of interesting in a Gladwellian-alternative sort of way. What's most confusing is how Washington can so utterly destroy Seattle after Seattle so utterly destroyed Oregon State. Was Seattle playing six men against OSU? And as my editor said last night: When Washington plays the Beavers in March, do the Huskies win by 100?