College Basketball Nation:

Caris LeVert
February, 26, 2014
Feb 26
11:49
PM ET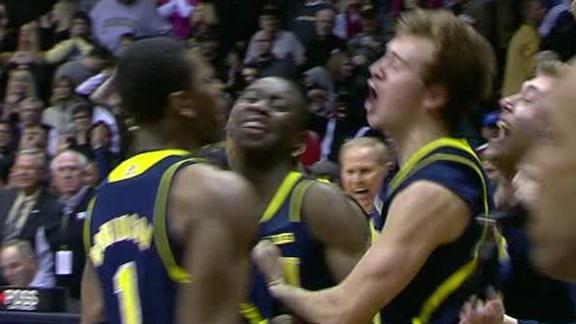 Even if Wednesday's venue weren't his father's old palace,
Glenn Robinson III
's game-winning shot in No. 16 Michigan's
77-76 overtime win
at Purdue -- a victory that helped the Wolverines maintain control of the Big Ten title race -- would have meant something.
No player on the Michigan roster has faced more pressure than Robinson following last season's Final Four. Trey Burke's departure, it seemed, meant that Michigan would be Robinson's World in 2013-14.
He'd return to a more natural small forward slot after competing at the four-spot last season alongside Tim Hardaway Jr. on the wing. John Beilein would run his best stuff through the promising sophomore, who had a chance to make a lot of money last summer before choosing to return to Ann Arbor with his buddy
Mitch McGary
.
All seemed right for Michigan -- until it all went wrong.
[+] Enlarge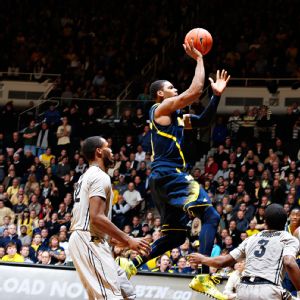 Brian Spurlock/USA TODAY SportsGlenn Robinson III's game-winning buzzer-beater not only kept Michigan in first place in the Big Ten, but crushed his famous father's alma mater.
McGary's season-ending back injury only complicated the program's transition to life without Burke. Plus,
Nik Stauskas
' emergence as top dog and
Caris LeVert
's growth pushed Robinson to the background. And he didn't seem prepared to handle it all.
There were times when he forced everything (see his 4-for-14 effort in a November loss to Iowa State). In other moments, he just disappeared (eight single-digit scoring outputs this season). But he's also looked like a star in multiple outings.
Consistently being a star has been the unattainable feat thus far.
It has been much easier to note his shortcomings than his strengths. He's ranked 15
th
in the Big Ten in Ken Pomeroy's individual offensive efficiency ratings. He boasts a stat pool (12.9 PPG, 4.9 RPG, 49 percent from the field) that would be an overachievement for many. But his numbers are down compared to last season.
Therefore, he has been clothed in scrutiny.
Where has he been in late-game situations? Why isn't he more aggressive? Why the here today, gone tomorrow pattern?
All of those are honest questions.
But they fail to capture the reality that Robinson is a sophomore who is still figuring things out. If his father weren't a former No. 1 pick, if there wasn't NBA chatter hovering over his season and a national title game appearance inked onto his resume, it'd be easier to acknowledge that his struggles are the norm for most underclassmen.
That's not an excuse; just the truth.
He was on the drums last season, but everyone expected him to play lead guitar this one. Sure, he can do it. But that's a tremendous chasm for any young player to navigate.
As the season comes to close though, Robinson is reminding all of us that his potential never changed. He just needed more time to get there.
With Michigan down one point Wednesday, Beilein drew up an intricate scheme with 2.9 seconds left that had LeVert toss a pass to Robinson on the right side of the floor. He'd found some room by rushing toward LeVert before curling off
Spike Albrecht
's screen and reversing to his original spot, a sequence that momentarily perplexed Purdue. But when Robinson caught the high pass, he was trapped. He split a pair of Purdue defenders and scored on a buzzer-beating layup off the glass, a shot that took its time before finally dropping, and crushed a Boilermakers squad that had a 19-point lead in the first half.
On the same floor 20 years ago, Glenn "Big Dog" Robinson averaged 30.3 PPG for a Purdue team that he ultimately carried to the Elite Eight. So there's certainly a poetic element to what Robinson did on his father's court in those closing seconds on Wednesday.
But that's not the full story.
Robinson finished with 15 points in a Sunday win against rival Michigan State. On Wednesday, he added 17 points, eight rebounds and three assists.
That Beilein would put the ball in Robinson's hands on the final possession showcased the trust he has in the talented sophomore.
Michigan has a deep roster again and is capable of a return to the Final Four. Its versatility has been a thorn in the side of the (arguably) nation's best conference for months.
And now the youngster who was supposed to lead this potential charge toward Arlington, Texas, before the year began has mustered up the mojo that's most desirable as the postseason approaches.
Robinson didn't answer everything with one shot on Wednesday. But there should be fewer questions now about the second-year man who's growing at a respectable pace.
February, 7, 2014
Feb 7
9:30
AM ET
Michigan's transition into life without former Wooden Award winner Trey Burke should have included more hurdles. Entering the season,
Derrick Walton Jr
. had been unfairly pegged as the heir to fill Burke's size impossible shoes.
Glenn Robinson III
and
Mitch McGary
were back from last season's Final Four team, but Burke carried the Wolverines to Atlanta.
Still, John Beilein had the pieces to compete for a Big Ten title. When McGary's back problems snowballed into season-ending surgery, however, those dreams should have been squashed.
But they weren't.


Beilein's squad is on top of the Big Ten now, despite everything it has lost since that Final Four run, as it prepares to face No. 17 Iowa on Saturday (2 ET, ESPN).
Nik Stauskas
is the Big Ten's player of the year. Robinson and
Caris LeVert
are pivotal components of No. 10 Michigan's success, too.
Jordan Morgan
and
Jon Horford
aren't superstars, but they're respectable.
They're not the biggest team in the land, but Michigan's high-powered offense (third in adjusted offensive efficiency per Ken Pomeroy) has its "disadvantages" as an advantage. The Wolverines are difficult to guard because they're led by players who stretch the floor and create mismatches, especially on fast breaks and in space.
Their defense is still a work in progress, though. The Wolverines allowed a Michigan State team that competed without
Adreian Payne
and
Branden Dawson
to score 1.19 points per possession in their win over their in-state rivals on Jan. 22. But they've given up 63.9 PPG in Big Ten play, second in the league.
Defensive discipline will be the key in Michigan's matchup in Iowa City on Saturday. The Hawkeyes have lost three of five, largely because of their own defensive deficiencies. But their offense (sixth in adjusted offensive efficiency per Ken Pomeroy) has struggled during this slide, too. The Hawkeyes scored only 1.01 PPP in their loss to Ohio State on Tuesday. They recorded 1.01 PPP in a loss to Michigan State last week. In their Jan. 22 loss to Michigan in Ann Arbor, the Hawkeyes managed 1.02 PPP. They made just 20 percent of their 3-point attempts in that loss.
In a game between two of the top offensive units in America on Saturday, defense shouldn't be overlooked. Both the Wolverines and Hawkeyes have had challenges on that end of the floor this season. They possess flashy offenses. So it could be a high-scoring game.
But defensive stops will matter most.
May, 28, 2013
5/28/13
5:00
AM ET
1. UNLV lost another player over the weekend. The latest to depart is
Katin Reinhardt
, who apparently had issues with the way he was being used by coach Dave Rice and wants to play the point more than shooting guard, Rice told the Las Vegas Review-Journal. Reinhardt will have to see if Andy Enfield plays him at the point if ends up at USC, as the Review-Journal reported is a likely destination. Reinhardt shouldn't play immediately (I feel like I have to say that now with everyone getting waivers) and can use the redshirt year to become a point if that's his chosen position. The Runnin' Rebels already lost
Anthony Bennett
to the NBA draft after one season, and then
Mike Moser
graduated and transferred to Oregon to play immediately. (UNLV was also set to lose seniors
Justin Hawkins
and
Anthony Marshall
.) The Rebels will be scrapping with San Diego State to catch New Mexico and maybe Boise State in the Mountain West. But Rice shouldn't be worried. He needs players who want to be in Las Vegas, and the Rebels have replacements.
Bryce Dejean-Jones
can play shooting guard. UConn transfer
Roscoe Smith
had a year to better understand the game and how to play power forward. Depth is available with
Carlos Lopez-Sosa
and
Kendall Smith
, who can play either the point or the two for the Rebels.
Khem Birch
is eligible for a full year and can try to be more assertive offensively and dominant defensively. This team will be in flux, but the pieces are still in play to be an NCAA team.
2. Players don't necessarily have the allegiances that fans do. That's why
Antonio Barton
has no issues going from Memphis to rival Tennessee. The Vols desperately needed another guard after losing
Trae Golden
. And of course the Vols are now a beneficiary of the new free agency in college basketball. "It's safe to say kids are more concerned with the best opportunity,'' Tennessee coach Cuonzo Martin said about players holding rivalry grudges. As for picking up players on the fly, Martin said, "Free agency, it's a tough call. We're on the good side of free agency. I think a lot of mid-major programs are affected by the market.'' Martin used to be the coach at Missouri State and knows all too well about life at a lower level.
3. Former Michigan guard Tim Hardaway Jr. said on our college basketball podcast Friday that
Caris LeVert
is ready for a breakthrough season in 2013-14. Hardaway heaped high praise on LeVert. Meanwhile, Kansas coach Bill Self hit on a number of topics, including
Ben McLemore
, a recruiting class that he said had tremendous promise even before
Andrew Wiggins
signed, and coaching Wiggins next season.
You can listen to the podcast here
.
April, 7, 2013
4/07/13
3:31
AM ET
ATLANTA -- The possibility that became reality following Michigan's
61-56
win over Syracuse in the Final Four on Saturday night began to materialize weeks ago.
As the Wolverines stomped Jackrabbits (South Dakota State), corralled Rams (Virginia Commonwealth), caged Jayhawks (Kansas) and wrestled Gators (Florida) to pave their path toward the national semifinals, they awakened the way contenders must in March.
But every scenario that involved Michigan competing in its first national championship game in 20 years would demand another phenomenal effort by
Trey Burke
-- America's best player -- conventional wisdom suggested.
Those ideas did not include
Mitch McGary
(10 points, 12 rebounds, 6 assists) playing like a lottery pick. Again. Or
Caris LeVert
logging 21 minutes and going 3-for-4 in Atlanta.
Spike Albrecht
(2-for-2 from beyond the arc) wasn't even mentioned.
Jon Horford
making the most important free throw of the game, while Burke struggled in a Michigan victory? Unimaginable … to everyone else.
"It's not a one-man team," said
Tim Hardaway Jr.
"Everybody in the media has been talking about it. That's why it's a team. It's a team win. That's what we focus on. We know Trey is our leader. He's not going to have a game like he's [usually had] the whole season. That's when our team steps up, just tries to picks him up. He really doesn't need it, but we try to pick it up anyway, try to go out there and do a great job of competing."
Prior to Saturday's win, the concept of Michigan reaching its first national championship matchup since the Fab Five wore maize and blue was nullified by one thought: What if Burke goes cold?
To read Myron Medcalf's full story, click
here
.
March, 3, 2013
3/03/13
9:13
PM ET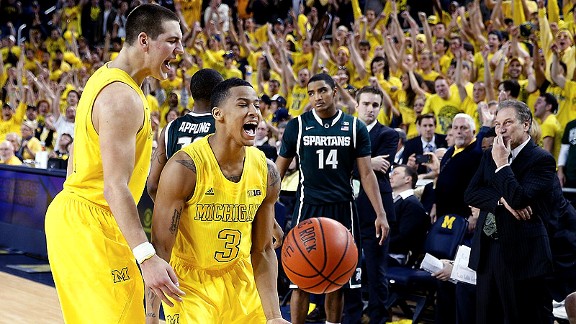 Gregory Shamus/Getty ImagesTrey Burke's play in the final moments sealed the game for the Wolverines.
ANN ARBOR, Mich. --
Keith Appling
couldn't see it coming. He was looking toward the Michigan State bench, trying to receive one last instruction on whether to call a timeout, and he had a split-second lapse. It was all the time Michigan guard
Trey Burke
needed.
Burke had waited for that moment all game because Appling had protected the ball well until the final 30 seconds. The opening Burke relished appeared, and instinct and experience took over.
Appling started to turn and Burke made his move, a quick flick of his wrist knocking the ball away into Burke's hands. He led a breakaway dunk and gave Michigan the final points it would score in a
58-57 win
over rival Michigan State.
"I knew it at that time, once he got all the way to the side," Burke said. "Once I got the steal, the crowd was still kind of quiet. I don't think the crowd knew I had the ball.
"Once I took the first dribble, everyone is like, 'Ahhhh.' I'm like, 'OK, I got this.'"
It was a play he has made repeatedly, one he was conditioned to make as a kid growing up in Columbus, Ohio. Appling may have not known it at the time, but he fell right into Burke's signature move, a high-risk swipe his father, Benji, taught him when he was a fifth-grader.
At first, Burke wasn't good at the move, which has no fancy name other than "a steal." Burke kept shooting the gap only to end up out of the play. As he grew, he started to understand the mechanics of the move and how it could enhance his defense. It turned into a staple, one opposing guards can't see coming.
"I was very shocked," Appling said. "I didn't expect for that to happen. But it did. And now I can't dwell on it."
Having lost four of their past seven games -- including a stunner to league bottom-dweller Penn State on Wednesday -- that singular play may have salvaged Michigan's season and pushed Burke back into the national player of the year race.
The root of the play -- and how Michigan played Sunday -- started a few days earlier in Pizza House, a local restaurant where Michigan coach John Beilein's radio show is broadcast each week. Burke and seniors
Corey Person
and
Josh Bartelstein
had enough of the losing. They were sick of meetings with coaches.
They called one last chat, a players-only discussion lasting 90 minutes at Pizza House. Person laid out each player's contributions to the team. Burke brought up intensity and passion, things he felt Michigan needed. Unlike a season ago, when Michigan had obvious leaders in Zack Novak and Stuart Douglass, this year none existed. Until lately, when Burke started to realize it had to be him.
"It's allowing the team to be able to grow in different areas," Burke said. "I see our flaws and see what we need to work on, and once I let Glenn [Robinson III] know what he needs to work on or what he's doing out there, it gets through to him.
"That means a lot, because we're a young team."
The catalyst of Michigan's offense and the focal point of every team's defense, Burke had to somehow do more.
For 39 minutes, he waited for the moment. He placed Michigan in the position to win anyway, scoring 21 points, dishing out 8 assists, grabbing 4 rebounds and making 5 steals -- the last two coming in the last half-minute of the game.
It was what he wanted. The game on the line. The pressure on him to make a play. The play. All things he had done before and things Michigan had seen before.
"The steal he does on the spin, he always does it," freshman guard
Caris LeVert
said. "That's Trey's signature move. When he spun, I knew Trey was going to get him.
"When you kind of look, whenever an opposing guard spins like that, Trey is going to get his hand on the ball and get a breakaway."
He did and as Burke drove, Michigan forward
Mitch McGary
hoped Burke would remember not to hang on the rim and to get back on defense.
They had seen all of this before -- Burke did something similar the past two seasons against Ohio State in this building -- but this time Burke understood the gravity of everything.
After he dunked it, he felt relieved. Michigan wasn't done yet, both in this game and for the season. Of all those plays he made, this one ranked above them all.
"That's No. 1," Burke said. "I've had a lot of those types of steals but our team needed that the most at that time. Who knows what would have happened if I hadn't got that steal. Maybe we'd be crushed here if they hit a game-winning shot.
"It was my job to make a play for this team."
It has been all season. In its most critical juncture, he did.
February, 9, 2013
2/09/13
7:10
PM ET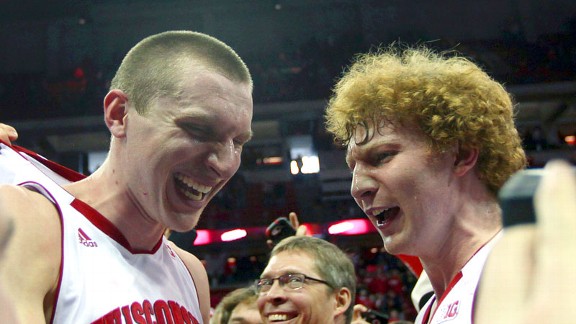 Mary Langenfeld/USA TODAY SportsJared Berggren (left) and Mike Bruesewitz celebrate after UW's win over No. 3 Michigan.
Mike Bruesewitz
's pass was in stride, perfectly thrown, hitting
Ben Brust
in motion so all he had to do was think about the shot without collecting the ball first.
"Mike put it perfectly. I caught it, squared up right away," Brust said by phone from Madison, Wis., a few hours after Saturday's thrilling
65-62 overtime victory
over No. 3 Michigan. "Without that, the shot doesn't get off. If that thing gets tipped, then that's the game. Mike put it right where I needed it. I think there is a quarterback tossup in the fall. Mike should compete for it since that pass was on the money.''
Brust buried the running 3-pointer at the buzzer to send Wisconsin into overtime against the Wolverines, two-plus seconds after
Tim Hardaway Jr.
hit a 3-pointer over Bruesewitz to give Michigan a 60-57 lead.
Wisconsin had fouls to give on the Hardaway shot since it had committed only three in the second half to that point. But the Badgers elected to play defense.
"I wasn't trying to foul, I was going after the steal,'' said Bruesewitz by phone. "He came off the ball screen, and I tried to swipe at it and maybe foul him in the process, but it didn't get called. At that point, you can't really foul because he was shooting a 3 and then he's knocking down free throws."
On the ensuing inbounds, Bruesewitz said as soon as he threw the ball to Brust he knew it had a chance.
"I still feel completely, I don't know, like it's just another game right now,'' Brust said. "It's going to hit me. I don't know when. When Mike got the ball, I made my cut, and he led me perfectly. He put it in my pocket, I got squared up without wasting any time. I knew as soon as it left my hands that it was pretty good.''
[+] Enlarge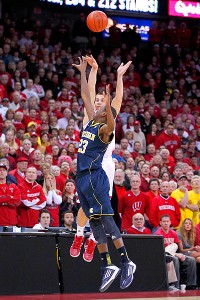 AP Photo/Andy ManisThis shot by Ben Brust forced OT in a game Wisconsin would eventually win against Michigan.
Bruesewitz trailed the play and immediately said he told Brust to settle down since there were five more minutes to play.
"I wanted to win the game right there,'' Brust said. "But then I knew we had overtime and had to get focused.''
That he did, as Brust hit a 3 that proved to be the difference in a low-scoring OT. But it's the shot at the end of regulation that will be long remembered in Madison. Brust will get the credit for it, but Bruesewitz's pass should be remembered as well, much like
Brandon Paul
's to
Tyler Griffey
on Thursday night on Illinois' improbable game-winning basket at the buzzer over No. 1 Indiana.
"I saw that, too. Brandon Paul put that pass right in Griffey's pocket, and he laid it up and in," Brust said. "I got it in stride, to my right hand.
Caris LeVert
is like 6-foot-5, and he is long and athletic and he did a good job contesting it."
With the win -- UW's second over a top-three team this season (at Indiana) -- the Badgers moved to 17-7 overall, but, more importantly, 8-3 in the Big Ten, tied with Michigan for second and a game back in the loss column behind Michigan State and Indiana (both 8-2).
"We've had early setbacks with Josh [Gasser] going down with an ACL [in the preseason], my leg injury [a major laceration that required surgery in the preseason] and a concussion," Bruesewitz said. "We've been injury-prone, but a lot of guys have stepped up. There aren't one or two great teams [in the Big Ten]. There isn't separation between the top teams and the middle of the pack."
Having young guards mature and develop provided an early-season hiccup, but Bruesewitz said the expectation within the locker room has remained a league title.
"We've always thought we could win the Big Ten and win a national championship," Bruesewitz said. "That hasn't changed."
As for Saturday's memorable moment at the Kohl Center, well, that one will be talked about for a while. Brust said he can't wait to get a framed photo of the shot. He knows it will have a special place in his home.
"I just want it somewhere where we can talk about it," Brust said. "It's going to be a moment I'll remember forever. I'm just grateful for the opportunity."