College Basketball Nation:

Carleton Scott
August, 5, 2011
8/05/11
12:07
PM ET
By
Diamond Leung
| ESPN.com
Notre Dame recruit Eric Katenda, ESPNU's No. 27-ranked power forward in the 2011 class, has reportedly suffered a freak eye injury on the court that puts his career in doubt before he was able to enroll in school.

According to the
South Bend Tribune
, Katenda has yet to be cleared by the NCAA and is now dealing with a loss of vision in his left eye that currently cannot be repaired.
Unable to attend summer school with the rest of his Irish teammates after the NCAA Clearinghouse questioned a course on his high school transcript, Katenda was playing a game of basketball "21" last month in Washington, where he lives with his mentor. Having grabbed a rebound, Katenda soon felt the finger of another player who was going for the ball poke him in the eye.

"I knew it was bad when it happened," Katenda said. "It was just a freak accident."

The force of the player's finger severed Katenda's optic nerve.

"Right now, I have no vision in my eye," Katenda said. "The doctors have told me that they can't do anything to fix that."
Notre Dame, which followed Stetson in identifying Katenda's talent and
offering him as a junior
, could have definitely used him following the decision of forward Carleton Scott to turn pro.
But Fighting Irish coach Mike Brey is currently more concerned about Katenda's well-being and has told him his scholarship at Notre Dame would be honored whether or not he could play, according to the
Chicago Tribune
.
"I don't know if I've been more depressed, handling Eric and talking to him through this," Brey said. "He's been unbelievable. His frame of mind has picked me up a couple times on the phone."

...

"He's great. He understands the reality that playing basketball at the Big East level may never be part of the equation again. He's very understanding of that. In the last two weeks, I think he's really come to grips with understanding that getting an education is now very, very important. He's very realistic about it."
March, 18, 2011
3/18/11
7:04
AM ET
CHICAGO -- A look at the afternoon games being held here at the United Center:
No. 15 seed Akron (23-12) vs. No. 2 seed Notre Dame (26-6), 1:40 p.m. ET (TBS)


How they got here:
Last time we saw Notre Dame in the tournament, the Irish, who struggled to earn a tourney bid in 2010, were bowing out thanks to an ugly, uninspired first-round loss to Old Dominion. Twelve months later, and after the graduation of four-year star Luke Harangody, the Irish are a whole different animal. In that time, guard
Ben Hansbrough
has rocketed from "good but not great" to the Big East player of the year. That surprising rise has dovetailed with this unheralded team's race to a second-place finish in the rough-and-tumble Big East this season.
Meanwhile, the Zips' appearance in the NCAA tournament can be chalked up to survivalist instincts. Akron nearly lost in the first round of the MAC tournament; it had to fend off a 20-point comeback by Miami (Ohio) to take a double-overtime win on March 8. Three wins and one more overtime later, and Akron was sitting atop the MAC and headed to the tournament for the third time in school history.
Players to watch:
How do you know you're having a great year? When you -- and not Connecticut's
Kemba Walker
-- are the only unanimous all-Big East first team selection, not to mention the Big East player of the year. But there are few who would argue Hansbrough didn't deserve those honors. He's been brilliant for Notre Dame, not only in a scorer's role but in his ability to facilitate the uber-efficient perimeter offense that carried the Irish throughout their impressive Big East run. Forwards
Tim Abromaitis
and
Carleton Scott
are keys; when Scott is hitting outside shots, the Irish are almost impossible to guard.
What to look for:
Can Akron find a way to keep Notre Dame from running away on offense? The Irish are deadly from the perimeter and willing to play at Mike Brey's sloth-like "burn" pace; that negates the typical underdog strategy of slowing the game, packing the defense and hoping the big bad favorite goes cold. The Zips are a decent defensive team on the perimeter -- they held opponents to a 46.6 effective field goal shooting percentage this season -- but let's be real: it will require a Herculean effort to keep the Irish from casually rolling in the Chicago opener Friday.
Quotable:
"Most likely, if we play Notre Dame seven times, they would probably win the series, but we only have to win one game. And that's the beauty of sports. We have to play one great game. They have to be average, or we have to be good, and they have to be below average." -- Akron coach Keith Dambrot
No. 7 seed Texas A&M (21-10) vs. No. 10 seed Florida State (24-8), 4:10 p.m. ET (TBS)


How they got here:
Somehow, it seems Mark Turgeon always finds a way. The Texas A&M coach faced a serious challenge in the offseason: Replacing three seniors, including stars Donald Sloan and Bryan Davis, with a group of unproven unknowns. The Aggies didn't miss a beat. Instead, A&M quickly established itself as another smart, solid Turgeon team, one that looked like it might compete for a spot among the Big 12's elite before a late-January hiccup. Meanwhile, despite losing its leading scorer and best defender in forward
Chris Singleton
to a broken hand on Feb. 19, Florida State admirably maintained its spot above the bubble fray.
Players to watch:
Singleton hasn't seen action since his injury, but he practiced Thursday and appears likely to play Friday. Saying this is "huge" for the Seminoles is like saying water is "huge" for human survival. With Singleton on the prowl, an already-stout Florida State defense is one of the toughest, most disruptive units in the country. Texas A&M forward
Khris Middleton
will have to find a way to remain productive despite Singleton's singular defensive prowess, and A&M will need to balance its interior scoring with some timely perimeter shooting from guard
B.J. Holmes
.
What to look for:
A slow, defensive slugfest that will be decided on the offensive boards. FSU's defense is the second-stingiest in the nation; only Texas has allowed opponents fewer points per possession in 2011. That stinginess stems from Florida State's excellent first-shot defense. The Seminoles simply don't allow good looks. That said, Leonard Hamilton's offense-averse team does allow opponents its share of offensive rebounds, and A&M ranks among the top 15 teams in the nation in retrieving their own misses. The Aggies aren't going to get many good looks. But if they can take advantage of the offensive glass and get a few easy putbacks, they'll be at a major advantage against a Florida State team that frequently struggles to score.
Quotable:
"How big of a factor he's going to be will be in direct proportion to how he's going to adjust to not being available for a month, not being in practice, not having any contact, not being in rhythm. [...] He's only been in any type of contact with us now for four or five days. So to be honest with you, I think that's yet to be determined." -- Florida State coach Hamilton on what he expects -- or doesn't expect from Singleton.
March, 5, 2011
3/05/11
7:45
PM ET
STORRS, Conn. -- Notre Dame coach Mike Brey didn't hesitate to put
Ben Hansbrough
in the game with four personal fouls, despite the Irish holding an eight-point lead with nearly nine minutes left at Connecticut.
But he made sure the fifth-year senior, and potential Big East Player of the Year, had a clear understanding of what he shouldn't do.
"He looked at me and said, 'Ben, don't foul,' and then [a few] seconds later there was a foul and I was out of the game,'' said Hansbrough.
[+] Enlarge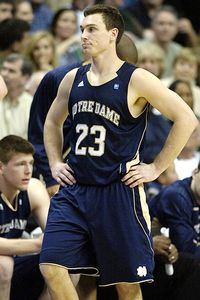 AP Photo/Fred Beckham Notre Dame picked up Ben Hansbrough after the senior fouled out early in the second half.
The Fighting Irish senior checked into the game with 8:34 left. He committed an offensive foul with his forearm 10 seconds later.
Connecticut proceeded to go on a 13-0 run and took a five-point lead as the game looked like it was about to get away from the Irish. And yet Brey never doubted his decision.
"He should be able to play [with four fouls],'' Brey said. "That's a 1950s way of thinking: 'Oh, don't put him in with four fouls.' That's a fifth-year senior and I told him before he went in and then the whistle blew. We'll both take responsibility for it, but he's taking more.''
Brey was laughing as he made the point, as well he should. The gamble may actually pay off for the Irish in the Big East and NCAA tournaments. They were able to withstand a Huskies' push led by
Kemba Walker
, who scored 11 of UConn's 13 points during the run.
Tyrone Nash
,
Scott Martin
and
Tim Abromaitis
each made plays down the stretch as the Irish retook the lead before holding on for a
70-67 victory
. All three of those players are seniors, just like Hansbrough. They toughened up on the defensive end to halt the Huskies. And they never panicked.
That's why Notre Dame finished up No. 2 in the Big East in the regular season. The experience and toughness of this team is much like first-place Pitt, a team the Irish beat on the road.
"We were really poised once we got it into the low post,'' Brey said. "We can bang because we are so big. Making 10 3s on the road helps, but this team showed it could score in the arc. We're tall and we're physical.''
UConn had chances to tie the game late but Walker missed a 3-pointer with nine seconds left and then passed off to
Donnell Beverly
for their final attempt but the ball was low and Beverly never got a shot off.
"We have so many seasoned vets on this team,'' Nash said. "We're mentally tough men. We knew they'd make a run. We felt deep inside that we could win a championship. This is great going into the Big East tournament.''
Hansbrough finished with 21 points in 27 minutes; Walker with 34 points in 40 minutes. The difference all season long between the two is the help each has had. Hansbrough's support has been consistent and experienced, while Walker's support comes largely from freshmen and has been erratic.
[+] Enlarge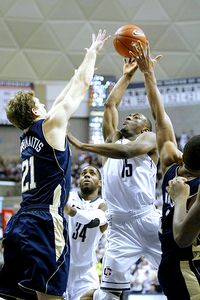 David Butler II/US PresswireUConn fell short despite 34 points from Kemba Walker.
Walker said he passed on the last shot because the whole Irish team was on him. He's made plenty of big shots this season, but he couldn't win this game alone. UConn coach Jim Calhoun said the Huskies did a good job of frustrating Hansbrough. But he said the Irish knew that when they needed a bucket, they could go inside where the Huskies struggled defensively throughout the game.
"Kemba was unstoppable,'' Calhoun said. "That's the best he's gotten to the rim in a long, long time. He just really wanted to make this day special. He's devastated, obviously. As we all are.''
Walker shot 11-of-22 from the field and 10-of-10 at the free throw line. His teammates combined to score one fewer point (33), shot 15-of-36 from the field and got to the line once. Notre Dame had four players, all seniors, score in double figures with Hansbrough, Nash (13), Abromaitis (11) and
Carleton Scott
(13).
"I think this takes us to the next level with our confidence,'' Hansbrough said.
Connecticut was 12-0 in the nonconference and was once a top-five team. But the Huskies finished the regular season ranked outside the top eight in the Big East and will need to win five games to claim the Big East championship. Meanwhile, Notre Dame has a chance to be a top-two seed in the NCAA tournament.
"We know what it's like to play three games in a championship since we did it over Thanksgiving against good teams,'' said Brey of winning the Old Spice Classic in Orlando. "We've played on Friday night in New York [at the Big East tournament]. But we've never gotten to Saturday night [for the final]. I wonder what it would be like to play on Saturday night.''
If the final eight minutes against UConn are any indication of what's to come for Notre Dame, then there's no reason to believe the Irish won't soon find out.
February, 27, 2010
2/27/10
11:45
PM ET
Purdue has a chance to show the NCAA tournament selection committee what kind of team it is without
Robbie Hummel
in its final three games.
Notre Dame has already proven that it can win without
Luke Harangody
. Is the selection committee paying attention? It should be.
Harangody, the Irish's top scorer and the 2008 Big East Player of the Year, suffered a hyperextension/bone bruise of his right knee in a loss at Seton Hall on Feb. 11. The Irish fell flat by one at home against St. John's three days later.
But then something happened at Louisville. The Irish were right there to beat the Cardinals before falling by two in double overtime on Feb. 17. They followed that by beating Pitt handily at home and stunning Georgetown by 14 in Washington D.C. on Saturday. If you toss in a two-point win over West Virginia (with Harangody on Jan. 9) then the Irish may have a tournament-worthy body of work within the Big East -- with him and without him.
"How many teams have three wins against top 12 teams?" Notre Dame coach Mike Brey said by phone after returning to South Bend, Ind., Saturday night. "We've obviously proven we can play without him. We pass the eye-ball test."
Brey said he and his staff talked about how similar Notre Dame's situation is with Purdue.
"We've had to prove it now for three weeks and won two amazing games," Brey said.
The Irish (19-10, 8-8) don't have resume-building wins in nonconference play. And Brey knows that not all Big East records are created equal. But if the Irish can at least split their final two games (against Connecticut and at Marquette) to finish 9-9 in league play, then they may be hard to turn down, especially with the amount of quality wins they would likely have without Harangody.
"If we're 9-9 we would thoroughly be in the picture, and then go to New York City and see what we can do," Brey said. "It's a great example of what could happen in one week in the Big East and how your fortunes can change."
Brey said that he's extremely hesitant to put Harangody back on the court. There is still discomfort in his knee and Brey said the fear is it could lead to a situation where he might require microfracture surgery.
"It's less than 50-50 that he would play Wednesday [against Connecticut] on senior night,'' Brey said. "And if he can't play Wednesday then he won't play Saturday. We're not going to mess with this. He's done so much for us already. The reality is that we have played our butts off without him and we're prepared to do it again if that's the case."
The Irish have locked down defensively without Harangody. Brey won't come out say as much, but he did admit that the team's defense has improved. He also said that the Irish have slowed down offensively.
"I wanted us to limit the possessions in the game," Brey said of playing without Harangody. "I wanted us to be overly patient. I didn't want us to have to guard as many possessions. The longer offensive possessions, the better we can shoot."
Brey said the Irish are also playing with experienced players on the perimeter like
Tory Jackson
,
Jonathan Peoples
and
Ben Hansbrough
. Notre Dame has also benefitted from the shooting of
Tim Abromaitis
, whom Brey is calling one of the best fresh faces in the Big East, as well as getting contributions from
Carleton Scott
,
Tyrone Nash
and
Jack Cooley
.
"We're a little bit better defensively and offensively, we're more efficient," Brey said. "I can't say this is completely out of left field, but I'm a little bit surprised. I'm not shocked. I still thought we had good personnel.
"We were hoping that we could make our own luck and that's what we've done," Brey said. "We're thrilled to be in the discussion without Luke Harangody. We've put ourselves back in position."
February, 11, 2010
2/11/10
10:37
PM ET
NEWARK – The good news for Notre Dame: the Irish played 11 minutes without
Luke Harangody
and didn't fall apart.
[+] Enlarge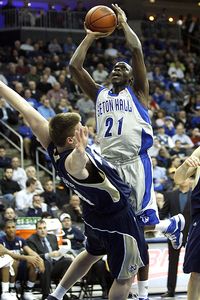 William Perlman-The Star-Ledger/US PresswireJeremy Hazell scored 35 points against Luke Harangody and the Fighting Irish.
The bad news for the Irish: they lost.
And they had to play without Harangody.
The Big East's second-leading scorer fell awkwardly as he battled Seton Hall's
Herb Pope
for a rebound late in Thursday night's
90-87 loss to the Pirates
. He left for two minutes, came back in but then left for good with 4:40 left and his Notre Dame team down two.
Brey said he didn't think there was anything seriously wrong with his senior, that Seton Hall docs checked Harangody's ligaments and gave him the all clear.
"He just tweaked it,'' Brey said. "He tried, but then he said, 'Coach I'm really sore.' I didn't want to mess with that.''
Brey said they'll recheck Harangody in the morning before making a decision for the Irish's Sunday game against St. John's.
The Irish don't have a lot of wiggle room. They need Harangody desperately. The Irish are 17-8 and an averagely middling 6-6 in the Big East.
Technically still on the bubble, they are rapidly playing their way off of it.
Notre Dame has one quality win – its 2-point upset of West Virginia – and then just two victories against South Florida against teams with an RPI of 50 or better.
Losses at Rutgers and Cincinnati could be killers, not just in terms of RPI, but in terms of giving the Irish any sort of separation from a crowded group of so-so Big East teams (a crowd perhaps thinned by one with Louisville getting thumped at St. John's).
"That's my book, 'Life on the Bubble','' Brey deadpanned. "It will be out at the Big East Tournament. We're in the mix, but we know exactly where we are. We have work to do but the good news about the Big East is, it's really hard but you have opportunities. The bad news is it's really hard.''
What ails Notre Dame is what has plagued the Irish for years – a toreador's blasÚ attitude toward defense.
Jeremy Hazell
came into the game averaging 23.8 points against Big East opponents. Two games ago he went for 35 against Villanova.
Yet there he was, lighting up the Irish for 35 on 12-of-16 shooting and 8-of-11 from behind the arc. Hazell can do that to you – he is the quintessential rhythm and streak shooter who could score from the Hall's South Orange campus once he gets going. But the Irish also played him inexplicably soft at the 3-point line. Case in point: late in the second, Hazell swiped a pass and headed down on the break.
Carleton Scott
sagged toward the basket, thinking for some reason Hazell would drive. Instead he drained a trey.
"When we were 3-3 we gave them the worst-case scenario of finishing 9-9.'' Brey said. "We've been very clear with them in terms of what we have to do all along. So we'll see.''