College Basketball Nation:

carolina-duke-120303
March, 3, 2012
3/03/12
11:39
PM ET
DURHAM, N.C. -- This is what everyone expected North Carolina to be right about now: the ACC regular-season champion, the top seed in next week's league tournament, in the mix for a No. 1 seed in the NCAAs.
It's just not quite the way everyone expected the Tar Heels to achieve it all.
Dismissed as lacking heart after losing by 33 points at Florida State on Jan. 14, overlooked as focusless after losing a 10-point lead (and the game) to Duke in the final three minutes Feb. 8, sixth-ranked UNC finally showed what all the ballyhoo was about in the first place during its
88-70 victory
over the third-ranked Blue Devils on Saturday night.
For only the second time this season, all five starters finished in double figures.
For the first game since December 2003, three Tar Heels finished with double-doubles.
They dominated the backboards (45-28), held a perimeter-reliant opponent to worse than 30 percent 3-point shooting (6-for-21), and never trailed.
All against a top-five foe.
"One thing that we talked about is people are going to put you on a pedestal to knock you down,'' said point guard
Kendall Marshall
, who finished with 20 points and 10 assists. "That's what happens. We weren't going to be perfect unless we went out and won every game by 30. That's not what happened … we learned from our mistakes, we continued to get better. And now it's all starting to come together."
In beating the Blue Devils (26-5, 13-3 ACC) by their largest margin at Cameron Indoor Stadium since 1989, the Tar Heels (27-4, 14-2) showed what they had learned from their previous four losses:
How to dictate tempo and energy (via UNLV and FSU).

How to keep a lead after building one (via Kentucky and Duke the first time).
Marshall was already annoyed about seeing Duke guard
Austin Rivers
' game-winning shot from the first meeting seemingly every time he turned on the TV. So he grew downright hostile when he saw it replayed as part of a highlight montage on Cameron's video board before pregame introductions.
"I told my teammates that was disrespectful, and we've got to go out here and prove a point,'' Marshall said. "Obviously they feel like they have that edge, that swagger over us right now, being that they won in our gym. It left a bad taste in our mouth, and we wanted to be able to come out and win today."
Thus, they "played angry," as UNC forward
John Henson
(13 points, 10 rebounds) put it, using an early 18-1 run to build a 22-5 lead within the first eight minutes.
By halftime, they pushed their advantage to 24, holding the ACC's best 3-point shooting team to 2-for-11 from behind the arc in the first half while shooting better than 52 percent themselves.
[+] Enlarge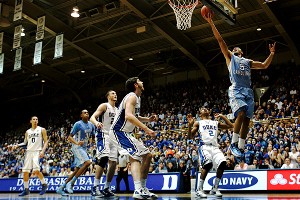 Mark Dolejs/US PresswireKendall Marshall swoops in for two of the 20 points he recorded Saturday to go with 10 assists.
"We were overwhelmed in the first half,'' Duke coach Mike Krzyzewski said. "They just played beautiful basketball. They were so efficient. They are a great team -- they are not a good team, they are a great team."
Of course, Duke rallied. In this rivalry, what else would you expect?
And when Blue Devils forward
Miles Plumlee
(16 points) cut the lead to 75-64 on two free throws with 6:01 left, no one could help but remember that game three weeks earlier, when Duke also came back.
"We were up 14 with three minutes and something left … and I told everyone during a timeout, basically, to remember what happened last time, and don't let it happen again,'' said senior forward
Tyler Zeller
(19 points, 10 rebounds).
They didn't.
After Duke's
Seth Curry
missed a jumper, UNC forward
James Michael McAdoo
extended the lead to 15 with 3:03 left on an offensive rebound and layup. Sophomore
Harrison Barnes
followed with a 3-pointer to give his team an 18-point cushion with 2:04 left.
Zeller -- who missed two free throws, accidentally tipped in a Duke shot and was the defender on Rivers' winning 3 in the previous meeting -- scored five more points before he fouled out with 51 seconds to go. But he actually felt comfortable enough with the lead, he said, to enjoy the final seconds from the bench.
Ah, sweet vengeance.
"I think this game was definitely just recalling everything that we've been through this whole season, everything we learned to build up to this,'' said Barnes (16 points).
The key now, the players agreed, is to keep building -- and keep exceeding the outside expectations that were downgraded after their losses this season.
"My team has had to bounce back all year long,'' UNC coach Roy Williams said. "We go down to Florida State and lose by 3 million, everyone's jumping off the bandwagon and saying no team is going to lose like that and be that good of a team. And our team kept playing. We lose to Duke and everyone's got a great opinion about how stupid we are and how bad we are, and my team kept playing.
"The best thing about my team is they're pretty tough. I mean that's some pretty big plays they've had to bounce back from, and I think they've done a nice job. Right now they're regular-season ACC champions."
Follow Robbi Pickeral on Twitter at @bylinerp.
March, 3, 2012
3/03/12
10:24
PM ET
By
ESPN Stats & Info
| ESPN.com
Mark Dolejs/US PresswireNorth Carolina Tar Heels guard Kendall Marshall (5) and forward Tyler Zeller walk off the floor at Cameron Indoor Stadium as the ACC regular-season champions.
For the third time in the last five seasons, Duke and North Carolina met in a much-hyped season finale with identical 13-2 ACC records.
And for the third time in the last five seasons, the Tar Heels won the winner-take-all game, beating Duke
88-70
for the outright conference crown.
North Carolina's
Kendall Marshall
led five Tar Heels in double figures with 20 points and added 10 assists. He's now four assists shy of tying the ACC record for most assists in a single season (303 by Georgia Tech's Craig Neal in 1988).
It's the second time in the past two weeks Marshall has had at least 20 points and 10 assists in a game, also doing so against North Carolina State on Feb. 21 (22 points, 13 assists).
Marshall is the first Tar Heels player in the past decade to reach those totals twice in a season. (Raymond Felton and Ty Lawson did so twice as well, but in different seasons).
No other Tar Heels player has gone for at least 20 points and 10 assists against Duke in the past 15 years.
North Carolina was dominant in the paint, tallying 40 of its 88 points in the paint. They also controlled the glass, outrebounding Duke 45-28, and 32-18 on the defensive glass.
The 18-point win is the largest for North Carolina at Cameron Indoor Stadium since a 20-point win (91-71) on Jan. 18, 1989.
The Tar Heels had a 24-point lead at the half, which tied the fourth-largest halftime deficit Duke has faced in school history. It was the largest deficit Duke has faced at home since trailing by 29 to Tulane back in 1951.
At one point, UNC led Duke 22-5 with 11:55 left in the first half. Duke's
Miles Plumlee
made the only two field goals for Duke at that point, while the rest of the Blue Devils were 0-for-15.
For the game, Miles and
Mason Plumlee
combined to shoot 14-of-22 from the field, while the rest of the Blue Devils made only 12-of-41.
Duke fell to 13-3 at home, its most home losses in a season since losing four at home in 2006-07.
March, 3, 2012
3/03/12
10:21
PM ET
By
ESPN.com staff
| ESPN.com
North Carolina center
Tyler Zeller
talks about his team's composure during Saturday's victory over Duke.
March, 3, 2012
3/03/12
9:16
PM ET
DURHAM N.C. -- A quick look at sixth-ranked North Carolina's
88-70 victory
over No. 3 Duke on Saturday night at Cameron Indoor Stadium:


What it means:
For the Tar Heels, their 29
th
regular-season ACC title, the No. 1 seed in next week's ACC tournament, and some vengeance after allowing the Blue Devils to rally from a double-digit deficit in the final minutes to win Feb. 8 in Chapel Hill.
Duke, which had its seven-game winning streak snapped, lost its third ACC game at Cameron this season.
How it happened:
North Carolina led 48-24 at halftime (yes, you read that correctly) as the Tar Heels dominated from the outset. With the scored tied 4-4 about a minute into the game, they shot on an 18-1 run before the Devils made another field goal, a
Seth Curry
3-pointer. But it was only one of two 3s for Duke in the first half -- a sharp departure from the teams' previous meeting. Duke managed an
Austin Rivers
-led 8-2 mini-run to cut the deficit to 24-13. But it didn't last, as the Devils shot 26.5 percent in the first half and the Tar Heels dominated the boards 32-15.
Duke, as was to be expected in this rivalry series, made a run early in the second half, outscoring UNC 11-4 to cut its deficit to 52-35. UNC weathered that one, but the Blue Devils put together another rally, cutting their deficit to 75-64 with about six minutes left on two
Miles Plumlee
free throws.
But unlike Feb. 8, when the Tar Heels squandered a 10-point lead in the final three minutes, point guard
Kendall Marshall
hit a jumper with about four minutes left. Freshman
James Michael McAdoo
then put back a Marshall miss to give the Tar Heels a 79-64 cushion with about three minutes left. And with about two minutes left,
Harrison Barnes
made a 3 to give the Tar Heels an 82-64 advantage.
Marshall led the Tar Heels with 20 points and 10 assists.
Mason Plumlee
led Duke, which shot 58.6 percent in the second half, with 17 points.
Hubbub:
The Cameron Crazies cheered for UNC forward
Tyler Zeller
-- the senior who missed two free throws, accidentally tipped in a Duke bucket, and was defending Rivers on the game-winning 3 during Duke's double-digit comeback the previous time these two teams met – when the 7-footer was introduced. He fouled out with less than a minute left, but got the last laugh, finishing with 19 points and 10 rebounds.
What's next:
The ACC tournament at Philips Arena in Atlanta. Both team have Thursday byes, but top-seeded UNC will play at noon ET on Friday, and No. 2 seed Duke will play at 7.
Follow Robbi Pickeral on Twitter at @bylinerp.