Men's College Basketball Nation:

Casting our ballot 120229
February, 29, 2012
2/29/12
10:45
AM ET
Editor's Note: To see our expert picks for each of the nation's 12 top conferences, click here. To cast your vote in these races, visit SportsNation.
Here is a quick assessment of the player and coach of the year races in the ACC:
Player of the year
Tyler Zeller
has been the most consistent Tar Heel in ACC play.
Harrison Barnes
has come up big when the team needed shots and has the most NBA potential.
John Henson
is averaging a double-double. And none of them would be as effective without point guard
Kendall Marshall
's 9.7 assists per game.
So which North Carolina star gets ACC Player of the Year?
[+] Enlarge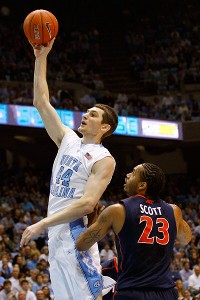 AP Photo/Gerry BroomeTyler Zeller has averaged 17.5 points and 9.5 rebounds in ACC games this season.
Maybe none of them, especially if they divide the vote. Oh, there are other exceedingly worthy candidates, too. Virginia would never have pushed itself into the top third of the league without fifth-year forward
Mike Scott
(16.9 ppg). And Duke freshman
Austin Rivers
(15.5 ppg) beat UNC earlier this month with a buzzer-beating 3-pointer.
But it's hard to downplay the 7-foot Zeller, who has averaged 17.5 points and 9.5 rebounds in ACC play after a rather erratic nonconference season. Or ignore Barnes, the preseason ACC Player of the Year who leads his team in scoring (17.7) and has been hitting the boards harder of late. Henson (14 points, 10.4 rebounds) will get some consideration and is a pretty big shoo-in to repeat as ACC Defensive Player of the Year. And then there's Marshall, who is on pace to break the UNC and ACC records for assists in a season.
In the end, my nod goes to Zeller, the senior who out-played foul-plagued Scott in their two matchups, and who bounced back with big games after Rivers buried that game-winning shot over him. Consistency matters, even on a team filled with NBA prospects. (As long as, in this case, those other NBA prospects don't split the ballots.)
Coach of the year
This award will probably go to a guy whose team overachieved. The question is: Which one?
At Duke, coach Mike Krzyzewski lost the nucleus of his squad from last season, never saw this season's Blue Devils find consistent defensive footing -- yet has still won 26 games, is ranked in the top 5 and has a chance at a No. 1 seed in the NCAA tournament.
At Virginia, coach Tony Bennett has done it with defense (plus a heaping help from Scott), pushing his team into the Top 25 with a slow, methodical, frustrating-to-opponents offensive pace.
But my choice is Florida State's Leonard Hamilton. His Seminoles -- left for dead after losing to two Ivy League schools, then at Clemson by 20 points -- beat the Big Four North Carolina programs (Duke, UNC, Wake Forest and North Carolina State) in the same season for the first time in program history. His team excelled with defense, too, after losing its top two scorers from last season and returning no one who averaged double-digit points. Hamilton's Noles fell out of the ACC regular-season race by losing two games last week, but he's still my pick.
February, 29, 2012
2/29/12
10:30
AM ET
Editor's Note: To see our expert picks for each of the nation's 12 top conferences, click here. To cast your vote in these races, visit SportsNation.
Here's a quick assessment of the Big Ten player and coach of the year races as the regular season comes to a close:
Player of the Year
For months,
Jared Sullinger
looked like the favorite. He carried the Buckeyes to a top-5 ranking and looked like the front-runner for Big Ten Player of the Year honors early and a strong candidate for national player of the year accolades a year after being named a finalist for the Wooden and Naismith awards.
With Ohio State in a position to win a share of Big Ten title, Sullinger is still a candidate. But
Draymond Green
has emerged as the front-runner.
[+] Enlarge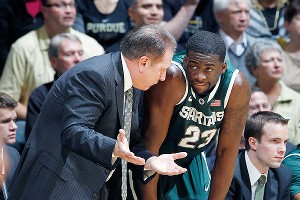 Joe Robbins/Getty ImagesTom Izzo, left, and Draymond Green have Michigan State in position to compete for a No. 1 seed in the NCAA tournament.
The two have comparable numbers, but Green's leadership has been vital for a Spartans team that's already won a share of the Big Ten championship. Tom Izzo's team features transfers, young players and veterans, a concoction that might not have worked without Green's leadership.
His numbers are quite impressive, too. He's been mentioned in the national player of the year conversation. And Green has finished strong, while Sullinger has recorded just 17 points in his team's last two games.
Sullinger and Green have separated themselves from the other contenders in the Big Ten. Purdue's
Robbie Hummel
has overcome two major knee injuries and led the Boilermakers to a likely slot in the NCAA tournament. Wisconsin's
Jordan Taylor
struggled early, but he's finished strong, proven by his big-time performance at Ohio State over the weekend. Indiana's
Cody Zeller
will win Big Ten Freshman of the Year honors, but he's certainly a future Big Ten player of the year (if he stays for another year) considering how he's changed Tom Crean's program. In most years, Northwestern's
John Shurna
would earn more consideration with the Wildcats going after their first-ever NCAA tourney bid.
But it really comes down to Green and Sullinger.
And for me, it's no longer a competition. Green has been a star for Izzo's team since the start of the season. He's a talented player whose toughness has rubbed off on the rest of his roster. He doesn't have Sullinger's weapons, but he's helped mold the Spartans into the better team. Hard to make a case for Big Ten Player of the Year that doesn't involve Green.
Coach of the Year
Now, this is a tough vote.
Tom Izzo has positioned Michigan State to compete for a No. 1 seed in the NCAA tournament. And he's done it without a lottery pick. The Spartans are young at multiple positions. But with Izzo in charge, they still earned a share of the Big Ten title. And if they beat Ohio State Sunday, they'll have it to themselves.
Tom Crean won three Big Ten games last season. The Hoosiers were not relevant on the national scene. This year, however, they've defeated three top-5 teams and won 23 games, 11 more victories than last season's squad.
John Beilein has limited size and depth, but the Wolverines have been one of the best teams in the Big Ten and the nation. He lost Darius Morris but facilitated the success of first-year point guard
Trey Burke
. And the Wolverines have only lost one game this season at home. Beilein's leadership has been vital.
I think Izzo, Beilein and Crean are on top of a lot of lists. But they're not alone.
Bo Ryan is going to dance again, despite losing two key pieces from last season's team (Jon Leuer and Keaton Nankivil) and enduring a three-game losing skid at the start of Big Ten play. The Boilermakers lost JaJuan Johnson and E'Twaun Moore. But under Matt Painter, this season's squad has thrived and overcome recent off-court troubles and made a strong case for an at-large berth. Bill Carmody might lead Northwestern to its first NCAA tournament bid. He can't be excluded.
But I think Izzo deserves the honor this season. He's led the Spartans to national prominence with the grit and toughness that's defined some of his best teams. After they lost their first two games of the season to Duke and UNC, the Spartans regrouped and became one of America's best teams.
Izzo deserves credit for the way he's guided the Spartans this season.
February, 29, 2012
2/29/12
10:15
AM ET
Editor's Note: To see our expert picks for each of the nation's 12 top conferences, click here. To cast your vote in these races, visit SportsNation.
A quick look at the player and coach of the year races in the Big East:
Player of the year
Syracuse is far and away the best team in the Big East Conference.
Which is great when it comes to winning games, but a real problem when you're trying to sort out player of the year trophies.
Usually you can at least find one obvious candidate from the best team in the conference. With the Orange, that's impossible. Together they are unbeatable, but individually they almost cancel one another out. Is
Scoop Jardine
more valuable than
Kris Joseph
? Does Joseph do more than
Fab Melo
? How about
Dion Waiters
, the guy who comes off the bench to rank second on the team in scoring?
[+] Enlarge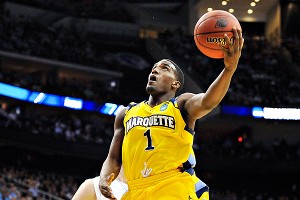 Howard Smith/US PresswireMarquette's Darius Johnson-Odom's 18.4 points per game could earn him player of the year honors in the Big East.
All four will get and deserve votes but Syracuse is truly a sum-of-its-parts squad, one where every piece is critical but none more than the others. Someone on this team could win Big East POY -- and if we were voting, we'd lean Waiters -- but it's not likely.
So who are the obvious candidates? There are two front-runners – Marquette's
Darius Johnson-Odom
and West Virginia's
Kevin Jones
.
Johnson-Odom has been terrific for a team that has been rock steady all year. Second in the Big East (behind Jones) in scoring, he averages 18.4 points per game. He's scored in double figures in every game he's played in save one -- suspended for the first half against West Virginia, he had nine.
Jones, in the meantime, had to be great for coach Bob Huggins' young team to survive -- and the senior forward has been great. Along with leading the league in scoring and rebounding (20 points and 11 boards), he's put up 18 double-doubles this season.
Some other long shots to consider: Marquette's
Jae Crowder
, Notre Dame's
Jack Cooley
, Georgetown's
Jason Clark
and Seton Hall's
Herb Pope
. St. John's freshmen D'Angelo Harrison and
Moe Harkless
have been terrific but there's another newcomer award for them.
It's a tough pick between the two favorites and I waffle daily but I'd probably lean Johnson-Odom because he has not only been sensational, his team has been, too.
Coach of the year
Interesting test case here -- do you reward the guy who has steered the loaded roster to near perfection or do you celebrate coaches who have had surprising success?
[+] Enlarge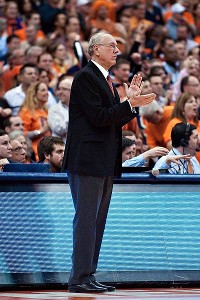 Mark Konezny/US PresswireJim Boeheim has coached Syracuse to near perfection. But does he deserve to be the Big East coach of the year?
Jim Boeheim is one trip to South Bend away from perfection, achieving such rarefied air despite dealing with the fallout from the Bernie Fine scandal in December. Outsiders might argue that a kindergartener could coach a team with so much depth and talent. What looks easy, though, isn't always. Managing a team -- especially in this day and age, when premier players come in with premier egos -- is not easy.
And Boeheim hasn't steered a team to near perfection in any old league. He's done it in the Big East.
Mike Brey and John Thompson III, meantime, took the opposite run to success. Neither is supposed to be here.
The Irish were picked ninth in the league, and that was before Tim Abromaitis blew out his knee. After that? No one figured Brey's team to be of any consequence.
But Brey, who memorably retooled his team two years ago after Luke Harangody's injury, has done it again. Notre Dame is 12-5 in the league, vying for a top-four finish. Brey, who won coach of the year honors last year, has imbued his team with confidence, handing over the keys to the sophomore backcourt of
Eric Atkins
and Jerian Grant, and letting them run the show.
Thompson's year at Georgetown has been equally impressive and equally surprising. The Hoyas were picked 10th in the preseason coaches' poll after losing Chris Wright and Austin Freeman to graduation.
Instead, Georgetown is knotted with Notre Dame at 12-5.
Henry Sims
has been an eye-opener, the ideal point-center for the Hoyas' Princeton style, and
Otto Porter
is arguably among the top freshmen in the conference.
Outsider choices: Mike Dunlap and Stan Heath. Dunlap is supposed to be an assistant, helping Steve Lavin. Instead, while Lavin recuperates from prostate cancer surgery, Dunlap has been running the show at St. John's, and running it with a roster stuffed to the gills with freshmen. Heath, meantime, has pulled himself off the hot seat and the Bulls into the conversation, taking South Florida to its best finish since joining the Big East.
This is another can't-go-wrong choice. And hey, could you argue with Marquette's Buzz Williams winning it too? Not me.
My pick: Boeheim. The name of the game is winning, and no one in the league has done that better this year than the Syracuse coach.
February, 29, 2012
2/29/12
10:00
AM ET
Editor's Note: To see our expert picks for each of the nation's 12 top conferences, click here. To cast your vote in these races, visit SportsNation.
A quick look at the player and coach of the year races in the Big 12:
Player of the year
Thomas Robinson
is battling Kentucky's
Anthony Davis
for national player of the year honors, so it's logical to assume the 6-foot-9 forward is a shoo-in for the Big 12 award, right? Robinson averages team-high 17.8 points and ranks second in the country with 11.8 rebounds per game. He's tallied 21 double-doubles and, in the most important game of the year, Robinson had a game-tying 3-point play and a game-saving block to help KU defeat Missouri in overtime Saturday.
[+] Enlarge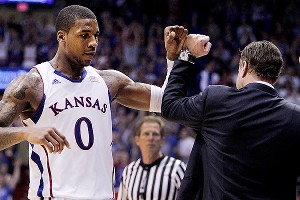 Rich Sugg/Kansas City Star/Getty ImagesThomas Robinson (0) and Bill Self have had plenty to celebrate this season.
Still, if you're basing this award solely on performance in conference games, Robinson's teammate
Tyshawn Taylor
is the better choice. Taylor leads the team with 18.4 points a game against Big 12 opponents, and he's shooting 50.4 percent from the field. More importantly, Taylor's leadership -- both vocally and by example -- helped set the tone for the Jayhawks en route to their eighth straight Big 12 title.
He's scored 20 or more points eight times in the Big 12 and has raised his season scoring average from 9.3 points as a junior to 17.1 points this season. Taylor still has issues with turnovers, although the situation isn't nearly as bad as it was in November and December. No major college point guard in America has been as good as Taylor since the turn of the new year.
That being said, I think the player of the year award should encompass the entire season, so for that reason I'm going with Robinson, who is also my pick for national player of the year.
Coach of the year
There are three worthy candidates.
Kansas' Bill Self is the mastermind behind one of the greatest streaks in all of college sports. Winning eight straight league titles in a major conference such as the Big 12 is simply unheard of. UCLA won 13 straight conference championships from 1967-79, but that was when players were staying in school all four years. No power conference team since then has won as many consecutive titles as the Jayhawks. This year Self managed the feat despite losing four starters and six of its top eight scorers from last year's Elite Eight team. While other major programs experience down years or rebuilding years from time to time, there has been no slippage at Kansas under Self.
Missouri's Frank Haith is another strong candidate and would've been the easy pick had the Tigers won at least a share of the Big 12 championship. Missouri is a Final Four-caliber team, and Haith is one of the main reasons. This squad is playing with much more structure than it has in the past and takes tremendous pride in sharing the ball. The result has been a shooting percentage (49.7) that ranks third in nation. The mental toughness the Tigers showed in a deafening environment at Allen Fieldhouse Saturday said volumes about Haith and the culture he's helped create.
Iowa State's Fred Hoiberg should also be considered. The Cyclones will finish third or fourth in the Big 12 after going just 3-13 last season.
My vote is for Self.
February, 29, 2012
2/29/12
9:45
AM ET
Editor's Note: To see our expert picks for each of the nation's 12 top conferences, click here. To cast your vote in these races, visit SportsNation.
A quick assessment of the player and coach of the year races in the SEC:
Player of the year
No player in the SEC has altered the outcome of games more than Kentucky freshman
Anthony Davis
. Opposing coaches have to worry about him blocking, altering and affecting shots before they've even been attempted.
[+] Enlarge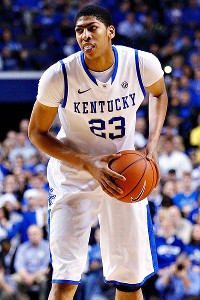 Mark Zerof/US PresswireKentucky freshman Anthony Davis has been the most dominant player in the SEC this season.
He is now scoring facing the basket as well as on the offensive backboard, on the break or on an alley-oop. He had his most complete performance against Vanderbilt last weekend with 28 points, 11 rebounds and six blocks. Davis was seen as a huge get for John Calipari last spring because of his ability to dominate the defensive end. But his evolution as an offensive threat has made him a complete player, Kentucky a national title contender and Davis the SEC player of the year -- and possibly the national player of the year as he tussles with
Thomas Robinson
of Kansas.
If there was a No. 2 in the SEC race, then it might be Davis' teammate in Lexington, fellow freshman
Michael Kidd-Gilchrist
. Vanderbilt's
Jeffery Taylor
and
John Jenkins
have put up great numbers, but haven't always been great in the biggest games as the Commodores vacillated between a true contender and a team that is a notch below the Wildcats.
Coach of the year
You could make a case for Tennessee's Cuonzo Martin or maybe LSU's Trent Johnson if either of those schools finishes in the top four, which is still plausible here in the final week of the regular season. Both of those programs were picked to finish in the bottom third of the league and both coaches have done outstanding jobs surviving rough stretches of play.
But really, there is no other choice than John Calipari. Kentucky's dominance in the SEC has been as impressive as the sport has seen in a power-six conference this season. For the third straight season, Calipari has taken a team led by freshmen and risen to the top of the league.
Calipari has managed sophomore
Terrence Jones
well and found a way to work around a still-developing
Marquis Teague
at the point. Davis has continued to become a complete player by being a much more offensive presence to match his dominance on the back line. Kidd-Gilchrist has been the most impressive offensive player with the Cats and their hardest worker.
Doron Lamb
,
Darius Miller
and
Kyle Wiltjer
have all had their moments.
Calipari has blended each one of them and used them effectively. The road woes of a year ago are no more. This may not be his most talented team at Kentucky (the first one still holds that distinction), but it clearly is his best shot at winning a national title.
Kentucky obviously has the most talent of any team in the SEC, but Calipari still had to manage it and win consistently. He's done that without a hiccup. He's the SEC Coach of the Year.
February, 29, 2012
2/29/12
9:30
AM ET
Editor's Note: To see our expert picks for each of the nation's 12 top conferences, click here. To cast your vote in these races, visit SportsNation.
A quick look at the player and coach of the year races in the Pac-12:
Player of the Year

Last year, this race was easy. Derrick Williams (speaking of which, how about
his line against the Clippers
Tuesday night?) was simultaneously one of the nation's most exciting, important and efficient players. The 2011 Pac-10 player of the year ballot didn't require much in the way of deep, ruminative thought. Just write down "Derrick Williams, Arizona" and go enjoy the rest of your day.
The 2012 race is far less transparent. Perhaps that's an effect of the nature of this very down league, which lacks the diffuse top-flight NBA talent of the past decade. Or maybe it's just one of those years, in which the Pac-12 has a lot of solid players, and some very good ones, but no one obvious pick, no player whose performance has screamed "I'm better than everyone else here." When you look at the tempo-free stats --
offensive rating, for example
-- the numbers seem to bear that out: Among players that used at least 24 percent of their team's possessions, the league's highest offensive rating belonged to Washington State's
Brock Motum
(108.9). By contrast, most other power six leagues have several players above that threshold, in some cases by a considerable margin.
Which, actually, is a good, quick way to insert Motum into this conversation. The chances Motum will win the official Pac-12 POY award are probably slim to none. His team's record (14-14 overall, 6-10 Pac-12, as of this writing) just isn't good enough to get him that kind of consideration. But Motum has been an efficient and versatile interior force for a team that desperately needed one when senior guard
Faisal Aden
suffered a career-ending ACL injury earlier this season. His surprise emergence kept an already-bad Wazzu team from totally falling off a cliff. They don't give many POY awards for "sneakily the most important player on a thoroughly mediocre team," so Motum won't win the award. But he is certainly worthy of a mention. The same can be said for Oregon State guard
Jared Cunningham
, who leads the league in points (18.7) and steals (2.6) average per game.
[+] Enlarge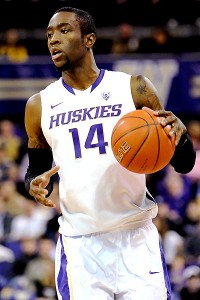 Steven Bisig/US PRESSWIREWashington freshman Tony Wroten is averaging 16.7 points per game.
In the end, though, we have to give the nod to Washington guard
Tony Wroten
. Wroten has plenty of holes in his game, to be sure. He dominates the ball, and not always for the better. He's made just 9 of his 49 3-point attempts all season. His turnovers nearly eclipse his assists. And so on. But there are no perfect players in the Pac-12 this season -- there is no Derrick Williams -- and Wroten's overwhelming athleticism and playmaking ability at the off-guard spot has, for all occasional flaws, often been the difference in Washington's nine-wins-in-10-games run to the top of the Pac-12 standings this week. Cal's
Jorge Gutierrez
and
Allen Crabbe
deserve honorable mentions, as well, but Cal's strengths lie in its balance. Wroten has talent alongside him --
Terrence Ross
could be a candidate, too -- but Wroten's total floor game (his averages: 16.7 points, 4.9 rebounds, 3.5 assists and 2.0 steals) make him arguably the most difficult player to gameplan for in the entire league. And as the season has worn on, the freshman has often raised his game.
It's no slam dunk. But very little in this year's Pac-12 is.
Coach of the Year
Coach of the Year is always a weird award, isn't it? Most voters seem to look at preseason predictions -- which the voters themselves (or the coaches, or both) create in the first place -- and judge a coach based on how his team performed against those expectations. This discounts the importance of recruiting, of managing elite talent, or both, and it tends to boil the award down to a pretty crude calculus.
Which is why we have to give this year's Pac-12 Coach of the Year honor to ... wait for it ... UCLA's Ben Howland.
Kidding, you guys! Kidding! Holster your angry comments! I just had to make sure you were paying attention, is all. (I have a better chance of winning the 2013 NBA Dunk Contest than Howland does of winning coach of the year. Ain't happenin'.)
All joking aside, and with apologies to likewise deserving leaders like Washington's Lorenzo Romar, Oregon's Dana Altman, Cal's Mike Montgomery and Arizona's Sean Miller, this year's Pac-12 Coach of the Year is -- or at least should be -- Colorado's Tad Boyle. Last offseason, Boyle lost his two best players (senior guard Cory Higgins and NBA-bound guard Alec Burks), and the Buffaloes were rightly expected to finish near the middle, or even the bottom half, of the Pac-12. But behind a stellar season from sophomore forward
Andre Roberson
, Boyle has his team currently sitting at 19-9 overall and 11-5 in the league with an outside shot -- a small one, but a shot nonetheless -- at sneaking into the NCAA tournament on Selection Sunday.
In 2011, with an NBA talent and a very productive senior leader on his team, the Buffs were one of the few deserving candidates to miss out on the Big Dance. That Boyle might yet get this year's team in that field is a testament to the job he's done in his second season.
February, 29, 2012
2/29/12
9:00
AM ET
Editor's Note: To see our expert picks for each of the nation's 12 top conferences, click here. To cast your vote in these races, visit SportsNation.
Here's a rundown of some of the compelling non-Big Six player and coach of the year races:
Atlantic 10 Coach of the Year
: Rick Majerus has led Saint Louis, a team that won 12 games last season, to a probable at-large berth in the NCAA tournament and near the top of the Atlantic 10 standings. Temple has been the league's best team under Fran Dunphy. The Owls will win the A-10 title outright if they win their final two games (vs. UMass, at Fordham). Saint Joseph's finished with a 4-12 record in conference play last season, but Phil Martelli has propelled the Hawks back into the bubble conversation. They were listed among the "first four out" in Joe Lunardi's latest bracketology report. Mark Schmidt has led St. Bonaventure to a top-5 mark in the standings, too. A lot of good candidates in this field. But I pick Majerus in this race.

Conference USA Player of the Year
: This conversation starts with Memphis star
Will Barton
who's averaged 18.3 ppg and 8.0 rpg for the first-place Tigers. The Golden Hurricane have a chance to win a slice of the Conference USA title with
Jordan Clarkson
(16.4 ppg) leading the way. Alabama-Birmingham's
Cameron Moore
is third in Conference USA (conference games only) in scoring (17.8 ppg) and rebounding (10.0 rpg). Tulane's
Ricky Tarrant
is averaging 19.6 ppg in conference play. But this seems like Barton's award. He's been crucial for the Tigers all season, even before Conference USA action. He scored 22 points against Georgetown, 27 points against Murray State, 28 points against Louisville. Barton is a legitimate college basketball star.

Colonial Player of the Year
: George Mason senior
Ryan Pearson
(17.8 ppg, 8.5 rpg) could lead the Patriots to the CAA tournament title. Hofstra's
Mike Moore
is leading the CAA in scoring (20.0 ppg), while Delaware's
Jamelle Hagins
leads the CAA in rebounding (10.0 rpg). He's also second in blocks (2.9 bpg) and averaging 12.7 ppg.
Kent Bazemore
does a little bit of everything for ODU,
Bradford Burgess
has been his usual solid self for VCU,
Keith Rendleman
is averaging a double-double at UNC-Wilmington (15.6 ppg, 10.5 rpg) and Drexel has any number of worthy candidates. My pick is Pearson, although you could make an argument for all of these candidates. He's shooting 50 percent from the field and in crucial matchups against VCU in recent weeks, he recorded a combined 48 points.

Horizon Player of the Year
:
Ryan Broekhoff
(14.8 ppg) led Valpo to a Horizon League regular-season title and 1-seed in the conference tournament. He's also leading the league in rebounding (8.4 rpg). His teammate
Kevin Van Wijk
(14.4 ppg) is shooting 62 percent from the field. Youngstown State's
Kendrick Perry
is on top of the Horizon League with 16.8 ppg. He's scored 20 or more nine times this season. Detroit's
Ray McCallum
has had his share of struggles this season, but averages of 15.1 ppg and 3.9 apg make him a contender. Green Bay's
Alec Brown
(13.6 ppg, 8.2 rpg, 3.1 bpg) is the dark horse in the race. I pick Broekhoff, who helped his team win the Horizon League and could lead it to the Horizon League tournament title and an automatic NCAA tournament bid, too.

Mountain West Coach of the Year
: Steve Fisher lost the bulk of his squad from last season, including current San Antonio Spurs forward Kawhi Leonard. And yet, the Aztecs ended up in the Top 25 behind some talented youngsters and Fisher, who's also a national coach of the year candidate. The Runnin' Rebels could do damage in March Madness with Dave Rice leading the way. Can't forget Steve Alford. Based on the way UNLV and San Diego State started the season, New Mexico looked like the third-best team in the league. But as the Mountain West race comes to its conclusion, the Lobos have a shot at the conference title. Tim Miles is in the mix, too, especially with Colorado State fighting for an at-large berth. I've wavered between Fisher, Rice and Alford in recent weeks. But I have to go with Alford in this race. He found a way to build momentum after his squad took back-to-back losses in its first matchups with San Diego State and UNLV.

Missouri Valley Coach of the Year
: Last season, the Bluejays finished the year in the CBI. This season, they're safely in the field of 68 for the NCAA tournament. And it's not just
Doug McDermott
. Coach Greg McDermott has proven to be a strong leader who's taken Creighton through some tough stretches. The Bluejays beat Iowa, Northwestern and San Diego State (on the road) during the nonconference slate. After being dropped from the national rankings following a three-game slide, however, the Bluejays won four games in a row and returned to the Top 25. Gregg Marshall led Wichita State to an NIT title last year, and now, the Shockers are a Top-25 team that's put the whole country on alert as March approaches.
Garrett Stutz
and
Joe Ragland
have developed into premier players in the MVC under Marshall's tutelage. And the Shockers have lost one game in 2012. I think Marshall deserves the honor here in a tight race.

West Coast Player of the Year
: BYU's
Noah Hartsock
is averaging 16.8 ppg and 1.6 bpg. Saint Mary's forward
Rob Jones
is responsible for 14.8 ppg and 10.7 rpg (No. 1 in the West Coast Conference). His teammate
Matthew Dellavedova
is third in the conference at 15.4 ppg. Gonzaga's
Kevin Pangos
averaged 13.4 ppg and he's shooting 42 percent from beyond the arc. Loyola Marymount's
Anthony Ireland
(15.5 ppg, 4.8 apg) has been a star, too. All worthy candidates. But I'll go with Jones. He's recorded four double-doubles in his last five games. Jones has been vital for the Gaels this season.