College Basketball Nation:

Central Michigan Chippewas
June, 7, 2013
Jun 7
4:40
PM ET
By
Jon Greenberg, ESPNChicago.com
| ESPN.com
Former Miami (Ohio) coach Charlie Coles had everything: The Xs and Os, the brains, the personality. In a perfect world, Coles would have been a millionaire with six-figure speaking fees, famous friends and a big shoe contract.
Instead he had a closet full of mock turtlenecks, the lowest salary in the Mid-American Conference -- despite a Sweet 16 appearance -- and more love and respect than any coach could dream about.
[+] Enlarge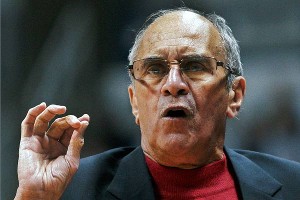 Al Behrman/AP PhotoMiami (Ohio) coach Charlie Coles, who had a 355-308 career record as a basketball coach, died Friday.
"He never asked [for more money]," said Jason Grunkemeyer, a former player and assistant under Coles. "He'd joke that he just wants to tiptoe around and 'hope they don't fire me.'"
Coles, who retired in 2012,
passed away at his home
Friday at the age of 71. No cause of death was listed, but Grunkemeyer said Coles had been suffering from a variety of health ailments, unrelated to a history of heart problems.
Coles retired as the MAC leader in league wins with 218, including a 167-109 conference record in 16 seasons at his alma mater, highlighted by that 1999 trip to the Sweet 16 behind future NBA player Wally Szczerbiak.
Coles won 355 games between Miami and Central Michigan, producing NBA players like Dan Majerle, Ira Newble and Szczerbiak.
But numbers didn't define Coles, who was one of the great personalities in college basketball. What defined him was his love of teaching -- he taught an undergraduate course on basketball theory -- and his unique personality.
"With Charlie, people like to talk about his sense of humor, but I always talk about his intelligence," said ESPN broadcaster and radio host Dan Dakich, who coached against Coles in the MAC from 1997-2007 while at Bowling Green. "That dude was brilliant."
To his players, he was a father figure.
"I think the thing with him was he developed the whole person," Grunkemeyer said in a phone conversation Friday from Muncie, Ind., where he is a basketball assistant coach at Ball State. "I think that's the thing for all of us who played for him or coached for him would be able to say. He didn't just care what you could do as a basketball player, he really cared about what you were as an individual. If things needed to corrected, he wasn't afraid to go there."
Dakich felt Coles was a kindred spirit in a league rife with animosity between coaches. When Dakich would tee off on the commissioner in meetings about the state of the league, Coles would be next to him, Dakich said, going, "'Keep going Dan, keep going.' Because he knew what was going to happen to MAC basketball."
One year, Dakich famously wore his sports coat backward during a winning streak, which included a win at Miami. After the streak ended, Miami traveled to Bowling Green.
"He came out with his coat backward, and I was dying laughing," Dakich said in a phone conversation. "He said, 'You're not stealing the mojo from me!' He was the only coach who got what this was about, me doing something stupid for my team."
After he lost Szczerbiak to the NBA following Miami's wild Sweet 16 ride, I remember Coles moaning about his fate at the 1999 MAC media day. Of course, that team, which had little talent, went to the MAC finals as a 9-seed. In 2001, he got to the conference finals again as an 8-seed.
I remember Coles fondly from my days as a student reporter from 1999-2001 at Ohio University. I looked forward to the Bobcats playing Miami for the chance to hear his thoughts at the postgame news conference. How many reporters look forward to a news conference? That's Charlie. And it was worth every minute. When he said he would trade for a little-known Ohio guard named Corey Reed, a few of us wanted to yell, "We'll trade him for you!"
These conferences were more like a Bill Cosby stand-up special, full of jokes and life lessons. (Who will ever forget his
memorable rant
after Miami's narrow loss at Kentucky in 2009?) He would rip a question from a student reporter in a way that wasn't nasty. He would tell long stories. He was also one of the few coaches who would compliment a team that just beat him and rave about the Corey Reeds of the world.
"When they beat his team, he always praised the other team," Dakich said. "Some guys in the MAC were so paranoid they wouldn't do that."
In a 2001 column I wrote about Coles, I mentioned him teasing a former recruit, Ohio forward Jon Sanderson, if he "were on my team, he could shoot all the 3-pointers he wanted, not just in the second half. Remember 'Wally World' baby."
This was during a game.
"Only he could get away with that," Grunkemeyer said.
In recent years, Coles asked an Ohio student reporter, Will Frasure, how old he was during a news conference. When Frasure said he was 22, Coles replied, "I would smile every day if I were 22."
Frasure said it's the best advice he's ever gotten.
Grunkemeyer played under Coles for three years, including that Sweet 16 season, and coached under him from 2007-12. He was an athletic director at the local high school in Oxford last year, so he got to spend more time with Coles. Because of this familiarity, he's often asked for Coles stories and impressions.
"Some are appropriate, some not so appropriate," he said with a laugh.
After some cajoling, Grunkemeyer thought of a recent story that wasn't about basketball.
"He was telling me a couple months back that he went to the doctor, because he's having issues, and Coach, he was probably taking one too many Vicodin. The doctor came in and," Grunkemeyer said, going into Coles' voice. "'Yeah this guy is gonna tell me I got to watch my pills, watch that Vicodin and I looked at him say, sir, you know who you're talking to. I'm 70 years old. I've had three open heart surgeries. I've got 15 specialists as my doctors and now you're worried about me trying to feel good. I got like three weeks to live if i'm lucky!' He was prophetic there. He's telling the story and he's laughing, I'm laughing. That kind of stuff. He wasn't afraid to talk about it."
Grunkemeyer had spent much of Friday talking to ex-teammates. The funeral hadn't been planned yet, but he was looking forward to it as a "real celebration of his life."
"I know I'm looking forward to crying, laughing and swapping stories," he said. "I think that's what he would want. That's how he lived his life. You should send someone there. There will be a lot of great stories."
Sounds like a dream assignment.
October, 26, 2012
10/26/12
4:55
PM ET
By
ESPN.com staff
| ESPN.com
Before we get to the Blue Ribbon team-by-team previews for the Mid-American Conference, here is Eamonn Brennan's quick wind sprint through the league: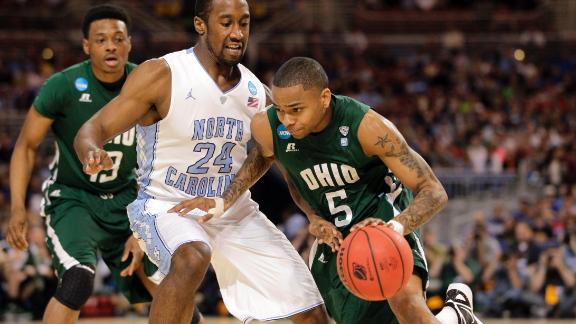 For Myron Medcalf's look at the nonconference schedules at Akron and Ohio,
click here
. For Medcalf's look at Keno Davis resurfacing at Central Michigan,
click here
. And for Blue Ribbon's in-depth previews of all 12 MAC teams:

Akron
Ball State
Bowling Green
Buffalo

Central Michigan
Eastern Michigan
Kent State
Miami (OH)
Northern Illinois
Ohio
Toledo
Western Michigan
October, 2, 2012
10/02/12
12:57
PM ET
For a long time, college basketball recruiting had an unwritten rule: When a player made a verbal commitment to a school, everyone stopped recruiting him. It was hardly mandated by the NCAA. Instead, it sprung from a sense of decorum, but also from a mutually beneficial détente:
I won't recruit your verbal commitments if you don't recruit mine. One less headache for each of us. Deal?
Deal. At least, that's how things used to be. We seem to be entering a transitional phase in college hoops recruiting, one that much more closely resembles the state of play on the football side -- where commitments aren't commitments until they're signed.
The latest and perhaps most surprising recent example comes by way of Central Michigan and Notre Dame. From
CBS's Jeff Borzello
:
Last Sunday, Austin Torres committed to Central Michigan. Four days later, Notre Dame coach Mike Brey walked into Torres' house and offered him a scholarship.

Torres was still committed to Central Michigan during Brey's in-home visit and still was committed when he told Brey he wanted to go to Notre Dame.

"I told coach Brey on Thursday that this was a dream and something I wanted to pursue," Torres told CBSSports.com. "I was sure I wanted this to happen. And then I decommitted on Friday."

[...] Lately, people have talked about basketball becoming more like football in the sense that committed players aren't officially off the board until they sign. That Brey -- one of the more well-regarded coaches in the game -- moved in on a player who verbally committed to Central Michigan could be a signal that verbal commitments are not considered as strong as they used to be.
Again, this isn't against an NCAA rules. Legally speaking, a verbal commitment changes nothing about a player's recruitment process, and never has. When players de-commit in football, it is typically greeted with a shrug. But practically speaking, verbal commitments have always been held in high standing in college basketball. When Eric Gordon decommitted from Illinois and chose to go to Indiana after the hiring of Kelvin Sampson, it sparked an Illini hate-fest the likes of which was previously reserved for Bruce Pearl.
Indiana fans are currently none too pleased with the decommitment of top 2013 player Trey Lyles, who re-opened his recruitment this summer; IU seems convinced Lyles was being recruited heavily despite his early verbal commitment to the Hoosiers. (After Lyles announced his decision, Indiana coach Tom Crean tweeted: "I told my staff today that my football coaching friends think fb recruiting is like mbb recruiting because you have to deal with so many people that get involved. We think that more and more people never stop recruiting other school's pledges. We are both right. Way of life.")
There are other examples, though in college hoops they are typically still few and far between. But all it takes is a few coaches -- including perfectly well-respected ones like Brey, who don't have a reputation of pushing the recruiting envelope -- to change everyone's attitudes about the practice. Pure, unbridled anarchy is sure to follow.
September, 20, 2012
9/20/12
12:05
PM ET
In the past four years, new Central Michigan head coach Keno Davis has endured both success and failure.
He earned national coach of the year honors after leading Drake to a Missouri Valley tourney title and an NCAA tournament appearance in 2008. Those accolades led him to the Big East, where he tried to reboot Providence.
But three years later, it was over. He lost that gig in 2011.
That moment, however, turned Davis' career.
[+] Enlarge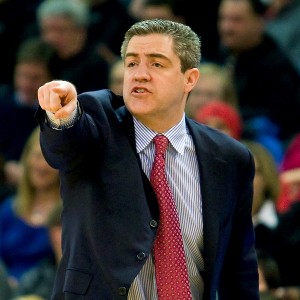 Cal Sports Media/AP ImagesNew Central Michigan coach Keno Davis is excited about his latest challenge.
He took a typical path to the TV studio -- he was an analyst for the Big Ten Network last season -- and the new role helped him learn more about the profession.
Although he didn't have a coaching job, each night he prepped with the same meticulous approach he'd always employed throughout his career.
"I think you have to, you have to be in it completely. I treated working on the broadcasting side in color commentary just like I would for coaching," Davis told ESPN.com. "I was breaking down tape each day like I was getting prepared for a scouting report. It was like I was getting ready for a game. As the game was going on, I was trying to see it as a coach. 'Well, how would you adjust to this, what they're doing, how would you adjust to that?"
Davis loved the broadcasting opportunity enough to consider a career in TV. Yet, the itch remained as he pondered a return to coaching. But only if he could find the right job.
A conversation with Central Michigan brass during the Final Four sold him on the school and the vision, he said.
"It fit exactly the way that I would like to be able to build," he said. "We were on the same page. And I really enjoyed my time last year working for the Big Ten Network and HDNet. I enjoyed doing television, I really did. And I saw that as a possibility of something [in the future]. I could stay on that side of the bench. But I knew if there was an opportunity at the right program with the right fit, that I still had that love for coaching and still wanted to look for opportunities."
He's not naïve about the rebuilding effort he's embraced.
Central Michigan went 11-21 and 5-11 in the Mid-American Conference last season.
The team's best player, Trey Ziegler, transferred to Pitt after his father, former Chippewas head coach Ernie Ziegler, was fired this year. Central Michigan was ranked No. 270 in Ken Pomeroy's overall ratings last season.
This is a young team that could struggle again as Davis begins the rebuilding process. But Davis said he intends to use his team's disadvantages as positives.
The Chippewas, who have not been to the NCAA tournament since 2003, aren't big. So they'll run the floor.
On offense, Davis said, they'll move players around the court so they're difficult to defend.
"We're going to get up and down, we're going to run," Davis said. "We're going to be tough for defenses to prepare against, because we're going to spread the court. … We've got to be able to be a tough team defensively."
He used the same principles at Drake and Providence. But Davis says he isn't the same coach.
His time as an analyst gave him a chance to step back and re-think his approach to the game. He talked to coaches. He attended practices. He analyzed his success and his failures as a coach.
And through that reflection, he evolved.
"You're so consumed by what you do as a coach you don't have enough time. It's every day of the year, there's no offseason for us as a coach," he said. "So you don't get a chance to really go back and evaluate other programs. You don't get a chance [to], as much as you would like to, look at what you do and how you do it. … And I think [TV] was really beneficial for me to be able to see so many coaches, so many teams in games and practices talking to other coaches about what they do, how they do it. The mistakes that they've learned from, and I think it's made me a better coach as I reflected on some things that were successful for me and some things that weren't."
May, 28, 2012
5/28/12
5:00
AM ET
1. Connecticut forward
Roscoe Smith
has transferred to UNLV and the Runnin' Rebels will file a waiver to have him play next season instead of sitting out. The case, according to a source, will be built on Smith's desire to play in the NCAA tournament. UConn is banned from the 2013 NCAA tourney due to a poor Academic Progress Rate. The Rebels are perfectly willing to have Smith sit out next season, but are making the attempt. This will be an interesting case for the NCAA. The rule has been that if there is a postseason ban, and you have as many years left as the ban, then you can transfer without sitting out. That's why UConn's
Alex Oriakhi
, who will be a senior, is eligible immediately at Missouri. If Smith, who will be a junior, gets the waiver then the NCAA will be open to criticism for its lack of consistency in interpreting the rule.
2. There is hope for Smith based on the
Trey Zeigler
case. Zeigler was granted a waiver to play immediately at Pitt after transferring from Central Michigan. Zeigler left after his father Ernie was fired. His transfer is no surprise, but a coach being fired isn't an out of the norm hardship for a player. No one said Zeigler had to stay at CMU. He didn't, but now because his father got fired he received a hardship waiver. That's fine, but it shows once again a lack of consistency by the NCAA as to why some players get a waiver and some don't.
3. Memphis tried to get Kansas to play a home-and-home series to no avail. But the Tigers are still loading up on their nonconference schedule in their final season in C-USA. Memphis coach Josh Pastner said he has games against Louisville, at Xavier, Tennessee, as well as playing in the Battle 4 Atlantis (Louisville, Duke, Missouri, Minnesota, Northern Iowa, Stanford and VCU), and that he is locking in home games against Ohio, Harvard and Loyola (Md.) -- all NCAA teams last season.
April, 10, 2012
4/10/12
5:00
AM ET
1. Ernie Zeigler told ESPN.com Sunday that his son Trey would sit out next season and then play two seasons at Pitt. But the Panthers will make an attempt to seek a waiver for Zeigler to play next season. Duke was going to seek the same thing had Zeigler chosen the Blue Devils. The premise is that Zeigler had to leave Central Michigan because his father was fired as head coach.
2. Kansas coach Bill Self said Ben McLemore is eligible and ready to go for next season. Self said in the preseason that McLemore might have been the team's most-ready NBA level talent. That was before
Thomas Robinson
had a breakthrough season. But if McLemore has the impact projected then the Jayhawks should be in the thick of the title race again next season.
3. San Diego State will play UCLA in the Wooden Classic on Dec. 1 at the Honda Center. Give SDSU coach Steve Fisher credit for constantly trying to upgrade the Aztecs schedule. But these types of games will become even more important once San Diego State moves to the Big West in 2013. The Aztecs will need to secure neutral-site games against top competition due to the lower conference power rating of the Big West compared to the Mountain West. Conversely, this will be a dangerous game for UCLA. SDSU should be the favored team to win in this game.
November, 3, 2011
11/03/11
4:56
PM ET
By
ESPN.com staff
| ESPN.com
Before we get to the Blue Ribbon team-by-team previews for the Mid-American Conference, here is Eamonn Brennan's quick wind sprint through the league:
Blue Ribbon breakdowns of all 12 teams in the MAC:
Akron
Ball State
Bowling Green
Buffalo
Central Michigan
Eastern Michigan
Kent State

Miami (Ohio)
Northern Illinois
Ohio
Toledo
Western Michigan
More MAC content
:
November, 3, 2010
11/03/10
1:26
PM ET
MOUNT PLEASANT, Mich. -- In coaching, all you ever want is an advantage. In the MAC, that advantage has typically come in the form of an NBA-level player.
Think Wally Szczerbiak at Miami, Bonzi Wells at Ball State, Gary Trent (the Shaq of the MAC) at Ohio and Chris Kaman and 'Thunder' Dan Majerle at Central Michigan.
Ernie Zeigler II has been the head man at CMU for four years now and has led the Chippewas to back-to-back MAC West Division championships. He married his wife Seantelle and on April 20, 1991, Ernie III (Trey) was born. Little did either know that this little bundle of joy could someday become an "advantage."
Trey showed signs of being a player at age 12 and had positive point guard influences like Brandin Knight at Pitt to model his game after. ESPN.com rated him No. 33 on the ESPNU 100 as an elite senior out of Mt. Pleasant High School and his game became so impressive and advanced that he had scholarship offers from all over the country, including at finalists Michigan, Michigan State and UCLA.
The Bruins were considered by many to be the frontrunner as coach Zeigler had served as Ben Howland's assistant for five seasons at Pitt and UCLA.
A week before the Kentucky Derby Festival Basketball Classic in April 2010, Trey told his father that he was heavily leaning toward going to UCLA. It appeared to be a done deal. Ernie called Howland to give him the good news.
Then everything changed.
The epiphany moment came for Trey as he was playing a week later in the Derby Classic and
Ray McCallum
, Jr. was his roommate. McCallum, also a highly rated ESPN.com prospect (No. 17) was leaning toward playing for his father, Ray Sr., at Detroit. Those heart-to-heart talks with his good friend convinced Trey to do the same thing.
Ernie Zeigler awaited his son's return from Kentucky and they met in his office for one last recruiting pitch, coach to player and father to son. But before the elder Zeigler could say a word, Trey said, "Dad, I'm coming here to play for you."
Ernie called Howland back. One week prior, Howland was consoling his former assistant on Trey's probable decision to go to UCLA and now the roles were reversed.
Howland was and is a class act and they remain great friends today despite the flip-flop. And Ernie Zeigler has now coached his freshman son every day in practice this fall.
"I love playing the point and getting guys involved," said the younger Ziegler. And he does it well.
Trey Ziegler is 6-5 with point guard skills and the versatility to play the 1, 2 or 3. He is a dynamic passer with vision and possesses a coach's son understanding of the game. He can score mid-range and sees over defenders in the open court and is effective creating passing lanes off the dribble. He has some Gordon Hayward in his game, although he is three inches shorter and currently lacks the 3-ball range. But like Hayward, Zeigler is a 3-S player: Size, skill and scoring ability.
Coach Zeigler told his team during practice, "Our mid-range game is going to be our strength." His son Trey is a prominent part of that.
Every shot, every movement, every pass and every decision I saw in practice has led me to believe that the next great MAC player will be
Trey Zeigler
.
A few more observations from CMU:
The Chippewas are more athletic inside with 6-8 Andre Coimbra, who is still raw but is rangy with wing span and a motor. The big Brazilian could be an inside difference-maker as his game is refined.
One other freshman is vying for playing time at CMU. Derek Jackson from Cleveland has good feet on D and is unselfish on O. I love his catch, square and shot-fake. He will be a good one when it is all said and done.
The Chips play seven of their first eight away from home, with their only home game against nationally ranked Temple. Tough start, but a great way to challenge a young and talented team.
If you are an incurable insomniac, you can see Trey Zeigler and Central Michigan take on Hawaii in Honolulu on ESPN during the 24-hour Tip-Off Marathon. The game will tip off at 4 a.m. ET on Nov. 16. Get that Red Bull ready.
April, 15, 2010
4/15/10
12:21
PM ET
If I told you that the No. 17-ranked player on the ESPNU 100 list committed to play his college basketball at a Horizon League school, and that school wasn't Butler, what would you say? What about if I said the No. 33-ranked player just told the world he was going to spend his college career at Central Michigan? You'd be more than a little confused, right?
Then, being the smart person that you are, you'd investigate further, only to find that both of these players -- Detroit's Ray McCallum, Jr. and CMU's Trey Zeigler --
committed to those schools because their respective fathers are the respective coaches
. Hey, this is easy! Recruiting has never been so simple.
Yes, McCallum and Ziegler both officially announced their decisions to go play for their dads on Wednesday. Amid jokes of less yard work (funny) and increased allowance (a little too close to the improper benefits bone to be really tasty, but oh well), both players said they'd relish the opportunity to help their fathers build programs at places that are known less for their NBA players and more for their, well, um ... hmm. Exactly what are Detroit and Central Michigan known for?
That's the point, actually. McCallum and Ziegler made very clear choices on behalf of their families. Instead of going to any number of elite programs with gigantic budgets and a history of developing NBA talent -- when you're No. 17 or No. 33 in the country, you pretty much have your pick of the litter -- they chose to help their fathers attempt to build something Butler-esque at otherwise low-profile places. (Or, at the very least, put a few good years together in time to take a power conference job. Ahem.)
The question is whether that's the right strategy for the players. Sure, it's selfless. Some selflessness is great. But since when should college basketball players with potential NBA futures be
entirely
selfless? There's an NBA out there, and it would stand to reason that playing somewhere high-profile like Kansas or Kentucky would increase your odds of getting drafted at a exponential rate compared to, say, Mt. Pleasant, Mich.
This isn't an unheard-of view, either. The
Sporting Blog's always-excellent Chris Littman almost made this argument yesterday
. To wit:
While I can't really argue with that point, isn't there something to be said for going to a program that has a rep of producing NBA players? [...] And really, my point was more playing Devil's Advocate anyway, but there is something to be said for the high-major route to the NBA. Sure, you could star at a school like Davidson, but big numbers are always viewed with great skepticism at low and mid-major institutions. Look at some of the guys declaring early from high-major programs and think about the numbers they would've had to put up at a smaller school to even think about declaring.
There's no question there's a tradeoff there -- playing and succeeding at a big school simply confers more legitimacy in the scouts' eyes in regards to a potential NBA player's chances of succeeding in the pros. No question. At the same time, though, it's 2010, and in 2010 we have satellite TV and the Internet and all sorts of really awesome telecommunications things -- to say nothing of the legion of scouts each NBA team employs -- which ensure that a really good, NBA-worthy player at a small basketball school doesn't go unnoticed. Will Ray McCallum and Trey Zeigler get the same level of attention at Detroit and CMU that they would have gotten in the Big Ten? Probably not. But they can still get to the NBA. If that means helping Pops build his program in the meantime, well, that's just loyalty. And there's nothing wrong with that.