College Basketball Nation:

Chad Ford in Maui
November, 25, 2010
11/25/10
1:58
AM ET
LAHAINA, Hawaii -- After a tournament filled with drama and close finishes, the championship game of the EA Sports Maui Invitational was a bit of a letdown.
Not that anyone from Connecticut was complaining.
UConn ran roughshod over ninth-ranked Kentucky on Wednesday, winning in convincing fashion
84-67
to claim a tournament title that seemed highly unlikely at the start of the week for a team picked to finish 10th in the Big East.
Once again it was
Kemba Walker
and
Alex Oriakhi
leading the charge for the Huskies. Walker had another big night with 29 points and six assists and Oriakhi was a beast on the front line, scoring 18 points, grabbing 11 rebounds and blocking three shots.
Connecticut shot a scintillating 58 percent from both the field and the 3-point line. On the other hand, Kentucky received 24 points from sensational freshman
Terrence Jones
, but shot just 37 percent from the field as a team. UConn scored 42 points in the paint to Kentucky's 24 and outscored the Wildcats 16-5 on the break.
Quite simply, it was a domination -- and one that hardly a soul saw coming.
[+] Enlarge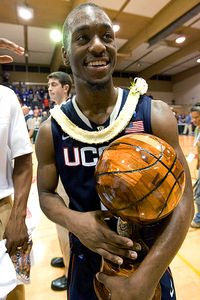 AP Photo/Eugene TannerThe announcement of Kemba Walker as tournament MVP might've been the least suspensful moment of the week.
The win, in the eyes of the team, was clearly a validation of the UConn program and head coach Jim Calhoun, both of whom have come under increasing scrutiny lately.
"We wanted to show the world we're still UConn and that Coach Calhoun can still coach a team," said Walker, the tournament's MVP after scoring 90 points in three games.
"The catalyst all three nights was these two guys," Calhoun said, pointing to Walker and Oriakhi. "I couldn't be prouder of the effort they put out.
"This isn't our season," he continued, "but it lets people know that we're still Connecticut. I respect the tradition -- the Kentuckys, the Indianas ... we are a part of that, though. That's why I'm still coaching."
As for Kentucky coach John Calipari, he noticed a stark difference between the two teams Wednesday night.
"That was a shellacking," Calipari said. "We were outplayed. We were outcoached. We were outhustled. We got really selfish in the first half. We took a lot of bad shots. I've got to do a better job of getting these guys to play together. We played against each other. They played for each other."
The game itself was tight until Jones picked up his second foul with 8:59 to go in the first half. Calipari, much to the chagrin of many UK fans, decided to sit Jones for the rest of the half and UConn went on a game-changing run -- at one point 21-2 -- and went into the half with a 50-29 lead.
Calipari defended the decision after the game: "I knew if he got a third foul, we had no chance. I just didn't think we'd be this selfish. We just took one bad shot after another."
Jones hit a couple of quick 3s at the start of the second half, but it wasn't enough to hold off the Huskies, who were relentless in pushing the ball up the floor and crashing the boards.
Highly touted freshman
Brandon Knight
struggled mightily in two of the three games Kentucky played here. In the title game, he shot 3-of-15 from the field, was 0-of-8 from beyond the arc and had five turnovers in the loss.
Calipari was clearly discouraged, but he wasn't giving up. His team is young and he knows it's going to take some time.
"We've had 22 days of practice and I have a brand-new team. We have holes. I need to do a better job of coaching [Knight]. These guys are 18 years old. They need to be coached. They reverted back to eight months ago. You know what was eight months ago? An AAU tournament."
After the game, the Connecticut players were understandably ecstatic. In a span of three days, a team counted out by most in the preseason beat the Missouri Valley favorite and a pair of teams ranked in the top 10.
And if there was one player that became the face of this remarkable UConn run, it was undoubtedly Walker.
A player many doubted could ever become a true star, Walker simply tore through this tournament. His 90 points were just three short of the tourney record. For the season, he's averaging 30.2 ppg, shooting 53 percent from the field and 41 percent from 3. He's averaging 4.2 apg, 2.1 spg and has been to the free throw line an amazing 44 times (converting 89 percent of those attempts).
It seems almost silly to talk about national player of the year honors this early, but if you can call someone a front-runner for the award in the first month, then Walker is the frontrunner.
Except, Calhoun observed, a funny thing has happened on the way to stardom. The man making all the headlines hasn't let it get to his head.
"The play toward the end of the first half when he could of had a 3 and instead threw down to a teammate for a layup," Calhoun said. "That's Kemba Walker."
A tournament championship and the MVP award weren't the only things that Walker won this week. He also earned a huge amount of respect from a group of skeptical NBA scouts. After the game, several of them said Walker will skyrocket up their draft boards.
"I was really surprised by how well Kemba played," one NBA scout told ESPN.com. "I've watched him closely for the past three years. I didn't think he could be this good. I came in thinking he's a late first-rounder, a decent backup. I've changed my mind. I'm not sure he's going to be a star [in the NBA], but I just love how he played here and how hard he's worked on his game. If he keeps this up all season, he's a top-10 pick."
Oriakhi should feel the same bump as well. Scouts raved about his toughness, energy and newfound confidence around the basket. Walker and Oriakhi were joined on the all-tournament team by Jones, Michigan State's
Kalin Lucas
and Chaminade's Steven Bennett.
November, 24, 2010
11/24/10
8:51
PM ET
LAHAINA, Maui -- Durrell Summers was struggling. For three straight games, his jumper couldn't find the Pacific Ocean.
"I was disappointed in Durrell," Michigan State coach Tom Izzo said. "I didn't think he played well."
But with the game on the line and the Spartans looking like they might head back to the mainland with two straight losses -- this one at the hands of Washington -- Summers came through with two big 3s in the clutch, helping MSU beat the Huskies 76-71 for a third-place finish at the EA Sports Maui Invitational.
Summers' first big 3 couldn't have happened at a more opportune time. The Spartans were down by two points with 2:02 left in the game. Point guard Kalin Lucas, who had been dominant in the game, was on the bench nursing a sore knee, suffered on the previous possession.
Izzo drew up a play for Summers, who was shooting just 1-for-9 from the field in the game and had missed his last six from long range. Summers curled off a screen and hit the shot to put Michigan State up by one. He nailed another 3 at the 1:15 mark to put the Spartans up 72-68 -- a margin that the Huskies could not close.
[+] Enlarge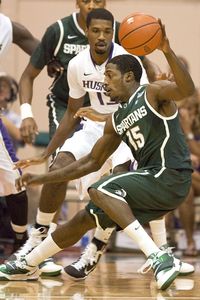 AP Photo/Eugene TannerDurrell Summers struggled all game ... until his team needed him the most.
"Pretty much the whole tournament I was struggling with my shot," Summers said after the game. "Coach was still running plays for me and confident in me shooting the ball. I came off it. I told him in the huddle I thought I'd be open just like I was on the other plays. It was down in the crunch time. I just had the confidence to hit the shot. I know it may seem pretty crazy because I've been off on my shot the last two or three games, but it just shows that type of confidence he had in me because I've done it before."
Summers was an unlikely hero for the Spartans. After Tuesday's loss to UConn, Izzo declared that Lucas and junior Draymond Green were his two best players -- noticeably leaving out Summers in the shout-out.
But Izzo said Summers' hard work earned him the right to take the critical shot.
"The difference between this year and last year is that he's working his tail off," Izzo said. "He's worked as hard as humanly possible this summer. I thought he was down And I don't blame him. I thought it was easier to go to him because I believe in what he's done. He's earned that if he's 1-for-9, I still go to him. I'm happy for Durrell because he struggled in the game."
For most of the game, it was Lucas and Green carrying the team. Lucas had 29 points and was 4-for-5 from beyond the arc. Green had 12 points and six rebounds for the Spartans.
"It was a strange game to me," Izzo said. "We felt that Washington might be the best team in the tournament. ... The second half we executed a lot better and we competed a lot better. Thank God Kalin Lucas was hitting shots. We said it was going to be a character game. It was a character win for us."
For the Huskies, this is another difficult loss. After blowing out Virginia in the opening round, they struggled to hit a jump shot against Kentucky in Tuesday's loss. Against MSU, the Huskies were shooting the ball well from the field and led by 10 points at the half. But the team missed 10 free throws and kept turning the ball over in the second half.
"We came in here with high expectations and we leave 1-2," UW head coach Lorenzo Romar said. "But overall I'm happy with my team. We have some things to work on, but they're correctable."
What did Romar learn about his team in this tournament? "I think we improved dramatically from yesterday on being patient on the offensive end. I think we can play defense. I think it was good to see some people step up and play well."
Izzo had high praise for a number of teams in the tournament.
"Make no mistake about it. There are three teams, that are as good as any we'll face all year," he said. "Washington is one of those. Kentucky is one of those. And I really think UConn and even Wichita State could be one of those. We'll leave here a better team than we came, but there's a lot of improvement left."
November, 24, 2010
11/24/10
2:41
PM ET
LAHAINA, Hawaii -- We had two great semifinal games at the EA Sports Maui Invitational on Tuesday and they produced some unexpected results. Virtually all of our experts (including me) predicted a Michigan State-Washington final.
Those two teams will square off, but it will be for third place at the tournament. The big game will be between UConn and Kentucky for the championship.
Here are some things to watch for it in both games:
CHAMPIONSHIP GAME: No. 9 Kentucky vs. Connecticut (10 p.m. ET, ESPN)
• We're looking at another great point guard matchup in this one. UK's
Brandon Knight
has been fighting Duke's
Kyrie Irving
for the title of best freshman point guard in the country in the early going. At this point, it looks like
Kemba Walker
is running away with the title of best upperclassmen point guard in the country. The two will square off on Wednesday.The question on everyone's mind is: Can anyone stop Walker? He's had an amazing 59 points in the past three halves for UConn. Not only is he relentless at driving to the basket, but his jumper has dramatically improved as well, making him very difficult to guard.Knight proved he belonged too, scoring 24 points against a very tough Washington defense. He is bigger and more physical, while Walker is simply a blur.
The outcome of the entire game probably hinges on this matchup and I can't wait to see how it turns out. If Kentucky can slow down Walker, the Wildcats should win the game. If Walker keeps up his hot streak, UConn will be tough to beat.
• Speaking of Walker, Kentucky head coach John Calipari confessed that he scouted the native New Yorker in high school and wasn't convinced he'd be a star.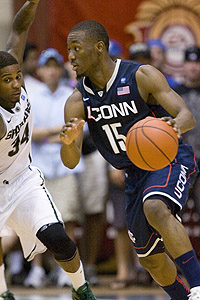 AP Photo/Eugene TannerWalker has scored 30-plus in each of his last three games.
"I knew Kemba," Calipari said. "I looked at him in high school. I made a big mistake. Normally, I can see something and get the guy. I missed on him. He's got it."Why did Calipari pass on Walker? "It's not that I passed on him," he said. "We got Tyreke [Evans]. He was pretty good, too. But I didn't realize how good [Walker] really was. I made a mistake on that one."
"[Jim Calhoun] is putting Kemba in the best position he can be in to run the team," Calipari said. "He's putting him in a position to succeed."
• Kentucky freshman
Terrence Jones
was banged around by Washington's frontline all game on Tuesday. He may face a bigger challenge against the other Huskies. UConn sophomore
Alex Oriakhi
has been a physical force in the paint all tournament. Players have been literally bouncing off him as he powers his way to rebounds and dunks.Jones didn't play a great game against UW. He was a force on the boards and wasn't shying away from the contact, but also shot just 4-of-13 from the field. Oriakhi is going to be as close as he's going to come to the strength and size of a NBA power forward. You can bet that NBA scouts will be watching closely to see how Jones reacts.
THIRD-PLACE GAME: No. 2 Michigan State vs. No. 11 Washington (5 p.m. ET, ESPN2)
• Both Michigan State and Washington have terrific backcourts. MSU is led by seniors
Kalin Lucas
and
Durrell Summers
, with
Korie Lucious
and freshman
Keith Appling
coming off the bench. U-Dub has
Isaiah Thomas
,
Abdul Gaddy
,
Venoy Overton
and a couple of freshmen in
C.J. Wilcox
and
Terrence Ross
.The struggle for both teams has been on the boards. Both the Spartans and Huskies were out rebounded in their losses on Tuesday.
Draymond Green
has been picking up some of the slack for Michigan State and
Aziz N'Diaye
and
Justin Holiday
have been solid on the boards for Washington. But both teams have a weakness there that's going to have to be addressed down the road.
• The Spartans and Huskies may be disappointed by their performances here, but a few players seem to have caught the eyes of NBA scouts. Michigan State's Green and Washington's Holiday both drew praise from scouts.Green has been excellent for the Spartans in both games. While he lacks the ideal body for a NBA player, one scout says that he's got a chance to make in the league. "The league loves guys who can spread the defense and shoot it," the scout told ESPN.com. "He's not going to be a star, but you look at how hard and intelligently he plays and I think there's a place in the league for guys like that."Holiday, who's brother Jrue is the starting point guard for the Philadelphia 76ers, also drew accolades. "He's such an excellent defender and plays with a great energy," a scout said. "He won't be a starter, but coaches love guys like that that do all the little things. As he gets stronger, he could end up being an elite defender at the next level."
• While a number of players have helped their draft stock in front of a gaggle of NBA scouts, two players have hurt their stock considerably this tournament. At different points, Michigan State's Summers and Washington's Gaddy were both considered potential first-round draft prospects by scouts. After the way they've played the past few games in front of many of those same scouts, that chance has narrowed considerably.NBA folks have complained about Summers' penchant for disappearing in certain games. But they also worry that, after years of playing under Tom Izzo, he still hasn't figured out the nuances of the game. "He doesn't know how to play," said one scout matter-of-factly. "He's a great athlete and he can use it to exploit matchups. But he doesn't really have a feel for the game."Scouts were even harder on Gaddy. After a very rocky freshman year at Washington, he has improved on both ends of the floor. But I couldn't find a scout here who thought he was a NBA player.
"He doesn't really do anything that screams NBA," one scout said. "He's not fast, is not a dead-eye shooter and seems out of rhythm. When the team is his to run instead of Isaiah Thomas', some things may change. But even if they do, he just doesn't look like a NBA player to me."
November, 24, 2010
11/24/10
1:31
AM ET
LAHAINA, Hawaii -- The gym in Lahaina was rocking on Tuesday night.
Literally.
A legion of raucous Kentucky and Washington fans. A tough, physical blood feud on the court. And a small 4.7 earthquake -- yes,
earthquake
-- that caused the baskets to briefly sway a bit during a timeout in the second half.
It all led up to the bleachers in this tiny gym literally shaking all night long. The frenzied atmosphere seemed to energize a young, up-and-coming Wildcat team as Kentucky defeated Washington 74-67 in the semifinals of the EA Sports Maui Invitational.
"I felt the ground shaking and the rims were moving," UW guard
Isaiah Thomas
said about the brief earthquake. "The hoop was moving."
"Felt like the rim was moving anyway when we missed some shots," head coach Lorenzo Romar deadpanned in response to Thomas talking about the earthquake.
Kentucky head coach John Calipari laughed the whole thing off. "That's nothing."
[+] Enlarge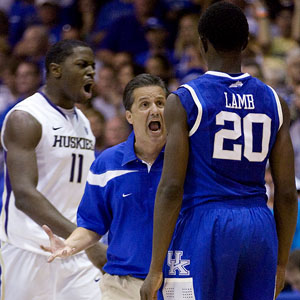 AP Photo/Eugene TannerThe intensity and atmosphere inside the Lahaina Civic Center Tuesday night had a March-feel.
Look, the game itself was ugly. Exciting, but ugly. It was physical. Tempers flared. But Kentucky pulled it out -- and you won't find anyone in UK's camp complaining about style points this early in the season.
"There's nothing better to shoot 39 percent, have double the turnovers than assists and still win the game. It's lovely," Calipari said. "Guys fought like crazy. We had some great individual performances. But our team is not there yet."
Two freshmen were the key for Kentucky. Point guard
Brandon Knight
scored 24 points and forward
Terrence Jones
had 16 points, 17 rebounds and four blocks as the Wildcats advanced to a matchup with Connecticut for the Maui title on Wednesday (ESPN, 10 p.m. ET).
Knight got the team off to a blazing start early on, scoring 12 points in the first few minutes of the game to get the Wildcats up double-digits early. The Huskies clawed back and led for a time before Knight turned it on again down the stretch with a few key drives and one clutch jumper to push the Wildcats into the finals.
Jones didn't disappoint either. The former Washington commit was booed heartily by Husky fans, but shook off a poor shooting night with toughness and hustle. By the end of the game, the Big Blue fans were chanting "Terrence Jones" to the U-Dub section as Jones ripped down rebound after rebound and powered the ball to the basket.
"Terrence exploits the mismatches," Romar said of his former recruit. "It's difficult to contain him on drives. Terrence is a good basketball player. He got 17 rebounds. He found a way to contribute to his team."
On Monday, Calipari said he wanted to see some toughness from his heralded freshman. Well, Tuesday night he saw it. "He wasn't bad," Calipari said of Jones. "There were a bunch of big plays he made for us. He got a number of second-chance rebounds."
Washington's dream team -- the one that was averaging more than 106 ppg -- hit its first speed bump of the season. One night after making 17 3s and shooting a red-hot 65 percent from beyond the arc against Virginia, the Huskies came up cold in this one. The team made just three 3-pointers and shot just 38 percent from the field for the game.
So Tuesday's results set up a championship tilt between young Kentucky and unranked Connecticut. It's John Calipari versus Jim Calhoun in a matchup of coaching titans, but it's more than that. Neither team was favored to be in this position. Both had plenty of doubters when they headed to Hawaii. It's an unlikely final and one that is compelling in more ways than one.
Most expected Michigan State and Washington to play each other in the finals. Instead, they'll be playing for third place at 5 p.m. ET on ESPN2.
Not exactly what they had in mind.
November, 23, 2010
11/23/10
10:14
PM ET
LAHAINA, Hawaii --
Kemba Walker
is feeling it.
Surrounded by young teammates with little experience in big games, Walker took over again on Tuesday night, leading Connecticut to a
70-67
upset of No. 2 Michigan State in the semifinals of the EA Sports Maui Invitational.
Walker was, well, awesome. Again. He scored 30 points, grabbed three rebounds and had four assists and three steals. This was the third straight game he's scored 30 or more points and he did it this time against one of the best point guards in the country,
Kalin Lucas
.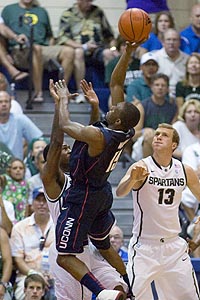 AP Photo/Eugene TannerConnecticut's Kemba Walker put together another sensational performance in Maui.
After scoring 29 in the second half against a good Wichita State team on Monday, Walker has now scored 59 points in the past three halves. Remarkable.
Walker scored from everywhere in this one. He hit four 3-pointers, drove to the basket at will and was relentless in pushing the ball on the break. Michigan State head coach Tom Izzo threw a number of different defenders at Walker. No one, but Walker himself, could slow him down.
He took a couple of bad shots in the waning minutes and had a critical turnover, before coming back and draining a fade-away jumper that put the Huskies up for good.
"We have Kemba Walker and Tom [Izzo] didn't," UConn head coach Jim Calhoun said. "I've had some pretty good players in my career. Kemba is developing into one of the great players and competitors. For all of us who love the game, it's a joy to watch."
"We ask him to do nearly the impossible and he's producing," Calhoun continued. "Ray Allen to Rip Hamilton to all of the great UConn players. No one has made more progress than Kemba. No one has equaled the work he's done [on his game]."
You can bet Izzo noticed.
"Kemba Walker is a heck of a player. Let's face it," the MSU coach said. "He gets to the free throw line so much. I thought Kalin did a good job on him. Korie [Lucious] did a good job on him. On those 10 made buckets, he had to earn every one of them."
Lucas said Walker has really improved since they last met in the 2009 Final Four, an 82-73 UConn loss that saw Walker struggle mightily. "He's shooting the ball better. He's being more aggressive on the offensive end."
"How far have I come?" Walker said, laughing about a question concerning his improvement from his freshman season. "I'm averaging 30 points a game."
Walker also got a big assist against MSU from sophomore
Alex Oriakhi
, who had 15 points, 17 rebounds and controlled the paint for the Huskies on both ends of the floor. Oriakhi is a man amongst boys. Spartan players were literally bouncing off him in the paint.
Michigan State got a terrific performance from
Draymond Green
(22 points, 12 rebounds 3 blocks), but he also missed three key free throws down the stretch that crippled the Spartans.
After the game, Green kept his head down and was somber in talking about those missed free throws. "It hurts a lot," he said. "It's over now -- I have to stay in the gym. They felt pretty good. It falls on my shoulders. We were 15-for-20 from the line and I missed four of those."
UConn will now face the winner of the Washington-Kentucky game in the finals on Wednesday at 10 p.m. ET (ESPN). Michigan State will play the loser of the game at 5 p.m. ET on ESPN2.
November, 23, 2010
11/23/10
11:00
AM ET
Things went as expected on Monday and we have two great matchups Tuesday at the EA Sports Maui Invitational. Here are a few thoughts on each:
No. 2 Michigan State vs. Connecticut, 7 p.m. ET (ESPN)
No. 9 Kentucky vs. No. 11 Washington, 9:30 p.m. ET (ESPN)
November, 23, 2010
11/23/10
2:58
AM ET
LAHAINA, Hawaii -- In the first three games of the EA Sports Maui Invitational, we saw dominant individual performances from
Kemba Walker
,
Terrence Jones
and
Kalin Lucas
. In the nightcap, the
Washington Huskies
showed that a total team effort was the best way to dominate en route to a 106-63 wipeout of Virginia.
The Huskies (who are averaging 108 ppg this season) were once again dominant on offense.
Isaiah Thomas
led all scorers with 21 points, freshman
C.J. Wilcox
had 16 and the team shot a sizzling 65 percent from beyond the arc (17-of-26).
But the theme of the night for the Huskies was defense.
Justin Holiday
led the way with six steals along with nine rebounds. The team played a swarming, relentless D that collapsed every time a Virginia player tried to get into the paint. Washington forced 17 turnovers and held the Cavaliers to 39 percent shooting on the way to the rout.
The Huskies are now set for a huge matchup with Kentucky on Tuesday in a game that many are referring to as a grudge match. Kentucky poached two of Washington's best recruits --
Enes Kanter
and Jones -- this summer and Husky fans haven't forgotten.
Kanter was ruled ineligible to play by the NCAA, but Jones has been terrific early, scoring 29 points and grabbing 13 rebounds versus Oklahoma earlier in the day.
Will it be payback time for Washington?
"If I really wanted to do the media a favor, I could make up a story that we hate Kentucky," head coach Lorenzo Romar said. "Sorry. If it wasn't Kentucky, it would be the next opponent. Terrence Jones is a fantastic player. We aren't coming out there with any animosity or rivalry. We are coming out there because they are the next opponent and we hope we come in as dialed in as we were tonight."
November, 23, 2010
11/23/10
12:24
AM ET
LAHAINA, Hawaii -- During the afternoon, Connecticut point guard
Kemba Walker
put on a dominating 31-point performance to save his team from an upset. At night, Michigan State point guard
Kalin Lucas
did the same to help hold off a spunky Chaminade team,
82-74
, in the first round of the EA Sports Maui Invitational.
Lucas had a career-high 28 points against the underdog Division II host, which led for much of the first 25 minutes of the game.
Draymond Green
added 10 points and 10 rebounds for the Spartans.
[+] Enlarge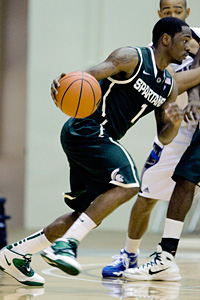 AP Photo/Eugene TannerKalin Lucas scored 28 points in a closer-than-expected win over Division II Chaminade.
But it was Lucas' relentless drives to the basket, combined with his ability to get out in transition after some stifling defense, that fueled a second-half surge that put MSU into the semifinal round against UConn on Tuesday.
Chaminade rode a wave of hot shooting from guard Steven Bennett (20 points, 10 assists) and some dominant play in the middle from USC transfer Mamadou Diarra (16 points, 11 reb, 5 blocks) to keep things close in front of a vocal hometown crowd.
The Silverswords are the Washington Generals of this tournament. Their all-time record here is 5-71. But they are known for a huge upset win against Ralph Sampson's No. 1 Virginia team in the early 80s and tried their best to recreate that magic tonight before running out of gas at the end of the game.
For Michigan State, this victory will come with its fair share of concerns. Senior guard
Durrell Summers
pulled a classic disappearing act for much of the game and the team's big men struggled to score or defend in the paint against Diarra. The Spartans were out rebounded by the Silverswords 31-28.
"I was disappointed in our defense and rebounding more than anything," coach Tom Izzo said. "Thank God for Kalin and Draymond. I don't think he [Lucas] took a bad shot all night. We should be pushing the ball more. If you don't rebound the ball, you don't push it. As we say in any tournament, it's about surviving and advancing."
Next up for Michigan State is a spunky UConn team led by Kemba Walker and a physical inside presence,
Alex Oriakhi
. The Walker-Lucas matchup should be a terrific point guard battle between two of the top veteran college point guards in the country.
"He's a great player," Lucas said of Walker after the game. "I'm looking forward to it. We have to keep six eyes on him."
If Oriakhi can control the glass the way Diarra did, the Huskies should be able to keep it competitive against the second-ranked team in the country.
November, 22, 2010
11/22/10
8:49
PM ET
LAHAINA, Hawaii -- Kentucky's
Terrence Jones
is one step closer to facing his scorned former lover.
The former
Washington Huskies'
commit had 29 points, 13 boards and four blocks in UK's
76-64
victory over Oklahoma in the first round of the EA Sports Maui Invitational. If Washington takes care of business tonight against Virginia, the Wildcats will face the Huskies in the second round.
This summer, when Jones withdrew his commitment to UW, it was a big deal but no one knew quite how meaningful it would be. Jones was considered a top recruit, but wasn't considered in the same league as
Harrison Barnes
,
Perry Jones
or
Kyrie Irving
.
Enes Kanter
's defection from the Huskies to the Wildcats was seen as the bigger loss.
But in mid-November, it looks like the Huskies may have lost more than they imagined. Kanter has been ruled ineligible by the NCAA and Jones has more than stepped in to fill the void.
He's off to a monster start for the Wildcats. He scored 25 points and grabbed 12 rebounds in the season opener against Eastern Tennessee State and had 12 points and five boards versus Portland.
[+] Enlarge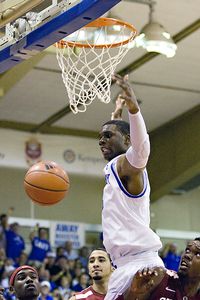 AP Photo/Eugene TannerIn his third game at Kentucky, Terrence Jones produced 29 points and 13 boards.
Against Oklahoma, Jones looked like a potential superstar. He scored from everywhere on the floor, crashed the boards and even led the break for the Wildcats.
"When I recruited him, I thought he was the best recruit in the country," Oklahoma head coach Jeff Capel said. "Others got more accolades, but I felt like no one could impact the game in more ways than Jones could."
"He's truly a point forward," Capel continued. "When we recruited him, I loved him. I didn't love him this afternoon."
His own head coach, John Calipari, wasn't ready to jump on the bandwagon just yet. Calipari responded to a question about his versatility by stating simply, "He's alright."
When I asked Calipari if Jones was the best freshman in the country, his response? "Today. Today. I told him a week ago I love you and I love coaching you, but it's going to be hard ... He's not used to playing that hard. As the game gets more physical, we'll find out if he's that guy."
NBA scouts in attendance raved about his versatility, energy and basketball IQ. A number of scouts compared him to a young Lamar Odom. We have him ranked No. 9 in our
Top 100 NBA draft prospects
, and if he keeps this up his ceiling goes all the way to the top.
One NBA scout wondered if he might be the best player in the country. "If he continues to play this way, he's going very, very high in the draft," a NBA scout who attended the game told ESPN.com. "He could even be the No. 1 pick in the draft. He's does all the things Harrison Barnes does and he's bigger and so far, he's been better."
But that may be getting ahead of ourselves. As Calipari noted, Jones hasn't faced the highest level of competition yet. That could be tomorrow if Washington advances. Jones, for his part, is taking it in stride.
"I'm not worried; I'm ready to play anybody," Jones said. "I know a lot of guys on that team. I have a good relationship with Coach Romar. I'm just trying to get better."
November, 22, 2010
11/22/10
6:03
PM ET
LAHAINA, Hawaii -- In the first half of Connecticut's opening-round game against Wichita State here at the Maui Invitational, the Huskies had to play without team leader
Kemba Walker
. Plagued with two quick fouls, Walker played just four minutes and scored just two of UConn's 33 first-half points.
In the second half, Walker
was
the UConn Huskies.
In front of a couple of dozen NBA scouts, Walker scored 29 of his team's 50 second-half points and 13 of the Huskies last 14 to lead UConn to a
83-79
victory over the preseason favorite in the Missouri Valley.
[+] Enlarge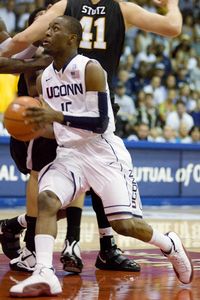 AP Photo/Eugene TannerWalker scored 29 points in the second half of UConn's win.
"Kemba Walker is hard to guard," a despondent WSU head coach Gregg Marshall said after the game.
Walker was relentless getting to the basket in the second half, using his quickness to penetrate the Wichita State zone. But it was a big 3-pointer with 2:46 left in the game to tie it 76-76 that changed the momentum.
After the game, UConn head coach Jim Calhoun said it was the best game Walker has ever played.
"I know he had 42 last game [against Vermont], but this is no comparison," Calhoun said. "He took the game over. They tried to change it up on him -- big, small -- they had no match for him."
"He was the maestro," Calhoun continued. "He used his speed and played through every play."
Walker said it was difficult to wait out must of the first half as his teammates, four of them freshmen, were trying to keep them in the game.
"It was tough. I just wanted my teammates to keep the game close," Walker said. "I'm proud of them."
In the second half, Walker had plenty of pent up energy to expend.
"I was kind of feeling it. I was just trying to be aggressive. I was just looking for the gaps and taking what they gave me." Walker said. "I've never had a game like that before. God was on my side."
With Walker playing so well in the first half, Calhoun defended his decision to play him just four minutes in the first half.
"I've done it that way for 39 years," Calhoun said about his policy to sit a player for the half after he picks up two fouls. "He looked at me on the bench and said, 'I'm alright' and I said 'I know you are, but you are going to sit right here unless something happens.' If you win that first half, that's not important. You want to win the second half."
That the Huskies did. And along the way, Walker made another strong case that he's the best young point guard in the country.