College Basketball Nation:

Chadrack Lufile
April, 24, 2014
Apr 24
10:00
AM ET
"Are we satisfied that everybody's saying that we're not going to win this game?" he said. "That, hey, it was a nice little story, but we're not going to beat Kentucky? I say, if they change the uniforms and gave us Kentucky across our uniforms and gave Kentucky whatever team, they would be talking about us right now as one of the best college basketball teams in the history of this great game. Do you hear anybody saying that? No. Because they don't expect you to come out and do these things. They don't expect you to be able to beat the No. 1 [team] in the country in the preseason. We have proven all year long that we can do this. This is an unbelievable opportunity. You've gotta understand if you want to be David or Goliath, or both."
Minutes before the final game of Wichita State's season, coach Gregg Marshall was speaking to his players (and Sports Illustrated senior writer Luke Winn). Marshall was firing the Shockers up, preparing his peerless team for the latest, biggest moment of their basketball lives.
The paradox was evident. Wichita State, the No. 1 seed in a loaded Midwest region, was still undefeated entering the NCAA tournament's round of 32. The Shockers had already made history: They were the first team with 31 regular-season wins, the first to get 35 wins deep without a loss. Kentucky, the No. 8 seed, was a clearly talented but altogether frustrating 10-loss team. And Wichita State was barely the favorite.
Fitting, then, that it was in the Scottrade Center locker room before the defining 40 minutes of Wichita State's season when Marshall uttered that most trenchant description of the Shockers' unforgettable 35-1 season: "David or Goliath, or both."
[+] Enlarge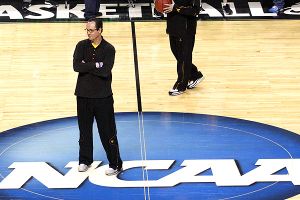 AP Photo/Rick BowmerGregg Marshall and Wichita State proved once again that they belonged among the nation's best.
Has any team as good as the Shockers suffered so long from such a reputation gap? In October, Wichita State was a nice little post-Final Four story with a great group of returning players and a well-deserved little boost in program profile. In December, after wins over Saint Louis, Tennessee and Alabama, the Shockers were a fun "hey, they'll be favored the rest of the way!" talking point. In January, they were an easy concept to argue against. ("No way they'll get to March unbeaten.") In February, they were already defending themselves from -- or at least being the subject of -- debates about schedule strength, about No. 1 seeds, about their theoretical record in a theoretical Big Ten.
All the while, mind you, competition-adjusted analytics were telling us the Shockers were one of the best five or 10 teams in the country. Not the best, necessarily, but one of the best. And it still took until March to finally prove it.
Weirdly enough, they proved it in a loss. The 40 minutes of basketball that followed Marshall's biblical exhortation was the best of the season, and the best of the tournament -- a tournament that was already better than its own impossibly high standards. (Oh, to relive that first weekend! I'd be willing to part ways with a toe. Maybe two.)
Kentucky 78, Wichita State 76 began with some brilliant Shockers offense, gave us bruising Wildcats rebounding and surprisingly grown-up cohesion, featured an NBA-ready Cleanthony Early in a masterful second half (3s, drives, step-back sticks, you name it), saw Kentucky's Harrison twins control the game with physical thrusts to the rim, and ended with a 25-foot Fred VanVleet jumper on a sideline out of bounds that would have caused us to have a full-blown mental meltdown had it somehow gone in. It's a month later, and we still haven't caught our breath.
The game was immediately and accurately deemed a classic. It propelled Kentucky to an eventual Final Four run; it made the Wildcats look like the preseason No. 1 we expected in October. Most of all, it finally, definitively quelled any and all doubt about Wichita State. The Shockers were never David, and they fell just short of Goliath. They were both, and also neither.
What we saw last season: Of course, the biggest reason the Shockers were even in the position to be 35-0 and a No. 1 seed and still the subject of vague doubt was because the Missouri Valley Conference -- rarely a powerhouse in the first place -- had a down season even by its own standards. Indiana State was a solid team (and one that gave Wichita State some real issues twice). And Northern Iowa ended up leading the league in per-possession offense, believe it or not. (The Shockers ranked second, and No. 1 by a ton defensively.) But at No. 94, the Panthers were the only other team to rank inside the adjusted efficiency top 100. With Creighton off contending for the Big East title (and putting Doug McDermott in the history books in his own right), Wichita State treated the MVC much the same way Daenerys Targaryen treats the powerful members of Slaver's Bay.
What we expect to see: Another Wichita State hegemon.
That's the No. 1 thing to expect. Even without Early and fellow seniors Nick Wiggins and Chadrack Lufile, Wichita State will have Ron Baker and VanVleet, the reigning MVC player of the year, back next year. Another crop of juco big men join them, as do starters Darius Carter and Tekele Cotton. There is no reason to expect anything but another dominant Shockers campaign -- especially relative to competition.
How good will that competition be? Northern Iowa will have just about everyone back, most notably junior forward Seth Tuttle -- the only non-Shocker to crack the stats-based Pomeroy all-conference list. Indiana State will likely take a step back, but the Panthers should take a major step forward. A 16-15 finish is not the goal. A tournament bid is not outside the norm.
Other than that, it's hard to find other MVC contenders in the mix. The good news for Wichita State? Even if the Shockers spend another three months beating an overwhelmed conference to a pulp, no one will need convincing come March.
March, 23, 2014
Mar 23
8:49
PM ET
ST. LOUIS -- It couldn't really happen.
The billing for Kentucky and Wichita State on Sunday called for a battle of talent versus experience, potential versus accomplishment, the perennial front-runner that underachieved versus the underdog on a magical ride.
They were on a collision course here, primed to meet in a moment that tested wills on both sides: a classic confrontation with all the storylines in place.
It wouldn't happen, right?
It happened.
Kentucky outlasted No. 1 seed Wichita State 78-76
in a heavyweight rumble fit for a later round of the NCAA tournament. UK ended the Shockers' season, perfect at 35-0 until Sunday, by playing like it hadn't played all year.
With a team of future pros, the Wildcats -- attacked all season, according to coach John Calipari, bludgeoned even -- finally clicked.
And still, the Shockers came up just one shot short as
Fred VanVleet's
3-pointer from the top of the key clanked the rim and bounced away at the Scottrade Center, leaving a crowd of 19,676 to ponder what it had seen.
"You all understand," Calipari said, "this was an Elite Eight game. The winner of this should have gone to the Final Four."
It was a round-of-32 gem, one of those unforgettable, back-and-forth tournament games that may mark a coming-of-age moment for Calipari's young group, which advances to the Sweet 16 in Indianapolis this week to face nemesis Louisville.
"We don't worry about that," Kentucky forward
Willie Cauley-Stein
said. "I'm just really trying to enjoy the moment right now."
What's that, a Kentucky player refusing to look at the next game, just days away, against Louisville?
[+] Enlarge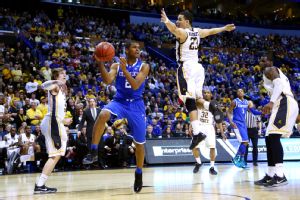 Dilip Vishwanat/Getty ImagesKentucky's Aaron Harrison looked to pass against pressure from Wichita State's Fred VanVleet.
The UK fans ought to try that. Well, on Sunday night they could, because this victory over Wichita State was something to savor.
"A lot of people were down on us all year," senior guard
Jarrod Polson
said. "We're just trying to make this run and prove everybody wrong."
The Wildcats' run, which started as the preseason No. 1, continues. For Wichita State, it ends prematurely. The Shockers got a raw deal, matched against the size and athletic prowess of Kentucky at this stage. At every position, the Wildcats were bigger, starting with twin guards freshmen Andrew and
Aaron Harrison
.
Wichita State, of course, did not back down. Its sophomore backcourt duo of VanVleet and
Ron Baker
matched the Harrisons, big moment for big moment.
"You go through some humps in your life, kind of like this one," Baker said. "It's tough to see us go out like this. We all wanted more, and at the end of the day, you know, somebody's got to go home.
"I thought we had a great year, and it's just unfortunate we won't be back playing next week."
In the hallway outside the Wichita State locker room, officials from the Missouri Valley Conference -- the Shockers' league and host to this event -- wore long faces. One breathed a deep sigh of apparent regret as the doors opened to unveil the Wichita State players, silent and still on the benches inside.
Gregg Marshall had left. The time between coach and players after the game, he said, turned emotional. It was raw. But now, they stared ahead with blank looks. A few of the Shockers toyed with their cell phones. Others tried to answer questions.
But really, they had no answers.
"They made plays," senior forward
Chadrack Lufile
said. "They capitalized."
Wichita State made plays, too. Plenty of them, primarily by Baker and senior
Cleanthony Early
, who arguably outplayed all of the Kentucky hotshots -- even freshman
Julius Randle
, a physical force who took over the action for a few minutes early in the second half.
Early, an elite pro prospect himself, scored 31 points on an array of perimeter shots and slicing moves to the rim. His dunk in transition over the 7-foot Cauley-Stein late in the first half left all in attendance to wonder which of these teams, in fact, was stacked with talent.
Baker was just as good at times. When Kentucky, which trailed by six at halftime, went ahead for the first time in the second half at 41-40, Baker rushed down the floor to score and draw a foul. After another Kentucky bucket to tie it at 43, Baker drilled a 3.
Seemingly, the Shockers would not be denied. Until, at the end, the final shot sailed off target.
"It's hard," Marshall said, "the finality of it. We won't be able to coach these seniors anymore. But it's been such a fun, enjoyable season, magical season. I mean, it's literally been a magic carpet ride. And to have it end is going to be something that we have to get used to.
"But I still think, in retrospect, we will look back and just be so proud."
[+] Enlarge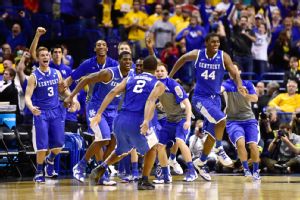 Scott Rovak/USA TODAY SportsThe Wildcats celebrated reaching the Sweet 16 and a date against Louisville.
Kentucky, meanwhile, looks ahead. Louisville, which it beat back in December, awaits after a crazy week back home. If the Wildcats survive, perhaps they get Michigan, who lost to Louisville last year in the national title game.
Calipari, nursing a sore hip of late, said he was "whistling and skipping" in the hallway outside the UK locker room, though not because he felt relieved.
"If wins are relief," he said, "it's time for me to retire. This was great joy in seeing a group of young men come together and start figuring this out. It took longer than I'd hoped."
The coach said he failed to define roles adequately among the young Wildcats early in the season. Now, they're starting to lose themselves within the team. They're growing as a unit, not lurching forward and backward as individuals. It was evident on the court against Wichita State.
"I just wish we had another month of the season," Calipari said, "because we're getting better every day."
He won't get a month, but Calipari could get two weeks. It's a scary thought for the remaining teams in the tournament, because Kentucky, as a No. 8 seed at not even close to its best, takes a backseat to no opponent.
Still, just how close were the Wildcats to a sour finish on Sunday?
Consider this:
Andrew Harrison
, who runs the point among the 6-foot-6 twins, hurt his right elbow in a collision with Kansas State's
Wesley Iwundu
on Friday. Calipari said on Saturday that the Wildcats were ready to play without Harrison.
Trainer Chris Simmons spent the night before this game in Harrison's hotel room, keeping ice on the injured elbow as Harrison slept.
Harrison played well. He made 6-of-9 from the field and scored a team-high 20 points.
Score one for the trainer.
"Without him, obviously you know now, it would have been a different game," Calipari said. "We couldn't have won the game."
That Wichita State had one shot to win, with three seconds on the clock and the ball past half court, speaks to the Shockers' resolve and their own level of play.
"That's how good they are," Calipari said, "and how good we're playing right now."
Good enough to make for a classic.
March, 8, 2014
Mar 8
6:54
PM ET
ST. LOUIS -- The best and maybe only chance of someone knocking off
Wichita State
in the early rounds of the
Missouri Valley Conference tournament
would have involved the Shockers seizing up from the pressure of remaining undefeated.
So, yeah, about that ...
Wichita State hasn't shrunk from the moment one iota. In fact, it somehow appears to have grown even stronger. The Shockers blew the doors off Missouri State
67-42
in Saturday's semifinals at the Scottrade Center. In their first two tournament games here, they've won by a total of 47 points.
[+] Enlarge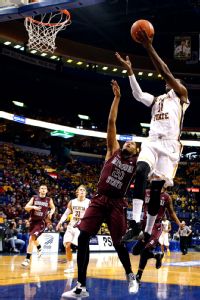 Scott Kane/USA TODAY SportsAt 33-0 on the season, Cleanthony Early and the Shockers will be a "very, very tough out" in the NCAA tournament, according to coach Gregg Marshall.
On Saturday, they led by as many as 38 in the second half before coach Gregg Marshall emptied his bench. For a team whose motto is "Play Angry," Wichita State sure had fun posing after dunks and chest-bumping one another.
"That was one of our better-played games of the year," sophomore guard
Ron Baker
said. "I'd say our excitement out on the court was the best it's been all year. We're just playing relaxed and trying to have fun."
Basketball is pretty fun when you never lose. Wichita State became just the third Division I team in history to win its first 33 games in a season, tying Larry Bird's 1978-79 Indiana State Sycamores for the second-best start of all time. Coincidentally, the Shockers will face Indiana State, the No. 2 seed in this event, on Sunday for the MVC tournament title and a chance to join 1990-91 UNLV as the only teams to start 34-0.
Some of their spurts against Missouri State would have made those old Runnin' Rebels proud. Wichita State went on a 17-0 run during the first half and then eclipsed that with a 24-0 blitzkrieg during a nine-minute second-half span.
"We've had a lot of good runs this year, but I feel like that was one of the best," senior forward
Chadrack Lufile
said. "It was special to see us really execute, really play defense and dive for the ball regardless how much we were up. We're still hungry. I feel like that's our mentality."
This was the same Missouri State team that gave the Shockers their biggest scare of the conference season, taking a 19-point lead on Jan. 11 in Springfield before eventually
falling in overtime
. But Wichita State beat the Bears by 23 points at home in the regular-season finale a week ago and delivered an even worse beating in the third meeting.
The Shockers are very nearly upset-proof because of their consistent defensive and rebounding effort. Or as Missouri State's
Christian Kirk
put it, "It's hard to catch them off their guard because they're always on their guard."
They also share the ball and work for good shots on offense, and on Saturday they made eight of 10 3-pointers in the first half, with the only two misses coming on desperate heaves to beat the shot clock.
Cleanthony Early
, the team's best post presence, and
Tekele Cotton
, known mostly as a defensive stopper, each hit three shots from behind the arc. Wichita State was shooting close to 70 percent in the second half before finishing on a cold spell with its subs on the floor.
"If we can shoot it like this for as long as we can continue playing, we'll be a very, very tough out," Marshall said.
Marshall calmly sipped from a water cup most of the second half, needing to offer his team little in the way of guidance. He never called a timeout.
"It's a fun team to watch," he said. "It's a fun team to coach. It's a fun team to be around. Who can find fault with 33-0?"
Marshall has instructed his team to view this tournament weekend as a three-game season and not to think about the undefeated streak. His team likely secured a No. 1 seed in the NCAA tournament simply by getting to Sunday at Arch Madness. But the Shockers really want to cut the nets down here; the program hasn't won the MVC tourney since 1987, despite being the first or second seed seven times since 2005.
"Our fans deserve it," Baker said. "They've waited a long time."
The pressure of that drought and the streak will be in play Sunday. But don't expect that to affect this bunch.
"We want to go out there and make history," Lufile said. "Every game is history right now, I feel like. And there's no stopping us now."
February, 20, 2014
Feb 20
1:00
AM ET
CHICAGO -- Here's the thing about these
Wichita State Shockers
, the boy wonders-turned-bullies who absorbed yet another hard right Wednesday from their latest Missouri Valley Conference victim: They have stared down this remarkable unbeaten run and welcomed it like a sun-soaked day in the midst of this miserable Midwest winter, tempting fate seemingly every step of the way -- from assigning pregame jersey numbers matching their win streak to bickering over who gets to pose for magazine covers.
It's 28 games and counting now for Wichita State after an 88-74 win over Loyola of Chicago, a victory with a storyline that took a backseat to what went down earlier in the evening some 700 miles away in Central New York.
The zeroes had barely settled onto the Gentile Center scoreboards here by the time Shockers coach Gregg Marshall was over by the broadcast table, pre-empting a post-game interview by asking: "Syracuse lose? Really?"
Yes, really. Not that Marshall and his band mind the extra attention.
"It just goes to show you that you can lose to anybody any night in college basketball, home, away," Marshall said. "The other team has a coach – [I'm] assuming he has a decent salary -- and they've got 13 scholarship players, and when that ball is tossed up, they want to win."
That's all his Shockers have done since their Final Four loss to Louisville a year ago, running roughshod over any and all comers through this season's first three months.
Loyola became another two-time knockout, a human canvass for the visitors to go all Adrian Peterson (No. 28) on before they began their search for casualty (and athlete) No. 29.
"I haven't thought about that; I'm going to enjoy this one," Marshall said. "Adrian, I did a little research, and his nickname as a youngster was All Day, because he ran all day. He stuck with that nickname as an adult because he saw some tragedy in his life. He's persevered. He's overcome. His younger brother died. His father was arrested. And he said, 'All Day. I'm gonna run as hard as I can all day, because I wanna bring the pain on every play.' And that was our slogan today."
Opposing gyms are growing louder now, with fans of the Ramblers, an MVC newcomer, swelling this arena's stands beyond capacity. They tried everything from mocking
Ron Baker
's hair to harassing homecoming king
Fred VanVleet
, who excelled playing before roughly 40 familiar faces who made the two-hour trek from Rockford, Ill.
Yes, the unbeaten guests took note. And no, they weren't exactly rattled.
[+] Enlarge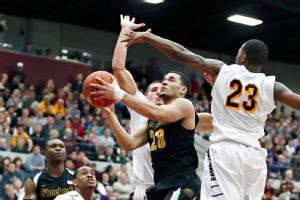 AP Photo/Charles Rex Arbogast Fred VanVleet scores despite pressure from Loyola of Chicago defenders.
VanVleet gave his pocket of supporters plenty to cheer about with 22 points, eight rebounds and six assists. He made all six of his shots, all 10 of his free throws and turned the ball over just once.
Darius Carter
, the sixth man against Loyola, keyed an underneath attack that helped Wichita State win the battle of the boards 41-24, as it broke the game open early in the second half after entering intermission with a seven-point lead.
"Actually that helps us some, because we come out, the crowd's booing us and stuff, and that motivates us to want to shut them up," Carter said. "We go out there and play harder when they do that, so I like when the crowd sells out."
Carter finished with 13 points and five rebounds, capping a day that began with him as the odd man out on a Sports Illustrated cover that was unveiled with the headline: "Go Ahead, Try To Jinx Us."
How did he get snubbed in favor of
Cleanthony Early
and
Chadrack Lufile
, two-thirds of what his coach calls his three-headed monster?
"We had to draw straws," Marshall said.
Luck and history are working against these Shockers now, the Orange falling to Boston College and the nation's attention falling on a program seeking unprecedented heights.
Well, almost unprecedented.
This team has been playing one-and-done ball for 10 months now, Marshall reasoned. Each plateau -- be it reaching double-digit wins or setting league milestones -- has brought on new accolades that his guys keep eating up.
"Unfortunately we lost that Louisville game," he said of last year's national semifinal. "We'd be playing for the national championship."
That's one blemish this run still hasn't allowed them to shake. Another surfaced late Wednesday when VanVleet eyed his box score.
"I think the turnover they gave me was a blocked shot," the point guard corrected at the podium.
Marshall's reaction -- "Recount!"-- suggests these Shockers will get over that one just fine.