College Basketball Nation:

Chaminade Silverswords
November, 21, 2012
11/21/12
9:53
PM ET
This wasn't exactly the ending No. 9 North Carolina expected when it arrived in Hawaii: playing Division II Chaminade in the third-place game of the Maui Invitational. But the Tar Heels made the most of it, dispatching the host Silverswords in short order,
112-70
.


Turning point:
Chaminade led 9-6 (on nine consecutive points from senior
DeAndre Haskins
) when the Tar Heels pulled away, for good, on a 14-0 run. The breakaway included four 3-pointers, including three from junior wing
Reggie Bullock
.
Why UNC won:
The Tar Heels led 20-9 just four minutes into the game, quite the contrast to the UNC team that managed only 18 points against Butler in the entire first half the night before. The Heels also went to the free throw line on their first possession (something they didn't do the entire first half Tuesday), were more aggressive around the basket (outscoring Chaminade 52-18 in the paint) and shot better than 62 percent for the game. The Silverswords might be a Division II team, but this time, UNC showed up ready to play, and to play hard.
Why Chaminade lost:
It was outmanned. The Silverswords were able to upset Texas on Monday thanks to a bevy of Longhorns turnovers (17, compared to 10 assists), poor Longhorns shooting (56.7 percent from the free throw line, 19 percent from the 3-point arc) and a fantastic 32-point effort from Haskins. Haskins -- despite wearing a wrap on his left knee in the second half -- was terrific again Wednesday, finishing with 22 points. But the Tar Heels made 61.9 percent of their free throws and 48.1 percent of their 3-pointers, and turned the ball over only nine times.
[+] Enlarge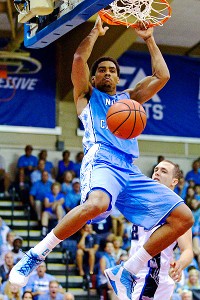 AP Photo/Eugene TannerJames Michael McAdoo slams home a pair of his team-high 18 points against Chaminade.
Star(s) of the game:
UNC sophomore forward
James Michael McAdoo
finished with a double-double (18 points, 10 rebounds), while teammates Bullock and
Leslie McDonald
chipped in 17 points apiece.
What it means for UNC:
A wake-up call. Blowing out Chaminade won't soothe the angst of UNC's Tuesday loss to Butler (during which it fell behind by as many as 29 points), nor should it. But coach Roy Williams can use this tournament as a learning experience for a team still trying to find its identity after losing four starters from last season's squad. After playing four games in six days, the Tar Heels head home for a short break, but they'll be tested again on the road soon -- in the form of top-ranked Indiana.
What it means for Chaminade:
The Silverswords, hosts of the tournament, fell to 7-78 since the event's inception in 1984. But they made some more lasting memories. It was their improbable win over Ralph Sampson's top-ranked Virginia team in 1982 that led to the creation of the tourney, and it was their improbable win over Texas in this year's opening round that showed again that Cinderella -- even the Division II version -- can make an appearance in November, too.
Other observations:
UNC freshman forward
Brice Johnson
got his first start of the season, in place of sophomore
Desmond Hubert
. He finished with a career-high 16 points. ... It marked the first time the Tar Heels reached triple digits since January.
What's next:
UNC will play at top-ranked Indiana on Tuesday in the ACC/Big Ten Challenge. Chaminade will play Dixie State College of Utah on Dec. 3.
November, 21, 2012
11/21/12
1:27
AM ET
LAHAINA, Hawaii -- Here are some observations from the second day of the EA Sports Maui Invitational.
After dominating Mississippi State on Monday, the North Carolina Tar Heels got a rude wake-up call versus Butler on Tuesday. On Monday evening I wrote: "North Carolina has much more talent, but the Bulldogs are scrappy and well-coached. The Tar Heels are more of a finesse team. The physicality of Butler could give the Heels problems." That's exactly what happened. North Carolina was outrebounded 36-27 and Butler beat them to just about every loose ball.

After the game, North Carolina head coach Roy Williams admitted that he had the better players, but Butler and coach Brad Stevens had the better, tougher team. "They were more physical, more assertive and more aggressive," Williams said. "They're really good. Brad's clubs are really intelligent. I like their toughness and their intelligence more than their talent, and I'm not trying to put down their talent. But I love their toughness and their intelligence."

UNC clearly has the talent, but does anyone on this team have the toughness the Heels needs to go deep?

Sixth man P.J. Hairston was, for the second night in a row, the best and toughest Tar Heel on the floor. It might be just a matter of time before Williams puts him in the starting lineup.

Most disappointing was forward James Michael McAdoo. In the tourney-opening blowout against Mississippi State, McAdoo was solid on offense, but had four mind-boggling turnovers, prompting Williams to comment after the game that "we can't throw the basketball around."

On Tuesday night, McAdoo had seven turnovers to go with his 10 points and five rebounds. Williams isn't the only one miffed by the performance of his big man.

Most of the NBA scouts and general managers in the audience savaged McAdoo for his performance the past two games. "He looks good in a basketball uniform," one GM told me. "But after that, I'm not sure what I'm supposed to like. He's a pretty good athlete, but he isn't very skilled and he doesn't go hard all the time. There's not one thing he does that really stands out about his game. He certainly hasn't played like a top-five pick."



[+] Enlarge

AP Photo/Eugene TannerUNC's James Michael McAdoo, here getting blocked by Butler's Andrew Smith, hasn't impressed NBA observers in Maui.

McAdoo is currently ranked No. 6 on our Big Board -- but could be in for a drop if he doesn't start picking it up.

Illinois continued its impressive run in the tournament with an 84-61 win over local underdogs Chaminade on Tuesday. The Illini got balanced scoring -- Brandon Paul scored 13 points, D.J. Richardson had 11 and Joseph Bertrand 14. The Illini are off to a 5-0 start, but they haven't really been tested yet. Butler should give them everything they can handle and will be the favorites to win it all after dominating North Carolina. But don't count out Illinois. The team is playing with a lot more aggressiveness and discipline under new head coach John Groce. It has a terrific backcourt in Richardson, Paul and Abrams and size up front.

A win in the tournament will be a huge boon to the Illini's confidence. They aren't in the same class as Big Ten elite teams such as Indiana, Ohio State, Michigan or Michigan State, but they, along with Wisconsin, Minnesota and Iowa, may be a very tough outs in the league. I won't be surprised if the Big Ten gets eight teams into the NCAA tournament this season.

A number of my tweeps laughed at me Monday when I said that NBA scouts were intrigued by Butler freshman Kellen Dunham. I don't think they are laughing anymore. Dunham bounced back from an awful game versus Marquette and really put the dagger in the Tar Heels in the second half. He ended the game with 17 points and was 5-for-9 from beyond the arc. He's still a little tentative and passed up a few open shots in the game, but his stroke is flat-out pure. Dunham isn't your average mid-major guard. He was ranked as a top-100 player by ESPN and was an NBA camp invitee. Dunham isn't a one-and-done prospect, but as he continues to get stronger and more confident, he could have a future in the pros after his junior or senior years of college.

The Texas debacle continued Tuesday with a 59-53 overtime loss to USC. The good news? The Longhorns didn't get blown out this time and played with more urgency. The bad news? Offensively this team is just a mess. When (or is it if?) the Longhorns get Myck Kabongo back, they'll be better. But I don't think he has the talent alone to turn things around. There just isn't a lot of talent around Kabongo. Sophomore Sheldon McClellan has struggled in Maui, going just 8-for-25 from the field and 1-for-11 from 3. Freshman big man Cameron Ridley was ranked as the eighth-best prospect in the country by ESPN, but he's looked out of shape and overwhelmed in the early going.It could be a long year, Texas fans.

Marquette fans, meanwhile, are hoping they have found a go-to scorer in junior Vander Blue. For the second consecutive game, Blue led the team in scoring with 18 points and three assists versus Mississippi State. Blue has always had the talent, but he has struggled with consistency and aggressiveness in the past. What's different this year? "I'm just playing with a free mind and just playing off my teammates," Blue said. "Junior [Cadougan] is a great guy, and everybody's going to double Davante [Gardner], so that pretty much leaves me open for shots. So I feel like if I'm making those shots, our team is a much better team. I'm not trying to do nothing that we don't do every day in practice." Blue's versatility, toughness athleticism and defense all intrigue NBA scouts. If he can show some offensive prowess as well, he could be a second-round pick.

There was a moment in time when USC big man Dewayne Dedmon was considered a potential NBA prospect. That time has probably passed. Dedmon has the size and athletic ability to be a pro. But he has no feel for the game. That's always a problem, but it's an even bigger problem when you're already 23 years old. Dedmon had 8 points, 8 rebounds and 3 blocks against Texas but was just 3-for-11 from the field.

Butler will face Illinois in the EA Sports Maui Invitational Final on Wednesday at 10 p.m. ET on ESPN. North Carolina will play Chaminade in the consolation game at 7:30 p.m ET on ESPN2.
November, 20, 2012
11/20/12
2:56
AM ET
LAHAINA, Hawaii -- Here are some observations from the first day of the EA Sports Maui Invitational:
This is clearly a down season for talent at the Maui Invitational. The names on the front of the jerseys are all impressive -- North Carolina, Texas, Illinois, USC, Marquette, Butler, Mississippi State -- but every single program, with the possible exception of UNC, is having a down season.The USC and Mississippi State programs are in shambles. Both teams aren't even close to being competitive against a solid D-1 team.

Texas, after being blown out by Chaminade, doesn't look much better. Yes, they were missing point guard Myck Kabongo, but even with Kabongo the Longhorns have major issues. Chaminade shot just 37 percent from the field for the game and it still won by 13.

Illinois dominated USC, but it's hard to tell whether Illinois is actually playing better under new head coach John Groce or whether USC is just that bad.

Marquette and Butler played the most entertaining game of the day, but it was marred with fouls, poor shooting and mistakes. Neither team boasts an elite player on its squad.

As for North Carolina -- yes it blew out Mississippi State -- but as far as NBA talent goes, the Tar Heels are having a down season too. After forward James Michael McAdoo, it's unclear whether they have another first-round draft prospect on their roster.

Nevertheless, if UNC doesn't roll through this field, it will be a major upset.
Tomorrow's best game should be Butler versus North Carolina at 8 p.m. ET on ESPN. North Carolina has much more talent, but the Bulldogs are scrappy and well coached. The Tar Heels are more of a finesse team. The physicality of Butler could give the Heels problems.The rest of the field looks like a wash. Marquette should roll over Mississippi State. Texas versus USC will be interesting only if the NCAA somehow clears Kabongo.

Illinois will be the heavy favorites to beat Chaminade in the finale at 10:30 p.m. ET on ESPN2. Yes, the Silverswords just knocked off the Longhorns, but they didn't play particularly well. The Illini should roll.
A number of NBA GMs -- including the Celtics' Danny Ainge, the Jazz's Kevin O'Connor, Bulls' Gar Forman, the Warriors Bob Myers and the Blazers Neil Olshey -- were in attendance. Overall, they are seeing the same phenomenon here that they are seeing everywhere. This is a down season, talent wise, in the NCAA. "If Cody Zeller, Shabazz Muhammad, Nerlens Noel and James McAdoo are your top four picks, it's going to be an ugly, ugly draft."

Other than McAdoo, I couldn't find a scout or GM convinced there was another first-round prospect here. If Kabongo plays, that could be two. But that explains, in part, why the field is so weak.
There were some good performances by top prospects on Monday. Perhaps the best was Illinois' Brandon Paul. Scouts have loved Paul's combination of elite athletic ability and scoring prowess for years. However, they've been puzzled by his inconsistency. He had a 43-point game against Ohio State last season. But there have been plenty of others in which he completely disappeared.

He seems to be more settled and more consistent under his new head coach. He was averaging nearly 20 points a game coming into the tournament and scored 26 points and shot 6-for-9 from 3-point territory on Monday night in Illinois' win.

UNC's Reggie Bullock was on fire against MSU. He had 16 points in 22 minutes and was 4-for-5 from beyond the arc.

As I detailed in my Rapid Reaction to the Butler-Marquette game, Vander Blue and Khyle Marshall also had terrific games on Monday night.
There are many NBA scouts who believe both P.J. Hairston and Leslie McDonald could start on most high major NCAA teams and they probably would average 16-20 points. Once the game quickly got out of hand, Roy Williams turned to both of them and both delivered. The two combined for 39 points and shot 10-for-17 from behind the 3-point line.
UNC has a number of talented freshmen: Joel James, Brice Johnson and J.P. Tokoto. All three got plenty of playing time on Monday. Of the three, it was James who shined on Monday. He was a significant defensive presence for the Tar Heels. He's still trying to get a feel for the game and could still probably lose another 10 to 15 pounds, but his seven rebounds and two blocked shots, combined with just a general toughness in the middle gave NBA scouts an encouraging glimpse into his future if he continues to develop.
The most memorable moment of the day was Rotnei Clarke's buzzer-beating heave to defeat Marquette. Here's how both Clarke and Marquette coach Buzz Williams described the moment.

Williams: "He shot it off one foot from behind his head from 40 feet. It was contested. As soon as the ball left his hand, I knew it was a basket. The trajectory and everything was perfect."

Clarke: "It was just kind of a scramble play. I was dribbling around, and I almost thought about flipping it to Roosevelt Jones, who was going down the lane line just to have him drive and make a play, [but] ended up keeping it, and got through and got around a couple of guys, and just let it up there, and luckily it went in."
November, 19, 2012
11/19/12
9:00
AM ET
This year marks the 30th anniversary of the game that tiny Chaminade (then an NAIA school) upset Ralph Sampson's top-ranked Virginia team on Dec. 23, 1982 -- leading to the creation of the Maui Classic (now EA Sports Maui Invitational). Because there are plenty of teams in the field with plenty of question marks and plenty to prove, there may be plenty of room for an upset or two this season.
The basics:
Nov. 19-21 at Lahaina Civic Center in Maui, Hawaii
The set matchups:
Monday -- Butler vs. Marquette, 3:30 p.m. ET; Mississippi State vs. UNC, 6 p.m.; Texas vs. Chaminade, 9:30 p.m.; USC vs. Illinois, midnight. (Consolation games and semifinals on Tuesday; consolation games and championship game Wednesday.)
The favorite:
North Carolina.
Although the 11th-ranked Tar Heels are still getting their bearings after losing four starters from last season's Elite Eight team, they've got some talented pieces to meld together, beginning with sophomore forward
James Michael McAdoo
and junior wing
Reggie Bullock
. This three-day tournament will be an important test, though, for UNC's ballhandling (freshman
Marcus Paige
is the starter), scoring (it has struggled in stretches) and confidence. If any falter, so could the Heels.
FIVE PLAYERS TO WATCH
Javan Felix, Texas
-- With
Myck Kabongo
sidelined (see below), the point guard is one of three freshmen to start for the Longhorns. He's struggled with his shooting over two games (5-for-18), but even more worrisome is that he's struggled to hold on to the ball. He recorded 11 turnovers to go with 10 assists in wins over Coppin State and Fresno State, and he'll need to be more efficient this week.
Trent Lockett, Marquette
-- The former Arizona State forward transferred to be closer to his ill mother and adds a scoring threat to a team that lost last season's leading scorers, Darius Johnson-Odom and Jae Crowder. After averaging 13 points and 5.8 rebounds for the Sun Devils last season, he's averaged 7.5 points and 4.5 rebounds this season.
[+] Enlarge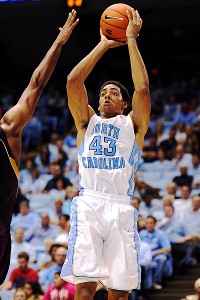 Cal Sport Media via AP ImagesJames Michael McAdoo has been the leading scorer and rebounder for the Tar Heels in each of their games so far.
James Michael McAdoo, UNC
-- Everyone wondered whether the sophomore could consistently pick up where he left off in March -- and he has. The forward has been both confident and focused, and is leading the Tar Heels with 21.3 points and 11 rebounds per game over their first three wins. With his team's inexperience in the post, he'll need to continue to come up big for UNC to be successful.
Omar Oraby, USC
-- The 7-foot-2, 260-pound transfer from Rice was granted an NCAA hardship waiver to play this season just before the regular-season opener, and he has taken advantage of the opportunity. He averaged 10.5 points, 6.5 rebounds and 1.5 blocks off the bench in the Trojans' two wins and should be a physical post challenge for foes in this tournament.
D.J. Richardson, Illinois
-- The senior guard capped a 16-point rally with a buzzer-beating 3-pointer in overtime to top Hawaii 78-77 in the wee hours of Saturday morning. You might not have seen the play, considering the late timing. But the team's leading rebounder (5.7 per game) and third-leading scorer (11.0) needs to keep coming up big for the Illini to stay in the winner's bracket.
FIVE BIG QUESTIONS
Will Myck Kabongo do anything more than watch?
Texas' sophomore point guard was allowed to travel with the team to Hawaii, but he has not been cleared to play as the NCAA continues to investigate him for possibly receiving impermissible benefits during the offseason. His status could be a difference-maker in this tournament.
Will Butler start connecting from the outside?
Arkansas transfer
Rotnei Clarke
and freshman
Kellen Dunham
were supposed to help fix Butler's outside shooting woes from a year ago, when the Bulldogs shot worse than 30 percent from beyond the 3-point arc. But the duo are a combined 10-for-28 in two games (including 2-for-10 in a 15-point loss to Xavier) on 3-pointers, and the Bulldogs are shooting only 31 percent from long distance.
Can Mississippi State stay healthy?
It needs to, because the Bulldogs have only six healthy scholarship players with which to play three games in three days. Junior guard
Jalen Steele
, who recorded 16 points in MSU's season-opening loss, broke his wrist in the team's win over Florida Atlantic. The Bulldogs also suspended forward
Colin Borchert
last week for violating team rules, and freshmen
Jacoby Davis
and DeAndre Applewhite are also out for the season with knee injuries.
Can UNC keep its shooting sharp?
The Tar Heels, who need outside shooting to be a strength, finally started hitting from the outside during Friday night's win at Long Beach State, making 10 of 27 3-pointers, including six during a pivotal 23-7 second-half run. That was after beginning the season by making only a combined 7 of 27 3-point shots in their first two games. Wings Reggie Bullock,
P.J. Hairston
and
Leslie McDonald
need to keep connecting.
Will Chaminade pull another upset?
Probably not. But on the 30th anniversary, it's fun to wonder whether the now-Division II school could do it again ....
THE PICKS
Opening games: Marquette over Butler, UNC over Mississippi State, Texas over Chaminade, Illinois over USC
Semifinals: UNC over Marquette, Texas over Illinois
Championship game: UNC over Texas
July, 26, 2012
7/26/12
12:01
PM ET
Tournament bracket
for the EA SPORTS Maui Invitational
When and where:
Nov. 19-21 at Lahaina Civic Center in Maui, Hawaii
Initial thoughts:
This year marks the 30th anniversary of what many consider the greatest upset in college basketball history -- when tiny Chaminade, then an NAIA school, upset Ralph Sampson's top-ranked Virginia team on Dec. 23, 1982. The stunning upset (in what was supposed to be an easy stopover game for the Cavaliers, on their way home from Tokyo) spurred creation of the Maui Classic, now known as the EA Sports Maui Invitational. Chaminade, now a Division II school, still serves as host, and it will be interesting to see if there is a surprise or two this season. After all, North Carolina will still be rejiggering its lineup after losing four starters to the NBA draft; Texas has to figure out how to replace J'Covan Brown's 20.1 ppg; and Marquette will still be looking to see which members of last season's supporting cast will step up and stand out without
Jae Crowder
and
Darius Johnson-Odom
.
[+] Enlarge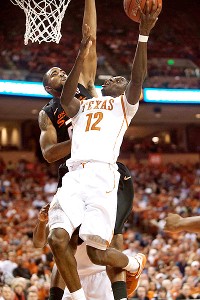 Brendan Maloney/US PresswireSophomore point guard Myck Kabongo will direct a talented group of freshmen at Texas.
Meanwhile, Illinois (John Groce) and Mississippi State (Rick Ray) will be breaking in new coaches; USC's Kevin O'Neill will be melding a passel of new players (including a couple of transfers and a couple of guys sidelined by injuries last season); and Butler will be trying to prove it can shoot the ball a whole lot better than 2011-12 (28 percent on 3-pointers). Chaminade, by the way, holds an all-time record of 6-76 in this tournament.
Matchup I can't wait to see:
Illinois-USC could be interesting just because everything is so new. After losing 12 of its final 14 games, Illinois fired Bruce Weber and replaced him with Groce, who led Ohio to the Sweet 16 in March. USC is also coming off a bad season, having won only one conference game. But a couple of transfers from Wake Forest (Ari Stewart and
J.T. Terrell
) and a high-scoring forward from UC Irvine (Eric Wise), plus the return of point guard
Jio Fontan
and center Dewayne Dedmon from knee injuries, have folks wondering if the Trojans can bounce back all the way to March.
Potential matchup I'd like to see:
UNC-Texas. Granted, these two are scheduled to play in Austin on Dec. 19, but why not a preview in paradise? The title game would feature a bunch of rookie big men --
Joel James
and
Brice Johnson
for UNC;
Cameron Ridley
,
Prince Ibeh
and
Connor Lammert
for Texas -- with a chance to make a big impact.
Five players to watch
Vander Blue, Marquette:
It's hard to get a whole lot of attention when you're in a starting lineup with guys like Jae Crowder and Darius Johnson-Odom. But now that they've gone to the NBA, the Golden Eagles need the junior to improve upon his 8.4 points and 4.4 rebounds from last season.
Rotnei Clarke, Butler:
The Bulldogs are hoping the senior guard -- who sat out last season per NCAA transfer rules -- will add some accuracy from outside. He averaged 15.2 points and made 43.8 percent of his 3-pointers during his junior season at Arkansas before opting out. Butler made fewer than 30 percent of its 3-point shots last season.
Myck Kabongo, Texas:
The Longhorns bring in a deep recruiting class, led by heralded center Cameron Ridley. But they'll need Kabongo, a sophomore point guard, to get him the ball. And to be a strong leader to the newbies.
Marcus Paige, North Carolina:
Whether the freshman point guard begins the season as a starter probably depends on how well senior
Dexter Strickland
has recuperated from February ACL surgery. Either way, the Iowa product (who also had foot surgery during the offseason) will be counted on to contribute quickly. And a lot.
J.T. Terrell, USC:
Trojans coach Kevin O'Neill is excited about the addition of Terrell, and the 6-3 guard will get a chance to show why. He averaged 11.1 points and 1.6 assists at Wake Forest in 2010-11, but played at Peninsula College in Washington last season. Terrell withdrew from Wake after he was arrested last September and charged with driving while impaired.
Title-game prediction
North Carolina over Texas. The Tar Heels preceded their last two national championships by winning the Maui Invitational. And although they don't have that caliber of a team this season, they do have some talented returning veterans (Dexter Strickland,
Leslie McDonald
,
Reggie Bullock
) already out to prove they are being overlooked.
Who others are picking:
Eamonn Brennan:
Butler over Texas
Andy Katz:
North Carolina over Texas
Jason King:
North Carolina over Texas
Myron Medcalf:
North Carolina over Texas
Dana O'Neil:
North Carolina over Texas
November, 23, 2011
11/23/11
4:56
PM ET
Overview
: One day after scoring 32 points and grabbing 20 rebounds in a double-overtime loss to Memphis,
Jeronne Maymon
played just two minutes in Wednesday's Maui Invitational seventh-place game against Chaminade. Not that it mattered. Tennessee didn't need him in its 86-60 victory.
Jordan McRae
had 25 points and five steals and
Trae Golden
added seven assists to ensure the Volunteers left Maui with a win.

Turning point
: This one was over before I finished my ham sandwich. Tennessee opened the game on a 14-2 run -- which included a pair of 3s by McRae -- and never looked back. It was encouraging to see the Vols so juiced for the game following Tuesday's heartbreaker to rival Memphis.
Why Tennessee won
: Besides simply being bigger, better and more athletic, UT was almost unstoppable from 3-point range. The Vols scored 45 points from beyond the arc, where they connected on 15 of 27 attempts. This just two days after not connecting on any against Duke. The most prolific snipers were McRae and Golden, who combined to make nine of their 11 3s. At one point, ESPN cameras listened in as an exasperated Chaminade coach Eric Bovaird addressed his team in the huddle. "I can't believe they're shooting that well," he said. "Those 3s ... they're making, like, 80 percent of them."
Why Chaminade lost
: The Silverswords couldn't find the spark they had in the first half of Monday's loss to UCLA, when they trailed by just two points. Chaminade shot just 34.9 percent from the field and only made 26.3 percent of its 3s.
Matt Cousins
(17 points) and
Bennie Murray
(13) led four Silverswords in double figures.
Star of the game
: The easy choice is McRae. The 6-foot-5 sophomore made nine of his 11 shots, including a 5-of-7 performance from 3-point range, and was also a pest on the defensive end with five steals. McRae's performance was huge considering the absence of Maymon, who missed most of the game because of a bruised calf. Tennessee coach Cuonzo Martin said he expects Maymon to be back on the court for Monday's game at Oakland.
More observations
: Martin may not be facing as big of a rebuilding job as some people initially believed. Tennessee turned in a pair of strong performances in losses to Duke and Memphis before dominating Wednesday's game against Chaminade. This team has some nice pieces with McRae, Golden, Maymon and
Cameron Tatum
. Don't be surprised if the Vols are on the NCAA tournament bubble in March. "They're competitive guys," Martin said. "They have a true passion for each other. They want to be successful."
What's next
: The Vols play at Oakland on Monday before hosting Big East stalwart Pittsburgh on Dec. 3. Interestingly enough, Tennessee whipped Pitt on the road last season, yet lost to Oakland at home.
November, 23, 2011
11/23/11
1:48
PM ET
Well, this is it: The final day of the 2011 Maui Invitational. It's sad, I know, but we'll get through it together. The good news, of course, is there are still some really good games at the Lahaina Civic Center, including the tournament's dream final between Kansas and Duke.
We'll get to that one in a separate post -- it deserves that much. In the meantime, though, here's a glance at the three consolation affairs that will precede it. To the rundown:


Michigan vs. UCLA, 7:30 p.m. ET (ESPN/ESPN3)
: If UCLA was any other program -- and not, you know,
UCLA
-- Bruins fans could come out of Tuesday night feeling downright encouraged. Ben Howland's team has had much-publicized issues off the court, issues eclipsed only by his team's play on it. But UCLA looked, dare I say it, inspired in the second half against Kansas.
The Bruins appeared to be well on their way to a rout at the hands of KU, but they fought back in the second half, cutting the Jayhawks' lead from 17 to five with eight minutes remaining. UCLA couldn't keep the pace -- they scored all of four points in those final eight minutes -- but the simple fact that they didn't go away should be worth at least some measure of positivity.
The last chance for the Bruins to get out of Maui with a truly positive result comes Wednesday against Michigan. It promises to be an uphill battle. The Wolverines, like Georgetown and Tennessee (and Duke and Kansas, for that matter), appear to be weeks ahead in the vital areas of cohesion, intelligence and overall competency. UCLA still has miles to go in this department. As Memphis learned Monday, beating Michigan requires offensive precision, particularly from the guards; you have to move the ball quickly and accurately -- and you have to shoot it well -- to score against Beilein's coterie of zones.


Memphis vs. Georgetown, 5 p.m. ET (ESPN2/ESPN3)
: On Tuesday, Memphis coach Josh Pastner
asserted how happy he was
that his team was being tested early (and that his team's nonconference schedule would receive the commensurate boost in profile). That trend continues Wednesday. Like Tennessee, Georgetown has exceeded expectations in Maui, playing Kansas to a quality four-point loss before dropping Chaminade with ease in the consolation bracket. By the time the NCAA selection committee starts comparing resumés in March, wins over Georgetown and Tennessee could be plenty handy.
Of course, Memphis has to beat the Hoyas first, and that will hardly be easy. Georgetown appears to be ahead of schedule at this point in the season, and presents some specific challenges to this Tigers team. Memphis is at its best against man-to-man defense, when it can use its collective quickness and sprawling talent to get easy looks for
Will Barton
et al inside of 15 feet. But against Michigan coach John Beilein's tricky amorphous zones, the Tigers struggled. They settled for too many long-distance shots (20 3-point field goal attempts) and made too few (four). Too often, Michigan forced Memphis to play "east and west," as Pastner put it; like Tampa Bay Bucs RB LeGarrette Blount, this Memphis team is at its best when it attacks in a northerly direction.
But offense could be the least of Memphis' worries. On defense, it'll face a surprisingly precise Georgetown attack, a team that already understands the nuances of coach John Thompson III's Princeton offense and uses it to generate easy looks for sharpshooting guard
Jason Clark
and versatile forward
Hollis Thompson
. Memphis will have much to contend with here. Adding another early-season quality win won't come easy. But it should be fascinating to watch.

Tennessee vs. Chaminade, 2:30 p.m. ET (ESPNU/ESPN3)
: It's a bit of a shame Tennessee won't come away from Maui with a quality win, because the Volunteers played very well -- much better than anyone expected coming in -- in losses to Duke and Memphis. Alas, they'll have to settle for what should be a comparatively relaxing and straightforward victory over Chaminade. The Silverswords are scrappy, and they kept a disorganized UCLA team in check for a half, but Georgetown had no issues dispatching them with ease Tuesday.
If there's any particular reason to get excited for this one, it lies in the possibilities for
Jeronne Maymon
's final line. The UT forward tore Memphis to the tune of 32 points and 20 rebounds -- the first 30-point, 20-rebound game by a power-six player since Blake Griffin in 2009 -- and that was against a team with loads of athleticism and length. Provided Maymon isn't exhausted from the double-OT thriller, his line could again reach Griffinian levels.
November, 22, 2011
11/22/11
7:35
PM ET
Overview
: Perhaps the only concern for Georgetown here was whether it could avoid a letdown after Monday night's hard-fought loss to Kansas. Never mind all that. The
Hoyas' 88-61 win over Chaminade
was a straightforward affair, one John Thompson III's team comprehensively controlled.

Turning point
: Chaminade did manage to keep things close in the early goings, but Georgetown forwards
Hollis Thompson
and
Otto Porter
hit back-to-back 3s at the 13-minute mark, followed by another Thompson jumper, and the Hoyas' 21-13 advantage became a springboard to the gradual expansion of their healthy lead. By halftime, Chaminade's deficit was 45-33, and that was pretty much that.
Why Georgetown won
: The Hoyas are way better than Chaminade. That sounds a little simplistic, but really, there are no brilliant insights to be had here. The Hoyas scored early and often, using their size and Princeton system to get easy buckets against the undersized Silverswords, and dominated on the glass when the shots didn't fall.
Why Chaminade lost
: A distinct lack of easy shots. The Hoyas' length and active defense -- which gave Kansas all it could handle just 24 hours prior -- made everything difficult for Chaminade, which shot just 43.4 percent from the floor and 34.8 percent from 3.
Star of the game
:
Jason Clark
. This one isn't even close; just check out Clark's line. The Hoyas guard finished with 28 points on 10-of-12 from the field and 6-of-7 from 3, and he added five rebounds and an assist. Even more impressive? Clark played only 24 minutes. He was
feeling
it.
More observations
: JTII appears to have a very promising player in freshman Otto Porter. Porter shone throughout the Kansas tilt, and he was great again Tuesday: 5-for-8 from the field, 6-for-6 from the line, 17 points, seven rebounds. It's still early, but this Georgetown team looks better than anyone expected. Porter is a big reason why.
What's next
: Georgetown's win sets up a rather fantastic final-day consolation bracket matchup with Memphis, which survived a 99-97 double-overtime thriller just before the Hoyas took the floor Tuesday. That game has it all: two young and improving teams, athleticism all over the court, a distinctive clash in styles, all of it. It will be fascinating to see how Memphis handles Georgetown's Princeton offense and zone defenses, which are not totally dissimilar from what Michigan used to frustrate the Tigers on Monday afternoon.
The going won't get any easier for Chaminade, which will face Tennessee -- along with Georgetown, the tournament's surprisingly impressive squad -- in the seventh-place game Wednesday.
November, 22, 2011
11/22/11
11:00
AM ET
Hopefully you're not the kind of person with a "job" or "responsibilities," because (A) total buzzkill, dude, and (B) either probably disqualified you from staying up until the wee hours to see Kansas and Georgetown finish off a rowdy first day of basketball in Maui on Monday/Tuesday. You missed a great game. I hate to tell you that, but it's true.
The good news? That was only Day 1 (our blog coverage of which can be found
here
). The second day of the Maui Invitational -- which features semifinals in both the winner's and consolation sides of the bracket -- should offer just as much in the way of quality hoops. Let's run through some previews before things tip off at 2 p.m. ET this afternoon. (Here's
the bracket for your reference
.)


Memphis vs. Tennessee, 2 p.m. ET (ESPN2/ESPN3)
: Memphis probably did not expect to be a part of the consolation bracket in this tournament, and it almost certainly did not expect to find itself here as the result of a convincing, comprehensive performance by the
Michigan Wolverines
. John Beilein's team was better in nearly every way Monday: It was light years more efficient on offense, it was significantly more solid on defense, and Beilein's performance itself was a clinic: His mix of 2-3 and 1-3-1 zone looks out of timeouts confused the Tigers throughout the game, and Memphis never adjusted.
Things may get slightly simpler against Tennessee, but not by much. The Volunteers have already taken on the tough personality of new coach Cuonzo Martin, a personality they displayed in a rugged performance against Duke's talented perimeter offensive attack. But Memphis should have the advantage here: Tennessee is just as raw as the Tigers but certainly less talented, and if Memphis rebounds well and gets the ball to point guard
Joe Jackson
in space, the Tigers should be able to score easy points in transition. All the talk about Memphis being overrated is beside the point now; Josh Pastner's team (and coaching staff) have much more pressing concerns at hand. First among them is bouncing back from Monday's disappointment. What better way to do so than a win against a hated rival?

Georgetown vs. Chaminade, 4:30 p.m. ET (ESPN2/ESPN3)
: If Georgetown plays half as well as it did on Monday night, it will have no problem dismantling a scrappy but overmatched Chaminade team. (UCLA did so with ease in the second half, and the Bruins never looked remotely as impressive as the Hoyas.) There's a lot to like about these Hoyas already. Just three games into the season, John Thompson III has his team schooled in the nuances of the Princeton offense.
Former role player
Hollis Thompson
appears to have taken a leadership role on both sides of the ball; senior guard
Jason Clark
is a constant threat from beyond the arc; center
Henry Sims
is an excellent passer out of the high-low pivot; and freshman
Otto Porter
appears to have a very bright immediate future in D.C. The Hoyas simply have to make shots. They went 40 percent from the field and 29.2 percent from beyond the arc against Kansas. If they can avoid a letdown, expect the makes to come much more easily against the Silverswords.


Michigan vs. Duke, 7 p.m. ET (ESPN/ESPN3)
: To borrow a phrase from the English football punditry, this one promises to be an absolute cracker. There are storylines galore. Among them is the long-term animus between these two programs (which was riled up by the Jalen Rose "Uncle Tom" controversy, and punctuated
by Grant Hill's devastating New York Times editorial
, in March); Michigan's desire to avenge last year's near-upset in the NCAA tournament; the battle of wits between two technically brilliant coaches; the emergence of Michigan (and its surprisingly successful freshman point
Trey Burke
) as a plausible Big Ten contender; the continued development of a young Duke team; and, in particular, in the decision-making of star freshman
Austin Rivers
-- just to name a few.
Most of that will fade once these teams hit the court, of course, and what we'll get then should be wholly entertaining. Both teams are at their best when they're finding spot-up shooters for open 3s. Duke has
Seth Curry
,
Andre Dawkins
and
Ryan Kelly
; Michigan has
Tim Hardaway Jr
.,
Stu Douglass
,
Evan Smotrycz
and
Zack Novak
, among others. The difference in this game may be the interior presence of Mason and
Miles Plumlee
; other than big man
Jordan Morgan
, it's not clear that Michigan has the big men to keep the Plumlees off the glass on a consistent basis.
In the meantime, watch that matchup at the guard spot, where two freshmen -- Rivers and Burke -- will be battling each other all evening. Rivers' talent remains a tantalizing prospect. Once he becomes intuitive in his on-ball decision-making and tougher in his finishing around the rim, this Duke offense is going to be a nightmare to guard.


UCLA vs. Kansas, 9:30 p.m. ET (ESPN/ESPN3)
: How's this for a lowercase-f final four: Michigan and Duke on one side, UCLA and Kansas on the other. It's a high-major brand-name fiesta. Not bad, right?
In any case, this game might not quite live up to these teams' mutual histories, if only because Kansas appears to be light years ahead of UCLA right now. The Jayhawks' win over Georgetown on Monday was impressive: Bill Self's team is cohesive on defense and intelligent on offense, and while there are plenty of warts to zap at this stage of any season, Kansas has to be thrilled with the improvements it showcased between last week's double-digit loss to Kentucky and Monday night's hard-nosed win over a very game Hoyas team.
UCLA should take some measure of confidence out of its blowout of Chaminade for a couple of reasons: One, after two brutal losses to Loyola Marymount and Middle Tennessee State to begin the season, a win is a win is a win. But more importantly, the Bruins shot the ball well in the second half -- something they'd yet to do at any point this season -- and they got very capable guard play from
Lazeric Jones
,
Tyler Lamb
and
Jerime Anderson
, who combined for 52 points, 15 rebounds and 12 assists. Meanwhile,
Reeves Nelson
is back with the time, and though he didn't impact the game much Monday, he at least looked engaged. That's a start.
This UCLA team will almost certainly get better as the season goes on. But right now, it's still in the larval stage. Center Josh Smith is still in offseason shape (in other words, he can't play for large stretches of time without needing a breather on the bench) and that's hardly the man you want to see matched up with the athletic whirlwind that is Jayhawks forward
Thomas Robinson
. Combine Robinson's likely interior dominance with the overhaul intelligence and competence of KU's guards, and, well, yeah: It would somewhat shocking to me to see UCLA give Kansas too many problems Monday night.
That said, even if this game gets lopsided, don't turn it off. Why? Because if you missed Monday night's finale, you missed five ferocious Robinson dunks. The guy is must-see TV (and if you're a basketball junkie, you'll fawn at the passes Kansas makes to get him the ball in alley-oop-worthy positions). Anyway, you've been warned. Don't make the same mistake twice.
November, 22, 2011
11/22/11
12:13
AM ET
Overview
: For an entire half, it looked like the debacle would continue. Chaminade played UCLA to a draw in the first, and the Bruins looked every bit as disjointed and disorganized as they had in losses to Loyola Marymount and Middle Tennessee State. But the Bruins recovered nicely in the second half, asserting their superiority and dominating the Silverswords
92-60
.

Turning point:
Chaminade was at its best in the first half when it got easy shots on UCLA's porous defense. In the first five minutes of the second half, the Silverswords started settling for contested 3-pointers.
Dominique Cooks
,
Bennie Murray
and
Waly Coulibaly
missed a spate of shots from beyond the arc during this stretch, and they picked a bad time to do so. UCLA's previously dormant outside shooters --
Tyler Lamb
and
Jerime Anderson
-- dropped back-to-back 3s, and by the 15-minute mark, the Bruins had opened a healthy 54-43 lead. The game was never close again.
Why UCLA won
: The Bruins made shots. It sounds silly, but it's really that simple.
Lazeric Jones
was 3-for-20 in his first two games. He was 8-of-18 Monday night. Lamb was 6-of-11 from the field, and Anderson was 6-for-8 (including a 4-of-6 clip from 3) and scored 18 points. The common read on UCLA is good frontcourt, questionable backcourt; if the Bruins can simplify their offense and take (and make) good shots, they'll be in much better offensive shape going forward.
Why Chaminade lost
: Give the Silverswords some credit; they were certainly up for their unlikely task. It couldn't have hurt their confidence to know how deeply this UCLA team was struggling upon their arrival in Maui, of course. Even so, one program is a Division II outfit based in Hawaii, the other is one of the most renowned brand names in all of sports. UCLA was far from perfect here, but they had more than enough pure size and talent to wear Chaminade down once the Silverswords started pressing and forcing in the second half.
Star of the game
: Anderson. He didn't just provide perimeter scoring, which UCLA desperately needs, he did so efficiently. UCLA needs to improve in a variety of ways, but intelligent, efficient backcourt play might be the most important.
What it means
: I could go either way on this. The first school of thought probably says hey, you know what? It's a win. If you're Ben Howland, you're just happy to see your team put the finishing touches on a clearly inferior opponent. Maybe it builds some much-needed confidence. Maybe it engenders some much-needed cohesion. The other school of thought is that UCLA never
really
looked good here; despite the win, there are still deep improvements needed in Westwood, both tangible and otherwise. We'll see.
More observations
: Much of the attention Monday night focused on UCLA forward
Reeves Nelson
, who most recently added "missing the plane to Hawaii" alongside "screaming at his coach during a film session," "missing a practice," and "actively sulking on the sidelines" to his list of questionable recent antics. Howland kept Nelson out for the first half of the game as "punishment," waiting to check Nelson in a few minutes into the second. It would be tempting to see UCLA's second-half surge as a function of Nelson's presence, but really, his impact was minimal: one point, five rebounds, 0-for-2 from the field. The good news? Nelson high-fived his teammates when he came off the floor. Baby steps.
Speaking of UCLA forwards, big-bodied forward
Joshua Smith
is still clearly out of shape. Toward the end of the game, Smith looked actively disinterested; he blocked a shot but failed to run up the court, and when a timeout was eventually (and mercifully) called, Smith moved as quickly to get to the bench as he had on the floor all night. It's unfortunate to see Smith still needs to work on his body, because the former McDonald's All-American (please, no jokes) has the feet and hands of a player with serious NBA potential. At some point, he's going to have to get in shape. If he doesn't, UCLA's ceiling is that much more limited.
What's next
: The Bruins will get a much better test of how much they've improved this week when they play the winner of Georgetown-Kansas at 9:30 ET Tuesday night. Whatever happens, it should be interesting. That's the early theme of this UCLA season, anyway.
November, 21, 2011
11/21/11
12:36
PM ET
The Maui Invitational begins today and wraps up Wednesday, just in time for you to spend the night before Thanksgiving talking to that awkward high school friend you haven't seen in five years. ('Tis the reason for the Thanksgiving season. Well, that and the Maui.)
Earlier, we broke down the first four teams in the bracket, which you can
read here
. Now it's time to take a look, including respective best- and worst-case scenarios, for the four teams set to tip off this evening. Want to refer to a bracket?
Here you go
. To the rundown, part deux:
UCLA Bruins

Their story
: UCLA fans can feel free to skip this portion of the preview; that's how ugly the Bruins' story has been thus far this season. The preseason favorite to win the Pac-12, UCLA opened with an 11-point loss to Loyola Marymount, followed by -- get this -- a 20-point loss to Middle Tennessee. Even worse, both losses came at home (or UCLA's temporary version of a home, the LA Sports Arena, which is filling in for the Pauley Pavilion while it undergoes renovations this season). In the meantime, coach Ben Howland suspended forward
Reeves Nelson
, UCLA's most productive and most unpredictable player, after he sulked through much of the loss to LMU. After the Bruins suffered the MTSU debacle -- and after Nelson tweeted "WOW" from the comfort of his couch -- Howland quickly reinstated his power forward.
Naturally, the episode and the losses that sandwiched it raise serious doubts about this talented but disjointed team. Can Nelson get his act together? Does his attitude, the early play of the Wear twins, and the need to get big minutes for emerging sophomore
Joshua Smith
mean this frontcourt is simply too crowded to work? What about that backcourt? Can UCLA turn this season around before things snowball and Howland suffers a disastrous repeat of the 2010 train wreck? Now's the time to find out.
Player to watch
:
Tyler Lamb
. I was going to point to Nelson, and you would have definitely wanted to keep an eye on him, all the better to watch for apathetic shoulder shrugs, teammates' ignored high-fives and a variety of other similarly corrosive behaviors. Alas, Nelson -- if you can believe this -- missed the bus to
the airport with his team and had to catch a later flight to Hawaii
. But even if Nelson is absent, the frontcourt is in decent shape. The backcourt, however, is this team's real weakness. The Bruins lost Malcolm Lee and Tyler Honeycutt to the NBA draft this summer, leaving Howland with much less experience, depth, length and defensive solidity at the point of attack. Lamb was just a freshman last season, and he's still finding his way, but any emergence from him, even as a solid-but-unspectacular game manager, would be a boon to UCLA's depleted ranks.
Best case
: UCLA puts the past week's mess behind it, congeals in a convincing win over Chaminade, beats or at least pushes Kansas to the absolute limit in the second round and calms the nerves of the many freaked-out Bruins fans, if only temporarily.
Worst case
: Chaminade shocks the world. If this happens, Howland might just be better off staying in Hawaii. ("When life hands you lemons,
just say [forget] the lemons and bail
.")
Chaminade Silverswords
Their story
: Besides having one of the best team nicknames anywhere -- it would have been so easy to settle for "Swords," but Chaminade went the extra mile, and I respect that -- Chaminade is also the Maui Invitational host and its perennially plucky never-say-never upset threat. Usually, the Division II school is easily dispatched in the first round. In 2010, though, Chaminade pushed Michigan State for 38 minutes before eventually losing 82-74. Then the Silverswords went on to beat Oklahoma. Could they go the distance against a reeling UCLA team?
Player to watch
: Steven Bennett. He is listed at 5-foot-6, which means he's probably an inch or so shorter than that, but that doesn't stop him from putting up numbers: The point guard averaged 13 points, five assists and three rebounds per game last season, and he's already eclipsing those numbers, while playing about 37 minutes per game, in the Swords' first two games this season.
Best case
: Bennett & Co. take advantage of whatever funk UCLA began the season in, dropping the Bruins to 0-3 and earning top billing on "SportsCenter" for at least one night.
Worst case
: Chaminade can't keep up with its Division I opponents and makes an expected appearance in the seventh-place game.
Georgetown Hoyas

Their story
: After losing star guards Austin Freeman and Chris Wright and defensive stopper Julian Vaughn to graduation, John Thompson III's team appears to be in a bridge year. The players the Hoyas retained -- guard
Jason Clark
and face-up forward
Hollis Thompson
, in particular -- are more accustomed to supporting roles. The young players JTIII recruited -- including ESPNU top 100 prospects
Otto Porter
, Michael Hopkins and
Jabril Trawick
-- look like they'll need some time to adjust to the college game. In their first two games, seven Hoyas have averaged more than 20 minutes, and nine have averaged more than 12.5. Georgetown should be eager to prove it's a little bit better than most people think, but at this stage of the season, Thompson III is still finding out what he has.
Player to watch
: Hollis Thompson. As a role player and spot shooter at the stretch forward position in 2011, Thompson had the benefit of selectivity in his shooting; when Freeman and Wright are running the show, you don't have to score. That helped make him Georgetown's most efficient offensive player. Thompson won't be able to pick and choose his spots in 2011-12. He'll have to be the guy. It's almost certain that will cause a drop in his efficiency, but Thompson has been shooting the ball at a torrential pace in his first two games; he's made 7 of 9 from 3 to start the season. If he can stay hot, you never know.
Best case
: Thompson causes mismatch problems with Kansas' big men, shoots lights-out from beyond the arc and steers Georgetown to a surprising upset victory over a good but hardly unbeatable Kansas team.
Worst case
: Georgetown's talented and athletic freshmen aren't ready to match the interior size and strength of
Thomas Robinson
and
Jeff Withey
, and Georgetown is relegated to play Chaminade in the loser's bracket Tuesday.
Kansas Jayhawks

Their story
: This is almost certainly the least talented team Bill Self has ever coached at Kansas. It's a testament to how good his teams have been that one could plausibly say that about a team with a lottery pick at power forward (Thomas Robinson), a 7-foot shot-blocking machine at center (Jeff Withey), a four-year starter at point guard (
Tyshawn Taylor
) and a veteran sharpshooter on the wing (
Elijah Johnson
). Still, Kansas was obviously outclassed in its Champions Classic blowout loss to Kentucky, and without freshmen
Jamari Traylor
and
Ben McLemore
, Self simply is forced to go to walk-ons when he needs to rest his starters for any extended period of time. Does that mean Kansas is going to take a step back this season? Or can Self squeeze enough water from this stone in time to maintain the Jayhawks' impressive streak of Big 12 conference titles?
Player to watch
: Thomas Robinson. KU's system works best when its bigs are either so dominant they can catch the ball near the rim and score immediately (think Cole Aldrich) or so skilled they can draw a double-team and move the ball to the perimeter to get guards a plethora of open looks (think Marcus and Markieff Morris). Robinson has the former qualities in spades; few bigs in the country have his combination of strength, size, athleticism and aggressive finishing around the rim. But Robinson's skill set remains limited, and he hasn't shown that he can (A) score with his back to the basket or (B) find the preferred pass when defensive help arrives. His development in these areas might be the most important factor in KU's season. Robinson is insanely talented, but if all that talent still needs a little polish, Self's high-flying offensive machine finds itself frustrated for large stretches.
Best case
: If Robinson dominates, Withey blocks everything in his path, Taylor delivers heady point guard play and Johnson provides much-needed scoring at the guard, there's no reason Kansas can't bring a Maui title back to Lawrence in time for Thanksgiving.
Worst case
: KU's draw is the most favorable of any prospective favorite; the toughest team it could possibly face before the final is UCLA. But the Jayhawks are still a work in progress, and if they stagnate against the Hoyas, Georgetown might just be able to shoot them off the floor.