College Basketball Nation:

Champions Classic
October, 9, 2013
10/09/13
3:30
PM ET
It's a pretty obvious thing to say, isn't it? That a Champions Classic game between two of the best four teams in the country -- a burly, veteran Michigan State team on the one hand, and a so-talented-I'm-already-running-out-of-adjectives Kentucky on the other hand -- is going to be good does not require the powers of prognostication. We don't need to get Miss Cleo on the line. In any other week of November and December, that would be
the
game; we're lucky enough that it will come on the same night, and in the same building, as Duke-Kansas.
[+] Enlarge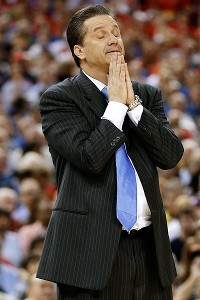 AP Photo/David J. PhillipKentucky coach John Calipari knows how to sell his program.
But just in case you needed additional proof -- I don't think anyone currently reading fits this characterization, but hey, sometimes you have to take the segue where you can -- Michigan State coach Tom Izzo and Kentucky coach John Calipari (OK, mostly Calipari) have been happily providing it for days.
It all began back on Sept. 27, at Michigan State's Midnight Madness event, when students in attendance tweeted a choice fire 'em up line from Izzo about the team's practices to date:
"We're working to kick Kentucky's [butt]."
Considering the Spartans' only game before the Nov. 12 matchup with UK is a home warm-up against McNeese State (2012-13 KenPom rank: No. 308), this was a pretty innocuous thing for Izzo to say.
Of course
that's what Michigan State was doing. With all due respect to McNeese State … well, come on.
But John Calipari being John Calipari, it didn't take long for Izzo's otherwise ho-hum declaration to catch on. In
a luncheon for UK's Greater Louisville Alumni Club Monday
, Calipari gently fired back, but really spent most of his time on the topic spinning Izzo's five-word admission into another ingenious way to sell his program:
And let me say this about this team: Our third game is against Michigan State. That's going to be hard. They're already a veteran team. They've already made comments that their practices are about beating Kentucky. But I say this to you: If I ask my team when we play Florida, they're not going to know. North Carolina (they don't know). I'm going to do it today, because as I thought about it, they don't know. You think they know when we're playing Louisville? They don't know. They want to know if there is a meal tonight. They don't know. Now, I ask you this: Does everyone on our schedule know when they're playing Kentucky? Oh, they know. And it's on their locker, it's on their ceiling of their bedroom. You've got to deal with that. That's part of being at Kentucky. You know what I tell them? Not only do they want to beat Kentucky, they want to beat you as individual player. You want to know why? They wanted that scholarship that you got and they want to prove they're better than you, not just their team is better than Kentucky. So that's the challenge that we have. But would you want it any other way? I don't. Bring it. Let's go – as long as I've got a good team. (Laughter). Bring it, let's go.
See what I mean? He's a genius.
I know, I know: It gets really old reading that. But what else are you supposed to say? The same guy who has turned the one-and-done rule into his personal annual NBA talent showcase, who coined "players first" and repeated it approximately once every five minutes for four years straight, who got Drake and Jay-Z on board with a program from Lexington, Ky. -- this is a man who knows marketing.
And so when Izzo says his team is working on beating Kentucky in its first non-cupcake game of the season, it's not merely a chance to say "well, good for them; we're doing the same." Oh, no. No, no, no. This is a branding opportunity, a chance for Calipari to sing from the high heavens about how prestigious Kentucky hoops is (it is) and about how teams circle their Kentucky date in bright red ink because a) it's Kentucky, and b) scholarship envy, or something. Do
Adreian Payne and Gary Harris
sit around thinking about their once-upon-a-time offers to play at UK? Doubtful. Is Kentucky Michigan State's second game of the season? Again: yes.
But in Calipari's world, no chance at a positive spin may go wasted. Dude is never
not
on-message. Which is precisely why he's so good.
May, 15, 2013
5/15/13
4:35
PM ET
The Champions Classic, a two-game, one-night November event conjured up two years ago, was pretty much always guaranteed to be a success. Indeed, it was just what the sport needed -- a big, marquee event featuring four of the game's best programs and coaches in the first week of the season, timed to remind casual fans there is more to college basketball than the gradually increasing attention spans of late February and early March.
Two years later, the Champions Classic has already been an unequivocal success. In its first year,
Duke's Mike Krzyzewski broke the all-time coaching wins record against Tom Izzo
and Kentucky and Kansas offered up an early preview of the national title matchup. In Year 2, the defending champs and their coach, John Calipari, met Duke in Atlanta, the site of the 2013 Final Four.
And despite those heights, Year 3 might be the best yet.
The Classic's rotating schedule creates new matchups each season, and so here's what we'll have in United Center on Nov. 12: Kentucky will play Michigan State, while Duke will play Kansas. You probably don't need me to explain why this is so exciting, but just in case you do, here goes: UK-MSU will be one of our first glimpses at the 2013-14
Kentucky Wildcats
, who
boast the best recruiting class in history
, against a Michigan State team that returned all of its most talented players and looks primed for a Final Four run. Watching
Adreian Payne
and
Gary Harris
test their NBA readiness chops against the Harrison Twins, Julius Randle and James Young? Yes and please.
And even that game pales in comparison to what's offered in Duke-KU, which can be summed up in one phrase: Andrew Wiggins vs. Jabari Parker. This might be the
only minor angle left undiscussed in Wiggins' Tuesday decision to play his one year of college ball at Kansas:
It set up an early-season matchup with Parker, the No. 2 player in the class, who was No. 1 for years before Wiggins reclassified last fall.
At worst, that's a great game between two exciting teams with two brilliant young stars. At best, it's a preview of the next decade of basketball, the start of an individual rivalry not unlike the one between Carmelo Anthony and LeBron James during the 2003 NBA draft and their first few years in the league. Wiggins is often favorably (and unfairly!) compared to James; Parker's frame and game bear obvious parallels with Anthony's. The similarities are uncanny.
The Champions Classic was devised as a way to get ultra-recognizable college basketball "brands" in the same building on the same night in November. It's foolproof: With Duke, Kentucky, Kansas and Michigan State on board, you're bound to get great players and great games.
But the best part is these matchups aren't planned, no more so Coach K's historic night was planned for a mid-November date at Madison Square Garden. Whether a team is down or a national title favorite, whether Wiggins chooses Kansas or Kentucky or Florida State, the games are what they are. And in 2013, they're going to be incredible.
November, 13, 2012
11/13/12
9:55
AM ET
The ESPN Tip-Off Marathon concludes with the marquee Champions Classic, a doubleheader in Atlanta featuring Kansas-Michigan State and Kentucky-Duke. With that in mind, we asked two of our writers to pick which one of those has the best chance to return to Atlanta for the Final Four.

Andy Katz: Kansas
KU coach Bill Self was clear a year ago that the Jayhawk with the most NBA potential wasn't even eligible. That is saying quite a lot, considering Thomas Robinson was as dominant a player at his position as any other in the country (save Anthony Davis). So if
Ben McLemore
is just as difficult to defend, then Kansas is the best bet from this Champions Classic group to return to Atlanta. The addition of another scoring newcomer in
Perry Ellis
bodes well for the Jayhawks as well.
Jeff Withey
still doesn't need to be a No. 1 option with the scoring pop provided by McLemore and Ellis. And the experience of players such as
Travis Releford
and
Elijah Johnson
gives the Jayhawks the depth and experience that a champion covets. The Big 12 will have a challenger or two -- this may be the deepest conference in the country in terms of percentage of teams making the NCAA field. But if that's the case, then KU will be as tested as any other team when it gets ready for March. Look, Kansas has winners and there is plenty to feel good about here. The easy thing to do is to write off this team because of the departures of Robinson and Tyshawn Taylor. But the Jayhawks have more depth this season and a confidence to get to the Final Four after reaching the title game this past spring. Being in that environment bodes well for KU's chances. I've been fooled too many times by the Jayhawks. I'm not about to get burned again on KU.

Jason King: Kentucky
No team in the Champions Classic field has as much talent as Kentucky, and no one has as big of an upside as the Wildcats. The UK squad that faces Duke tonight won't look anything like the team that will take the court in February and March. Four of the Cats' top six players are freshmen who have played one college game. The three C's -- chemistry, cohesion and confidence -- aren't there. Not yet. But they will be eventually because of the man on the sideline. No coach in America is as good as John Calipari at working with and developing highly touted freshmen who plan to spend only a year or two in college. His first team reached the Elite Eight, his next team went to the Final Four and last year's squad won the NCAA title. Calipari has proven time and time again that he can win at the highest level with 18- and 19-year-old kids.
To be clear, I don't think this Kentucky team will ever be as good as the group that won it all in New Orleans in April. Heck, this may be Calipari's
worst
Kentucky unit. Not a single player on the roster made a significant contribution to last season's championship squad. Remember, though, that college basketball is short on elite teams. Across the nation, the parity is as strong as it has been in years. I highly doubt we'll see many two- or three-loss teams as we did a year ago. During the season's most important stretch, I expect Kentucky to use a mix of talent, coaching and fan support to propel itself into the Final Four for the third straight year. I'm not going to judge the Wildcats by what happens against Duke tonight. I know
Nerlens Noel
,
Alex Poythress
,
Archie Goodwin
,
Kyle Wiltjer
& Co. will come together when it matters most. It has become the Kentucky way.