College Basketball Nation:

Charles Jenkins
June, 9, 2011
6/09/11
3:35
PM ET
The excellence of four-year Hofstra star Charles Jenkins --
complete with mythical Chuck Norris-style awesomeness
-- is nothing new to college hoops fans. Sure, Jenkins wasn't always a household name. He didn't have the chance to shine under the bright lights of an NCAA tournament, and though the CAA was as solid as any mid-major conference in the country last season, it doesn't get the full-frontal national media treatment frequently. But if you follow college hoops, you at least heard of Jenkins.
The NBA general managers currently examining the 2011 crop of prospective draft picks lack even that level of familiarity. Few teams will have the kind of detailed scouting data on Jenkins as they will for most potential first-round picks. Perhaps it's a surprise, then, that GMs seem to consider Jenkins a first-round pick in the first place. But maybe he should be taken much higher than that.
That's the conclusion SI's Luke Winn reached in this piece
, in which Luke uses Synergy Scouting Data to identify the biggest sleeper in the 2011 NBA draft. That sleeper, you might have guessed, is Jenkins. Why?
On numbers alone, he's more impressive than any other scoring guard who's in contention for the first round, because he offers the rare combination of high efficiency in both ISO and spot-up situations. [...]

As the focal point of the Pride's offense, he was rarely left unattended -- 63.4 percent of his catch-and-shoot opportunities came with a man in his face -- yet showed an ability to make tough jumpers. His efficiency on guarded shots off the catch was 1.3898 PPP, which ranked 15th nationally among players with at least 50 such possessions. And while Jenkins shoots right-handed, he can go left off the dribble better than anyone in the draft: He had a national-best efficiency of 1.3261 PPP on left-hand drives, which he did 59 percent of the time.

Jenkins is also a rare master of the mid-range game, which has largely disappeared from college hoops as teams run offenses focused on threes and layups. At 1.2069 PPP, Jenkins was the most efficient mid-range player scorer in the nation last season; the runner up was Ohio State's William Buford -- who could be a 2012 first-rounder -- at 1.0333 PPP.
Essentially, Jenkins does it all on the offensive end, and in each of the categories you'd like to see from a ball-dominant, score-first guard -- not that that's
all
Jenkins is, of course -- he does it all very, very well, much better than many of the guard prospects picked to precede him in the first round of this year's draft.
Of course, the NBA doesn't draft on production. That's essentially what these numbers measure: production. Relating that performance to the NBA game is remarkably difficult. Defenders are taller and faster and more athletic. Decisions must be made that much quicker. Close-outs are much harder to shoot over. And so on.
Nor is Jenkins necessarily still a budding prospect. Already 22, he's already older than 2011 league MVP Derrick Rose. These are major strikes in a league that all too frequently discards current talent and drafts on potential, youth and the possibility of greatness.
Still, the numbers don't lie. Charles Jenkins was really, really good. You probably knew this already. Hofstra fans certainly did. But NBA general managers would do well to familiarize themselves with the notion shortly. If they don't, Jenkins, like spiritual ancestor DeJuan Blair, will slip to an intelligently run franchise like the San Antonio Spurs. The rest of the league will look mighty dumb in the process.
February, 21, 2011
2/21/11
1:49
PM ET
By
Diamond Leung
| ESPN.com
Hofstra star guard Charles Jenkins, the school's all-time leading scorer, will have his No. 22 jersey number retired on Saturday as part of Senior Day festivities. He'll become the 25th Hofstra student-athlete to have a number retired, but the first to have it done while he's an active player.
Hofstra wants to make him a legend before he's even finished school because his accomplishments are staggering.
Jenkins has scored 2,420 points in his career thus far, breaking the Pride's all-time record for points last month. He's been a CAA player of the year and rookie of the year. It appears he'll finish second on the all-time conference scoring list to David Robinson of Navy.
Just last week, he had
this incredible display
, hitting the game-tying 3-pointer to send the game into overtime and then the game-winning heave from about 35 feet out to beat William & Mary.
After Saturday, the only way the No. 22 will be worn again by a men's basketball player is if some hotshot recruit who dares to be the next Jenkins makes the request.
And according to
The Star-Ledger
, Jenkins was once that recruit who dared to challenge Speedy Claxton, one of the five Hofstra players with a retired number.
Before his freshman year at Hofstra even began, Charles Jenkins wanted to fight the best player the school has ever produced.

Speedy Claxton, then with the Atlanta Hawks, saw his prey in the form of Jenkins when the two faced off in an open gym session. The NBA veteran bumped, bruised and harassed the freshman-to-be. By the end of the game, Jenkins didn't care who Claxton was -- he was ready to throw down. Then, he realized something: Claxton was challenging him because he saw the potential.

"He really gave it to me that day," Jenkins recalled. "I wanted to fight him a little bit because he was so tough on me. But that really showed how much he cared -- to put all of that effort into even guarding me in an open gym like that."
Now it's Jenkins who will be immortalized on Saturday, with the program asking players of the future to look to what he's achieved.
February, 16, 2011
2/16/11
12:34
PM ET
Hofstra's Charles Jenkins might be the best college basketball player you've never heard of. (Especially since Cleveland State's Norris Cole put himself on the map with
that insane 40-20-9 line versus Youngstown State Saturday
.) Jenkins is
averaging the fifth-most points per game
(23.5) of any player in the nation this season, and he adds assists (4.9 per game) and rebounds (3.5). More importantly, Jenkins also happens to be the second-most efficient player high-usage in the nation,
according to KenPom
; among players who use more than 28 percent of their team's possessions, Jenkins' offensive rating trails only Arizona's Derrick Williams. Dude is really,
really
good.
And yet, Jenkins has gone unheralded for much of the season. For much of his career, actually. But that might be about to change.
On Tuesday night, Jenkins delivered a YouTube-sensation-worthy performance against William & Mary. The guard hit a last-second 3 to send the game into overtime, and then finished off the Tribe with a crazy 35-foot buzzer-beater at the end of OT to give Hofstra the win. And, yes,
there is video
, and yes, the video is awesome (hat tip:
The Dagger
):
This isn't the first time Jenkins has gotten noticed this year. Last week -- right around the time Jimmer Fredette fans were executing the
most hilarious Facebook comment thread of all time
(and making
awesome Antoine Dodson parodies
) -- Jenkins fans were building out their own Facebook tribute in
an open group called "Charles Jenkins Facts
." Step aside, Chuck Norris, because "Charles Jenkins knows only one meaning of pain: french bread," and "McDonald's gives Charles Jenkins two extra McNuggets in his 20-piece meal."
In other words, Hofstra and the rest of the Colonial are aware of Jenkins' brilliance. It's high time the rest of the college hoops world joined.
The only bad news here? Jenkins and Hofstra will have to win the CAA tournament to go to the Big Dance. That would mean, depending on Hofstra's conference tourney seeding, fighting through red-hot George Mason, likely at-large inclusion Old Dominion, and former conference favorite Virginia Commonwealth, not to mention Drexel, James Madison and the rest of the deeper-than-you-think Colonial. In many years, a singular talent like Jenkins would be enough to win the CAA and get to the tourney. This year, the Colonial is almost
too
good. But we'll see if Jenkins has saved a few more heroics for single-elimination season. You'd be a fool to count him out.
January, 28, 2010
1/28/10
12:45
AM ET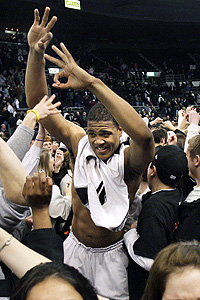 AP Photo/Elise AmendolaBilal Dixon and Providence had reason to celebrate after an 81-66 win against UConn.
Something I didn't think I would see:
Providence ahead of Connecticut
in the Big East standings. PC is 4-4, UConn is 3-4.
How about this quote from PC coach Keno Davis: "We can beat anybody in the country. We have enough talent, but we have to play extremely hard.'' I'm not sure I'm buying that proclamation, but it's good to know Davis has that much confidence in his crew.
UConn's win over Texas was as impressive a W as we've seen this season. But I knew if Connecticut was an elite team the Huskies had to win a game on the road that they're supposed to -- and they didn't. It's odd looking at the Big East standings and seeing UConn ranked No. 19 yet in 11th place in the league.
Not sure there was as impressive a road performance in the SEC (save Kentucky winning at Florida) as Vanderbilt's win at Tennessee. The Commodores got spirited production out of Jermaine Beal (25 points) and held the Vols to 6-of-20 on 3s. Vandy goes into Kentucky on Saturday with a chance to actually build a two-game lead on the Cats. Huh?
No one should fault BYU for losing at New Mexico, 76-72. The Pit is and will be one of the toughest places in the country to play, and I can tell you from years covering the Lobos that there is no opponent that gets the place as amped as the Cougars. BYU remains the MWC favorite even with the loss to the Lobos. But UNM desperately needed the win to stay in the race.
Memphis coach Josh Pastner picked up a quality road W by winning at Marshall to keep the Tigers in the C-USA league race.
Villanova's 18-1 record and 8-0 mark in the Big East after beating Notre Dame is as impressive as any in the country. But the Wildcats' schedule is back-loaded with road games at Syracuse, Georgetown and West Virginia that will be tough to tackle.
Duke won again at Cameron. I just don't see the Blue Devils losing at home. So that's eight ACC wins right there. The Devils have already won at Clemson. So that's nine. Pick up at least two road wins out of BC, Miami or Virginia (don't see UNC or Maryland) and the Blue Devils will likely win the league with 11 wins. That's unless Maryland decides to string together a bunch of road wins.
Florida is winning the games it should at home now with a 79-63 win over Georgia to move to 4-2 and move closer to an NCAA berth after two NIT years.
Drexel snuffed out Northeastern's win streak at 11 (which was the third-longest in the country) with an impressive 61-48 win on the road.
Hard to generate buzz for William & Mary now after the Tribe lost to James Madison by a deuce to fall to 6-4 in the CAA.
Hard not to cheer for Oklahoma State to beat Texas A&M on Wednesday, the ninth anniversary of the tragic plane crash that killed 10 people associated with the program. OSU beat the Aggies to move ahead of them in the standings at 4-2 (A&M is 3-3).
What has happened to LSU's offense? The Tigers led Alabama at the break, but scored just 13 points in the second half. Tasmin Mitchell and Bo Spencer were a combined 4-of-18 in the 57-38 loss at Alabama. The defending SEC champs are now 0-6 in league play.
Believe it or not, Hofstra's Charles Jenkins had an eight-point play in the Pride's 93-54 win over UNC Wilmington. He scored on a layup and was fouled. But it was ruled an intentional foul and then Wilmington's Benny Moss got a technical for arguing. Jenkins hit all four free throws (two for the intentional and two for the technical) and then Hofstra got the ball because of the intentional foul and Jenkins scored off the inbound pass with a floater. In five seconds, the score went from 26-9 to 34-9. Wow.