College Basketball Nation:

Charles Okwandu
February, 3, 2011
2/03/11
12:09
AM ET
HARTFORD, Conn. -- The relief in the Syracuse locker room was palpable.
Syracuse had gone two weeks without a win. Two weeks. In the Big East that can seem like an entire season.
"We just found out that it's not fun and it can happen to somebody good,'' said Syracuse coach Jim Boeheim. "You play a bad game and if it's somebody good then you get beat. You go on the road for three games and one is against a top-five team in the country [actually top-seven] and that's the one we can beat? It's very difficult.''
Syracuse snapped its four-game losing streak and avoided Boeheim's first-ever five-game slide by beating Connecticut
66-58
Wednesday night at the XL Center. The game wasn't played all that well, with clanking of the rim a common sound. Syracuse didn't score for the first few minutes and Connecticut went through its own droughts.
And one-time Big East and national player of the year favorite
Kemba Walker
looked pedestrian in scoring a season-low eight points, making just 3 of 14 shots, 1-of-6 on 3s. Over his past four games, Walker is 21-of-70 (30 percent) from the field and 4-of-26 (15 percent) from beyond the arc.
Had it not been for freshmen
Jeremy Lamb
's 22 points, Syracuse would have won in a rout. And the Orange didn't exactly tear up the stat sheet, either.
But that shouldn't come as a surprise. Syracuse has been off for two weeks now. The Orange slid from 18-0 and being one of the Big East favorites to a 5-4 record and down to eighth in the conference despite being ranked No. 17.
[+] Enlarge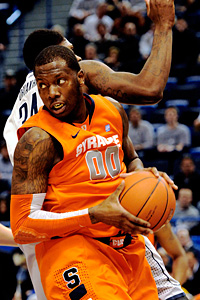 AP Photo/Jessica HillRick Jackson scored 13 points and had 13 rebounds as Syracuse snapped a four-game losing streak.
To say the Cuse needed this win after losing at Pitt (without
Kris Joseph
, who had a head injury), at home to Villanova and Seton Hall (gasp) and then at Marquette, was an understatement. With a road game at South Florida next (although the game is at the home of the Tampa Bay Lightning, which should provide more seats for the snowbird Syracuse fans), the Orange were in danger of sliding into the lower third of the Big East.
Georgetown started off 1-4 in the conference, but has righted itself with wins over St. John's and at Villanova and now the Hoyas are suddenly 6-4 and tied with Syracuse. The Big East is unforgiving this and any recent year. Lose one or two and the team can go through an avalanche of losses quickly (see Notre Dame and Georgetown recently). Win a few and suddenly a team looks ready for a top-four NCAA tournament seed.
"It's hard to just keep beating each other up,'' Boeheim said.
But the Orange, who hadn't won in Connecticut since 1999, were a different club in the second half than in recent games. Syracuse learned how to play with a lead, snuff out a rally and the defense and rebounding was tighter than it has been. Connecticut failed to penetrate the zone effectively, Walker was lost and the inside game of the Huskies was a non-factor unless they were out on the break. Syracuse outscored UConn 40-22 in the paint.
"We just played together as a team and our big guys rebounded,'' SU guard
Brandon Triche
said. "Lamb went off a little bit but we were able to lock down Kemba.''
Triche scored well, making seven shots and finishing with a team-high 16 points.
Rick Jackson
went back to being a double-double player with 13 and 13 and ended the first half by schooling UConn's
Charles Okwandu
that had UConn's Jim Calhoun irate at his defense. Kris Joseph got into double figures (11 points) but didn't shoot well at 3-of-11.
Scoop Jardine
was off as well, making just 2 of 11 shots. Boeheim is getting contributions from freshmen
C.J. Fair
(six and four) and
Dion Waiters
(nine points), but nothing out of
Fab Melo
, who was useless in three minutes. Boeheim didn't bother to put him back in the game.
So this team is hardly infallible just because it knocked off Connecticut. There are still plenty of issues. But give the Orange credit for gutting out a road win to stop the bleeding.
"Not winning for two weeks was tough,'' Jackson said. "We just had to stay with it. We've got to start better. I can't pinpoint why we don't. But getting this win puts us back on track. We've got to play hard on defense and when we do run our sets, slow it down, defend and we'll be fine.''
Now the focus is making sure South Florida isn't taken lightly. Syracuse can't afford to dismiss anyone.
The Orange get Georgetown and West Virginia at home in two of the final remaining home games (the other two are Rutgers and DePaul). But road games to Louisville, Villanova and Georgetown await after the trip to USF. There will be likely more losses. No one in the Big East is immune from a skid, maybe not even Pitt, which is the only team with one loss.
"Pittsburgh barely won at Rutgers and barely won at Providence,'' Boeheim said. "It's very difficult out there. Even Pitt will get beat two or three games. Everybody else is going to have a bunch of losses. I don't see any other way right now.''
September, 1, 2010
9/01/10
2:29
PM ET
For a guy who never had a chance to taste March Madness, Ater Majok's Connecticut career ended up much like the month's weather forecast: in like a lion, out like a lamb.
Majok's arrival in Storrs came with almost breathless anticipation, with hopes and expectations that the former Sudanese refugee would follow in the talented big man footsteps laid before him.
Instead Majok's career started late while his eligibility was cleared up, and finished with a whimper. In 26 games he averaged only 2.3 points and 3.0 rebounds. On Tuesday, the university announced he had withdrawn from the school.
His numbers might imply Majok won't be missed.
And ordinarily he wouldn't be, but these are no ordinary times at UConn. Already mired in a horrific offseason, thanks to a love note from the NCAA that penned the organization's notice of allegations, Majok's late decision is more salt in the wound.
The Huskies last year missed the NCAA Tournament and finished a pedestrian 18-16. Their biggest problem: scoring.
Now Jim Calhoun heads into the preseason down a big man in an already slim-pickings frontcourt that struggled to score even with Majok.
Whether Majok would have found the firepower to match -- he's blessed with great length and skill -- is impossible to know, but he did have promise as something more than just a rebounder.
Instead the Huskies are left with
Alex Oriakhi
and
Charles Okwandu
, who together averaged six points per game.
Do the Huskies need to beware the Ides of March again?
January, 20, 2010
1/20/10
6:41
PM ET
HARTFORD, Conn. – Jim Calhoun's latest medical condition isn't going to end his career at Connecticut.
[+] Enlarge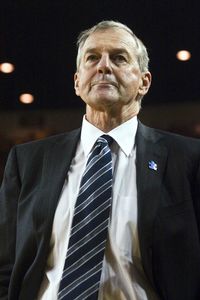 AP Photo/Tony DingUConn officials did not divulge the medical reason for coach Jim Calhoun's absence.
That's how emphatic UConn athletic director Jeff Hathaway was about Calhoun's abrupt departure from coaching the Huskies. Hathaway said during a pregame news conference Wednesday at the XL Center that Calhoun's condition wasn't career ending. Later, Hathaway confirmed that Calhoun's leave of absence has nothing to do with his current contract negotiations and will not affect the agreement that is in place.
The two sides have agreed in principle on a new four-year contract. Neither side has signed the contract but that isn't abnormal in negotiations with an existing coach, certainly one that is a Hall of Famer and two-time national champion. The two sides have been working on the final wording of the deal. His current contract ends on June 30.
Throughout Wednesday's walkup to the game against St. John's, the staff seemed confident that Calhoun would return to the team in due course. But Hathaway said that Calhoun wouldn't return until he had been given the clearance by his personal physician, Dr. Peter Schulman of the University of Connecticut Health Center. Hathaway indicated that Calhoun wouldn't return with conditions. Once he's ready to return in full he will be back. Whether that takes days, weeks or months is unknown.
Outside of saying that Calhoun didn't have a recurring cancer issue (he has had three bouts) or cardiac problem, UConn didn't divulge Calhoun's condition. Hathaway said that would be up to Calhoun. Associate head coach George Blaney, who will coach the team in Calhoun's absence, said that Calhoun, 67, told him that he needed to listen to his doctor on this one.
For those that know Calhoun, a driven, intense and at times admittedly stubborn man, this was a clear indication that he had to heed his physician's advice.
The timeline for Calhoun's absence moved rather quickly. Neither Hathaway nor Blaney said Calhoun had showed any signs of needing to take a break prior to his regularly scheduled doctor appointment Tuesday. Blaney said that Calhoun called him from the hospital Tuesday afternoon and told him he wasn't going to be attending practice and that he needed a break. Blaney said he hadn't spoken to Calhoun since then, while Hathaway said he did speak with Calhoun early Wednesday. He said he also spoke with Schulman.
Blaney characterized Calhoun as his usual "cantankerous self" while Hathaway said he sounded like a man who wanted to coach his team. Blaney said he wasn't sure if Calhoun would watch Wednesday's game, but that it seemed that would be against the doctor's orders. Blaney said earlier Wednesday that he was told he had to stay away from the team and his job, meaning that he wouldn't be checking in at his office until he was cleared. He wasn't hospitalized and is believed to be resting at home.
Once it was apparent that Calhoun was going to take a break, Blaney called into his UConn office
Kemba Walker
,
Stanley Robinson
,
Gavin Edwards
and
Jerome Dyson
, the four most integral players on the team. He said he told them that he needed their help with the younger players because they had gone through this before last March when dehydration forced Calhoun to miss the NCAA tournament first-round win over Chattanooga. Blaney said those players know how to deal with adversity.
During Wednesday's shootaround the Huskies were upbeat, but they did hear from various voices, unlike normal practices where Calhoun is the dominant presence. UConn moved Beau Archibald from director of basketball operations up to assistant coach once it got approval from the NCAA to do so during Calhoun's absence.
Blaney said that he considered making a starting lineup change in Calhoun's absence with Gavin Edwards in place of
Charles Okwandu
, but instead decided against it and said he would keep bringing in Edwards off the bench. He said he might make more substitutions than Calhoun early in the game.
Meanwhile, the St. John's game has become a critical one for the Huskies after losing three straight and with top-ranked Texas coming to Storrs Saturday. The Huskies, 11-6, 2-3 in the Big East, lost at Georgetown, to Pitt and at Michigan in their past three games.