College Basketball Nation:

Charleston Classic
July, 17, 2013
7/17/13
10:00
AM ET
Editor's Note: Over two days, we're releasing the brackets/matchups for 11 of the top early-season events. A thread of previews and info for all 11 tourneys can be found here.
Tournament bracket
for the Charleston Classic
When and where:
Nov. 21-22 and 24, Charleston, S.C.
Initial thoughts:
New Mexico is clearly the favorite. No tournament title is a given, but the Lobos really have no excuse if they don't win this event. Every other team, save UMass, is rebuilding in some form. The Minutemen have a legitimate chance to pull off a title, but it still would be deemed a surprise.
[+] Enlarge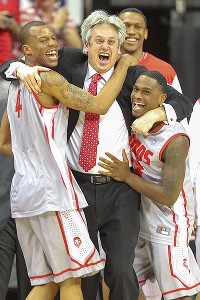 Steve Conner/Icon SMICraig Neal's Lobos are the clear-cut favorite to win the Charleston Classic.
The Lobos have a new coach, but not an unfamiliar face. Craig Neal was as much of a fixture around the program as Alford the past six years. Neal deserves a lot of the credit that has been heaped on Alford for their success in the Mountain West. The Lobos lost
Tony Snell
, but the core of the squad returns, led by
Kendall Williams
and
Hugh Greenwood
on the wings and
Alex Kirk
and
Cameron Bairstow
inside.
This is an important year for the Minutemen under Derek Kellogg. Massachusetts no longer has to deal with Xavier, Butler or Temple in the A-10 (although the Owls are in this event on the other side of the bracket). The league should be led by VCU and possibly Saint Louis this season, but the Minutemen have every right to believe they could challenge for the conference title -- something they've longed to do for years now. Pulling off an upset over the Lobos, or at the very least leaving Charleston 2-1, would get this team moving in the right direction.
Getting a read on Nebraska, UAB, Georgia, Davidson, Temple or Clemson in November would be tough to do, considering they all face a host of questions.
Matchup I can't wait to see:
The first-round matchups are a bit lean, but I'll go with Temple-Clemson. The Owls are never really down under Fran Dunphy. They may be retooling more than rebuilding, and a summer trip to France will provide a head start to the season.
Anthony Lee
gives Temple a reliable player inside. He should be able to produce a double-double on occasion.
Clemson faces an important transition year. The Tigers now have to deal with three more teams in the ACC at a time when they also must try to move up in the conference. Clemson lost Devon Booker and
Milton Jennings
, but this should be a breakout season for
K.J. McDaniels
. The Tigers could use a quality win or two in Charleston, where they'll be somewhat of a home team and will look to get some much-needed momentum going into the ACC.
Potential matchup I want to see:
UMass versus New Mexico in the semifinals. The Minutemen have a potential A-10 player of the year candidate in
Chaz Williams
, who has the ability to break the Lobos down off the dribble. He'll push Greenwood or Kendall Williams, depending on who has to guard him. Of course, UMass has to ensure it takes care of Nebraska to lock in the date with the Lobos. And New Mexico cannot -- repeat, cannot -- have a Harvard-like meltdown and lose to UAB in the first game.
Five players to watch
Kendall Williams, New Mexico:
Williams won last season's Mountain West Conference player of the year award, beating San Diego State's
Jamaal Franklin
and NBA No. 1 pick
Anthony Bennett
. Williams can shine on a stat sheet, scoring 46 points in a win over Colorado State. He doesn't have Snell to play off this coming season, but can create and take his own shot at a high percentage.
Chaz Williams, UMass:
The Minutemen were the benefactors of the Hofstra instability when Williams transferred to Amherst. He has been one of the top guards in the A-10 and has a chance this season to be one of the best guards nationally. Williams had 7.3 assists a game and kept his turnovers low at 3.5 last season. If he can manage a game consistently, the Minutemen should challenge for the A-10 title and an NCAA bid.
De'Mon Brooks, Davidson:
Bob McKillop has always done an exceptional job of ensuring his star player has the right amount of touches and is in a position to succeed. Brooks should be the featured player this season. The Wildcats have one lame-duck year in the Southern before moving to the A-10. To count the Wildcats out of the SoCon title despite losing some quality players such as
Jake Cohen
would be a major mistake.
Ray Gallegos, Nebraska:
The Cornhuskers will continue to take on the personality of Tim Miles. What does that mean? Well, expect this squad to play loose but with purpose. Gallegos has his work cut out for him in a matchup against Chaz Williams in the first round. But you can expect Miles to put Gallegos at ease. Get by the Minutemen and the Huskers would have the win they need to build off of heading toward the Big Ten.
Charles Mann, Georgia:
The Bulldogs lost their go-to scorer in Kentavious Caldwell-Pope, who was a lock for the lottery and went early in the NBA draft. Mann had his moments last season for Mark Fox, scoring in double figures in two of the final four games. With KCP gone, Mann must be the man at times for UGA to avoid being scoring-challenged. This tournament should be a good barometer on what to expect.
Title-game prediction:
New Mexico over Temple.
The pressure is on New Mexico to deliver a title. The Lobos should be able to pull it off, even though the opponent is wide open. But I'll go with Temple because it's difficult to ever dismiss the Owls.
Who others are picking:
Eamonn Brennan:
New Mexico over Temple
Jeff Goodman:
New Mexico over Clemson
Jason King:
New Mexico over Temple
Myron Medcalf:
New Mexico over Davidson
Dana O'Neil
: Georgia over New Mexico
July, 26, 2012
7/26/12
12:00
PM ET
Tournament bracket
for the 2012 Charleston Classic presented by Foster Grant
When and where:
Nov. 15-16, 18 at TD Arena in Charleston, S.C.
Initial thoughts:
This could turn out to be one of the better nonconference tournaments. ... Baylor advanced to the Elite Eight last season, Murray State went 31-2 and returns the bulk of its team and Colorado beat UNLV in the NCAA tourney and has plenty of momentum under Tad Boyle. ... Some of the country's top freshmen post players will be in action. Baylor's
Isaiah Austin
is projected as a top-five pick in next summer's NBA draft. His teammate,
Ricardo Gathers
, was a top-40 recruit along with Colorado's
Josh Scott
. ... It will be good to see St. John's coach Steve Lavin back on the sideline. Lavin missed almost all of last season while recovering from prostate cancer. ... Archie Miller won 20 games in his first season as Dayton's head coach in 2011-12. Will be interesting to see how the Flyers follow up. ... It also will be interesting to see what kind of improvements -- if any -- have been made at Auburn, which is regarded as one of the worst programs in the SEC but has recruited well lately. ... After the retirement of Bobby Cremins, College of Charleston has a new coach in Doug Wojcik, who spent the past seven seasons at Tulsa.
Matchup I can't wait to see:
Dayton vs. Colorado. Of the four first-round games, this is probably the only one where both teams have the potential to earn NCAA tournament at-large berths. Colorado touts a potential lottery pick in forward
Andre Roberson
, who ranked fourth in the country in rebounding last season with 11.1 boards per game. Dayton returns three of its top five scorers, including Josh Benson, who missed the second half of last season with a knee injury.
[+] Enlarge
Nelson Chenault/US PresswireBaylor's Pierre Jackson, one of the nation's quickest point guards, has some sizeable help down low.
Potential matchup I'd like to see:
Baylor vs. Murray State. Event organizers -- and college basketball fans -- would certainly be pleased with a championship game featuring two of the top five point guards in the nation.
Pierre Jackson
(Baylor) and
Isaiah Canaan
(Murray State), both Cousy Award finalists a year ago, would put on a hell of a show. The game, however, would likely be decided in the frontcourt. Murray's
Ed Daniel
is poised for a breakthrough season, but the Racers might have trouble matching Baylor's overall size and depth down low.
Five players to watch
Isaiah Austin, Baylor:
The 7-foot freshman has a unique skill set. On offense, Austin is hardly limited to the paint. He has a nice touch from mid-range and can also handle the ball on the perimeter and swish 3-pointers. Austin is also expected to be one of the nation's top shot-blockers.
Isaiah Canaan, Murray State:
There may not be a better all-around point guard in the nation. Canaan shoots from long range, slashes to the basket with ferocity and generally makes good decisions. He averaged 19.0 points last season for a squad that went 31-2.
D'Angelo Harrison, St. John's:
As painful as it was to lose Maurice Harkless to the NBA draft, the Red Storm couldn't be more excited about the return of Harrison, a shooting guard who averaged a team-high 16.8 points last season. Harrison, though, shot just 37 percent from the field, a number that will have to improve in 2012-13.
Pierre Jackson, Baylor:
The 5-foot-10 junior-college transfer changed the culture of Baylor's entire program last season by bringing swagger to a squad that was often criticized for being soft. Jackson averaged a team-high 13.8 points and 5.9 assists. There might not be a quicker point guard in America.
Andre Roberson, Colorado:
The 6-7 Roberson may be a bit undersized in the paint, but that hardly showed last season when he averaged 11.6 points, 11.1 rebounds and 1.9 blocks for a team that won the Pac-12 tournament before upsetting UNLV for its first NCAA victory in 15 years. Roberson will likely be a first-round pick in next summer's NBA draft.
Title-game prediction
Baylor over Murray State: Isaiah Austin, Ricardo Gathers,
Cory Jefferson
and J'Mison Morgan will be too much for the Racers down low.
Whom others are picking:
Eamonn Brennan:
Baylor over St. John's
Andy Katz:
Baylor over Murray State
Myron Medcalf:
Baylor over Murray State
Dana O'Neil:
Murray State over Colorado
May, 17, 2012
5/17/12
5:00
AM ET
1. Duke coach Mike Krzyzewski said Wednesday that he was in full support of the rules committee decision to have one finished, flat surface on the court instead of temporary decals or logos. "I just wish they would get rid of them," Krzyzewski said. "You could put them alongside the court. Where else is this in the middle of a court or playing field? There isn't a logo in between the second baseman and shortstop. You're not side-stepping over Reese's Peanut Butter Cups. The main thing is that it was dangerous." Krzyzewski also chimed in on the plethora of transfers who have graduated and are seeking waivers to play elsewhere while attending grad school. A number of these players have been shopping around this spring. "It makes rising seniors free agents," Krzyzewski said. "I'm not sure that's a good thing."

2. The NCAA dropped the ball on the 75th anniversary of the NCAA tournament, in 2013. The NCAA could have been at Madison Square Garden had it planned for the event long ago. But the Garden didn't hear from the NCAA until too late, after dates had to be booked with the NHL (Rangers) and NBA (Knicks). The old MSG housed the NIT and the NCAA tournament in the 1940s. The NCAA should have gone old-school, putting the first and second rounds or the regional finals at historic spots for the sport. Instead, it settled on the Staples Center (Los Angeles), Lucas Oil Stadium (Indianapolis), Cowboys Stadium (Arlington, Texas) and now the Verizon Center (Washington, D.C.). I know the NCAA has to deal with pro-style arenas, but there are college venues with historic significance in the sport that have decent size and capacity that the NCAA could have planned for well in advance (MSG, Rupp, Phog Allen, Huntsman Center). If it meant a tougher ticket for 2013, then so be it.

3. Murray State went for the sure thing and decided to play in the Charleston (S.C.) Classic over being in a Kansas State NIT Season Tip-Off pod that wouldn't guarantee a trip to New York for the semifinals. The Racers complete the eight-team field in the Charleston tourney, scheduled for Nov. 15-18, with Baylor, Boston College, Charleston, Colorado, Dayton, St. John's and Auburn. Baylor is the favorite in this tournament but Murray State should be seeded second or at the least third in this field.