College Basketball Nation:

Charlie Bell
June, 5, 2013
6/05/13
10:30
AM ET
In the weeks leading up to the June 27 NBA draft, we'll be taking a look at the 20 schools that have produced the best pros in the modern draft era (since 1989, when the draft went from seven to two rounds). Click here to read Eamonn Brennan's explanation of the series, which will be featured in the Nation blog each morning as we count down the programs from 20 to 1.
Top Five NBA Draftees Since 1989
Sixth man
:
Shannon Brown
(2006)
The rest
:
Alan Anderson
,
Charlie Bell
,
Draymond Green
, Goran Suton,
Maurice Ager
,
Paul Davis
, Marcus Taylor, Andre Hutson,
Mateen Cleaves
,
Jamie Feick
,
Shawn Respert
,
Anthony Miller
,
Mike Peplowski
, Matt Steigenga
Why they're ranked where they are
: Since 1995, Tom Izzo has commanded a Michigan State program that has reached the Final Four six times. Prior to Izzo's stint as head coach, his mentor, Jud Heathcote, was in charge. Both implemented a grueling, physical style that has kept the Spartans in the Big Ten's top tier for years.
When you face MSU, bring bandages. That ruggedness is the stitch that ties the players on this list together. The group might not include any future Hall of Fame performers, but it features multiple players who've managed to compete at a high level over the course of lengthy careers. Longevity and consistency were both crucial in our decision to push Michigan State ahead of Syracuse, Ohio State, LSU and Alabama. The Spartans' potent starting five (since 1989) also helped.
Steve Smith won a gold medal in the Sydney Olympics, earned an NBA title with the San Antonio Spurs in 2003 and made an All-Star Game appearance in 1998. He averaged 14.3 points per game and hit 35.8 percent of his 3-pointers during a 14-year career that featured 90 playoff games. Smith is also a member of the NBA's all-time "it's so hard to dislike these guys" team, which includes
Grant Hill
,
Tim Duncan
,
Robert Horry
and various members (past and present) of the Golden State Warriors organization.
[+] Enlarge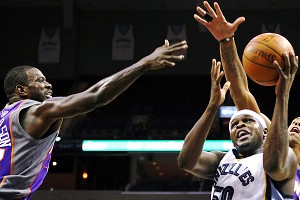 AP Photo/Jim WeberJason Richardson, left, and Zach Randolph have both been in the NBA since they were drafted in 2001.
Jason Richardson is underrated on so many levels. First, his efforts in the 2002 and 2003 dunk contests rivaled
Vince Carter
's performance in 2000. Find the clips on YouTube. He doesn't get enough credit. And has any player ever averaged 17.3 points, 5.0 rebounds and 1.2 steals over a 12-year period more subtly than Richardson? He entered the league as a big, athletic wing, but he has lasted this long because his game has evolved.
Zach "Z-Bo" Randolph just carried the Memphis Grizzlies into the Western Conference finals. Here's an athlete who left Michigan State after one season. He struggled his first few years in the NBA but everything changed in 2003-04 (20.1 PPG, 10.5 RPG for the
Portland Trail Blazers
). His off-court issues -- such as the time he ended up at a strip club the night after he'd sought permission from the Trail Blazers to attend a funeral out of town -- have certainly affected perceptions about him. But he found himself in Memphis and has been a model citizen, leading a revival of that city's NBA franchise. And you just won't find many players who've averaged at least 18.0 PPG and 8.0 RPG seven times. He's also a two-time NBA All-Star.
Morris Peterson (10.7 career PPG) gave the
Toronto Raptors
his most fruitful years. He never made an All-Star squad but he played for 11 seasons. His 37.3 percent mark from the 3-point line elevated his value. Eric Snow competed in the NBA Finals with three different teams. His years with the
Philadelphia 76ers
were impressive.
Kobe Bryant
called him the toughest defender he'd ever faced following the 76ers' loss to the
Los Angeles Lakers
in the 2001 Finals. Shannon Brown, a 2006 NBA draft pick, had the best seasons of his career with the
Phoenix Suns
in 2011-12 (11.0 PPG) and 2012-13 (10.5 PPG).
Even Alan Anderson and Charlie Bell, two undrafted players, have played a combined 11 seasons in the NBA. Draymond Green, a second-round pick by Golden State last summer, was impressive in the 2013 playoffs.
That's a rich offering for any list that attempts to rate a school's history of producing NBA talent based on quality and not simply quantity. That's why Michigan State is No. 16 in our "Path to the Draft" rankings.
Why they could be ranked higher
: If longevity is granted more weight than overall talent and depth, then the Spartans might have a case for a higher slot. Richardson, Z-Bo, Smith and Mo Pete aren't superstars -- the Spartans haven't produced a perennial All-Star since Magic Johnson retired in the early 1990s. But many players Michigan State has sent to the next level since 1989 have stayed there.
Michigan State isn't the only school that can make that claim. But the program boasts a diverse group of players (lottery picks, second-round selections and undrafted athletes) who've latched onto rosters and made a lot of money at the next level. The Spartans would probably warrant a bump due to their expectations-to-"years in the league" ratio.
Why they could be ranked lower
: The disappointments could pull Michigan State down a few spots. Maurice Ager, Mateen Cleaves and Shawn Respert were all first-round picks who were expected to do big things in the NBA. They all struggled in brief, underwhelming pro stints.
Plus, Smith, Richardson and Randolph fall into the "very good" category, but they've never earned or maintained "elite" status. Some of that stuff is political. I think all three were probably harmed by the fact that they competed in smaller markets for chunks of their respective careers. But this list is missing the juggernaut that other teams in these rankings possess.
What's ahead
: Well, Green could blossom into a dependable contributor for Golden State in the coming years. Randolph and Richardson might have a few solid seasons left, too.
And Brown has found a rhythm over the past four seasons. If his 3-point shooting continues to improve (last season saw his first year-to-year decrease from beyond the arc since 2008-09), he'll continue to be a key piece in Phoenix's -- or another franchise's -- rotation. But he has played for five teams since he was drafted in 2006. Perhaps he'll earn a long-term deal once his two-year agreement with Phoenix expires after next season.
Plus,
Adreian Payne
,
Gary Harris
,
Keith Appling
and
Branden Dawson
will likely enter the draft following the 2013-14 season. Payne and Harris certainly have high ceilings. Appling and Dawson are gritty enough to find homes in the league, too. We'll need four or five years, however, to assess their full impact on Michigan State's NBA legacy.
Final thoughts
: It's easy to dismiss Michigan State because the Spartans haven't produced a bunch of NBA All-Stars. Definitely multiple high-level athletes, though. But few stars.
Still, Izzo's program has developed talented players who stick. That's not easy to do in the pros, where the average NBA career is just 4.8 years. But Michigan State has sent many players to the league who've surpassed that.
Many were doubted once they left college. Some fell short of expectations. But the bulk of the program's NBA reps are notable, especially based on tenure and consistency.
Overall, Michigan State has a solid resume of NBA talent and more on the way.
March, 23, 2013
3/23/13
7:42
PM ET
AUBURN HILLS, Mich. -- There are times Michigan State wants to slow it down, power the ball inside, take a team's attempt at being tough, laugh and move on.
These are the hallmarks of a Tom Izzo outfit: toughness, rebounding and a team that will continually play harder than you. Every single time.
But is the Michigan State slowdown a myth? Would the Spartans actually prefer to run?
"Yeah," freshman
Gary Harris
said. "I think so."
In some cases, there is a little truth within the myth, because Michigan State hardly ever runs like Memphis, the opponent the Spartans trounced
70-48
on Saturday. But that might be the scary thing about Michigan State (27-8) now.
If they can play fast and they can play slow, can the third-seeded Spartans really play at any pace they want?
The Big Ten, known as a conference wanting to play at a glacial pace compared to most other high-level college basketball leagues, has always heard those criticisms. Other than Wisconsin, no team might hear it as much as Michigan State, which enjoys to play through its big man,
Derrick Nix
, and at a half-court pace where he can work inside.
The Spartans, though, proved Saturday that they are more than a bunch of guys who slog through low-scoring games by preference and design. They showed they have the capability to do much, much more.
[+] Enlarge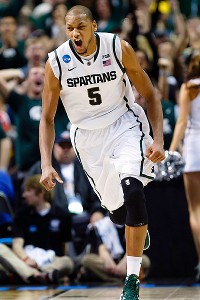 Rick Osentoski/USA TODAY SportsAdreian Payne had a monster game for Michigan State: 14 points, 10 rebounds, 5 blocks and 2 steals.
"That's what people assume, that the Big Ten will slow it down and grind it out," Michigan State sophomore guard
Travis Trice
said. "It kind of feels good that we can show we can run if we need to, if that's what we have to do."
Though there are times during Michigan State practices where Izzo wants to push the pace, the Spartans are a strong grinding team. But they took perhaps the fastest squad in the country and completely outplayed it, scoring 70 points as they ran right through the sixth-seeded Tigers (31-5).
They threw alley-oops to junior forward
Adreian Payne
, who had 14 points and 10 rebounds, and pounded Memphis with both the Tigers' own style and the traditional beat-em-up Michigan State brand of basketball.
The reason they can do this is their defense. Michigan State blocked seven shots -- five by Payne -- and had 10 steals. They grabbed 16 more rebounds than Memphis and held the Tigers to 29.7 percent shooting.
"They just killed us on the boards," Memphis junior guard
Joe Jackson
said. "Every time that we had a chance to cut their lead, they got the offensive rebound and scored.
"That's what killed us."
Which is exactly what Michigan State wants.
Even when its starting point guard,
Keith Appling
, left the game with a shoulder injury, Michigan State kept going right at Memphis the same way it did when Appling was in the game.
When they do that, the Spartans become increasingly tough to beat.
From his seat in the stands at the Palace of Auburn Hills, former Michigan State guard Charlie Bell wondered if this Spartans team is on the same path as in 2000, when one of Izzo's all-time favorite units ended up winning a national championship.
The team Izzo has this season feels more and more like a vintage Michigan State team, one which could make another big run, having already reached the Sweet 16 for the fifth time in the past six seasons.
"I think they are better [than us]," Bell said of the current crop of Spartans. "They've got the talent. With big Nix down there and the way Payne has been shooting the ball, the way he's playing and how long he is, they could definitely go all the way.
"They have all the talent."
And they now have the ability to play however they want, too.