College Basketball Nation:

Chas McFarland
March, 21, 2010
3/21/10
12:57
AM ET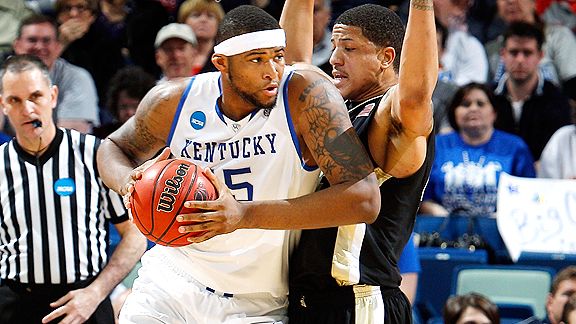 Chris Graythen/Getty ImagesDeMarcus Cousins and Kentucky look like the team to beat in this year's tournament.
NEW ORLEANS -- When John Calipari entered the Kentucky locker room Saturday night in the prelude to what would be a second consecutive Big Blue stampede in the NCAA tournament, he found his players gathered around the television.
"We were trying to steal a peek at the Kansas game," freshman guard
John Wall
admitted.
They got to see about a minute of the game before Calipari made sure the television was off. All they knew was that Kansas was losing. They said they didn't find out that the Jayhawks had lost until after their
90-60
demolition of Wake Forest at New Orleans Arena.
Their reaction?
"Oh … I wonder which team is going to be favored now," said freshman forward
DeMarcus Cousins
, trying his best to sport a quizzical look.
Surely, it will be the Wildcats, who've won their first two games be a combined 59 points while shooting better than 50 percent from the field in both games and handing out a combined 48 assists.
Right, DeMarcus?
"Probably," he said.
Is that all right with you, DeMarcus?
"I don't care. I liked it when they hated us," he said. "We're going to go play, but I love being the bad guy."
If these guys are feeling the pressure of their first voyage through the NCAA tournament, they're not showing it.
If anything, they seem to be soaking it up.
The television was on full blast in the Kentucky locker room after the game, and there was very little chatter about the Kansas upset.
[+] Enlarge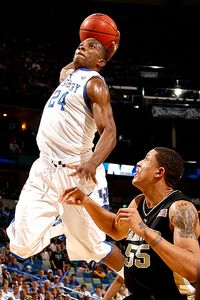 Chris Graythen/Getty ImagesEric Bledsoe's tomahawk slam had his teammates talking.
The place went wild when
Eric Bledsoe
's tomahawk dunk in the second half flashed up on the screen. Even Calipari came rushing over to see if they had shown it yet.
"Here it goes, here it goes," said Wall, leaning back in his chair in anticipation. "Yes sir!"
Sophomore guard
Darius Miller
, who led the Wildcats with a career-high 20 points, marveled that it was one of the best dunks he'd ever seen.
"It has to be No. 1 on the Top 10 plays," he said.
A few minutes later, ESPN college basketball analyst Digger Phelps popped up on the screen.
Every one of the players swarmed to the television then.
"What's he going to say about us now?" somebody yelled.
Nobody could really hear what Phelps did say, but what goes unsaid is that this is a ridiculously talented basketball team playing at the top of its game when it matters most.
And even though they don't talk much about it publicly, there's a real sense of urgency among the freshmen that this will be their one and only chance to win a national championship.
The NBA beckons.
"We all look at it like that," Wall said. "Me, Patrick (Patterson) and coach (Calipari) at the beginning of the season said, 'This might be the only year that all of us play together, our only chance to do something special. Let's make it happen.' "
The only pothole Saturday night came when Wake Forest senior center
Chas McFarland
– who has a rep for playing not so nice – cross-checked Cousins to the floor with just under 10 minutes to play and Kentucky leading by 30 points.
McFarland was hit with an intentional foul, and Kentucky's
Daniel Orton
was hit with contact technical foul for coming to Cousins' aid.
"That wasn't even basketball," said Cousins, who was 9-of-10 from the field for 19 points and eight rebounds. "He was doing a lot of cheap things. I caught an elbow to the jaw from him earlier in the game. He's a dirty player. The whole world knows it, especially after tonight."
Something else the whole basketball world knows is that these Wildcats are going to be hard to beat if they keep shooting this well. It's a given they're going to play defense and rebound.
But if they make their 3-pointers and keep spreading the wealth on offense with guys like Miller pumping in 20 points, look out.
"It's going to be impossible to do anything about it," Cousins said.
Wake Forest coach Dino Gaudio wouldn't necessarily disagree.
"I've been in the ACC 10 years," Gaudio said. "That's as good a basketball team as we've played against in the 10 years I've been here."
For the record, that includes four national championship teams – Duke in 2001, Maryland in 2002 and North Carolina in 2005 and 2009.
March, 20, 2010
3/20/10
10:59
PM ET
NEW ORLEANS – Kentucky might have broken a sweat in reaching its first Sweet 16 since 2005, but it wasn't much of one.


In fact, it was almost too easy.
The Wildcats (34-2) put the wraps on their second straight blowout win of the NCAA tournament Saturday night, ripping and running past Wake Forest for a
90-60 second-round beatdown
at New Orleans Arena.
Up next for Kentucky is the winner of the Cornell-Wisconsin game on Thursday in Syracuse.
After a 29-point win in the first round over East Tennessee State, Kentucky put the Demon Deacons away with a knockout-sized run to end the first half.
A 16-point halftime lead was closing in on 30 points a few minutes into the second half, and the Wildcats were wowing the crowd with tomahawk dunks and flashy fast breaks.
The only drama in the second half came when Wake Forest 7-foot senior center
Chas McFarland
took down Kentucky freshman forward
DeMarcus Cousins
with a hard foul. The officials quickly separated the two teams, and after the officials sorted everything out, McFarland was hit with an intentional foul and Kentucky's
Daniel Orton
with a contact technical foul.
Kentucky freshman guard
Eric Bledsoe
scored 11 of his 13 points in the second half, and
Darius Miller
led the Wildcats with a career-high 20 points. Cousins had 19 points and eight rebounds.
The Wildcats shot 60.3 percent from the field. That's two games in a row now that they've shot the ball well.
And if they keep shooting it like this, they're going to be tough to beat.
January, 4, 2010
1/04/10
11:36
AM ET
Five things to know from Sunday's action:
1. A trio of interesting stat lines in Wake Forest's 96-92 double overtime win over Xavier:
Al-Farouq Aminu put up 26 points and 18 rebounds in 41 minutes of action. That's his second 20-point, 15-rebound game in the span of a week. He joins Texas' Damion James as the only power six conference players with multiple 20-15 games this season.
In the first 102 games of his college career, Ishmael Smith never scored 20 points in a game. On Sunday, he poured in 28 in 49 minutes of action. It's most minutes played by an ACC player since Toney Douglas played 49 for Florida State in 2008.
In the strange line department, Chas McFarland came off the bench to pull down 14 rebounds, but did not convert on any of his five field goal attempts. That's the most rebounds without a field goal by any player in Division I this season.
2. Cal State Bakersfield couldn't manage a win against Loyola Marymount, but
Santwon Latunde
had a historic game for the Roadrunners. He tied a school record with 21 rebounds, while adding a career-high 20 points. He is the fourth player in D-I with a 20-point, 20-rebound game this season. It's the first 20-20 game by a Roadrunner since Kebu Stewart in 1997. Meanwhile, Latunde's teammate
Stephon Carter
had a bizarre game, going 1-for-13 from the field and 13-for-16 from the line.
3. With a 67-50 home loss to Georgetown, DePaul has now lost 21 straight regular-season Big East games. That's the longest regular-season conference losing streak in the nation. The Blue Demons shot under 40 percent for the ninth time this season, and currently rank 303rd in the nation in field goal percentage. More alarming is their performance at the line. After going 4-for-7 against the Hoyas, DePaul actually improved to 53.8 percent from the charity stripe this season. Not only is that last among all 347 Division I teams, but it's not even very close to 346th, currently occupied by Alabama A&M at 55.4 percent.
4. Creighton topped Evansville 72-64 thanks to a career game from Kenny Lawson, Jr, who put up 18 points, 11 rebounds and a career-high seven blocks. That's the most blocks for a Creighton player since Doug Swenson had eight back in 1998. Lawson is the early frontrunner for the Bluejays player of the decade. He is averaging 15.5 ppg, 12.5 rpg and 4.0 bpg in the two games since the start of 2010.
5. Texas Tech beat UTEP 86-78 despite shooting just 39.0 percent from the field. If 86 seems like a lot of points for a team that shot so poorly, that's because the Red Raiders continue to score a huge number of points at the free throw line. On Sunday, they went 35-of-46 from the line. Over its last four games, Texas Tech is averaging 40.8 free throw attempts per game. On the season, the Red Raiders are fifth in the nation in free throws made with 295. In fact, they've made more free throws than 217 teams have even attempted.