College Basketball Nation:

Chase Fieler
May, 1, 2014
5/01/14
10:00
AM ET
It doesn't seem right to call this group Others, because in college basketball, the Others are what make the game so special.
This is the crew that puts the madness in March, the slipper on Cinderella's foot and really just all of the clichés into the sport.
Without them, what would we have? Oh right, college football.
Another year gone by and we are still searching for the ultimate Others moment -- when a 16-seed will beat a 1-seed -- but that doesn't mean this crew didn't have its share of moments this season. They did.
As the gap between college basketball's haves and have-nots continues to shrink (at least until autonomy for the Powerball 5 comes into play), these teams are pulling off upsets that are upsets only on paper and mostly because we don't know what else to call them.
Kind of like others.
[+] Enlarge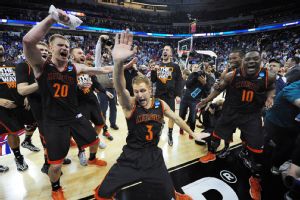 Bob Donnan/USA TODAY SportsMercer celebrated its NCAA tournament win over Duke -- which was an upset in seed only -- in style. Odds are it won't be the last time an Atlantic Sun team celebrates either.
What we saw this season:
Beware the Atlantic Sun. That was the resounding message delivered this season. A year after Florida Gulf Coast dunked its way to the Sweet 16, Mercer danced its way all over Duke. The Bears were an upset in seed only. Anyone who watched the game knows Mercer was in control from start to finish.
But other than the Bears, North Dakota State and Stephen F. Austin, this NCAA tournament was not terribly kind to Cinderella. Those three, along with Harvard and Dayton, were really the only true ball crashers, and only Dayton made it out of the first weekend.
That was sort of surprising, considering the gaudy records some mid- and low-major teams put together, not to mention the less than steady performance from the big boys.
In-conference upsets didn't help. Heavy favorite Toledo lost to Western Michigan in the MAC tournament final. Green Bay, a 24-game winner, fell to Milwaukee, in the Horizon semifinals. Robert Morris, which upset Kentucky in last year's NIT, was the victim this time around, beaten by Mount St. Mary's in the NEC tourney final, and Belmont never made it out of the Ohio Valley Conference tourney.
The common denominator, though, among those that did succeed was the same as it's always been: experience. As the top team's rosters get younger and younger thanks to early NBA entrants, they become more and more vulnerable to savvy veteran squads that aren't intimidated by the big stage.
Mercer counted five seniors among its top six scorers, a mismatch for the inexperienced Blue Devils; Stephen F. Austin's starting five included three seniors and a junior, a reason for the Lumberjacks' perfect 18-0 league record; and for North Dakota State, three seniors and one junior carried most of the weight.
What we expect to see next season:
Oh heck, why not. Beware the Atlantic Sun.
Chase Fieler
helped put the dunk in Dunk City. The end of his run will hurt Florida Gulf Coast, but the Eagles return their other four starters, including a tantalizing backcourt in the form of
Brett Comer
and
Bernard Thompson
. Those two were part of FGCU's Sweet 16 run two years ago. Don't think they won't be a little hungry to return.
Ditto Toledo. Knocked out of the MAC tourney and unable to crack the NCAA tourney at-large code, the Rockets, 27-game winners this season, will be a team to reckon with. Tod Kowalczyk's team loses two starters but returns a talented core led by
Julius Brown
.
And don't think the Lumberjacks are done either. Stephen F. Austin won 32 games this season and could be as good next season.
Jacob Parker
, the Southland's player of the year, is back, as is
Thomas Walkup
. Brad Underwood also has a nice recruiting class to add to the mix.
Aside from the players, though, the big news for the future is that, for the most part, these schools were able to retain their coaches. This is where big schools go to find their futures, offering bigger, better-paying gigs.
The carrots were waved, but the moves, mostly, didn't happen. North Dakota State lost Saul Phillips to Ohio University, but Joe Dooley stayed with Florida Gulf Coast and Bob Hoffman, red hot thanks to Mercer's upset, came back to the Bears.
Continuity on the bench is as crucial as continuity on the rosters for these schools to stay competitive and keep the big boys off balance.
January, 25, 2014
1/25/14
7:15
PM ET
It was another eventful Saturday in the world of college basketball.
These 10 players were responsible for some of the most significant performances of the day.
Melvin Ejim (Iowa State) -- A few weeks ago, Fred Hoiberg identified the senior as the glue guy who has helped him rebuild Iowa State basketball. The veteran recorded 20 points, nine rebounds, two assists, three steals and three blocks in No. 16 Iowa State's 81-75 home win over No. 22 Kansas State. He also blocked Shane Southwell's 3-point attempt in the final seconds, snatched a key rebound and hit a pair of late free throws to seal it.

Treveon Graham (VCU) -- The junior guard scored a career-high 34 points in VCU's 97-89 double-overtime win at La Salle. Graham scored six straight points to send the game into its first overtime. He also finished with 12 rebounds and two assists for a VCU squad that has won 12 of its last 14 games.

[+] Enlarge

AP Photo/Sue OgrockiWith Marcus Smart struggling, Le'Bryan Nash came through with a huge game to lead Oklahoma State past West Virginia.

Le'Bryan Nash (Oklahoma State) -- Travis Ford needed some help on a horrible day for Marcus Smart, who fouled out with just four points and a 1-for-7 tally. Nash stepped up. He recorded 29 points, nine rebounds, two assists and two blocks in No. 11 Oklahoma State's 81-75 win over West Virginia, which played tough for 40 minutes.

Ryan Arcidiacono (Villanova) -- The controversial offensive foul call at the end of No. 4 Villanova's 94-85 overtime win over Marquette shouldn't mask the exceptional effort by Arcidiacono. The point guard finished with 20 points, 11 assists and, most impressively, zero turnovers in 39 minutes. He also grabbed a critical loose ball and steadied the Wildcats in the extra period.

Isaiah Taylor (Texas) -- Why are the Longhorns legitimate Big 12 contenders now after winning three consecutive games against ranked opponents (Iowa State, Kansas State and Baylor)? Because players such as Taylor continue to step up for Rick Barnes. The guard finished with 27 points (10-for-18), three assists and three steals in Texas' 74-60 road win over Baylor.

Kendall Williams (New Mexico) -- The Lobos dealt with some tough losses during the nonconference season, but they're 6-1 in league play after a 68-66 victory over Colorado State. Williams finished with 23 points, five assists and one steal in that game. He hit 5 of 10 3-pointers.

Michael Frazier II (Florida) -- The guard anchored a balanced attack in No. 6 Florida's 67-41 win over Tennessee. Frazier finished with 17 points (3-for-6 from beyond the arc), four rebounds and two assists. The Gators haven't lost since Dec. 2.

Tyler Ennis (Syracuse) -- It wasn't a pretty performance. But No. 2 Syracuse scored a 64-52 win at Miami in a tough road game. Ennis continues to make a case for "best point guard in America" status. He finished with 14 points, five rebounds and four assists. That effort included some clutch plays in the final minutes.

Willie Cauley-Stein (Kentucky) -- The sophomore hasn't been a consistent offensive threat, but his defensive presence is undeniable. He only scored eight points in No. 14 Kentucky's 79-54 win over Georgia. But he also recorded six steals, six blocks and altered multiple shots. He's such a vital player for that young Kentucky team.

Chase Fieler (Florida Gulf Coast) -- The "Dunk City" contributor had an impressive stat line during Florida Gulf Coast's 83-62 win over Kennesaw State. He hit 7 of 14 shots and went 9-for-9 from the free throw line for 24 points while also recording 7 rebounds, one block and two steals.
October, 8, 2013
10/08/13
9:00
AM ET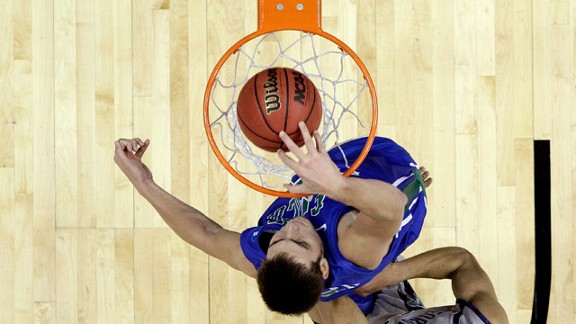 Elsa/Getty ImagesChase Fieler is one of four key members of last year's "Dunk City" squad returning for FGCU.
It's college basketball preview season, and you know what that means: tons of preseason info to get you primed for 2013-14. But what do you really need to know? Each day for the next month, we'll highlight the most important, interesting or just plain amusing thing each conference has to offer this season — from great teams to thrilling players to wild fans and anything in between. Up next: What does Dunk City do for an encore?
The story of the 2013 NCAA tournament came baked in about 18 different layers of awesome. It had everything. Not only did the Florida Gulf Coast Eagles beat No. 2-seeded Georgetown and No. 7-seeded San Diego State in the rounds of 64 and 32, respectively, they throttled the Hoyas and Aztecs. Not only were said throttlings delivered, FGCU delivered them by pushing the pace and throwing alley-oops -- not walking it up and hoping for a close game, as so many would-be Cinderellas do -- in a style counter to the slowdown trend pervading college basketball. Not only did the Eagles have an intriguing, smart young coach (Andy Enfield), he had a camera-zooming model of a wife. Not only was FGCU a tiny school no one had heard of, it was a) founded in 1991, six years after this writer was born, and b) it had beach shacks for dorms. Not only was Florida Gulf Coast dubbed "Dunk City," it had local news stations and public works employees playing along. This was peak awesomeness. It was almost too much -- the key word being "almost."
Then, in the Sweet 16, Florida handled its panhandle brethren with relative ease, and it was back to reality. Sure, sure, FGCU basked in the glory for a while. But Enfield was quickly lured to USC and replaced by former Kansas assistant Joe Dooley. Now, as we enter Year 1 of the post-Dunk City era, the biggest Atlantic Sun preseason question goes a little like this: Does Dunk City have a second act?
On its face, there's no reason why it shouldn't. The Eagles return most of their core from last season, including (especially) point guard
Brett Comer
. Comer, the former AAU teammate of Duke star Austin Rivers, makes Dunk City go; it is both the consistency (Comer finished the season finding teammates for buckets on 45.0 percent of his possessions, second-best in the nation) and the creativity (you remember) of Comer's passing that makes the whole thing go. There are also the finishers: guard
Bernard Thompson
and forwards
Chase Fieler
and
Eric McKnight
are all back. The only notable loss is senior Sherwood Brown. So, that's easy then, isn't it? FGCU is the obvious favorite to win the A-Sun, right?
Not so fast. Don't forget the last part of what made March so face-melting: FGCU
wasn't always that good
. Or, at the very least, it wasn't
as
good for most of the season as league-mate Mercer, which won the A-Sun regular-season title at 14-4 and spent most of the season ranked atop the league's efficiency standings. Bob Hoffman's team will lose a huge piece in senior guard Travis Smith, who shot 43.3 percent from 3 last season, but it brings back every other starter, all four of whom will be seniors this year.
Which makes it eminently possible that a team that captivated the entire country for two weeks in March, and that returns the key pieces from that run, won't make it back. And not necessarily because it will be worse, but because another team in its league could be better. Dunks or no -- and just to be clear: there will be
a lot
of dunks -- that's a league to watch.
March, 30, 2013
3/30/13
3:10
AM ET
ARLINGTON, Texas -- At 11:46 p.m. CT on Friday at Cowboys Stadium, a group of Florida fans rose from their seats and began a rather sobering chant.
"Al-most mid-night!," they yelled. "Al-most mid-night!"
Standing on the nearby court, Florida Gulf Coast's players could only hang their heads. The clock was about to strike 12 on one of the better Cinderella stories in NCAA tournament history. The first No. 15 seed ever to advance to the Sweet 16 finally came off its cloud in a
62-50 loss
to Florida.
"We made history," guard
Brett Comer
said. "We did something that nobody in the nation thought we would do. I just hate that it has to end."
The rest of America -- other than Florida fans, of course -- likely feels the same way.
The Eagles might have lost, but they hardly looked out of place or outclassed against third-seeded Florida, which advanced to the Elite Eight for the third consecutive season. The Gators (29-7) play Michigan at 2:20 p.m. ET Sunday for a chance to go to the Final Four.
FGCU came out on fire and led 15-4 at the 13:38 mark of the first half. And it was 24-14 after
Christophe Varidel
made three straight foul shots with 5:23 remaining. Florida, though, ended the first half on a 16-2 run and controlled the game after intermission.
[+] Enlarge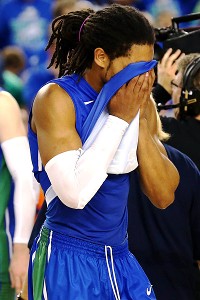 Matthew Emmons/USA TODAY SportsSherwood Brown, the lone senior among FGCU's starters, buries his head after the Eagles' loss.
"When they started their run, we didn't have the energy we did in the other two games," Eagles forward
Chase Fieler
said. "It got us down. We weren't playing with the same energy, the same fire we showed before.
"They're a great team and they did a great job of slowing us down and making us run our plays from five feet deeper than we wanted to. They got us out of our game."
Indeed, Florida's overall defense and physicality in the paint ended up being too much for the Eagles, who had 20 turnovers and were outrebounded on the offensive glass 13-5.
"I thought we did a great job of putting pressure on those guys and making them feel uncomfortable," Florida guard
Mike Rosario
said.
Rosario scored 15 points while backcourt mate
Scottie Wilbekin
added 13. Three FGCU players (
Sherwood Brown
, Fieler and Varidel) all scored in double figures for a team that shot 45.5 percent from the field.
"I think that, for whatever reason, they felt like the two teams they played before us (No. 2 seed Georgetown and No. 7 San Diego State) disrespected them," Florida coach Billy Donovan said. "I don't know if that's true or not. But we certainly went into the game with a lot of respect for them."
Brown is the only senior in the Eagles' starting lineup, so there's a good chance we haven't heard the last of Florida Gulf Coast (26-11), which might have been under-seeded at No. 15. Coach Andy Enfield's squad beat eventual ACC champion Miami during nonconference play.
"We learned that we can play with anyone in the nation," Comer said. "We learned that we can literally do anything that we put our minds to if we play with the right energy.
"We did some things here that will never be forgotten."
March, 30, 2013
3/30/13
12:59
AM ET
ARLINGTON, Texas -- A quick look at Florida's
62-50 victory
over Florida Gulf Coast in a South Regional semifinal Friday at Cowboys Stadium:


Overview:
FGCU's moment in the national spotlight is over. At least for this season. The first No. 15 seed in history to advance to the Sweet 16 saw its magical NCAA tournament run end at the hands of the third-seeded Gators.
The Eagles (26-11) committed 20 turnovers against Florida's menacing defense and never could respond after the Gators closed the first half on a 16-2 run.
Michael Frazier II
made back-to-back 3-pointers to ignite Florida's march, which turned a 24-14 deficit into a 30-26 lead.
Florida (29-7) surged ahead by as many as 13 points in the second half, but Andy Enfield's FGCU team kept the score respectable and never completely went away.
The Gators advanced to play Michigan in the South Regional final at 2:20 p.m. ET Sunday at Cowboys Stadium. This will mark the third consecutive season Billy Donovan's squad has appeared in the Elite Eight. Florida has not advanced to the Final Four since 2007.
Key player:
Mike Rosario
scored 15 points for Florida and
Scottie Wilbekin
added 13.
Sherwood Brown
(14 points),
Chase Fieler
(12) and
Christophe Varidel
(10) tallied double figures for Florida Gulf Coast.
Key stat(s):
Florida forced 20 turnovers and won the battle of the offensive boards, 13-5.
March, 29, 2013
3/29/13
12:20
AM ET
ARLINGTON, Texas -- Leading scorer
Sherwood Brown
was a walk-on. Guard
Bernard Thompson
's awkward shot scared most schools away. Dunking phenom
Eddie Murray
scored 11 points in an entire season two years ago.
Point guard
Brett Comer
led the Atlantic Sun Conference in assists this season. Not bad for a guy who had no idea how to play the position when he arrived in college.
These are the
Florida Gulf Coast Eagles
, the first No. 15 seed to advance to the Sweet 16 -- and the team you'll be rooting for Friday evening.
Unless you're a Florida fan, of course.
The third-seeded Gators (28-7) will try to avoid becoming FGCU's latest upset victim when the teams square off in the South Regional semifinals at Cowboys Stadium. Andy Enfield's squad opened NCAA tournament play by defeating 2-seed Georgetown and 7-seed San Diego State.
"We know the nation is behind us," Murray said. "Everybody loves a Cinderella."
Especially this Cinderella, with its motley crew of a roster filled with basketball vagabonds and unlikely success stories. The Eagles' personalities make them easy to root for -- and their loose, high-flying, slam-dunking style of play has made them the must-watch team of the tournament.
[+] Enlarge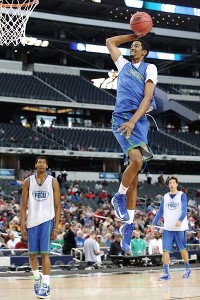 Kevin Jairaj/USA TODAY SportsLeonard Livingston and FGCU are enjoying the ride to the Sweet 16, where No. 3 Florida is next.
"Our main goal is to have fun," Comer said. "You'll see Sherwood Brown with some kiss-blowing, some flexing. You'll see
Christophe Varidel
do a heel click after a 3. It's just the way we are."
And that's fine with Enfield.
"It's the personality of our players and our team and our culture," he said. "What you're seeing is genuine. They enjoy being here. They enjoy playing the game of basketball."
The Eagles (26-10) have certainly earned the respect of their opponent.
"It's tremendous what they've done," Florida coach Billy Donovan said. "It's been a great ride for them. NCAA tournament-history-wise, this has never happened. It's a state-of-the-art, new thing."
And the Florida Gulf Coast campus is relishing it.
When forward
Chase Fieler
walked into the bookstore on the school's Fort Myers campus this week, he said the place was so packed he could hardly move.
"You can't really describe the atmosphere on campus," he said. "It's just been a busy week, with the attention and the media being around. It's exciting.
"At the first news conferences [last week], people weren't really sure what questions to ask us. They looked at us with blank stares. Now they're asking us how we're preparing for a No. 3 team, or they have questions for us personally. No matter what happens from here on out, this is something we'll never forget."
WHOM TO WATCH
Florida's
Erik Murphy
,
Patric Young
,
Kenny Boynton
and
Mike Rosario
each average between 10.3 and 12.8 points per game. Guard
Scottie Wilbekin
is the Gators' defensive specialist. Florida Gulf Coast's Eddie Murray and Chase Fieler have produced some of the NCAA tournament's best dunks thus far.
WHAT TO WATCH
Florida Gulf Coast is the first 15-seed to advance to the Sweet 16, so it'd obviously be a huge feat if the Eagles ended up in the Elite Eight. Florida has lost in the Elite Eight each of the past two seasons.
STAT TO WATCH
Billy Donovan's Gators have been brutal in close contests this season. Florida is 0-6 in games decided by single digits.
March, 23, 2013
3/23/13
7:24
PM ET
PHILADELPHIA -- She thought that maybe March 6, 2010, would provide the toughest moment. That was the day Heather Comer's husband, Troy, had circled on the calendar, the one he practically begged doctors to tell him he would see before lung cancer claimed his life.
That was the day of the Florida 6A state high school basketball championship, and Troy Comer knew in his gut that his son, Brett, would be playing in it.
But doctors don't make those kinds of guarantees, and cancer doesn't care much about a calendar. Troy Comer died on Jan. 29, 2010 -- six weeks too early to see his son win a state title.
A year later, Brett's high school team played in the championship game again. Surely this, Heather thought, this has to be the toughest moment.
But then along came high school graduation and a Division I basketball scholarship offer for Brett.
And most recently and most memorably of all, there was
Brett Comer
tossing up the silliest, least orthodox and single greatest alley-oop pass in NCAA tournament history to help Florida Gulf Coast upset second-seeded Georgetown on Friday night.
[+] Enlarge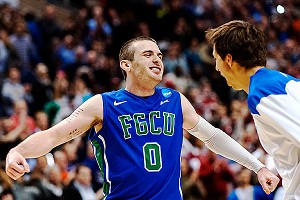 Howard Smith/USA TODAY SportsGeorgetown's physical defense certainly didn't faze Florida Gulf Coast's Brett Comer on Friday night.
In the stands, Heather Comer stopped wondering if this was the toughest moment, or what the toughest might be.
"There are always moments, and I think every time something like that happens, Brett and I know we're both thinking about his father," Heather said Saturday, the day after her only child made history. "It's really taken us both three years where, just a few months ago, we sort of looked at each other and realized, 'He's really not coming back, is he?' It doesn't stop."
Life, though, keeps going, and for Brett Comer it is going in a way that must have his father elbowing his fellow angels, saying, "That's my boy."
In FGCU's first NCAA tournament game in history, Comer dished the ball for 10 assists. Even crazier, against Georgetown's smothering defense, he committed just two turnovers, a line that would have made both the father and the coach in Troy Comer immensely proud.
"He would have eaten that up," Brett said with a smile.
As soon as Brett discovered basketball, Troy discovered coaching. Troy didn't play -- "No, no, no, he couldn't play for anything," Brett said, laughing. "He knew X's and O's. He knew what you were supposed to do, but he couldn't do it."
But he loved the game and loved spending time with his only child.
Brett isn't sure when he picked up a basketball, but the nuances of the game always have intrigued him.
Years ago, a family member gave him some old tapes of Pete Maravich. Instead of shelving them like plenty of his generation might, Brett watched with rapt attention.
"The way he passed the ball really fascinated me," he said.
Little wonder, then, to watch Comer is to watch a player whose game earns style points but is based as much on intuition as it is development.
"Sometimes Coach [Andy Enfield] will say, 'I don't know how you made that pass,'" Comer said. "Honestly, sometimes I don't know how I made it either. It's just my instincts taking over."
His father, like Enfield, tolerated some of the mistakes that come with such daring, and Brett is pretty certain his dad would approve of the oddly timed dish to
Chase Fieler
.
The two were extraordinarily close, Heather said, and in Troy's obituary, Brett is referred to as Troy's "best friend."
Little wonder that Troy's sudden passing -- he was gone barely a year after he was diagnosed -- devastated Brett.
"My father was a ninth-grade coach and a high school coach, and I remember as a first and second grader getting on the team bus and going with him to games," Enfield said. "Brett had that kind of relationship with his father, so I understand that connection but I can't imagine him not being here with me."
Brett was angry at first -- his dad was a smoker and son naturally wondered what role that played in his premature passing -- but he internalized much of his grief. By the time he got to Florida Gulf Coast, a guy most knew as engaging and funny had become almost an introvert.
Heather worried but couldn't persuade him to get help.
"I know he hid it to protect me, but finally a few months ago, he said, 'Mom, I need to talk to someone,'" Heather said. "He agreed to talk to a grief counselor."
That was in November, a decision that had such a profound effect on Brett he can practically pinpoint the day that he started to feel, if not better, at least OK.
Just this month -- more than three years after his dad's passing -- he talked about it publicly for the first time, sitting down with Fort Myers News-Press reporter Seth Soffian.
"It's not something you ever completely get past, but I started to deal with it better after the St. John's game [on Nov. 24]," Brett said. "After that point, my coaches, teammates and someone else I was talking to helped me get past it. It felt normal, almost. I had a clear head. I was able to think."
And finally, three years later, Heather Comer had her moment. Not the toughest one but the best one, the one when she knew her son would be OK.
"As a mother, it's always so hard when there's something wrong that you can't fix," she said. "I worry about him. I want him to be happy. I think he is."
Editor's Note: For Dana O'Neil's news and notes from Philadelphia, click here.