College Basketball Nation:

Chase Simon
March, 7, 2012
3/07/12
1:45
AM ET
The
Butler Bulldogs
won't be participating in this year's NCAA tournament, but the Horizon League is sending a more-than-capable replacement.
Ray McCallum
Jr. scored 21 points and
Jason Calliste
added 17 to lead Detroit to a
70-50
victory over regular-season champion Valparaiso in the championship game of the Horizon League Tournament.
The victory gives the Titans a berth in the NCAA tournament for the first time since 1999. Head coach Ray McCallum -- the father of the Titans' star player -- said five busloads of students made the 250-mile trip for Tuesday's game.
[+] Enlarge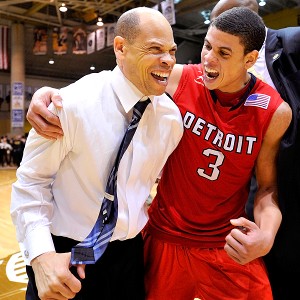 Nelson Chenault/US PresswireRay McCallum, Jr. and his coach and dad, Ray McCallum, are heading to next week's NCAA tournament after beating Valparaiso.
"I'm happy for the city of Detroit," said McCallum, the former Ball State and Houston head coach. "We're Detroit's team. This gives the city a program to follow in the tournament with its name on it."
Coaches of teams predicted to be seeded No. 2 or No. 3 probably grew nervous as they watched Detroit dismantle Valparaiso. The Titans, who will likely be a No. 14 or a No. 15 seed, played with the kind of confidence and swagger that is imperative for a team seeking a first-round upset next week.
Detroit trailed by three points at halftime before erupting after intermission. The Titans shot 58 percent in the second half to stun Valparaiso on its home court. The Crusaders had defeated Detroit twice this season by a combined seven points.
"We just played with a lot of emotion, a lot of intensity," McCallum said. "We got stronger as the game went on."
Resilience has been a theme for Detroit all season.
Some preseason publications picked the Titans to win the Horizon League title, but things turned sour when star center
Eli Holman
-- one of the best players in the country at his position -- was suspended before the start of the season for a violation of team rules.
Detroit lost six of the 10 games that Holman missed (including two league contests). Even after Holman returned, it took McCallum's squad a while to find its groove. Detroit certainly has it now, though. It will enter the tournament having won 10 of its past 11 games.
"These guys have hung together," McCallum said. "We're playing our best basketball at just the right time."
Detroit may compete in a small conference, but there is nothing "mid-major" about many of its players.
Holman began his career at Indiana before transferring after head coach Kelvin Sampson was fired. McCallum was on Sampson's Indiana staff and had helped recruit Holman, so the switch to Detroit made perfect sense for the 6-foot-10, 270-pound senior. Holman averages 11.1 points, 7.0 rebounds and 1.4. blocks. Impressive numbers, considering he plays just 23 minutes a game. Holman only had five points Tuesday.
"Still," McCallum said, "with that size ... he's just a presence."
Forward
LaMarcus Lowe
, who is also 6-10, had 14 points and 10 rebounds against Valparaiso, but it's no secret that the biggest strength of this team is its guards.
Chase Simon
, a 6-7 senior, struggled Tuesday but is averaging 13.7 points on the season. Calliste is the Titans' top threat from 3-point range.
Neither player, however, is as highly-medaled as McCallum Jr., who spurned offers from schools such as Kansas and UCLA to play for his father at Detroit.
"It was a big decision for him," the elder McCallum said. "A lot of people said, 'Why do you want to go to Detroit? They're not going to go to the tournament. At our school you'll go every year.'
"I said, 'If you come here, you'll have to do more.' He embraced that."
McCallum Jr.'s 21-point performance against Valpairso -- which came on 10-of-16 shooting -- was the perfect birthday present for his father, who turned 51 on Tuesday.
McCallum deserves just as much credit as his son for Detroit's turnaround. The Titans went just 7-23 in McCallum's first season in 2008-09, but they haven't had a losing season since. The current team is 22-13.
Detroit has just four NCAA tournament appearances in school history.
"In our meeting last night, all we talked about was winning a league [tournament] championship," McCallum said. "We've got guys on this team that have been around for four years, guys that can appreciate how far we've come.
"This is what it's all about. Hopefully there are even better things to come."
Butler advanced to the NCAA title game as the Horizon League's representative the last two seasons. The Bulldogs lost to Duke in 2010 and Connecticut in 2011.
January, 5, 2012
1/05/12
4:00
PM ET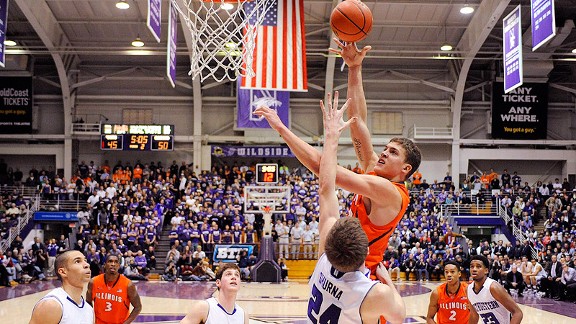 David Banks/Getty ImagesIllinois nipped Northwestern on Wednesday despite big man Meyers Leonard getting limited looks.
It's an epidemic that's plagued the national college basketball scene for far too long. Too often, this issue is overlooked or dismissed.
But it's time to address the madness that's rocking programs throughout the country. I'm referring to Starving Big Man Syndrome.
Perhaps your favorite team suffers from this silent season-killer. Well, it's time to identify the victims in hopes of rectifying this growing challenge.
Meyers Leonard -- Why won't the Illini feed the big man? He took four shots in Saturday's loss to Purdue. Just eight in a Dec. 17 loss to UNLV. He's capable of duplicating his 20-point effort against Minnesota last week and his 21-point performance in the Illini's Dec. 3 win over Gonzaga. He should get the ball more often. He was 4-for-9 in a one-point win over Northwestern Wednesday, but his teammates failed to find him multiple times when the Wildcats weren't doubling.

Patric Young -- Florida's big man has a 63 effective field-goal percentage, according to Ken Pomeroy's ratings. He took 20 shots combined in Florida's past two games. But he's only cracked double digits in field-goal attempts four times this year. And he's only responsible for 12.7 percent of his squad's shots this season. Sure Florida is stocked with perimeter talent. But the SEC is a hotbed for talented bigs. Anthony Davis, Arnett Moultrie, Festus Ezeli and JaMychal Green anchor the league in the post. So the Gators will need Young even more in league play. It's time to toss the ball inside.

C.J. Aiken -- The 6-9 forward is ranked sixth in the Atlantic 10 in John Hollinger's NCAA player efficiency ratings (23.59 PER). But prior to Wednesday's 84-82 win over Duquesne (he was 5-for-10), Aiken had taken 11 shots combined in two previous games. The Hawks -- like Temple and St. Louis -- are going to make the Atlantic 10 race interesting, especially with Xavier's recent struggles. Aiken is a key part of St. Joseph's NCAA tourney hopes due to his defensive prowess (his 4.5 blocks per game lead the nation). But he's more than a shot-blocker as his performance in the Duquesne victory proved.

Anthony Davis -- Finding the best use for Davis' expansive skill set isn't simple. He's 6-10 but he's certainly not a traditional big man. And Kentucky is stocked at every position. But it never hurts to have an additional offensive weapon, especially one who's shooting 65 percent from the field. But Davis' offensive game might become a significant factor in March and April, despite the talent around him. Prior to his 22-point performance (9-for-11) against Arkansas Little-Rock Tuesday, Davis had taken seven shots or less in seven games.

[+] Enlarge

David Butler II/US PRESSWIREPerhaps a loss to Seton Hall on Wednesday might have UConn emphasizing getting the ball to center Andre Drummond much more often.

Andre Drummond -- Every legit mock draft board I've read places the UConn forward in the top five of this summer's draft. Why would a lottery pick take five shots and score four points … EVER? That was Drummond's stat line in Wednesday's upset loss to Seton Hall. It just doesn't make any sense. It was his second five-shot outing in three games. He shot two free throws combined in those matchups.

Arsalan Kazemi -- He leads the nation in rebounding. And he's on top of Conference USA in steals and field-goal percentage. But he's averaging 7.7 field-goal attempts per game for Rice, despite boasting a 61.2 effective field-goal percentage, per Ken Pomeroy. But he's been responsible for just 13 percent of Rice's field-goal attempts so far this season.

Eli Holman -- Detroit has lost three of its past five games with Holman in the lineup. The 6-10 presence missed multiple games due to an indefinite leave at the start of the season. He's shooting 62 percent from the floor and averaging 12 ppg. Ray McCallum Jr. and Chase Simon handle the scoring load for the Titans. But Holman can be an offensive difference-maker in conference play. Detroit nearly knocked off nationally ranked Mississippi State when Holman went 6-for-8 from the field.

Alex Len -- He's only played three games after missing time because of an eligibility issue (he'd previously signed with a pro team overseas). But Len is living up to the hype for ACC sleeper Maryland. I know Terrell Stoglin (21.2 ppg, sixth in the nation) likes to eat. But Len is hungry, too. He's taken 10 shots in his team's past two games (he was 10-for-14 from the charity stripe in those contests). He'll probably become a more viable part of Maryland's offense in the ACC, where John Henson, Mike Scott and the Plumlee Clan lurk. He's a dangerous addition for the rest of the league.

James Haarsma -- UW-Milwaukee's 6-7 forward has hurt himself with foul trouble in multiple games. But the Panthers could use an offensive boost that Haarsma should be able to provide. He had three points in a Tuesday loss to Western Michigan. According to Hollinger's ratings, he's No. 22 in the Horizon League in player efficiency with a 15.76 PER. Milwaukee won a slice of the Horizon last year, but the Panthers have lost three of their past four games. In two of those matchups, Haarsma only took four shots, even though his team shot under 30 percent from beyond the arc in those games. Might be time for UWM to look inside.

Royce White -- He's surrounded by shooters at Iowa State. And right now, there's really nothing to complain about regarding his role because the Cyclones have won six in a row, including a solid victory over Texas Wednesday night. But the Big 12 is a big league. And White is capable of offensive fury. The league's eighth-ranked player in Pomeroy's offensive ratings has taken 16 shots in his team's past four games. He still leads the team in scoring, rebounding and assists. So it's not like Fred Hoiberg's offense has ignored him. But White's 22 points and 13 rebounds in a Dec. 3 loss to Michigan weren't flukes. He's that good. And he'll get better with more scoring opportunities inside.
If your favorite team suffers from Starving Big Man Syndrome, please call 1-800-FEED-HIM. That's 1-800-FEED-HIM.
Or just call Bill Walton
.
October, 19, 2011
10/19/11
5:00
AM ET
1. Drexel was picked to win the Colonial Athletic Association, a surprise to head coach Bruiser Flint and probably most everyone who follows the league. George Mason, even with a coaching change, was a fringe Top 25 team and yet the Patriots were selected second. Could Drexel come from America East and become the first team not from the state of Virginia or UNC Wilmington to win the CAA? Yes. Flint said the Dragons are more competitive in practice then he's seen recently. But the Dragons will start the season without leading scorer, guard
Chris Fouch
, recovering from offseason knee surgery. Flint said he's hopeful Fouch will be back by December. That puts pressure on the Dragons to avoid stumbling in the Paradise Jam in St. Thomas so as not to hurt a possible at-large berth.
2. Butler was the pick to win the Horizon League again, barely over Detroit. But the telling info from the Horizon Leauge poll was that the Bulldogs had no one on the preseason all-league first team and only one (
Andrew Smith
) on the second. Meanwhile, Detroit had the player of the year (
Ray McCallum
Jr.) and two others on the first team (
Eli Holman
and
Chase Simon
). One problem for the Titans is Holman started the fall by taking a leave of absence due to personal issues. Still, if there was ever a year for Detroit to unseat Butler this is the season. Failing this season could be a significant psychological blow.
3. Nevada was picked by the WAC coaches to win the league, edging out New Mexico State. Utah State was third. Utah State has been the dominant team in the WAC, and it is finally going through a rebuilding phase. Utah State has been in the mix an at-large berth for years and fellow bubble teams have sweated out the WAC final. No need to worry this season. Nevada probably won't have the résumé to warrant an at-large berth in its final season in the WAC before going to the MWC. This is a one-bid league.
October, 4, 2011
10/04/11
6:15
PM ET
By
Diamond Leung
| ESPN.com
Detroit could be one of the nation's best mid-major teams and a big threat to overtake Butler in the Horizon League. The Titans are doing it with sophomore guard and son of the coach Ray McCallum along with a mix of impact transfers in guard
Chase Simon
from Central Michigan and forward
Eli Holman
from Indiana.
But not everyone was happy when news emerged that
Detroit managed to land Western Michigan transfer
forward
Juwan Howard Jr.
, who will have to redshirt the season before becoming eligible. According to the
Kalamazoo Gazette
, WMU coach Steve Hawkins stood behind Howard for deciding not to return due to personal reasons, but wasn't exactly thrilled to lose a second talented player to the Titans.
That's the same Detroit which also wound up with another prized WMU freshman, center LaMarcus Lowe, following the 2008-09 season.

WMU coach Steve Hawkins wasn't thrilled then and his "No comment" on his feelings about Howard's trek to Detroit said plenty this time, too.

...

After Lowe's transfer to Detroit, Hawkins decided not to renew the Broncos' long-running series with the Titans after the current contract expires following this season's game at Calihan Hall.
Howard ending up at Detroit isn't the first time McCallum's addition of a transfer left another program unhappy. When Holman left Indiana, coach
Tom Crean found the circumstances of that departure to Detroit troubling
.
Crean on Thursday characterized Holman hooking up with Detroit as "an orchestration," according to The Indianapolis Star.

"We were led to believe that this was a family decision and that he wanted to get closer to home," Crean said, according to The Star, "but now it doesn't look like that's the way it's going to turn out.

"I don't think there's any doubt that there was a certain amount of orchestrating going on. It's disappointing -- very disappointing -- on a lot of fronts."
The Kalamazoo Gazette reported Hawkins declined comment when asked if he felt Detroit coaches had tampered with Howard, and McCallum did not return a phone call from the paper. Either way, Detroit adds Howard, the son of an NBA player and former Fab Five member. And once again, the transfer issue has rubbed someone the wrong way.