College Basketball Nation:

Chaz Williams
February, 22, 2014
Feb 22
1:56
AM ET
AMHERST, Mass. -- The sellout crowd pouring into the Mullins Center was treated to some nice gifts on Friday night: 8,000 rally towels and 3,000 shirts.
But, given the fact that this was a University of Massachusetts game, the more appropriate freebie would have been boxes of Whitman's Samplers. Fans could then reach in and pull out a caramel, an almond nougat, a pecan cluster.
Of late, the Minutemen have been the college basketball equivalent of Forrest Gump's box of chocolates: You never know what you're going to get.
[+] Enlarge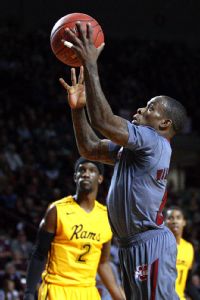 Anthony Nesmith/AP ImagesChaz Williams scored 20 points and came up big down the stretch to lead the Minutemen past VCU.
Last week, for instance, they lost their first home game of the season and did so to last-place George Mason. At that point, the Minutemen, once 16-1 and ranked No. 12 in the country, had lost four of their past seven games and appeared to be tailspinning toward a possible flameout of a once-promising season.
Then they went on the road and pinned the first home loss of the season on George Washington.
So, who knew what to expect in last night's much-anticipated matchup with the powerful Rams of Virginia Commonwealth University? What would UMass pull out of the box, a molasses chew? A toffee chip? A cherry cordial?
Something very sweet indeed.
Riding a relentless wave of energy before a pulsing home crowd, UMass roared from behind to post an 80-75 win. It was a savagely entertaining game, college basketball at its very best: two teams with unyielding energy, clawing for every loose ball, battling for rebounds as if they were the last piece of food in town.
And when it was over, the Minutemen had improved to 21-5, 8-4 in the Atlantic 10, the long-awaited NCAA tournament now so close they could taste it. No, UMass is not home free -- there is still some winning to do -- but coach Derek Kellogg could sense the quest within the team's grasp.
"I let the guys know we have something special going on here, and take advantage of it, each and every day," said Kellogg, now in his sixth season as head coach at a school that hasn't been to the NCAA tourney since 1998. "Take advantage of the crowd being the way it was, that we have a national television audience [on ESPN2]. You have to enjoy it, because it really only happens once. You don't want to look back on your career and say, 'What if? What if I would have played a little harder that particular day or that instance or practiced a little harder?' Let's try to leave everything on the floor and see where this magical ride can lead us."
Kellogg, of course, knows this from experience. He played at UMass from 1991-95 on teams that made it to four straight NCAA tournaments (at a school that had not been to the NCAA tourney in 30 years before he arrived).
"For me, I do look back on it because I played here when we were going to the NCAA tournament quite frequently, and the gym was sold out," Kellogg said. "What's special for me is I kind of sold these guys on a vision of what UMass could become, or what it was. To see it come to fruition for me, that's special."
The vision was brought to life last night as UMass out-toughed VCU, winning the turnover battle, proving just a little fiercer on 50-50 balls, exerting its will just a little bit more. Led by their three-guard set of
Chaz Williams
(a game-high 20 points),
Derrick Gordon
(16) and
Trey Davis
(13), the Minutemen managed to play both fast and in control. They won despite not hitting a single 3-pointer all game.
[+] Enlarge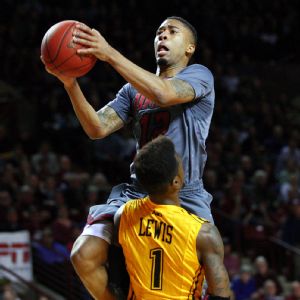 Anthony Nesmith/AP ImagesTrey Davis is coming on strong right when UMass needs him most.
The Rams (20-7, 8-4) are known for their renowned "Havoc" -- end-to-end pressing and trapping. UMass has adopted "P.A.I.N." as its badge of courage, standing for "pressure, agitate, interrupt, neutralize." In essence, it's two sides of the same coin, though you'd never know it listening to Williams.
"We bring P.A.I.N.," Williams insisted. "We don't bring no Havoc. That's their slogan; that's what they do. We're all about P.A.I.N over here."
The hurt was inflicted most dramatically in the closing seconds when Williams hit two colossal free throws with 17 seconds left (part of an 8-for-8 effort) to extend UMass' precarious lead to 78-75. With VCU then steaming downcourt, Williams blazed from behind to swipe the ball from
Briante Weber
, the head honcho of Havoc, who leads the nation in steals. Williams was fouled and sealed the game with two free throws with eight seconds remaining.
Williams said that he was inspired by a message of support from former UMass football player and star
New York Giants
receiver
Victor Cruz
: "Head down, keep grinding forward."
Cruz was on hand on this festive evening, addressing the sellout crowd during a timeout, imploring it to be loud, posing for seemingly hundreds of photos.
For most of the first half and the early part of the second, VCU had the best of the battle. The Rams built a nine-point lead a couple of times before intermission and went to the break up 39-34. They were led by
Treveon Graham
, who scored nine of his team-high 19 points in the first half.
UMass scrapped back after intermission, taking the lead 50-49 on a Williams layup with 13:47 left. From there, the game swung back and forth with unceasing intensity. Gordon's barreling drives and deft floaters -- and Davis' pull-ups and penetrating moves -- kept the UMass offense spread and attacking, opening things up for Williams. It was a three-pronged approach VCU couldn't quite handle.
Davis has been a revelation of late for UMass, and he had his finest hour at this critical moment in the season. He had four steals, two assists and, significantly, zero turnovers in 30 minutes of play. He showed coming-of-age toughness and composure down the stretch. With four minutes left, he came up with a key steal and a pull-up jumper to put UMass ahead to stay 70-68. Later, out of a timeout, he attacked the lane and pulled up for an icy 12-footer with 1:30 left for a 74-71 lead.
VCU coach Shaka Smart was duly impressed.
"He's a different player," Smart said. "He's one of the most improved players in our league. That's not the same guy we played against last year. He's a high-level A-10 player now. That's what you want."
Davis said that last week's loss to George Mason became a critical test of UMass' character.
"We definitely came together," he said. "It's a brotherhood. After that game, we talked to each other. We didn't really get down on ourselves. We became closer as a team."
Kellogg admitted he was basking a bit in the atmosphere at the Mullins Center, even before tipoff.
"To start the game, I had a little touch of it," he said. "It was unbelievable. I was enjoying the moment."
Mostly, he said, he reveled in seeing the happiness of friends and family: "I love that other people are enjoying our success … For me, that's euphoria. It's just unbelievable."
But he emphasized he won't be basking for long, and he won't accept it in his players, either. "We just can't settle and rest on our laurels," he said. "It's good that we've had a good run to this point, but how far can this team go? I think we can do something special this year."
February, 15, 2013
2/15/13
8:00
AM ET
Another wacky week in the Atlantic 10, another mostly futile attempt to place the lion's share of these teams in something resembling a hierarchy. Let's give it a less wordy shot:

1. Virginia Commonwealth.
For most of the nonconference season, VCU was an elite defensive team. Shaka Smart's constant pressure system worked: It forced opponents into the highest turnover rate in the country -- a distinction it still maintains; Rams opponents cough it up on 29.3 percent of their possessions -- while VCU's all-men-on-deck combination of lightning-quick guards (
Treveon Graham
,
Darius Theus
,
Briante Weber
,
Troy Daniels
,
Rob Brandenberg
) constituted one of the most exciting watches in the sport.
But a weird thing happened on the way to the Atlantic 10: VCU's defense got mediocre. The Rams still force a ton of turnovers, of course, but when they
don't
force turnovers, they don't get stops. VCU's league opponents make 38.0 percent of their 3-pointers and 50.2 percent of their 2s, and have averaged 1.01 points per trip, making VCU's defense the seventh-best in the league. Another weird thing happened: VCU's offense took off. Through nine games, the Rams have the best per-possession offense in the A-10. Talk about a reversal of fortune.
Why put them back at No. 1 this week? Because I think VCU's defense will come back. And if it does,
and
this offensive pace continues, the Rams will be as dangerous as any team in the country.
Also, Thursday night
Juvonte Reddic
did
this
. So you know.
2. Butler.
If power rankings are a balance between a team's long-view work to date and an evaluation of its current performance, you could still make the argument that Butler is the best team in the Atlantic 10. After all, no one else can lay claim to a win as good as Indiana, not to mention Gonzaga at home. (Marquette in Maui wasn't too bad, either). But the Bulldogs, it should be noted, entered Wednesday night's home date against Charlotte with
a conference efficiency margin of only 0.08 points per possession
, tied with La Salle and George Washington for fourth-best in the league. And then they lost to Charlotte at home. I'm not panicking just yet, nor should Butler fans; there is still much to recommend the Bulldogs. But it is not heresy to admit that Butler has struggled in the past two weeks, even as wins over Rhode Island, St. Bonaventure and George Washington masked that fact.
3. Saint Louis.
The Billikens, meanwhile, are headed in the opposite direction: Since back-to-back losses to Temple and Rhode Island on Jan. 12 and Jan. 19, St. Louis has won six in a row in mostly easy fashion, including a 73-58 victory over Butler. Its defense allows the fewest points per trip in the league (0.915), mostly because Saint Louis rarely allows offensive boards. But the schedule only gets tougher from here: versus Charlotte, versus VCU, at Butler, versus Saint Joseph's, at George Washington, at Xavier, versus La Salle. In other words: go time.
4. La Salle.
Were it not for that baffling mid-November home loss to Central Connecticut, the Explorers might well be the subject of some national discussion. Because other than that, the rest of La Salle's losses (at Bucknell, Miami, Charlotte and Xavier, and a 61-60 home loss to Massachusetts) are completely forgivable. Saint Louis has been stifling on the defensive end in conference play, but La Salle is right there with its friends from the Midwest, and perhaps it's time non-A-10-heads sat up and took notice.
5. Massachusetts.
OK, UMass fans: You win. I have officially decided to stop qualifying everything I write about the Minutemen with some version of "Well, their efficiency numbers haven't been very good, so the other shoe could drop any time now." It's not that I didn't like UMass, or something sinister like that; it just felt like fair warning. I'm done now. The bottom line is UMass is the fourth-fastest team in the country -- in this hyper-slow modern college basketball landscape, this is something we should be praising in and of itself -- and that pace, aided by the speed of point guard
Chaz Williams
, allowed the Minutemen to post the A-10's second-ranked efficiency offense performance and fourth-ranked defense prior to Thursday night's game at VCU. The Minutemen were blown out in that game, but that'll happen at VCU. Either way, it's time to start taking Derek Kellogg's team seriously.
6. Charlotte.
On Wednesday night, Charlotte won 71-67 at Butler. I reacted to this in some detail Thursday, so instead of repeating myself,
I'll merely send you there
.
7. Xavier.
For a young team that struggled so much in the nonconference, Xavier sure seems to be headed in the right direction now. Maybe that was bound to happen. Maybe it's a product of the Musketeers' backloaded schedule. All three of Xavier's league losses came on the road; its only real quality A-10 win (La Salle) came at home. The Musketeers go to Dayton on Saturday, and then Rhode Island next week. Those will be tests, sure, but it gets really gully starting Feb. 23, when Xavier closes with -- get this -- VCU, Memphis, UMass, St. Louis and Butler. This is going to be
really
interesting.
8. George Washington.
As mentioned above, the Colonials' league efficiency margin of 0.08 points per trip was, before Wednesday's games, tied for the fourth-best in the league. George Washington hasn't played since. The ceiling is pretty limited here, but Mike Lonergan's team plays defense, and that makes it a very tough out.
9. Temple.
More like TempLOL, am I right? No? Come on, Owls fans. Now might not feel like the time to joke, but I find the hoary old chestnut holds true: "Laughter is the best medicine … for getting over an 84-83 home loss to Duquesne." That actually happened Thursday night; that's a real thing. And it's a perfect summation of this insanely unpredictable, defense-averse Temple team, a team that can now say it beat Syracuse in Madison Square Garden and lost to Duquesne at home. Your guess is as good as mine.
10. Saint Joseph's.
Fun game in Philly this weekend, when Saint Joe's meets La Salle in another Big 5 matchup. At this point, city pride is starting to feel like the best possible outcome for Saint Joe's. It's a really disappointing team.
11. Dayton.
In December, back when we thought Alabama was a top-four SEC team, Dayton's victory in Tuscaloosa seemed to foretell another unpredictable, up-and-down Dayton season. Now it just looks like the latter.
12. Richmond.
The Spiders have been racked by injuries, which is a good explanation for why an offense that played so well on a per-possession basis in the nonconference season has been the A-10's 12th-best to date. The Spiders have struggled on defense all season; without scoring, they're having a tough time.
13. St. Bonaventure.
When they beat Temple and Saint Joe's on the road in late January, the Bonnies seemed to be on the rise. But they've fallen back below .500 since and, despite a valiant effort in a three-point home OT loss to La Salle on Wednesday, are clearly in a rebuilding stage.
14. Rhode Island.
Between a road win at Saint Louis -- still can't figure that one out -- and Wednesday's 75-72 home victory over Dayton, Rhode Island lost six consecutive games. And you know what? It was all positive stuff. Remember, this is a team with a first-year head coach that won seven games in 2011-12. Five of the losses in the recent skid came by single digits. The Rams are playing people tough. It's a weekly refrain in this space, but it's true.
15. Duquesne.
Duquesne! Huge win over Temple on Thursday night, not for any tangible reason -- it's not as though Duquesne is on the bubble -- but for sheer morale. It's not easy to play in a league like this when you're overmatched, and you had better believe knocking off one of the league's annual contenders in its final season in the league, in its own building, had to be incredibly satisfying.
16. Fordham.
Fordham, unfortunately, has had no such fun. Its only two league wins have come over Rhode Island and Duquesne; it has lost its past five games; and on Saturday, Butler comes to town. Ouch.
February, 7, 2013
2/07/13
12:32
PM ET
By
Ryan Feldman
| ESPN.com
Player of the Night -- Chaz Williams, Massachusetts
Williams had a season-high 27 points and eight assists in a win over Rhode Island. The UMass guard shot 9-of-14 from the field, 3-of-5 on 3-point attempts and a perfect 6-for-6 from the charity stripe. For the season, Williams is averaging 16.4 points, 7.0 assists and 4.4 rebounds per game. He's the only player in the country averaging at least 15 points, seven assists, four rebounds and two steals per game. In the last 15 seasons, only three players have had those averages: Ohio's
D.J. Cooper
(2010-11), Pittsburgh's Brandin Knight (2001-02) and Weber State's Eddie Gill (1999-2000).
Freshman of the Night -- Marcus Smart, Oklahoma State
Smart made an impact on both ends of the court, totaling 14 points, eight rebounds, seven assists and four steals in Oklahoma State's overtime win against Baylor. Smart hit a go-ahead jumper late in regulation and a game-tying 3-pointer early in overtime to help the Cowboys get the win. Smart is the only freshman this season with at least 14 points, eight rebounds, seven assists and four steals in a game. He's the first freshman on a current Power 6 team to post those numbers since Marquette's Dwyane Wade in November 2001 against Tennessee.
Scorer of the Night -- Marshall Henderson, Ole Miss
Henderson lit up Mississippi State for 31 points. He shot 8-of-18 from the field, 6-of-14 on 3-point attempts and 9-of-10 from the free-throw line. It was the fifth time this season that he scored at least 25 points and made at least six 3-pointers. The SEC's leading scorer has attempted at least 10 3-pointers in each of his last seven games and his 85 3-point attempts since January 15 is 21 more than any other player in the country.
Breakout Performer of the Night -- Greg Smith, Colorado State
Smith, a senior who had played in 108 career games entering Wednesday, set career highs in points (28), field goals (11) and field-goal attempts (17) in Colorado State's win at Nevada. Smith also grabbed 12 rebounds, the second-highest total of his career, and was 2-for-2 on 3-point attempts, matching a career high for 3-pointers made. It was Smith's third career double-double and first in nearly two years.
Stat Sheet Stuffer -- Joe Burton, Oregon State
Burton's 17 points and seven rebounds are nothing extraordinary, but the 6-foot-7, 295-pound center also dished out 10 assists. Burton is the first D-I center to reach those totals in a game since Northwestern's Evan Eschmeyer in January 1999 against Indiana. Burton now has two career double-digit assist games. In the last 15 seasons, no other D-I player listed within 40 pounds of Burton has had a game with at least 10 assists.
January, 4, 2013
1/04/13
8:00
AM ET
Another week of Atlantic-10 power rankings, another week spent reading through the kind words of
my adoring readers
. Let's do this, guys!

1. Virginia Commonwealth.
In my experience, Butler fans are not only some of the nicest people around, there's also eminently reasonable. By and large, each week I've ranked VCU above the Bulldogs, Butler fans have typically (not always, but typically) responded with some version of "I'm a Butler fan, but that's cool. That VCU team is good."
Call it the Pax Atlanta: This year, this league's two teams (at least to date) are also its two newest, recent products of conference realignment, 2011 mid-major Dance-crashing brothers in arms, with mutual respect for each other's young star coaches and greatly contrasting styles of play. That's the vibe I'm picking up, anyway, and it has been refreshing to see -- even after that victory over Indiana -- Bulldogs fans take a step back and look at just what this VCU team is doing and say, "Yeah, you know? They're really good too."
Because they are: After their latest offensive explosion against East Tennessee State -- in which guard
Troy Daniels
made 11-of-20 from 3, for 33 points and 10 rebounds -- this year's Rams team is mixing its typically fantastic ball-hawking defense (VCU forces both turnovers and pure steals at the highest rate in the country) with efficient, balanced, long-range offense. It has been a
lot
of fun to watch, and with A-10 play picking up, it's only going to get better.
2. Butler.
What's most interesting about this Butler team to date is not that the Bulldogs are good. I expected that, and I was hardly alone. What's interesting is
how
Butler is good. To wit:
See? Butler has made a sudden and drastic shift, from a putrid offense with a stubborn defense to much more efficient scoring with a much more forgiving defense. The obvious culprits -- not that this is a bad thing, because
man
was Butler hard to watch last season -- are the additions of sharpshooting
Rotnei Clarke
and
Kellen Dunham
in place of defensive specialist Ronald Nored and frustrating shooting guard Chrishawn Hopkins. But
Andrew Smith
has also taken his game to another level,
Roosevelt Jones
is a great glue type, and Butler is actually shooting the ball disproportionately better inside the arc than outside it. Perhaps the threat of Clarke and Dunham launching from range is as important as the execution. Whatever it is, it's working.
3. Temple.
We discussed Temple -- or, rather, the reaction to Temple's Dec. 22 road win over Syracuse -- in great detail last week, so we won't spend too much time breaking the Owls down this week. Instead, a heads up: On Sunday, Temple travels to Kansas. If they win there, I will put the Owls No. 1 in next week's rankings. I don't think that's going to happen, but still, it would be awesome to see -- especially because it would give Canisius transitive-property bragging rights over both Syracuse
and
Kansas. I sense a great disturbance in the force.
4. Saint Louis.
New Year's Eve was big for the Billikens in a couple of different ways. For one, guard
Kwamain Mitchell
made just his second appearance of the season after returning from a November injury, and with 29 minutes Monday was his first return to full-time duty. Oh, and there's this: Saint Louis beat New Mexico at home, 60-46. The game came just a couple of days after New Mexico fought hard for a win at Cincinnati (before Cincinnati went to Pittsburgh and got what might end up as one of the most impressive road wins of the season), so you could forgive UNM for being a little worn out with the road trip by the time they passed under the Arch. But no matter, that's a really nice home win for Jim Crews' bunch, one that should stand the test of time as it pertains to the NCAA tournament at-large picture. With Mitchell healthy, this team is a real A-10 title challenger. But we knew that already.
5. Saint Joseph's.
The Hawks move back into the top five almost by default this week thanks to some of the second-tier teams' performances, but their own struggles (in addition to Xavier's) appear to have made the Atlantic 10 not quite as elite-deep as it appeared to be back when everyone was jocking St. Joe's in the offseason. The Hawks' issues have primarily come by being a bit soft on defense -- they neither force turnovers nor protect their own glass -- and their offense hasn't been good enough.
6. La Salle.
After a second-half collapse, La Salle took an L at Miami on Wednesday, which isn't an incriminating loss: Even without injured forward
Reggie Johnson
, the Hurricanes are really tough at home. So if you're willing to forgive La Salle its Nov. 18 home loss to Central Connecticut State (and I am, because it was Nov. 18) and are willing to dive into some of the Explorers' tempo-free numbers (you know it), you'll find an above-average offense led by senior
Ramon Galloway
, which is thus far carrying a below-average defense that gets, according to Synergy scouting services, absolutely shredded by opponents' pick-and-rolls. That play set has dragged down the Explorers' entire half-court defense (they do a nice job in transition, partially because they don't turn the ball over often on the other end of the floor), and could be one fruitful adjustment to make to start the A-10 season.
7. Dayton.
So, I'm a little bit torn on Dayton's latest result. That result? A 63-61 overtime loss at USC. Why am I torn? Because on the one hand, USC is pretty objectively bad. On the other hand, USC has played a brutal nonconference schedule, Kevin O'Neill's USC teams have tended to pick up steam (especially defensively) as the season goes along, and you get the feeling that Dayton won't be the only team held to .79 points per trip on USC's floor this season.
8. Charlotte.
Charlotte is shooting 28.3 percent from beyond the arc this season. The good news? Charlotte rarely attempts 3-pointers. So at least the 49ers are self-aware. Unfortunately, this has made their offense a bit one-dimensional, and despite the gaudy 12-2 record Alan Major's team is still barely scoring more than a point per trip overall this season. Meanwhile, its victory at Davidson remains the only real sign that this team is considerably better than it was last season. The A-10 campaign will tell us much.
9. Xavier.
It will be interesting to see how we look back on Xavier's four-game late-December losing streak. Will it become part of a young-team-comes-together narrative? There's still plenty of time for that, after all, and no A-10 fan is willing to count out the Musketeers before conference play even begins. But my hunch is that this team just isn't all that good, at least not yet; it doesn't have any area of the game in which it really excels.
10. Richmond.
The Spiders, on the other hand, have an identity: They score the basketball. Richmond's offense is still top-40 good, efficiency-wise, and the Spiders get after people on the defensive end, forcing opponents into a turnover on 24.4 percent of their possessions. But the defense is suspect in all of the other important factors, and while you can sing the praises of an efficient offense all you want, Richmond hasn't beaten anyone even remotely good (including George Mason and Davidson, the latter a home loss).
11. Massachusetts.
Thus far this season, Massachusetts has scored .983 points per trip. It has allowed .990. This is obviously not a sustainable winning formula. But the Minutemen do have one thing in their favor: pace. Per KenPom.com, Massachusetts crams the third-highest number of possessions (adjusted for competition) into 40 minutes in the country: 74.6. You can see, with a guard as quick as
Chaz Williams
, why coach Derek Kellogg would want to get out and run. The problem is that UMass hasn't really guarded anybody, and shoots a lot of 3s despite knocking down just 30.2 percent to date. UMass fans seem convinced this team is drastically underrated here, but I'm not seeing it, at least not yet.
12. St. Bonaventure.
The Bonnies, at least, can knock down shots. Indeed, at 7-5 this may be one of the sneaky-underrated teams in the league right now. The Bonnies have three efficient senior guards going right now (
Demitrius Conger
,
Chris Johnson
and
Eric Mosley
, who comes off the bench and has the highest offensive rating on the team) and 6-foot-8 junior forward
Marquise Simmons
has been especially effective on the glass, too. Last week, I made the comment that Mark Schmidt's team was especially generous to opposing 3-point shooters, and that at some point we had to consider that a flaw; as one commenter corrected me,
that might not actually be the case
. If opponents cool off a little bit, this team's defense won't look so questionable.
13. George Washington.
George Washington is the opposite of St. Bonaventure: The Colonials' offense is ugly (.967 points per trip) but its defense is actually a top-50 unit, allowing just .899 points per trip thus far. I'll be interested to see if GW can steal a win at a bad Georgia team Friday night, and if so, whether our perception of the Colonials as a total low-end A-10 also-ran this season ought to change.
14. Duquesne.
Back-to-back road losses are no big deal. Back-to-back road losses at Louisiana-Lafayette and Penn State mean you're probably not very good. (Anyone who has seen Penn State play is nodding his or her head while reading this.)
15. Rhode Island.
The Dec. 27 game at Saint Mary's was never going to be a win, so it's not like the opinion of the Rams has changed much. And conference season is going to be tough. But it was good to see first-year coach Dan Hurley coax a few wins out of his rebuilding squad before league play begins.
16. Fordham.
In a league that features Rhode Island and Duquesne, Fordham seems to pretty clearly be the worst team on offer.
October, 15, 2012
10/15/12
11:30
AM ET
Editor's Note: For two weeks, we're rolling out Blue Ribbon previews for every team in the country. We'll also have comprehensive preview coverage of the nation's top 10 conferences. As part of that, we're asking our writers to share what they're most looking forward to in each of those leagues. Let's start it off with the A-10 ...
How will the new generation of coaches fare?
This used to be a fairly seasoned bunch of wily elder statesmen coaches, what with Rick Majerus, Fran Dunphy, Phil Martelli, Jim Baron and Ron Everhart on the sidelines.
But with old coaches either moved out or moved on, the demographics of the league have shifted considerably. Currently 10 of the Atlantic 10's 16 coaches are 45 or younger and include some of the brightest names of their generation.

With all of that attention, of course, comes pressure and expectation. I'm curious to see how the game's "It" boys will handle all of that in a league that is especially deep and competitive this season.
Just how deep will this league go come March?
Basketball hasn't scored a lot of wins in the realignment fiasco, but count the Atlantic 10 as a bona fide success story. Adding VCU and Butler makes a very good league potentially great this season.
You can easily make a case for no fewer than six teams earning NCAA tournament bids this year -- Saint Louis, Saint Joseph's, VCU, Butler, UMass and, in its A10 swan song, Temple. That's not counting pesky teams that are always dangerous to count out regardless of their makeup -- a la Xavier, Richmond and Dayton -- or rising programs such as La Salle.
As the Big East disassembles, reassembles and attempts to rebrand, its eastern bloc neighbor has stepped in as the conference to watch.
Can Saint Louis reach its expectations without Rick Majerus?
The game no doubt suffers without the personable and basketball savant on the sidelines, but how about the Billikens? A team that many expected to vie for the conference crown is now without its coach.
My money is on Saint Louis not missing a beat, and that's not just based on a "win one for the Gipper" hunch.
The Billikens lose a great scorer and leader in Brian Conklin, but they return the nucleus of a team that broke through to the NCAA tournament a year ago. And in Majerus' place, Saint Louis has the good fortune to lean on veteran Jim Crews, a solid coach who is smart enough to not try to reinvent Majerus' wheel.
The silver lining in the awful news of Majerus' health issues is that it happened well before the season, allowing Crews time to assert himself as the head coach and work with his players.
The real reason I expect the Billikens to soldier on, though, is because Majerus is their coach. His teams are known for being prepared, and while there isn't any contingency plan for playing on while your coach handles serious heart maladies, you have to think that his single-minded approach will see SLU through.
Can Xavier keep its NCAA tournament streak alive?
Once considered a pseudo mid-major, Xavier, like Gonzaga, permanently removed itself from that list with its model of consistency. The Musketeers have made it to the tournament every year since 2005, even rallying in last year's brawl-bruised season to keep the run alive.
This year, Chris Mack has so much work to do it's hard to envision how Xavier could make it back. Virtually the entire starting five has either graduated or been dismissed from the team.
Travis Taylor
, who averaged 14 minutes per game, is both the leading returning scorer and the most seasoned player.
Betting against the Musketeers always seems a bad idea, but this season, with so much work to do in a league with as much quality as this one, it's hard to imagine how Xavier runs its mark to eight years in a row.
Is this the breakthrough year UMass fans have been waiting for?
Since Derek Kellogg returned to his alma mater in 2008, folks have been waiting for the glory years he enjoyed as a player to return to Amherst. Of course that would be a rather tall and ridiculous order, considering Kellogg went to the NCAA tournament four years in a row, including the Elite Eight, and won four consecutive Atlantic-10 regular-season and tournament titles as a player.
But this could at least be the year the Minutemen return to NCAA tournament relevance.
UMass rolled to the NIT semifinals last season, riding on the coattails of guard
Chaz Williams
. The Hofstra transfer averaged 16.4 points and 6.4 assists per game and is exactly the sort of bona fide star you can build something special around.
If Williams picks up where he left off (he upped his scoring numbers through the NIT to 21.8 per game), UMass might see itself on the big ticket for the first time since 1998.
July, 26, 2012
7/26/12
12:00
PM ET
Tournament bracket
for the Puerto Rico Tip-Off
When and where:
Nov. 15-16, 18 at Coliseo de Puerto Rico in San Juan, Puerto Rico
Initial thoughts
: NC State is hardly a lock to win this event. The Wolfpack will be getting all the preseason praise but Tennessee is a legit SEC top-three contender and will be one of the hardest teams NC State has to play if the two teams meet in the final. ... Oklahoma State will debut one of the most heralded freshmen in Marcus Smart, who was beloved by the U18 USA coaches when they won gold in Brazil last month. ... Don't sleep on UMass. The Minutemen are a legit A-10 contender and have a quality guard in
Chaz Williams
, formerly of Hofstra. ... Providence coach Ed Cooley said he has the best guard in the Big East in
Vincent Council
. He may be right. ... Penn State will be on national display in this event for the first time with its men's basketball team. By the time this game occurs, the football story will be nearly over for the fall and the Nittany Lions will need a new team to rally around. Pat Chambers has the personality to spark belief in his product. ... Back to NCSU. This is a critical tournament for its credibility. The Wolfpack have rightfully received preseason publicity as a potential ACC champ, but a flameout in Puerto Rico will fuel the narrative that they're not ready for primetime. ... The field in this event may not seem filled with NCAA-bound teams, but Oklahoma State and Massachusetts have a real shot to be on the bubble in March.
Matchup I can't wait to see
: As odd as this sounds, a UMass-Providence matchup in Puerto Rico is tantalizing. If Williams and Council were to guard each other it could be the toughest test either will face during the season. PC is still holding out hope that Ricky Ledo is eligible, too. The Minutemen have a strong producer inside in
Terrell Vinson
. I can't see Providence advancing past NC State. UMass would give the Pack a better game but the Minutemen will be pushed in this opener and may have a difficult time getting out of the first round.
Potential matchup I can't wait to see
: Oklahoma State-Tennessee in the semis would put quite a bit of talent on the floor. The Volunteers have
Jarnell Stokes
and
Trae Golden
to go along with
Jeronne Maymon
, while Oklahoma State has Smart,
Le'Bryan Nash
and
Cezar Guerrero
, who can all fill the stat sheet. But if this matchup occurs, expect the Vols to make life extremely difficult for the more finesse Cowboys.
Key players to watch
Jeremy Atkinson and Jaron Lane, UNC Asheville
: The pair of rising seniors have to take significant steps forward after the Bulldogs lost their top three scorers from a team that won the Big South, earned a No. 16 seed and went toe to toe with Syracuse in the NCAA tourney. Asheville is one of the more inexperienced teams in this field and may struggle to avoid being in the 0-2 seventh-eighth-place game.
[+] Enlarge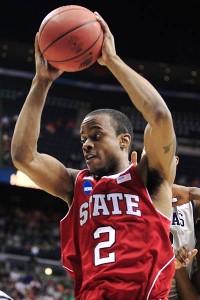 Tony Dejak/AP PhotoNC State needs a healthy Lorenzo Brown to lead the team.
Lorenzo Brown, NC State
: Brown had offseason knee surgery and his status for the Wolfpack's trip to Spain is in jeopardy. But if the Wolfpack are going to be an ACC title team, Brown must be the leader Mark Gottfried needs in key games like these in Puerto Rico. He'll have plenty of help with the arrival of Rodney Purvis, T.J. Warren and Tyler Lewis and the return of
C.J. Leslie
,
Richard Howell
and
Scott Wood
. But Brown must be the team's designated leader.
Vincent Council, Providence
: Council's numbers have continued to rise during his three seasons. He finds scoring rather easy. The departure of
Gerard Coleman
and the unknown status of Ricky Ledo and the injury to Kris Dunn means even more pressure will be on Council to shine early and often next season.
Tim Frazier, Penn State
: The Nittany Lions tended to have at least one go-to player/headliner under Ed DeChellis. Now Chambers has one in Frazier, who shined with more opportunities and averaged 18.8 points a game. Expect him to have the ball in all critical situations for PSU. Frazier has All-Big Ten potential. This event will be a solid prep for him going into the conference.
Zeke Marshall, Akron
: I remember seeing Marshall at the LeBron James camp in Akron when he was a junior in high school and wondering why this shot-blocker was going to the MAC. But Keith Dambrot stayed on him from the beginning and landed the best big man in the league. Marshall should get a chance to shine in three games in Puerto Rico and start to build a following for his senior season.
Le'Bryan Nash, Oklahoma State
: Nash had his moments where he was a star and others when he was an enigma during his freshman season. He has a shot to be one of the more productive players in the Big 12. He doesn't have all the pressure on him anymore with Smart's arrival. This is a significant season for Nash, both in college and in shaping how the NBA views him as a possible draft pick.
Jarnell Stokes, Tennessee
: Stokes started off last season season in high school, graduated early and suddenly was having a major impact scoring and on the backboard in the SEC. Now Cuonzo Martin gets Stokes for a full offseason and to tip off the year. He has a wide base and should be the most immovable post player in this event. He is on a team with experience and that trusts him to finish when he calls for the ball in the post.
Chaz Williams, UMass
: Derek Kellogg's program was struggling, rudderless at the most important position until Williams became eligible. He saved the team and the program from being mediocre and now he can elevate the Minutemen to the NCAA tournament. Williams will have the ball in his hands plenty throughout the four-day, three-game tournament.
Predicted winner
: If Brown is healthy, then NC State wins this event over Tennessee. But the Vols are more than capable of taking down the Wolfpack even with a healthy Brown playing. If any other teams are in the final, then it's a disappointing start for NCSU and UT. The pressure is on the Pack to get off to a signature start before high-profile games which follow in late November and early December. They are going to have to defend to beat Tennessee and do it with more purpose. The Vols will be ready for a physical scrum. This is the type of early-season tournament that could upset the rankings if UT wins. But I'll stick with NC State for now as the favorite.
Who others are picking:
Eamonn Brennan:
NC State over Oklahoma State
Jason King:
NC State over Oklahoma State
Myron Medcalf:
NC State over Tennessee
Dana O'Neil:
NC State over Tennessee
April, 26, 2011
4/26/11
6:27
PM ET
By
Diamond Leung
| ESPN.com
The UMass basketball student fan club known as the Mullins Militia seems to be off to a good start. After all, one guy sits in the student section dressed as a referee. Another is suited up as
one of the Teletubbies
.
According to
masslive.com
, the group is made up of 80 students and just finished its first season. The fan club is composed of mostly freshmen who are looking to build something after the school wanted to improve turnout.
Through initiatives on campus, the Mullins Militia has tried to increase attendance at men's basketball games. [Coach] Derek Kellogg worked with the group by asking students to attend basketball games while swiping meal cards at the school's dining commons.
It's now up to Kellogg to build something as well, as the Minutemen are searching for their first winning season since 2008 when Travis Ford was coaching. The team went 15-15 this season despite getting off to a 7-0 start, the best since the days of John Calipari.
It won't be easy replacing leading scorer
Anthony Gurley
next season, but the Minutemen do have Hofstra transfer Chaz Williams coming in to play point guard after making the CAA all-freshman team.
The season for UMass ended with a loss at Fordham that snapped the Rams' 41-game A-10 losing streak, a first-round loss in the conference tournament, and Kellogg's boss
denying the coach's job was in jeopardy
.
While the fans work to create atmosphere at the games, what will really help UMass liven up the place is some more winning.