College Basketball Nation:

Chicago State Cougars
December, 6, 2012
12/06/12
4:40
PM ET
I'm deciding to break my personal (always-subject-to-change-when-my-editor-says-so) no-realignment-news rule just this once. The piece of news at hand is simply too monumental to ignore, even if it escaped my purview Wednesday afternoon.
Chicago State is now part of a basketball conference.
Yes, you read that right. A current denizen of the Great West conference, which is less a conference than a loose assemblage of schools with no automatic NCAA tournament bid between them, Chicago State is in one of college basketball's most unenviable positions. In his first two seasons, coach Tracy Dildy has won just 10 games total, and has usually finished near the absolute bottom of KenPom's efficiency statistics, too.
But life isn't easy in the Great West, and Dildy is absolutely ecstatic about the move.
From Brett McMurphy's report Wednesday
:
"It's huge for us," Chicago State men's basketball coach Tracy Dildy said. "It puts us in a legit conference. It now levels the playing field as far as recruiting and everything. We now get to offer everything everyone else does -- a chance for an automatic bid to the NCAA tournament. People have been killing us on that in recruiting. We can get and recruit a different kind of student-athlete."
That might be just a tad bit optimistic -- when he was hired,
Dildy told me Chicago State was a "sleeping giant"
-- but at the very least it should help Chicago State get a look or two from Chicago-area guys that wouldn't have otherwise thought twice. And Chicago State's facilities aren't bad. Its 5,500 seat Convocation Center is an on-campus selling point, and
its library features a robot that gets books for you
, which is obviously rad.
Anyway: Congratulations to the Cougars. It may not be the old Mid-Con, but at least it isn't the Great West.
And everyone says realignment was a bad thing. Pshh.
December, 6, 2012
12/06/12
5:00
AM ET
1. Larry Brown has been one of the stories of the first month of the season. The Mustangs are 8-1 with the only loss against Arkansas-Little Rock. SMU's most significant win so far was over a Utah team which just beat Boise State. Still, this start is somewhat stunning. How is it happening? According to Tim Jankovich, the former Illinois State coach who has been dubbed Brown's coach-in-waiting, "we are scoring easier and we're playing a little faster.'' Jankovich said the Mustangs aren't a deep team so they have to "hold their breath,'' in wishing against injuries and foul problems.

2. Fairfield gave Sydney Johnson two more years to an existing contract, pushing him to 2019. Financial terms won't be released on the deal, but there are salary increases built in that will activate at a later date. Johnson made a bit of a controversial move a year ago when he left his alma mater Princeton after a thrilling entrance into the NCAA tournament with a last-second Ivy League playoff victory over Harvard at Yale. Johnson was emotional after that win and cried after the NCAA tournament near-miss loss to Kentucky. Johnson wasn't able to take Fairfield to the NCAA tournament in his first year, but has one of the top freshmen classes in the league and fully expects to challenge for the MAAC title in March. The Stags are 4-4 this season.

3. ESPN's Brett McMurphy reported Wednesday that Chicago State is moving to the WAC. The Connecticut Post reported earlier in the week that Quinnipiac and Monmouth would be moving to the MAAC out of the NEC. If that happens, then it would occur Friday when the league's presidents meet. No decision or vote has been taken yet, according to a source, but those two schools are naturals to move up a notch as the MAAC looks to replace Loyola (Md.), which is off to the Patriot League. The facilities at both schools will immediately shoot them up toward the top of the conference in that category.
February, 4, 2011
2/04/11
11:24
AM ET
By
Jeremy Lundblad, ESPN Stats & Info
| ESPN.com
Inside the numbers behind Thursday's top performances:
1. Ohio State overcame a halftime deficit to beat Michigan 62-53. The Buckeyes are now 23-0 for the second time in school history, and are now just four wins away from tying the best start in school history (27-0 in 1960-61). The Bucks are off to the best start in college basketball since Memphis opened with 26 straight wins in 2007-08.
Jared Sullinger
had another monster game Thursday, finishing with 19 points and 15 rebounds. He's now averaging 18.0 ppg and 10.1 rpg, both tops among freshmen. If he maintains those numbers, he'd be just the sixth freshman to average 18 and 10 in the last 10 years, joining a group that includes Michael Beasley, Kevin Durant and Carmelo Anthony.
18.0 ppg and 10.0 rpg as a Freshman, Last 10 Seasons
Chris Gaston
, Fordham (2009-10)
Michael Beasley, Kansas State (2007-08)
Kevin Durant, Texas (2006-07)
Kris Humphries, Minnesota (2003-04)
Carmelo Anthony, Syracuse (2002-03)
2. It was a tough night to be a Pac-10 school from the state of Washington. Combined on Thursday, Washington and Washington State shot just 29.3 percent. The Huskies have now lost two in a row, shooting just 32.3 percent in a 68-56 loss at Oregon State. Things were even worse for Washington State, which put together its worst offensive performance in years. The Cougars shot just 25.9 percent in a 69-43 drubbing at the hands of Oregon. It was Wazzu's worst shooting performance since posting a 21.8 FG pct in a 2004 loss to Oklahoma State. The Cougars lost that game 81-29, so they can take solace in knowing it could have been much worse.
3.
Kenneth Faried
did it again Thursday night. The nation's leading rebounder posted his second 20-20 game in the span of eight days, and fifth of his career. The senior finished with 21 points and 20 rebounds in Morehead State's 78-72 win over Jacksonville State. Faried almost single-handedly out-rebounded the Gamecocks, who finished with 24 on the night. In doing so, he became just the fifth player since 1975 to reach 1,500 rebounds in his career. He now has 1,513, having passed Ralph Sampson (1,511) last night. Faried needs one rebound to tie Malik Rose for third on that list. With nine more regular-season games on the schedule, he's just 57 rebounds behind Tim Duncan, who has the most rebounds in that time period.
Most Career Rebounds, Careers Beginning After 1973
1,570 -- Tim Duncan, Wake Forest
1,537 -- Derrick Coleman, Syracuse
1,514 -- Malik Rose, Drexel
1,513 -- Kenneth Faried, Morehead St
1,511 -- Ralph Sampson, Virginia
4. Miami shot 52.5 percent from the floor and 43.8 percent from 3-point range. Meanwhile, Georgia Tech's field goal percentage was 27.4, its lowest in a game since 2001. Sounds like a blowout, doesn't it? Miami did win, but it was only by two points, 59-57. So what happened? The Hurricanes committed 28 turnovers, their most in a game in the last 15 years. That included 11 turnovers in the final 9:30. It's the most turnovers in a win in ACC play since Georgia Tech had 28 in a 2007 toppling of Duke. Miami's
Durand Scott
had 10 turnovers on Thursday, the first double-digit turnover night by an ACC player since Florida State's Jason Rich in 2008. Scott is the only Hurricane in the past 15 years to have 10 turnovers in a game.
5. Even when a 2-18 team hosts a 5-16 team, a pretty exciting basketball game can break out. Houston Baptist topped Chicago State 97-94 in overtime to pick up its third win of the season. The Huskies got a career-high 36 points from senior
Andrew Gonzalez
, who has emerged as an offensive force. Since Jan. 1, Gonzalez is averaging 25.4 ppg, which is second only to
Jimmer Fredette
(31.7). In their three wins, he's averaging 32.0 points. On the other side of the ball, Chicago State's
Carl Montgomery
had 35 points and 16 rebounds coming off the bench. He joins Norfolk State's Kyle O'Quinn as the only players with 35-15 games this season. But off the bench? It's the first time that's happened in the last 15 years.
November, 4, 2010
11/04/10
11:59
AM ET
Chicago-area college basketball is not, shall we say, experiencing its finest era. Sure, Northwestern is going through perhaps its best two-year stretch of all-time; the Wildcats have a second-straight legitimate chance to make the NCAA tournament this season. But if that's the barometer -- and the rest of the college hoops programs in the city are aspiring to be on Northwestern's level -- it's obvious you don't exactly have a regional power struggle on your hands.
Chicago is a crowded sports town, and for all its hoops programs' issues with recruiting or facilities or whatever, one main hurdle is interest. How do you compete for eyeballs with Derrick Rose and the Chicago Bulls?
I'm not sure you do. But you can start by manufacturing a little local competition.
According to ESPNChicago.com's Scott Powers
, that's exactly what Chicago's coaches want to do. New DePaul coach Oliver Purnell even gave this theoretical competition a name:
Alongside the coaches of Chicago State, Loyola, Northwestern and UIC at a press conference in downtown Chicago on Tuesday, Purnell offered up "The Chicago 5" as a potential invite name, playing off the college alliance of the "Philadelphia Big 5."

UIC coach Howard Moore has only been on the job since August, but he has already started looking into uniting the Chicago-area teams for such an event. Moore believed the best format would be a one-day invitational much like the one that was created this year between Butler, Indiana, Notre Dame and Purdue in Indiana.
I'm not sure what to think here. After all, we're talking about five pretty downtrodden programs. Are casual college hoops fans going to get too riled up for the Chicago Five? (If that's what we're calling it.) Probably not. Are Chicago fans going to care? Maybe. Kind of doubtful, though.
Still, if the only people who end up caring are the pre-existing fan bases of these teams, then it's probably worth doing anyway. It has not been a good decade or so for any of them. If a little inter-city competition sells a few extra tickets and gets a few mentions on local sports radio between breathless Bears updates ("This just in: Bears offensive line tryouts to be held at Soldier Field Sunday morning ...") then the tournament, or invitational, or whatever it will be will have been worth it. The question isn't "why?" It's "Eh, why not?"
October, 8, 2010
10/08/10
3:00
PM ET
CHICAGO -- Tracy Dildy feels good. It won't take him long to tell you why, and he won't modulate his volume when he does.
"I'm at a great university," Dildy said. "I'm undefeated. What can you say right now? I'm in first place!"
If part of being a head coach is dealing with the media, and part of dealing with the media is waxing enthusiastic, Dildy, the new head man at Chicago State, is already ahead of the game.
Next up? Transforming the Chicago State Cougars from your favorite school's perennial early-season cupcake into a real, actual basketball program. Or, as Dildy -- who grew up a couple of miles from the CSU campus on Chicago's south side -- will tell you without a hint of irony, it's time to wake a "sleeping giant."
[+] Enlarge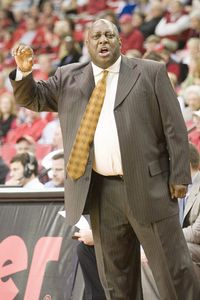 Darrell Walker/UTHM/Icon SMITracy Dildy has the reputation of being one of the Chicago area's best recruiters.
"I've always thought that," Dildy said. "Then they put dorms on campus, an arena on campus, and I started to think, 'This isn't a secret anymore. The secret is getting out.'"
If so, that secret has been well-kept. In 1984, the then-NAIA power jumped to Division I. Since then, 23 of the Cougars' 26 seasons have included sub-.500 performances. In one particularly brutal stretch -- from 1989-1999 -- Chicago State didn't win more than six games in any season.
The Cougars' conference affiliation doesn't help. The Great West Conference isn't awarded an automatic bid to the NCAA tournament yet, and the teams that comprise it form less of a conference than a loosely affiliated group of schools bound together by a common schedule.
Nor has there been much in the way of recent success. Benjy Taylor, Dildy's predecessor, led the Cougars to their best season in decades in 2008-09. Chicago State went 19-13 and featured perhaps the best player in the history of the program in guard David Holston. But last season, in Taylor's third year, the Cougars slipped to 9-23, and athletic director Sudie Davis decided to go another way.
"We felt it was very important to have people from this area running this university," Davis said. "Not only from the athletics [office] standpoint, but from the coaches standpoint."
Dildy certainly is that. He graduated from Martin Luther King High in Chicago and played college hoops in the late 1980s at the University of Illinois-Chicago, where he was later inducted into the athletic hall of fame. His first assistant coaching position was at UIC, and he served for six years as an assistant at DePaul.
During that time, Dildy built a reputation as one of the Chicago area's best recruiters. He lured Steven Hunter, Bobby Simmons and Quentin Richardson to DePaul, got Bonzi Wells to come to Ball State, and landed a variety of Chicago-area players at each of his other coaching stops (Auburn, Ole Miss, and UAB) along the way.
The path that led him to Chicago State was circuitous, to say the least. It was also contentious. Dildy returned to UIC in 2006 with the expectation that he would be first in line for the school's head coaching position once 14-year veteran Jimmy Collins eventually retired.
When Collins retired earlier this spring, Dildy says he was told he was the top candidate for the job, but that he would have to interview along with other candidates. Rather than take that risk -- and perhaps a bit spurned by the cool reception from his alma mater -- Dildy jumped to the sure thing at Chicago State.
(UIC disputes this view. In September,
UIC athletic director Jim Schmidt told Rivals.com
"there was never any verbal agreement" Dildy would be Collins' successor.)
Dildy, for his part, says he has no hard feelings about the split, though his language was somewhat coded.
"UIC is my alma mater," he said. "I wish them nothing but the best. But I'm at the program that I want to be at. And the program that wanted me."
The program that wanted him also desperately needs him. As a university and an athletics program, Chicago State sees itself on an upward trajectory. The school completed work on a 7,000-seat arena in 2007, and has recently poured money into a variety of new campus facilities, athletic and otherwise. (The school's new library, completed in 2006, features a state-of-the-art robotic book retrieval system. True story.)
Davis' long-term belief is that Chicago State will have the "best facilities of any Division I school in the Chicago area" and, eventually, "all the amenities any other Division I school would have."
That's where Dildy comes in.
"The strategy right now is to just get kids on campus," Dildy said. "A lot of families, when they come to campus, they don't realize we have all this. The campus presents itself."
From there, Dildy plans to follow the template he used as an assistant at DePaul.
"A lot of athletes have an ego," he said. "We want that one guy, that one star, who wants to come here and be a part of something special. That's how we did it at DePaul. That's how we got [Bobby] Simmons and Quentin Richardson."
Dildy plans to combine that pitch with what he called a "player-friendly" style -- an uptempo, pressing system he dubbed "94 feet of heat." If all goes well, Dildy said, Chicago State will be the new Butler -- a perennial league champion and NCAA tournament darling.
"We want to go to the NCAA tournament," Dildy said. "That's going to happen. We want to win the league year in and year out. And that's going to happen. We're going to have something special here," he said.
NCAA tournament?
Butler?
These are big words for a program that's had one winning season since 1987. Can Dildy turn those words into results?
Say this much for Chicago State's new coach: If he fails, it certainly won't be for lack of enthusiasm.
August, 17, 2010
8/17/10
9:20
AM ET
You see, that might not be a big deal to you. If you're the average college hoops fan, you probably don't care about the University of Illinois-Chicago -- more easily written as UIC, so that's what I'm going to go with from here on out -- and whether the Flames have hired someone to replace longtime coach Jimmy Collins, who resigned this summer.
I get that. It's cool. But we have bigger problems than a mere coaching vacancy at a dormant college hoops program in the Horizon League.
This chart
-- the chart that tells us when the coaching carousel has finally come to an end -- needs to be completed. We're not there yet. But we're getting closer.
UIC athletic director Jim Schmidt has decided on five finalists for the job.
According to the Chicago Tribune
, those finalists are Wisconsin assistant Howard Moore, Michigan State associate head coach Mark Montgomery, Minnesota assistant Vince Taylor, Memphis assistant Willis Wilson, and University of New Orleans coach Joe Pasternack. The candidates are still meeting and interviewing and getting to know the higher-ups, but sources told the Tribune the hiring could be made within a week.
That's good news for the Flames, obviously.
Collins steps down from his 14-year gig on Aug. 31
, so it's probably about time to be finding someone to take his place. More than that, though, it's good news for us. The Chart is just begging to be completed. I thought we had it when Chicago State ended its interminable coaching search and hired Tracy Dildy (who, coincidentally, was previously an assistant at UIC).
We were so close. And still, The Chart remains. It's like Isiah Thomas' relationship with the New York Knicks. It refuses to die.
So come on, UIC! Close the gap! If you do, I promise never to write about the coaching carousel chart ever again. Do we have a deal?
July, 13, 2010
7/13/10
10:19
AM ET
Oh, sure, you thought the coaching carousel was done. All the high-profile vacancies were filled. Coaches had ceased their shuffling around. Dalliances with the NBA have cooled. The jobs were locked in.
All except for one place: Chicago State. The Cougars fired former coach Benjy Taylor, who finished the 2009-10 season 9-23, on April 19. Then they spent the better part of the summer searching for his replacement. The length of the search made even the most extended, bumbled coaching searches in the country -- remember Oregon? --
look downright efficient
.
Finally, our long national nightmare is over.
Chicago State has hired former University of Illinois-Chicago associate head coach Tracy Dildy as its new men's basketball coach
, ending the search just shy of 84 days. Let no one ever say the Cougars rushed their decision. There's something to be said for deliberation, even if it means keeping your players in the dark for a much bigger chunk of the offseason than most athletic directors would be comfortable with.
Despite the length of the search, Chicago State seems excited about landing Dildy. He has 20 years of coaching experience under his belt, including as an assistant at UIC and DePaul, where he recruited NBA-level players like Quentin Richardson and Bobby Simmons. Me, I'm just excited about finally filling out
this chart
. Anyone with minor chart-related obsessive-compulsive disorder knows what I'm talking about.