College Basketball Nation:

Chris Babb
March, 23, 2013
Mar 23
2:00
AM ET
DAYTON, Ohio -- Three years ago, Fred Hoiberg almost looked lonely.
It was Hoiberg's first Big 12 media day as the coach at Iowa State, his alma mater, and when each coach sat down to field questions at their own folding table, the media scrum went in all the usual directions: Kansas' Bill Self was swarmed, Baylor's Scott Drew was fending off questions about a recent recruiting scandal, and everybody wanted a quote — or at least a quality stare — from Kansas State coach Frank Martin.
Save Hoiberg, the Cyclones coach's table was mostly empty. He sat with his hands folded, cell phone flat in front of him, like a teenager sliding through his first day at a new school.
"I don't know," Hoiberg said, when a reporter asked him for an interview. "I'm pretty busy over here."
On Friday night, just minutes after Iowa State's dominant
76-58 win
over No. 7 seed Notre Dame, Hoiberg stood in the corner of the UD Arena coach's locker room surrounded by a score of television cameras and microphones and voice recorders, squinting just so to combat the bright lights.
Surprise, surprise: Interest in Iowa State basketball has increased. When Hoiberg inherited the program as a local hero and longtime NBA scout, but also a first-time coach at any level, the Cyclones hadn't finished above .500 in any of the previous four seasons. Larry Eustachy's firing set the program back a decade. Iowa State fans understandably lost some enthusiasm. The home arena's famed "Hilton Magic" had long since faded.
[+] Enlarge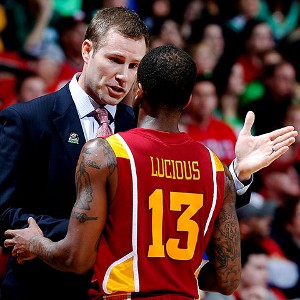 Joe Robbins/Getty ImagesFred Hoiberg has Iowa State heading in the right direction again. The Cyclones routed Notre Dame.
The magic is back now, resurrected by not just a former player but the most intensely loved former player in program history. Hoiberg is Ames-born and raised, schooled under legendary ISU coach Johnny Orr, and his Cyclones are not only playing better basketball but playing
fun
basketball, too. Iowa State runs a five-out offense, with lots of fast breaks and even more 3s. That attack dismantled the slower, sluggish Irish Friday night, and it is what has re-energized a hungry heartland fan base who still remembers when The Mayor -- who earned that nickname when he received more than a few write-in votes in the 1993 Ames mayoral elections -- used to get up and down the floor.
"As a kid that used to walk to Hilton Coliseum, how fun that was for me to see Johnny Orr running up and down the floor and playing an exciting brand of basketball," Hoiberg said. "We're trying to bring that back.
"I know how important basketball is to the community, to the state," he said.
The move was a bit of a risk in the first place. Fans were uncertain. What if the Mayor couldn't coach? What if the program went south? What if Hoiberg rode back to Ames and fell flat? The memories were wrapped in a forgiving gauze; losing is one thing, but losing your fuzzy relationship with your former star is quite another.
But Hoiberg has succeeded faster than anyone thought possible, in large part thanks to transfers like Royce White (Minnesota),
Will Clyburn
(Utah),
Chris Babb
(Penn State), and
Korie Lucious
(Michigan State). And
Georges Niang
, who finished with 19 points on 13 shots Friday night, is just a freshman -- an overlooked, undersized forward who fits the offense to a tee, and presents matchup problems with his scoring and versatility.
And now the Cyclones are off to the round of 32 with a talented freshman forward, a ragtag band of transfers, a modicum of defense and a fun offensive style, and long-suffering Iowa State fans are 100 percent along for the ride. Sunday's matchup with Ohio State won't be remotely easy -- if you're a perimeter-oriented offensive team, there is no opponent in the country you want to see less than the Buckeyes -- but it's clear Hoiberg has Iowa State basketball moving forward in a real way for the first time in over a decade.
It just shows how much work we've put in, how much talent we have on our team, and the future ability I would say we'll have in the Big 12 and on the national stage," junior
Melvin Ejim
said. "I think we're doing a great job."
July, 24, 2012
7/24/12
3:40
PM ET
As part of our Summer Shootaround series, here are the best- and worst-case scenarios for the Big 12:
Baylor
[+] Enlarge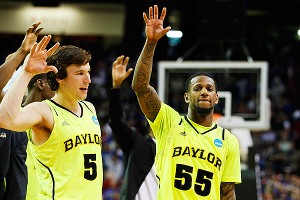 Kevin C. Cox/Getty ImagesBaylor's backcourt should be solid this season with Brady Heslip, left, and Pierre Jackson returning.
Best-case:
Whatever your final appraisal on the
Perry Jones III
era is -- relatively successful but ultimately disappointing is what I'd probably go with -- said era is decidedly over. Jones left for the NBA draft, as did freshman forward
Quincy Miller
. Senior forward
Quincy Acy
is gone too. And guess what? The Bears will be every bit as talented in the frontcourt. That's thanks to the arrival of 7-foot center Isaiah Austin, the No. 3-ranked player in the Class of 2012, and power forward Ricardo Gathers, the No. 10-ranked power forward. Meanwhile, Baylor brings back guards
Pierre Jackson
and
Brady Heslip
as well as touted 2011 recruit
Deuce Bello
and former transfer
Gary Franklin
. Based on the sheer talent Scott Drew has managed to bring to this once-downtrodden program, Baylor should be targeting the Big 12 title -- not to mention a deep NCAA tournament run.
Worst-case:
ESPN's recruiting scouts call Austin the most talented player in the class. Part of this assessment has to do with his ability to handle the ball on the perimeter, not to mention knock down 3s and block shots. This is all well and good, but one can't help but think that appraisal sounds dangerously similar to Jones, who could have dominated college post defenders but maddeningly elected to play midrange offense more often than not. In other words, sure, the Bears are crazy-talented again, but will they be structured? Will Austin float, a la Jones? If not, will Gathers pick up that interior slack? How do these disparate pieces fit, and if the learning curve is large, will Drew be able to put it all together in time for a conference title run? Despite its talent, Baylor has lacked that certain cohesive
je ne sais quoi
in recent seasons. The worst-case is a repeat.
Iowa State
Best-case:
After resurrecting the career of once-troubled forward
Royce White
and ending Iowa State's seven-year NCAA tournament drought, what can the Mayor conjure in his third season? It doesn't need to be a huge step back. Continuing the transfer trend in Ames, former Michigan State point guard Korie Lucious and former Utah swingman Will Clyburn will take up the reins in 2012-13. A host of last season's contributors (
Melvin Ejim
,
Chris Babb
,
Tyrus McGee
,
Anthony Booker
,
Percy Gibson
) are back, and if No. 14-ranked power forward Georges Niang -- touted for his versatility and range out to the 3-point line -- can replace some of what made White so dangerous, this team could look very similar to last season's breakout crew.
Worst-case:
Then again, hoping that Niang can replicate even some measure of White's performance is setting an awfully high bar for a freshman ranked No. 56 overall in the incoming class. White was key to everything this team did on offense; it's a big ask. Meanwhile, this team's two main 3-point sharpshooters (
Chris Allen
,
Scott Christopherson
) have graduated. It wouldn't be surprising to see Iowa State take a step back this season and flirt more tenuously with the NCAA tournament bubble than it ever had to last season.
Kansas
[+] Enlarge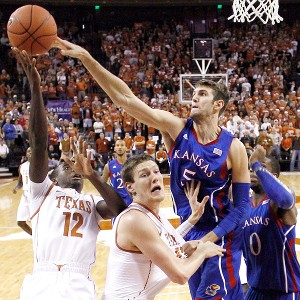 AP Photo/Eric GayJeff Withey returns to a KU team aiming for a ninth straight Big 12 title.
Best-case:
A Big 12 regular-season title and a deep NCAA tournament run. KU's best-case scenarios are always easily calculated, because Bill Self so often achieves them. The Jayhawks have won at least a share of the past eight regular-season conference titles. Projecting them to do anything less than that seems like folly -- regardless of personnel.
Worst-case:
With that said, the 2012-13 season will be a personnel challenge, even by Self's frequently reloaded standards. Thanks to the partial qualifier status of 2011 freshmen Ben McLemore and Jamari Traylor, Self essentially has eight freshmen on his bench this season. Three of the 2012 additions -- power forward Perry Ellis, small forward Andrew White and power forward Landon Lucas -- will hunt for minutes in a lineup whose most experienced players are shot-blocking center
Jeff Withey
and strong guards
Elijah Johnson
and
Travis Releford
. Thomas Robinson is gone. Tyshawn Taylor is gone. Conner Teahan is gone. Those departures leave a lot of question marks: how Self will plot his rotation, how quickly he'll feature McLemore, Ellis,
Naadir Tharpe
and others and whether those players have enough to maintain the Big 12 dominance. At this point, we really don't know.
Kansas State
Best-case:
The best-case is pretty straightforward. New coach Bruce Weber, one of the nation's best man-to-man defensive coaches, takes over Frank Martin's big, physical, ugly defensive team -- which returns basically everyone, save
Jamar Samuels
-- and the combination is a match made in heaven. After years of struggling with barely committed Illinois defenders, Weber relishes the ethos of this bunch, and the Wildcats become of the nation's least-relished matchups in turn.
Worst-case:
This team and Weber were as close to a perfect match as K-State fans could possibly hope. But there may be a bit of worst-case in that too. Weber's teams have struggled to score in the past, and the Cats were turnover prone and inaccurate from the field in 2011-12, relying on dominant offensive rebounding for the majority of their attack. Perhaps the worst-case is that this dynamic repeats itself and Kansas State is merely decent as a result.
Oklahoma
Best-case:
Considering the crater this program found itself in after an NCAA investigation and the departure of coach Jeff Capel, a 15-16 finish in Lon Kruger's first season must be seen as something of a success. At the very least, he knows how to get the most out of his guys. The entire rotation is back in 2012, joined by at least one recruit (shooting guard Buddy Hield) who could earn minutes right away. But until Kruger has time to develop his young guys and replenish the recruiting ranks, it will be difficult to expect much more than what we saw last season.
Worst-case:
When you're rebuilding, you just want to (A) get (or keep) fans excited, (B) develop young players and (C) make positive, program-wide steps toward a more promising future. Whatever the won-loss record in 2012-13, a failure to do those things would count as the worst-case scenario. The bar is not high, at least not right now.
Editor's note: ESPN.com's Summer Shootaround series is catching up on the offseason storylines for each conference. For the rest of the best- and worst-case scenarios for the Big 12, click here.
March, 16, 2012
3/16/12
2:05
AM ET
LOUISVILLE, Ky. --
Chris Allen
played his first three years at Michigan State, experiencing two Final Fours and a Sweet 16 with the Spartans.
His old team expected to do great things in March. Back in the NCAA tournament as a senior with Iowa State, Allen senses an entirely different feeling.
"People see us and say, 'That's Iowa State. Who are they?'" Allen said. "But you can't worry about the name on the front of the jersey. You just have to worry about the players."
Plenty of folks saw the name Connecticut and automatically assumed the Huskies would brush past Iowa State in the second round of the NCAA tournament. UConn was the defending national champion, after all, while the Cyclones were a collection of castoffs at a program that hadn't gone dancing in seven years. Forget that Iowa State was seeded one spot higher, at No. 8, than Connecticut. Everybody was already looking forward to a third-round matchup between UConn and top seed Kentucky.
Except that Iowa State's players were better than Connecticut's. A lot better, and they showed it during Thursday's
77-64
dethroning at the KFC Yum! Center.
The Cyclones felt disrespected leading into the game and believed they would win. In the waning seconds, big man
Royce White
barked at the Iowa State radio crew, "I told you!"
"Nobody picked us to win," White said. "That bothered me a lot. Personally, I was as tuned-in as I've been all year to this game as far as my effort."
White showed it on the first possession of the game, throwing down a dunk off a rebound to set an early tone. Twelve minutes later, Iowa State led 36-14 after what coach Fred Hoiberg called his team's best stretch of the season.
[+] Enlarge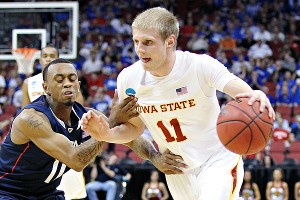 Andy Lyons/Getty ImagesScott Christopherson (15 points against UConn) transferred to Iowa State from Marquette in 2008.
The Cyclones hit eight of their first 11 shots and drilled six 3-pointers in the first half. But this wasn't simply the story of a team getting hot from outside and pulling off an upset. Iowa State didn't make a 3-pointer in the second half and instead took it to the Huskies physically, outrebounding them 41-24 and just wanting it more. After UConn cut the lead to six points at the under-eight-minutes timeout, Iowa State responded by scoring seven consecutive points and grabbing four offensive rebounds during that stretch.
"That's just hunger," White said. "That's us being the underdog."
UConn suffered from the same disinterested, disjointed vibe that plagued the team all year. At one point after a Cyclones run, Jim Calhoun called timeout and just stared at his team from the court for several moments, unsure of what to say. He later said the Huskies got caught "being nothing more than a street sign as [Iowa State] went by us by a thousand miles." With a 2013 tournament ban looming plus Calhoun's uncertain future, who knows what path Connecticut takes the next couple of years?
Truth is, Iowa State presents a tougher matchup for Kentucky than UConn ever did. This is a team that beat Kansas, Kansas State and Baylor this season and plays an odd style that is not easy to prepare for in one day.
"We have a lot of stuff that's abnormal to the college game," guard
Chris Babb
said.
That starts with White, a 6-foot-8, 270-pounder who often brings the ball up the court and initiates the offense. Hoiberg puts four shooters on the court with him most of the time. Teams that can spread Kentucky out and shoot -- think Vanderbilt and Indiana -- can beat the Wildcats, though it will still take a monumental effort.
There's very little that's conventional about Iowa State. Hoiberg had never coached at any level before he was hired two years ago. Looking for a quick fix, he brought in six transfers, four of whom are playing for the Cyclones in this tournament. Some of them had checkered pasts.
"It's kind of weird, because we have so many different people coming from so many different places," said guard
Scott Christopherson
, who transferred in from Marquette in 2008. "But we have all bonded together."
They used that togetherness to knock off the defending champions. Up next is the No. 1 team in this year's tournament. Win that one, and people will know all about Iowa State.
"There's nothing better you could have as far as a plot line for an underdog that wants to achieve something great," White said. "We've got to embrace the spot we're in now."
March, 9, 2012
3/09/12
1:43
AM ET
KANSAS CITY, Mo. -- Moments before a final half of basketball that may have decided the fate of Texas' season, coach Rick Barnes stood before a dry-erase board in the Longhorns' locker room.
On one side, Barnes scribbled three letters: "N-I-T."
Then he took a step to his right and jotted down four more: "N-C-A-A."
Barnes put down the marker and looked at his team.
"Who are we?" he asked the Longhorns. "Which one would you put your name under?"
By the time Texas left the Sprint Center, the question had been answered.
In a game that so many predicted they would lose, the Longhorns fought back from an 11-point deficit and defeated Iowa State
71-65
in the quarterfinals of the Big 12 tournament. Along with propelling them into Friday's semifinal against Missouri, the victory significantly enhanced the résumé of a Texas team that entered the contest on the NCAA tournament bubble.
Now 20-12, the Horns feel much better about their chances of earning a 14th consecutive bid under Barnes, who isn't the type to politick to the selection committee.
He shouldn't have to.
Texas finished 9-9 in what is generally regarded as the second-best league in the country behind the Big Ten. The Longhorns' strength of schedule is No. 20 in the country according to
ESPN's InsideRPI
, and they have only one defeat (at Oklahoma State) that can be viewed as a "bad loss."
Thursday's victory over Iowa State also should turn some heads considering the Cyclones -- who tied for third in the Big 12 standings -- entered the game touting wins in four of their previous five contests. Texas' win Thursday came before 18,792 people, most of whom were in support of Iowa State.
"You love to walk into other gyms and quiet their fans," UT guard
J'Covan Brown
said.
Texas led 65-59 with 2 minutes, 55 seconds left before Iowa State scored six consecutive points to force a tie. But rather than flounder in the face of adversity, the Longhorns flourished.
[+] Enlarge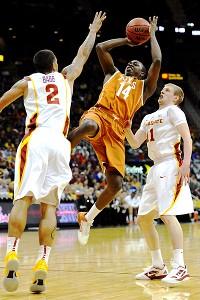 Peter G. Aiken/US PresswireJ'Covan Brown's late-game cool helped Texas hold off Iowa State -- and strengthen its NCAA case.
With 36 seconds left, Brown spun into the lane and swished a floater as he was fouled. He sank the ensuing free throw to convert the 3-point play to give Texas a 68-65 lead. It was yet another huge shot for a player whose career has been defined by gut-check moments.
Brown scored seven of his game-high 23 points in the second half.
"A few seconds before I hit that shot, Coach was like, 'Are you feeling it?'" said Brown, a junior. "I told him I was, and he let me go out and do my thing. It gives you a lot of confidence when your coach has your back like that."
Brown's performance this season -- he averages a Big 12-best 20.1 points -- is even more impressive considering he's on a team that features five freshmen among its top seven players. Opposing defenses are geared to stop Brown, yet he still finds ways to score. His game winner Thursday came against Iowa State's
Chris Babb
, who is regarded as one of the top defenders in the Big 12.
"[Brown] is a gifted offensive player," Barnes said. "He has such great vision. On that last play he had three or four different options, and he picked the right one to get the ball where it needed to be."
The Cyclones still had a chance after Brown's clutch basket, but standout
Royce White
lost control of the ball on the perimeter, and it ended up in the hands of Texas forward
Jonathan Holmes
. Iowa State immediately fouled Holmes, and the freshman made both free throws to make it 70-65 with 22 seconds left.
Ballgame.
As proud as he was of Brown, Barnes was also ecstatic about the play of freshman point guard
Myck Kabongo
, who has been on a steady incline all season. Kabongo finished with 11 points, five assists and no turnovers -- Texas had only six turnovers as a team -- and he played excellent defense on Iowa State 3-point ace
Scott Christopherson
.
A senior, Christopherson entered Thursday's game averaging 21.8 points in his previous five contests and had made 19 of 36 3-point attempts during that span. Pestered by Kabongo, he scored just 10 points on 4-of-13 shooting and missed four of his six attempts from beyond the arc.
As a team, the Cyclones made just five 3-pointers Thursday. They came in averaging nine per game.
Texas now advances to play another strong shooting team in Missouri. The Tigers are shooting 49.9 percent from the field, a mark that ranks third in the nation. Mizzou defeated Texas 84-73 in Columbia on Jan. 14 and 67-66 in Austin on Jan. 30.
"We feel good about this win," Brown said. "But we can't let our young guys celebrate too much. We've got another big one tomorrow."
November, 9, 2010
11/09/10
4:20
PM ET
Last night, news broke that former Minnesota forward -- and noted ne'er-do-well in his Gophers career --
Royce White
was
denied a waiver by the NCAA
that would allow him to play at Iowa State this season. The basis of the waiver appeal was White's lack of on-court time at Minnesota. That basis was awfully funny, given that White's
off-court transgressions
and
oddball YouTube behavior
were the very reasons such a key member of Tubby Smith's 2009 recruiting class wasn't on the floor grabbing rebounds (and was eventually dismissed from the team). It's not like White got a raw deal.
Anyway, Iowa State coach Fred Hoiberg says the Cyclones will "exhaust every option" in an attempt to get White eligible this year. That includes an appeal process that would ask the NCAA to overturn its initial decision, and that doesn't seem too likely.
The good news? It doesn't matter anyway.
Oh, sure, White would be a nice addition for the Cyclones this season. Before his flame-out in Minneapolis, White was a top-40 recruit known for his polished low-post skills, athleticism, and versatility. He would be an immediate help at Iowa State.
Then again, so would anyone. And that's sort of the point: Royce White or no, this is a rebuilding year in Ames. The Cyclones lost their three best players from a team that won 15 games last season, and only senior guard Dionte Garrett returns with any measure of Big 12 experience. The entrance of White might win Iowa State an extra game or two -- and that even feels generous -- but it's not going to change the trajectory of the program in the short term.
Next season, when ISU adds three transfers (Michigan State guard
Chris Allen
, Penn State sharpshooter
Chris Babb
, and Southern Illinois forward
Anthony Booker
), is the year the program should look to for its first leap forward under Hoiberg. White will be eligible by then, and if he can stay in the good graces of his authority figures, the Cyclones could have a starting five just this side of "pretty good."
That's not the case this year. The denied waiver is a bummer for Iowa State, but Hoiberg shouldn't take it too hard. Royce White isn't changing the Cyclones' 2010-11 prospects whether he's on the floor or not.
March, 11, 2010
3/11/10
9:23
PM ET
INDIANAPOLIS -- Point guard
Devoe Joseph
carried Minnesota through 20 minutes. After halftime, Minnesota's other guards got involved in a big way.


And with the Gophers' three-headed backcourt clicking, Penn State had no chance to rally. Joseph,
Lawrence Westbrook
and
Blake Hoffarber
combined for 31 points as
No. 6 seed Minnesota stomped No. 11 seed Penn State 76-55
. Minnesota led the entire game but really opened things up early in the second half with a 20-10 run.
The Gophers' NCAA tournament hopes remain alive as they advance to Friday's quarterfinals, where they'll face No. 3 seed Michigan State (Big Ten Network, approximately 9 p.m. ET).
This qualifies as an impressive performance for Minnesota, especially given the way Penn State had been playing the last few weeks. The Nittany Lions split their final six Big Ten contests and gave league co-champs Purdue and Michigan State all they could handle.
After a sloppy end to the first half, Minnesota made almost no mistakes in the final 20 minutes. Hoffarber and Westbrook got it going from long range, and
Ralph Sampson III
,
Damian Johnson
and
Colton Iverson
beat up Penn State in the post. I'm really impressed with the leadership Joseph has showed at point guard.
Penn State had a season of near misses, but tonight's blowout loss has to be extremely tough for Ed DeChellis and his team. Star guard
Talor Battle
(10 points, 3-for-10 shooting) was a nonfactor for most of the game, and while he got some help from
Andrew Jones
,
Chris Babb
and
David Jackson
, it came too late.
The 2009 NIT champs certainly backslid this season, and it'll be interesting to see what happens with DeChellis in the coming days.
March, 11, 2010
3/11/10
8:25
PM ET
INDIANAPOLIS -- Minnesota is playing defense with the purpose of a team that needs a good week here to make the field of 65. Penn State came out looking ready for the offseason, though the Nittany Lions picked things up toward the end of the half.


Quick halftime thoughts:
Penn State arguably came in as the hotter team, but Minnesota was the aggressor from the start, jumping out to a 7-0 lead. Penn State's greatest strength -- aside from star guard Talor Battle -- is its length, but Minnesota is even longer and has shown it so far. Gophers senior forward Damian Johnson, who was snubbed from the All-Big Ten Defensive team earlier in the week, has been tremendous with nine points and two rebounds in the first half.
Battle has been relatively quiet for Penn State (4 points, 2 assists), but sophomore guard Chris Babb is providing a big lift. Babb engineered a 5-0 run to end the half all by himself and has eight points. Penn State is at its best when Battle gets help from his supporting cast. Babb has provided some so far, but other players like David Jackson and Jeff Brooks need to become more involved.
Speaking of involved, Minnesota's starting guards Lawrence Westbrook and Blake Hoffarber were virtually invisible in the first half. They were a combined 0-for-4 from the field for no points. Westbrook and Hoffarber combine to average 23.6 points a game, so they really need to pick things up after the half. Fortunately for them, point guard Devoe Joseph stepped up with 10 first-half points on 4 of 7 shooting.