College Basketball Nation:

Chris Crawford
March, 22, 2013
Mar 22
6:00
PM ET
AUBURN HILLS, Mich. -- VCU has spent much of this season flustering opposing point guards, sending them into various states of disarray and their "Havoc" defense wreaked, well, havoc on the plans of opponents all season long.
The Rams, though, have not seen an offense quite like the one they will Saturday in the round of 32. VCU turns everyone over. Michigan, with its sophomore point guard
Trey Burke
, hardly ever gives up the ball.
Something has to give.
"It's a difference of style," VCU sophomore guard
Briante Weber
said. "If they take care of the ball, they win. If we get them to turn over, then we win."
It may come off as that simple, but trying to beat Havoc is anything but.
[+] Enlarge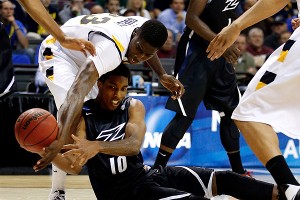 Gregory Shamus/Getty ImagesVCU's "Havoc" defense forced Akron into 21 turnovers during the Rams' first-round rout.
Michigan spent Friday morning looking at variations of VCU's Havoc, then walked through the varying press breaks it would try to use to stop it.
It is not something the Wolverines can simulate. Other teams have tried and failed.
"We really haven't seen pressure like that in my years of being here," said Memphis junior guard
Chris Crawford
, whose Tigers lost to VCU 78-65 in November. "We had to adjust to it, but it was like they were everywhere."
That is part of the plan. VCU spends its entire preseason working on conditioning and defense in an effort to run Havoc at almost all times, forcing opponents to flail about and start to see passing lanes that aren't really there.
It happened for Memphis, which turned the ball over 22 times in that loss. That number is what the Rams have averaged in their 27 wins this season. They have blitzed opponents left and right with a press that can have a multitude of variations, depending on the opponent.
"We just try to deny the wings," VCU guard
Darius Theus
said. "Team stops, actually. Just build a wall around the basket."
The wall, at times, can seem impenetrable. It took Memphis a half to figure out exactly how to move the ball up the floor against VCU. And trying to do it with one primary point guard alone won't work, either.
"What's crazy is it's one thing to try and prepare for it," Memphis assistant Damon Stoudamire said. "When we actually seen it, it started our guys on the initial. If we played them now, we'd be prepared.
"When you see stuff like that, the way it came, it's like a barrage, boom, boom, boom, boom. And they made shots. They turning you over and then they score, that's a bad recipe right there."
The key is to not try and go up the sides of the floor. Doing that will be the high-risk, high-reward maneuver for Michigan. If it beats VCU up the side, it'll have a fast break. If it doesn't -- it'll be a likely turnover.
And it needs to get more than just Burke involved, using guards
Tim Hardaway Jr.
,
Nik Stauskas
and maybe even backup point guard
Spike Albrecht
as options.
"Our guys have to stay connected," Michigan assistant LaVall Jordan said. "They are all connected defensively with their rotations and their traps. We have to be connected offensively."
Someone will get disjointed Saturday. Whichever team doesn't likely will end up winning.
News and Notes
Memphis and Michigan State know each other well even as nonconference opponents. Tigers point guard Joe Jackson and Spartans guard Keith Applingplayed together on the USA Basketball Under-19 team this summer. "I'm real cool with Keith Appling," Jackson said. "We played together in the USA games overseas. I kind of know what he can do good and what he can do bad."He isn't the only one to know a Michigan State player. Memphis' Adonis Thomas and Michigan State's Branden Dawson were teammates on the West team in the 2011 McDonald's All American game, and Dawson said they have stayed in touch. "He's a great guy," Dawson said. "A great player. The thing that really shocked me is that he's 6-7, 240 now. When we were at the McDonald's, he didn't weigh that much." There's also a decent chance Appling will be matched up with Jackson and Thomas with Dawson on Saturday.

Appling tweaked the patellar tendon in his left knee Thursday against Valparaiso. A day later, he said it is still bothering him "a little bit off and on," but that he anticipated playing tomorrow.

Burke said his back is "a little sore" from falling yesterday but definitely would play Saturday. Michigan guard Matt Vogrich, who missed Thursday's game with strep throat, was back with the team Friday.
February, 21, 2013
Feb 21
10:39
AM ET
By
Jeremy Lundblad, ESPN Stats & Information
| ESPN.com
Player of the Night -- Isaiah Canaan, Murray State
Canaan scored 12 points in the second overtime to lift Murray State over Morehead State 106-100. He finished with 35 points, one shy of his career high. Perhaps just as impressive is the fact that he didn't commit a foul in 49 minutes of action.
Freshman of the Night -- D'Vauntes Smith-Rivera, Georgetown
Smith-Rivera provided the Hoyas with a much-needed third scorer -- and then some. He went off for a career-high 33 points in Georgetown's 90-66 win over DePaul. It's the most points by a Georgetown freshman since Victor Page in 1996. Since 1995, the only other Hoyas freshman to reach 30 points was Allen Iverson. The Hoyas also hadn't seen a player score 30 off the bench in at least the past 15 years.
Scorer of the Night -- Eric Mosley, St. Bonaventure
Mosley scored 39 points in the Bonnies' 99-94 win over Massachusetts. That's the most points ever for a St. Bonaventure player in an A-10 game. In fact, they haven't had a player score more against ANY opponent since Greg Sanders' 46 points in 1977. Mosley went into last weekend averaging 10.7 points per game, and he has gone for 30 in each of the past two games.
Bench Player of the Night -- Chris Crawford, Memphis
Crawford nearly had a triple-double off the bench, finishing with 11 points, 13 rebounds, nine assists and three blocks in an 81-74 win over Houston. No one has done that off the bench in at least the past 15 seasons. Take away the blocks, and the last was Delaware's Ryan Iverson in 2002. Memphis won its 17th straight game, tied with Akron for the longest active streak in the nation.
Stat Sheet Stuffer -- Nate Wolters, South Dakota State
Wolters fell an assist shy of his first career triple-double and the Jackrabbits fell one point shy of winning. Cal State Bakersfield beat South Dakota State in double overtime despite a huge performance from Wolters. He finished with 32 points, nine assists and 10 rebounds. It would've been the first 30-10-10 performance in a February game since Greivis Vasquez in 2009.
November, 22, 2011
11/22/11
5:40
PM ET
Overview
: On Monday, it took us until the fourth matchup of the day to get a really competitive, tight game. On Tuesday, the Maui Invitational wasted no such time. In the first game of the day -- a 9 a.m. tipoff locally -- the
Memphis Tigers
and
Tennessee Volunteers
played a high-octane rivalry thriller that took two overtimes to decide. Memphis led for much of the game and by as much as 16 in the first half, but Tennessee closed the lead in the second half, and the Volunteers -- led by a brilliant performance from forward
Jeronne Maymon
-- kept finding bucket after bucket as they refused to go away.


There was suspense until the final whistle. With 3.5 seconds remaining, Tennessee's inbounds pass was stolen by Memphis forward
Wesley Witherspoon
, but Witherspoon -- thinking the game was over -- traveled and gave the ball back to the Vols with one second left on the clock. Maymon's fadeaway elbow jumper missed everything, though, and
Memphis escaped with the 99-97 win
.
What a game.
Turning point
: The final moments of the second overtime decided the game, but Tennessee, after battling back for 45 minutes, squandered a major opportunity to seal a win in the first OT. With 35 seconds left, UT guard
Trae Golden
drove to the rim and attempted a wild reverse layup -- one of Golden's 16 misses Tuesday (3-of-19) -- that was rebounded by Memphis guard
Will Barton
. Barton quickly fired the ball upcourt to teammate
Chris Crawford
, who dipped into Tennessee's defense and converted a quick layup on the break. That tied the game at 91-all, the Vols couldn't get a good look in the final 26 seconds and the game moved to double overtime.
Why Memphis won
: Its offense thrived. After an anemic and confused offensive performance in Monday's loss to Michigan, the Tigers relentlessly attacked UT's defense, creating a score of quality interior looks in the process. By the end of the game, the Tigers had shot 36-of-70 from the field -- including a tidy 6-of-9 mark from the 3-point line -- filling it up to the tune of 1.27 points per possession. The Tigers weren't much to look at on the defensive end and they still had their fair share of mistakes all over the floor, but the fluidity of their offense and the ease with which they generated quality opportunities held them together during wave after wave of Volunteers attacks.
Why Tennessee lost
: Impatience. Tennessee was at its best when it worked into the teeth of Memphis' defense, generating post opportunities and easy catches for Maymon on the low block. When it got impatient and settled for 3s, it rarely found success. Tennessee shot 7-of-21 from beyond the arc, as Golden and guard
Cameron Tatum
combined to make just two of their 12 3-point attempts. Even worse, a handful of those misses came late in regulation and overtime, when every possession was crucial. If just a few of those shots had gone down -- or a few of those looks had gone to Maymon in the low block -- this outcome might have been very different.
Star of the game
: There were too many to pick just one. For Memphis, the stars came in brotherly form: Will and
Antonio Barton
combined for 46 points, 16 rebounds and 17-of-28 shooting from the field. Both brothers were impressive. Will is approaching mastery of the midrange game; he slices to the rim and curls off screens to create easy look after easy look. Antonio's shooting (4-of-5 from 3, 8-of-11 from the field) and intelligent work off the ball -- his hand-off wing jumper with 1:16 left in the second overtime was a rare moment of beautiful old-school basketball in this streetfight of a game -- could be major boosts for the Tigers all season.
But the award for the game's best performance has to go to Maymon, who had a borderline legendary day in the Volunteers' interior. Maymon shredded the Tigers' defense time after time; when he didn't catch the ball and score it himself, he worked the offensive glass for an easy putback. Maymon finished with 32 points (8-of-15 from the field, 16-of-17 from the free throw line) and 20 rebounds (nine of which were offensive boards), becoming the first power-six conference player to post a 30-point, 20-rebound game since -- get this -- Blake Griffin. Considering Maymon had never scored more than 14 points or grabbed more than 12 boards in his career, it feels safe to say a star is born.
What it means
: Both teams have plenty to improve on. The Tigers seem to have flipped 180 degrees from last season's style, when they were turnover-prone and ugly on offense but tough and rangy on defense. This season, Memphis has to start congealing on defense. The same can be said for Tennessee, which struggled to get stops all afternoon Tuesday, but more important for the Volunteers is getting intelligent play from Golden at the guard spot. Golden can really score, but his decision-making raises serious questions, and his 3-for-19 shooting performance -- and his tendency to force those shots outside the flow of Cuonzo Martin's offense -- was a big reason Tennessee could never overtake the Tigers.
Still, both teams will take away more positives than negatives from this one. Memphis will be encouraged to see its offense achieve this balanced early form, and coach Josh Pastner will be especially thrilled with how well his team took care of the ball. (The Tigers were one of the most turnover-prone teams in the country last season. On Tuesday, they coughed it up just 12 times in 75 possessions.)
And Tennessee fans should be absolutely stoked. After losing their former coach to NCAA scandal, seven seniors to graduation, and Scotty Hopson and Tobias Harris to the NBA draft, the Volunteers were supposed to face a daunting rebuilding project this season. Instead, they're discovering that even Bruce Pearl's reserves are talented. Maymon might be one of the best big men in the SEC, while Golden and Tatum -- despite their shooting struggles Tuesday -- clearly are capable of hanging with some of the best talent in the country. Add in Martin's hard-nosed style and the inherent improvements this inexperienced team will make, and it would the appear the Vols are way ahead of that so-called rebuilding schedule.
More observations
: Pastner has a lot of weapons, and he might still be figuring out his rotation. For example: Starting guards
Joe Jackson
and
Charles Carmouche
played just 19 and 15 minutes, respectively, while reserves Antonio Barton and Chris Crawford played 33 and 37, including almost all of the two overtime periods. Freshman
Adonis Thomas
didn't start, either, but he played 38 minutes (and scored 19 points on 7-of-10 from the floor). If Pastner wanted to, he probably could run five-man shifts
a la Division III novelty Grinnell
. Short of that, Pastner's allocation of minutes appears very much in flux. That's a problem -- starters typically want to play starter minutes -- but it's the good kind of problem. Memphis has a deep rotation of viable options, and Pastner has plenty of time in this 2011-12 season to figure out which combination works best.
What's next
: Memphis moves forward in the consolation bracket, where, barring a major shock, it will play Georgetown in the fifth-place game at 5 p.m. ET Wednesday. Unfortunately for Tennessee, the Volunteers now are slated to head to the seventh-place game, in which they likely will play tiny Chaminade at 2:30 p.m. ET Wednesday. Why is that unfortunate? Because the Vols have played well in Maui, first against Duke and then against Memphis, and on those merits, they deserve to head back to the continental United States with more than a win over Chaminade to show for their efforts. Still, anyone who saw this team this week would have to have been impressed. Big things await.
December, 7, 2010
12/07/10
2:25
PM ET
Saddle Up is our daily preview of the night's best basketball action. Tonight's installment focuses primarily on the Jimmy V Classic. Why? Because
look at these games
! That's why.
No. 14 Memphis vs. No. 4 Kansas, 7 p.m. ET, ESPN:
Who are the
Memphis Tigers
? The truth is, even after seven wins in seven games, we still don't know.


That has a lot to do with Memphis' nonconference schedule to this point. The Tigers have played only two teams with a shot at making the NCAA tournament thus far (Miami and Western Kentucky, both at home) and while they handled both opponents with relative ease, they've also struggled at times, especially in a narrow overtime win over Arkansas State last week. Tonight's matchup with Kansas will be, without question, Memphis' first entreé into the realm of the elite, and thanks to a paltry schedule, we have few indicators as to how Josh Pastner's team will perform against top competition. Is this a team destined to win a conference title and little more? Or can this team reach for the Final Four?
It's not just schedule, though. Our questions about the Tigers also have to do with personnel. Pastner's team is heavy on freshmen, which is a little like saying the ocean is heavy on water. The wunderkind coach snared a
top-four recruiting class
in 2010, and those first-year players have wasted no time claiming the majority of Memphis' offensive responsibilities. Four of the Tigers'
five biggest contributors on a per-possession basis are freshmen
:
Joe Jackson
,
Will Barton
,
Chris Crawford
and
Tarik Black
all average between 28.1 and 20.0 percent in usage rate. Jackson, who owns that 28.1 percent, has especially dominated the ball.
[+] Enlarge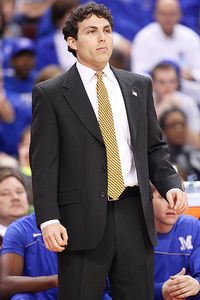 Nelson Chenault/US PresswireMemphis coach Josh Pastner and his young team face their first serious test in No. 4 Kansas.
Those freshmen have been effective, but on an inconsistent basis. In fact, the most efficient offensive player on the team has been junior
Wesley Witherspoon
, who has combined an impressive ability to get to the line --
Witherspoon shoots free throws more often than any other player in the country
-- with highly accurate shooting from the field.
What does all this mean? It means a team dominated by freshmen should think about getting its junior forward involved as often as possible. That could stand as a general rule, but it makes extra sense tonight (in so far as something can make "extra sense," I guess). Memphis is forced to make up for its lack of interior size and experience with athleticism on the wing. That won't change against Kansas, which has a handful of viable forwards (Marcus and
Markieff Morris
,
Thomas Robinson
,
Jeff Withey
) who excel on the defensive glass but are sporadically foul-prone. To have a chance against a team like KU, the Tigers have to do what they do best on offense: get to the free throw line.
Meanwhile, Memphis' biggest task on defense will be finding someone to deal with the aforementioned Morii. The Morris twins are almost perfectly complementary: Marcus is the elite stretch-post scorer, Markieff the standout rebounder,
particularly on the defensive end
. Until
Josh Selby
finishes his NCAA-mandated suspension, KU's forwards will continue to key the team's success on both ends of the floor. That's been going well so far --
Kansas is No. 1 in Ken Pomeroy's overall adjusted efficiency ranking
, after all -- but as UCLA showed us Thursday, the Jayhawks are far from complete, and far from invincible.
Still, they'll be by far the biggest challenge these Memphis freshmen have faced so far. So how good are they? How good are the Memphis Tigers? We're about to get a pretty good idea.
(For more on Memphis and Kansas, read Dana O'Neil's preview here.)
No. 8 Michigan State vs. No. 7 Syracuse, 9:30 p.m. ET, ESPN:
Ladies and gentlemen, allow me to present reason No. 5,498 that rankings don't matter.


Syracuse is ranked a spot higher than Michigan State in the latest coaches' poll, but few would consider Syracuse the better team right now, or the better prospect to make the Final Four by the end of the season. Michigan State's diminished ranking is due to two losses -- vs. the Connecticut Kemba Walkers in Maui, and at Duke last Wednesday night -- that hardly indict the Spartans as pretenders. Meanwhile, Syracuse is undefeated at 8-0, but six of those wins came at home, and at least four of them came after nail-biting affairs with so-so teams like William & Mary (63-60), Michigan (53-50), Georgia Tech (80-76), and NC State (65-59). There might not be a tourney team in that bunch. It's not exactly the most glittering résumé.
What's wrong with Syracuse? Why hasn't Jim Boeheim's team been blowing opponents out? Start with shooting: Syracuse is averaging 29.7 percent from 3, 49.8 percent from 2, and 63.0 percent from the foul line. Absent anyone with consistent outside shooting ability -- Andy Rautins and Wesley Johnson are not walking through that door -- the
Orange have been getting by on a steady diet of offensive rebounds and low-turnover hoops
. And, of course, Boeheim's fabled 2-3 zone. The zone is working yet again; Syracuse almost never fouls opposing shooters -- it ranks No. 5 in opponent free throw rate -- and the Orange have contained outside shooting and forced enough turnovers to squeak by against mediocre competition.
Michigan State, as you might have heard, is not mediocre. The Spartans are already quite good at pretty much -- key phrase there -- everything. They shoot the ball well, both from beyond the arc (41.7 percent) and inside it (52.3 percent). They stifle opposing scorers. They clean up on the glass, especially on defense.
Draymond Green
is as versatile and effective as big men get.
Kalin Lucas
has already showed plenty of his pre-Achilles tear self.
Durrell Summers
can be an unstoppable scorer. The Spartans' front court is deep and physical.
Korie Lucious
might be the best reserve point guard in the country. (Given his usage rate, Lucious barely qualifies as a reserve.) The list goes on and on.
The only thing holding Michigan State back? (Here's where that "pretty much" rears its ugly head.) Turnovers. The Spartans are one of the worst teams in the country at wasting possessions with turnovers. Izzo's team turns the ball over on 25.8 percent of its possessions, ranking it No. 325 in the stat; the only major-conference teams giving the ball away more frequently are Baylor and Florida State.
That sounds bad enough on paper, but it was evident in action Wednesday night at Duke. Michigan State turned the ball over 20 times on the road against the best team in the country, and somehow still had a chance to win. Turnovers have been a recurring blight on Izzo's otherwise brilliantly coached teams in recent years, and if Michigan State wants to accomplish its goals -- this year, that means national title or bust -- it has to find a way to cut down on giveaways.
How does this play out tonight? If recent trends hold, Michigan State should take, and make, a lot of 3-pointers. It will stifle Syracuse's sputtering scorers from the outside-in. And the game will be close, because the Spartans will give the ball away far too often.
Both teams need to break the cycle of self-defeating tendencies. What better time than now?
(For more on Michigan State and Syracuse, read Andy Katz's preview here.)