College Basketball Nation:

Chris Fouch
November, 27, 2013
11/27/13
9:22
PM ET
NEW YORK -- Five quick thoughts from
Arizona's 66-62 win over Drexel
on Wednesday at Madison Square Garden, in the semifinals of the NIT Season Tip-Off:
Got nerves?
Drexel jumped out to a 27-8 lead with 6:59 left in the first half, stunning the Garden crowd. No. 4-ranked Arizona, not Drexel, looked like the nervous, tentative squad -- perhaps due to its youth? The Wildcats do start a freshman and two sophomores.
Arizona got its act together after that. The Wildcats closed to within nine at halftime, and took the lead less than four minutes into the second half. Drexel didn't fold, but Arizona eventually put the Dragons away. You can expect a better start from the Wildcats in Friday's championship game.
Diaper dandy:
Arizona's highly touted freshman forward,
Aaron Gordon
, did not disappoint, with 10 points and 13 rebounds against Drexel.
Gordon didn't blow anyone away Wednesday night -- he took only six shots from the field, scoring most of his points from the foul line. But he was active, particularly on the glass. It's his fourth double-double in his first six collegiate games.
Size matters:
The biggest difference in this game? Arizona's front line. Drexel ultimately could not handle the starting group of 7-footer
Kaleb Tarczewski
, the 6-9 Gordon and 6-8
Brandon Ashley
. The Dragons' undersized post players were in foul trouble seemingly all game long.
That's no disgrace. Most teams in America will have difficulty against a front line that big.
Real deal:
Drexel is definitely a dangerous mid-major squad. The Dragons almost slayed No. 19 UCLA at Pauley Pavilion earlier this month as well.
Coach Bruiser Flint has an experienced starting backcourt in seniors
Chris Fouch
and
Frantz Massenat
, two guards who can really fill it up. The Dragons were picked to finish second in the Colonial Athletic Association behind Towson, but can certainly win that conference.
Up and down:
You have to feel good for Fouch, a Bronx, N.Y., native who starred at Rice High School. A sixth-year senior who sat out last season with a broken ankle, Fouch scored a game-high 29 points in his New York City homecoming.
On the flip side, Drexel's second-leading scorer,
Damion Lee
, suffered a right leg injury midway through the second half and did not return. Lee couldn't put any weight on the leg -- it could be a serious injury, and a crippling blow to Drexel's season.
November, 21, 2012
11/21/12
11:00
AM ET
Don't be fooled by the name; this is not a new tournament. It is merely a repackaged Anaheim Classic that is no longer leaving naming-rights sponsorship money on the table. This would normally be the part where we criticize soulless corporate sports sponsorship ... but, I mean, it's the Anaheim Classic. Surely we can find a better target for our outrage.
Anyway, let's talk about this basketball tournament, huh?
The basics:
Nov. 22-25, Anaheim Convention Center, Anaheim, Calif.
The set matchups (Nov. 22):
Pacific vs. Xavier, 2 p.m. ET; Drexel vs. Saint Mary's, 4:30 ET; Rice vs. Georgia Tech, 9 ET; Drake vs. Cal, 11:30 ET.
THE FAVORITE
Xavier:
Major caveat alert: I could make a reasonable argument for Saint Mary's, Cal or even a banged-up Drexel, because I'm not really sure there is one clear favorite in this group of teams. But if I have to pick, I suppose I'll take the squad that shut down Butler just one week before Butler beat Marquette and drilled North Carolina in Maui. The transitive property is a fickle siren, but this early in the season it has to mean something.
FIVE PLAYERS TO WATCH
Matthew Dellavedova, Saint Mary's:
The Australian Olympian and four-year senior is the undispusted leader of this Gaels team in ways both measurable and otherwise, and his offensive output will be (as ever) a huge key to his team's chances of getting out of Anaheim with three consecutive wins.
[+] Enlarge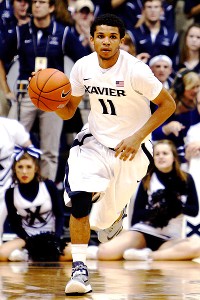 Frank Victores/US PresswireSophomore guard Dee Davis has thus far ably filled holes left by departures at Xavier.
Allen Crabbe, California:
One half of Cal's two-headed returning scoring tandem (the other being fellow guard
Justin Cobbs
), Crabbe is essential to California's hopes of replacing Jorge Guiterrez and Harper Kamp and still making a run at the top of the revamped Pac-12.
Dee Davis, Xavier:
It's early yet, but sophomore guard Davis appears to be just the latest in the Musketeers' long line of starter-minutes-ready young players to emerge after former stars depart. Through three games (including the aforementioned Butler romp) Davis is averaging 15.3 points and 6.7 assists, with a 132.2 offensive rating.
Frantz Massenat, Drexel:
The Dragons suffered a big-time loss this week when guard
Chris Fouch
lost the rest of his season to ankle surgery, but the good news is that Massenat -- a versatile point guard who drives, dishes and shoots with near-equal skill -- remains.
Kammeon Holsey, Georgia Tech:
When Georgia Tech coach Brian Gregory dismissed Glen Rice Jr. in mid-March, he not only made a statement about the importance of attitude and chemistry in his program. He also left Holsey as his only notable returning scorer. Thus far, Holsey has delivered, though this tournament will be the Yellow Jackets' first real test, and we'll see if they'll be more than an ACC punching bag this season.
FIVE BIG QUESTIONS
Is Xavier for real?
The Musketeers were written off at the start of this season, and understandably so -- Tu Holloway and Kenny Frease graduated,
Dez Wells
was (possibly wrongly) kicked out of school,
Mark Lyons
transferred to Arizona, and what remained were guys most hoops fans had never heard of. So the Musketeers were picked to finish ninth -- ninth! -- despite the fact that this program has missed exactly one Sweet 16 (2011) since 2008. When Xavier tossed Butler around in the Musketeers' home opener, the write-offs looked premature. But now, outside of their own building, the young Musketeers have a real chance to prove they're not going anywhere.
Is Cal a Pac-12 contender?
The Pac-12 was bad last season. We've established this ad nauseam (especially for Pac-12 fans, I'm sure) throughout the past 12 months. But for as bad as the league was, on a per-posssesion basis Cal was perfectly respectable (and pretty clearly the best team in its league), even if that respectability didn't always translate into wins. Despite the turnover, would you bet against Mike Montgomery making a run at the top of a still-volatile league this season? I wouldn't.
Does Saint Mary's miss Rob Jones?
Jones was a drastically underrated player last season. Not only was he a versatile scorer, but his rebounding anchored the Gaels on both ends of the floor, particularly on defense, where he posted the nation's 16th-best defensive rebounding rate. Forward
Brad Waldow
is the chief successor to Jones, and will have to have a nice season for Saint Mary's to wrest another West Coast Conference title away from a very good Gonzaga team.
Is Drexel still Drexel?
Bruiser Flint's team was brutally close to an NCAA tournament appearance last season, and had a fair quarrel when all was said and done. With all but one starter returning, and a Virginia Commonwealth-less Colonial Athletic Association, this season was set up as a redemption campaign. It has not gone as planned. The Dragons lost their first two games (to Kent State, which is a bad loss, and Illinois State, which is a good one) and then lost Fouch to a season-ending injury soon thereafter. A title run in Anaheim -- or at least a couple of resume wins, beginning with Saint Mary's -- would be a nice way to get this season back on track.
Who's the upset candidate?
There are some solid teams in this field, but no truly great ones. Which means we could see a few wacky results. That Rice-Georgia Tech game is anyone's guess, and who knows what happens if either of those teams get hot? What if Drake springs an upset on Cal? In a week in which Texas lost to a Division II team and another dude scored 138 points, I'm not discounting any possibilities.
THE PICKS
First round:
Xavier over Pacific; Saint Mary's over Drexel, Georgia Tech over Rice; Cal over Drake.
Semifinals:
Saint Mary's over Xavier; Cal over Georgia Tech.
Championship:
Saint Mary's over Cal.
November, 21, 2011
11/21/11
5:00
AM ET
1. The decision by freshman guard
Jabari Brown
to transfer from Oregon stunned the Ducks coaching staff. Head coach Dana Altman said after Sunday's game that he tried to talk Brown out of the decision and he wasn't closing the door. Altman said Brown was frustrated. Another member of the staff said Brown didn't give a reason for his departure. He was playing significant minutes and it was only after two games. Brown was a leader for the Ducks during the trip to Italy in the preseason. The Ducks are flustered, wondering what else they could have done to prevent this departure. If Brown follows through and doesn't come back, this will be a season-changing decision for the Ducks.
2. Drexel looked like the Colonial Athletic Association favorite in a short-handed victory at Rider last Tuesday. But then the Dragons went to the Virgin Islands and collapsed, losing to Norfolk State and Virginia in the first two games, shooting a combined 6-of-34 from 3-point rane. The Dragons were still without two of their three best guards in
Chris Fouch
and
Tavon Allen
, both injured. "We can't make shots and we're having to play guys in spots they're not comfortable in,'' Drexel coach Bruiser Flint said. The Dragons pulled a no-show against Norfolk and couldn't make a bucket against UVa. But Flint isn't worried. The core of the team is still talented enough – especially with
Samme Givens
and
Frantz Massenat
healthy inside and out – to compete for the CAA title. But an at-large berth is taking a serious hit.
3. NC State coach Mark Gottfried has the Wolfpack playing at a high level here early in the season. The Wolfpack are an entertaining team to watch and can score with
C.J. Leslie
,
DeShawn Painter
,
Richard Howell
,
Lorenzo Brown
and, once he's back from an ankle injury,
Scott Wood
. But Gottfried is selling that Belgian big man
Thomas de Thaey
will be the surprise if he can get cleared by the NCAA. The Wolfpack are still awaiting a ruling on the 6-foot-8 forward.
October, 19, 2011
10/19/11
5:00
AM ET
1. Drexel was picked to win the Colonial Athletic Association, a surprise to head coach Bruiser Flint and probably most everyone who follows the league. George Mason, even with a coaching change, was a fringe Top 25 team and yet the Patriots were selected second. Could Drexel come from America East and become the first team not from the state of Virginia or UNC Wilmington to win the CAA? Yes. Flint said the Dragons are more competitive in practice then he's seen recently. But the Dragons will start the season without leading scorer, guard
Chris Fouch
, recovering from offseason knee surgery. Flint said he's hopeful Fouch will be back by December. That puts pressure on the Dragons to avoid stumbling in the Paradise Jam in St. Thomas so as not to hurt a possible at-large berth.
2. Butler was the pick to win the Horizon League again, barely over Detroit. But the telling info from the Horizon Leauge poll was that the Bulldogs had no one on the preseason all-league first team and only one (
Andrew Smith
) on the second. Meanwhile, Detroit had the player of the year (
Ray McCallum
Jr.) and two others on the first team (
Eli Holman
and
Chase Simon
). One problem for the Titans is Holman started the fall by taking a leave of absence due to personal issues. Still, if there was ever a year for Detroit to unseat Butler this is the season. Failing this season could be a significant psychological blow.
3. Nevada was picked by the WAC coaches to win the league, edging out New Mexico State. Utah State was third. Utah State has been the dominant team in the WAC, and it is finally going through a rebuilding phase. Utah State has been in the mix an at-large berth for years and fellow bubble teams have sweated out the WAC final. No need to worry this season. Nevada probably won't have the résumé to warrant an at-large berth in its final season in the WAC before going to the MWC. This is a one-bid league.
September, 29, 2011
9/29/11
1:49
PM ET
By
Diamond Leung
| ESPN.com
The CAA is a conference to watch this season, with VCU coming off a Final Four appearance and George Mason primed to make another NCAA tournament run.
But a new crop of players will have to step up, as the entire All-CAA first team completed its eligibility, and two all-conference players -- Old Dominion's
Kent Bazemore
and Drexel's
Chris Fouch
-- are recovering from offseason surgeries.
Bazemore, the CAA's reigning defensive player of the year and top returning scorer for the Monarchs, had been hoping to return by the start of the season after
fracturing his left foot
.
But
CBSSports.com
reports that Bazemore will now likely miss the first month of the season after ODU coach Blaine Taylor told the website that the senior is a "long ways off from working out."
It's unsettling news for ODU because the versatile 6-foot-5 Bazemore has NBA potential and averaged 12.3 points and 5.1 rebounds while leading the league in steals last season.
Meanwhile, Drexel announced last week that leading scorer Chris Fouch would miss the start of the season while recovering from offseason knee surgery.
Fouch, a junior who had redshirted his freshman season because of a torn anterior cruciate ligament, has become one of the top shooters in the CAA and averaged 14.9 points for the Dragons last season despite making only two starts.
A third CAA all-conference player --
Luke Hancock
-- transferred this offseason from George Mason, which has also suspended starting guard
Andre Cornelius
following
an offseason arrest
.
So a number of the league's contenders will have to make adjustments at the start of the season. Missing players at the start of the season won't necessarily damage their postseason chances, but it does remain a concern.