College Basketball Nation:

Chris Paul
June, 14, 2013
6/14/13
10:30
AM ET
In the weeks leading up to the June 27 NBA draft, we'll be taking a look at the 20 schools that have produced the best pros in the modern draft era (since 1989, when the draft went from seven to two rounds). Click here to read Eamonn Brennan's explanation of the series, which will be featured in the Nation blog each morning as we count down the programs from 20 to 1.
Top Five NBA Draftees Since 1989
Tim Duncan (1997)

Chris Paul (2005)

Josh Howard (2003)

Rodney Rogers (1993)

Jeff Teague (2009)
Sixth man
: Darius Songalia (2002)
The rest
: Al-Farouq Aminu, James Johnson, Loren Woods, Ish Smith, Chris King, Rusty LaRue, Anthony Tucker, Randolph Childress
Why they're ranked where they are
: At this point, you really shouldn't need me to explain just how good Tim Duncan has been over these past two decades. (If you do, I highly recommend
Bill Simmons's epic accounting of Duncan's career published over on Grantland
this week. It has a lot of words. You've been warned.)
[+] Enlarge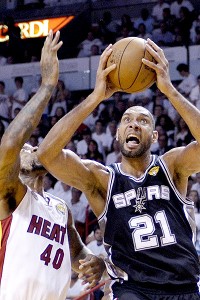 Brendan Smialowski/AFP/Getty Images)Wake Forest product Tim Duncan is arguably among the best five or six NBA players ever.
Really, Duncan's immensity is self-evident: 23,785 career points, 13,219 rebounds, career 20.2/11.2./3.1/2.2 splits on 50.7 percent shooting, 14 All-Star appearances, four NBA championships. If the Spurs beat the Miami Heat in the next 10 days, Duncan and his coach, Gregg Popovich, will have won five titles in a span of 14 seasons -- a sustained run of success unlike any in recent sports history.
To gaze
upon his Basketball Reference page is to look upon a lasting work of art
, and I'm really not being tongue-in-cheek. If Duncan's career had gone the
way Larry Johnson's did
-- if he had shown a world-bending talent before losing it to injury around Year 6 -- he would still have won three NBA titles and two MVPs. He'd still be a Hall of Famer. But Duncan didn't burn fast and hot for a short period of time. His legacy is not secured by mere longevity. Instead, Duncan has managed to be both incandescent and reliable for nigh on two decades. Imagine an alternate world in which the Beatles stayed together as long and made as many records as the Rolling Stones -- only all of those records were at least as good as "Rubber Soul," and more often than not they were "Revolver."
That's Tim Duncan. He is widely regarded as the best power forward of all time, and among the best five or six players in the history of the game. Those points are always fun to debate, but I do know one thing for sure: Duncan is the best NBA product any school has produced since 1989, and it's honestly not even that close.
As such, Duncan's presence alone would have been enough to get Wake Forest into our top 20. He's that far ahead of the rest of the field. But Wake has more than Duncan to offer, much more.
Chris Paul is arguably the best point guard in the league today. Whether you agree with that statement --
Tony Parker
might not -- at the very least Paul exists in that rarified territory so few NBA players reach: He changes franchises. He also
works
games. As good as he's been in L.A., some of my favorite moments to this effect came during his days in New Orleans. There was 2007-08, when he led the league in both assists and steals and turned a previously lost Tyson Chandler into one of the most efficient players in the game. Or Game 1 of the Hornets' 2011 playoff series against the Lakers, when he went for
33/14/7/4
and so thoroughly silenced the Staples Center that by the end of the game the TV microphones picked up his trash talk. Paul has always been the most cerebral player on the floor; his court instincts and vision are second to none. It's almost hard to believe he's only 27, with tons of productive basketball left in the tank.
Wake Forest's list takes a pretty significant dive from there; Rodney Rogers was a nice pro but nothing more, and Jeff Teague is carving out a solid career as a starting point guard, even though he'll probably never be a star. But let's not forget Josh Howard. Before multiple ACL injuries sent his career careening off a cliff, Howard submitted some really strong seasons, particularly in his 2006-07 All-Star campaign, when he averaged 18.9 points and 6.7 rebounds per game for a Mavericks team that finished 67-15 in the regular season. Then he averaged 21 and 10 in the playoffs and followed up with 20 and 9 in the 2007-08 regular season. Don't forget Josh Howard.
Really, though, this list is about Duncan and Paul: the first, a Hall of Famer had he retired 10 years ago; the latter, on his way to inclusion 10 years in the future. That would be quite a leading duo for any school. For Wake Forest, a small private school with an undergraduate enrollment of less than 5,000 students, it's something like a miracle.
Why they could be ranked higher
: It really comes down to the same dynamic we've been confronting throughout these rankings. Which do you value more: a deep group of solid if unspectacular NBA regulars? Or singular stardom? As singular stardom goes, well, you know …
Tim Duncan
. And Chris Paul. We've already placed a noticeable premium on legend-level talent, but we've done our best to temper it against the rest of each team's résumés. I think this is just about the right spot for Wake, but if you think the Duncan trump card is worth even more, I could dig it.
Why they could be ranked lower
: I might be willing to push Wake
up
on the list; I'm not willing to push them
down
. Just below sits Texas, which is likewise a two-stars-and-then-some-other-guys entity, except that Texas' two stars are Kevin Durant and LaMarcus Aldridge. Don't get me wrong; those guys are awesome. Durant has a chance to leave the NBA as the best scorer
of all time
. But he is still at the dawn of his own era; Duncan has been in this game since honeys was wearin' sassoons. No NBA GM would trade Paul for Aldridge. And the rest of Texas' group doesn't stand up to Howard, Rogers and Teague, solid inclusions all. Wake can go no lower.
What's ahead?
Not a whole heck of a lot. Teague, for all his strengths as a ball handler and penetrator, has probably hit something close to a ceiling. Fourth-year man James Johnson is still trying to find a productive NBA role. The program that produced Duncan and Paul in less than eight years has since fallen into severe disrepair, and with the possible exception of rising senior
Travis McKie
, there are no pro prospects in the pipeline.
Final thoughts
: It was really fun to dig into Tim Duncan's numbers, and I recommend you spend the rest of your morning doing the same. Oh, you meant about Wake Forest. Right. There may be no program with a wider gap between what a list of its NBA products since 1989
implies
it is (a powerhouse) and the reality (a bit of a mess). If you're wondering why Demon Deacons fans are so ticked off, it's because they remember when one of the greatest players in the history of basketball played four years at the Joel. They remember Howard's career, and they remember Paul, and why not? It wasn't so long ago.
December, 6, 2012
12/06/12
4:25
PM ET
By
Reggie Rankin, ESPN RecruitingNation
| ESPN.com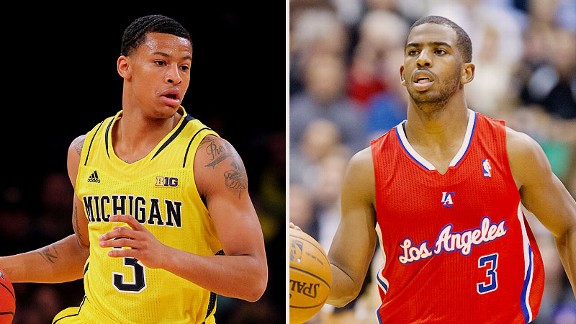 US PresswireHow does Michigan point guard Trey Burke compare to the Clippers' Chris Paul?
Sophomore point guard
Trey Burke
of the undefeated and third-ranked
Michigan Wolverines
is off to a tremendous start again this season and the more I watch him the more he reminds me in many ways of Chris Paul of the Los Angeles Clippers.
Burke, the No. 84 overall recruit in the Class of 2011, was a great scoring point guard for Satch Sullinger at Northland (Ohio) High School and for the All Ohio AAU Program. Burke also excelled off the ball because of his ability to score in a variety of ways.
But his point guard skills and feel for the game have reached an elite level since he started running the show for the Wolverines. Burke leads 8-0 Michigan in scoring (17.0 ppg) and assists (7.1) and has only 19 turnovers in 269 minutes of play.
Paul and Burke are both very smooth and efficient point guards that get teammates involved and have a great feel and excellent basketball IQ. Both are composed under pressure and attack under control, resulting in a high level of consistent production. They both take care of the ball and when they gamble, they usually come out ahead and make the defense pay. Defensively, they are both solid on and off the ball. They are alert and will slide over in help and take a momentum changing charge.
Let's take a look at the point guard tale of the tape between Paul and Burke:
Height/Weight:
Paul is 6-foot/175, while Burke is 6-foot/190. Both are very similar athletically in terms of bounce and lateral foot speed and quickness.
Leadership:
Paul is a great court communicator; there is no doubt who is in charge of the team when he is on the floor. Burke has become more vocal with teammates when I watch him in the huddle and after setting up a teammate. He leads more by example now so this is probably the category with the most difference, but his on-court communication has improved and will continue to do so as he matures and grows as a player. Even now, there is no doubt who has the other four players' undivided attention when Burke is running the show for the Wolverines.
Handle:
Paul and Burke both have the ball on a string and can get to their sweet spot through contact. They push the pace on the break, probing the defense looking to make a play. They both run the offense to perfection and make the right decision in end-of-the-clock situations. They both attack with their head and eyes up surveying the floor and are great at keeping their dribble alive. Both can break intense ball pressure, change speeds and directions on a dime. Both can turn a broken play into a great play with their ballhandling escapability. Both can beat most single defenders off the bounce to score or get a teammate the ball in position to score at will.
Passing:
Dropping dimes is an asset of both Paul and Burke. They get teammates involved and their passes result in scores because their passes are on time and on target whether on the break, within the offense or when the shot clock is running down. They also can deliver the ball with flare and get the crowd to their feet with a look away or drop-off pass for a dunk in heavy traffic.
Scoring and shooting:
Both Paul and Burke are crafty finishers deep in the lane. This includes great floaters with touch and body control, mid-range jumpers off the catch or dribble and open 3s. Both are capable of big numbers when they want or when the team needs their scoring. Both are great at picking their spots and knowing when it is time to take over the game.
September, 30, 2011
9/30/11
6:00
PM ET
By
Diamond Leung
| ESPN.com
In support of Isiah Thomas, the Miami Heat's Big Three are coming to the Florida International campus to play.
LeBron James, Dwyane Wade and Chris Bosh will host the South Florida All-Star Classic, with proceeds going to the foundation in honor of the FIU coach's late mother.
"This will be a great event for FIU and the South Florida community," Thomas said in a statement. "We are thrilled that some of the world's greatest basketball players will put on an entertaining show here at FIU. It's also fulfilling to know that this is being done for a good cause. I can't thank LeBron, Dwyane and Chris enough for helping put this together."
Also expected to play in the exhibition, according to the
South Florida Sun-Sentinel
?
The game, organized by Miami Heat forward LeBron James, is scheduled to also include teammates Dwyane Wade, Chris Bosh and Mario Chalmers. Also scheduled to attend are NBA rivals Chris Paul, Carmelo Anthony, Kevin Durant, Rajon Rondo, Amare Stoudemire, Russell Westbrook, Jamal Crawford, John Wall, Rudy Gay, Jonny Flynn, Eric Bledsoe, Lou Williams, Wesley Matthews and free-agent center Eddy Curry, as well as former Heat players Dorell Wright and Caron Butler.
Last offseason, Thomas was left in an awkward position when he was forced to
backtrack on accepting a consulting position with the New York Knicks
that was to have allowed him to coach at FIU as well. The attempted move raised questions about the commitment Thomas was showing the college game.
But at least with this star-studded affair put together for Thomas, it's a reminder of how the NBA connections that Thomas has can be used to shine a light on FIU, which last season finished with an 11-19 record.
"It is exciting to be able to bring an event like this to South Florida," FIU executive director for sports and entertainment Pete Garcia said in a statement. "It is also great to see all of these NBA superstars come together for a great cause here at FIU."
September, 3, 2010
9/03/10
6:56
PM ET
By
Diamond Leung
| ESPN.com
Here's
video
of Duke star Kyle Singler hard at work at the Chris Paul Elite Guard Camp earlier this summer, courtesy of The Hoops Report.
And here's a
Duke press release
announcing that Singler
underwent arthroscopic surgery on his left knee
today while indicating how the Final Four MVP's rigorous offseason might have contributed to the issue.
"Kyle had some discomfort in his knee following a very busy summer so we elected to go in and clean it up prior to the start of the season," Duke associate head coach Steve Wojciechowski said in a statement. "By all accounts, today's surgery was a success and Kyle will be back at full strength before the start of practice."
The surgery appears to be minor, but it's apparent that Singler's workload over the summer took its toll. Among his activities:
" Camper: Besides the Chris Paul camp, Singler also attended the Deron Williams Skills Academy, the Kevin Durant Camp, and the LeBron James Skills Academy in order to fine-tune his game and play in pickup games with pros and other college stars.
" Practice player: Singler also tested himself against pros as part of a contingent of college players selected to go attend a training camp in Las Vegas designed to prepare Team USA for the world championship.
"Being around the pros has been really good to see what they go through to prepare for competition," Singler said in July. "Being exposed to the whole lifestyle and the amount of attention these guys get is a great learning experience."
" Shuttle driver: During his off time, Singler spent five days driving around participants in a shuttle van for the K Academy, coach Mike Krzyzewski's fantasy camp. One of the campers even had Singler
driving the van into a small ditch
.
Mix in a visit to the White House to celebrate the NCAA title with President Obama, a trip to Los Angeles to
collect an ESPY award
, and time spent at home in Oregon hosting his
youth basketball tournament
, and it's been an eventful offseason for Singler.
Oh, and he found time to
join Twitter
.
Now it's time to rest and recover for what's sure to be a pressure-packed season defending the national title.
March, 20, 2010
3/20/10
9:30
AM ET
NEW ORLEANS -- A couple of Sweet 16 berths will be decided Saturday in the Big Easy.
And no matter how it shakes out, some droughts will be coming to an end. Some longer than others.
Kentucky, with all its tradition, hasn't been to the Sweet 16 since 2005.
Wake Forest's last Sweet 16 trip came during the 2004 season when a guy named Chris Paul was running the show in Winston-Salem.
Baylor and Old Dominion have never reached the Sweet 16 under the current format. The Bears lost in the national championship game to Kentucky in 1948, but the tournament included just eight teams back then.
Here's a preview of Saturday's East Regional second-round games at New Orleans Arena:
Game 1: (3) Baylor vs. (11) Old Dominion, 5:45 p.m. ET


How they got here:
The Bears (26-7) beat Sam Houston State 68-59 in the first round, a game that was tied with a little more than three minutes to play. It was Baylor's first NCAA tournament win in 60 years. The Monarchs (27-9) beat Notre Dame 51-50 in the first round. It was their first NCAA tournament win in 15 years. They've won six straight games and nine of their last 10 heading into Saturday's game.
Scouting the game:
If you like defense, then settle in. Old Dominion wouldn't mind "uglying" this one up. The Monarchs win with defense and rebounding. Notre Dame was their 12
th
opponent this season to be held to 50 points or less. The Bears also play smothering defense, ranking ninth nationally in field-goal percentage defense. They held Sam Houston State to 34 percent shooting on Thursday. The difference in the two teams is that Baylor wants to get out and run, make the game an up-and-down affair and force Old Dominion to play in the 80s. The Monarchs are extremely balanced offensively and don't lean on one or two players. Seven different players have led Old Dominion this season in scoring. Baylor's
Ekpe Udoh
could end up being the 'X' factor in this game. He's a shot-blocking machine in the middle and doesn't give up anything easy around the basket.
Bear to watch:
Senior guard
Tweety Carter
is coming off a subpar game with a season-low two points on 1-of-3 shooting. He was just never able to get involved in the offense and was neutralized by Sam Houston State playing a triangle-and-two defense. That was just one game, though, and Carter is just as capable of going off for 20-plus points in Saturday's game.
Monarch to watch:
Senior forward
Gerald Lee
is the only player on the team averaging in double figures. He was quiet in the first-round win over Notre Dame with just nine points and three rebounds. But with Baylor starting three players 6-10 or taller, the Monarchs will need more out of Lee offensively. He's an unselfish player and will get the ball to the open man. But he's also Old Dominion's most reliable option when they need big baskets.
They said it:
"They've got an outstanding defense and have done it against quality teams. They beat Georgetown by holding them to 57 points, so they're a Top 20 defense in the country for a reason. They've got size and length and have a lot of similarities to our team." -- Baylor coach Scott Drew
Game 2: (1) Kentucky vs. (9) Wake Forest, 8:15 p.m. ET


How they got here:
The Wildcats (33-2) routed East Tennessee State 100-71 in the first round and were never threatened. They shot 51.7 percent from the field and led by as many as 40 points in the second half. The Demon Deacons (20-10) beat Texas 81-80 in overtime in the first round on Ishmael Smith's pull-up jumper with 1.3 seconds to play. Wake Forest had lost five of its last six games coming into the tournament.
Scouting the game:
Wake Forest is one of the few teams in the country that can match Kentucky's size. That said, keep an eye on the Deacons' 7-foot senior center,
Chas McFarland
, and the Wildcats' 6-11 freshman forward,
DeMarcus Cousins
. McFarland has gotten under more than a few players' skin in the ACC, and Cousins has had a problem at times this season with keeping his emotions in check. He vowed not to be lured into any extra-curricular stuff with McFarland. "I'm telling you all now. I'm not trying to get in a fistfight. I'm just trying to play ball," said Cousins, who's drifted in and out of foul trouble this season. The Deacons insist they want to run with the Wildcats, who are scary in the transition game when everything's clicking. Smith was called a one-man fast break by Texas coach Rick Barnes, but he has to keep his turnovers down against the Wildcats. He had eight in the win over Texas. The Wildcats turn turnovers into points, and it starts with freshman point guard
John Wall
, who leaves his own vapor trail when he's blazing up the court. The Deacons killed the Longhorns on the boards Thursday. If they're going to hang around in this one, they're going to need their share of second-chance points.
Wildcat to watch:
Freshman guard
Eric Bledsoe
has been on a tear. He made a Kentucky NCAA tournament-record eight 3-pointers in the first-round win over East Tennessee State and is 15-of-21 from 3-point range over his last three games. When he's shooting well and scoring at a high clip, the Wildcats are just about impossible to defend with all of their other weapons. In Kentucky's only two losses this season against South Carolina and Tennessee, he was a combined 5-of-17 from the field and 1-of-6 from 3-point range.
Deacon to watch:
Sophomore forward
Al-Farouq Aminu
had 20 points and 15 rebounds in the Deacons' first-round win over Texas. He was the only player in the ACC this season that averaged a double-double with 15.8 points and 10.8 rebounds per game. At 6-9, he's the kind of inside-outside threat that could cause trouble for Kentucky's big men and is also an explosive finisher in transition.
They said it:
"The one thing I talked about is we're not a 3-point shooting team. That's not why we win. We win because of defense. We win because of rebounding. We win because of our shot-blocking ability and our ability to create good shots for each other. If we make 3s, we're better than that. But that's not why we win." -- Kentucky coach John Calipari