College Basketball Nation:

Cliff Alexander
December, 23, 2014
Dec 23
12:28
AM ET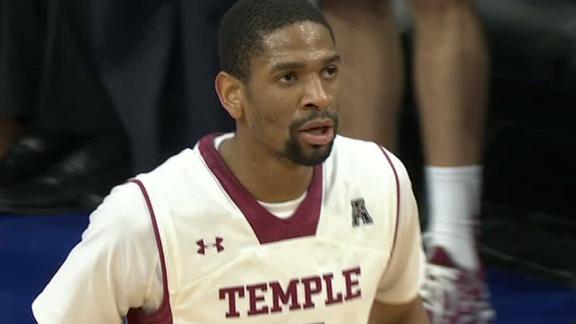 A decade of hegemony is the gift that keeps on giving. Maybe, when Jayhawks families sit down for Christmas dinner Thursday, Kansas's past 10 years -- when they've reigned over 10 successive Big 12 regular-season conference championships -- can keep the conversation from turning grim.
If those fans chose to politely focus on the not-so-distant past, well, who could blame them? Because here's how the present stands up: In Self's first 11 seasons, his teams lost by more than 25 points exactly one time. In the first five weeks of the 2014-15 season, they've already done it twice.
The second of those blowouts came Monday night, a putrid
77-52
thrashing at Temple. Kansas never led, never got close, and never looked competent against a team that began the night ranked outside the top 100 in adjusted efficiency. The second half played out like a routine blowout, one team so unable to score or get a stop that the lead began to spiral inward on itself. Rushed shots led to bad defense, which led to more rushed shots. In a vacuum, you would have assumed Temple was the top-10 team mopping up some lowly cupcake opponent at home, and have been puzzled over the fans rushing the court at the final buzzer. What's all the fuss?
"They were so much better than us," Self said afterward.
[+] Enlarge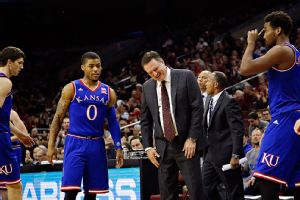 AP Photo/Matt SlocumIt was a frustrating night from all angles for Kansas, but it shouldn't have any long-term, lingering after-effects.
And he was right.
The good news is that it probably doesn't matter.
Before the Kansas panic-o-meter switches from "mild" to "full-blown" -
and judging by KU basketball's Facebook comments
, we might already be too late -- it's worth noting just what an abberation Monday night really was. After all, it's not like Kansas hasn't played well in the nonconference thus far. The Jayhawks arrived in Philadelphia on the back of an eight-game winning streak pocked by solid wins over difficult opponents, including an impressive win over a Utah team with one of the nation's best guards in
Delon Wright
. And it's not like Kansas hasn't traveled to a major metropolitan area in the northeastern corridor to play in a hostile NBA arena, as it won at Georgetown on Dec. 10.
What the Jayhawks did Monday night was a mixture of unusually cold shooting, atypically lights-out offense by its opponents (more on that in a second) and some good old-fashioned lethargy.
Perry Ellis
, the team's lone reliable go-to scorer -- the one guy Kansas clears out for when it really needs a bucket -- finished a frustrated 1-for-10. The Jayhawks shot 32.1 percent from the field as a group. When Temple opened an early lead, you kept waiting for the Jayhawks to knock down a few perimeter shots and tighten things back up. Frank Mason was the only player who delivered, making four of Kansas's seven 3-pointers.
Sviatoslav Mykhailiuk
,
Brannen Greene
(the key player in the Georgetown win) and
Wayne Selden
combined to go 3-of-11.
Defensively, Kansas might have been worse, or at least -- to use a technical term -- more
obviously bad
. Throughout the past month, Self has consistently praised his team on two fronts: first-shot defense and toughness. Kansas had neither Monday night. It was tired and slow, as Self put it after the game: "Like we were a half step slow or even a full step slow." Maybe that's the promise of an impending Christmas break. Maybe it's the post-final exam malaise. Whatever it was, it looked nothing like Kansas's typical performance.
Is lethargy a bad sign? Maybe. Is playing at 70 percent of your ability on Dec. 22 a portent of doom? Probably not.
None of which should minimize Temple's role in the blowout. The Owls might not have faced Kansas in top form, but they still had to make the shots. Did they ever: Temple went 21-of-28 from inside the arc.
Will Cummings
was a force on the perimeter, driving on KU's guards at will, finishing with ease, and expertly controlling the pace as the lead widened in the second half. When Temple boarded the Philadelphia Subway en route to the arena Monday night, it ranked 340th in the country in field-goal percentage. Cummings & Co. showed none of those woes against the Jayhawks.
"I think we played about as well as we possibly could have," Temple coach Fran Dunphy said. "It was our night."
The
"& Co." bit is especially important
. Monday night was just the second game of the season for transfers
Jesse Morgan
and
Devin Coleman
. Morgan finished with 17 points on 10 shots; Coleman contributed 14 mistake-free minutes off the bench. But the duo, Morgan especially, added more than that: They provided the room and the support to make Cummings a truly lethal one-on-one player.
In other words, if Temple 77, Kansas 52 matters, it matters for Temple. And not just the win (though that is a nice bonus for a team that had yet to snag anything resembling a NCAA tournament-worthy victory). This performance hinted at the promise of Dunphy's team -- a good defensive group that might not be so awful with the ball after all.
As for Kansas, look at it this way: Whatever issues Self's team had before the game -- the stop-start emergence of
Kelly Oubre
, the stalled contributions of
Cliff Alexander
, shaky perimeter shooting, lack of fluidity in its half-court offense -- exist now. Whatever strengths the Jayhawks previously displayed will likely emerge again in the next week, when Kent State and UNLV come to Allen Fieldhouse.
And if the Jayhawks fail to maintain that fabled Big 12 title streak in a few months, it will probably have as much to do with the butcher shop that is the 2014-15 Big 12 as with anything Kansas did or didn't do in Philadelphia. It was, in every sense of the word, just one of those nights. The only sweeping conclusion to be drawn here is a resounding: Meh.
May, 15, 2014
May 15
10:00
AM ET
Some of the best one-on-one matchups will take place before the college basketball season tips off. They will come in the form of position battles within a team to determine a starter, which in some cases will shape an entire lineup.
Starting with point guard, ESPN.com will examine those quiet battles on a
position-by-position basis
this week while also promising we will never use the phrase "iron sharpens iron" to describe the competition.
Here are some power forward battles to keep an eye on:

Kentucky: Trey Lyles vs. Alex Poythress vs. TBD
Exactly who factors into this battle in Lexington will come down to how coach John Calipari divvies up positions. With so many frontcourt players, he has a numbers crunch that could mean guys play more hybrid positions or even out of position. Will he slide Poythress to small forward? Will he turn
Willie Cauley-Stein
or
Marcus Lee
into more of a power forward than a center? Where does
Derek Willis
fit in? Lyles, one of the best in the Class of 2014, will be a factor one way or another. The good news is that Calipari has options. The interesting thing will be to see how they all play out.

Kansas: Cliff Alexander vs. Perry Ellis
Ellis has spent the better part of his career waiting his turn. Now here he is, a junior, and he's got a whippersnapper like Alexander to battle. The two come at their position from different but equally effective ways. Alexander is the more typical power forward, a rebounding machine who muscles his way to success. Ellis can rebound and battle with the best of them, but he also has some finesse to his game. Odds are that coach Bill Self will find a way to use both at the same time -- Alexander likely at the 5 -- to form a pretty formidable backcourt.

North Carolina: Jackson Simmons vs. Isaiah Hicks
Or who will back up
Brice Johnson
? Caught in a numbers crunch, neither saw much playing time last season, but somebody will have to contribute for coach Roy Williams this coming season. Hicks, a sophomore to be, played out of position for most of last season, sliding over to the small forward spot. Meanwhile, Simmons (who will be a senior) has spent the better part of his career biding his time. It will come down to whether Williams leans on the more veteran Simmons or the more talented Hicks.
Wichita State: Who will replace Cleanthony Early?
That's the unenviable battle.
Shaquille Morris
, who stopped traveling with the Shockers in February so he could work on his weight training and get in shape, has a chance if he proves he's up to the task. Freshman
Rashard Kelly
, out of Hargrave Military, is also an option. He averaged 19.6 points and 10.4 boards in his senior season. The truth is that no one can replace Early alone, but coach Gregg Marshall at least needs to find some committee members up to the task.

Florida: Dorian Finney-Smith vs. Alex Murphy vs. Devin Robinson vs. Jon Horford
Finney-Smith, who likes to rebound, likely will get the nod here, but this could be a fluid position for coach Billy Donovan as the season progresses. Once Murphy, the Duke transfer, becomes eligible in mid-December, things could change. And if Robinson, a highly regarded freshman, develops well, it could change again. Horford, who can play immediately after finishing up his degree at Michigan, will likely get lots of minutes between the 4 and 5 spot, and Finney-Smith will float among small forward, power forward and even in the middle at times.

Gonzaga: Kyle Wiltjer vs. Domantas Sabonis
Wiltjer, the sharpshooting transfer from Kentucky, will likely get the edge here thanks to experience, but the Lithuanian Sabonis is an intriguing guy for coach Mark Few. The son of former NBA star Arvydas Sabonis, Domantas excelled in the FIBA Under-18 World Championships, averaging 14 points and 11.4 rebounds per game.
May, 9, 2014
May 9
10:30
AM ET
College basketball's incoming freshman class features some elite rim protectors. They are the guys who are able to patrol the paint on defense and turn away a wide variety of would-be scorers. Here are the best shot-blockers in the class and one name to know in 2015:
1. Myles Turner, Texas
He went on national television and announced he was going to "hook em." Well, he might have also meant he was going to "block em." Arguably the best shot-blocker in the rising freshman class, Turner will provide an immediate boost to Texas' defense with his ability to turn away shots at the rim. What's going to be interesting is to see how Rick Barnes elects to use Turner in combination with returning center
Cameron Ridley
, not to mention last season's starting power forward
Jonathan Holmes
. The trio is likely to see plenty of time on the floor together next season, which could mean more of a 2-3 zone from the Longhorns. That allows both Turner to anchor himself to the front of the rim when he plays in the middle, as well as show his mobility in challenging shots on the perimeter from the wing position.
May, 8, 2014
May 8
10:30
AM ET
Members of the Class of 2014 have (mostly) made their decisions. Which incoming freshmen should you get to know? Here is a look at the best rebounders -- and one name to know in 2015:
1. Jahlil Okafor, Duke
Okafor is as wide as a door and next to impossible to keep from a rebound that comes off the glass within reach of his suction-cup hands. Okafor is strong and physical and in the best shape I have seen him, and his motor is hitting on all cylinders.
To continue reading this article you must be an Insider
May, 7, 2014
May 7
10:30
AM ET
In high school basketball, the best players usually concentrate on their offense because that's how their teams win games. But there are several prospects who have the potential to be elite defenders. Let's examine the five best defenders among the incoming freshmen and one from the Class of 2015.
1. Justise Winslow, Duke
Winslow has a college-ready body and mindset that will help him influence the game with his defensive prowess. His defensive versatility might be the best among the entire freshman class as the 6-foot-6 forward can defend point guards through power forwards. The athletic Winslow can be a factor in full-court pressure or trapping situations as well as in a straight-up man-to-man denial defense locking up, the opposing team's best offensive threat. What makes him a special defender is that he is always thinking about where he should be next on the floor. Winslow will be extremely important for Duke next season.
To continue reading this article you must be an Insider
November, 15, 2013
11/15/13
4:27
PM ET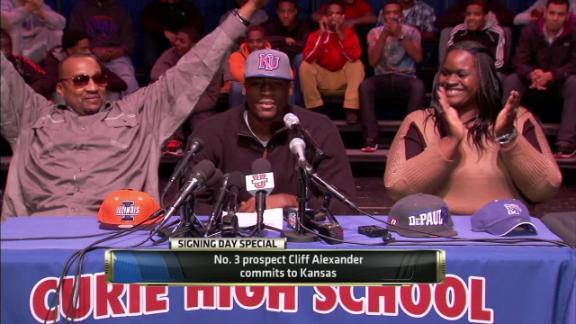 Cliff Alexander
(Chicago/Curie), the No. 3 overall player in the ESPN 100, committed to Kansas over finalists Illinois, Memphis and DePaul.
Alexander gives coach Bill Self his second five-star recruit, joining small forward
Kelly Oubre
, the No. 10 overall player in the ESPN 100.
What can fans expect to see on the court next year?
To continue reading this article you must be an Insider
November, 6, 2013
11/06/13
1:15
PM ET
We are one week away from the national signing period for men's basketball. Seven of the top 17 recruits in the country are still on the board. Here's the latest on some schools rising and falling in the
ESPN class rankings
:
To continue reading this article you must be an Insider
October, 30, 2013
10/30/13
12:00
PM ET
As we come down to the wire for basketball's early signing period in November, many of the best players in the nation have finished their visits and are ready to make their decisions. Here's a look at how some of the recruiting classes are shaping up as we get closer to the signing period:
To continue reading this article you must be an Insider
October, 8, 2013
10/08/13
12:00
PM ET
By
RecruitingNation staff
| ESPN Insider
With only eight of the top 20 prospects in the ESPN 100 currently committed and a number of high-profile national programs like Kentucky, Kansas and Duke all still looking to make their mark in the Class of 2014, there is still a huge amount of unpredictability with only five weeks before the early signing period.
With major dominoes like
Jahlil Okafor
,
Myles Turner
,
Cliff Alexander
and
Tyus Jones
all yet to drop, the only certainty is that there will be major movement to our ESPN class rankings before it's all said and done.
With that in mind, we asked our team of experts to give their take on which team will end up on top when the smoke clears:
To continue reading this article you must be an Insider