College Basketball Nation:

Clint Steindl
February, 17, 2012
2/17/12
9:00
AM ET
When and where:
Saturday (ESPN, 6 p.m. ET), CFSB Center (Murray, Ky.)


Saint Mary's breakdown:
The Gaels are coming off their first home loss of the season, to Loyola Marymount, perhaps the most athletic team in the West Coast Conference and finally healthy. Randy Bennett's team has had a terrific season, but has lost two of its past three games (at Gonzaga and at home to LMU).
Saint Mary's is a very skilled team that lacks size but has players who can spread the floor and a "big guy" in
Rob Jones
who plays inside and out, and plays much bigger than he is listed. Bennett has several very efficient players, including Jones,
Matthew Dellavedova
and the ultra-efficient
Clint Steindl
. But this team will definitely miss defensive ace
Stephen Holt
, who was injured against LMU and did not make the trip to Kentucky after a partial tear to his MCL. Holt is one of the most complete players in the WCC and the West Coast, and is a terrific player. That's a big loss.
But Dellavedova is dynamic off the bounce and in transition and is in attack mode all the time. Steindl is an excellent perimeter shooter who does not make mistakes. The Gaels play a bend-but-don't-break style of defense, and do not force a lot of turnovers.
[+] Enlarge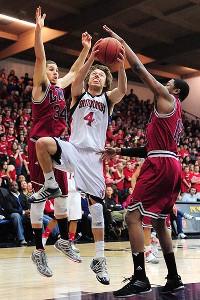 Kyle Terada/US PresswireMatthew Dellavedova scores 15.5 points per game for a 23-4 Saint Mary's team that has lost two of its past three games.
But they do not give up extra possessions via turnovers or offensive rebounds, either. It is unusual to play ahead of the Saint Mary's defense. This is not a super-athletic team or a big team, and it is not a team that shoots a ton of 3s. But it is a team that moves the ball, cuts hard, drives it, and plays with tremendous heart and a great understanding of how to play. I love watching Saint Mary's play, and it would be a great bunch of guys to play ball with.
Murray State breakdown:
The Racers are very well-coached, and have really good guards and solid interior players who play really hard and well together. Murray State ripped off 23 straight wins, and although this team did not play a Big Ten schedule, it did not have a letdown or slip and fall, either. Wins against Southern Miss, Dayton and Memphis prove this team is legit and should be taken seriously.
The backcourt with
Isaiah Canaan
and
Donte Poole
can compete with any backcourt in the country. Both can give you 30 points in a game, and both are hard to contain in transition and off ball screens.
Canaan is the best player, but Poole (a product of Las Vegas) often steps forward and has big games when Canaan is not dominating. Inside,
Ed Daniel
and
Ivan Aska
do a good job, and
Jewuan Long
is the heart and soul of the team.
Murray State has a lot of positives, but the weaknesses are pretty glaring at times. The Racers can be, and often are, loose with the ball. They cough it up far too often. Murray State turns the ball over almost 21 percent of the time, and that is in the bottom half of Division I.
In addition, Murray State has solid "first-shot defense," but allows far too many second shots, and those high-percentage second opportunities put the Racers at a disadvantage.
Gaels' game-breakers:
Dellavedova and Jones. Dellavedova does not look like a point guard, but he knows how to play, and plays like a man. He averages 15.5 points and 6.4 assists, and with his attack mentality, leads the team in free throw attempts.
Once he gets to the line, Dellavedova is automatic. He will be a tough matchup because he is strong and knows how to use his body. Jones started his career at San Diego in the West Coast Conference, and is one of the most versatile big men in the country. Jones has hit 31 3-point field goals, and is an outstanding rebounder.
He averages 15 points and more than 10 rebounds per game, including more than three offensive rebounds per game. Jones will be a difficult cover for Murray State.
[+] Enlarge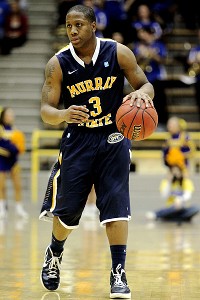 Andy Lyons/Getty ImagesMurray State's Isaiah Canaan averages 19.2 point per game and has four games of 30 or more points this season.
Racers' game-breakers:
Canaan and Poole. Canaan is dynamic enough to take over a game, and has scored more than 25 points in a half. He can hit from deep, use ball screens and can pull up and hit from mid-range as well.
Canaan has hit 79 3-point shots, but has also shot 152 free throws, which makes him very dangerous and hard to guard. He averages 19 points and almost 4 assists per game, leading the team in both categories. Poole is also an excellent 3-point shooter, hitting 53 of 135, while also getting to the free throw line 119 times.
Poole leads the Racers in steals with just more than two per game. To beat Murray State, Saint Mary's has to keep Canaan and Poole from going off.
Gaels' X factor:
Steindl. The long-armed shooter has hit 45 3-point field goals, which accounts for more than 85 percent of his field goals. Murray State cannot leave Steindl, and must find him in transition and force him to put the ball on the deck. If Steindl is allowed to shoot from the same spot where he catches it, he will knock down shots left and right.
Racers' X factor:
Aska. He has all the skills to be a major factor, including the ability to score around the rim. Most importantly, Aska is tough. He averages 12 points and 6 rebounds per game, and he makes his free throws.
Key stat:
Rebounding and turnovers. Murray State is turnover-prone and Saint Mary's does a really good job of taking care of the ball. The Racers surrender too many offensive rebounds and Jones is an outstanding offensive rebounder. Murray State has to take good care of the ball and must finish defensive possessions with big defensive rebounds.
Did you know?
Mark Gottfried and Mick Cronin both coached at Murray State. And Saint Mary's played in the 1939 Cotton Bowl, beating Texas Tech. I'll take obscure BracketBusters trivia for $200, Alex.
Can't account for this:
It may seem odd to name a broadcaster as a "key to the game," but Dick Vitale is doing this game. Murray State is already publicizing Vitale's appearance as an event, and the atmosphere will be different than any Murray State has ever had. Add in that it is Senior Day and you could have an emotional overload. Will the hoopla and distractions work in Murray State's favor? Or will they wear out the Racers, who are not used to having this kind of circus in town? No matter what, it will be fun and memorable for everyone involved. But it is always more fun when you play well and win.
Who wins:
I think Murray State will pull this one out at home 72-70. And it will seal the deal for an at-large bid.
October, 24, 2011
10/24/11
3:20
PM ET
By
Diamond Leung
| ESPN.com
It wasn't going to be easy for Saint Mary's to replace the production of West Coast Conference player of the year Mickey McConnell, but the task got more difficult now that point guard transfer
Paul McCoy
has gone down in practice with a right knee injury.
McCoy previously had torn the anterior cruciate ligament to end his sophomore season at Southern Methodist, and after redshirting last season with Saint Mary's, he might have to miss this season as well, according to the
Contra Costa Times
.
McCoy, a junior, said Saturday that he will undergo two surgeries, the first coming on Tuesday to clean out his knee. He said he will undergo three months of rehabilitation, then have a second operation to repair the damage.

It is McCoy's second major knee injury. He missed the last month of his sophomore season at SMU with an injury to the same knee. McCoy said he plans to apply for a medical redshirt.

"It felt just as bad as the first time," McCoy said. "It's been pretty hard. Emotionally, I'm at a loss."
The loss of McCoy leaves Saint Mary's thin in a backcourt led by shooting guard
Matthew Dellavedova
. The only other scholarship guards on the roster are sophomores
Stephen Holt
, who led the team in steals, and
Jorden Page
, who missed most of last season with a knee injury of his own. Saint Mary's could end up going with a big lineup that utilizes versatile forwards
Rob Jones
, the team's top returning scorer, and
Clint Steindl
.
For McCoy, it's more disappointment after averaging 13.4 points as a freshman at SMU to make Conference USA's all-freshman team. The knee hasn't enabled him to play in a college game since February 2010, and now the wait will be much longer.
January, 11, 2011
1/11/11
2:32
PM ET
By
Diamond Leung
| ESPN.com
Saint Mary's basketball can now be paired with Australian wine.

The school's athletic department has entered into a partnership with Treasury Wine Estates through the rest of the school year that allows the company to sponsor pregame socials and other offsite events for fans to attend.

That means wine tasting while watching Randy Bennett's team, which has a heavy Australian influence.

"The synergies between Treasury Wine Estates and the Saint Mary's basketball program are infinite," Debbie DuBois, head of channel marketing for Treasury Wine Estates, said in a statement. "After seeing the large role Australia has played in the success of the program, as well as witnessing how dedicated and passionate the season ticket holders and alumni are, we at Treasury Wine Estates think this is the perfect partnership."

Saint Mary's has a roster that features Australians Matthew Dellavedova, Jorden Page, Clint Steindl and Mitchell Young, giving the Gaels a talent pool from Down Under and opportunities to market itself internationally.

The WCC also currently broadcasts its games on ESPN Australia.
November, 23, 2010
11/23/10
5:50
PM ET
By
Diamond Leung
| ESPN.com
Saint Mary's coach Randy Bennett coming off a year in which his team reached the Sweet 16 had to replace his entire assistant coaching staff. His final hire was not made until Saturday, and it was a big one.
The Gaels are bringing back to the program Adam Caporn, and it's a name that has historical significance because he was Bennett's first recruit from Australia. Caporn came to Saint Mary's in 2001, and nine more Australians have since played for Bennett after coming through a recruiting pipeline that has paid off tremendously for the program.
Bennett needed the recruiting link Down Under after assistant David Patrick, a former pro player in Australia, left shortly before the season to take a scouting job with the Houston Rockets.
Caphorn most recently was an interim assistant at the Australia Institute of Sport, which has produced NBA player Patrick Mills and current Gaels
Matthew Dellavedova
,
Jorden Page
,
Clint Steindl
and
Mitchell Young
.
"It's exciting to have one of our former players join our coaching staff," Bennett said in a statement. "Adam will bring strong leadership and high character to the program, along with his basketball experience as a college and professional player. He will be a great addition to our program."
November, 16, 2010
11/16/10
4:30
AM ET
By
Diamond Leung
| ESPN.com
Some quick impressions after Saint Mary's 76-71 win against St. John's:
Not that we didn't know this before, but Dwayne Polee II is really athletic. He showed off his great leaping ability with a breakaway dunk in the first half, revealing why it was really a coup when Steve Lavin got him to come to St. John's in his first recruiting class.
Saint Mary's doesn't have Omar Samhan anymore, but appears to have enough frontcourt depth to get by. The Gaels started transfers Rob Jones and Kenton Walker II, rotating in Mitchell Young and Tim Williams when Jones got into foul trouble. Williams came up big down the stretch.
Clint Steindl brought Saint Mary's back with huge 3-pointers in the second half. At 6-foot-7, he likes to camp out beyond the arc to set himself up for the shot. The Australian is as fundamentally sound as they come and one of the reasons the Gaels will be fine going forward.
Lavin coached his first regular-season game in seven years, and what happens? He picked up a technical foul for complaining a little too hard to the referee. Give him credit though for taking on the challenge and playing in a tough road environment.
Stephen Holt is an impressive freshman for St. Mary's. He started, and you can see that he has a good feel for the game even as a young player. Look for the Gaels to use plenty of three-guard sets with Holt, Mickey McConnell and Matthew Dellavedova.
March, 27, 2010
3/27/10
1:20
PM ET
By
Diamond Leung
| ESPN.com
Step aside,
Gordon Hayward
for a moment, and let a pro take the microphone and do the rapping for the so-called mid-majors.
Oakland rapper Mistah F.A.B. is a big basketball fan has been trading tweets in recent days with Saint Mary's star
Omar Samhan
about putting together a theme song for the Gaels, and hours before they got blown out, he released "
The G
."
The track is along the same lines as Uncle Luke's "The U," an ode to the University of Miami football program.
Only that Samhan,
Mickey McConnell
,
Clint Steindl
and
Ben Allen
get shoutouts at the end.
And why not?
Rooting for the Golden State Warriors
gets tiring.
March, 26, 2010
3/26/10
1:16
PM ET
By
Diamond Leung
| ESPN.com
ESPN Australia broadcasts Saint Mary's games since the team features five players from Down Under, and one of them is gangly starting forward Clint Steindl, who averages 6.8 points per game.
First take in some NCAA tournament highlights spoken in Australian, and then check out the interview with Steindl.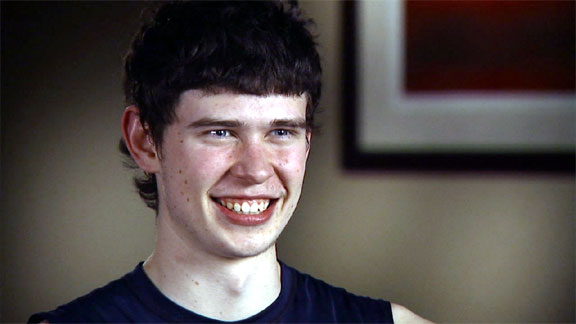 March, 18, 2010
3/18/10
8:52
PM ET
PROVIDENCE, R.I. -- Saint Mary's never truly believed it could get in as a bubble team once it lost at Portland in mid-February.
The Gaels had to earn the bid the hard way –- by winning the WCC tournament and slaying the Gonzaga dragon.
[+] Enlarge
Stew Milne/US PresswireOmar Samhan scored 29 points and had 12 rebounds in a first round victory for St. Mary's.
They did. Saint Mary's hasn't lost since that Feb. 13 game to the Pilots, winning six in a row, including the WCC title game over the Zags in Las Vegas, and then dismantling No. 7 Richmond
80-71 in an NCAA tournament
South Regional first round game at the Dunkin' Donuts Center on Thursday.
"We knew we weren't getting in unless we won the tournament,'' said Saint Mary's senior
Omar Samhan
. "I knew we had to beat Gonzaga. They're a great team. I knew once we beat Gonzaga that we could play with anybody. That helped build our confidence.''
Samhan, the unquestioned leader of this squad, was a monster in the middle and dominated the Spiders with 29 points, 12 rebounds and made 7 of 10 free throws. Saint Mary's moves into the second round to play No. 2 seed Villanova on Saturday after the Wildcats squeezed out a
win over Robert Morris 73-70 in overtime
.
"I told our guys that nobody thinks we're any good,'' Samhan said after the WCC win. "We're not any good. We're just a bunch of slow white dudes. We have nothing to lose. If we lose by 10, nobody cares. If we get blasted by Villanova nobody cares. Nobody knows where Saint Mary's is.''
Well, it's in Moraga, Calif., and the school is nestled in a beautiful section of the Bay Area in a bit of a valley near Oakland and Berkeley. But he's right. The respect for Saint Mary's was fleeting. The Gaels had to win an NCAA tournament game for there to be instant credibility. This is the first win for the program in the NCAAs since 1959 -- the only time the Gaels ever won an NCAA game.
"As a program we need to be able to say we've won a game,'' Saint Mary's coach Randy Bennett said. "If we want to see ourselves as a top 25-30 program then you have to be in the final 32. Now there's data to support it. I had no idea what an NCAA tournament win would feel like. Now I do. It's an unbelievable feeling.''
Bennett said getting into the Dance has been a grueling ordeal for the Gaels. Saint Mary's earned a berth in 2005 and in 2008, the latter as an at-large.
The difference between sweating out Selection Sunday and winning the WCC has been easy to measure. Saint Mary's spent a few days last week relishing the win. But once the jubilation settled down the Gaels had some of their best days of practice. So when the selection came and the Gaels were a 10 seed (the third straight time) facing Richmond in Providence, the euphoria was short-lived.
"It wasn't as big a deal with your campus celebrating,'' Bennett said. "You know you're in.''
Saint Mary's assistant coach Kyle Smith said the bubble talk in recent years had become a bit of a burden.
"It starts to eat at you,'' Smith said. "Once we won we had good practices, and we came in here playing with confidence.''
The Gaels played with tremendous balance against the Spiders. They dominated the board (40-17) and when Samhan wasn't in the game or scoring with his soft touch the outside was wide open for
Mickey McConnell
and
Clint Steindl
.
"It's a better team,'' Samhan said.
"We don't rely on one guy. We rely on 11 guys. We're a true team. We don't have an all-star guard going to the NBA.''
Samhan will have to deal with the length of Villanova's
Maurice Sutton
and
Mouphtaou Yarou
Saturday. And McConnell and
Matthew Dellavedova
will have to attempt to handle
Scottie Reynolds
and
Corey Fisher
in the backcourt, seeing if they can keep them out of the lane.
"Those are the teams we struggle with,'' said Samhan. The Gaels lost their most athletic guard earlier in the season when
Wayne Hunter
tore his ACL. "The athletic, quick teams can give us problems. But we've got skilled guys. So the question will be can we guard them and will we want it more than them.''
Villanova probably feels like it has a new life after escaping Robert Morris. Saint Mary's is playing like it belongs after moving to round two for the first time since 1959.
"We're going to play the way we always do as a highly efficient offensive team,'' Bennett said. "I would be more concerned how we're going to guard them than how we'll attack them.''
Saint Mary's is still playing as a confident, WCC champ. That's something not too many saw happening, maybe even the Gaels a month ago. But now that they are, they're feeling somewhat invincible. We'll see how long that lasts. But one thing is certain, the Gaels' street credibility among the NCAA should be at an all-time high. This is no longer Gonzaga's little brother. The Gaels have finally emerged from the shadow.
March, 18, 2010
3/18/10
6:14
PM ET
PROVIDENCE, R.I. -- Quick thoughts on Saint Mary's convincing
80-71 victory
over Richmond in a 10-7 matchup:
Saint Mary's coach Randy Bennett told me he didn't like the matchup with Richmond when he saw it pop up on Selection Sunday. Why not? The Spiders couldn't do anything with Omar Samhan except hope that he got into foul trouble. He did with four and it still didn't matter.
The Gaels proved the theory wrong that traveling West to East and handling the early game is an issue. Saint Mary's seemed more in rhythm from the outset. The Gaels had the fresh legs, which could be because Saint Mary's hasn't played since a week ago Monday, while Richmond played last Sunday in a competitive A-10 final against Temple.
Saint Mary's coach Randy Bennett has to feel vindicated in many ways. The Gaels were somewhat politicking to get an at-large bid, but then earned it by beating Gonzaga for the WCC automatic bid, and then came out and convincingly won this game.
Richmond seemed off, couldn't offensively rebound and the offense was never in sync.
Richmond coach Chris Mooney has had a great run this season, and, with the core of this team returning, he should stay put instead of looking elsewhere.
Kevin Anderson and David Gonzalvez have been the catalysts for the Spiders but they had to get more out of the role players. They didn't and they lost.