College Basketball Nation:

Cody Ellis
March, 21, 2013
3/21/13
4:19
PM ET
SAN JOSE, Calif. -- No. 4 Saint Louis took care of No. 13 New Mexico State
64-44
. Here are our thoughts:


Overview
: The Billikens were in control throughout, going bell to bell with the lead for the ninth time this season. After a woeful first half, New Mexico State made a mini-run in the second frame, cutting the deficit to six points twice, but Saint Louis stayed its methodical self and coasted home.
Turning point
: It seemed over at halftime, when the Aggies had just 16 points and nine turnovers. They at least made things interesting with better and more spirited play early in the second half. But
Cory Remekun
answered for the Billikens with two free throws, a dunk and a steal, and
Cody Ellis
added a 3-pointer and a jumper, pushing the lead back to 15 with 9:36 remaining.
Key player:
Saint Louis forward
Dwayne Evans
led all scorers with 24 points on 11-for-16 shooting. He also had six rebounds, an assist and a block. It was a quietly effective show of will on a big day for the program, which notched its 28th victory, most in school history.
Key stat:
It's rare that a team has a 21-10 advantage on the offensive glass and loses, but New Mexico State struggled against the rugged Saint Louis defense. The Aggies shot just 28 percent from the field -- 17-for-61 -- and had 15 turnovers. The Billikens had 10 turnovers and shot 46.3 percent from the field.
Next game
: Saint Louis advances in the Midwest Regional and will play the winner of Thursday afternoon's game between No. 5 Oklahoma State and No. 12 Oregon on Saturday.
March, 7, 2013
3/07/13
10:54
AM ET
Player of the Night -- Travis Taylor, Xavier

Taylor had 19 points to go with career highs of 19 rebounds and six blocked shots in Xavier's overtime win against No. 16 Saint Louis. He's the first player to generate those totals against a ranked team since Georgetown's Michael Sweetney is 2003 against Syracuse. The last A-10 player with a 19-19-6 game was Xavier's David West in 2001.
Stat Sheet Stuffer -- Trey Burke, Michigan

It wasn't even his most prolific performance this week, but Burke had another big game in Michigan's win over Purdue. He finished with 26 points, five rebounds, seven assists and three steals -- his second game reaching all of those totals this season. No Big Ten player had one such game since Mateen Cleaves in 1998.
Freshman of the Night -- Chris Bolden, Georgia Tech

The Yellow Jackets topped No. 6 Miami, 71-69, behind a career-high 21 points from Bolden. He'd only scored a total of 16 points in their previous three games.
Marcus Georges-Hunt
's tip-in at the buzzer made the difference, but it was Bolden's offensive outburst that stood out. It's the highest ranked team Georgia Tech has defeated on the road since beating No. 3 Duke in 2004.
Bench Player of the Night -- Brenton Williams, South Carolina

Averaging 10 points coming into the game, Williams exploded for 38 points off the bench in South Carolina's 79-72 win against Mississippi State. It was the most points by a South Carolina player since Terry Dozier had 38 against Florida State in 1987, and it was the most points off the bench by an SEC player in at least the past 15 years. (Joakim Noah had 37 off the bench for Florida in 2006.)
Ugly Stat Line of the Night -- Cody Ellis, Saint Louis

Ellis went 0-for-15 off the bench in the Billikens' loss to Xavier. That's the second-worst oh-fer in the nation this season behind Southeastern Louisiana's
Jeffery Ricard
(0-16). But it's the worst oh-fer off the bench since Pepperdine's Yakhouba Diawara went 0-for-18 against San Diego in 2005.
November, 21, 2012
11/21/12
2:27
AM ET
KANSAS CITY, Mo. -- Win or lose, Kansas' Bill Self is almost always good for a postgame wisecrack -- even if it comes at the expense of one of his own players.
So it was easy to sense that a punchline was on the way when someone mentioned that KU center
Jeff Withey
appeared to be "muscling up" in the paint during Tuesday's
73-59 thumping
of Saint Louis at the Sprint Center.
Self smirked.
"That's the first time I've ever heard the word 'muscle' used when speaking about Jeff," Self said. Everyone in the room snickered.
All joshing aside, the observation was an accurate one.
A 7-foot-1 senior, Withey entered the season with a reputation as one of the country's top shot-blockers. But after Tuesday, it's clear he has been working on his offensive game, too.
The soft-spoken Withey tied a career high with 25 points in a victory that clinched the first-place trophy for the 12th-ranked Jayhawks in the CBE Classic. After the game Withey drew praise for the way he fought for position deep in the paint, which made it easier for him to finish plays.
Withey also blocked seven shots for the 4-1 Jayhawks, but the strides he made on offense are what impressed his coach the most.
"We've been on Jeff about not scoring the ball," Self said, "and tonight we played through him. He's so unselfish and he's such a good passer. He just needs to get touches."
Especially if the Jayhawks have ambitions of reaching the Final Four for the second consecutive season.
The early departure of Thomas Robinson to the NBA left a scoring void for Kansas in the paint. Withey averaged an admirable nine points a game playing alongside Robinson last season, but most of his buckets came on put-backs or easy baskets after Robinson had drawn a double-team.
To maintain Kansas' elite status, Self said, Withey would have to develop an arsenal of post moves to complement his defensive game. Self said Withey's offense would be particularly important during the first few months of the season as freshman forward
Perry Ellis
adapts to playing at the college level.
[+] Enlarge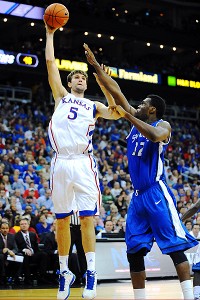 Denny Medley/US PresswireKansas wanted more offense from center Jeff Withey, and he responded with a career-high 25.
Self couldn't have been more encouraged by what he saw from Withey on Tuesday.
"He worked himself in there pretty [deep] and caught the ball with both feet in the paint a couple of times," Self said. "Really, he made some good post moves. He caught the ball on the perimeter one time and put it down and up-and-undered a guy."
Withey also showed that he can score over his left shoulder, the importance of which his coach stressed during the offseason. Fifteen of Withey's points came during the second half as the Jayhawks staved off Saint Louis' rally attempt. For the game, Withey connected on 7 of his 12 field goal attempts and was 11-of-14 from the foul stripe.
Withey said KU's performance from the 3-point line -- the Jayhawks connected on 7 of their 13 attempts -- help open up things for him down low.
"[Saint Louis] was so worried about our guards because they were shooting 3s and knocking down shots," Withey said. "It made it easy for me in the second half to go one-on-one.
"They were throwing the ball [to me] perfect. All I had to do was catch it and go up."
A 21-6 scoring run early in the first half gave the Jayhawks a 28-10 lead. The Billikens never threatened again.
"We came out flat," SLU forward
Cody Ellis
said. "Against a good team like Kansas, you can't do that. They're going to step on your throat."
Kansas City native
Travis Releford
, who played high-school ball just a few miles down the road from the Sprint Center, was named the tournament's most outstanding player.
Releford scored 21 of his 23 points in the decisive first half -- mainly because Saint Louis backed off of him and dared him to shoot. Releford had missed all 11 of his 3-point attempts before the CBE Classic. He went 4-of-7 from beyond the arc Tuesday.
"Of course," said Releford, when asked if he was offended by the cushion the Billikens gave him on the perimeter. "Any player who is defended that way should feel disrespected. They played off of me, and my coaches and teammates told me to continue to shoot it."
Impressed as he was with Releford, it was obvious after the game that Saint Louis coach Jim Crews thought the MVP trophy should've gone to Withey.
"We were trying to get help from different positions, but they've got good players all over the place," said Crews, whose team fell to 2-2. "When you plug [one] hole, another one opens up."
Withey's intimidating presence in the paint was one of the main reasons SLU shot just 34.6 percent from the field. The Billikens missed 11 of their first 13 attempts from 2-point range.
Forward
Dwayne Evans
entered the game averaging a team-high 17 points, but he managed just five field-goal attempts against Kansas -- and he wasn't even the player Withey was guarding.
"Some shot-blockers are good on the ball, some are better off the ball," Crews said. "[Withey] seems to have a knack for doing both and staying out of foul trouble. I certainly salute him on that."
November, 20, 2012
11/20/12
11:43
PM ET
KANSAS CITY, Mo. -- A quick look at Kansas'
73-59 victory
over Saint Louis in the championship game of the CBE Classic at the Sprint Center.


Overview:
Five games into the season, it's still tough to get a read on the Kansas basketball team. It's certainly not the Jayhawks' fault. They played admirably in a 67-64 loss to Michigan State, but other than that, Bill Self's squad hasn't exactly faced top-notch competition.
That was certainly the case Tuesday at the Sprint Center. One night after beating Pac-12 bottom-feeder Washington State by 37 points, 12th-ranked Kansas cruised to an easy victory against an overmatched Saint Louis squad that's trying to adapt to life without its coach (Rick Majerus) and top player (injured guard
Kwamain Mitchell
).
Turning point:
Kansas used a 21-6 scoring run early in the first half to blow the game open.
Travis Releford
scored 17 points during the march, which gave the Jayhawks a 28-10 lead and momentum they would never relinquish.
Key player:
Releford earned tournament MVP honors. The Kansas City native finished with a game-high 23 points on 7-of-13 shooting. Twenty-one of Releford's points came in the decisive first half. Releford also performed well against Washington State on Monday, when he led KU with 17 points.
Key stat:
Kansas center
Jeff Withey
is picking up where he left off last season in terms of blocked shots. Withey is averaging 6.0 blocks in his past three games. He swatted seven shots Tuesday. Withey likely would've been named tournament MVP if the ballots weren't picked up with 10 minutes remaining, as Withey closed the game in dominating fashion.
Miscellaneous:
Kansas point guard
Elijah Johnson
continues to struggle. Johnson had only eight points against Washington State and finished with just five on Tuesday. There is obviously a tremendous amount of pressure on Johnson, who moved from shooting guard to point guard to replace graduated senior Tyshawn Taylor. …
Cody Ellis
had 19 points for Saint Louis but missed 14 of his 20 field-goal attempts. … Along with Most Outstanding Performer Releford, these players were named to the CBE Classic all-tournament team: Withey, KU's
Ben McLemore
, Saint Louis'
Dwayne Evans
and Texas A&M's
Elston Turner
, who hit a 3-pointer with 2 seconds remaining to give the Aggies a
55-54 victory
over Washington State in the third-place game.
Up next:
Saint Louis hosts Southern Illinois on Saturday. Kansas hosts San Jose State on Monday.
November, 5, 2012
11/05/12
2:00
PM ET
The Saint Louis team I saw in Columbus, Ohio, eight months ago looked like a contender for the Atlantic 10 title and a squad that was capable of making a run in this season's NCAA tournament. I had no doubts about the Billikens' top-25 status entering 2012-13, after they reversed Memphis' late-game lead to advance to the third round of the NCAA tournament and then, pushed top-seeded Michigan State to the brink in a tough loss two days later.

That was then. Clearly, things have changed.
The program missed the top-25 but received 46 votes in the
Associated Press preseason poll
, a demotion connected to its insertion of former Evansville coach Jim Crews as interim head coach and announcement that Rick Majerus would take a leave of absence due to a health issue.
Saint Louis' challenges didn't end there. Last month,
Kwamain Mitchell
-- who scored 35 points in the team's two NCAA tourney games in March -- fractured his foot in practice. The injury could sideline the Billikens star for two more months.
From Tom Timmermann of the St. Louis Post-Dispatch
:
"Being forced to watch practice kills me," [Mitchell] said. "I'm taking it one day at a time but every practice, it hurts me inside. But I don't tell the coaches and teammates that because we've still got one thing we're searching for, that's a conference championship. … I'll be on the sideline, chatting and cheering like I wasn't injured. I've got to keep their spirits up and my spirits up."

Guard Mike McCall will run the team in Mitchell's absence.

"It hurts any player to be out," McCall said. "Kwamain hurts to be out because he loves to be on court, but he tries not to show it because he doesn't want to bring the team down. He wants us to go out and play hard and get better."

In a season of high expectations for SLU, Mitchell's injury is the big question mark, probably bigger than how the team will perform without coach Rick Majerus, who's on season-long medical leave.
Those unexpected and crippling developments turned the external expectations for the program.
Projections had to be adjusted without Majerus. Another tweak was necessary when Mitchell suffered his foot injury.
But Saint Louis is not a team to ignore.
Crews will maintain Majerus' emphasis on its superb defense (10
th
in defensive efficiency last season). Veterans McCall,
Dwayne Evans
,
Cody Ellis
and
Jordair Jett
can lead the Billikens through a manageable nonconference schedule.
And if Mitchell's foot heals on time, then the talented player could return prior to the start of Atlantic 10 play.
Majerus can't be replaced. But Crews has the personnel to contend in conference play and beyond. The Billikens succeeded last year because they were disciplined and scrappy, a common trait for Majerus' teams. They should play with the same grit in 2012-13.
It's not possible to assess Saint Louis according to the program's achievements in March. It will play without Majerus. It won't have Mitchell for a few months. And last year's leader, Brian Conklin, is gone, too.
But this is still a program that shouldn't be dismissed. Not in the Atlantic 10 or nationally.
August, 24, 2012
8/24/12
8:05
PM ET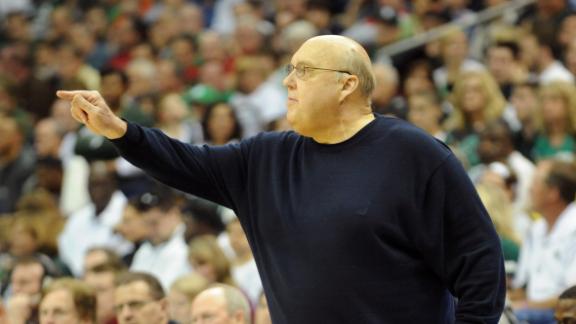 It is, you could say with a heap of irony, heartbreaking.
Rick Majerus has spent the past five years building Saint Louis from also-ran to Atlantic 10 front-runner, crafting the Billikens with the same mold he used to build Utah.
Playing SLU now is about as fun as going to the dentist for a root canal sans Novocain while having a professional wrestler simultaneously knot your arms behind your back.
Just the way Majerus likes it.
After a breakthrough season a year ago, this was to be the year that it all came together for the Billikens.
It still might. But the master craftsman won't be there.
Saint Louis
announced on Friday that Majerus was taking the 2012-13 season off
to deal with a health issue. The university didn't disclose the extent of Majerus' problems, but the school did say via a press release that the coach is in a California hospital undergoing "evaluation and treatment for an ongoing heart condition."
That's serious business for anyone. For someone like Majerus, who has had seven heart bypasses in his lifetime and who just last summer had a stent put in, it is sit-up-and-take-notice serious.
[+] Enlarge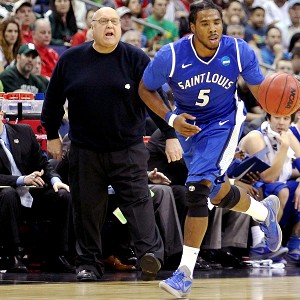 Greg Bartram/US PRESSWIRE Rick Majerus will not be on the Saint Louis sideline this upcoming season.
And to his credit, the coach has sat up and taken notice, recognizing that the game is not worth the literal heartache.
Few people have been put through the physical ringer more than Majerus. He has missed games throughout his career to deal with his own health, even leaving Utah eventually because of it.
Two years ago, just when he seemed to have found a little slice of heaven in St. Louis, it all unraveled in a mess. Two of his best players were suspended; his beloved mother Alyce, died from cancer, and he was sidelined by a freakish injury, developing an infection after banging his toe on the scorer's table.
In the middle of it all, the Billikens spiraled to 12-19.
That year, just as he has throughout his career, Majerus managed to plug along.
So the fact that in August, a good seven weeks before the season begins, he has shelved himself for the entire year ought to underscore the gravity of this situation.
Sitting the year out is without question the right decision.
Seeing tomorrow is abundantly more important than seeing the fruits of Majerus' labor.
The good news for both Majerus and SLU, the Billikens' loaded roster will be placed in the more-than-able hands of Jim Crews. Named an assistant last season, Crews, who was named the interim head coach, has two-plus decades of head-coaching experience and is cut of the same old-school cloth as Majerus.
Majerus might not be there to guide Saint Louis, but you can bet the Billikens will play as if he is still pulling the puppet strings.
And the players already appear ready to go with a Gipper theme.
"As if we needed motivation,'' tweeted junior
Dwayne Evans
shortly after the news was announced.
"Band of brother gotta stick together. #TeamTogether. #RiseOfTheBillikens,'' added senior
Cody Ellis
.
Of course, there is nothing quite like being there, and watching from afar won't be easy for someone like Majerus. He is maybe the ultimate basketball lifer. Never married, has called various hotels home throughout his career and defines contentment as most of us might, just with a slight twist -- a good meal with good friends … and a serving of hoops on the side.
So the fact that this year, of all years, he has to step aside even temporarily is truly heartbreaking.
But a broken heart needs time to heal.
November, 27, 2011
11/27/11
3:39
PM ET
Breaking down the 76 Classic final:
Saint Louis was supposed to be a contender for the 76 Classic final.
Oklahoma was not. But New Mexico never got out of the first round against Santa Clara to even face the Sooners.


The Billikens were projected to be an Atlantic 10 title contender. Oklahoma wasn't supposed to be close to being in contention in the Big 12.
Maybe the Sooners will now.
The 76 Classic didn't have a stellar field, but the winner of Sunday night's final between Saint Louis and Oklahoma at the Anaheim Convention Center will have significant momentum going forward.
SLU already made its mark on this young season with a huge home win against Washington. Dispatching a rebuilding Villanova -- which is sure to be in the mix somewhere in the Big East -- elevates the SLU resume, too.
Oklahoma took down a subpar Washington State and a middling Santa Clara out of the WCC.
Saint Louis should win. The Billikens should be a Top 25 team.
But if Lon Kruger's Oklahoma team continues this upward trajectory, there is plenty of room for the Sooners to make a move in the Big 12. Missouri is the class of the league so far this season, with Baylor and Kansas chasing the Tigers. Texas A&M will be in the mix as well. Texas is young. Oklahoma State hasn't found itself yet. And it's hard to tell what to make of Kansas State or Iowa State just yet. Oklahoma has room to grow and can make a play for a top-five finish.
Oklahoma is playing much better defense than it did a year ago. The Sooners have an emerging star in junior
Steven Pledger
, who is averaging 20 points a game and will be a chore to shut down for the Billikens. Juniors
Romero Osby
(11.5 ppg, 9 rpg) and
Andrew Fitzgerald
(9.5 ppg, 7.3 rpg) have excelled early in the season.
But the Sooners haven't faced a defense like Saint Louis'. The Billikens, as is the norm with a Rick Majerus-coached team, have been stingy. Opponents are averaging just 52.4 points a game against the Billkens. SLU scored 24 points off 12 Villanova turnovers and forced Boston College to turn the ball over 20 times Thursday. Washington, which likes to run, scored 23 points fewer than its average. And in the season opener, Tennessee State scored a meager 37 points against SLU.
The diversity of scorers in
Jordair Jett
(how can you not like that name?),
Cody Ellis
,
Brian Conklin
and
Kwamain Mitchell
give SLU a different look. The Billikens made 14 3-pointers in their win against Villanova.
Kruger has made his mark in Norman in a short amount of time. He's an experienced coach who has excelled no matter where he has coached. He won the 76 Classic a year ago while at UNLV. Majerus was a few minutes away from a national championship at Utah in 1998. He has gone through quite a personal trial with his health and in rebuilding this once-proud program.
Beat Oklahoma, win the 76 Classic and the Billikens will be ranked. But that's not all. SLU will be even more of a threat to challenge Xavier and Temple for the A-10 title and make the NCAA tournament.
It is only November. But the impression SLU is leaving in California is one that can't be ignored. And for the Big 12, Oklahoma's awakening is also a reason to pay attention to the Sooners when there was no reason to consider them a factor a month ago.