College Basketball Nation:

College of Charleston Cougars
November, 23, 2013
11/23/13
10:35
PM ET
On a slow Saturday for college basketball, there just weren't many gems. North Carolina struggled with Richmond but eventually pulled away to win 82-72. Louisville dismissed Fairfield 71-57, which set up a marquee Sunday matchup against the Tar Heels.
Winless Tulsa gave Creighton a scare. But overall, it certainly wasn't the game's sexiest Saturday. But there were a variety of under-the-radar and mid-major programs that offered some impressive individual efforts.
These are some of the players who usually go unnoticed for the majority of the year until March approaches and we're all scrambling to find the next Butler or VCU. Well, remember these names. These athletes might be more relevant in the coming months.
[+] Enlarge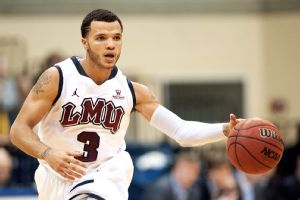 Orlando Ramirez/Icon SMILoyola Marymount G Anthony Ireland turned in a huge effort on Saturday.
1.
Keon Lewis (UTSA)
-- The UTSA junior guard had a monster game in his team's 87-76 win over Texas A&M-Corpus Christi. He recorded 30 points, 4 assists, 2 rebounds and 2 steals. He also went 13-for-13 from the charity stripe and 3-for-5 from the 3-point line.
2.
Anthony Ireland (Loyola Marymount)
-- The 2012-13 All-WCC first-teamer scored 25 points in a 76-70 win over Marist in the Paradise Jam. The senior also recorded 6 assists and 3 steals. And he made 10 of 11 free throws.
3.
Jameel Warney (Stony Brook)
-- The 6-foot-8 sophomore forward was in Beast Mode during Stony Brook's 67-61 win over Florida Atlantic. He finished with 23 points and 19 rebounds in that game. He was crucial for the Seawolves, who were locked in a tied game early in the second half.
4.
Langston Hall (Mercer)
-- The 6-4 senior led Mercer to an 81-54 win over Yale. He connected on four of his seven 3-point attempts. He also registered 18 points, 10 assists, 2 rebounds and 1 steal.
5.
Anthony Stitt (Charleston)
-- The junior finished the Cougars' lopsided 89-55 win over Furman with 4 steals. He also made 4 of 8 3-point attempts on his way to 21 points.
6.
Chris Horton (Austin Peay)
-- The sophomore big man is averaging 3.8 BPG. And he maintained that pace when he finished with four blocks in a 78-72 victory over Montana State. He also finished with 23 points and 9 rebounds.
7.
Sean Armand (Iona)
-- The 6-5 guard powered the Gaels in their 89-73 victory over Paul Hewitt's program. Armand was 10-for-16 from the field in a 30-point performance. It was his season high in George Mason's first blemish of the season.
8.
Ray Lee (Eastern Michigan)
-- What a performance by the freshman in his team's fifth consecutive win. He scored 38 points, went 12-for-15 from the field and made all five 3-point attempts in Eastern Michigan's 74-69 victory over Texas-Arlington. Another interesting note? His real name is Raven.
9.
Shawn Long (Louisiana-Lafayette)
-- Check out this stat line by the 6-9, 245-pounder: He finished with 24 points, 17 rebounds and 5 blocks in the Ragin' Cajuns' 84-75 victory over Oakland. He also hit a 3-pointer.
10.
Mark Henniger (Kent State)
-- The 6-9 senior led the Golden Flashes to a 102-97 win over Niagara. He was perfect. He went 6-for-6 from the field (20 points) and 8-for-8 from the free throw line. Kent State should bronze his shoes.
November, 9, 2013
11/09/13
6:25
PM ET
People sometimes panic during the first few days of the college basketball season.
Kinks and flaws are magnified, even though the sample size is far too small to be used as evidence to produce a realistic conclusion about any program. That doesn't stop us, however, from making assumptions.
From worrying.
From anticipating doom.
Think Virginia Tech's fans care that the Hokies' 64-63 loss to South Carolina Upstate on Saturday was just the first of many games? Think defending ACC champ Miami's supporters feel calm after Friday night's 66-62 loss to St. Francis (N.Y.)?
At least those teams had problems that were easily identifiable in the offseason.
Louisville, the defending national champion and No. 3 squad in the Associated Press preseason poll, probably prompted jitters within its fan base after its sloppy start against a bold Charleston program that was down just 49-45 with 6 minutes, 41 seconds to play Saturday at the KFC Yum! Center. A late run finished the Cougars.
But don't believe the 70-48 final score
. Charleston was tougher than that.
For a chunk of the matchup, Louisville was inefficient and ineffective. Missed layups and jump shots. Squandered fast-break opportunities.
Charleston forwards
Adjehi Baru
and
Willis Hall
combined for 15 points and 13 rebounds against Louisville. They were probably more comfortable than they would have been with 6-foot-6 forward
Chane Behanan
, currently serving a suspension, available for the Cardinals. Plus,
Luke Hancock
was injured.
[+] Enlarge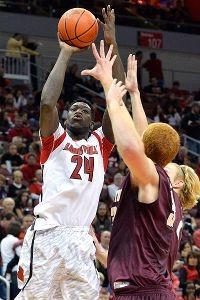 AP Photo/Timothy D. EasleyMontrezl Harrell played 33 minutes in Louisville's season opener and had 10 points and eight rebounds.
Still, Louisville launched a 21-3 rally in the final 6:41 that was created by the full-court pressure that has killed the dreams of many Cardinals opponents in recent years. They were brilliant down the stretch.
So what was the problem before that run?
Well, this is not last season's Cardinals squad. That's obvious, I know.
But Louisville in 2013-14 is different from the team that won the national championship trophy in April. No Peyton Siva and Gorgui Dieng.
Other players have accepted new roles.
Wayne Blackshear
goes from young reserve to critical piece in Rick Pitino's rotation.
Montrezl Harrell
will play center at times this season when Louisville uses a smaller lineup. He averaged 16.2 minutes per game last season. He played 33 on Saturday.
Chris Jones
, the highly touted junior college transfer, was solid in a Division I debut (12 points, six rebounds, five assists and two steals) that justified the hype that preceded his arrival.
Russ Smith
(21 points) struggled from the field (1-for-5 from the 3-point line), but he helped the Cardinals finish strong.
Smith played the last three seasons with Siva next to him. He and Jones could be one of America's best combos, but they'll also play some rough basketball -- they certainly did Saturday -- as they continue to learn each other's tendencies.
Until the Cardinals pulled off that impressive run in the final minutes, a loss seemed possible.
Blackshear, Jones and Smith were 15-for-44 from the field. The Cardinals made 22 percent of their 3-point attempts and 61 percent of their free throws. Not their best day.
But that effort shouldn't serve as an exhibit for critics. The Cardinals are good. They're versatile, athletic and relentless on defense. Charleston committed 21 turnovers.
They're also a team in transition as new faces join old ones and players adapt to new individual expectations. And it showed throughout their first game of the season.
Louisville reached the Final Four in back-to-back seasons with a group that had learned from its experience in 2012 and used that to its advantage in 2013.
Although some of the same players from those teams are on this season's roster, the Cardinals lack continuity. A big part of that change involves Louisville's switches at key positions (point guard and center) and its reliability on new players.
But the Cardinals can still build a similar level of chemistry. It will take time, though. Behanan and Hancock will return. Harrell and Blackshear will become more comfortable as starters. Freshmen
Mangok Mathiang
(seven points, 10 rebounds, one block) and
Terry Rozier
will grow.
But this isn't last year.
That doesn't mean Louisville can't match that team's achievements, because it can.
Moving forward after losing key players and asking others to assume different roles, however, is never an easy adjustment. Even for a national champion.
That rocky stretch in Saturday's game proved as much.
And that's all it proved.
October, 30, 2012
10/30/12
5:00
AM ET
1. Marquette was aware of the pending NCAA legislation that will pin responsibility and penalties on the head coach for any violation within his or her staff. That's why Golden Eagles athletic director Larry Williams suspended head coach Buzz Williams for the first Big East game of the season even though the violation was pinned on assistant Scott Monarch, who was ultimately fired (for providing transportation for a recruit and not giving honest answers when questioned). A Marquette official said the university was using precedence about head coach accountability (see Jim Calhoun, Donnie Jones and Bruce Pearl). According to the official, the past cases played a role in the decision-making process. The NCAA still hasn't ruled on the Marquette case and could impose additional penalties.
2. South Florida's point guard
Anthony Collins
didn't play in the scrimmage against Miami over the weekend, but neither did Hurricanes' power forward
Reggie Johnson
, according to a source who was at the scrimmage. The Bulls used the scrimmage to evaluate their offensive and defensive schemes. Without Johnson, the source said
Durand Scott
and guard
Trey McKinney Jones
were the stars for the 'Canes. That will continue throughout the season.
3. College of Charleston president George Benson and athletic director Joe Hull are currently negotiating a membership agreement with Colonial Athletic Association representatives after the board voted 12-5 to give them the authority to do so a few weeks ago. The president and AD still have to sign any approved membership agreement. There is no deadline to complete the negotiations and once they are deemed successful then a special meeting of the board will occur. The best-case scenario would be for Charleston to get this done sooner than later so it can move to the CAA for 2013-14. The Southern Conference will let the Cougars play in the conference tournament.
October, 4, 2012
10/04/12
5:00
AM ET
1. Maryland coach Mark Turgeon made his final plea to the Harrison twins --
Andrew
and
Aaron
-- on Wednesday with a visit in Texas, hoping they would commit to the Terps on Thursday at 5 p.m. on ESPNU. Turgeon has poured quite a bit of time since his arrival in College Park to try to lure the potentially game-changing brothers. If he loses, it will be to Kentucky, so he can't really complain. But it will be hard for Maryland to come up with a plan B. The drop-off from the Harrison twins is quite steep. They have the potential to be ACC championship-caliber players -- much more than just recruits who will be solid players that keep Maryland in the mix. To add to the drama, Maryland plays Kentucky in the season opener for both schools at Barclays Center in Brooklyn, N.Y., on Nov. 9. If Maryland lands the players, Kentucky will move on to the next big thing. If Kentucky gets the pair, it will be even more difficult for Turgeon and staff to go against UK, knowing that they couldn't beat Big Blue off the court and possibly on it, as well.
2. Practice is a week away and Ole Miss coach Andy Kennedy says he has the most quality depth in his six years in Oxford. The Rebels have been a perennial early bubble team, only to find itself more to the NIT's liking under Kennedy -- Ole Miss has been in the NIT in five of Kennedy's six seasons. He returns three senior starters and adds six players, three to four of whom Kennedy expects will play significant minutes. The gem returnee, though, isn't a senior. It's
Jarvis Summers
, a sophomore guard who led SEC freshmen with a 43.6 percent 3-point percentage last season. The problem for the Rebels is that the non-conference schedule which is once again light. Ole Miss plays only one team that is projected to be in the NCAA tournament -- San Diego State at the Diamond Head Classic in December. Ole Miss will have to earn the bid in the SEC.
3. The alignment saga is quiet -- for now. But there are still spots to fill in the Metro Atlantic Athletic Conference, Colonial Athletic Association and America East. One school that is quietly hoping its phone rings is Monmouth. The New Jersey university would take a ticket out of the Northeast Conference if it came from the CAA or the MAAC. Facilities and location are a plus. The CAA, though, still needs Davidson and Charleston if it's going to get a significant bump out of expansion after losing Virginia Commonwealth, Old Dominion and Georgia State. Quinnipiac would listen to the MAAC and America East (and of course the CAA, too, but that's doubtful). The America East loses any of its leverage to lure if it sees Stony Brook depart -- and the Seawolves' football program is on its way to the CAA in 2013.
September, 18, 2012
9/18/12
11:45
AM ET
At some schools, coaches who average 20 wins a season and finish second or third in their conference are given raises.
At Tulsa, it cost Doug Wojcik his job.
Still, other than labeling his firing six months ago as a "total shocker," Wojcik doesn't see any point discussing what happened following his seventh season with the Golden Hurricane. Why dwell on the past, he says, when everything seems so perfect in the present.
[+] Enlarge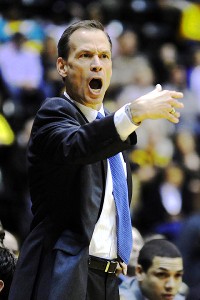 Chuck Cook-US PRESSWIREFormer Tulsa coach Doug Wojcik is getting a fresh start at the College of Charleston.
"Sometimes things just happen for a reason," Wojcik said.
Three weeks after losing his job at Tulsa, Wojcik was hired to replace Bobby Cremins at College of Charleston. In the Cougars, Wojcik inherits a team that returns four starters from last year's 19-12 squad.
The job also allows him to return to the eastern part of the country, which he considers his home. Wojcik was born in Wheeling, West Virginia and played college ball at the U.S. Naval Academy, where he started for three years alongside Hall of Fame forward
David Robinson
.
Wojcik -- who has also been an assistant at Notre Dame, North Carolina and Michigan State -- said everything is in place to win at the College of Charleston. Being located in one of the nation's desirable cities is a huge bonus -- and so is the fact that the Cougars play in a virtually brand new, state-of-the art venue. The $47 million TD Arena opened in 2008.
"It's a great place to recruit to, without question," Wojcik said. Kids from all over the country should want to come here. There are non-stop flights from Houston and Dallas. California kids love the climate.
"We've got to focus on our home and our region first, but after that there's no reason we can't branch out into Texas and California and Florida."
As much as he'll try to improve the roster, it's not as if Wojcik will be coaching a cast of scrubs in his first season. Wojcik said he couldn't have been more pleased with what he saw from the Cougars during a three-game tour of Canada last month.
College of Charleston went just 1-2 on the trip, but it was without its top player in guard
Andrew Lawrence
, who was one of only two current college players to compete in the 2012 Olympics. Saint Mary's guard
Matthew Dellavedova
was the other. Lawrence represented his native Great Britain.
Wojcik said forwards
Trent Wiedeman
and
Adjehi Baru
will form one of the top frontcourts in the Southern Conference, and junior college transfer Anthony Thomas, a small forward, will help make up for the loss of
Antwaine Wiggins
, who averaged 15.9 points as a senior last season.
"He's our most versatile player," Wojcik said of Thomas, who chose the Cougars over Fresno State. "He can guard just about every position."
Wojcik said he expects guard
Anthony Stitt
to share the backcourt with Lawrence. Stitt averaged 9.2 points off the bench last season.
One of the biggest differences under Wojcik will be an increased emphasis on defense, rebounding and toughness. Wojcik said the transition has been smooth.
"We've got high-character kids," Wojcik said. "They've really bought in. The key as a coach is to be consistent with them and communicate with them.
"People can handle what's expected of them as long as they know what's expected of them. Plus, it's not like things were broken when I got here. I took over a great situation."
It also helps that Wojcik has received loads of support from his predecessors. Cremins -- who took a medical leave of absence in January and subsequently retired -- stops by workouts whenever he is in town. And longtime Cougars coach John Kresse, who led the program to four NCAA tournament berths from 1994-99, has been more than willing to offer advice when asked. Kresse is now a fundraiser at the school.
"He's been great to me," Wojcik said. "He's really engaged me."
Wojcik's final two Tulsa teams finished second and third in Conference USA in what were supposed to be "rebuilding years" after the school lost two players (Jerome Jordan and Ben Uzoh) to the 2010 NBA draft.
Even more impressive is that Wojcik experienced that success at one of the league's four private institutions (SMU, Rice and Tulane are the others). Only 3,000 undergrads at enrolled at Tulsa yet, strangely, schools officials cited "declining attendance" as their reason for firing Wojcik.
Difficult as it is to fathom, Wojcik knows he's in a better place.
"I've moved on," he said. "I couldn't be any happier."
January, 30, 2012
1/30/12
5:00
AM ET
1. The BracketBusters pairings will be unveiled at 6:30 p.m. ET on ESPNU Monday night. I have no idea what they will be but I'm on the show to discuss the Feb. 17-19 event. I've bounced around plenty of pairings and here are my top four: Saint Mary's at Creighton; Long Beach State at Murray State; Wichita State at George Mason; Drexel at Iona; Akron at Loyola (Md.); Nevada at Oral Roberts; Valparaiso at VCU.
2. Let's hope
Kevin Parrom
makes a full recovery from a broken right foot. The Arizona junior guard has suffered enough. He was shot in the right leg and left hand in September. He lost his mother to cancer in October. I interviewed Parrom in New York prior to the 2K Sports Classic in November. He handled the pain well at the time, but it was clear he was still hurting. He deserves some good news over a long stretch. He has proven that he's strong enough to deal with adversity and this is yet another hurdle.
3. The College of Charleston didn't reveal the health crisis facing coach Bobby Cremins. But if he doesn't return to coaching, he has proven that coming back after a long respite and going from a high-profile, high major to a lower-profile program can be revitalizing. Cremins has given the Cougars' program a national identity and plenty of pop in the Southern Conference during his tenure. His path back to coaching is one that might be repeated by others -- somebody who needed a break but then wanted to get back in and be effective when older. Hopefully Cremins will be well again soon.
February, 14, 2011
2/14/11
12:20
AM ET
Five observations from the past week:
1. Officials had an interesting week. The out-of-bounds call on Alabama's
JaMychal Green
by official Tim Higgins was more than questionable in the Crimson Tide's 81-77 loss at Vanderbilt on Thursday. Green thought he got fouled but the more egregious call was when he was ruled to have stepped out of bounds on a drive along the baseline with Higgins looking down at the line. Alabama coach Anthony Grant was as upset as he has ever been as a head coach. After all, Green was on his way to possibly tying a crucial game for Bama.
The call on
Corey Fisher
of Villanova against Rutgers'
Jonathan Mitchell
was a good call as Fisher bumped Mitchell on a game-ending 3-point shot. Mitchell got to the line, converted the free throw and the Scarlet Knights won on a rare four-point play at the RAC. Fisher had no business being up on Mitchell with the Wildcats up three points. So he put himself in a position for the officials to make a call.
[+] Enlarge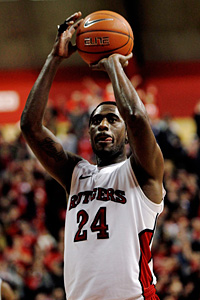 AP Photo/Mel EvansJonathan Mitchell sank this free throw to complete a four-point play with 0.8 seconds left, giving Rutgers a 77-76 win against Nova.
And then late Saturday night in Boulder, Kansas State's
Rodney McGruder
hit an apparent game-winning 3-pointer for the Wildcats. But the officials looked at multiple camera angles and the ESPNU shot from the other basket clearly showed the ball was in McGruder's hands when the clock hit all zeroes. That allowed Colorado to escape with a 58-56 win, leading the Wildcats to go from celebrating to hanging their heads in a matter of minutes. The win for CU came just a few days after Texas A&M won in Boulder by three points after
B.J. Holmes
hit a 3-pointer with 1.9 seconds remaining in regulation to tie the game and send it into overtime.
2. Utah State's margin of error is always incredibly thin. The Aggies are probably under the most pressure of any mid-major power to win every conference game. Well, Utah State was on national TV Wednesday night and lost at Idaho, a team that turned around and lost to Boise State over the weekend. Utah State is 23-3 overall, 12-1 in the WAC and has a strong chance of going 15-1 in the league with three remaining games. Utah State got an at-large berth last season after finishing 14-2 in the WAC. So there is a precedent for the Aggies to get an at-large berth without running the table in the conference. Yet there is a perception that they almost have to do so. To expect a conference team to win every road game is asking quite a bit. Utah State is a target every time it goes on the road. Losing one or two road games a season is quite an accomplishment and if there are no egregious losses, it's hard not to include a team in the field that has such an outstanding record.
The NCAA is charged with putting the best 37 at-large teams in the field. But the NCAA also looks to reward conference champs that win convincingly. If the Aggies do so again, it will be interesting to see how the committee handles them. The two key nonconference games the Aggies played they lost -- at BYU and at Georgetown. USU coach Stew Morrill has always said that he doesn't need to change his scheduling philosophy since the Aggies have earned at-large berths with the current plan. He did tweak it a bit this season by going to Georgetown. He still needs to do more and get into a key neutral-site tournament in the coming years. But he might sneak into the tournament again, doing it his way if Utah State finishes with a 15-1 WAC mark. Beating Saint Mary's on the road in the BracketBusters on Saturday would certainly help.
3. Some coaches have resurfaced quite well this season and are proving that they can check their egos at the door and be successful at a lower level. Cliff Ellis, who had his share of success at Clemson and Auburn, is leading quite a run at Coastal Carolina with the Chanticleers atop the Big South (15-0) and holding the longest win streak in the country at 22 games. Dan Monson was pushed out of Minnesota after seven games of the 2006-07 season and resurfaced the next season at Long Beach State. He now has the 49ers at the top of the Big West with a 10-2 record and looking at a No. 1 seed in the conference tournament. Bobby Cremins, who left Georgia Tech -- where they named the court after him -- in 2000, has led a resurgence at the College of Charleston. The Cougars have a 12-2 mark and stand atop the South Division in the Southern Conference and are in a position to get to the NCAA tournament. And in the Sun Belt, the home of so many second and third chances, the two division leaders are led by former big-time coaches in Mike Jarvis (St. John's) at Florida Atlantic in the East and John Brady (LSU) with Arkansas State in the West.
[+] Enlarge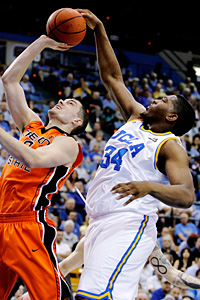 AP Photo/Danny MoloshokDespite an early-season loss to Montana, Joshua Smith and the Bruins are still in the hunt for the Pac-10 title.
4. I'm guilty every season of overreacting to early-season losses. UCLA and Florida are the two latest examples. The Bruins lost at home to Montana and didn't look good in New York in November. Now the Bruins are in position to possibly win the Pac-10 with a 9-3 league record and nonconference wins over BYU and St. John's that may make the Bruins an at-large lock fairly soon. Meanwhile, Florida has assumed its place atop the SEC East with a two-game lead, finishing off close games at home and on the road because of its experienced perimeter and inspired play from
Chandler Parsons
, who played 37 minutes with a bruised hip/thigh that will likely keep him out of practice all week (Florida doesn't play again until Sunday at LSU). How Florida lost at home to Jacksonville and South Carolina is still hard to fathom. But it happened and the Gators are hardly worse off for it now that they're 20-5 overall and 9-2 in the SEC. When will I and others learn to chill over odd losses in November and December? (Remember St. John's losing to Fordham and St. Bonaventure in back-to- back games?) Well, probably never.
5. Long Island University hasn't been to the NCAA tournament since 1997. But the Blackbirds are atop the Northeast Conference with a 12-2 record and are 20-5 overall. The main reason is the return of
Julian Boyd
. The 6-7 sophomore sat out last season with a heart condition that was being reviewed and examined. Well, he has come back, and has been the leader of the LIU revival with 12.2 points and 8.7 rebounds a game. Boyd's return to the Blackbirds has transformed the team and the NEC race. Boyd had a monster effort earlier in the season when he scored 34 points and grabbed 16 rebounds, one of his seven double-doubles on the season. The turnaround of Boyd and LIU is one of the hidden gems of this season.
January, 31, 2011
1/31/11
7:06
PM ET
By
ESPN.com staff
| ESPN.com
The matchups are in for the ninth annual BracketBusters. See below for the televised games and check back in later for Andy Katz's early analysis of the event. For a complete list of the non-televised games,
click here
.
Friday, Feb. 18
(all times ET)
7 p.m. - VCU at Wichita State (ESPN2/ESPN3.com)
9 p.m. - Kent State at Drexel (ESPNU)
Saturday, Feb. 19
11 a.m. - Hofstra at Wright State (ESPNU)
1 p.m. - Austin Peay at Fairfield (ESPNU)
3 p.m. – Iona at Liberty (ESPNU)
5 p.m. – Missouri State at Valparaiso (ESPN2/ESPN3.com)
5 p.m. – Vermont at Charleston (ESPNU)
7 p.m. – George Mason at Northern Iowa (ESPN2/ESPN3.com)
9 p.m. – Utah State at Saint Mary's (ESPN2/ESPN3.com)
11 p.m. – Montana at Long Beach State (ESPN2/ESPN3.com)
Sunday, Feb. 20
1 p.m. - Cleveland State at Old Dominion (ESPN or ESPN2)
Of the 15 conferences involved in BracketBusters, 13 are included in the television schedule:
BracketBusters national TV appearances, by conference
5 - CAA
3 - Horizon, Missouri Valley
2 - MAAC
1 - America East, Big Sky, Big South, Big West, MAC, Ohio Valley, Southern, WCC, WAC
0 - MEAC, Summit, Independents (Seattle)
January, 4, 2010
1/04/10
9:55
PM ET
North Carolina's question from the preseason on was going to be its ability to score and defend on the perimeter.
[+] Enlarge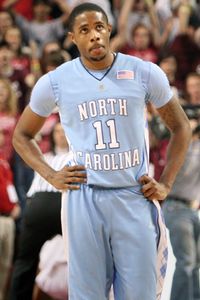 AP Photo/Mic SmithLarry Drew II and the Tar Heels suffered a surprising loss to College of Charleston.
On the eve of the ACC, the Tar Heels haven't been able to solve that issue confidently. Not having starters
Marcus Ginyard
and
Will Graves
against the College of Charleston on Monday night meant the Tar Heels were down their top perimeter defender and their top 3-point shooter.
What that did was give Charleston the green light to launch 3-pointers. And the Cougars didn't hesitate, making 13-of-32 in a thrilling
82-79
victory over the Tar Heels to create a worthy court-storming at Carolina First Arena.
Meanwhile, the Tar Heels made just 1-of-6 as guards
Dexter Strickland
(2-of-11) and
Larry Drew II
(3-of-10) struggled mightily from the field. Without Ginyard and Graves the Tar Heels just don't have the personnel to defend someone like
Andrew Goudelock
, who has speed and the ability to launch shots over taller defenders. He did that in making 10 of 20 overall and 4 of 8 3s, including the game-tying, overtime-inducing 3-pointer with 2 seconds left on the Cougars' final possession.
As ESPN researcher Jason McCallum pointed out, the Charleston starting backcourt outscored its UNC counterpart 52-17. Carolina's starting guards scored or assisted on just 11 of the 27 shots the Heels made. Yikes.
North Carolina can't win the ACC unless Ginyard and Graves are healthy, and even with them, the guard play hasn't been as consistent as say rival
Jon Scheyer
and
Nolan Smith
at Duke. Charleston should be in the mix for the Southern Conference title as projected in the preseason. The Tar Heels were considered an ACC title contender and a possible Final Four-bound team. If the guard play doesn't improve, then the potential of big men
Deon Thompson
,
Ed Davis
,
Tyler Zeller
,
John Henson
and
David Wear
won't be enough for UNC.