College Basketball Nation:

Committee On Infractions
July, 25, 2011
7/25/11
1:55
PM ET
Thanks to the Knoxville News-Sentinel's acquisition of Tennessee's response to the NCAA's notice of allegations, we get to take a peek at
yet more details
from Tennessee coach Bruce Pearl's conversations with investigators in June of 2010.
[+] Enlarge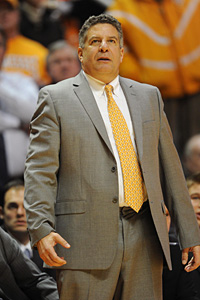 Don McPeak/US PresswireCoach Bruce Pearl's baffling responses to NCAA investigators in June of 2010 likely sealed his fate at Tennessee.
This morning, the big news was Pearl's interactions with recruit Jordan Adams in the "bump" violation incident that eventually forced Tennessee's administrative hand. On Saturday,
News-Sentinel reporter Andrew Gribble also published the exact nature of Pearl's discussions
with investigators when he was originally asked about the infamous photo of he and then-Tennessee recruit Aaron Craft. Contrary to popular opinion, Pearl wasn't caught off guard by the photo. In fact, he knew about it before the NCAA presented it to him. But he still panicked and lied about it anyway. From the report (warning: long blockquote dead ahead):
"Have you, and I apologize, this is a grainy photo that we received in our office, and I received this through e-mail just to let you know," Thompson said, looking at Pearl. "But, um, we received this picture and it purports to be you with Aaron Craft.

"Do you have any recollection of that incident or maybe where this picture was maybe taken from and..."

"That's Aaron, that's me," Pearl said. "I don't really know where that's taken."

"OK," Thompson said. "Any place on campus but you don't know?"

Glazier interjected.

"Do you recognize the woman that's in the picture?" he asked, referring to a shot of Jana Shay, the wife of Pearl's assistant coach Jason Shay, positioned with her head down in the background.

"No," Pearl said. "I really don't."

"Coach," Glazier said, "is that in your home any place?"

"No," Pearl said.

"OK," Thompson said.
As Gribble writes, that was the beginning of the end of the Pearl era. Had he come clean right away, the Tennessee coach might well have saved his job. At the very least, the violations he incurred on that day -- hosting junior recruits in an informal meeting at his house, providing free food and beverage, allowing current players to mingle with prospects, and so on -- would have likely been deemed minor by the Committee on Infractions. Pearl might have served a suspension. He might have faced additional inquiries. But it's unlikely his mistakes would have roiled Tennessee's program to the point that it eventually felt compelled to fire its most successful coach in school history. Pearl certainly wouldn't be facing the indignity of a possible show-cause penalty, the one-time whistleblower now the poster child for what happens when you decide to lie to the NCAA.
What remains impossible to understand is just what Pearl was thinking, exactly. In his many interviews since, even he doesn't seem to know. At some point, given the conversations detailed in this report, it seems he assumed the issue would just go away. But he also knew the NCAA's information was potentially damaging; that's why he called Craft's father, John, to see what the Crafts planned on saying to the NCAA:
"I said, 'Well, coach, you know, if we're asked we will tell what is the best of our ability, you know, the recollection of what happened that afternoon, that day, that visit,'" John Craft said during an interview with Thompson. "He right away said 'Well, John, we,' his tone kinda changed and it was like, uh, 'Well, we — I've had a discussion with my staff and,' uh, 'we remember the visit and we remember telling you that we were going out for an informal cookout at my house and that it was illegal for you to be there.'

"And I said, 'Coach, if that's your story then,' you know, 'we're gonna have two.'"

[...] Pearl stressed that he was not instructing Craft to lie, but understood how others could imply the situation that way.

"Obviously," Pearl said in a follow-up interview with the NCAA, "I made a bad decision in calling John."
Among many others. Obviously.
By then, of course, the damage was done, and there was no choice but to go back to the NCAA and come clean on the photograph. But this was a big lie. You can't tell the NCAA you don't recognize your own house. From there on out, you're done. The NCAA might be understanding if you broke some vague minor recruiting restrictions, even if you're a veteran coach who knows better (and even if you did so in a somewhat brazen way).
But you can't tell recruits not to talk about those visits, and you certainly can't sit in a meeting with NCAA investigators and pretend you don't recognize your own domicile. The fact that this would even seem like a route worth pursuing at all is consistent with the recurring theme of this entire story, especially now that we're seeing the actual conversations Pearl had with the NCAA: It's just
unbelievably
baffling.
Could Tennessee -- with Pearl at the helm -- have possibly handled this worse? It is a bungle of immense proportions, and the more one reads about it, the worse and worse it seems.
June, 7, 2011
6/07/11
1:21
PM ET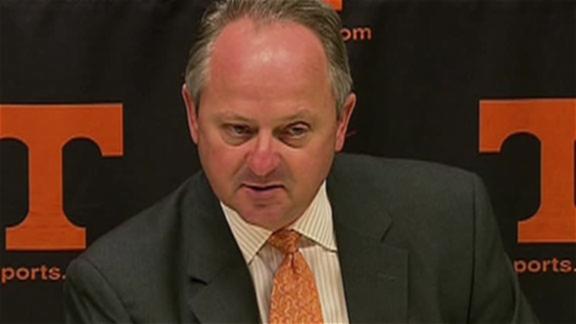 In the past 12 months, the more you heard about Tennessee athletics, the more you had to wonder:
How does Mike Hamilton still have a job?
Our own Pat Forde put it harshly -- but appropriately --
in his Feb. 23 column on the topic
:
It's bad when the football program is charged with major violations. It's bad when the men's basketball program is charged with major violations.

When they both get charged at the same time? It's really bad. Fireable offense bad.

If I were the president at Tennessee, the man in charge of an athletic department that has hemorrhaged credibility at an alarming rate in recent years would need a Committee on Infractions miracle to keep his job. Nothing short of an exoneration of both programs would be enough to spare Hamilton -- and chances of that happening are even smaller than the chances that Tennessee plays in the next BCS championship game.
That pretty much sums it up. We've seen Lane Kiffin dash away in the middle of the night to USC after one embarrassing, allegation-filled season. We've seen Bruce Pearl publicly flogged for lying to the NCAA, after which he resigned his post and prepared for potential basketball wilderness. That's two of the school's three truly marquee athletics programs --
thanks goodness for Pat Summitt's ethical stubbornness
, right? -- that have allegedly committed violations in the past several years. (Hamilton is the men's athletic director, by the way, so he doesn't even get to take credit for Summitt. Heck, no one does. But he does get the nod for a disastrous baseball hire in recently fired Todd Raleigh. Add it to the list.)
[+] Enlarge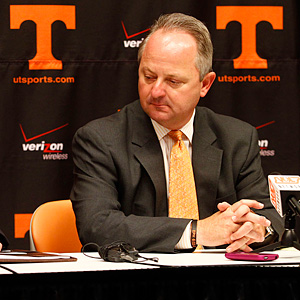 AP Photo/Wade PayneTennessee men's athletic director Mike Hamilton announced his resignation on Tuesday.
There's one thing those two programs have in common: an athletic director. That athletic director was Hamilton. These things happened on his watch and under his supervision, and still, Hamilton kept his job. It got to the point this week that, believe it or not, Hamilton appeared ready to sit in front of the NCAA Committee on Infractions and do his damnedest to keep Tennessee athletics from winding up in some sort of COI Mortal Kombat combo finishing move. (
FINISH HIM!
) This appeared to be unwise, but there Hamilton was. He wasn't going anywhere.
Until, that is, today. At the risk of burying the lead (which is not much of a risk, since you know this news already), Hamilton
suddenly resigned his post
as Tennessee men's athletics director Tuesday.
"My family and I love the University of Tennessee, and we love Knoxville," Hamilton said in a statement. "We have poured out our lives over the last 19 years to try to make this a better community, a better athletic program and a better university."

His resignation comes just days before Tennessee officials will travel to Indianapolis to appear before the NCAA's Committee on Infractions. That hearing is scheduled for Saturday, which Hamilton also will attend.
If you remember your eighth-grade reading lessons, you'll be able to spot the context and inferences at work in that last paragraph. Hamilton's resignation does indeed come just a few days before Tennessee is set to face the COI in Indianapolis. He'll still be on hand for that meeting, and technically he'll be representing it as the current athletics director, because he will technically leave the job at the end of June.
But that is a formality. In reality, Hamilton is resigning as a sign to the Committee on Infractions that Tennessee, if only now, finally, mercifully
gets it
.
There are very good reasons for that. The Committee on Infractions, which sounds scary and Orwellian but is really just a group of people like you and me, takes no joy in punishing programs. But it will do so harshly if it believes that program doesn't take the allegations against it seriously. It will do so if it believes that program has done little to change the atmosphere of compliance that it, according to its notice of allegations in the NCAA case, "failed to promote" before it got in trouble in the first place.
You know how in grade school, when a teacher would punish you, and you would try to laugh and look cool and impress your buddies, and the teacher would only get way, way angrier? The COI is a little like that. Unless you take serious steps to change the nature of your athletics programs before you show up to your long-awaited hearing, the punishment is only going to get worse.
With all the uncertainty already surrounding Tennessee athletics -- not to mention new
NCAA president Mark Emmert's stated desire for harsher, more prohibitive penalties
-- an image of anything but grave seriousness is the last thing the Volunteers can afford.
The question is ... will Hamilton's gambit work? Will the committee look at Tennessee, with its new football coach, new basketball coach and new athletic director and say, "Hey, Tennessee gets it? I think they might!"
I have my doubts. If I'm Emmert, I'm looking to make clear that it isn't enough to respond after the fact. I want you to know I'm not happy with your athletic directors and coaches resigning. If I'm Emmert, I want to punish you for not getting it right the first time. I want to make sure your school -- and every conference and every conference member -- knows that there's an old way of doing things and a new way, and that this is the new way now. If I'm Emmert, I want cheaters to know: My name is my name. Let it ring out: If word gets back to me, I'm coming down to the street, and sooner or later, you're going to realize your only option was not cheating in the first place.
We'll see how it plays out. Perhaps a cleared house will earn Tennessee some measure of mercy. Perhaps not. Either way, by the time the NCAA releases its findings, Hamilton will be long gone.
As he said at his press conference today, that
departure was always inevitable
. The surprise is that it took this long.
May, 31, 2011
5/31/11
3:28
PM ET
Thanks to a variety of recruiting shortcuts, mistakes and outright lies by former coach Bruce Pearl, new Tennessee coach Cuonzo Martin inherited a brutally difficult job this offseason. By the end of the summer, Martin is likely to be overseeing a program with minimized scholarships, some form of probation and -- if the absolute worst happens -- a potential postseason ban, all of which could scare recruits away faster than you can say "another horrible shot by Scott Hopson."
Martin knew what he was getting himself into, of course, and he chose to come anyway. Clearly, he isn't backing down from the challenge. But he does find himself in a tough spot. Even tougher, perhaps, is the knowledge that he -- alongside school compliance officials, athletic director Mike Hamilton and chancellor Jimmy Cheek -- will attend Tennessee's hearing in front of the Committee on Infractions June 10-11.
There's not much Martin can add to the discussion at the hearing. After all, he was in Springfield, Mo., when Pearl hosted the barbecue heard 'round the world and wasn't even in a glint in Vols' fans eyes when Pearl
lied to NCAA investigators about said barbecue
. But he'll be attending anyway.
From the Knoxville News Sentinel
:
Tennessee men's basketball coach Cuonzo Martin knows the Vols have challenges ahead on the court and on the recruiting trail. He just hopes an NCAA-imposed postseason ban isn't involved.

"The biggest key with the recruits is what happens with the NCAA,'' Martin said. "As long as there's no postseason ban, we'll be OK and we can weather the storm.''
If there's any reason for Martin to attend the hearings -- other than being first-hand for a decision that will come to define his first few years in Knoxville, Tenn. -- it will be a symbolic one. Martin stands for the new era in Tennessee hoops, the one that doesn't cut corners or back away from scrutiny, the one that faces challenges head-first and so on and so forth -- you get the picture.
In the meantime, much of Tennessee's current case will revolve around the changes it has made on its own.
See, Committee on Infractions? We fired that last guy! Here's the new one! He's a real straight shooter! You'll like him! Also, most of the players are gone, too, so you know, there's no reason to punish these guys any further, right? Right?
In the end, that might be Tennessee's best chance of avoiding a postseason ban. It's a tough spot for Martin, that's for sure. But it will be merely the first of many.