College Basketball Nation:

Count 'Em Down
July, 25, 2013
7/25/13
10:00
AM ET
Only in today's age of one-and-done -- and, perhaps, only at Kentucky -- could a team go from losing to Robert Morris in the first round of the NIT to winning the NCAA title the following season.
But that will be the expectation in Lexington.
And considering the Wildcats' top-ranked recruiting class, it's hardly far-fetched.
No other team in the country is expected to make as big of a leap in 2013-14 as the Wildcats, but there are still plenty of squads who are projected to be considerably improved when the season tips off in November.
Here's a list of the programs I think will make the biggest strides. And remember, this ranking is based on how significantly a team will improve, not on how good it's expected to be, how many games it will win or how far it may go in the postseason. For instance, do I think SMU will be able to beat Oklahoma State? No, but I think the upgrades the Mustangs make will be more dramatic than the ones we see in Stillwater, where the Cowboys made the NCAA tournament last season.
Get the drift? Great. Here's the list:

10 (tie). Arizona State:
A year ago at this time, Sun Devils coach Herb Sendek was rumored to be on the hot seat. That's hardly the case these days, though, as Arizona State is primed for its best season since the days of James Harden. The biggest reason for optimism in Tempe is point guard
Jahii Carson
, who bypassed the NBA draft to return for his sophomore season. Carson averaged 18.5 points and 5.1 assists in 2012-13 and likely would've won national freshman-of-the-year honors if Oklahoma State's
Marcus Smart
hadn't had such an impressive season. Also back for ASU is 7-foot-2 center
Jordan Bachynski
(3.4 blocks) and forward
Jonathan Gilling
(9.7 points, 6.1 rebounds). The Sun Devils took a hit during the offseason when guard
Evan Gordon
transferred to Indiana. But they countered that by adding
Jermaine Marshall
, who will be eligible immediately after averaging 15.3 points at Penn State last season.

10 (tie). Boise State:
The Broncos finished 21-11 last season and lost to LaSalle in the NCAA tournament's First Four. Still, the tourney appearance -- Boise State's first since 2008 -- was a huge step for the program, and even better things could be in store in 2013-14. Eight of the Broncos' top nine players return. That includes leading scorers
Anthony Drmic
(17.7 points) and
Derrick Marks
(16.3). Marks shot 42 percent from 3-point range and averaged nearly 4 assists.
Mikey Thompson
(7.9 points) is also back along with top rebounder
Ryan Watkins
. With a handful of the Mountain West Conference's top teams expected to take minor steps back, this could be a special season for the Broncos.

9. Connecticut:
The Huskies weren't eligible for the postseason in 2013, so somewhat overshadowed was the excellent job first-year coach Kevin Ollie did under incredibly difficult circumstances after taking over for Jim Calhoun. Connecticut had nothing to play for but still managed to go 20-10. Considering they return nearly all of their key pieces, the Huskies should be even better in 2013-14. The backcourt of
Ryan Boatright
and
Shabazz Napier
should be one of the best in the country. The twosome combined to average 32.5 points and 9 assists last season. And remember, Napier was a starter on UConn's 2011 NCAA championship team. Small forward
DeAndre Daniels
made huge strides as a sophomore, when he upped his scoring average by nearly 10 points per game. Connecticut ranked second-to-last in the Big East in rebounding last season, so Ollie's team must get better in the paint, where it often appeared undermanned.

8. Oklahoma State:
Three months later, I'm still stunned that standout guard Marcus Smart bypassed an opportunity to be a top-five draft pick to return for his sophomore season. Smart's decision -- coupled with the return of
Le'Bryan Nash
, another NBA prospect -- means that the Cowboys will be a legitimate threat to end Kansas' string of nine consecutive Big 12 titles. Some might even consider Travis Ford's squad the league favorite. Smart is one of the toughest, most versatile players in all of college basketball. As a freshman, he led Oklahoma State in points, assists and steals and ranked second in rebounds. Still, while Smart is the face of the program, he's just one of many threats on the Cowboys roster. Nash, a small forward, averaged 14 points per game last season, while wing
Markel Brown
chipped in 15.3. In some ways, Brown strikes just as much fear into opponents as Nash and Smart.
Phil Forte
and
Michael Cobbins
cannot be taken lightly.

7. Harvard:
The Crimson might seem out of place this list. After all, Tommy Amaker's squad was pretty darn good last season, when it won the Ivy League title before knocking off No. 3 seed New Mexico in the second round of the NCAA tournament. What made those feats so impressive was that Harvard played the entire season without its two top players. If Brandyn Curry and Kyle Casey return as expected, the Crimson will likely have their best team in recent history.
Wesley Saunders
,
Siyani Chambers
and
Laurent Rivard
were all double-figure scorers last season, and Curry and Casey will likely post similar or better point totals in 2013-14. If Harvard makes a tourney run this season it won't be nearly as big of a surprise. This is a top-25-caliber team.

6. LSU:
The Tigers have been to the NCAA tournament just once since 2006, but could make an appearance in 2014 thanks to the return of several key players and a huge addition down low. LSU brings back leading scorer and rebounder
Johnny O'Bryant
(13.6 points, 8.7 boards) along with standout guard
Anthony Hickey
, who ranked second in the country in steals (2.9) while chipping in a team-high 3.8 assists and 11.2 points. The Tigers also add a standout forward in
Jarrell Martin
, the No. 11-ranked player in the class of 2013. Johnny Jones' squad took a hit when high-profile recruit
Jordan Mickey
was declared ineligible, but there are still enough parts here to make the upcoming campaign a successful one. LSU went 19-12 last season and won nine of its final 14 games.

5. Iowa:
Even though they missed the NCAA tournament, the Hawkeyes still had to feel good about the strides they made last season. Iowa finished 9-9 in the Big Ten, the nation's toughest conference, and made it to the NIT championship game, where it lost to a deeper, more athletic Baylor squad. Don't be surprised if 2013-14 is the season when Iowa really turns the corner. Every key player returns from last year's 25-13 squad. Included in that mix are leading scorers
Roy Devyn Marble
(15 points) and
Aaron White
(12.8), who also averaged a team-high 6.2 rebounds. The Hawkeyes also have an excellent -- and, in my opinion, underrated -- coach in Fran McCaffrey, who appears to have this program on an upswing. With Indiana, Minnesota, Illinois and Wisconsin all losing a number of key players, I wouldn't be surprised if Iowa finished as high as third in the Big Ten while earning its first NCAA tournament berth since 2006.

4. Tennessee:
The Volunteers barely missed out on the NCAA tournament last season -- mainly because of some key losses early in SEC play, where they dropped four of their first six games. By March, though, Cuonzo Martin's squad was one of the most improved teams in the conference, and there are plenty of reasons to think the Vols will build on that momentum. The frontcourt should be loaded with
Jarnell Stokes
, who averaged 12.4 points per game last year, and
Jeronne Maymon
, who averaged 12.7 points and 8.1 rebounds two years ago before missing last season with an injury. Incoming freshman
Robert Hubbs
should give the Vols a boost at small forward, and leading scorer
Jordan McRae
(15.7 PPG) returns at shooting guard. Point guard
Trae Golden
was dismissed from the team during the offseason, but Tennessee should be fine at that position with either
Antonio Barton
, a Memphis transfer, or freshman
Darius Thompson
.

3. SMU:
I'm not ready to say the Mustangs will end an NCAA tournament drought that dates back to 1993, but I definitely think they'll at least be on the bubble in late February and early March. That'd be a huge jump for a program that finished 15-17 in Larry Brown's first season, but SMU has added enough quality pieces to make it possible. Illinois State transfer Nic Moore, who redshirted last season, was named to the Missouri Valley Conference all-freshman team in 2011-12. Signee
Yanick Moreira
was the top-ranked junior college big man in the nation, and incoming freshman
Keith Frazier
will become the first McDonald's All American ever to suit up for SMU, which also returns three double-digit scorers in
Nick Russell
,
Jalen Jones
and
Ryan Manuel
. If Brown gets this group to jell quickly, this could be the best season for Mustangs basketball in decades.

2. St. John's:
Sportswriters are expected to make bold predictions from time to time, so here's mine: St. John's will spend most of the upcoming season ranked in the Top 25 and will challenge Marquette and Creighton for the Big East title. This team is loaded.
Jakarr Sampson
was one of the country's most underrated freshmen in 2012-13, when he averaged 14.9 points and 6.6 rebounds. Imagine how much better he'll be this season after bypassing the NBA draft. I'm also expecting even more out of
D'Angelo Harrison
, who was averaging a team-high 17.8 points before being suspended at the end of last season for disciplinary reasons.
Chris Obekpa
, who ranked second in the country with 4.0 blocks per game, is back along with bruising forward
God'sgift Achiuwa
, who redshirted last season. Two other important pieces will be incoming freshman
Rysheed Jordan
, the No. 3-ranked point guard in the class of 2013, and
Orlando Sanchez
, a 24-year-old forward who wasn't deemed eligible by the NCAA until late February. He'll be able to compete for only one season, but Sanchez could end up being the top player on the Red Storm roster.

1. Kentucky:
John Calipari has been regarded for years now as the top recruiter in college basketball. But he might have outdone himself this time, as Kentucky welcomes what may be the greatest signing class in college basketball history. The haul includes five players (
Andrew
and
Aaron Harrison
,
Julius Randle
,
Dakari Johnson
and
James Young
) ranked among the nation's top-10 prospects by ESPN.com. The question is whether the young Wildcats will jell and, if so, how quickly. Calipari is the best in the country at coaching players who only plan to spend a year or two in college. Kentucky, which also returns potential lottery picks
Alex Poythress
and
Willie Cauley-Stein
, will likely open the season as the No. 1-ranked team in America. That's a lot of pressure for any squad, especially one with so much youth. Last year's Wildcats crumbled under the spotlight. Kentucky's latest batch of freshmen, though, are rumored to be much tougher, both on the court and between the ears. We'll find out soon enough.
July, 23, 2013
7/23/13
10:15
AM ET
Now that
realignment is behind us
, rosters are mostly finalized, and freshmen are getting used to living in dorm rooms (oh, to be reborn at summer orientation), we're spending the week looking ahead at some of the more interesting players and storylines we expect to track in 2013-14. Next up: players facing crucial senior seasons, both individually and for their teams.
(Important note: This is not a list of the
best
seniors, or even necessarily the most important or
most indispensable
). It is a list of seniors -- some who have underachieved to date -- that need to, once and for all, make good on their star potential in their final year in the college game. Make sense? Cool.)
10. C.J. Fair (Syracuse)
: Fair's career to this point has been characterized by admirable consistency. In his first two campaigns he maintained similarly promising offensive ratings (109.5 and 114.6) while averaging a 17.3 percent usage rate, while blending in quality defense, rebounding and stellar work on the offensive glass. Fair's usage jumped slightly as a junior (to 20.5 percent of available possessions), and he grew far more comfortable wielding his outside shot, but the rock-solid fundamentals of his game remained mostly the same. As a senior, even on a
team with plenty of oncoming talent
, Fair
may yet be expected to do even more
. If he can expand his game further on the perimeter and provide go-to scoring in the midrange without losing the things that have made him so solid for so long, the Orange should make a massive impression in their first year in the ACC, and Fair should do the same for NBA scouts.
[+] Enlarge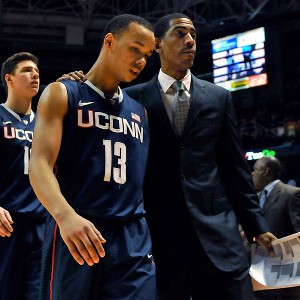 John Woike/Hartford Courant/MCTGuard Shabazz Napier has taken on a leadership role under coach Kevin Ollie.
9. Shabazz Napier (Connecticut)
: Napier has had one of the most up-and-down careers of any player in recent college hoops memory. You can make the argument that he got where he needed to be as a junior. Not only did he have his best year by far statistically (he posted a 115.3 offensive rating on 24.3 percent usage and a 54.4 effective field goal percentage, shot 39 percent from 3 and created plenty of steals) but also, under new coach Kevin Ollie, assumed the leadership role denied him by that apathetic 2011-12 team. The only problem? UConn was ineligible for the NCAA tournament. With a full batch of returning players and that APR-induced postseason ban behind the Huskies, Napier is in position to make his biggest impact since Kemba Walker was on campus.
8. Tim Frazier (Penn State)
: As promised above, some of the guys on this list have underachieved for most of their careers; it's not fair to lump Frazier into that group. There are two reasons he isn't already a household name: Penn State and injuries. When Frazier was healthy for his true junior season in 2011-12, he led the Big Ten in assists (and posted the nation's second-highest assist rate, higher than either Kendall Marshall or Scott Machado), averaged 18.2 points per game (second in the Big Ten), created four steals per 100 possessions and drew an average of six fouls per game, while playing 92.8 percent of his team's available minutes. Thanks to a medical hardship waiver -- the 2012-13 campaign was derailed by a brutal
ACL injury
Achilles tear in just the fourth game of the season -- 2013-14 will provide Frazier with his last chance to earn the kind of individual national attention that gets scouts to raise an eyebrow. If he can also pull Penn State over the rebuilding hump, hey, all the better.
7. Aaron Craft (Ohio State)
: You couldn't say Craft has underachieved in his career. Quite the opposite. During his prep days, Craft was seen as a merely respectable but hardly a program-changing recruit, provided your head coach didn't lie to NCAA investigators about having him over for a barbecue. (
Ba-dum-ksh
.) Craft has long since exceeded those expectations. As a freshman, he seized a starting role in Thad Matta's very good veterans-plus-Jared Sullinger-led lineup, and he has maintained his spot by cementing the respect of teammates and coaches and, most noticeably, playing the best, peskiest perimeter defense in the country. That's his calling card, and it won't go anywhere, but one can't help wondering whether Craft still has more to pick up on the offensive end. Can he be a leading scorer? A more confident 3-point shooter off the dribble? Is that even possible, given the tireless work Craft does on the defensive end? (Related: Can
Shannon Scott
, who morphed into a deadly defender late last season, take on some of that burden?) Losing
Deshaun Thomas
means Ohio State has to replace a large chunk of scoring one way or the other; more incisive stuff at the point of attack would be a good place to start.
[+] Enlarge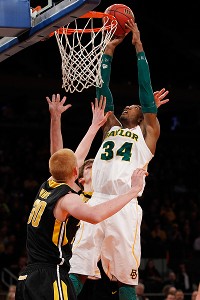 Mike Stobe/Getty ImagesCory Jefferson was a force during Baylor's NIT run.
6. Cory Jefferson (Baylor)
: It is never wise to project too much based on the disproportionately weighted sample of a few postseason games in March. This is especially true when the postseason in question was the NIT. So yes, you can expect Jefferson's 21.2 points per game in the Bears' NIT title run -- which ended with a 74-54 vivisection of a very good Iowa defense -- to earn him his fair share of prospective love this fall. But Jefferson was good long before March. He posted a 128.1 offensive rating on 19.1 percent usage -- and shot 61.8 percent from inside the arc, leading the Big 12 in overall field goal percentage (61.0) in the process -- in 2012-13. Could he approximate that effort with more of a lead role as a senior? We'll see.
5. Marshall Henderson (Ole Miss)
: Here's another question: Did Henderson already max out his talent? After a season in which he took 394 3s (which is insane!) and made 35 percent of them (less insane, but pretty good), it's hard to imagine Henderson somehow finding a way to take more shots. It's even harder, given the volume involved, to picture him finding a way to improve that 113.5 offensive rating. According to Synergy scouting data, 38.2 percent of Henderson's possessions ended with off-ball screen action; no other play type came remotely close to that sort of frequency. (No. 2? Spot-ups, with 17.2 percent, trailed by transition offense and hand-off plays -- all of which screams "not allowed to put it on the floor.") With a less experienced frontcourt, there are only so many screens the Rebels can set. There are only so many shots Henderson can take.
So the premise for improvement is twofold. To dig an even better senior season out of his madcap heart, Henderson needs to become a better ball handler, distributor and scorer off the dribble -- less a gunner than a capable combo guard. He also, obviously, has to get to the court in the first place, which will be no small feat given
the substance abuse issues that put his status at Ole Miss in jeopardy
this month. Henderson
appears to be taking that stuff seriously
-- which he
clearly wasn't at first
-- and that's a good thing. It is also crucial for his career. If Henderson has any shot of making his NBA dreams a reality, he has to adjust his skill set and quell any and all concerns about his life away from basketball. It won't be easy.
4. Kendall Williams (New Mexico)
: It is hardly fair to tie one's assessment of a player to one particularly bonkers scoring night, but I know what I saw, and what I saw was Williams score 46 points in 33 minutes against a good Colorado State team on the road. It's not like he had a bad season otherwise -- 13.3 points and 4.9 assists per game is perfectly respectable -- but it was impossible to watch him that night and not think there was something more below the surface. Truth is, Williams hasn't really improved statistically in his college career. He was a better passer and drew more fouls as a junior, but his freshman season remains his most efficient. His 3-point accuracy fell to 34.8 percent, down from the 42.6 percent mark he posted two years prior. Without newly minted Chicago Bull Tony Snell in the backcourt, it's fair to wonder whether the Lobos will have the same defensive chops that anchored their excellent 2012-13 season. Williams will have to work more efficiently alongside emerging star
Alex Kirk
to find another gear going forward.
[+] Enlarge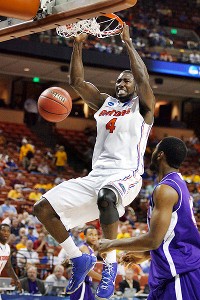 Stephen M. Dowell/Orlando Sentinel/MCT/Getty ImagesPatric Young may see more opportunities in the post this season.
3. Patric Young (Florida)
: Young has always felt a bit disappointing. That's rarely been his fault. During his first two seasons at Florida, he frequently languished on the low block while Erving Walker and
Kenny Boynton
fired away from 25 feet. As a junior, the calculus changed somewhat and Young began to get more genuine post touches in a strikingly balanced edition of the Gators' spread attack. Still, he remains the college game's greatest physical specimen for three years running; you can't look at him and not expect him to dominate everyone in his vicinity. He got closer on the defensive end last season. Overall, he still isn't there. This may be the year. Boynton, shot-magnet
Mike Rosario
and fellow four
Erik Murphy
are all gone. Scottie Wilbekin is not an aggressive attacker by nature. Freshman phenom Chris Walker's status
remains up in the air
. Odds are, Young may finally get the chance to go to work on the low block, even if by default. The question is whether he's ready.
2. Keith Appling (Michigan State)
: When Appling first popped up as a freshman at Michigan State, he was a breath of fresh air. That 2010-11 team was one of the few -- honestly, maybe the
only
-- in Tom Izzo's tenure to genuinely underachieve. Delvon Roe
fought admirably through career-ending injuries
, and a young Draymond Green pointed toward a bright future, but the team's three lead guards (Kalin Lucas, Durrell Summers, and
Korie Lucious
), so key in bright back-to-back Final Four runs, proved to be corrosive, selfish influences. Appling quickly provided a contrast. His offensive game was tentatively promising, and his tenacious defense earned him Izzo's immediate respect. Here was a young, willing guard coached by a guy who made a career out of turning the Keith Applings of the world into Spartan legends. He was as sure a bet as the sport had to offer.
Remind me not to start a career oddsmaking business. Three years on, Appling's offensive game hasn't really improved. As a junior, he averaged 46.4 percent from inside the arc and 32 percent outside it. Turnovers are not uncommon to Izzo's teams, but Appling's inability to get his turnover rate down -- it was still 18.6 percent in 2012-13, just two points lower than his 20.6 percent assist percentage -- has compounded the effects of mediocre shooting. Last season, he went whole games, even whole
weeks
, when he would either (A) disappear, or (B) play so poorly (or at best, so tentatively) that Spartans fans would wonder whether option A wasn't preferable.
Appling has never been bad, per se. His perimeter defense hasn't gone anywhere. He has battled injuries with characteristic toughness, battled his slumps with determined accountability. You never hear bad things about him; he's been a reliable, hardworking presence within the program. But he has also never developed into what his coach once
so convincingly proclaimed he would be
.
This season is his final chance. The Spartans will be loaded again, with the Big Ten Freshman of the Year
Gary Harris
set for a monster sophomore season and forward
Adreian Payne
still blossoming into a devastating talent. Appling doesn't have to morph into a turnover-free replicate. He merely has to do what he does already and shoot the ball a bit better. If he does, there won't be many teams in the country capable of matching Michigan State man for man. If he doesn't, the Spartans will still be good -- but they, like Appling himself, risk leaving something on the table.
1. Joe Jackson (Memphis)
: Fortunately, Memphis won an NCAA tournament game in 2013. Getting that monkey off coach Josh Pastner's back meant knocking back at least some of the steadily growing "
But can he actually coach
?" talk in the Bluff City (and reinforcing a personal pet peeve about tournament sample size). It also meant less pressure on the player that has, for both better and worse, defined Pastner's tenure at the school.
Like many of the very best players Pastner has recruited in his tenure, Jackson is a local product, one of the first Pastner landed, who was unafraid to place his hometown's hopes -- and its uniquely provincial baggage -- on his back. He has also been emblematically frustrating. Hugely confident but too sensitive to criticism. Talented but too inconsistent. At times, he has been Memphis' best player. Just as often, he has moped his way to the bench.
Give Jackson credit for this much: He's still here. Many of Jackson's teammates have been fellow Memphis natives, and by many accounts the dynamic around the program has often resembled a youth team writ large, with whole neighborhoods and high school sets standing in for bickering parents arguing on behalf of one player or another. Rumors of intrasquad squabbles have been just as common. Jackson could have transferred, cordoned himself away from the local intensity, but despite all the struggles he remained. As a junior, he was much improved. His improved third season -- more unselfish and efficient than either of the two that preceded it -- built an excellent foundation for his senior campaign, but there is much more to be accomplished -- a deep tournament run chief among it.
When he arrived four years ago, Jackson embraced the unique pressure of his situation.
As he told our own Dana O'Neil
:
"I want to be remembered," Jackson said. "I want to be a legend. I want to be a hero. I want old people to see me on television and say, 'Look at that kid. He made it. He did it. That's who I want you to be like.'"
His performance has never quite matched that ambition. He has one more chance to close the gap.