College Basketball Nation:

Craig Brackins
February, 18, 2010
2/18/10
11:24
AM ET
There is something about
Jimmer Fredette
that must like getting out of Utah -- either that or he feeds off of opposing crowds. Fredette scored 36 points in BYU's
92-70 win
at Colorado State. It was Fredette's third 35-plus point game this season, tied with Seton Hall's
Jeremy Hazell
for most in the nation. At 26.3 points per game in road games (compared to just 17.8 at home), Fredette is the nation's top scorer on the road.
To say that Xavier won the battle of the boards against St. Joe's would not do it justice. The Musketeers held a 53 to 17 rebounding edge over the Hawks. The plus-36 edge was the largest in school history. In 17 minutes,
Kenny Frease
came off the bench to grab nine rebounds, equaling the total of the entire opposing starting lineup. Xavier had more offensive rebounds (18) than St. Joe's had total rebounds. Perhaps most embarrassing of all, Xavier's 53 rebounds eclipsed St. Joe's point total of 52. Not surprisingly, the Hawks are tied (with 1-26 Alcorn State!) for the sixth-worst rebounding percentage in the nation.
Samardo Samuels
scored a career-high 36 points in
Louisville's double-OT win
over a
Luke Harangody
-less Notre Dame team. It's the most points for a Cardinal since Reece Gaines had 37 in 2002. Samuels is just the second player this season with 10-plus field goals and 15-plus free throws in a game, joining Nicholls State's
Anatoly Bose
. Perhaps the most overlooked improvement that Samuels has made this season is staying out of foul trouble. He logged 45 minutes Wednesday while committing only three fouls. Last season, Samuels had four or more fouls 14 times. This season, that is down to only four instances, despite logging almost four more minutes per game.
After
beating Holy Cross 83-30
, Navy has won four of its last five and sits in a tie for second in the Patriot League. A big reason has been the improved play of point guard
O.J. Avworo
, who finished with 14 points and 13 assists on Wednesday. Avworo, who started his college career at Idaho, has reached double-digit assists in each of the last four wins for the Midshipmen. In conference play, he is putting up 7.1 APG, second in the nation behind Illinois'
Demetri McCamey
.
On paper, Wednesday appeared to be a pretty good matchup for Iowa State's 6'10" center
Craig Brackins
. Oklahoma State features only one player over 6'7" and ranks 330th in the nation in average height according to KenPom.com. However, the Cowboys came out physical and Brackins connected on just three of 17 shots. Over the last three games, the Cyclones' leading scorer is shooting just 26.9 percent. On the season, Brackins is shooting just 37.9 percent in the Cyclones' 13 losses.
January, 6, 2010
1/06/10
11:56
PM ET
CHICAGO -- It's not often you hear the words "Duke" and "underrated" used in the same sentence.
After all, this is Duke. If there is a polar opposite from perennially slept-on programs, Duke is it. The Blue Devils' games are on national TV with consistent frequency. Their student section is the most famous in the country. When not busy shilling for a credit card company, their coach is winning gold medals and recruiting top-tier talent. Duke gets plenty of love, and fans -- many of whom rightly or wrongly see some sort of East Coast bias inherent in the Dukies' popularity -- are all too aware of it.
Which is why this feels so weird to write, even though it's true: Duke -- or at least this 2009-10 iteration of Duke -- is underrated.
[+] Enlarge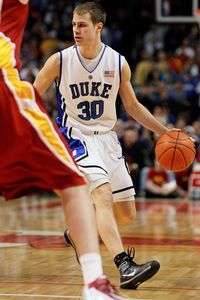 Jonathan Daniel/Getty ImagesDuke guard Jon Scheyer had 31 points on 10-of-19 shooting during a homecoming of sorts.
Now that the Blue Devils have beaten Iowa State, no slouch itself,
86-65 in Chicago Wednesday night
, maybe that changes. Maybe Duke starts to catch on nationally, starts to gain the same sort of love bestowed upon Kansas and Texas and Kentucky and Purdue and West Virginia. If so, it's only fair;
Duke is statistically better than all of those teams but one
. (That one team is Kansas, who barely beat Cornell at home Wednesday night.) Maybe the "Duke is underrated" meme becomes so widely accepted that it starts to get annoying. If so, I apologize for abetting such an annoyance. But it's just true: Duke is better than most people think, and Wednesday night showcased why.
Duke shot 15-of-40 in the first half against ISU and still took an eight-point lead into the half. The Devils followed that minor bit of impressive play -- they usually doesn't shoot so poorly, you know? -- with a torrid 15-of-25 second half. The
Cyclones are the seventh-best team in the country at disallowing opponents' free throws
; Duke went to the line 11 times in the second half and never missed a shot. It was almost as Mike Krzyzewski's team decided to flip the "Let's be awesome" switch, and no matter what Iowa State could have done -- and this was probably not Iowa State's best performance anyway -- it wouldn't have mattered.
The visual reasons for this dominance are clear.
Jon Scheyer
is ruthlessly efficient at the point guard spot; his 31 points came on 10-of-19 shooting and 7-for-7 from the free throw line.
Kyle Singler
is one of the most well-rounded offensive players in the country.
Nolan Smith
is an emerging star. And freshman role players like Miles and
Mason Plumlee
and
Andre Dawkins
and give the Devils a well-rounded, balanced, and deep team capable of playing uptempo or grind-it-out.
All of that was evident Wednesday night. You didn't have to look too hard. That's usually the case with Duke, as prominent a college basketball program as the United States of Hoops has. If the Devils keep playing like this, the secret won't last long. The 2009-10 team will be just as famous as the rest.
Miscellaneous postgame notes
before the blizzard hits
:
1. It was a Chicago kind of night at the United Center. Mike Krzyzewski attended Weber High School in Chicago before his early-70s days at West Point under Bob Knight. Jon Scheyer was a preps legend at Glenbrook North High School in Chicago's north suburbs before attending Duke. And Iowa State's
Chris Colvin
went to Whitney Young High School in Chicago, where, alongside
Marcus Jordan
, Colvin won an Illinois state championship in 2009.
January, 6, 2010
1/06/10
10:07
PM ET
With just a few seconds remaining on the clock, Iowa State forward
Marquis Gilstrap
dribbled to his left, picked up the ball, jumped from 30 feet away, and launched a nothing-but-net desperation 3 as the buzzer sounded and the crowd went wild.
After the smoke had cleared and the women and children had been safely ushered ashore, one blogger gazed up at the scoreboard and confirmed the undeniable truth: Iowa State was still down 41-33 at the half. Total buzzkill, bro.
The eight-point deficit is the largest the Cyclones have trailed at the half all season, and it required a desperation heave even to get ISU that close. That is what happens when you shoot 42 percent on your 2s and make only one 3-pointer in 20 minutes of basketball, basketball that happens to be on the same floor as the
Duke Blue Devils
: you lose. This is not a mystery.
All hope is not lost for Iowa State. Quite the contrary. After digging themselves a hole in the opening minutes -- Iowa State trailed 12-2 at the 15:37 mark -- the Cyclones fought back and closed in before Duke opened an 11-point lead in the final minute of the half. The Cyclones can play with Duke. Big man
Craig Brackins
is a nightmare for Duke's inexperienced interior; he has five blocks already. Point guard
Diante Garrett
can get to the rim against
Jon Scheyer
and company. The Cyclone defense has decided to stay in tight on Scheyer and
Kyle Singler
and give Mason and
Miles Plumlee
as many open shots as they like.
This can work. But the Cyclones have to convert interior shots more efficiently, they have to get to the line more often (they shot just six free throws in the first half) and they have to hope Duke doesn't suddenly start pouring in shots. The Devils shot a mere 37.5 percent in the first half. Given their yearly averages, a second-half surge seems likely. And then the Clones are really in trouble.
In any case, at least the fans from Iowa brought the funny in the first half. During a free throw sequence, two men behind me were talking about
Brian Zoubek
. A brief recreation of that conversation:
Dude 1: "So, this Zoubek guy. Seven-foot center. Wish we had that kind of height."
Dude 2: "Zoubek? Where's he from, Minsk?"
Dude 1: "No. New Jersey."
Dude 2: "Same thing."
Hi-oh! Dude 2 will be here all night, and politely reminds you to tip your waiters and waitresses. Add that golden nugget to Cyclones fans' sarcastic cheering at their first bucket at the 16:46 mark, and the (presumably unintentionally funny) chants of "East Coast bias" at the referees -- guys, this game is
in Chicago
-- and I've been spending almost as much time laughing as watching basketball. Almost.
January, 6, 2010
1/06/10
8:10
PM ET
I'm back at the United Center tonight. The occasion? Duke is playing Iowa State and -- wait. What? What did I just write? Yes, you read correctly. Duke is playing Iowa State at the United Center in Chicago in, oh, an hour or so. If this seems like a random match up -- or at the very least a random place for these two teams to play -- you're right. It is.
But it makes a certain kind of sense. For one, Duke coach Mike Krzyzewski is famously a Chicago native, and Krzyzewski's program has a tradition in which the coach tries to schedule at least one game in a departing senior's hometown.
Jon Scheyer
, who attended Glenbrook North High School in the North Shore suburbs here, is that departing senior. (Scheyer's high school exploits are legend in these parts; ask any Chicago-based "23-year-old about Scheyer's
21 points-in-75 seconds explosion
as a senior in 2006 and you'll get at least a whiff of recognition. Never fails.) Iowa State also has a player -- freshman guard and former Whitney Young state champion
Chris Colvin
-- making a homecoming as well.
If there's one thing I know, it's this: When life gives you random college basketball match ups in your hometown, don't ask why. Just enjoy.
That's the plan, anyway, and much of that enjoyment -- in so far as you equate "enjoyable basketball" with a close game -- will hinge on how well Iowa State plays. Because, quite simply, Duke is beginning to look like a juggernaut.
The Devils have earned this reputation rather quietly. Their one loss -- at Wisconsin -- now looks forgiveable. The rest of Coach K's games have been handily won; Duke has the most efficient offense in the country
according to Ken Pomeroy
, and at No. 5 in the country, its defense isn't too shabby, either. You might also be interested to know that Duke is ranked No. 2 overall, ahead of Texas, in Pomeroy's overall rankings. See? Quiet juggernaut.
How has Duke done it? Scheyer and forward
Kyle Singler
are obvious reasons why, but Duke has received a big boost from the play of putative point guard
Nolan Smith
, who is averaging 18-plus points per game in 2009-10. It doesn't hurt that freshman
Andre Dawkins
is a lights-out three-point shooter. Nor is it bad that Duke's defensive toughness -- which took major strides in 2008-9, despite a few couple of rough run-ins with a vintage North Carolina squad -- has largely carried over (and maybe even improved) in 2009-10.
All of which means that Iowa State is likely to have a very tough time Wednesday night. The Cyclones are not untalented. Junior
Craig Brackins
ought to make an all-Big 12 team; senior
Marquis Gilstrap
has provided much needed balance in the post; and sophomore guard
Scott Christopherson
is posting a 66 percent effective field goal percentage in 2009-10. But if the Cyclones expect to compete with a deep, balanced, even-more-talented-than-themselves Blue Devils squad they'll need to go above and beyond. They'll need to be perfect, or some approximation therein.
Here's my question: Can you approximate perfection? Is it still perfection if it's merely approximate? Hmm. I think we just ventured into dangerous philosophic territory, and remember what we decided at the beginning of this post? Don't ask questions. Just enjoy. It works just as well for college hoops as it did for Plato.
Oh, and as always, I'll be around Twitter for much of the game.
Follow me, dudes!
Cowabunga! (This is what the kids say, yes?)