College Basketball Nation:

Creighton
September, 5, 2013
9/05/13
5:00
AM ET
1. The Big East will announce its conference schedule on Thursday and according to at least one source the league will end the season as it should -- with its highest-profile series between Georgetown and Villanova in Philadelphia. The Big East has a few historical rivalries and the chance to build a few long-term matchups like Creighton-Marquette and Butler-Xavier. The Big East has the opportunity to maximize its traditional teams, especially rivalries and now has a real chance to bookend its first season as a 10-team league with quality games. The Big East and its television partner Fox had already announced a New Year's Eve opening day of five games -- St. John's at Xavier, Seton Hall at Providence, DePaul at Georgetown, Villanova at Butler and Marquette at Creighton. The conference is making the right call in highlighting its two highest-rated teams for television on the final game of the regular season.

2. Nebraska coach Tim Miles said his players were "stunned" when they walked into the Cornhuskers' new 15,147-seat Pinnacle Bank Arena. "The new facility is off the charts,'' said Miles. "Every seat is sold for men's basketball games, for every concert.'' Miles needed a home opener that popped. He said he thought immediately of Florida Gulf Coast after watching "Dunk City" in the NCAA tournament. "Once they exploded, nobody wanted to play them so they were an easy pick,'' said Miles of the Nov. 8 game on BTN. "I told [new FGCU coach] Joe Dooley that you're getting an $85,000 [guarantee] check to go 0-1. The Big Ten put us on the road for the first two games [at Iowa and at Ohio State after a nonconference game at Cincinnati] but gave us a great opener in Michigan (Jan. 8, ESPN2) with our students in session. The story is our arena, our practice facility. The team, we'll see. We're young.''

3. Miles' former assistant and successor at North Dakota State, Saul Phillips, got a five-year extension to stay with the Bison last week. Phillips is that rare breed who loves where he is at a level out of the limelight and doesn't look at his gig simply as a stepping stone. Phillips took the team he built with Miles into the 2009 NCAA tournament in their first season eligible in Division I. So, why stay? "I have too many winter coats that would go to waste if I moved,'' said Phillips in jest. "I love my AD here. That's a big part of it.'' Phillips would like to see the Bison get a new arena, something MIles is enjoying at his new gig. "We've raised 30 million privately on a 34-million-dollar arena,'' said Phillips. "We get that done and we can be a good mid-major year in and year out.''
February, 22, 2012
2/22/12
3:06
AM ET
By
ESPN Stats & Information
| ESPN.com
A scan of the college basketball box scores each night guarantees all kinds of statistical oddities and standout performances. Here are some we found from Tuesday.
Creighton 93, Evansville 92 (OT)
Evansville's
Colt Ryan
scored 43 points, the highest scoring output by a player in a loss this season. He made 17 field goals, one shy of the high this year, set by Creighton's
Doug McDermott
. McDermott was 6-for-13 from the free throw line Tuesday; he had missed just six free throws in his previous eight games.

Michigan 67, Northwestern 55 (OT)
Thirty-eight of Michigan's 56 field goal attempts were 3-pointers (67.9 percent), the highest 3-point attempt percentage by a major conference team this season.
North Carolina 86, North Carolina State 74
North Carolina's
Kendall Marshall
had 22 points, 13 assists and no turnovers in the win. No other player in Division I over the past 15 years has recorded at least 22 points and 13 assists without a turnover.
February, 17, 2010
2/17/10
9:00
AM ET
The Morning After is our semi-daily look at last night's best basketball action. Try not to make it awkward.
No. 2 Kentucky 81, Mississippi State 75
: The most obviously intriguing part of Tuesday night's Kentucky-Mississippi State match up -- at least before the game began -- was the interior battle between two of the country's best big men,
Jarvis Varnado
and
DeMarcus Cousins
. By the end of regulation, that was no longer the case. Varnado was on the bench, thanks to five fouls. Cousins was on the floor, grabbing rebounds and dominating in the paint. And the game had become so much more.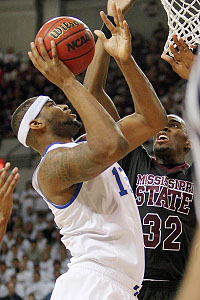 AP Photo/Rogelio V. SolisKentucky's DeMarcus Cousins, left, finished with 19 points and 14 rebounds against Jarvis Varnado and Mississippi State.
It's always tough playing Kentucky (duh, Eamonn, thanks for the brilliant analysis); it's even tougher when your all-world defensive player and team-leading rebounder gets his fifth foul with plenty of time left in the second half (hey, you're welcome). Really, Mississippi State deserves credit just for pushing the game to overtime, because it was unlikely they'd make it that far after Varnado's foul-out. They did, though, and they gave us a thrilling game in the meantime, pushing Cousins and
John Wall
and
Patrick Patterson
to their best in a hard-fought SEC road win.
A few other notes:
1. Mississippi State fans celebrated their team's loss by
throwing water bottles and other junk onto the floor
. Combined with
their racist and God-knows-what-else text messages to DeMarcus Cousins before the game
, this was not a particularly strong national showing for the denizens of Starkville. Seriously, guys? Water bottles?
2. Kentucky fans will be happy to see Patrick Patterson playing well again. After drawing criticism earlier this season, Patterson looked like a dominant big man at times on Tuesday night; his contributions made the whole Varnado-Cousins faceoff a moot point.
3. John Calipari used all three of his remaining timeouts in the last six seconds of regulation, which resulted in a double-teamed
DeAndre Liggins
hoisting a prayer (which, to his credit, almost fell) from the baseline corner as time expired. I'm guessing this is not the shot Calipari wanted, but you'd think with all those timeouts, the Cats would have been able to get something better.
In any case, great game. Kentucky rolls on. State completes a valiant effort in a near-loss to an uber-talented, highly-ranked team. And Mississippi State fans get to spend some much-needed time in the corner. Everybody wins. (Well, you know, except Mississippi State. They actually, like, literally lost. But you know what I mean.)
Virginia Tech 87, No. 25 Wake Forest 83
: Virginia Tech couldn't get no respect. This is the Hokies' fault -- building a 20-4 record against one of the worst schedules in recent memory (No. 340 in strength of schedule, to be exact) has a lot to do with scheduling; you almost have to try to play a non-conference slate as bad as Va. Tech's. I mean,
just look at it
. It's ... it's breathtaking. And not in a good way.
Nevermind that, now. The Hokies may have started their season with dreck, but they're ending with their most difficult and important games, and so far, so good.
It wasn't just that Virginia Tech
won
; it's how. Trailing by 11 with 16 minutes to play,
Malcolm Delaney
led his Hokies on a comeback, scoring 10 of his 31 points (he finished with nine rebounds, too), making big bucket after big bucket to get his team its all-important second win over a top 50 RPI team. As big as this game was for the Hokies' national respect, it should do just as much for Delaney's -- the guard just so happens to be leading the ACC in scoring at 21.2 points per game. I bet you didn't know that. What I didn't know was whether to believe in Virginia Tech. Another win or two like Tuesday night's, and we won't have a choice.
Everywhere else
: Weirdly enough, Indiana was out-everything'd (not an actual word, but let's roll with it) by Michigan State last night but managed to hang tough until the second half,
when the light-years-more-talented Spartans eventually pulled away
... Without suspended
Jordan Eglseder
,
UNI rolled Creighton to clinch the MVC regular-season crown
... Baylor might have sealed its own tourney fate (in) as well as Texas Tech's (out; hey, this is turning into an episode of Project Runway),
as the Bears gave the Raiders their seventh conference loss
... Meanwhile, two teams moving in relatively opposite directions in the Big East did exactly that Tuesday night,
as South Florida edged Cincinnati
... and, not to rub any more salt in UNC fans' wounds, but you know it's bad when ESPN anchors stop during your highlight to talk about how much they're not used to seeing
this sort of scoreline
. Ouch. (Also:
"Ed Davis, 0 points."
Double ouch!)
February, 16, 2010
2/16/10
4:02
PM ET
Saddle Up is our nightly look at the hoops your TV wants you to watch. Here's Tuesday night's rundown.


No. 2 Kentucky at Mississippi State, 9 p.m. ET, ESPN
: Unstoppable force, immovable object.
DeMarcus Cousins
,
Jarvis Varnado
. Even if Kentucky rolls over Mississippi State in Starkville tonight -- certainly no guarantee, despite Kentucky's vastly superior backcourt talent -- this matchup alone is worth your undivided attention. Cousins is a dominant freshman with a burgeoning skill set and one of the
best interior offensive stat lines in the country
. (Cousins gets a ton of offensive rebounds, takes a ton of shots, and makes most of them.) Varnado, meanwhile, is the best shot blocker in the country, and maybe of the past decade -- averaging five blocks a game this season, he's well on his way to setting the NCAA career record for blocked shots. He also leads the Bulldogs in rebounds, many of which come on the defensive end; he's one of the best in the country at that, too.
Unfortunately for Mississippi State, Varnado can shut down Cousins and the Cats can still roll. (Kentucky still has this dude named
John Wall
. I suppose he's pretty good.) Regardless of the outcome, though, Cousins-Varnado might be the year's best big man matchup, at least until we can get these two to play
Cole Aldrich
in a game of 21. You should probably watch.


No. 25 Wake Forest at Virginia Tech, 7 p.m. ET, ESPN2
: While Indiana is taking its probable beating from Michigan State on ESPN at 7 p.m., you might also flip over to ESPN2, a game with actual tournament implications. (Though I suppose Michigan State could lose to Indiana, and that would have tournament implications ... but whatever, you see what I mean.) See, Virginia Tech is 20-4. That's a gaudy record. It was also amassed against one of the worst schedules in the history of college basketball, and I'm barely exaggerating: The Hokies are ranked No. 344 -- No 344! -- in nonconference strength of schedule this season. They have one win over a team in the RPI's top 50 (Clemson). Their best wins are over Seton Hall, Miami, North Carolina, Georgia, and Virginia (twice). Sorry, but this is not the résumé of an NCAA tournament team -- at least not yet. Tonight, Va. Tech gets its chance to prove the haters wrong, notch another RPI top-50 win and build momentum for its backloaded ACC slate, which includes games at Duke, vs. Maryland and at Georgia Tech. Contender or pretender? Tonight, the Hokies have a chance to answer.
Everywhere else
: The first game of
Jordan Eglseder
's controversially short suspension is tonight,
when UNI plays Creighton in Cedar Falls
. ... As mentioned above,
Indiana will try to recover from its ugly Big Ten losing streak as MSU attempts to stave off a letdown
. ... Texas Tech, still trying to play its way into the tournament,
will go to Baylor
, which already has. ...
Dominique Jones
and
Lance Stephenson
do anything for you?
Cincinnati-South Florida sounds entertaining, at least
. ... Less entertaining:
Rutgers at DePaul
. ... North Carolina will look to build on last week's near-miss against rival Duke
with a trip to Georgia Tech
. ...
Drexel will play VCU in a matchup of putative CAA contenders
.
January, 14, 2010
1/14/10
1:01
PM ET
December, 12, 2009
12/12/09
7:24
PM ET
A few quick hitters on Saturday's slate:
UCLA is officially toast. The Bruins have no shot to get in the NCAA tournament unless they win the Pac-10 tournament. Seriously, even if the Bruins were to win the Pac-10, the question will be what have they done? It's early but it's not too soon to announce this after the Bruins were rocked once again in the city of Anaheim, this time in a different venue (Honda Center) and by another team (Mississippi State) by double figures (72-54). The Bruins are now 0-4 in Anaheim.
Mississippi State's Ravern Johnson scored 29 in the convincing win for the Bulldogs. John Riek gets eligible for the Bulldogs next week to add depth to the frontcourt. No one knows if Renardo Sidney will ever play for Mississippi State. Even without him the Bulldogs should be 1-2 in some order with Ole Miss for the SEC West title.
Saint Mary's had a major road win, beating Oregon by five in Eugene, a day after learning guard Wayne Hunter was done for the season with a torn ACL. Hunter had started the first seven games and averaged 11.6 points a game. Omar Samhan scored 22 and, despite a love affair here with Portland and San Diego early, the Gaels look like they may be the real challenger to Gonzaga in the WCC.
The Pac-10 continues to be dreadful out of conference as Washington lost to Georgetown in Anaheim, and the aforementioned UCLA and Oregon losses, make the league look even worse. Seriously, there is a power five this season and then the sixth-best conference will either be the A-10 or the MWC. Deal with it. The Pac-10 may be looking at a best-case scenario of two NCAA bids. And the committee may discuss expanding the tournament? To get more mediocrity in the field? No thanks.
Georgetown's Greg Monroe had a super week with 25 points and 15 boards in a win over Butler and then followed that up with 15 points, eight boards and six assists in the win over the Bruins. Monroe's mate Julian Vaughn showed he can score too with a career-high 18. The Hoyas will be a contender for the Big East title.
Kansas blew out La Salle and freshman Xavier Henry scored 31 points with four rebounds and two assists. Can you imagine what Memphis would have been like with Henry, John Wall, DeMarcus Cousins, Eric Bledsoe, Roburt Sallie, Willie Kemp and possibly Duke transfer Elliot Williams? It would have happened had John Calipari stayed put instead of going to Kentucky.
Butler got a desperately needed win by holding off Ohio State by eight at home. Matt Howard fouled out again though and the Bulldogs have to find a way to stop the insanity of him getting into foul trouble.
Ohio State played its first game without Evan Turner and was expectedly erratic. William Buford proved to be the scorer, though, with 20 points.
George Mason beat Creighton, easily one of the more disappointing teams in the country now at 3-5. Creighton coach Dana Altman got a technical in the final 18 seconds, which didn't help. It was Altman's first technical since 2007.
Portland and Pitt got much-needed wins after rough weeks of late.
Chris Warren of Ole Miss is showing no signs of his ACL bothering him as he scored 20 against McNeese State and is averaging 17.5 on the season.
Western Carolina, picked to win the Southern Conference with the College of Charleston, shocked Louisville 91-83 at Freedom Hall. The Cardinals can't use the excuse of not having Preston Knowles, Jerry Smith and Peyton Siva when they didn't have them for the loss to Charlotte. Louisville goes through early-season funks every year under Rick Pitino, but this one seems deeper and their road game on Jan. 2 in Kentucky seems awfully daunting.
Kentucky ran away from Indiana in Bloomington, 90-73, behind Eric Bledsoe's 23. John Wall had "only" 11 points, but had eight assists and only one turnover. Kentucky coach John Calipari said he couldn't be more thrilled for how his players handled their first true road game. Meanwhile, Indiana may have found a big-time scorer as freshman Maurice Creek went for 31.
Wisconsin needed a win after losing at UW Green Bay and the 72-63 victory against rival Marquette will do well for this team's ego and confidence going forward.
Columbia's Noruwa Agho continues to be one of the best-kept secrets in the country as he made a pair of threes and scored 23 points in a win at Bryant. Agho is shooting over 64 percent on 3s (27 of 42) so far this season.
The box score of the day came out of Seton Hall-VMI. The Keydets make teams play uptempo and the Pirates obliged with a 134-107 win. Jeremy Hazell scored 33 while Jamel Jackson scored 40, making 12 of 15 3-pointers. The 134 is the most points scored by the Hall in its 105-year history as was the 241-points combined. Jackson broke the Hall single-game record with 12 3s. By the way, he comes off the bench and was averaging seven points a game entering the day.
Oklahoma finally awoke in a game against a significant opponent as Willie Warren went for 27 points in an overtime win at Utah, which had just beaten Michigan at the Huntsman Center earlier in the week.