College Basketball Nation:

Cullen Neal
December, 23, 2014
Dec 23
9:10
AM ET
By
ESPN.com staff
| ESPN.com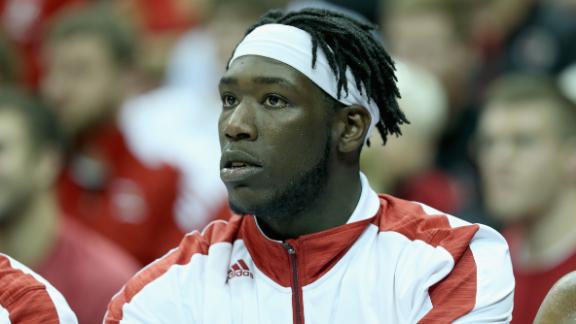 Andy Katz discusses Louisville's outlook Tuesday without
Montrezl Harrell
, Tom Izzo's belief in the Spartans and
Cullen Neal
's ankle injury.
December, 3, 2014
Dec 3
8:49
AM ET
By
ESPN.com staff
| ESPN.com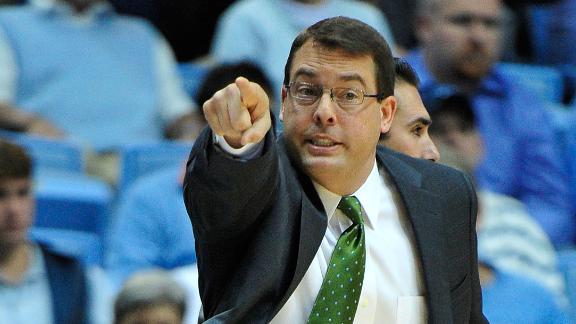 Andy Katz explains how UAB's football situation could affect its basketball team, and he gives an update on
Cullen Neal
's health and Clemson's transition defense.
January, 27, 2014
Jan 27
12:00
PM ET
Last April, Craig Neal moved into the first seat on the bench when best friend Steve Alford left for UCLA and became the new head coach at New Mexico. It hasn't been an easy transition. His Lobos dropped out of the national rankings after a few tough nonconference losses. But they've won three in a row and currently possess a second-place slot in the Mountain West. On Saturday, his program won a road game against Colorado State even though starting center Alex Kirk missed the game because of injury. Injuries aren't the only things that Neal has had to overcome thus far. He recently talked to ESPN.com about his first season as the Lobos' leader.
What did Saturday's 68-66 road win over Colorado State, a game you all played without Kirk, say about this team?
[+] Enlarge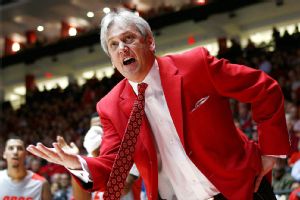 AP Photo/Juan Antonio LabrecheCraig Neal has had to deal with some adversity during his first season as head coach of New Mexico.
Neal:
Well, I just think our veteran guys have been there before, and I think it took us a [half] to figure out Alex wasn't there. You're losing 14, 15 points a game and 10 rebounds, and they hurt us on the offensive boards in the first half. He makes a difference with blocked shots. We played a little bit of a different style, but I think our guys were in tune with what we were trying to do. We went four guards a little bit and changed some things up. Their resilience has been amazing. To go 4-0 on the road to start conference season is really, really an accomplishment that is good for our team and our younger kids and our newcomers.
What's the latest with Kirk?
Neal:
It's a day-to-day thing. He's had it for about three games. Thought it was shin splints and just got a little bit, progressively worse. Our doctors are just taking precautionary measures to make sure he's OK. … You want to make sure you don't put a kid out there that's hurt or in a bad situation with an injury or health-wise.
What's been the biggest adjustment for you this season, moving from assistant to head coach?
Neal
: Well, I think the biggest adjustment is not having Steve around. It might be a big adjustment for him, too, with me not around. I think that's the biggest thing. We were together for so long. I got an opportunity to coach with my best friend for nine years and spend a lot of time together, not only coaching games, but off the floor and watching our kids grow up and just having a great relationship in basketball and off the court. Then I think the biggest transition for me is [the same for] any assistant coach who gets an opportunity … I recruited most of these kids, had relationships with these kids. My relationship doesn't change but the way they view you and the way you view them as a head coach; there's a transition period. Sometimes you were the buffer before, and sometimes you're the guy making sure they're all right and their families are good. And now it's a little bit changed because you're the head coach and you're making a decision on who's playing and who's not playing. Your relationship doesn't change. It's [from] the perspective of you being a head coach now.
Your son, Cullen, suffered an appendix rupture during an offseason international trip. How scary was that situation for you and your family?
Neal:
It was difficult because he's taken a lot of criticism, a lot of hits to start the season, unfairly. He didn't play up to his capabilities early. You're talking about a kid that almost lost his life. [He then] came back, and a lot of the doctors didn't know if it was a good idea that he came back, but he wanted to play this year. And now he's finally gotten healthy and playing at a high level. He played a really good game against Marquette (24 points) that got us a good win in Vegas [Dec. 21], and he played very well against Fresno (17 points Jan. 18). … I think he's back to normal health-wise and strength-wise, but you kind of lose perspective on how serious it was and [that] he was in a bad state. Got down to 158 pounds from 180. It makes you appreciate things a lot better and that he's healthy and he's OK. He's going to miss shots. He's going to turn the ball over, but at least he's healthy, and he's not in the state he was back in August.
October, 22, 2013
10/22/13
12:00
PM ET
By
ESPN.com staff
| ESPN.com
Andy Katz discusses
Cullen Neal
's difficult offseason, college players with eligibility issues and the benefits of foreign trips.
August, 23, 2013
8/23/13
2:00
PM ET
By
ESPN.com staff
| ESPN.com
ALBUQUERQUE, N.M. -- Janet Neal's instincts from her nursing school classes, nearly two decades earlier, made her look closely at her son's discharge papers and medication after a simple diagnosis of gastroenteritis by a Sydney hospital doctor.
She knew something didn't seem right. The blood count results were not at a normal level, and her son Cullen's face told her things weren't well. The look was one only a mother or father knows. Cullen was scared. He was in pain. He didn't want to leave the hospital. He was convinced this was serious, much more so than any physician was noticing.
"I told [my mother] that I wasn't OK," Cullen said. "I couldn't get up."
So Janet grabbed the nearest nurse, a man standing nearby. She demanded someone take a closer look at the results. An ER doctor came to their aid and administered what should have probably been done a lot sooner -- an ultrasound.
No one wasted any time once the picture popped up on the screen. Cullen Neal's appendix had ruptured. An infection was spreading throughout his abdomen. His spleen and liver were being compromised.
"That's when they rushed," said Janet of the staff at the Royal Prince Alfred Hospital.
To read the rest of Andy Katz's story,
click here
.
August, 2, 2012
8/02/12
3:28
PM ET
LAS VEGAS -- He doesn't have a lofty recruiting rating next to his name, and no one has tagged him as an NBA prospect. At least not yet.
Still, when
Bryce Alford
took the court for the Danny Granger D-I Ambassadors in Las Vegas last week, a high-profile coach was watching from the stands.
His father.
New Mexico's Steve Alford, the former Indiana star, tries to attend each of his son's AAU games when they're both at the same recruiting event -- even if it means missing a chance to see another prospect play in an opposing gym.
"My staff just knows that there are certain games I've got to get to," Alford said. "I'm a dad long before I'm a coach."
[+] Enlarge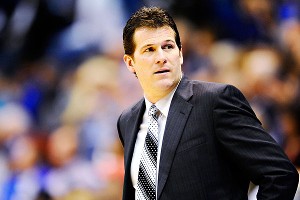 Ron Chenoy/US PresswireSteve Alford said he never pressured his sons to play basketball -- but both Kory and Bryce will be playing for him at New Mexico come 2013.
It won't be long before Alford fills both roles for each of his sons.
Kory Alford
is a New Mexico walk-on who redshirted last season. Bryce, meanwhile, is slated to join his father's squad in the fall of 2013. He committed to the Lobos in March and still has one year remaining at Albuquerque's La Cueva High School.
A 6-foot-3, 170-pound shooting guard, Bryce is regarded as one of the top players in the state.
"Bryce is athletic," Steve Alford said. "He's got very good feet and outstanding court awareness. He has that knack of making people around him better, which means he's a good teammate.
"That's something that has always been preached in our home and they've heard it in the locker room. If you're going to play this game, you're going to play it as hard as you possibly can and you're going to play it as unselfishly as you possibly can."
That's something Steve Alford always did at Indiana, where he led the Hoosiers to the 1987 NCAA title by scoring 23 points in the championship game against Syracuse.
After a four-year career in the NBA, Alford joined the coaching ranks and made stops at Missouri State (then Southwest Missouri State) and Iowa before landing at New Mexico in 2007.
Despite all of his success as a player and coach, Alford said he never pushed his sons toward playing basketball.
"I didn't want to put any more pressure on them," Alford said. "I just wanted them to play and enjoy the college experience. It's a good, happy balance, where they understand what I'm telling them is to help them and not to be overly critical.
"I played for my dad, so that helped a lot. It prepared me for this."
Even though he guesses his sons faced a little "internal pressure" to attend New Mexico, Alford said he left the decision-making process up to each of them. Kory hopes to get into coaching someday. He couldn't pick anyone better to learn from than his own father.
Bryce, who has shown more potential with his on-court play, hasn't looked that far down the road. He's just excited about becoming a Lobo.
"Ever since I was little, I pretty much wanted to play for my dad," Bryce told reporters after announcing his commitment in March. "As I got better and better, he started showing more interest and helping me out to get to the level where I could play for him eventually.
"I knew all along I wanted to go to (New Mexico). There's so much here, I didn't need anything else."
Alford isn't the only New Mexico coach with a son headed for the Division I ranks.
Cullen Neal
, the son of Lobos assistant Craig Neal, has committed to play for Saint Mary's. Cullen Neal and Bryce Alford are AAU teammates.
Their fathers spent plenty of time in Las Vegas last week watching them compete in their final summer of AAU basketball.
"Obviously, I've followed my sons very closely," Alford said. "If I'm on the road, I'm watching them on the internet. I'm just blessed that they've enjoyed playing the game. Hopefully they'll have the same experience in college."