College Basketball Nation:

Cully Payne
August, 28, 2012
8/28/12
5:00
AM ET
1. Cincinnati coach Mick Cronin said landing 7-foot-1 David Nyarsuk is a huge addition, both literally and figuratively: "He's a shot blocker, finisher and runs great. If he was a JUCO he would have been No. 1 in the country." Nyarsuk went to NAIA Mountain State (W.Va.) where he averaged 9.8 points and eight rebounds last season. Nyarsuk, who is from the Sudan, resolved a student visa issue, and will have two seasons of eligibility remaining. "He's a rim protector behind our pressure defense," Cronin said. Nyarsuk will join a frontline of
Cheikh Mbodj
,
Kelvin Gaines
and
Justin Jackson
. The Bearcats should be considered a top 25 team and a Big East top four contender.
2. Marquette decision last week to fire assistant Scott Monarch and suspend head coach Buzz Williams for a game is another example of a school endorsing head coach penalties to head off any potential committee on infractions hits. The era of the coach not being held accountable is now officially over. Coaches can expect to be penalized a game or two or three by their school, conference, or the NCAA for failing to foster an atmosphere of compliance.
3. The Horizon League is desperate for good news after the abrupt departure of Butler to the A-10. Loyola (Ill.) returned from an Italy trip with some dramatic uptick in numbers. The Ramblers averaged a meager 57.2 points a game last season but on a 4-1 trip they averaged 82.3 points a game. The Ramblers also hadn't had a player average five assists a game since 2003. But Iowa transfer
Cully Payne
handed out 9.3 assists in the four games. Porter Moser is hoping to see a turnaround and the indication is that this trip may give the Ramblers the necessary bounce.
March, 11, 2010
3/11/10
6:21
PM ET
INDIANAPOLIS -- There was a ton of buzz about Todd Lickliter's future at Iowa well before the Hawkeyes tipped things off against Michigan in a first-round Big Ten tournament matchup.
[+] Enlarge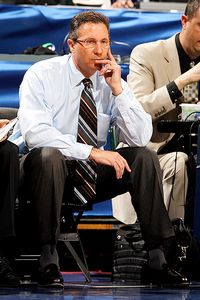 Jonathan Daniel/Getty ImagesDid Todd Lickliter coach his last game for Iowa on Thursday?
Lickliter left Indy late Thursday afternoon
not knowing whether he'd coached his final game at Iowa
. Athletic director Gary Barta said in a statement that he'll evaluate the future in the coming days.
Not much has gone Lickliter's way both on and off the court since he arrived at Iowa from Butler in 2007. The team has endured a wave of transfers, embarrassing losses, declining attendance and even health issues for Lickliter earlier this year.
Iowa showed some life midway through Big Ten play, and Barta gave Lickliter a vote of confidence in January, but things went south down the stretch, as Iowa dropped six of its final seven.
Lickliter sounded a bit defeated after Thursday's game, but his personality isn't exactly sunny even in good times. He and his players had some interesting things to say, which you'll see below:
Lickliter: "The recruits that we've targeted that we feel like are going to be able to compete have got to go through some tough times. We're not recruiting an All-Big Ten player to Iowa their freshman year. If we do, great, if we can find him. But realistically, what we've had to do is recruit players who can develop into that. That's hard for players to go through: the frustration, the grind, the hard work. So we've had to continue to fight through some of that."

Lickliter: "My future is that I'm healthy, I have a great family, I love what I do, I've done it well, and [the future is] not in my hands."

Freshman guard Cully Payne: "We've got a great foundation and we're excited for coach. We're by his side the whole way. I can speak for our freshman class and our whole team that coach is our guy."

Sophomore forward Aaron Fuller: "I plan to come back next year. If coach is here, great. If not, that's unfortunate and I hope the best for him. The program's not where it needs to be at, and it's not my choice whether he stays or goes."
March, 11, 2010
3/11/10
4:26
PM ET
INDIANAPOLIS -- After a scare early in the second half and in the closing minutes, Michigan held off
Cully Payne
and Iowa,
59-52
, to advance to the Big Ten tournament quarterfinals. The Wolverines will face top seed Ohio State on Friday (ESPN, noon ET).
[+] Enlarge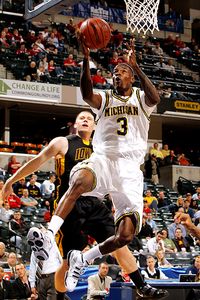 Jonathan Daniel/Getty ImagesManny Harris heads to the hoop for two of his 22 points Thursday.
Michigan got what it needed from its star players, particularly junior guard
Manny Harris
, who played a lot like he did early in the season. Harris was very aggressive on both ends of the court and finished with 22 points, nine rebounds and two assists. Wolverines senior forward
DeShawn Sims
continued to be a load in the low post, racking up 14 points.
Iowa never quit today, which is more than I can say for the Hawkeyes' last two outings -- historically bad losses to rivals Wisconsin (67-40) and Minnesota (88-53). The Hawkeyes carried over the momentum they built late in the first half, thanks to Payne, who scored a career-high 25 points. Iowa cut Michigan's lead to four points before a Sims block led to a
Zack Novak
3-pointer. The Hawkeyes also took advantage of Michigan's sloppiness down the stretch, cutting the lead to five with a chance to get closer.
Payne surpassed his previous career best of 18 early in the second half. But other than promising forward
Aaron Fuller
(10 points, 13 rebounds), Payne didn't get much help from his Iowa teammates.
The Hawkeyes struggled to hang onto the ball, committing 14 turnovers in the loss.
There's a lot of buzz here at Conseco about the future of Iowa third-year head coach Todd Lickliter, which could be addressed in a matter of moments. Lickliter has four years remaining on his contract but owns a 38-58 record at Iowa.
Stay tuned ...
March, 11, 2010
3/11/10
3:25
PM ET
INDIANAPOLIS -- We've reached halftime here at Conseco Fieldhouse, and No. 8 seed Michigan has led the entire way against No. 9 Iowa.


Some quick thoughts:
Michigan's defensive aggression and Iowa's sloppy ball-handling have been the difference so far. The Hawkeyes committed a five-second violation on the game's opening possession and finished the half with eight turnovers. When you're shooting as poorly as Iowa has been lately, you need to take care of the basketball. Michigan has done a nice job of that so far, committing only three giveaways.
Manny Harris hasn't had the season he envisioned, but the Michigan junior guard looks very impressive so far. He's consistently attacking the rim but not taking silly shots, and he's getting his teammates involved. Harris has 12 points and five rebounds.
Iowa guard Cully Payne is almost single-handedly keeping the Hawkeyes in this game. After a slow start, the freshman point guard has scored 13 of Iowa's 23 points, hitting 3 of 5 3-point attempts. He engineered a 12-5 Iowa run to close the half. Payne clearly is the type of player who fits well in Todd Lickliter's system, but he'll need more of his teammates to get hot in the second half.
Michigan is still 3-point happy, but Iowa can't forget about DeShawn Sims down low. Sims, who had double-doubles in both meetings with Iowa this season, has been able to score fairly easily down low and boasts 10 points at the half.