College Basketball Nation:

D.J. Kennedy
March, 18, 2011
3/18/11
2:27
AM ET
By
Diamond Leung
| ESPN.com
DENVER -- Steve Lavin momentarily put on his analyst's cap and gave a glowing review of Gonzaga's chances in the NCAA tournament after the Zags dominated his St. John's team throughout an
86-71
second-round win.
"They're definitely a Final Four-capable team, national championship-potential team," Lavin said.
Those were the words the former ESPN analyst used to describe a No. 11 seed, one that began the season 4-5 and slogged through the tough part of its difficult nonconference schedule. Gonzaga was even three games out of first place in the WCC at one point.
But expectations are high again now for the Zags, who have won 10 games in a row and are feeling good enough about themselves to say that in their minds, taking down the 6th-seeded Red Storm wasn't much of an upset.
"If you look at the bracket, yes," forward
Elias Harris
said. "If you know us, this was a fair fight. For them, it was not cool to play us."
[+] Enlarge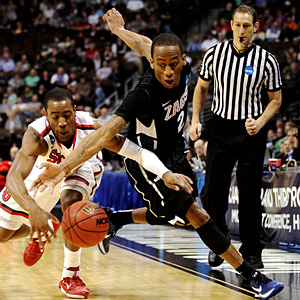 Justin Edmonds/Getty ImagesGonzaga's Marquise Carter had an impressive performance in his NCAA tournament debut, scoring 24 points.
Said center
Robert Sacre
: "I don't see why it was an upset. I don't think we get enough credit."
Yes, the Zags have heard all the talk about them not having played anyone in the one-bid WCC. They simply don't believe it and try to make their case on the court.
So rather than look at St. John's as a favorite that needed to be slayed, Gonzaga just went out and thrashed its Big East opponent. With leading rebounder
D.J. Kennedy
lost for the season, the Red Storm saw the Zags out-rebound them 43-20. In fact, after going up by 11 with 18:59 left, Gonzaga never saw its lead slip under double-digits again.
Marquise Carter
was fantastic in his first NCAA tournament game, as the junior college transfer had 24 points, six rebounds and six assists.
Point guard
Demetri Goodson
played what coach Mark Few called his best game, handling St. John's press, traps and zone defense.
Steven Gray
scored 16 points, and Harris added 15.
"I'm tickled pink for these guys," Few said. "They took the game plan and executed it. "
The Zags might consider itself a young team, but Gray, Harris and Sacre make up a big lineup that is battle-tested from its previous tournament experience, and Few said it helped the Bulldogs against a senior-laden St. John's team dancing for the first time in nine years.
Dwight Hardy
scored 26 points, and
Justin Brownlee
had 14 for St. John's, but Gonzaga's rebounding edge was difficult to overcome. The Zags also shot 9-for-15 from beyond the arc, with Gray and Carter doing the most damage. For the game, they shot 53.8 percent from the field.
So while Harris has heard the criticism that the Zags don't play anyone in the WCC, he said that the team doesn't really listen to it. Playing with blinders is how Sacre described it.
The Bulldogs have fingers in their ears while the rest of the nation either continues to doubt them or adores their underdog status.
After convincingly beating St. John's, does the slipper actually still fit for Gonzaga?
March, 14, 2011
3/14/11
2:26
AM ET
Quick hitters on the bracket:
The First Four will be a good watch. Well, at least the two games involving bubble teams. USC has proved it can beat just about anyone in the field. The matchup against VCU will be one of the better early-round games. Clemson is one of the toughest defensive teams in the field and UAB is one of the more controversial picks. Oh, and Kevin O'Neill has been reinstated to coach the Trojans, meaning there are plenty of storylines in Dayton on Tuesday and Wednesday.
I liked Oakland as a possible Sweet 16 team when I watched the Golden Grizzlies early in the season, but once again it's all about matchups. I don't like Oakland beating Texas because of the Longhorns' ability to defend on the perimeter.
Wisconsin couldn't have drawn a worse matchup than sneaky-good Belmont. The Bruins can win a first-round game. The Badgers struggled against Wofford and Cornell last season and now Mike Bruesewitz is hurt. This isn't a positive draw for Wisconsin.
[+] Enlarge

Don McPeak/US PRESSWIREIan Clark and No. 13-seeded Belmont could be a tough out for Wisconsin.

The committee doesn't play the matchup game. But geez, how odd is it that Memphis coach Josh Pastner, who played and coached at Arizona, has his first game as a head coach in the NCAA tournament against Arizona? UCLA and Ben Howland against Michigan State and Tom Izzo on the first day? Wow. It would have been hard to predict that in the preseason.
There will be blood during the Butler-Old Dominion 8-9 game in D.C. This is going to be a battle with two teams that like to grind defensively.
Florida State's Chris Singleton told me after the loss to Virginia Tech that he could have played in the ACC tournament but it was coach Leonard Hamilton's decision. He said he is going to play in the NCAA tourney. If he does, the Seminoles should beat Texas A&M.
Georgetown's Chris Wright said he's playing in the NCAAs. But the Hoyas didn't get an easy draw. The Hoyas have to prep for two different styles in USC and Virginia Commonwealth. The better matchup for Georgetown would be VCU. USC has the bigs in Nikola Vucevic and Alex Stepheson that could cause problems for the Hoyas in the second round.
The two toughest teams to predict in the Southwest Regional are playing in the 8-9 game. UNLV and Illinois have shown flashes of playing at a high level or looking very pedestrian. Neither team can beat Kansas.
Vanderbilt can't catch a break. The Commodores drew hot mid-majors Siena and Murray State in recent tournaments and lost to both in the first round. Richmond is on a roll right now with the A-10 title win. The Spiders will be a trendy 12-5 upset pick.
A Purdue-Notre Dame Sweet 16 game in San Antonio would be an intense affair. JaJuan Johnson and Ben Hansbrough have the ability to put up monster numbers. But whoever wins that game will probably fall to Kansas. That's my pick.
Utah State finally may win a first-round game. The Aggies have been playing do-or-die type affairs for weeks with little margin for error. Kansas State was a bad stock to buy since the Wildcats have been all over the map. The Aggies have the personnel to get to the Sweet 16 and if Belmont were to upset Wisconsin, or even if it didn't, a win over K-State could pave the way for Utah State to get to New Orleans.
Pitt should breeze to the Elite Eight. I'll be surprised if it doesn't get to its first Final Four since 1941.
Gonzaga got an 11-seed, but got St. John's sans D.J. Kennedy. The Red Storm started the season losing to a WCC team at Saint Mary's and I think they'll end it losing to a WCC team in the Zags.
Jimmer Fredette could pull a Stephen Curry and lead BYU to the Elite Eight. The reason? The bracket is winnable for the Cougars. UCLA and Michigan State aren't getting out of the first weekend and Florida is beatable.
[+] Enlarge

Ethan Miller/Getty ImagesBYU's Jimmer Fredette is the kind of player who can carry a team on a deep tournament run.

For much of the last two months, George Mason was a popular pick to go far in the NCAA tournament. But the matchups aren't favorable after Villanova. Ohio State has too much balance and strength inside for the Patriots.
Princeton can cause Kentucky's younger players problems, but the Wildcats have figured out how to play together more consistently. A Kentucky-Ohio State Sweet 16 game in Newark would be a tough ticket.
Marquette isn't playing well enough for me to buy into the Golden Eagles, but Tu Holloway can lead Xavier for a few rounds.
If Syracuse plays up to its potential, this bracket could open up for the Orange to at least get to the Sweet 16.
North Carolina didn't defend well against Duke on Sunday in the ACC tournament but the Tar Heels will not lose in Charlotte. No way. The Tar Heels will be playing at home for two games. Book them to Newark.
I thought UNC could get to Houston, but I don't like the Tar Heels getting past the Buckeyes. It's all about matchups.
Paging Tennessee? Part of me is convinced the Vols are in position to be the most dangerous No. 9 seed. If the Vols play up to their potential, they could beat Michigan and Duke to get to the Sweet 16. But Tennessee could also lose badly to Michigan and the Wolverines' 1-3-1 defense.
Texas is a No. 4 after projecting as a No. 1 a few weeks ago. Which Texas team will show? If it's the one that is sharing the ball, defending and has Jordan Hamilton taking quality shots, then the Longhorns can knock off Duke and be on the doorstep of playing as host in Houston.
The bottom part of the West bracket will be about Kemba Walker. The UConn star led the Huskies to an incredible five-game run in the Big East tournament. Can he do it again in the NCAA tournament? Playing either Cincinnati or Missouri, assuming the Huskies beat Bucknell, is a good draw.
How about Temple playing Penn State, two schools from Pennsylvania playing in Tucson, and Louisville and Morehead State, two schools from the state of Kentucky, playing in Denver?
I'm done doubting Louisville's Rick Pitino. This Cardinals team has shot down every question and continues to win. The Cards could be playing Kansas in the Sweet 16 in San Antonio. Talk about a fun game.
San Diego State was treated well by the NCAA tournament committee. The Aztecs earned a No. 2 seed by losing to only one team -- even though it was twice -- in BYU. The Aztecs will play in Tucson and then possibly Anaheim. I like their experience, defense, fast tempo and half-court game. If D.J. Gay is on, especially defensively against elite guards in this bracket, then the Aztecs can advance. They're the one team not on the No. 1 line that I have getting to Houston.
This bracket will be dominated by star players having headline games, just like we saw during Championship Week.
We should see plenty of upsets, but when the Final Four is upon us in a few weeks, I don't see Ohio State or Kansas losing. I'm less confident in Pitt, but the Panthers have a favorable bracket. I'm going with OSU, KU, Pitt and SDSU.
March, 14, 2011
3/14/11
1:58
AM ET
Ten thoughts at the end of a debate-worthy night in college basketball:
1. Before we get to the bracket that is, let's talk about the bracket that should be. In other words, let's talk about Colorado. How can I put this nicely? The Buffaloes got jobbed. OK, so that isn't putting it nicely at all. It's kind of rude, actually. But it's 100 percent true. CU's exclusion from this 68-team field -- and UAB's inclusion in it -- is baffling.
If you're interested in this little thing called "wins," the two résumés don't really compare. Colorado has six top-50 RPI victories; UAB has none. Colorado beat No. 5 seed Kansas State three times and No. 4 seed Texas once. UAB beat ... um, whom exactly? VCU? Kent State? UTEP? Both teams had ugly nonconference schedules, so the only explanation for the committee's decision is RPI. Colorado's RPI is 66, while UAB's is 31. If that's the committee's reason, that's a pretty bad reason.
[+] Enlarge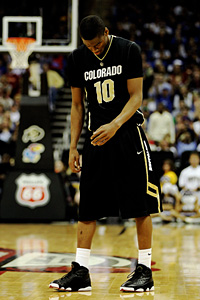 Jamie Squire/Getty ImagesAlec Burks and Colorado had six wins over teams in the RPI top 50, but will not be part of the 68-team field.
It's nice to know that in two days all this selection fervor will die down and we'll get to the business of enjoying the greatest competition in basketball live and in living color. We'll forget all about this soft bubble. We'll remember that not one of the teams on the cut line was all that good in the first place. But until then, there's no denying it: Colorado got jobbed, and the selection committee can't give us a good reason why.
2. Speaking of which, selection committee chair Gene Smith did not do a very good job of explaining his committee's decisions on Sunday night. Meeting with the media mere minutes after the four-day selection haze is the most unenviable responsibility the committee chairman must handle, and I certainly wouldn't want to do it. But in interviews on ESPN and CBS, as well as in his post-selection show teleconference, Smith practically refused to answer the media's questions about the committee's various seeding and selection decisions. Instead, he gave polite nonanswers. In the first question of his teleconference, Smith was asked why Virginia Tech -- the night's only other surprising snub -- didn't make the tournament. His response:
"Virginia Tech is a very good ballclub, a well-coached team," Smith said. "When we looked at them, considering all the other criteria we look at, the committee looks at about 15 different quantifiable criteria, then we have advice from our regional coaches advisory committee, a lot of different things. At the end of the day when we stacked Virginia Tech's résumé up against all the other teams, we just didn't feel like they were a team that should be in the at-large field."
When pressed a second and third time for specific reasons why the Hokes were left out, Smith responded:
"I would just tell you to look at their overall résumé, look at their schedule, look at how they did relative to their competition that they scheduled in the nonconference schedule."
These aren't reasons why Virginia Tech was kept out of the tournament. They're skeletal explanations of the selection process itself.
They were par for the course for Smith, as chronicled by our own Andy Katz on Sunday night. Smith used the phrase "well-coached" to describe nearly every team he was asked specifically about. He also said there were "10 people in the room and everyone in the room has different emphasis on different criteria." (Perhaps one criterion would be a good place to start?)
Look: No one expects the committee to get everything right -- it often does a marvelous job under difficult time constraints -- and no one expects the committee chairman to make the entire process an open book. But as the NCAA strives to increase transparency in the selection process and rid fans of the notion that the process is shrouded in secrecy, Smith's nonanswers only made a frustrating night that much more so.
Anyway, with that whinge out of the way, let's take a look at the bracket itself:
3. Which No. 1 seed has the toughest route to the tournament? Surprisingly, that team is No. 1 overall seed Ohio State. If seeds hold, the Buckeyes -- who went 32-2 this season -- have the privilege of playing George Mason in the second round, an underseeded Kentucky team in the Sweet 16, and either Syracuse or North Carolina in the Elite Eight. Throw in the rest of this region's tough outs -- Xavier, Washington, West Virginia and Villanova are all lurking here -- and you can make a rather convincing case that this is the toughest region of them all.
4. Which No. 1 seed has the easiest path? That honor probably goes to Pittsburgh. The Panthers don't have a friendly second-round matchup; Butler and Old Dominion are both well-coached (that one's for you, Gene!), experienced tournament teams with unique styles and plenty of talent to boot. But after that, Pitt's high-seeded competitors (Florida, BYU and Wisconsin) all have their share of potentially fatal flaws.
[+] Enlarge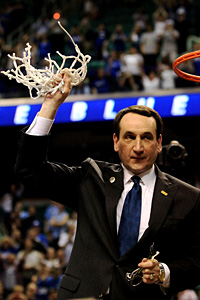 Jaime L. Mikle/Getty ImagesDoes college basketball need better organization? Duke's Mike Krzyzewski seems to think so.
5. Don't say the committee favors Duke. That was a common complaint last season, when the Blue Devils were gifted with a wide-open bracket whose toughest challengers -- Baylor and a Robbie Hummel-less Purdue team -- couldn't stay on the floor with the dominant Dukies in the regional round. This year, however, is different. Duke got Michigan-Tennessee as its No. 8/No.9 matchup, and the Vols have proved capable of playing up or down to any team's level this season. Duke got a bit of a break with San Diego State and Connecticut at the No. 2 and No. 3 spots, but either team could present problems for Duke on the interior. But the toughest seed came at the No. 4 spot, where an underseeded Texas team -- the Longhorns were very much in the No. 2-seed discussion this week -- could present massive matchup problems for the Blue Devils. If Duke gets past the Sweet 16, it should return to the Final Four. But the toughest matchup of the Devils' tournament could come earlier than anticipated.
6. The No. 5-versus-No. 12 matchups are always prone to upsets -- if there's a cardinal rule of bracket-picking, it's that -- but this year's matchups should prove to be especially intriguing. Kansas State will play Utah State, a 30-3 team that dominated its conference, beat Saint Mary's in Moraga, and could be much more dangerous than anyone realizes. In the Southwest, Vanderbilt got the underseeded Spiders as its No. 12 matchup; Richmond has one of the best guards in the country in
Kevin Anderson
and an emerging (and hyper-efficient) star in
Justin Harper
. In the West, Arizona will play Memphis in the battle of Josh Pastner, who was a walk-on at Arizona and spent years there as an assistant. And in the East, West Virginia will play the First Four winner of UAB-Clemson. The Tigers are enticingly athletic. The Blazers are playing for respect after schlubs like me spent all night telling people why they don't belong in the tournament. All of these games are interesting, and for reasons beyond the usual 5-12 intrigue.
7. Speaking of interesting middle-seed matchups, how about these two 6-versus-11 matchups. In the East, it's Xavier versus Marquette. In the West, it's Cincinnati versus Missouri. One could argue that Missouri is a bit underseeded given its entire body of work, but the Tigers did notably struggle on the road this season and fell flat in a blowout loss to Texas A&M in the Big 12 tournament. But the Tigers' style -- up-tempo, frenetic and pressing -- is much harder to prepare for in a single-elimination format than in the familiar rigors of conference play. Meanwhile, Xavier-Marquette will showcase two of the nation's best and perhaps most underrated players in Xavier's
Tu Holloway
and Marquette's
Jimmy Butler
.
8. If there's anything the No. 9 seeds have in common, it's talent, inconsistency and disappointment. The one team excepted from this theme is Old Dominion. The Monarchs have plenty of the first quality, but none of the second or third. But Illinois, Villanova and Tennessee are this season's poster children for teams that should be much, much better than they are. All three have elite-level talent. All three showed promise throughout the season. All three got their biggest wins in November and December. And all three have been frustratingly incoherent since.
9. Beware the injuries and suspensions. Unfortunately, some NCAA tournament teams don't get the benefit of coming to the tournament at full strength. Georgetown's
Chris Wright
is cleared to play, but will likely have a protective cast on his broken hand. Florida State's
Chris Singleton
is questionable for the Seminoles. And in the Southeast, two teams missing key players -- BYU (suspended forward Brandon Davies) and St. John's (lost guard
D.J. Kennedy
to a torn ACL this week) -- could meet in the second round Friday. All things to consider as you peruse the field and start filling in your bracket.
10. Need proof this was the softest tournament field ever? OK, probably not. You probably reached this conclusion months ago. But in case you're holding out, check these numbers from ESPN Stats & Information: Since the field expanded to 64 teams in 1985, five at-large teams made the tournament with 14 losses. There are five at-large teams this season alone with 14 losses. There are seven teams with 13 losses, and 13 teams with 11 losses. That's a whole lot of losing for the NCAA tournament, but that's what happens when (a) you expand the field by three bids and (b) you have to fill that expanded field from a pool of candidates that can be described only as the decidedly muddled, mediocre middle.
March, 10, 2011
3/10/11
4:51
PM ET
NEW YORK -- A quick look at Syracuse's 79-73 win over St. John's in the Big East quarterfinal.


Overview:
The Big East sure knows how to host a party. Before the crowd caught its breath from
Kemba Walker's heroics
, St. John's and Syracuse put on terrific game. Whoever had the beleaguered
Fab Melo
securing the victory for the Orange ought to go play the lottery.
Turning point:
Close for much of the game, this one was decided in the waning seconds but in less dramatic fashion. With the shot clock dwindling and the game clock below a minute,
Brandon Triche
dribbled down the lane and bounced a perfect pass to Melo to give the Cuse a 4-point cushion.
Key player:
As dreadful as he was in the first half -- he was 1-of-7 from the floor, 1-of-5 from 3-point range -- Triche was that good in the second. The sophomore scored 13 of his 20 points, shooting 4 of 6. More important, he dished off a perfect bounce pass to Feb Melo with 32 seconds left, securing the win for the Orange.
Key stat:
Neither team was Notre Dame-hot from the arc, but the Orange sunk seven 3-pointers and St. John's landed three. When Triche started knocking them down, they really mattered for the Orange, forcing the Red Storm out on the perimeter more and opening things inside for
Rick Jackson
(10 points) and Melo (12).
Miscellaneous:
The Red Storm played the second half without
D.J. Kennedy
. The senior injured his knee in the first half and did not return.
What's next:
The Orange advance to a semifinal date with Connecticut. Earlier this year Syracuse ended a four-game losing skid with a win at Hartford against the Huskies. The party ends early for St. John's but for the first time in nine years, won't be waiting on an NIT phone call. The Red Storm will only be concerned about seed and opponent.
December, 9, 2009
12/09/09
6:55
PM ET
NEW YORK -- Regular starters
D.J. Kennedy
,
Paris Horne
and
Sean Evans
will not be on the floor when St. John's tips off against Georgia here shortly. The trio was a few minutes late for the team bus as it departed the St. John's campus for Madison Square Garden.
All three are expected to play but coach Norm Roberts wanted to stress team rules are for everyone and for everything, regardless of how minor the transgression is.
In the trio's place,
Dwight Hardy
,
Omari Lawrence
and
Justin Brownlee
will each make their first career starts.