College Basketball Nation:

Da' Sean Butler
February, 22, 2010
2/22/10
11:40
PM ET
HARTFORD, Conn. –- The last time I was in this building, Connecticut didn't look like a team that could play in the CIT, let alone the NCAA tournament.
[+] Enlarge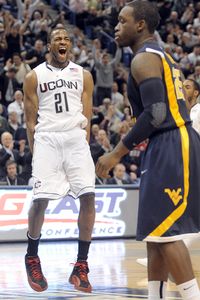 AP Photo/Fred BeckhamStanley Robinson and UConn notched their second straight victory against a top-10 team.
The Huskies had no life. Their effort was poor, execution was even worse and the buzz in the XL Center on Feb. 13 for the Cincinnati noon tip was nonexistent.
But something happened here that no one can really explain.
Sure, Connecticut had its moments this season. In December, the team played what at the time seemed to be an epic game against Kentucky at New York's Madison Square Garden before losing late, and it ran past then-No. 1 Texas in the second half last month in Storrs.
But there was no way to predict the Huskies would flip a switch the way they have since the Cincinnati game. They won a fight at Villanova, crushed Rutgers at the RAC, and kept the foot on West Virginia's throat throughout Monday night to prevent it from ever taking the lead in UConn's raucous
73-62 win
over the seventh-ranked Mountaineers.
The third straight win, second against a top-10 team in a week, likely puts the Huskies back in the NCAA tournament conversation with an overall record of 17-11, 7-8 in the Big East. The game against Louisville and matchups at Notre Dame and South Florida should go the Huskies' way, or at the very least, be in play.
The analogy I threw at Connecticut coach Jim Calhoun Monday was that the Huskies appeared to be playing every game since the Cincinnati debacle as if it were a seventh game.
"That's a great way to put it," Calhoun said. "It's exactly what it is. I told them we can't let an opportunity go by. You can't."
Calhoun said he had teams flip a switch like that in the past -- notably in the two years before his first national championship team in 1999, when the Huskies were in the NIT semifinals.
"It was breaking my heart that we weren't winning the close games," Calhoun said. "Most of the time, we could come back but couldn't get a big lead."
Calhoun knew that taking out the Mountaineers was going to mean being a bit mean. So he didn't hesitate to show his team that he was prepared for a fight. He got a technical 47 seconds into the game.
[+] Enlarge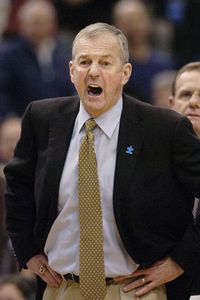 AP Photo/Fred BeckhamCalhoun was called for a technical foul early in the game.
"I was ready for the game," Calhoun said. "I wanted to show them."
If you're looking for reasons why Connecticut has taken control of its season, then look at how Calhoun fired up this group after it fell flat in his return following a seven-game absence; how the defense improved tremendously (
Jerome Dyson
at times held
Da'Sean Butler
in check as he finished 2-for-10 and 0-for-4 on 3s); and how
Kemba Walker
is now a leader on the floor.
Walker is dynamic with the ball, but he's also careless (four turnovers). He got to the line (14-for-17), but was also 3-for-10 from the field. But he's also the difference.
"We don't beat Villanova without Kemba having a good game," Calhoun said. "Jerome has allowed Kemba to take over. He wouldn't have done that midseason."
Neither coach was thrilled with the officiating as a total of 46 fouls were called. West Virginia coach Bob Huggins was so disgusted that he lit into official Mike Stuart with plenty of expletives. Huggins was tossed with 42 seconds left.
As to what angered Huggins, he said, "I'm not sure I can answer that without getting in trouble." Huggins said the Mountaineers played triangle-and-two and zone, so it is "pretty hard to foul" doing that. As to what happened in the game, Huggins said UConn made shots and the Mountaineers' best player (Butler) did not. The loss means West Virginia (21-6, 10-5) can likely forget about catching Syracuse (25-2, 12-2) for the Big East regular-season title, falling three games behind the Orange with three to play.
"Our team has a history of being fighters, and we weren't fighting as hard as I thought we could," Calhoun said. "We had to fight the whole Villanova game and that brought something out of us. The seventh-game analogy is true. You only have so many chances."
But the difference with Connecticut and all other Big East bubble teams, as compared to those in other conferences, is the opportunity to earn a bid. A team from the Missouri Valley isn't going to have the chance a Big East team will have late in the season. The Huskies are taking advantage of the schedule in front of them.
"You can't ask us to play many better people than we have this year," Calhoun said. "I have no misgivings about what we didn't do. All I care about is what we're doing now. I'm not looking back."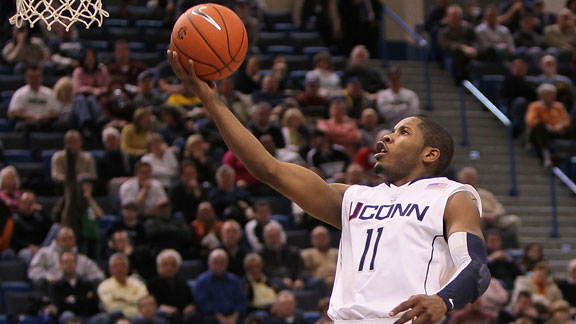 February, 22, 2010
2/22/10
8:28
PM ET


HARTFORD, Conn. -- A few quick thoughts from
UConn-West Virginia
:
UConn coach Jim Calhoun hasn't mellowed one bit. The bench got a technical foul less than a minute into the game when the coaching staff wanted a push call. Calhoun then directed his anger toward official John Cahill, who wasn't on the play. Why? Well, Cahill was the official who made two controversial calls against Connecticut -- one in the final possession at Cincinnati and then at Syracuse when he granted a timeout to Syracuse after the change in possession.
This doesn't seem like the same building the last time the Huskies played here. When the Huskies took on Cincinnati on Feb. 13 the XL Center lacked any kind of buzz and the Huskies were completely flat.
This is what is tough for the NCAA tournament selection committee: Watch UConn and you have to agree this "looks" like an NCAA tournament at-large team win or lose. But you have to win the game and you can't be excused for past failings. The subjective "eye test" will come into play.
West Virginia's Kevin Jones will be a pro. He is physical, can square up and make shots and he's tough.
What happened to Devin Ebanks' offense? He doesn't hunt his shot one bit. I'm also waiting for Da'Sean Butler to go on one of his runs.
Let's chill, and I mean all of us, on hyping the players who sit out: For UConn Ater Majok was put on too lofty a pedestal and for West Virginia the honor goes to Deniz Kilicli. They are both role players.
UConn's Gavin Edwards maximizes his talent as much as anyone I've seen this season. He finds a way to contribute every game whether it's on rebounds, post-up or setting a screen. He has become a glue guy for the Huskies.