College Basketball Nation:

Dallas Green
March, 18, 2010
3/18/10
3:42
PM ET
PROVIDENCE, R.I. -- Quick postgame thoughts after
Villanova's 73-70 overtime win
over Robert Morris Thursday at the Dunk: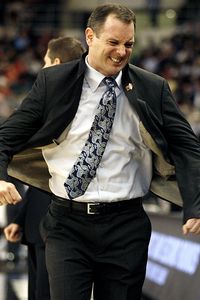 Stew Milne/US PresswireColonials coach Mike Rice had some questionable calls go against his team in the second half.
Villanova couldn't have played worse and won an overtime first-round game. Couldn't have played worse and still won.

Villanova seemed out of sync until overtime. Not sure if it was the benching of Scottie Reynolds and Corey Fisher or the re-emergence of Taylor King but the Wildcats never could get in a groove.

Reynolds didn't make a 3-pointer until the final 70 seconds of overtime. The 3-pointer gave the Wildcats a six-point lead and it came with one second left on the shot clock.

Villanova couldn't find Robert Morris' Karon Abraham for most of the game as he continued to keep the Colonials either out front or in the game. But they did a great job of hiding him on the final possession and preventing him from getting off a potential game-tying shot.

Abraham is the star of this game, a real find as a freshman for RMU coach Mike Rice. Abraham made deep 3s, got to the line and found a way to the hole. Another gem was the defense turned in by Dallas Green. He had a few blocks and defensive stops that were key in putting RMU in position to possibly win.

Rice had a right to be a bit upset over some of the calls. This is a once in a lifetime kind of deal for a 15 seed to pull off an upset like this over a 2 and a major power like Villanova. The Colonials were so close but couldn't win it overtime. You could sense it was going to go against RMU in overtime. Villanova flipped the switch to win the game.

The crowd had a nice moment giving both teams a standing ovation, especially the Villanova fans. It was a class act. Rice also went over to the crowd to clap for the RMU fans giving a great effort themselves.

Villanova may have found its inside game with Mouphtaou Yarou. But it's still not a strength.

I still don't understand why Reggie Reading didn't just score the ball and put Nova up five instead of trying to dribble out the clock. He gave RMU another possession and a chance to tie the game.

Stats to remember: Reynolds was 2-of-15 shooting and just 1-of-8 on 3s. But he was 15-of-16 at the line. Very strange numbers.


Abraham scored 23 points and made five 3s.
March, 18, 2010
3/18/10
2:05
PM ET
PROVIDENCE, R.I. -- First-half impressions from Robert Morris' stunning
28-22 halftime lead
over Villanova:


Villanova coach Jay Wright benched starters Scottie Reynolds and Corey Fisher for a "teaching moment." The teaching issue didn't last more than four minutes but there was clearly an effect.
Wright was making a statement to his players and the team, and the flow of the squad was clearly affected. Remember, Villanova was also integrating Taylor King, who had been disciplined last week.

Reynolds committed two turnovers, including an offensive foul, when he came into the game. He finished the half missing all five shots, including four 3s. Fisher wasn't any better, getting to the free throw line twice and missing both. The Wildcats were a meager 2-of-12 on 3s and got hammered on the boards 21-10.
I've had countless coaches tell me that going to the NCAA tournament one time for the low- to mid-majors is a big deal for that experience the second time around. Cornell is hoping that will be the case the third time. Well, RMU sure is making the argument for it to be a trendy theme. RMU was the aggressor from the start and showed no fear.
To pull off an upset like this, you need a big-time scorer to go off. It's a must. RMU has one in the shortest player on the floor. Karon Abraham, a 5-foot-9 guard, unloaded three 3s in a quick stretch to give the Colonials the advantage.
While Nova's Maurice Sutton is the one who is being the most active for the Wildcats, it's the continued aggressive play by Dallas Green and Russell Johnson, showing no fear in going right back at the Cats, that is helping RMU stay out front.
You know there has to be a run in Nova. There has to be.
There's a reason Nova lost five of its last seven games and limped into the NCAAs. The Cats were struggling and weren't in rhythm.
Nova's lifeless attitude can't continue in the second half for it to win.
Villanova never should have been a No. 2 seed in this region. West Virginia should be the 2. But that's an old debate.
If Fordham and Seton Hall athletic directors weren't watching this game, they should be now. RMU's Mike Rice, a Fordham grad, should be atop their list.