College Basketball Nation:

Dalonte Hill
January, 26, 2012
1/26/12
5:00
AM ET
1. Maryland coach Mark Turgeon said Tuesday that coming to Maryland was the best decision of his life. He said his family absolutely loves living in the D.C. area. He also is confident that he can get the Terps turned around. So, too, is Gary Williams. Williams had nothing but praise for Turgeon. Meanwhile, assistant coach Dalonte Hill will come off his two-game DUI suspension for the Terps' game against Virginia Tech on Saturday. Additional in-house penalties were assessed against Hill.
2. Watching Boise State-UNLV on Wednesday night reminded me of what the Broncos will be missing by leaving the Mountain West after just two seasons. It was a football decision to go to the Big East and send the other sports back to the WAC in 2013, but Boise will lose some of the atmosphere it is starting to get in hoops. Playing ranked conference foes such as the Runnin' Rebels will most likely not happen all that much anymore. Boise State has a strong, passionate fan base but it won't be fully tapped without the occasional ranked team coming to Boise.
3. Check out the
A-10 standings
Thursday morning and try to figure out who is going to the tournament. There is a five-team tie for first and Temple and Xavier aren't among the five. Saint Louis, UMass, La Salle, Dayton and St. Bonaventure are all at 4-2 in the conference. Temple is 3-2 and Xavier 4-3. The league is as competitively balanced as it's been, but will that translate into multiple bids — as in three or four? Tough call if the teams continue to knock each other out.
July, 22, 2011
7/22/11
4:43
PM ET
Last week, we learned new Maryland assistant Dalonte Hill -- one of the highest-paid assistants in the country during his tenure at Kansas State --
was taking about a 25 percent pay cut in his new role
. At first glance, it seemed like a hefty salary slash. But Hill will still be making around $300,000 a year, and that's hardly chump change for an assistant coach. That goes double at Maryland, which often boasted some of the lowest staff salaries in the ACC during Gary Williams' tenure.
The conclusion, then, was that Maryland -- perhaps optimistic about its hoops program's new era and flush with sparkling new facilities -- was finally willing to open up the coffers to pay the price for a top-flight, elite basketball program. Hey, the money is there, right? Might as well spend it.
As it turns out, the money isn't there after all.
According to a story in the Washington Post this week
, Maryland's athletic department has long balanced its budget at the end of each fiscal year by "utilizing fundraising revenue kept in independent foundation accounts to pay for expenses." Lately, however, the money in those foundation accounts has failed to keep pace with expenses. Maryland, it seems, is in the red. (No Maryland flag puns intended.)
That situation prompted university president Wallace D. Loh to
announce the formation of a 17-member commission
designed to help the athletic department solve its financial issues. And there are myriad issues at work. WaPo has a bevy of dire-sounding statistics:
Revenues for both [men's basketball and football] has either stagnated or declined over the past six years, according to financial documents the athletic department filed to the NCAA. Season ticket sales have declined in both sports, department officials have said. At the same time, the athletic department over the past decade made several improvements to facilities used by revenue and non-revenue generating sports. Two of those projects — a new basketball arena and major renovations to the football stadium — largely contribute to the department's debt, which currently exceeds $83 million.

Additionally, according to financial reports, the athletic department lost more than $64 million from 2005 to 2010 on the 24 sports other than football and men's and women's basketball. The athletic department lost more than $13 million in the fiscal year 2009-10 — the most recent report available — on those 24 sports.

In April, Maryland Athletic Director Kevin Anderson said in the past two to three years, the school's athletic department has lost between 2,000 and 3,000 donors, adding to the department's financial problems.
If all of that sounds really bad, well, it is. When you rely heavily on foundation donors to balance your budget and cover your debt -- debt which now exceeds $83 million (!) -- and you've lost between 2,000 and 3,000 donors in a matter of three years, well, yeah, money's going to be tight.
The question is what the Terrapins will have to do to reduce their expenses. The most likely outcome is cutting some portion of the university's 27 varsity sports, 24 of which, as you can read in the blockquote above, actively lose money for the university. This is the case at most high-major schools. Basketball and football -- especially football -- make the money for the entire athletic department. Most of the time, that money is enough to sustain the Olympic sports that don't. Maryland's public stance is that cutting sports isn't the answer, but a board of regents member who spoke to the Post on condition of anonymity said that such cuts are "inevitable." Ouch.
It's something to watch for Maryland fans, of course, but it's also interesting for more general reasons. The past few weeks of collegiate sports discussion have revolved around the
possibilities of pay-for-play and full cost of attendance scholarships
. Big Ten commissioner Jim Delany and SEC commissioner Mike Slive are just two of the many now arguing for increases in student athletes' scholarship funds. When
yours truly looked at Kentucky's books to see if the school could afford to increase scholarships
to include an extra $2,500 or so for cost of attendance, the answer was an unequivocal yes. It's taken as a matter of faith that most power-six conference schools are able to do the same.
Maryland's situation proves that's not always the case. At the very least, it's a reminder that some major programs are still feeling the two-pronged financial burden of a) the national facilities arms race and b) the post-financial-collapse austerity movement. Cost of attendance always looked unfair to the mid-majors. But some of the big boys might not be able to hack it, either.
July, 18, 2011
7/18/11
12:59
PM ET
When Maryland assistant Dalonte Hill chose to leave Kansas State, he was leaving behind one of the best assistant coaching positions in all of college sports.
[+] Enlarge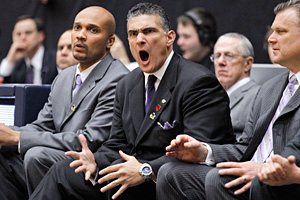 AP Photo/Chris CarlsonThe hiring of assistant coach Dalonte Hill, left, is viewed as an important addition to Maryland's staff because of his recruiting ties in the Washington, D.C. and Baltimore metropolitan areas.
It's not just that Hill had established a reputation as one of the nation's best recruiters. The plum-ness of his job was also tied to his salary. At Kansas State, Hill made a cool $423,750 per season, according to a 2010 report by the Kansas City Star. Even in our modern world of million-dollar coaching salaries, that's a lot of loot for an assistant; the majority of Division I programs don't pay their head coaches as much.
Thanks to his close recruiting ties in the Washington, D.C. and Baltimore metropolitan areas, Hill's decision to leave Kansas State for Maryland was seen as a major harbinger of the Terps' future success. Less discussed were terms of Hill's salary. Would he still be making $400,000 a year? Would Maryland be willing to open the bank for Mark Turgeon's new star recruiter?
The answer, as the Baltimore Sun reported this weekend, is "well, sort of."
According to the Sun
, Hill will make about $300,000 a year at Maryland. The figure will still make him one of the highest-paid assistant coaches in the country, but it does represent a 25 percent pay cut from Hill's time in Manhattan, Kan. As the Sun writes, Hill's salary also represents Maryland's increased willingness to open the coffers for assistant coaches and support staff, something it didn't do much of in the Gary Williams era:
Maryland fans had been wondering in recent months how much Hill got to come to College Park.

Maryland has been seeking to upgrade the men's basketball assistants' pay. In December 2009, a survey in The Washington Times concluded that, under former athletic director Deborah Yow, former head coach Gary Williams' assistant coaches were collectively the lowest-paid among the ACC's eight public schools. The newspaper reported that Keith Booth and Robert Ehsan were the only assistants in the conference with guaranteed annual compensation of less than $100,000.
When Williams retired this spring, coaches and recruiters looked at Maryland as a sleeping giant, a place with beautiful facilities, a teeming recruiting home base, and the unique financial backing of a booming sports apparel line (Under Armour). Would the Terps seize on those natural advantages? However you want to slice Hill's salary -- pay cut or not -- it appears the Terps are more than willing to shell out the dough when the personnel requires it.
If I'm a Maryland fan ... well, I'd already have been excited. But this is only more good news.
May, 17, 2011
5/17/11
2:56
PM ET
And, no, it's not a player.

New Maryland coach Mark Turgeon's first big recruit is in fact Kansas State assistant coach Dalonte Hill. As reported by various outlets (
including the Washington Post
) and confirmed by Turgeon to ESPN.com's Andy Katz this afternoon, Hill will return to his native Washington to spearhead Turgeon's recruiting efforts in and around the talent-rich D.C. metro area. According to Turgeon, while the terms of Hill's deal are still being decided, an initial agreement has been reached.
Hill is widely regarded as one of, if not the, premier recruiters in and around Washington, D.C. He landed a variety of such players during his time at Kansas State, including Michael Beasley, a product of the D.C. Assault, one of the big-time AAU clubs to which Hill has ties. Another, Team Takeover, is headed by one of Hill's former high school assistant coaches. During his time at Kansas State,
Hill was perhaps best known as the highest-paid assistant coach in the country
.
The implications for Turgeon are immediate and obvious. The former Texas A&M head coach was praised as a quality hire by most (including yours truly), but if there were any doubts about the hire, they stemmed from Turgeon's history as a so-so recruiter who built consistent success through long-term development and organized team hoops rather than flashy recruits and top-20 classes. The Maryland job was a sleeping giant, most believed, if only the new head coach could corral Baltimore, D.C., and the surrounding areas. There's just that much talent available.
The hiring of Hill -- alongside Gary Williams holdover Bino Ranson, another well-known Beltway recruiter (particularly Baltimore) -- does that. Turgeon wasn't going to morph into one of the nation's best recruiters overnight. Instead, he hired Hill, kept Ranson, and built a complementary staff that should be able to leverage AAU ties to compensate for its head coach's unfamiliarity with the D.C. area.
Would Turgeon have been able to do that without Hill? Possibly. But the hiring makes Maryland's anticipated rise that much more likely. Recruiting comes in many forms, and Turgeon landed a big-time get today.