College Basketball Nation:

Dan Hurley
April, 12, 2013
4/12/13
10:55
AM ET
1. How good is the 2014 draft? Multiple NBA decision makers said this week that the top three picks in the 2013 draft would be high school seniors
Andrew Wiggins
(undecided as of Friday),
Julius Randle
(Kentucky), and
Jabari Parker
(Duke). Assuming all three leave after one season, then this three would go 1-2-3 in some order in 2014. That might be one of the main reasons so many players may leave for this NBA draft. This also proves that any school in the country would take a one-and-done player if that player meets the standard at that particular school.
2. Credit Dan Hurley for knowing who he is and where he fits at this point in his career. He easily could have chased the Rutgers job and the Big Ten. But he didn't want to go to his third job in three years. Hurley made a commitment to Rhode Island, and the school made one to him. He was facing a major rebuilding situation at Rutgers. He has already had to do that at Wagner and URI. Hurley now is determined to make URI a winner in the A-10, which should have a bit more upward movement without Xavier, Temple, Butler and Charlotte.
3. The confusion about the April 16 NCAA deadline has to stop. The experiment of the NCAA trying to create its own date has failed. Coaches are advising players to take their time and decide by the NBA deadline of April 28. That's the only date that matters since that's when an actual early entry list comes out. International players declare by that date, too, and can withdraw from the draft 10 days prior in June. The reason the April 16 date has no leverage is an American player can tell his coach that he's leaving but not send in his paperwork. If he doesn't send in his statement to the NBA, then nothing is binding. The only meaning the April 16 date has is if a player sends in his announcement to the NBA then he cannot come back. The NCAA should enact one rule that makes sense -- if a player goes undrafted and doesn't sign with an agent then he should be able to return to school.
February, 8, 2013
2/08/13
8:00
AM ET
After last week's
incredibly controversial
eight-way tie at sixth place, and after a week full of results as close to predictable as this league -- and, frankly, this sport -- is going to get, I come to you with a more streamlined, (hopefully) less insane version of the Atlantic 10 power rankings. Ahoy:

1. Butler.
Rhode Island remains a tough out more often than not in league play, and the Rams gave Butler a real go at Hinkle Fieldhouse on Saturday. But Butler held firm, winning 75-68, and followed that up with a more comfortable romp over St. Bonaventure on Wednesday night. Same deal remains with the Bulldogs: This is a good team, and one no one will want to play in March, but it still needs to get better on the defensive end to really justify its currently lofty ranking come tourney time.
In the meantime,
the Indianapolis Star's David Woods has a really sad, but ultimately heartwarming story
on Butler reserve
Erik Fromm
, whose father Leonard Fromm, an associate dean at Indiana University law school for 33 years, recently lost a battle with cancer just before Fromm's 21st birthday.
2. La Salle.
Other than last Saturday's game at George Washington, this was a bit of an off-week for La Salle -- tomorrow's home date with Fordham included. But the Explorers should be commended for handling the Colonials, who'd won their previous three (close games at UMass and Rhode Island and an absolute thrashing of Charlotte) and were starting to look like a mid-table dangerous insurgent, particularly on the defensive end.
3. Virginia Commonwealth.
The Rams haven't played their best basketball over the past month or so -- back-to-back losses to Richmond and La Salle made that clear enough -- primarily because their vaunted defense, one of the best and most entertaining in the country in November and December, has allowed 1.01 points per trip in A-10 play, seventh-fewest in the league. VCU's only game in the past week came at home against Fordham, which is a nice way to get your defense back on track. In sum: Saturday's trip to Charlotte should be
very
interesting.
4. Saint Louis.
For as many seeds of doubt as the Billikens planted (at least in my brain; your synaptic mileage may vary) in the first two weeks of A-10 play, after five consecutive victories it would appear that things are coming along just fine in Arch-land. (Ha, no one calls Saint Louis that.) After a home overtime loss to Rhode Island on Jan. 19, Jim Crews' squad demolished Butler and Dayton at home and handled business in three potentially tricky road games against RPI landmines. The most important trend? Defense. Saint Louis struggled in this regard for weeks, but it has since established itself as the stingiest per-possession defense in the Atlantic 10, and that should help the Billikens avoid setbacks on the road as they seek to bolster that NCAA tournament resume.
5. Temple.
It's genuinely hard to know what to make of Temple's latest win, an 89-88 home victory over Charlotte. Why? Because Charlotte, the 15th-best offense in the Atlantic 10, should never score 88 points on anyone, anywhere -- home, away, on Mars, anywhere. I know, I know: Temple got out of there with the W, which is what really matters. But 88 points in 74 possessions? Really?
To Charlotte
? Just another data point in a baffling Owls season, I guess.
6. Massachusetts.
I suppose you could say I'm coming around on UMass. Or you could say I'm very rapidly transitioning from my role as someone who allows tempo-free statistics to aid much of my fickle eyeballs' analysis into someone who must acknowledge the cold realpolitik of NCAA tournament qualification. (It is
kind of what I do around here
.) Either way, the fact of the matter is that for as utterly mediocre as UMass' per-possessions numbers tell me the Minutemen are, and for as rarely as I've been impressed when I've watched them this season, their at-large profile is such that they have a pretty good chance of getting into the NCAA tournament. It's pretty strange: This is a team that isn't truly
bad
at anything (save 3-point shooting) but excels at nothing (save perhaps field-goal defense, and UMass has gotten more more and more stops in A-10 play). But its RPI and schedule numbers and lack of truly bad losses have it in position to lay claim to a bid if it can see this thing through. In a league full of confusion, there is something to be said for that.
7. Xavier.
Without (god forbid) going into the whole eight-way tie thing again -- and again, you should
not
be freaking out about these ranks at this point -- this is where the validity of ranking any one A-10 outfit over the other starts to go a bit sideways. I like Xavier, and Chris Mack has done some nice things with a young team, particularly on the glass; the Musketeers out-board the rest of the league on both the offensive and defensive ends. But they don't appear likely to break out of this soft middle anytime soon.
8. Charlotte.
Strangely enough, even despite the loss, you have to be encouraged by Charlotte's 88-point outburst in that 74-possession game at Temple. The 49ers' biggest issue (understatement!) all season has been their brutal offense, and seeing them put up an efficient performance like that on the road is at least a step in the right direction.
9. George Washington.
The Colonials have been one of the hottest teams in the conference for much of the past month, and they could have really made waves if they'd dropped La Salle last Saturday. Even so, they're 4-1 in their past five games.
10. Dayton.
Not unlike many of the teams in this range in the league right now, Dayton does some things well and other things really poorly. In the Flyers' case, they can really shoot it from distance, and score efficiently … provided they're not turning it over, which they do at a higher percentage than any team in the A-10.
11. Saint Joseph's.
Same old stuff with Saint Joe's. The Hawks are not
bad
bad, and their talent remains tantalizing, but as long as they're allowing more points per trip in conference play (1.067) than they're scoring (1.057) … well, you don't need to be Watson (the computer, not Sherlock Holmes' ambiguous assistant) to figure out why that might limit a team's chances for success.
12. Richmond.
Same goes for Richmond: The Spiders have shown plenty of flashes on offense this season (see: Jan. 24 versus VCU), but they're still playing with a negative efficiency margin in conference play and at this point not even scoring particularly well, either.
13. St. Bonaventure.
I've gone back and forth on the Bonnies here and there, particularly after they notched consecutive wins at Temple and Saint Joe's, but the deeper we get into the season the clearer it becomes that these defensive woes (1.13 PPP allowed) aren't going anywhere.
14. Rhode Island.
If you don't follow the A-10 closely, and if all you do is look at efficiency numbers, then you might not be aware of how well Dan Hurley is doing in his first year at Rhode Island. But even after five consecutive losses, I'm kind of impressed, because with the exception of Wednesday's defeat at UMass, all of those losses have been in close games after credible performances. It's a long slog, but these are all positive signs.
15. Fordham.
In a league full of pretty questionable defensive teams, Fordham's defense might be the worst.
16. Duquesne.
Except for maybe Duquesne.
January, 4, 2013
1/04/13
8:00
AM ET
Another week of Atlantic-10 power rankings, another week spent reading through the kind words of
my adoring readers
. Let's do this, guys!

1. Virginia Commonwealth.
In my experience, Butler fans are not only some of the nicest people around, there's also eminently reasonable. By and large, each week I've ranked VCU above the Bulldogs, Butler fans have typically (not always, but typically) responded with some version of "I'm a Butler fan, but that's cool. That VCU team is good."
Call it the Pax Atlanta: This year, this league's two teams (at least to date) are also its two newest, recent products of conference realignment, 2011 mid-major Dance-crashing brothers in arms, with mutual respect for each other's young star coaches and greatly contrasting styles of play. That's the vibe I'm picking up, anyway, and it has been refreshing to see -- even after that victory over Indiana -- Bulldogs fans take a step back and look at just what this VCU team is doing and say, "Yeah, you know? They're really good too."
Because they are: After their latest offensive explosion against East Tennessee State -- in which guard
Troy Daniels
made 11-of-20 from 3, for 33 points and 10 rebounds -- this year's Rams team is mixing its typically fantastic ball-hawking defense (VCU forces both turnovers and pure steals at the highest rate in the country) with efficient, balanced, long-range offense. It has been a
lot
of fun to watch, and with A-10 play picking up, it's only going to get better.
2. Butler.
What's most interesting about this Butler team to date is not that the Bulldogs are good. I expected that, and I was hardly alone. What's interesting is
how
Butler is good. To wit:
See? Butler has made a sudden and drastic shift, from a putrid offense with a stubborn defense to much more efficient scoring with a much more forgiving defense. The obvious culprits -- not that this is a bad thing, because
man
was Butler hard to watch last season -- are the additions of sharpshooting
Rotnei Clarke
and
Kellen Dunham
in place of defensive specialist Ronald Nored and frustrating shooting guard Chrishawn Hopkins. But
Andrew Smith
has also taken his game to another level,
Roosevelt Jones
is a great glue type, and Butler is actually shooting the ball disproportionately better inside the arc than outside it. Perhaps the threat of Clarke and Dunham launching from range is as important as the execution. Whatever it is, it's working.
3. Temple.
We discussed Temple -- or, rather, the reaction to Temple's Dec. 22 road win over Syracuse -- in great detail last week, so we won't spend too much time breaking the Owls down this week. Instead, a heads up: On Sunday, Temple travels to Kansas. If they win there, I will put the Owls No. 1 in next week's rankings. I don't think that's going to happen, but still, it would be awesome to see -- especially because it would give Canisius transitive-property bragging rights over both Syracuse
and
Kansas. I sense a great disturbance in the force.
4. Saint Louis.
New Year's Eve was big for the Billikens in a couple of different ways. For one, guard
Kwamain Mitchell
made just his second appearance of the season after returning from a November injury, and with 29 minutes Monday was his first return to full-time duty. Oh, and there's this: Saint Louis beat New Mexico at home, 60-46. The game came just a couple of days after New Mexico fought hard for a win at Cincinnati (before Cincinnati went to Pittsburgh and got what might end up as one of the most impressive road wins of the season), so you could forgive UNM for being a little worn out with the road trip by the time they passed under the Arch. But no matter, that's a really nice home win for Jim Crews' bunch, one that should stand the test of time as it pertains to the NCAA tournament at-large picture. With Mitchell healthy, this team is a real A-10 title challenger. But we knew that already.
5. Saint Joseph's.
The Hawks move back into the top five almost by default this week thanks to some of the second-tier teams' performances, but their own struggles (in addition to Xavier's) appear to have made the Atlantic 10 not quite as elite-deep as it appeared to be back when everyone was jocking St. Joe's in the offseason. The Hawks' issues have primarily come by being a bit soft on defense -- they neither force turnovers nor protect their own glass -- and their offense hasn't been good enough.
6. La Salle.
After a second-half collapse, La Salle took an L at Miami on Wednesday, which isn't an incriminating loss: Even without injured forward
Reggie Johnson
, the Hurricanes are really tough at home. So if you're willing to forgive La Salle its Nov. 18 home loss to Central Connecticut State (and I am, because it was Nov. 18) and are willing to dive into some of the Explorers' tempo-free numbers (you know it), you'll find an above-average offense led by senior
Ramon Galloway
, which is thus far carrying a below-average defense that gets, according to Synergy scouting services, absolutely shredded by opponents' pick-and-rolls. That play set has dragged down the Explorers' entire half-court defense (they do a nice job in transition, partially because they don't turn the ball over often on the other end of the floor), and could be one fruitful adjustment to make to start the A-10 season.
7. Dayton.
So, I'm a little bit torn on Dayton's latest result. That result? A 63-61 overtime loss at USC. Why am I torn? Because on the one hand, USC is pretty objectively bad. On the other hand, USC has played a brutal nonconference schedule, Kevin O'Neill's USC teams have tended to pick up steam (especially defensively) as the season goes along, and you get the feeling that Dayton won't be the only team held to .79 points per trip on USC's floor this season.
8. Charlotte.
Charlotte is shooting 28.3 percent from beyond the arc this season. The good news? Charlotte rarely attempts 3-pointers. So at least the 49ers are self-aware. Unfortunately, this has made their offense a bit one-dimensional, and despite the gaudy 12-2 record Alan Major's team is still barely scoring more than a point per trip overall this season. Meanwhile, its victory at Davidson remains the only real sign that this team is considerably better than it was last season. The A-10 campaign will tell us much.
9. Xavier.
It will be interesting to see how we look back on Xavier's four-game late-December losing streak. Will it become part of a young-team-comes-together narrative? There's still plenty of time for that, after all, and no A-10 fan is willing to count out the Musketeers before conference play even begins. But my hunch is that this team just isn't all that good, at least not yet; it doesn't have any area of the game in which it really excels.
10. Richmond.
The Spiders, on the other hand, have an identity: They score the basketball. Richmond's offense is still top-40 good, efficiency-wise, and the Spiders get after people on the defensive end, forcing opponents into a turnover on 24.4 percent of their possessions. But the defense is suspect in all of the other important factors, and while you can sing the praises of an efficient offense all you want, Richmond hasn't beaten anyone even remotely good (including George Mason and Davidson, the latter a home loss).
11. Massachusetts.
Thus far this season, Massachusetts has scored .983 points per trip. It has allowed .990. This is obviously not a sustainable winning formula. But the Minutemen do have one thing in their favor: pace. Per KenPom.com, Massachusetts crams the third-highest number of possessions (adjusted for competition) into 40 minutes in the country: 74.6. You can see, with a guard as quick as
Chaz Williams
, why coach Derek Kellogg would want to get out and run. The problem is that UMass hasn't really guarded anybody, and shoots a lot of 3s despite knocking down just 30.2 percent to date. UMass fans seem convinced this team is drastically underrated here, but I'm not seeing it, at least not yet.
12. St. Bonaventure.
The Bonnies, at least, can knock down shots. Indeed, at 7-5 this may be one of the sneaky-underrated teams in the league right now. The Bonnies have three efficient senior guards going right now (
Demitrius Conger
,
Chris Johnson
and
Eric Mosley
, who comes off the bench and has the highest offensive rating on the team) and 6-foot-8 junior forward
Marquise Simmons
has been especially effective on the glass, too. Last week, I made the comment that Mark Schmidt's team was especially generous to opposing 3-point shooters, and that at some point we had to consider that a flaw; as one commenter corrected me,
that might not actually be the case
. If opponents cool off a little bit, this team's defense won't look so questionable.
13. George Washington.
George Washington is the opposite of St. Bonaventure: The Colonials' offense is ugly (.967 points per trip) but its defense is actually a top-50 unit, allowing just .899 points per trip thus far. I'll be interested to see if GW can steal a win at a bad Georgia team Friday night, and if so, whether our perception of the Colonials as a total low-end A-10 also-ran this season ought to change.
14. Duquesne.
Back-to-back road losses are no big deal. Back-to-back road losses at Louisiana-Lafayette and Penn State mean you're probably not very good. (Anyone who has seen Penn State play is nodding his or her head while reading this.)
15. Rhode Island.
The Dec. 27 game at Saint Mary's was never going to be a win, so it's not like the opinion of the Rams has changed much. And conference season is going to be tough. But it was good to see first-year coach Dan Hurley coax a few wins out of his rebuilding squad before league play begins.
16. Fordham.
In a league that features Rhode Island and Duquesne, Fordham seems to pretty clearly be the worst team on offer.
May, 3, 2012
5/03/12
11:00
AM ET
The coaching carousel hasn't come to a complete halt yet. But the bulk of the maneuvering has concluded. Some great moves. Some questionable hires. A few "Huh, really?" selections, too.
But these rankings are not just about the head coaches. They're about the equation. Which schools made the best moves considering their current situations? Let the debate continue.
[+] Enlarge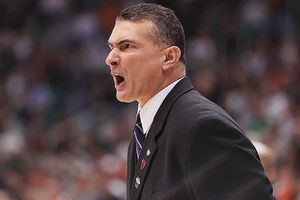 Jed Jacobsohn/Getty ImagesWill the fire of Frank Martin help turn South Carolina into a contender in the SEC?
1. Frank Martin, South Carolina:
So Martin needed a change of scenery. But his offseason options were limited. Enter South Carolina, a program that fired Darrin Horn following three consecutive losing seasons. If Martin builds this program into a contender, it will build a statue for him. He's certainly not intimidated by the odds. He has had to coach, recruit and compete against top programs/coaches in the Big 12 for the past five years. He has a brand that will attract recruits who may have previously dismissed the SEC squad. His personality will draw attention to his project and adding former Kansas State assistant Brad Underwood guarantees continuity. In all, a great move for the Gamecocks.
2. Dan Hurley, Rhode Island:
Rhode Island (7-24) made one of the best hires in the country when it signed Hurley. Under former coach Jim Baron, the Rams never made the NCAA tournament. But they've grabbed one of the top young coaches in America by hiring Hurley, who led Wagner to a 25-6 record this past season and beat Pitt on the road. Wagner had won just five games when he took over the program two years ago. Brother and former Duke star, Bobby Hurley, and former Rutgers assistant Jim Carr will join him, too. Looks like a winning combo for the Rams.
3. Bruce Weber, Kansas State:
I can understand the critics of the move. In recent years, Weber failed to meet expectations at Illinois. But he also won 210 games, third in that program's history. He led the Illini to the 2005 national title game and managed to land some talented recruits in the years that followed. Kansas State signed a coach with the name recognition and experience it needs to maintain a place in the top tier of the Big 12. New assistant Alvin Brooks III has strong ties to the South, a potential recruiting boost for the Wildcats. Former Southern Illinois coach and assistant Chris Lowery has head-coaching experience. Inserting Weber limits the potential drawbacks from Martin's departure.
4. Tim Miles, Nebraska:
Miles needs his own energy drink. He's full of vigor. And he's going to need it to make Nebraska relevant in Big Ten basketball. Doc Sadler couldn't do it. But Miles' mojo made him an attractive candidate for multiple jobs after he led Colorado State to a 20-win season last season and North Dakota State to the NCAA tournament before that. The Rams won seven games in his first season and NDSU had to transition to Division I. The Cornhuskers have a new practice facility and a new arena (under construction) that will become the team's home in 2013. Drawing kids to Lincoln won't be easy. But the facilities and Miles' personality will definitely help.
5. Pat Kelsey, Winthrop:
He was an assistant under former Wake Forest head coach Skip Prosser, whose death in 2007 was so devastating for Kelsey that he left coaching last year. Now that he's back, however, Winthrop has just signed one of the top young coaches in the country. He was known for both his recruiting prowess and player development during his time at Wake Forest and his most recent stint as associate head coach at Xavier. Winthrop went 25-37 over the past two seasons, but the Eagles previously enjoyed a stretch that included nine NCAA tourney berths in 12 years. The 36-year-old Kelsey has the pedigree to rebuild there.
6. Barry Hinson, Southern Illinois:
If you can't beat him, hire him. Former Missouri State coach Hinson had his way with Southern Illinois during his nine seasons with the Bears. Now, he'll try to restore his former adversary, which cracked the Sweet 16 five years ago. Former head coach Chris Lowery had stretches of success but couldn't sustain them. Hinson was dismissed at Missouri State for similar challenges. But he's spent the past two years as Kansas' director of basketball operations. He knows the Missouri Valley Conference and he's a coaching vet. That's the kind of guy that SIU needs to climb to the top of the league and make noise in the postseason again.
[+] Enlarge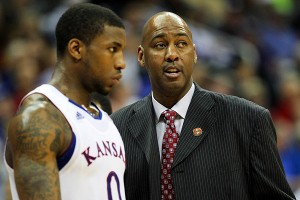 Jamie Squire/Getty ImagesWhile at Kansas, Danny Manning helped Thomas Robinson become one of the nation's elite players.
7. Danny Manning, Tulsa:
Thomas Robinson
was just a physical player with potential when he arrived. He left Kansas as a potential NBA lottery pick and national player of the year candidate.
Jeff Withey
was viewed as a "soft" prospect who'd never make a major impact in the Big 12 when he transferred to the Jayhawks. He set the NCAA tournament record for blocks last month and will enter next season as one of the nation's top big men. Manning helped those players -- and other former KU stars -- reach their potential. Does that mean he'll be a great coach? Not necessarily. But Tulsa needs someone who can take midlevel recruits and turn them into high-level college players. Manning is built for the task. He has developed some of the top players in the country.
8. Larry Eustachy, Colorado State:
CSU found a great replacement for Miles when it hired Eustachy. He rebuilt his career and life during his time with Southern Miss. He left Iowa State following alcoholism and other off-court issues in 2003, but he restored his name with his work at Southern Miss, a program he led to the NCAA tournament last season. He has led three teams to the NCAA tournament. Colorado State could have faced far more challenges in its search for Miles' successor. But Eustachy gives the Rams immediate credibility and a proven winner. Solid move for CSU.
9. John Cooper, Miami (Ohio):
After multiple assistant coaching stints, Cooper took over at Tennessee State three years ago. The program didn't have a great track record. But last season, he led the Tigers to a 20-win season and an upset over top-10 Murray State. It was the program's first winning season since the 1995-96 campaign. The RedHawks went 9-21 last season, but Cooper is familiar with rebuilding projects. And more importantly, he knows that region. He has the coaching prowess to change Miami the same way he changed Tennessee State's fortunes in just three seasons.
10. Larry Brown, SMU:
Can't think of the last time folks cared about SMU basketball on a national level. But there are still many questions. Yes, the school hired Brown, who hasn't coached at the collegiate level since the late 1980s. But former Kansas assistant and Illinois State head coach Tim Jankovich has been named "coach in waiting," whatever that means. New assistants Jerrance Howard and Ulric Maligi are very respected in recruiting circles. And while it's not always about "winning the news conference," Brown gives the Mustangs the national attention they will need to make progress on the recruiting trail. But this could be an "Isiah Thomas hire." No guarantee that this assembly finds success at SMU, but it's an intriguing package for a school that wanted to make a splash on its way into the Big East.
April, 26, 2012
4/26/12
5:31
PM ET
One of my first lessons of program building came at the hands of Mike Brey, who took over at the University of Delaware at the tail end of my collegiate career. When I say career, I'm referring to my melodious play-by-play calls of Blue Hen basketball. Anyway, Brey imparted on me the wisdom of the transfer.
Over the course of his time in Newark, I would chide the coach that he took so many transfers it seemed like he didn't start recruiting until campus directories were printed and he knew how to get in touch with players on other teams. Steadily, Brey constructed a winning program at Delaware behind guys who were on their second and final chances.
Since graduating and watching Brey enjoy nearly two decades of success, I've never lost the importance of what a good transfer can do for a program, especially at the mid-major level. Would VCU have gone to the Final Four without Jamie Skeen two years ago? That's just one example, but I'm a firm believer that makeup of a good mid-major program has room for multiple transfers.
[+] Enlarge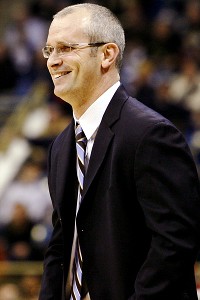 Charles LeClaire/USPRESSWIRENew Rhode Island coach Dan Hurley is mining talent from the state of New Jersey.
For that reason, we shine the light on Rhode Island, where Dan Hurley quickly adopted a Brey-like philosophy. On Wednesday night, Hurley dipped into the transfer pool and sprung wing Jarelle Reischel from Rice. VCU was the other finalist for the kid who started 10 conference games as a freshman for the Owls. He played his high school ball in New Jersey, as did Hurley's first impact transfer.
Gil Biruta averaged 9 points and 5 rebounds for the Rutgers Scarlet Knights. Like Reischel, he'll sit out next season, but he'll have two years of eligibility remaining; Reischel has three.
When you're transferring, it's basically one's last chance at making the best decision. There's no room for error. Often times dropping down a level is the best choice, but the reality is Biruta could have played in any league. However, he played for Hurley at St. Benedict's in high school. The familiarity led to him making a strong transfer choice based on prior information.
"I was tempted to go to a bigger school and league but it's not really about it, it's about how coach is going to use me and help me improve," Biruta said. "I know he's going to bring good guys and the team chemistry would be great."
Rhode Island was 7-24 last season. Chances are it won't be much better next year. But reloading is a process and Hurley, along with his brother Bobby and former Rutgers assistant Jim Carr and URI alum Preston Murphy, have their eyes on the long term.
The biggest challenge facing URI now is patience. There's a waiting game that comes when you take transfer players. With two good ones in the bank, the task is putting pieces around them, constructing a solid foundation class in 2013 and implementing the culture change that's bound to come with a Hurley at the helm.
Rhode Island isn't relevant yet, but it's on the recruiting trail for sure, as evidenced by these two newcomers. Relevancy is measured in wins and that's going to take more time and most importantly another recruiting class. Regardless, the players are beginning to see what URI has a chance to become.
"I had many options, but Hurley getting the job at Rhode Island was perfect timing," Biruta said. "I can trust Coach Hurley, I know how he treats players. Why would I risk it and go somewhere else when I know he can build a winning program?"
URI also owns commitments from former Wagner power forward
Mike Aaman
(Raritan, N.J./Raritan) and retained URI pledge
Jordan Hare
(Saginaw, Mich./Saginaw).
By the way, these Hurley boys are sticklers for tradition. So far the only transfers they've taken are New Jersey kids. Heck, Aaman is a Jersey guy and Hare was a retainee from the last staff.
Fact is, they're mining New Jersey right now. Evidence? This weekend, Derrick Gordon, St. Pat's Class of 2011, is visiting. He was the best freshman at Western Kentucky last year. Word is he's looking to return north. Maybe he'll find his way to Rhode Island, the Garden State's most fertile friendly suburb.